In this article, we will take a look at the key factors to consider when making your selection and take you through 5 of the best irons for beginners on the market right now.
What To Look For When Selecting An Iron Set
Too many golfers focus on drivers, putters and perhaps wedges. While all the clubs in your bag are important and add value to your game, your irons are generally your most effective weapons.
A good set of irons will save you more shots on the average round than any of your other clubs. With this in mind, you need to choose wisely.
at a glance: Our Top 5 Picks for Irons for Beginners
Your choice of irons is critical, particularly to the beginner. There are many options with a bewildering range of features and benefits.
No two golfers, even beginners, are alike. Finding the right set for you and your style is critical.
Strengths and weaknesses, personal style, swing speed and a multitude of other factors need to be considered.
Not all beginners are the same so some will want a set they can evolve with them while others will want something that helps immediately. Either way, there are a number of great options.
You obviously do not want to purchase a set of irons designed for advanced players as these will make your game frustrating and difficult.
You also do not want to invest in a set you will grow out of too quickly. Most quality irons will last many years so if you have a grasp of the basics it probably pays to invest in a set that you can grow into to an extent.
The technology, choices and multiple options can be a bit overwhelming. This is a major challenge to the beginner.
Quick Overview: Our Top Picks for Irons for Beginners
Here are a few important factors to consider when starting out and selecting a decent set of irons:
Shaft Choice
The two main factors here are the shaft material as well as the flex.
With regards to materials, graphite shafts are more expensive but are much lighter. The weight often suits beginners with a slower swing speed. They tend to be softer, a bit easier to swing and are more flexible.
Steel shafts are more economical and give good feedback. They will let you know where and how you struck the ball. If you have a reasonable swing speed or a tight budget then there is nothing wrong with a steel shaft.
Find the weight and flex that works best with your swing speed and style within your budget.
Also, consider the length of the shaft. It is important that it is in relation to your height.
This video will explain club length in some detail:
Hybrids. Yes or No?
This is a question many players, particularly beginners ask. There is no definitive answer and a lot will depend on your golfing style and preference.
The truth is many new golfers struggle with longer irons and hybrids are often a viable option. While the hybrids inspire greater confidence and are worth considering in certain circumstances, discipline yourself to learn to value the slightly longer irons.
Some sets do offer you a combination set with hybrids in place of longer irons. If you have difficulty with your long irons then this might be a good choice. Preferably, give yourself some time to understand both options.
Cavity Back or Muscle Irons?
The general consensus is that beginners should always go for cavity back irons but one often forgets that many beginners develop quickly.
While cavity backs are certainly easier to start with and more forgiving, you might soon regret the lack of shot shaping ability versus the playability and control blades offer.
Again, balance your choice with your skills and ability. If you are an absolute beginner, stick to the cavity back irons.
Remember that many modern irons have a blade look with the feel and forgiveness of a cavity back iron.
Club Head
The design, technology, build, material and weighting of the head are critical to your enjoyment and success with the irons. A larger head size will inspire confidence and offer more forgiveness.
Forgiveness
Speaking of forgiveness, a beginner wants as much as possible. The position of the center of gravity (COG) is all-important.
The placement, balance, and precision of the weighting can make all the difference to forgiveness. A low COG also aids with launch, another challenge many beginners face.
The sole and size of the sweet spot are also important factors.
Budget
It is always important to consider your budget. We will present a wide range of options from the real value for money sets to more expensive sets.
Remember, a set of irons can last many years so consider this when you make your selection.
Best Irons For Beginners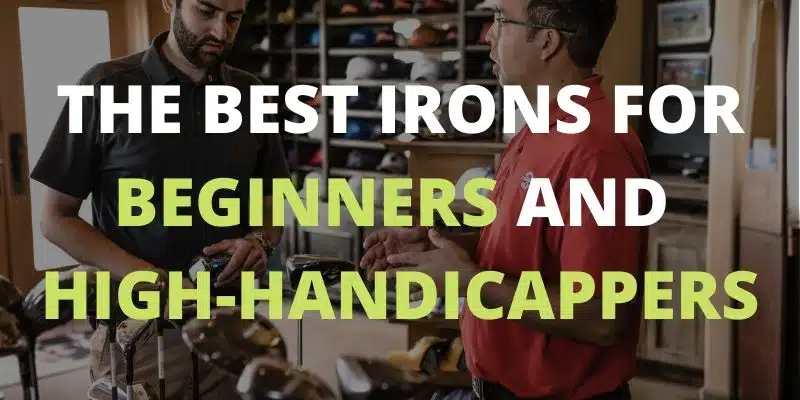 Pros:
Manufactured for outstanding distance and feel

Echo Damping System to absorb vibrations due to thin shots

Thinner face for increased ball speed

Very forgiving

All TaylorMade's latest technology in a set
Cons:
The face may appear too large for some

Thickish topline
Taylormade continues to innovate and their new range of SIM irons are fantastic for golfers of all skill levels, with the SIM Max Set ideal for the beginner golfer. When starting out at golf the overload of information can be rather daunting, but forgiveness should be the keyword.
The SIM Max irons have a low CG, which enhances an easy launch and increased distance. All players are very conscious of the distance factor and these irons will produce the goods! The TaylorMade Echo Damping System eliminates the vibrations through the hands on shots not struck in the middle of the clubface, without sacrificing too much distance. A soft forged-like feel through contact is the result. 
The refined Speed Bridge technology supports the topline of the iron to produce a solid sound at impact. The thinned-out face offers more response and ball speed for greater distance. It is 17% thinner than previous models. Progressive Inverted Cone Technology increases accuracy and each iron is individually engineered. Maximum ball speed is enhanced with the Thru-Slot Speed Pocket which allows the face to free-float through impact.
2. Cleveland Golf Men's Launcher CBX Iron Set
Pros:
Great value for money
Helpful in a difficult lie or out the rough
Easy to launch
Fair distance
Cons:
While forgiving, there are more forgiving irons in this category
Distance not always consistent
Newbies, beginners, and even experienced high-handicappers will appreciate the many benefits of the Cleveland Golf Launcher Irons.
Cleveland is famous for its drivers and wedges but the make a damn fine range of exceptional irons.
Apart from the quality of these irons, no one can dispute the fact that they are great value for money. This is obviously appealing to beginners that need to invest a fair amount in the range of golf equipment needed as well as green fees and other golfing costs.
They have a traditional and appealing look that will work for most golfers.
When one addresses the ball the look has a solid topline that inspires confidence. It is neither too thick nor to thin and the cavity back gives it ultra-forgiveness and good control.
Weighting has been optimized for beginners as it is positioned low and back. This helps you achieve an easy and forgiving launch.
Most golfers will find the distance of these irons impressive, they hit hard and long. It is all in the name, these are "launchers" after all, something beginners normally need help with.
The irons are progressively designed so you will get a different action from the shorter irons than the longer ones.
Again, this is something beginners will appreciate and will help them save a good few strokes per round.
The set design gives you more control and workability with the shorter irons and more forgiveness (and distance) with the longer irons.
This is exactly what is needed, particularly for beginners.
The "V" sole helps with turf contact and will, therefore, aid with the launch, particularly from a poor lie. Cleveland has extended its face-cup technology famous in their woods to their irons. This delivers distance as well as great forgiveness, a good combination.
Another beneficial technology that Cleveland is known for is their "zip grooves" They combine well with the milling pattern to improve launch and forgiveness while adding even more forgiveness.
These irons are available with either steel or graphite shafts, the steel obviously being a bit more affordable. There are 2 configuration options on the wedge end of the set so consider your needs when deciding.
Beginners with a serious commitment that do not have major budget restrictions could do well to try the TaylorMade P970 irons. These are real game improvers with a lot of forgiveness while still offering good workability as you hone this skill.
While many new golfers might have difficulty achieving a well-controlled fade or draw, it is an important and necessary skill to master and these irons will help you with that.
Most game improvers do not offer much playability as their main focus is forgiveness. TaylorMade has achieved a good balance of both of these important features with the P790 Irons.
The irons have a hollow cavity combined with a SpeedFoam insert that gives the thin face what it needs for support and delivers good distance.
The thin face allows more flex to maximize distance. The SpeedFoam also gives the irons a soft but pleasing feel and responsive feedback.
The heads are large and feature the popular TaylorMade SpeedPocket slots.
The tungsten screws optimize the weight on the face of the 3 to 7 irons. These are positioned low and back for increased moment of inertia (MOI) so there will be less twisting as you strike.
The result is a set of irons that deliver forgiveness, distance, a pleasant feel and workability when needed.
There is a range of shaft options to choose from according to your budget, skill and swing speed.
There are also a few configuration options so again, consider your skills, style, and requirements.
Most players love the look of the clubs but some beginners might find the thin topline less confidence-inspiring than other options on the market.
These are irons that will work well for beginners that have some experience and intend to play fairly regularly while not wanting to outgrow their irons too quickly. They might not suit the absolute beginner that will only play occasionally.
4. Callaway Golf Men's Big Bertha Irons Set
Pros:
Leading technology
Outstanding ball speed and distance
Highly forgiving
Easy to launch
Cons:
Pricey
Some beginners might prefer a lighter iron
The Callaway Big Bertha name needs no introduction to golfers at all levels. They are most famous for their outstanding drivers that are easy to hit and deliver superb distance. Their irons are equally impressive.
Before we get into what makes them so impressive, it is only fair to warn you that they are not budget-friendly irons. While outstanding equipment, they come at a price.
If you are starting out and have a tight budget then these are probably not the option for you. If, however, you are fortunate enough to not have to worry too much about budget, invest in a set of irons that will do wonders as you learn to master the art of the game, check them out.
The years of research and development that went into the range, the quality materials, and advanced technology are the factors that make these such effective irons.
Many beginners struggle with decent distance, particularly with their irons. These can certainly help with that.
They are designed with ball speed and distance in mind. Callaway has used the same 360 Face Cup technology found in their fairway woods in these irons. It gives an impressive distance across the face.
This delivers high speed across the face so even when you hit slightly off-center you will still enjoy good distance. That means that not only do you get the distance but you will also enjoy generous forgiveness.
The other technology features that boosts speed and distance further are the Suspended Energy Core and Internal Standing Wave.
The explanation can get quite technical but this is rather cutting edge golf technology that works exceptionally well.
The CG (center of gravity) is positioned low in the head for a high and effortless launch. A combination of materials has been used on and within the head to optimize performance.
The 360 Cup Face is thin with plenty of flex. This results in a high Coefficient of Restitution (COR) which is a physics term that simply means you can expect good distance.
There is good synergy between the various technologies that deliver forgiveness, an easy launch and powerful ball speeds and distance.
Most golfers are impressed with the appearance of the irons and the progressive topline will give you confidence when you need it most.
Callaway offers a host of configuration and shaft options with the set including the option combine a few hybrids.
5. Cobra Men's F-Max One Length Golf Iron Set
Pros:
Light and fast for greater clubhead speed and distance
Easy to launch
A good amount of forgiveness
Durable
Value for money
Extremely versatile
Cons:
Feedback is not always easy to gauge
Not suitable for players with faster swing speeds
There are many things a beginner golfer wants and needs from his irons. Most new golfers do not have the fastest swing speed and many battle to launch their irons. They will almost certainly all want a good amount of forgiveness.
With these main challenges in mind, Cobra has developed the F-Max One Length Golf Iron Set which does a pretty good job of making all of these areas a lot easier.
They have been designed with the slow to moderate swing speed golfer in mind and the Ultralight Technology will help you achieve higher clubhead speeds and therefore greater distance.
The heads have a low profile as well as a deep undercut with a COG that is positioned low and back. This will make it easier to launch and give you added forgiveness.
The grips are somewhat larger than average irons and designed to give you more control and comfort. This should aid in accuracy and consistency.
The offset hosel design will also help you achieve a higher easier launch as well as aid in keeping the ball straight. It has a slight draw bias which will help as soon as you are used to it. The main point is that the irons are easy to hit.
Cobra has used a relatively soft 431 stainless steel for the short irons and 17-4 stainless steel on the longer irons. This gives you the control and distance where you need it.
Given that they are designed and built for slow to moderate swing speeds, you might not enjoy them once your swing speed improves.
The clubs have a quality nickel-chrome finish which looks good and gives them durability.
The Verdict
Taylormade is one of the leading brands and constant innovation produces sets of irons that cater to the beginner and the skilled golfer. The SIM Max set is long and forgiving, and an ideal iron set for the beginner.
Conclusion
The review covers a range of budgets and offers sets suited to absolute beginners as well as those starting out but with a bit of experience and reasonable swing. The set that stands out as the clear winner has to be the Callaway Golf Men's Big Bertha Irons Set.
While they are a fair investment they do everything the beginner wants and needs from a set of irons. The technology is exceptional and the result of a massive investment in research and development and years of fine-tuning.
While their main claim to fame is the exceptional distance they deliver the are also super easy to launch and highly forgiving. If you are a serious beginner you can't go wrong investing in either the Cleveland Launcher CBX's or the Big Bertha Iron Set.
Other Articles You May Like
Nick Lomas is the founder of GolfSpan, an avid golfer, not quite a pro but has over 15-years of experience playing and coaching golfers from all over the world. His mission is to bring the golfing community a better experience then it comes to choosing the right golf gear, and finding the right set up for your game.