Several new golf brands are competing with large retailers, and one of our favorites is Kirkland. Kirkland golf clubs and balls are exclusively sold at Costco, and they've created quite a controversy by not stating publicly who makes Kirkland golf clubs. But we studied Kirkland and have some interesting findings.
So, who makes Kirkland golf clubs? The Kirkland golf clubs are manufactured at the Southern California Design Company in Carlsbad, CA. There's speculation that Callaway makes Kirkland clubs because Callaway's clubs are also made in Carlsbad. But there's no other evidence to suggest that. 
You can find some high-quality budget-friendly products from Kirkland, but they won't be right for everyone. Read on as we cover everything you need to know about:
Who makes Kirkland, the Costco golf clubs

The Best Kirkland golf clubs

What kind of golf clubs does Costco sell?

Review of Kirkland's best putter

Are the Kirkland golf clubs any good?

Does Kirkland Make Golf Balls?
 Let's dive right into everything about Kirkland! 
Overview & History of Costco's Golf Equipment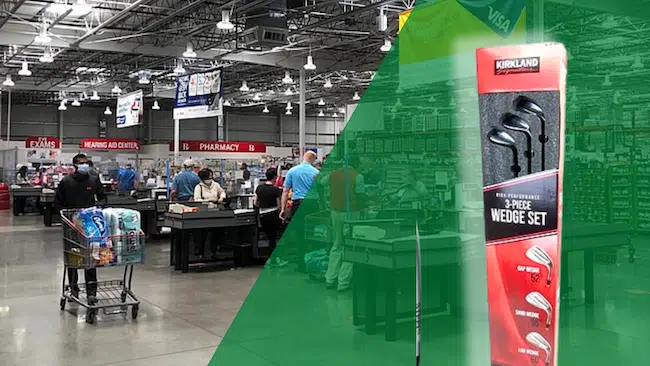 Kirkland golf clubs are made for sale at Costco, so let's cover a brief overview of Costco's golf equipment.
Costco Wholesale Corporation is a multinational member-only organization based in the USA. Since its opening in 1976, the company has expanded to over 550 stores in the USA and its neighboring territories. 
Costco rates in the top 5 retailers worldwide and ranked inside the top 10 of Fortune 500 companies.
Costco sells a wide range of products ranging from groceries, optical equipment, pharmacy, and travel equipment. Its first foray into golf equipment was in 2016 with the release of the Kirkland Signature golf ball.
Since 2016 Costco has added a Kirkland Signature putter and a set of 3 Kirkland Signature wedges to their catalog of products.
But this is where things get interesting. 
Who Makes Kirkland Golf Clubs?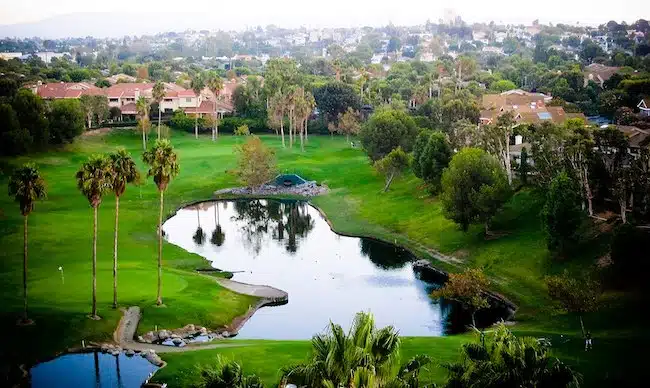 The Southern California Design Company is the Kirkland golf club manufacturer. They're based in Carlsbad, California. 
But Costco also sells Callaway Edge woods, hybrids, and irons in their stores. Callaway clubs are also made in Carlsbad, California.
This has raised a conspiracy with golfers and online sleuths speculating that Callaway may be making Kirkland golf clubs.
Of course, there's no evidence to suggest that Callaway makes Kirkland golf clubs, aside from them being based in the same city as Southern California Design company's factory. 
Since Kirkland golf clubs come highly rated and are at Costco's budget-friendly prices, you may be considering picking one up. 
Below you will find more detail on golf clubs offered by Kirkland and reviews of their top models.
The Best Kirkland Golf Clubs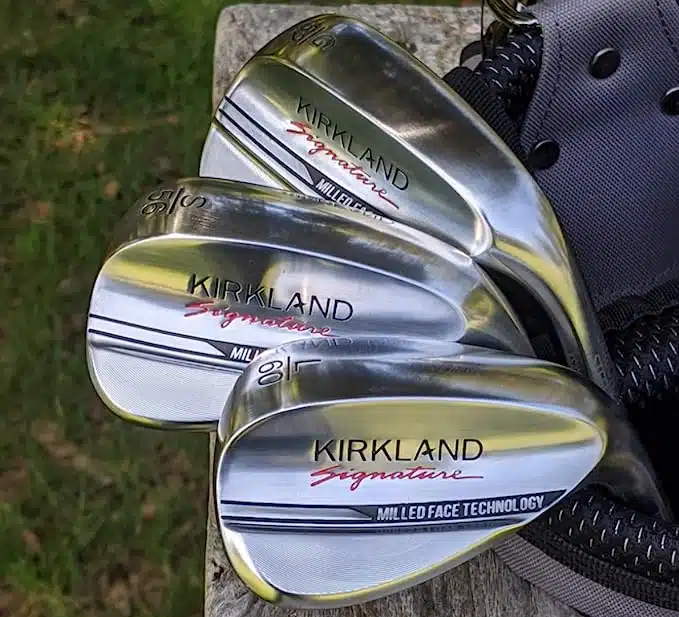 Kirkland "Signature" golf club series consists of the following:
Kirkland Signature 4 Irons
Kirkland Signature Wedges: Great Choice for Beginners?
Pros
Includes milled faces on all three.

Impressive yet simplistic look to suit anyone's eye.

Neutral specs for versatility.

Good value for money.
Cons
Thinner shafts.

Subpar grip quality.

Lack of fitting and customization capability.
Who makes Kirkland Signature Wedges? The Kirkland Signature wedges are also made and designed by the Southern Design Company and are considered to provide excellent value for money. 
As golf is brand dominated, you'll always be tempted to get the best-looking set of clubs. However, finding the right one for your game can make a huge difference. Especially, when it comes to wedges since these are your scoring clubs. 
Verdict
The Kirkland Signature Wedges are an excellent value for money. I found they outperform any other wedge set in their price range.
I think their looks are modern and while it's not like having a big brand name in your bag, the Kirkland signature logo is tasteful with a sharp look. 
I recommend these wedges for beginners because of their price point, performance, and reliability. 
What Do You Get?
The Kirkland Signature Wedges come with a set of three wedges:
They come in a standard configuration and do not offer custom fittings. 
Kirkland Signature Wedge specs are:
| | | |
| --- | --- | --- |
| Degree Lofts | Bounce  | Lie |
| 52 | 10 | 64 |
| 56 | 10 | 64 |
| 60 | 8 | 64 |
All three of the wedges appear on the USGA list of approved golf clubs, assuring you that you can use them in competitive play.
Kirkland Signature KS1 Putter — How Does it Compete With Top Putters?
Pros
Ball and face contact feels good.

Looks like a professional putter.

Most golfers prefer the length and weight of this club.
Cons
Comes in a box, can't check how it suits you before buying.

Pattern on the face raises the question of performance.

No idea who makes the Kirkland putters
KS1 Putter was released in the 2020s. At its release, it was one of the hottest putters on the market. The price tag wasn't expensive, and some reviewers were delighted with the results, while others were a touch cryptic. 
The putter closely relates to the Scotty Cameron putter and Ping's famous Anser. The look is traditional and complete. Upon looking at it down behind the ball, it looks like any other blade-style putter offered by well-recognized brands of golf.
I took the putter to the practice and hit putts for about half an hour. The feel of the center was solid, and I felt excellent contact between the ball and the face. This means it was soft, and the ball was rolling off the face and not getting hit. The ball came off straight every time, and the roll on the ball was pure throughout. 
Verdict
Like all Kirkland golf clubs, the KS1 putter also provides great value for money. The feel is solid, and if you're into blade-style putters, this putter offers a good option to see if it suits your game. 
I personally liked what it had to offer although the signature logo behind the putter wasn't very classy, the putter looks and feels great. It closely resembles the Tiger Woods' Scotty Cameron. 
When Will The Kirkland Signature 4 Irons Be Released?
In January 2023, Kirkland Signature 4 irons were listed in the USGA conformity list. However, since then, only the pictures of the club have come out and not the club itself, and I'm not going to lie to you, but I cannot wait to test these bad boys out. 
The initial pictures show them as blade designs, but there might be an insert for a hollow space for the magical forgiveness polymer. So we'll have to wait till mid-2023, when they are expected to come out to know more about these new clubs. The Kirkland set of irons is rumored to be from 4 iron to a pitching wedge.
Are Kirkland Golf Clubs Good?
The consumer only wants to know one thing, are the Costco golf clubs any good? Kirkland Golf Clubs fall into a certain price range for each of their golf club. Kirkland golf clubs got a reputation for being the best in the low price point they offer. The Kirkland golf brand produces quality clubs that are more than recommended for any high handicapper or beginner. 
If you've just begun playing golf, buying Kirkland golf clubs will give you quality and reliability without exceeding your budget. 
Kirkland has wedges and a putter and now coming out with irons. These will cover most of your bag and wait till 2024. They'll probably release a Kirkland driver as well. 
Does Kirkland Make Golf Balls?
Kirkland makes a popular and budget-friendly ball you would do well to add to your bag. 
Pros
Urethane cover feels great off the club face.

Cheap price for two dozen golf balls.

Made for average and high-handicap golfers that want distance.

Unique choice compared to playing the familiar household names in the golf industry.
Cons
If you value name brands, this is not the answer.

Might not be soft enough for the needs of some golfers around the green.

The ball will not be able to produce a lot of backspin.
Verdict
These Kirkland golf balls are great when you want a solid ball and don't want to have to worry about losing a lot of money on the course. Like Kirkland's golf clubs, they're one of the best in the given price range. 
Why You Should Trust Us
Our team spends thousands of hours trying out and researching golf equipment to help you take your game to the next level. Here's our product review process.
We can bring these reviews to you through the small commissions we earn if you buy through the links below.
FAQs
Is Kirkland Putter the Same As Scotty?
The Kirkland putter looks a lot like the blade-style putters offered by Scotty Cameron. However, it does not have the same feel or sound as the impact of a Scotty Cameron. The Kirkland Signature KS1 putter is also cheaper than a Scotty Cameron. 
Why Is Kirkland Brand So Cheap?
Kirkland brand is known for producing good quality golf clubs in a reasonable price range. Costco has achieved selling cheap golf clubs by partnering with lowly-recognized manufacturing companies, wholesale production, and lack of customization on the golf clubs.
What Is the Reputation of the Kirkland Golf Brand?
The Kirkland golf brand is highly recognized as an above-average golf brand with its wedges and putter falling under the USGA conformity list. It has gained its reputation as an excellent low-budget option for golfers. 
Final Thoughts
This Costco golf club review is wrapping up, but one thing has stood out: Kirkland golf clubs have made their mark. With their entry into the golfing equipment market with its Kirkland Signature golf ball, putter, and wedges.
Who makes Kirkland golf clubs? Although the company does not clearly specify where the clubs are manufactured, evidence points to them coming from a factory in Carlsbad, California. Are they made by Callaway? We don't think so. But many people do. There's no hard evidence to suggest that.
There is hard evidence to suggest that Kirkland makes budget-friendly putter and wedges that are high quality. You can also try out the Kirkland Signature V2.0 golf balls. For beginner and high-handicap golfers, these are some of the best products to start with.
To date, except for the 4-piece golf ball, Kirkland Signature clubs have received good reviews and are likely to suit players that play off-the-shelf equipment rather than being custom fit.
Related Articles
Nick Lomas is the founder of GolfSpan, an avid golfer, not quite a pro but has over 15-years of experience playing and coaching golfers from all over the world. His mission is to bring the golfing community a better experience then it comes to choosing the right golf gear, and finding the right set up for your game.