Kirkland is a relatively new name on the golfing scene being sold as the store brand by Costco. The question remains that if Costco is a retailer, who makes Kirkland golf Clubs?
To clarify this to the international readers, Costco Wholesale Corporation is a multinational member-only organization based in the USA. Costco rates in the top 5 retailers in the world ranked inside the top 10 of the Fortune 500 companies.
The History of Costco
Costco's history spans back to July 12, 1976, when Sol Price and his son, Robert, opening the first Price Club warehouse in San Diego. Through multiple mergers and acquisitions, the company expanded its product list and offering selling from 804 warehouses internationally of which 558 are located in the USA and territories.
The first Costco warehouse, (or retail outlet), was established in Seattle on September 15, 1983.
Costco sells a wide range of products ranging from groceries, optical equipment, pharmacy, travel equipment, and its first foray into golf equipment in 2016 with the release of the Kirkland Signature golf ball.
Since 2016 Costco has added a Kirkland Signature putter and a set of 3 Kirkland Signature wedges to their catalog of products.
Although Costco sells Callaway Edge woods, hybrids, and irons, they are still branded as Callaway and not sold under Kirkland's Signature brand. 
The Golf Ball Saga
The initial Kirkland Signature golf ball was a 4-piece construction and supply could not keep up with the demand at the price point that it was sold at.
Unfortunately, due to some quality issues and a lawsuit by Acushnet Holdings Corporation, maker of Titleist's Pro V1 ball Costco withdrew their Signature 4-piece ball from the market. This revolved around the claims by Costco that the golf ball met or exceeded the quality standards of leading brands. Acushnet furthermore claimed that Costco violated 10 of their patents.
After settling out of court in 2018, Costco released the new 3-piece golf ball which quickly drew a spate of complaints. The VP/GMM of Costco merchandising sent an email that Costco will refund customers for their purchases.
"The feedback we received since the item went on sale shows that some of the balls do not meet the high standards that are expected for the Kirkland Signature brand. Therefore, Costco is refunding your credit card for your purchase and the shipping costs (two separate credits). There is no need to return the item." 
Costco Ball Comeback
In 2020 after addressing the quality control issues, Costco reintroduced the Kirkland Signature 3-piece V2.0 golf ball with a urethane cover. This ball received great reviews and have not shown the same quality issues. At the price point of around $24.99 per 2-dozen, it is highly regarded and appreciated by golfers from around the globe.
Back to Kirkland Golf Clubs
Now that we have a brief overview of who Costco is and its first foray into golf equipment let's look at who makes Kirkland golf clubs.
Since Costco is aimed at distributing their brands via their warehouses to members, it is unlikely that they have ventured into the manufacturing of golf clubs. Their business model makes use of third parties to produce the item which they sell under the Kirkland brand.
In June 2020 Costco release their first golf club in the form of a putter. The Kirkland Signature KS1 putter caused a stir with its looks reminding you very much of a Ping Anser and a Scotty Cameron Newport. Although similar in looks, the KS1 is much more affordable than the premium putters.
The KS1 putter is thought to be made in China at a manufacturing facility that produces putters for some other OEMs. The head weighs in at 345 grams and is milled from 303 stainless steel with a milled 303 insert, it features SuperStroke Countercore Mid-Slim 2.0 grip.
The standard length of the putter shaft measures 34 ½ inch which is within the recommended range of between 33 and 35 inches.
Costco has had a long relationship with Callaway and was an almost exclusive reseller of the Callaway Edge range.
Callaway's manufacturing facility is in Carlsbad, California. Unsurprisingly the 3-piece wedge set carrying the Kirkland Signature brand is manufactured by Southern California Design company that just happens to operate from Carlsbad, California.
Although there is no indication that there is a link between the two companies, it is up to the reader to draw their own conclusions.
Kirkland Wedges
The 3-piece wedge set was released late in 2020 after the putter was released in June 2020. Wedges come in a standard configuration of a 52-degree gap wedge, 56-degree sand wedge, and a 60-degree lob wedge. Unfortunately, you cannot select the bounce of the clubs as they are standard with one bounce option.
All three of the wedges appear on the USGA list of approved golf clubs assuring you that they can be used in competitive play.
Final Thoughts
Costco has made its mark with the entry into the golfing equipment market with its Kirkland Signature golf ball, putter, and wedges.
Although the company does not clearly spell out where the clubs are manufactured, you can be almost certain that they do not manufacture the equipment. Based on their historical business model they are likely to have the equipment manufactured by an existing premium manufacturer under an agreement to sell it from their warehouses.
To date, with the exception of the 4-piece golf ball, Kirkland Signature cubs have received good reviews and are likely to suit players that play off-the-shelf equipment rather than being custom fit.
Your experience with Kirkland Signature or other store brands will be appreciated in the comments section below.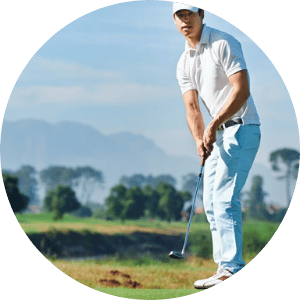 Nick Lomas is the founder of GolfSpan, an avid golfer, not quite a pro but has over 15-years of experience playing and coaching golfers from all over the world. His mission is to bring the golfing community a better experience then it comes to choosing the right golf gear, and finding the right set up for your game.