Of course, we all want the best of the best when it comes to golf equipment, but sometimes that may not be to our best advantage. While it's probably rare to see a Costco wedge set at the top of your Christmas list, I caution you not to be so quick to judge.
The Kirkland wedge set has milled faces and steps up incrementally to prevent gaps in your yardage. Plus, you can't beat the Costco prices.
But these wedges aren't for everyone. Read on to learn the benefits and downfalls of these clubs and who these clubs are best for. They are made by a company that is no stranger to producing quality golf products at a price that many can afford.
Here is an in-depth Kirkland wedge set review of this unique brand and what to expect from them on the golf course.
Kirkland Wedges Review – The Verdict
Pros
Prevents yardages gaps in your set
Includes milled faces on all three
Impressive yet simplistic look to suit anyone's eye
Neutral specs for versatility
Price is very affordable
Cons
Doesn't provide top-tier spin
Weight is a little light
Design might be too simplistic for some
The best part about these wedges is they come in a set of three and will complement each other very well during play. Many people piece together their wedges over time through hand-me-downs or garage sales, and while you might be able to get a good deal on a brand name this way, it will not help your consistency.
The lofts, lengths, bounce, and lie are all progressive, so you should feel comfortable no matter where you are inside 100 yards.
The feel and spin are neutral, as you would expect from a golf club at this price point, but it still performs as long as you make a proper swing with a good golf ball. Since your short game is so important, it's crucial to be confident from these distances and having consistent wedges is a huge step toward this.
Kirkland Wedges – Performance Ranking Stats
| | |
| --- | --- |
| Spin | 81 |
| Feel | 80 |
| Grip | 89 |
| Price | 98 |
Who Benefits Most From Kirkland Wedges?
This Kirkland wedge set is perfect for new golfers because it provides an entire wedge set that is consistent and at a great price. As you improve, you can later adjust your wedges to suit your specific needs without feeling bad about taking these out of your bag.
They can also help experienced golfers if you currently play with a "Frankenstein" set of wedges. If you have an array of wedges that don't progress evenly, you can fill your yardage gaps with this Kirkland signature wedge set.
Kirkland Signature Wedges Review – Features
To understand if the Kirkland 3-piece wedge set is right for you, consider all the features. Let's dive into the in-depth Kirkland golf wedges review.
| | | | |
| --- | --- | --- | --- |
| | Gap Wedge | Sand Wedge | Lob Wedge |
| Loft | 52° | 56° | 60° |
| Bounce | 10° | 10° | 8° |
| Lie | 64° | 64° | 64° |
| Length | 35.5" | 35.25" | 35" |
| Swing Weight | D3 | D4 | D4 |
| Shaft | True Temper Wedge Flex | True Temper Wedge Flex | True Temper Wedge Flex |
| Grip | Kirkland Signature Tour Grip | Kirkland Signature Tour Grip | Kirkland Signature Tour Grip |
Spin
The most critical aspect of any wedge is its ability to create spin easily. This wedge does struggle to create spin unless your shots are struck perfectly. They lack some of the other big brands' spin technology, which will make a difference if you play out of the rough a lot.
The milled face is a significant advantage and will teach beginners how to hit a wedge properly. The best way to get the most from these wedges is to keep them clean and dry as much as possible. This will give the grooves the best chance to grab the ball and create the friction needed to hold greens from any yardage.
Feel
You will notice a big difference if you have played other wedges before. Most premium wedges are forged, giving them a silky smooth feeling at impact and a higher price tag. There is less weight in these Costco wedges as well, which doesn't help with controlling your swing tempo on less-than-full swings.
Missing the sweet spot on full swings is quite uncomfortable. Due to not being forged, the sweet spot is larger, but when you miss it, you'll feel it, and not in a good way. Imagine hitting a baseball off the handle and not in the middle of the bat. You feel a ringing in your hands, and these wedges can create that same feeling.
Grip
Although this grip looks like a Golf Pride Tour Velvet, it's not. At first, it feels great, but it does wear down quickly, especially if you have a tight grip pressure. It's also ill-equipped to handle any kind of moisture. So if you play in bad weather or have sweaty hands, you'll want to change them.
Given the price of the Kirkland golf wedges, it's easy to stomach the additional expense of getting the exact grips for you.
Price
The best part about any Kirkland golf product is the price; these wedges are no different. For the price of about one premium wedge, you get three wedges that are in tune with each other and will help you around the greens no matter where you find yourself.
Once you get used to the spin and feel, you can easily lower your scores by gaining more confidence on shots that fall in between your favorite yardages.
Why You Should Trust Us
Golfspan is independent and not pressured by manufacturers to recommend products. We were not paid for the reviews in this article. These wedges were selected by our team, who have over 100 years of experience playing golf and thousands of hours reviewing products. We may earn an affiliate commission when you purchase something through our retail links.
FAQ
Who Is The Manufacturer Of Kirkland Wedges?
The manufacturer of Kirkland wedges is the Southern California Design company. While this may not be a widely known company, Costco has a close relationship with Callaway, who manufactures their clubs out of the same Californian city, Carlsbad. There is no official statement linking the two, but it seems too much of a coincidence, and it's suspected that Callaway's hands make Kirkland products.
How Good Is The Kirkland Wedge Set?
The Kirkland wedge set is good enough to play with and card a good score. They will benefit higher handicaps and new golfers more since they do not offer top-notch feel or spin. More advanced players will benefit from a forged club head which Kirkland signature wedges do not have.
Is Kirkland Brand Made In China?
The Kirkland brand is not made in China. Kirkland clubs are made in Carlsbad, California, and have been since 2016. It is suspected that they are made in the same place that Callaway products are due to the proximity of Callaway's plant but the official company that makes Kirkland wedges is the Southern California Design Company.
Are Kirkland Wedges Legal?
Yes, Kirkland wedges are legal and based on the rules and specs set forth by the USGA and R&A. The grooves comply and can be used in any tournament worldwide. It's difficult to find illegal wedges but keep an eye out just in case. The rules on grooves only recently changed in 2010, which is recent for golf. This may only affect you if you buy second-hand wedges manufactured before 2010.
Are Kirkland Signature Wedges Forged?
No, Kirkland signature wedges are not forged. The term 'forged' means the entire clubhead is cast from one piece of metal. This process produces an incredible feeling at impact but will also reduce forgiveness. Players seeking more forgiveness will benefit from this Kirkland 3-piece wedge set.
Conclusion
Don't let the Kirkland wedge set reviews scare you. Many are written by golf snobs who turn their noses up at anything that doesn't come with a brand name attached to it. While I agree these aren't high-performance wedges, Kirkland wedges will still provide value for millions of golfers looking to get a complete set of wedges without breaking the bank.
[
See User Reviews Here]
Alternatives
There are no other brand name wedges that are sold as a package such as this, so we've rounded up the best of each category: best gap wedge, best sand wedge, and best lob wedge.
If you choose to build your own set, ensure you get evenly-spaced lofts to minimize your yardage gaps.
Since gap wedges tend to be used with full swings more than the other wedges, we recommend you get one with some forgiveness. The cavity back design here gives you just that.
Perimeter weighting enlarges the sweet spot so you can get accurate distance from almost anywhere on the clubface. The Dynamic sole grind will also help you get lift from a variety of lies on the course. It improves turf interaction so that this wedge will glide through rough much easier than other wedges.
The Rotax face technology is also a considerable advantage, especially when hitting out of hairy lies. This process creates some of the sharpest and long-lasting grooves of any wedge on the market right now.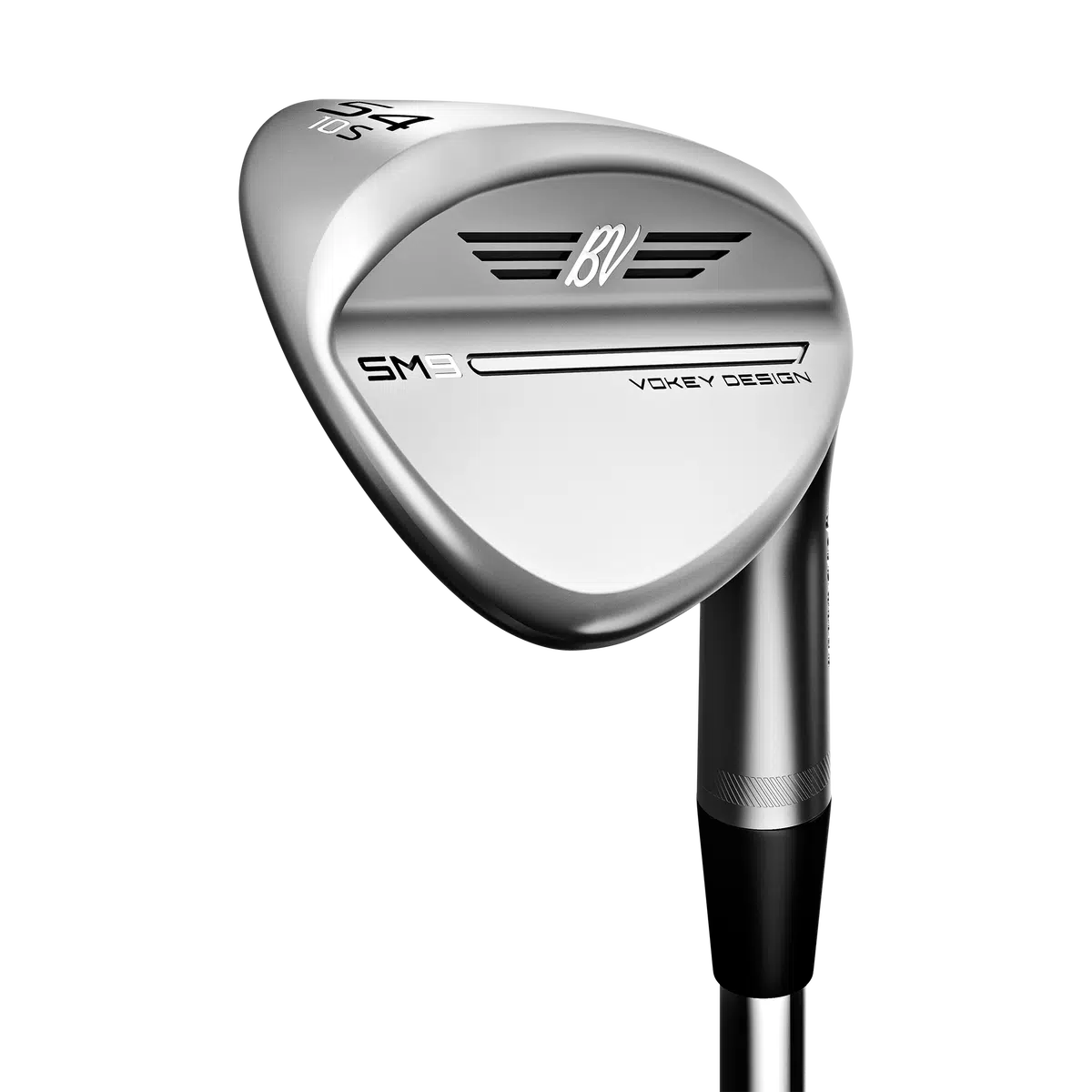 For top-of-the-line performance, you must get your hands on a Vokey. Using this as your sand wedge will give you the most options from various yardages and lies around any golf course.
The forged head allows for precision on half swings and chips, while the sharp grooves provide stopping power with any swing speed.
The only downside would be the size of the sweet spot; it's quite small. This is due to the forged design that puts a lot of weight low in the clubhead. They do this to help with slower swing speeds on shots like delicate pitches. It will launch the ball higher and softer with little effort.
To find the best lob wedge, we looked to the best lob wedge player. Phil Mickelson has been dazzling us with his short game for years, but his flop shots really impress us. Phil can have any club made for him, and he chooses this one to play with, so we trust him.
What makes this club great for lob shots is the crisp grooves. These micro-grooves are etched between each regular groove to add the most friction possible. For those times you short-side yourself and need to get up and down out of the rough, this is the lob wedge you want in your hands.
It has a similar forged design as the Vokey and comes in various sole grinds to suit your swing plane. You can also get it in 58° if you want a bit more distance on full-swing shots.
Related Articles