Is your loved one besotted with golf, but your knowledge of the sport is rusty, and you want to get them the perfect birthday or Christmas gift? Relax, and strap in. I have prepared a list of the 35 best golf gifts for 2023.
You'll find that the list features a variety of golf equipment, training aids, technology, apparel, and card games. In addition, I have included a few golf books that true fans will also appreciate stocking in their library.
Bookmark our guide on the best golf gifts for golfers who have everything in case you seek additional options after this post.
The 5 Best Last-Minute Gifts For Golfers 2023
Best Christmas Gift Ideas For Golfers 2023
1. Walmann Wall Mount  – Best Storage Gifts For A Golfer
Pros
It takes up no floor space
Helps golfers stay organized
Prevents equipment from being strewn around the house
If your loved one has tendencies to leave golf equipment strewn around the house, a wall mount will help solve the issue. The Walmann wall mount offers sufficient space for two golf cart bags secured to the wall mount, with belts for optimal stability.
In addition, the wall mount contains a bottom shelf to store shoes, hats, gloves, and other apparel. This is a polite and practical way of telling the golfer in your life to get organized. Besides the benefit it provides you, the golfer in your life will always know where to find their gear and save time preparing for a round.
Pros
It fits six soda cans
Mounts onto most golf carts
Keeps your refreshments cool
Golf cart owners constantly search for the next best accessory to spruce up their vehicles. I find the Performance Plus 12 Pack Golf Cooler is a handy accessory that improves the comfort of the driver and passenger.
It fits on most golf carts, but I suggest checking in with the seller before making your final decision. You'll notice that the cooler is spacious and accommodates approximately six soda or beer cans and ice packs. It is a great way to ensure the golfer in your life remains hydrated and safe on a warm day out.
Pros
Provide optimal grip in the wet
Quick dry
It includes a removable ball marker
Although most golfers wear golf gloves, not everyone carries them only for wet weather. The FootJoy rain grip gloves make great golf gifts as they are affordable, practical, and assist the game of your loved one.
I noticed they offer exceptional grip in the wet and also keep your hands warm in a cold breeze. In addition, they dry quickly to keep your hands warm and comfortable on the golf course. Finally, the gloves are equipped with a removable ball marker to avoid purchasing another plastic design.
Pros
Unveils golf courses off the beaten track
The hardcover edition is a perfect coffee table book
It encourages your loved one to travel
Are you longing to travel? Show your loved one the golf courses they are missing out on by sitting at home and entice them to book a trip. Introduce your golfer to golf courses in extreme locations, from Tierra del Fuego and La Paz, Bolivia, to the black lava flows of Hawaii.
I feel the Remarkable Golf Courses is one of the unique gifts for golfers. I say that because it goes beyond the standard reviews of golf courses we all know and love. Instead, it introduces us to a wilder, more exotic way to enjoy the game.
Pros
It offers tips to improve a golfer's game from tee to green
Practical golf gift that adds value to a player
Affordable gift option
Ben Hogan is among the greatest golfers to play the game, winning nine Major tournaments out of the sixteen he played in. The point is he knew what he was talking about. Ben Hogan's Five Lessons teach golfers how to set up, grip, and swing a golf club.
Furthermore, the book aims to promote consistency in a player's game or better results from tee to green. Although written in 1957, this classic golf book is a necessity in the library of any die-hard golfer. Plus, if anybody can understand a golfer's mind, it's a professional who has achieved more than they have.
Pros
Great for storing a smartphone, cards, and keys
It attaches to a golf bag
Available in twelve designs
Accessory bags are exceptional golf gift ideas for ladies who like to prepare for all occasions on the golf course. The Glove It accessory bag is available in twelve funky designs to cater to every taste. Besides its style, the bag is water-resistant and features convenient zip pockets.
My partner finds these bags are handy for storing her phone, cards, or keys to separate them from heavy-duty equipment in her golf bag. The bag attaches easily to a golf bag, or your loved one can wear it as a cross-body bag.
Bookmark our review on golf gifts for her to find a robust list of options for the golfing lady in your life.
Pros
Keeps hands warm during the cold months
It charges your phone
Combats overheating, charging, and short-circuiting
If you are stuck with Christmas gifts for golfers, why not get your loved one something for the chilly season. Karecel hand warmers charge up rapidly and get to work instantly. I suggest storing it in your pocket and placing your hands inside your pockets between shots.
I noticed these hand warmers are equipped with low, medium, and high settings to promote optimal comfort. Plus, it features overheating, charging, and short-circuit protection to avoid accidents. Finally, this Karecel hand warmer is versatile because it also acts as a power point to charge your smart devices on the golf course.
Pros
Breathable material encourages airflow through the interior
Numerous colors and designs to choose
The material is soft
You cannot go wrong with apparel as gifts for golf lovers, as they will never go to waste. The Under Armour Tech golf polo is a simple and affordable gift that your husband will appreciate. He will probably wear it to death until next Christmas when you need to get them another one.
Under Armour offers this shirt in a range of single and multi-color designs, catering to every golfer's taste. Besides its style, this polyester polo shirt is constructed with soft, breathable material to keep your golfer cool and dry on the links.
Pros
Affordable
The package includes 3 nets
Ideal for juniors or high handicappers
In my experience, the GoSports Chipster Chipping net is a special gift for juniors or high handicap golfers to work on their short game anytime. You'll find that the package includes three golf nets with different diameters for golfers to aim at. Usually, the narrowest net is closest to the player, while the widest one is farthest away.
The portability and easy setup also allow players to take it on vacation to ensure they get in some practice. Finally, the GoSports chipping net is an affordable gift that helps the golfer in your life dedicate the necessary time to their chipping.
Pros
Durable, non-slip mat
Highlights the club path at impact
It is not necessary to hit a ball to receive feedback
Golf impact mats offer an affordable training aid for golfers to determine the direction of their clubface at impact. In other words, is the ball flying straight, right, or left? The Champkey Premium Impact mat offers a durable structure that clearly highlights one's club path after each shot.
Its four-layer construction offers stability, non-slip, and tear-resistant impact velvet. Once the golfer in your life has analyzed their club path, they brush the velvet to clear the marks, then swing again. Lastly, you have three sizes to choose from, but I suggest nothing smaller than a medium.
Pros
Helps golfers improve their swing tempo
Excellent for warming up
Fits into a golf bag
Does your golfer excessively spend their hard-earned bills on golf equipment to enhance their performance but never improve? Tell them to focus on their swing mechanics without telling them. I find the SKLZ swing trainer is one of the top golf gifts for training exercises.
The SKLZ swing trainer is a 48-inch stick built to help golfers optimize their swing tempo, strength, and clubhead speed. It also serves as an excellent tool to activate the muscles when warming up for a round of golf. According to SKLZ, one will see improvements if they consistently conduct ten to twenty daily swings.
Pros
It helps golfers hit straighter
Promotes a cleaner strike
Improves compression on iron shots
An accurate golf shot is dependent on a square clubface at impact. If the golfer you love frequently loses balls and comes home frustrated, it is time for you to take matters into your own hands. I suggest the Eyeline Golf Speed Trap 2.0, a training tool to help golfers hit straighter.
The base of the Speed Trap is polycarbonate and designed to deliver feedback to players when they strike the ground before the ball. I find it encourages a cleaner strike to boost distance. In addition, the aid features four rods, which create a narrow impact zone, to stimulate a square clubface at contact.
Pros
Measures distance up to 650 yards
It works for golf and hunting
Readings are accurate to the nearest yard
Rangefinders are good golf gifts if you are unsure what to get your friend or family member. The Gogogo Sport VPro MTL is a super affordable model that provides accurate distance measurements to the nearest yard. The VPro saves golfers from guessing the distance and making the incorrect club selection.
Despite its affordable price, the MTL contains premium features such as slope mode, flagpole lock vibration, and 6x magnification. I find the VPro MTL speeds up play, as it saves me from searching for distance markers and running calculations in my head. Finally, they offer a 1-year warranty to cover you in case of any faults.
If your loved one is obsessed with technology and accessories, read our review on the best golf gadgets.
Pros
Enables golfers to practice whenever they have time
The wide net catches wayward strikes
Easy to setup and breakdown
A golf-hitting net is a valuable gift if your loved one frequents the driving range after work and never spends time at home. Set them up with a golf practice net, enabling them to whack away in the back garden and enjoy their company.
The GoSports golf practice hitting net stands 10 feet wide and 7-foot tall to catch wayward shots and save your living room window. Furthermore, I find the net easy to set up and break down when bad weather is on the horizon. You may consider adding a hitting mat to the gift to protect your lawn.
Pros
The package includes a separate shoe bag
The trunk fits shoes, caps, and apparel
It keeps everything a golfers needs in one place
Is your partner constantly asking you where they left their golf shoes, cap, and socks? End the nagging this Christmas by gifting them an Athletico golf trunk organizer. As soon as they walk off the golf course, they can place their apparel, footwear, and accessories, in a safe place to find them next time.
The trunk includes a shoe bag sufficient for one pair of golf kicks. In addition, the trunk organizer is equipped with multiple sections where one can store another pair of shoes, caps, gloves, tees, balls, and pencils.
Pros
Measures 8 data points
Gives deeper insight into each shot
Provides accurate measurements
Launch monitors are a premium purchase, but if your golfing loved one has behaved well this year, I say treat them. The Flightscope Mevo is affordable as far as launch monitors go and gives golfers detailed insight into each shot.
By utilizing this launch monitor technology, players can optimize their swing speed, ball speed, and spin rate for optimal yardage and accuracy. You will find that the golfer in your life will see improvement on the golf course due to a better understanding of their swing.
Pros
Loads of fun
It helps players improve their short-game accuracy
The set includes target boards, cups, and foam golf balls
A golf pong set is fun and secretly helps players improve their short-game accuracy. You will find that the rules are the same as standard beer pong. Two teams go head-to-head, grab a target part, and place cups in the six slots.
Considering how much there is to be had, the set will likely come out on Christmas day, and the adults in the family will have a blast. The golf pong set includes target boards, cups, and foam balls, and players only need to bring their lob or sand wedge.
Pros
Enables golfers to play virtual courses
It is significantly more affordable than other golf simulators
The package includes a swing stick
Golf simulators are notorious for their premium prices that are often out of reach of the average golfer. However, the SwingLogic SLX micro golf simulator provides an affordable alternative. Your beloved golfer can play virtual rounds and practice their swing from the comfort of your home.
The SLX micro golf simulator uses a sensor clip to detect swing data. It can estimate the distance and accuracy of each shot. You will find that the package includes a six-month subscription to E6 Connect software. This allows users to play virtual golf courses and driving ranges.
Pros
Fun game
Gives golfers some reprieve
It is easy to play
My final recommendation of best gifts for golfers is unique as it adds an extra layer of fun to every round of golf. Each pack contains 50 cards broken into two categories, Fore-Mat and Fore-Keeps cards.
For each hole, one player picks a Fore-Mat and Fore-Keeps card. The Fore-Mat card dictates which format the group will employ on that hole, while the person who picked holds onto the Fore-keeps card until later. A Fore-Keeps card helps the holder reduce the length of a putt or receive a mulligan.
Best Birthday Gifts 2023
Pros
Available in seven colors
Moisture-wicking fabric maintains dryness
A cooling sweatband keeps golfers chilled
When you need a golf birthday gift at the last minute, the Callaway Apex hat is a safe bet. Golfers could always use another cap to ensure it matches the rest of our kit. You will see that you have seven colors to choose from with this hat, meaning there is bound to be one for your golfer.
Besides its looks, the Apex fabric does well to wick moisture away from the head to keep the wearer cool and dry. Furthermore, Callaway fitted this hat with a cooling sweatband to ensure optimal comfort on a warm day. Finally, it is machine washable and easy to maintain.
Pros
Affordable
Easy golf balls to launch
Deliver consistent distance to the average casual golfer.
Like apparel, golf balls are among the best and most practical gifts for any golfer. The reality is that we always lose our golf balls and can never seem to purchase enough. Srixon Soft Feel golf balls are affordable for the average casual golfer to produce consistent distance and flight.
I find that the two-piece Srixon Soft Feel balls are easy to consistently launch high and far due to their moderate compression and tough cover. Given their affordability, you could snap up a few boxes and cover your birthday and Christmas golfing gifts for another year.
Pros
Helps golfers enjoy life
Highlights the power of physical and mental well-being
It helps those who refuse to be helped
The 100-Year Golfer ranks among my top golf-related gifts for 2023 for its powerful message on how to enjoy the game of golf more. Written by famed Korean author Ilchi Lee, this book is ideal for those committed to health and wellness. However, it also helps those stubborn golfers who despise the game but refuse to seek assistance.
Before reading this book, I was skeptical of the power of the mind narrative, but I have changed my mind. The 100-Year Golfer shows how improving your mental as well as physical well-being helps improve results on the golf course and promotes longer life.
Pros
Measures the tempo of your golf swing
Easy to set up
The app allows video capturing of each swing
The Blast Golf Swing and Stroke Analyzer tops my picks of the best golf birthday gifts for data nerds. It is more budget-friendly than a launch monitor or golf simulator, which has limitations. However, I find its tempo analysis and video capture features are worth the spend.
Blast Golf makes it easy to set up and starts to analyze by simply attaching the sensor to the grip. Once the attachment is in place and activated, the data is fed to the mobile application. Golfers can use the app to review their historical statistics or record videos of each shot.
Pros
Attaches to a golf bag or key ring
The solid stainless steel opener plate
Affordable golf birthday gift
The Buffalo BottleCraft golf ball opener is a golf-related gift that proves dynamite comes in small packages. A stainless steel opener plate is protected by the cover of a golf ball and attached to a carabiner. It is bound to serve your loved one and their playing partners well on the golf course.
You will see that this product from Buffalo, New York, is sold with a carabiner to attach to a golf bag or a belt. Alternatively, one can remove the carabiner and connect the opener directly to a set of keys. This ensures that there is an opener on hand at all times.
Pros
Repels water to keep golfers dry in the wet
Windproof
Durable design
If you are after a practical best gift for golfers, think about the Under Armour Forefront rain jacket. It may seem like a mundane gift, but the golfer you care about needs to stay dry in the wet. With eight colors to choose from, there is bound to be something the golfing man in your life appreciates.
In addition to the wealth of colors on offer, the Forefront rain jacket discards raindrops to prevent a build-up of moisture and keep you dry. Moreover, I found that it combats the wind and shields the skin from the cold breeze on a winter or autumn day.
Finally, you will find that the jacket is highly durable and constructed with two layers of bonded fabric.
Pros
Thoughtful gift
Clever design
Customizable
Personalized Golf Name art is a different golf-related gift that the receiver can place in their office or bedroom. I like how the Personal-Prints Store has created distinct golf-related images for each letter of the alphabet. Therefore you can gift a friend or family member their own golf-coded artwork.
You can customize the gift using three to eleven letters to spell out the name of the golfer in your life. The image below shows how they represent each letter, and you can see how your loved one's name will turn out. While this is not a practical gift, it is incredibly personal and thoughtful.
Pros
It fits up to seven 12-ounce beer cans
The insulation keeps your beverages frosty
The sleeve fits into the top compartment of a golf bag
As far as golf gifts for men go, you cannot get better than the Big Strike Golf Beer Sleeve. You will see that the sleeve is 35-inches long and can house up to seven 12-ounce beer cans. Plus, it fits seamlessly into the compartment of a golf bag to conceal your naughty liquids.
I am impressed with the 360-degree insulation provided by this golf sleeve, as the drinks stayed cold for nine holes. Big Strike suggests the sleeve can maintain frosty beverages for 18-holes, but I am yet to find any group who had drinks left over at the end of the day.
Pros
Versatile training aid
Super affordable price tag
Improves alignment, ball position, club plane, and impact point
Training sticks are an excellent birthday gift for golfers who are starting out and need to build up their practice aids. What may appear like three simple sticks help golfers improve alignment, ball position, and posture.
Furthermore, you will notice that the alignment training sticks carry an affordable price tag, making them budget-friendly yet practical gifts for golfers. The three alignment sticks enable golfers to line up with their target, mark the ideal point of impact, and promote a consistent club plane.
Pros
Funky design
It shields your club heads from damage
Crafted from soft material
Driver and fairway wood headcovers lose their color rapidly and wear and tear after a while, given their frequent exposure to the elements. My point is that there is always a need for head covers, and this Scott Edward red spider boxing glove will add character to your golfer's bag.
In addition to its quirky looks, the spider boxing glove is plush and crafted with a soft texture that will not scratch metal heads. Finally, I appreciate the extra effort of the inner cotton padding that shields the clubheads if the bag topples over.
Pros
Affordable
Handles shoes up to US size 13
Limits the dispersion of dry grass around the house or vehicle.
Does the golfer in your life leave dry turf littered around their vehicle and your home? Combat the mess with a Zippa golf shoe bag that encourages golfers to place their footwear in the compartment directly after a round of golf.
In addition to a spacious center compartment to store golf shoes, the Zippa bag has a sizeable back pocket, while a large one sits in the front. Players can stock extra tees, golf balls, and a brush to remove deep-rooted grass from their cleats or rubber traction pads.
Pros
Budget price tag
Sold in pairs
The towels cool after soaking in water.
If the golfer you know lives in a warm region like southern Florida, they need all the help they can get to stay refreshed on the golf course. Besides consuming regular fluids, I find the YQXCC cooling towels add an extra layer of comfort on a hot day.
These affordable cooling towels are available in fifteen different colors and sold in pairs. As a result, your golfer will never be without a cool towel. Whenever a golfer needs to cool down, they dip the towel in cold water, squeeze out the excess moisture and wrap it around their neck.
Pros
Affordable
It includes a driver, iron, and putter pen
The set features a mini putting green and golf balls
A pen set will not lower the handicap of your beloved golfer, but it will kit out their office and highlight their passion for the game. You'll see that the set includes a tiny green to allow players to knock a few putts in when they need to destress.
Besides the cute putting green and flag, the set includes a driver, putter, and iron pen, with the clubhead on one end and the pen point on the other. Plus, the manufacturer threw in two tiny golf balls for your golfer to knock around.
Pros
Classy looking journal
Helps golfers record all their scores in one book
Affordable golf gift
Technology is causing modern golfers to use mobile apps to record their scores. However, traditionalists like myself still enjoy carrying a card and penciling in the scores after each hole. The Yexiya leather golf journal is a different gift idea and gives golfers a safe place to store their scorecards.
Besides its practicality, I enjoy the look of this PU leather-bound journal, built for the gentleman of the game who keeps it classy. Each page in the journal allows golfers to enter the par of the hole and their score to store historical results in one place. Plus, it includes a pencil.
Pros
Provides easy access to tees
Attaches to a belt or golf bag
Holds three golf balls.
As a young teenager, my golf pants frequently developed holes in the pockets, and my mother continuously repaired them. It turned out that the pointed part of the tee would break through the material and render it useless. After numerous mishaps, I eventually turned to a golf tee holder.
The Chivao 4 Pieces golf tee holder is a versatile device that attaches to a golf bag or a belt. Either way, the tees are easily accessible and pose no threat to your pants pockets. In addition, the tee holder comfortably holds a sleeve of golf balls.
Pros
It makes a round of golf more interesting
It rewards good golf shots
Easy to play
Rounding out our list of the best birthday gifts for golfers is Fore! Drinks On-Course Golf Game. Unlike the main game, I listed among the best Christmas gifts for golfers, this one is designed for adults to enjoy. However, you can also add this deck of cards to the original game to spice it up.
Every card contains an order that the players must adhere to. Although most of the commands revolve around drinking, two sober cards require all players to refrain from drinking on that hole. This game can get messy, but it is an excellent way to enjoy a day on the golf course.
Best Premium Golf Gifts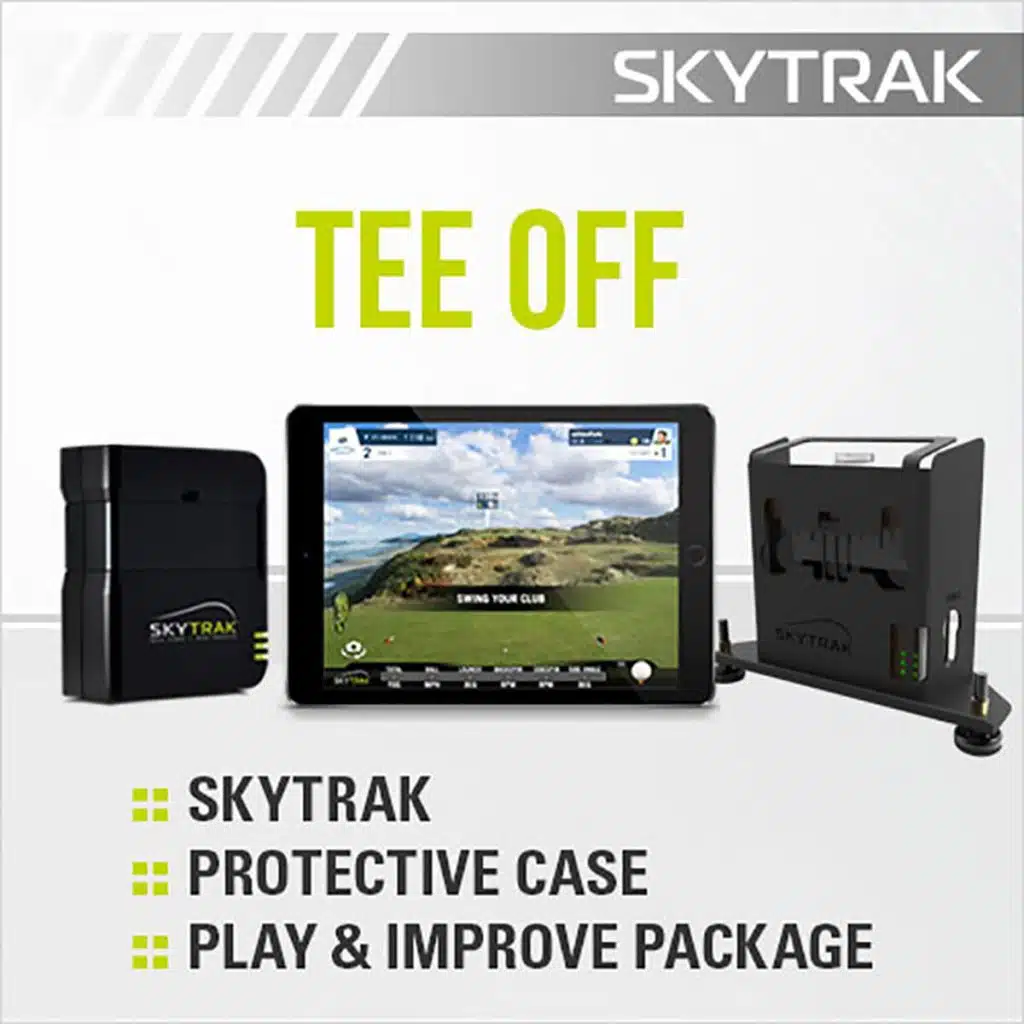 Pros
It costs a fraction of a commercial golf simulator 

Offers access to four golf simulation software

It is fun for golfers and non-players to enjoy
The SkyTrak Tee-Off package offers the average golfer an enhanced simulator experience for a fraction of the cost of premium setups. Although the SkyTrak package excludes a hitting mat and impact screen, it makes up for it by measuring ample data parameters and providing an immersive simulation experience.
The golfer in your life can set the Simulator up at home and practice their swing whenever a free moment arises. Plus, it offers access to numerous golf simulation software packed with multiple games and challenges. I find it provides an extra entertainment solution when hosting guests.
Pros
The Maximum range of 1,300 yards

Equipped with slope mode for plays like distance

Provides measurements accurate to the nearest yard
Bushnell is the industry leader in laser rangefinder technology. Golfers who demand the best will feel over the moon when they unwrap their gift. They will find this premium golf rangefinder used by approximately 99% of PGA Tour Pros in practice rounds.
As you expect from a premium product, the Tour V5 Shift is equipped with advanced technology like slope mode, pin seeker, and visual jolt. In addition, golfers appreciate the cart mount magnet, which allows one to attach it to the frame of a vehicle. Lastly, this water-resistant device carries a maximum range of 1,300 yards and is accurate to the nearest yard.
Pros
Provides optimal maneuverability around the golf course

Collapses to fit into the trunk of your car

Features ample storage space for your accessories.
Pushcarts offer golfers a comfortable way to still walk the golf course without the pressure and risks of carrying a bag. In my experience, the Clicgear Model 4.0 Push Cart is a reliable, stable construction that can navigate any terrain.
You will notice that the cart is equipped with airless tires for increased durability and maneuverability. Furthermore, Clicgear equipped the push cart with a parking hand brake to keep it stationary during your shot. Finally, this Pushcart contains sufficient storage place for accessories, and it collapses easily to fit seamlessly into the trunk of an SUV or sedan.  
Pros
The impact screen is wide enough to catch wayward shots

Mutes the sound of impact 

Projects your ball flight in HD
An indoor golf simulator allows your loved one to spend more time at home working on their swing than at the range. However, to entice them, they need a premium setup to pair with their high-end launch monitor. Start them off with the GolfBays Indoor Simulator Impact Screen.
I suggest sticking with the 9.8 by 10.8-foot construction, as it helps catch any wayward shots and prevent the ball from damaging the property. Numerous PGA Professionals choose this impact screen for the muted sound of each impact and its crystal clear optics, which displays the ball flight of each shot.
No products found.
Pros
It possesses the functions of a launch monitor

Provides distance measurements to holes on 42,000 golf courses

Golfers can video their shots to analyze them after training
The Garmin Approach R10 is a versatile device that offers golfers the luxury of distance measurements on the golf course and data reading during practice. It acts as a GPS and a launch monitor giving the beholder exceptional value for money.
Besides providing detailed insight into each shot, the R10 helps golfers video record each swing to analyze after practice. In addition, this package includes a premium hitting mat that enables players to train in the backyard or indoors. The hitting mat is constructed from premium materials and remains stable on all strikes, thanks to its no-slip foam.
Pros
It contains a realistic roll surface to emulate the setup of an actual green

There are three flags to aim at

The broader design offers more angles to putt from for varied lines.
Is the golfer in your life complaining about their putting stroke? Are you annoyed with hearing about the same problem and never seeing improvements? They need a setup that emulates the feel and roll of a normal dancefloor, like the Boburn putting green.
You will notice that this 10-foot by 5-foot green construction fits seamlessly into larger rooms or outside under a cover area. Boburn added three holes to this golf green to provide different options to aim at and lines to practice.
Pros
The set includes every club a beginner needs

The bag is easy and comfortable to carry

Excellent value for money for a complete set of golf clubs
Does your friend or loved one harp on about taking up golf but never does? Offer them the push they need and grab a Callaway Strata 16-piece golf club set that equips them with everything they need to start playing.
I appreciate the well-rounded set, including a driver, a fairway wood, two hybrids, four irons, two wedges, and a putter. I especially respect the inclusion of a sand wedge to help newbies chip better. Finally, the set includes a classic black and blue carry bag with a comfortable shoulder strap.
Pros
Complete golf simulator for a fraction of the price

It includes an enclosure, hitting mat, and short throw HD projector

Golfers can play and work on their game whenever they have time
A complete golf simulator setup with an enclosure, projector, and hitting mat can set you back tens of thousands of dollars. Fortunately, the OptiShot2 found a way to offer a robust package deal that is attainable for the average golfer. 
The OptiShot 2 Golf In A Box 4 equips golfers with an enclosure, mat, short throw HD projector, software, and rubber tees. The only item a golfer needs to add is a laptop or tablet to power the software that lets the beholder play virtual golf courses and games.  
Pros
It extends over 15 feet

Contains multiple distance markers to help determine the length of each putt.

The mat features lines that show golfers the way to the cup.
If it is good enough for two-time major champion Dustin Johnson, it's good enough for your golfing loved one. The extra-large version of this putting mat extends beyond 15 feet, enabling players to boost their mid to short-length precision. Plus, it is the ideal size to fit in an office, spare room, or entertainment area.
Besides the impressive length for an indoor putting mat, it provides two holes to aim at, one a regulation-sized cup, and the other is smaller. In addition, the green is littered with distance markers and lines to guide the ball to the cup or optimize your distance control.
Pros
It measures over twenty data parameters on each shot

Portable Simulator

It enables golfers to play six courses plus seventeen practice ranges from the comfort of their homes.
The final premium best golf gift for 2023 is the FlightScope Mevo + Simulator, an upgrade from the standard launch monitor I recommended in our golf Christmas gifts section. Unlike the launch monitor offering, this package provides access to six golf courses and seventeen practice ranges.
In addition to its impressive simulation software offering, the FlightScope Mevo + measures twenty data parameters to give detailed insight into each swing. Furthermore, the device, in conjunction with the software, allows you to record each swing and review it. 
Conclusion
That concludes my review of the 35 best golf gifts for 2023. As you can see, there is a broad range of golf gift options that you can choose for your beloved golfer.
If they have most items a golfer needs, consider a book like Ben Hogan's Five Lessons: The Modern Fundamentals Of Golf. Alternatively, you may opt for a golf-related gift like YQXCC cooling towels.
Furthermore, the Golf Pong Game set or Fore! On-Course golf games are also worthwhile options for golfers who enjoy a good time. In addition, I suggest a box of Srixon Soft Feel golf balls for average golfers who can never have enough in their bag.
Finally, if you really want to make your loved one's birthday or Christmas, you should think about the Flightscope Mevo Launch Monitor. It will help them better understand the finer details of their golf swing and help them to improve their game at a faster rate.
Read More