The best golf swing analysis apps are built to enhance your posture, takeaway, and impact position — all from the convenience of your phone.
I've been golfing since I was a kid, and it was always fun to head to a hitting bay or use a launch monitor to analyze my swing. But it can be expensive!
The best apps can help you optimize your wrists, elbows, arms, and shoulder position during the swing to deliver a powerful strike with optimal distance and accuracy. Most are pretty cheap, too.
Here are the 7 best golf swing analysis apps for 2023:
You won't want to miss the bonus budget-friendly launch monitors as well since they can take your game to the next level.
By the end of this guide, you can show your buddies the best golf swing analysis apps and teach them how they benefit their game (although maybe you want to keep this info to yourself).
Here is a rundown of what you can expect to learn from our best golf swing analysis review:
7 best golf swing analysis apps for 2023 with pros and cons
Best app for swing plane training
Top app for tempo training
Details about the best free app
The best budget-friendly launch monitors with swing analysis apps
The best way to record yourself for a swing analysis app
Let's dive in!
Top 3 Best Golf Swing Apps
Best Overall
Best Free App
Easiest To Use
V1 Golf App
Swing Profile
Sparrow Golf App
Pros

Compare swing with pros
Analyzes your swing in 240 frames per second video
Gives you access to a library of drills

Active community offers feedback
Includes a free offering
Hands-free video recording

Real-time AI swing detection and analysis
Provides personalized feedback instantly
Side by side comparison to a PGA pros swing

Cons

Annual fee of $59.99 per year
You have to upgrade to the V1+ to access drills and models.

Outdated interface
Paid version is $59.99 per year

App crashes occasionally
Limitations on older devices

Price Score
90.1
96.5
89.7
Usability
93.2
88.1
92.4
Features
94.6
90.2
93.5
Rating
4.5 Stars
4.5 Stars
4.5 Stars
If you want even more data than a swing analyzer app, check out the best golf launch monitors.
Best Golf Swing Analyzer Apps for 2023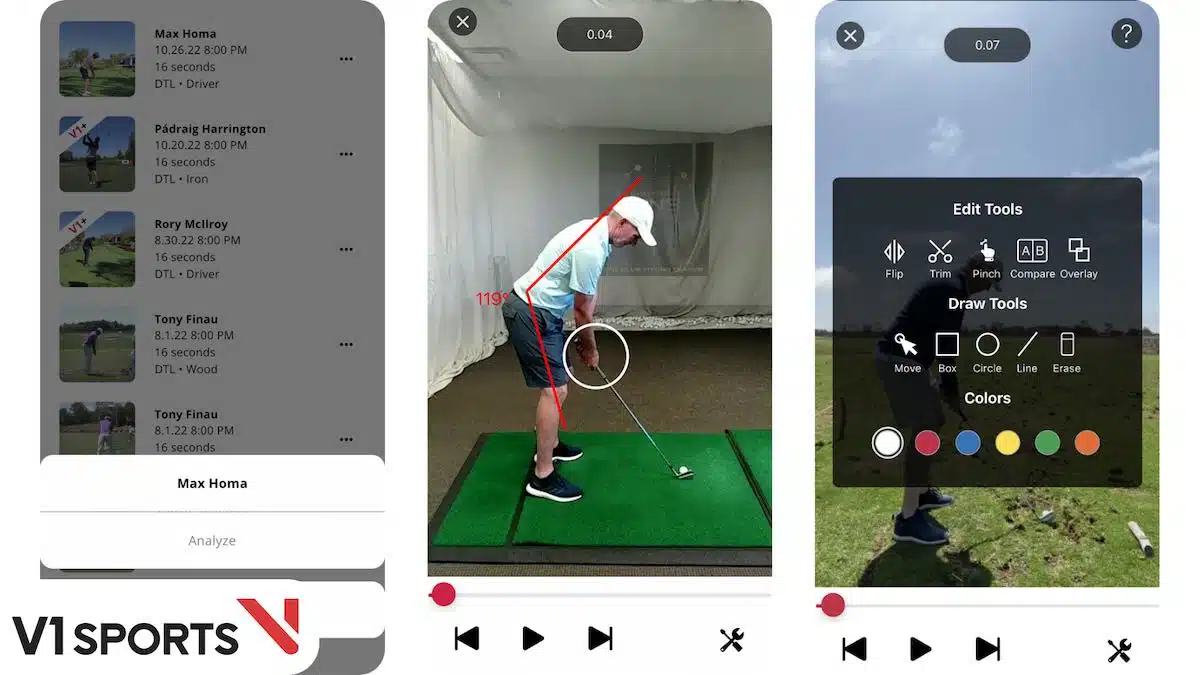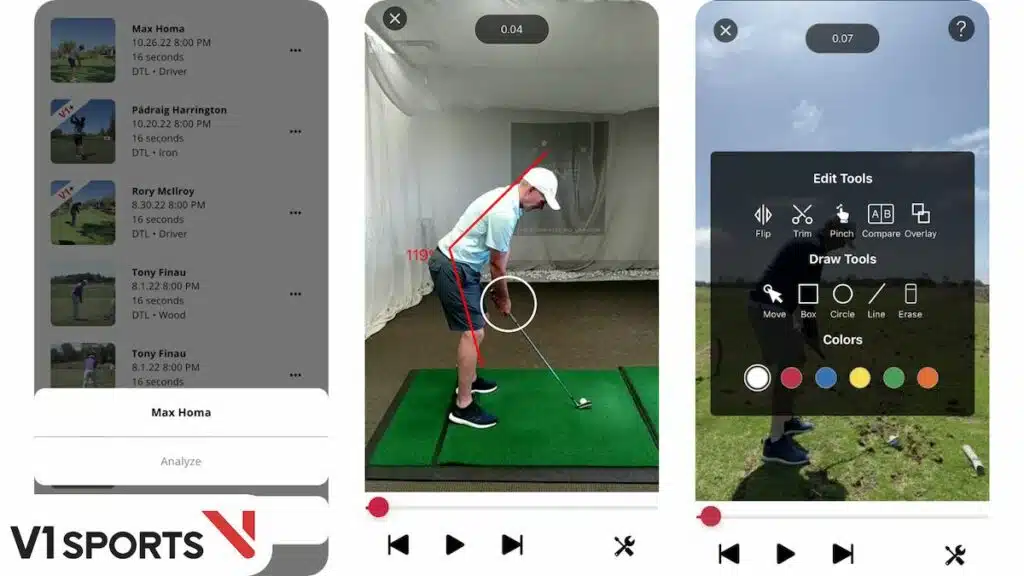 Pros
Records your swing
Analyzes your swing in slow motion
Gives you access to a library of drills
Helps you compare your swing to tour pros
Offers a 7-day free trial
Cons
Annual fee of $59.99 per year
You have to upgrade to the V1+ to access drills and models.
Rating: 4.2
The V1 golf app claims the title of the best golf swing analyzer app for Android and iOS in 2023. When I've used V1, it helps improve the biomechanics of my swing using slow-motion video at 240 frames per second, so I can analyze every step. Then, I can use analysis lines to break down my swing.
Finally, I can compare my performance against Tour pros like Rory McIlroy, Padraig Harrington, and Tony Finau.
In addition to the analysis offered by most golf swing apps, the V1 Golf App gives access to a robust library of drills from PGA-certified instructors. There are also Getting Started videos, so I quickly learned how to use them.
Then there's a Premium Series of videos, for instance, the Complete Driving series with Jon Watts. I think you can probably skip these, though, unless you really want to progress quickly in one area of your swing.
If you like the functionality of V1, you can hire a coach and purchase online lessons. I love this feature because having an experienced professional can make this inexpensive tool a game-changer quite literally. Over the course of a few months, you can monitor your progress with the same basic functionality that the pros use to track their swings.
The fee of about $60 a year makes it a tougher sell compared to the free apps below. But it's worth it when I consider that I'll pay that just for one less with a pro or a couple of hours at a hitting bay. I like that there's a 7-day free trial to see if it worked well for me.
You can also pay $9.99 per month, which is reasonable since you can make a lot of progress in a few months. Why not give it a shot and see if it can help you?
Here's an example of how the slo-mo video and on-screen aids can help you improve your swing:
View this post on Instagram
Read more about top golf swing analyzers in our in-depth guide for 2023.
2. Swing Profile – Best App With Free Version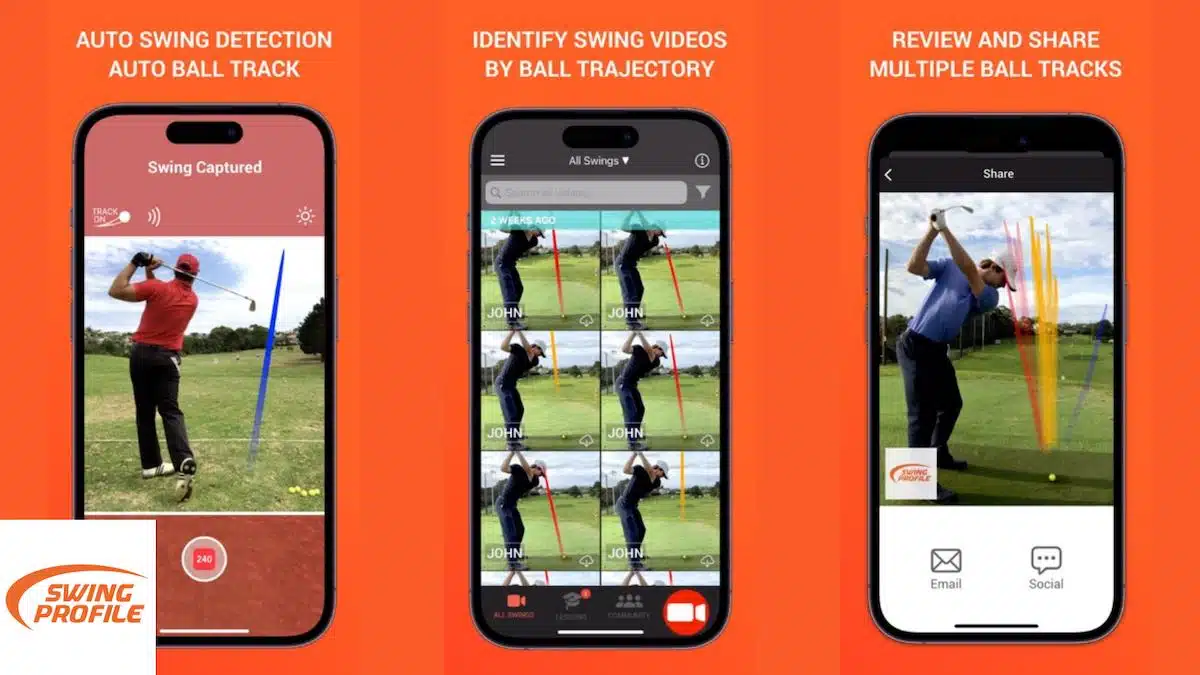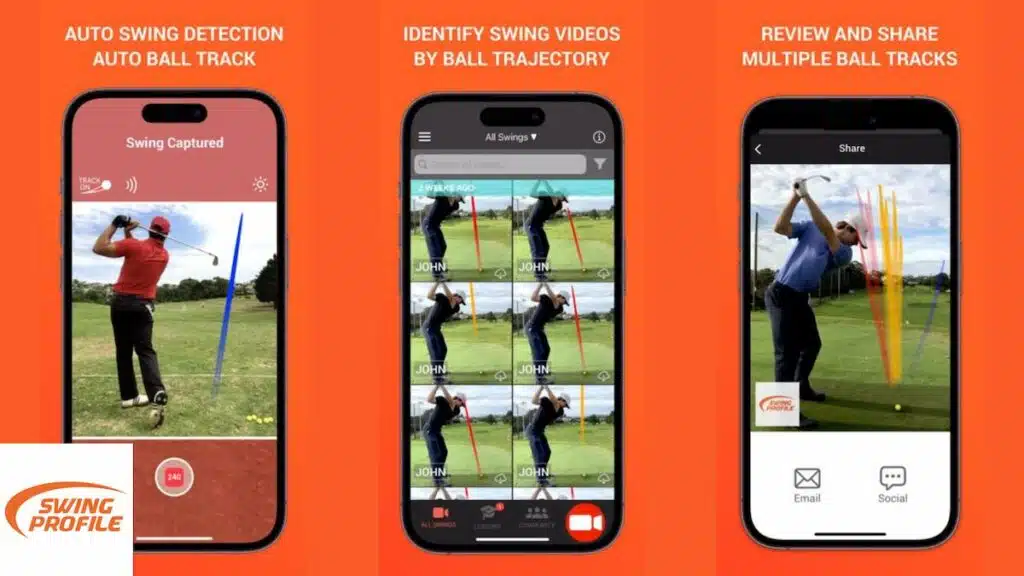 Pros
3 versions to choose from
Includes a free offering
Hands-free video recording
It gives access to coaches
You can share your videos or comment on others
Cons
Outdated interface
The paid versions are expensive compared to other swing apps.
Rating: 4.0
The Swing Profile mobile app offers golfers a free and paid version to enhance their swing analysis. Naturally, the paid versions offer increased storage space to save your videos and apply filters and metrics to them.
Swing Profile offers the option of filming hands-free, then stores the swings in your library for you to review and add layers.
I love that the free plan is enough to analyze my swing thoroughly. You can save 3 recordings with Swing Profile Technology. You can do 5 sessions per hour with Auto Replay Golf Training, so you can instantly see your swing. Then, you can have 10 sessions per hour with Ball Tracker to analyze how the ball flies. This is plenty to give you a more-than-adequate analysis of your swing.
The paid plan is about $60 a year, the same as the V1 app. With this, you can save all your recordings, and there's no limit on your sessions per hour, so you can track every ball you hit and instantly see your results. The only limit is 5gb of cloud storage for backup videos. That's plenty to save your best swings and track your progress. The paid plan is best for those who are serious about improving their swing over the next year.
Coaches can also use the tool with their students for about $100 a year. You can easily share videos with students and even get a listing in the coaches directory to get more students.
My favorite part of the Swing Profile app is the community section. You can record your swing and share it with the community for instant feedback from friends. I like this since you can save money on a coach, and the community has solid golfers. Coaches will even offer their opinion on your swing; this is all part of the free plan.
The downside is that the app looks like it was designed about 10 years ago. That's not a deal-breaker for me, but it makes using V1 a bit smoother.
You can try both V1 and Swing Profile for free, so I suggest doing so and seeing which you like better. If the free plan is enough for you and you enjoy the community section as I did, I think Swing Profile may be better for you.
Check out how Swing Profile shares images of your swing at key points: 
View this post on Instagram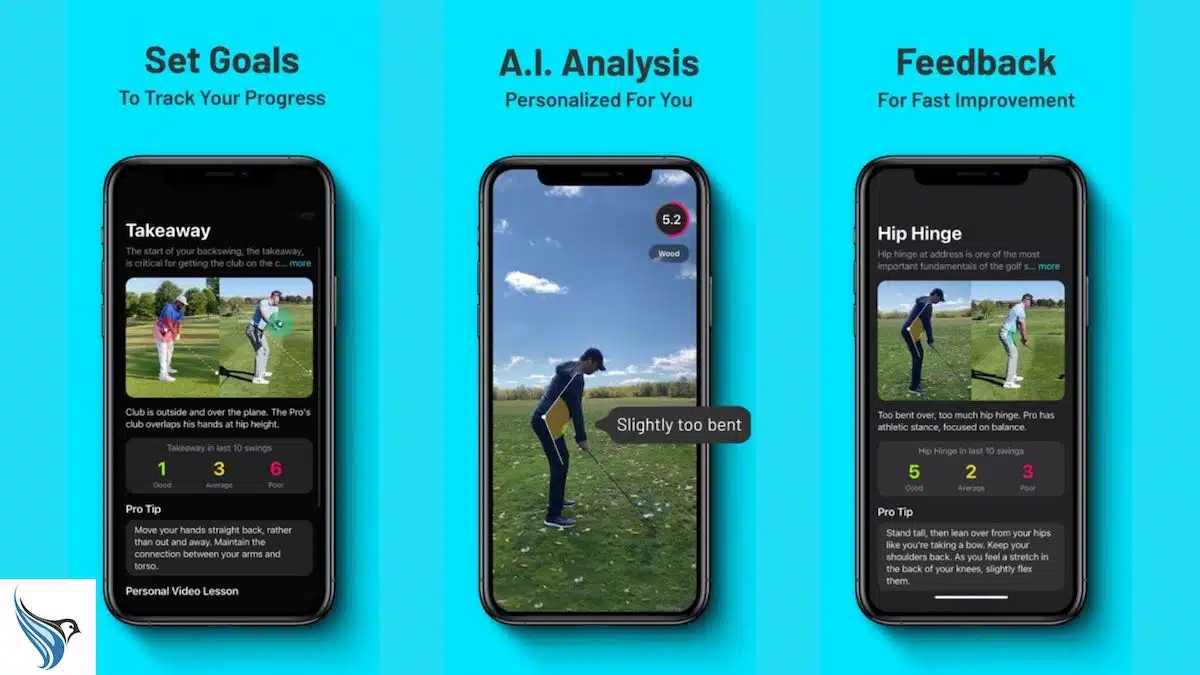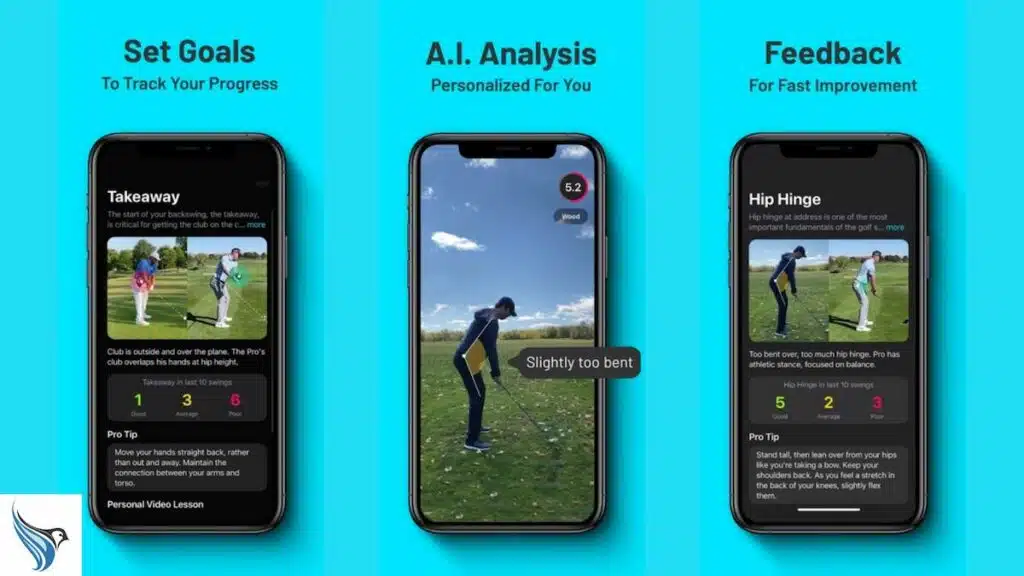 Pros
Real-time AI swing detection and analysis
Provides personalized feedback instantly
Side by side comparison to a PGA pros swing
Access to an extensive library of instructional drill videos
Track and store previous swings
Get a "SparrowScore" as a measure of swing improvement
Cons
App crashes occasionally
Optimal performance on iPhone 11 or newer, indicating potential limitations on older devices
Rating: 4.5
The Sparrow golf app is making strides in tech, boasting the most advanced AI-driven swing analysis currently available. I was skeptical since "AI" is such a buzzword at the moment. I was curious how AI really helped and was pleasantly surprised at the way it handed out feedback that was super simple.
I had the opportunity to use Sparrow, and it's the first app that claims to understand, analyze, and learn from my unique swing. Can it? Well, it does a kind of does. At least it's the easiest golf app to use, so I can see beginners and younger golfers flocking to this.
Sparrow does a step-by-step breakdown of your swing, followed by corrective suggestions, which have helped my gameplay.
I particularly appreciate Sparrow's feature that lets you juxtapose your swing alongside a PGA pro. It not only pinpoints the discrepancies but gives a vivid side-by-side comparison. This feels similar to having a personal golf instructor by your side, guiding you 24/7.
I've come across reviews mentioning occasional crashes. While I experienced this once, it was on an extremely hot day, which might have been a contributing factor. But the crash was a small hiccup in what was my most productive range session in years.
Setting up the Sparrow app is also easy. Just position your phone, and the app autonomously captures your swings, eliminating the need for manual recording. Its state-of-the-art AI then dives deep, comparing your swing to a massive database of over 2 million data points. Like V1 and Swing Profile, it also has an extensive library of drills and side-by-side comparisons with elite golfers, facilitating your journey to mastery.
If you're analytical, meticulous, and keen on elevating your golf game, Sparrow is a must-try. The cost is about $15 per month, so for the cost of a couple of burgers you can test it for a month. This is plenty of time to get a comprehensive analysis of your swing.
View this post on Instagram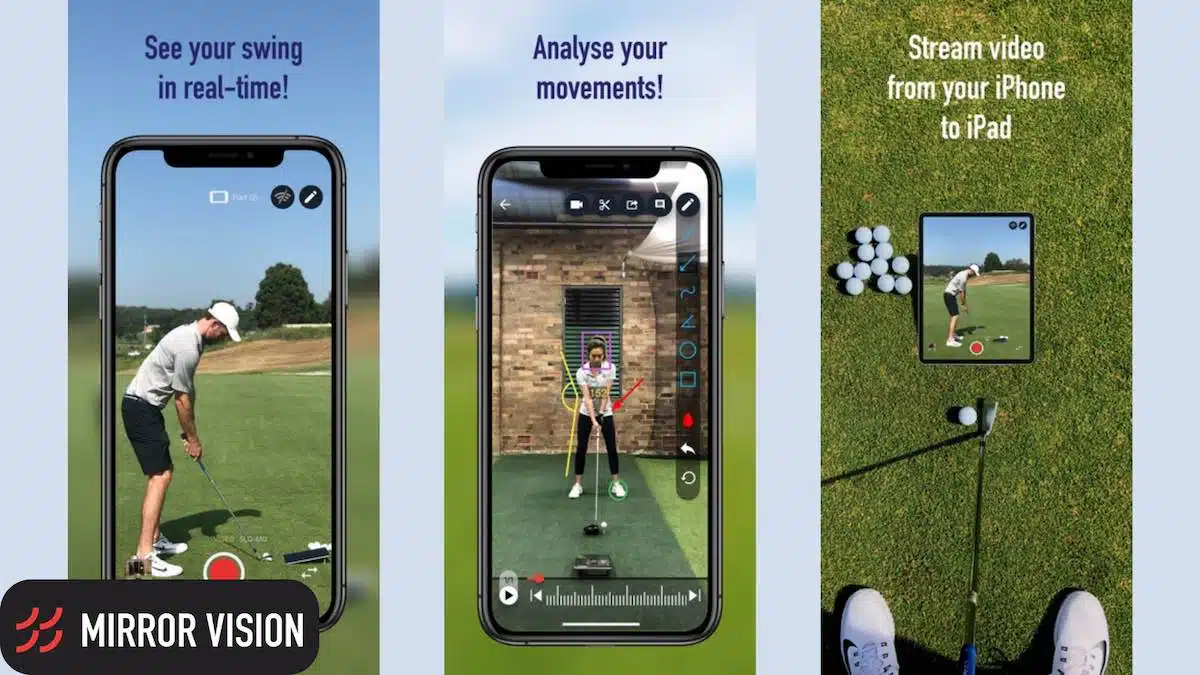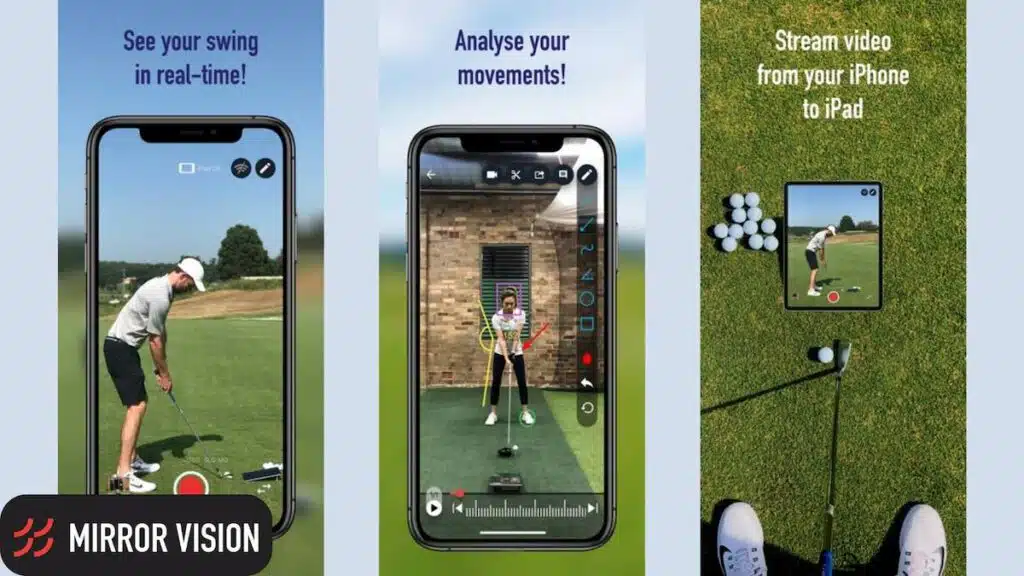 Pros
Multiple shapes and lines for reference guides during your swing
Records in slow-mo at 240 FPS
High-quality picture
Free to download
You can import and export videos to and from the camera roll
Cons
Only available on iOS devices
Limited tutorials of how it functions
Rating: 3.5
The Mirror Vision Golf App provides robust tools to record every swing and stream it on a different device in real-time. In addition, it is stacked with a multitude of overlays to create reference guides for your address, takeaway, top of the swing, and impact position.
Another welcome feature allows you to import previously recorded videos and edit them using the guidelines. I found this handy to compare swings from before using the app to now. Finally, the Mirror Vision Golf App Slow-Mo function records and plays back at 240 FPS, ensuring you catch every move in your swing.
View this post on Instagram
5. Golf Fix – Best Completely Free App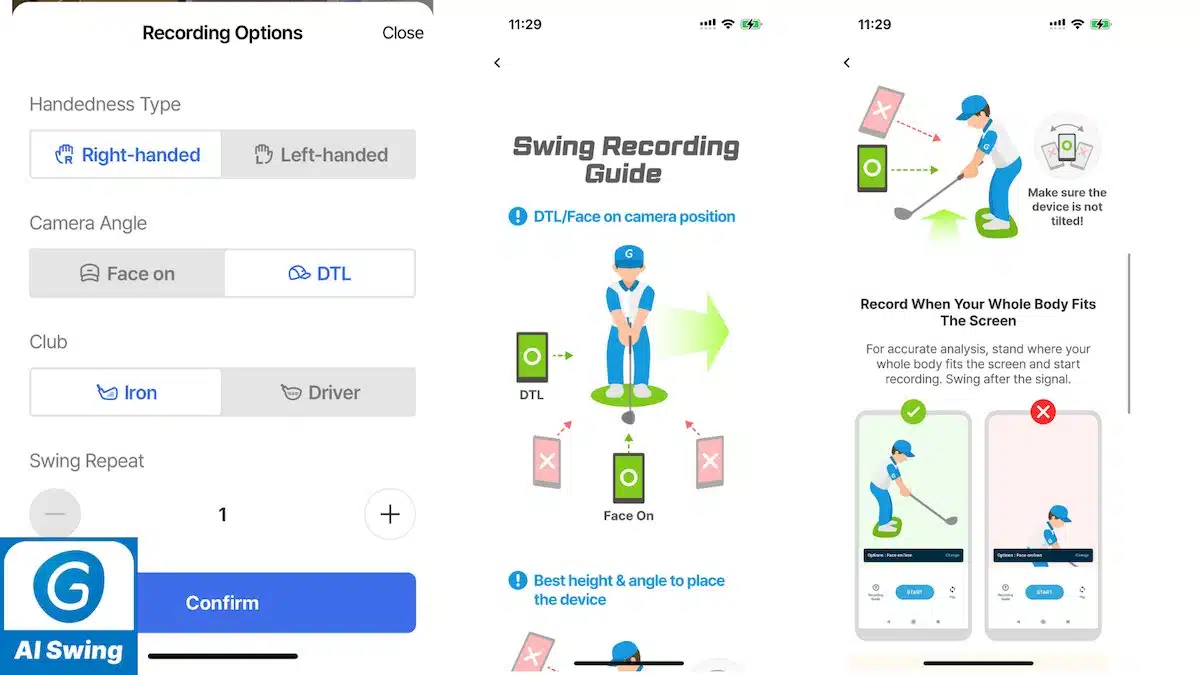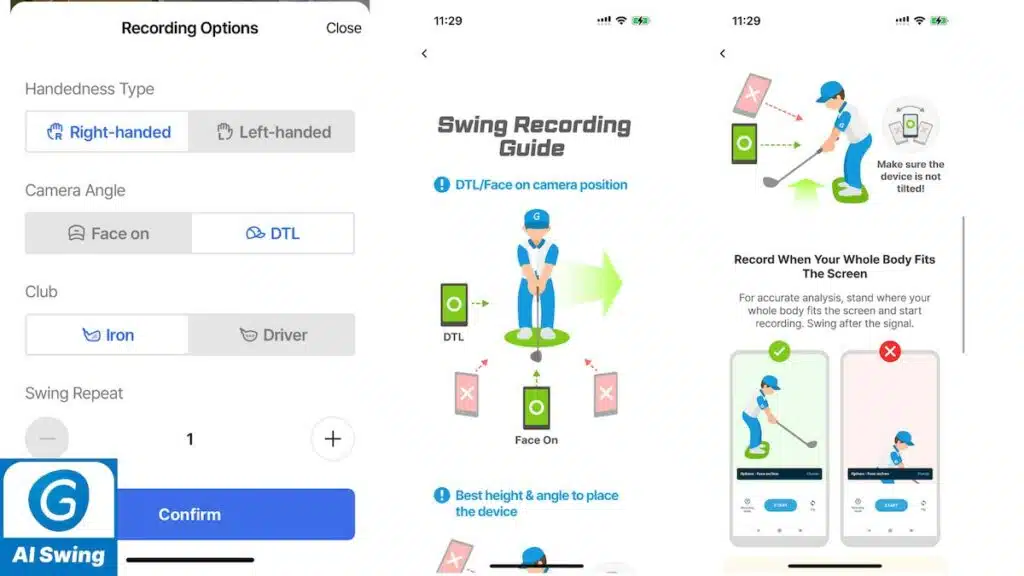 Pros
Absolutely free!
Comprehensive AI-based golf swing analysis
Automatically detects over 40 swing mistakes
Offers targeted YouTube lesson recommendations based on your unique swing flaws
Option to import videos from your gallery for analysis
Provides rapid results in just 10 seconds, irrespective of network conditions
Unique "Pic of the Day" feature generates professional-quality swing photos
"Focus Drill" offers tailored feedback to address specific mistakes
Cons
Camera positioning is critical; incorrect placement can result in misleading analyses
Limited support for left-handed golfers
Rating: 4.7
The Golf Fix Video Analysis App is not just another golf application; it's a virtual coach that sits in your pocket. Upon first impression, I was wary about its capabilities, given its claims of "AI analysis." Still, after just 30 minutes of testing in my backyard, I was genuinely taken aback by its precision and insights.
Using my Samsung S22 Ultra, the feedback was instantaneous and clear and even enlightened me about some nuanced aspects of the golf swing that I had previously overlooked. The best part? It doesn't cost a dime!
This app's AI-driven analysis is pretty cool. While it doesn't claim perfection, it can break down each segment of your swing, allowing for a thorough inspection. The platform has a unique way of seamlessly merging the world of golf and technology, evident in its feature that provides YouTube lesson recommendations tailored to your specific swing issues.
One tip for potential users: Camera placement is key. As I discovered during my sessions, ensuring the camera is at the correct height and angle will enhance the app's accuracy.
The Golf Fix App's ability to point out and explain my swing flaws was eye-opening. I no longer had to rely on vague self-diagnoses; instead, I received precise and actionable feedback.
However, one oversight is the lack of comprehensive support for left-handed golfers. Nevertheless, the experience is nothing pretty exceptional for right-handed golfers like myself.
It's rare for an app to leave such a lasting impression, but Golf Fix truly resonates. It bridges the gap between amateurs and professionals by offering tools and insights usually reserved for the elite or wealthy. Given its free price tag, there's no reason not to try it out and elevate your golfing prowess.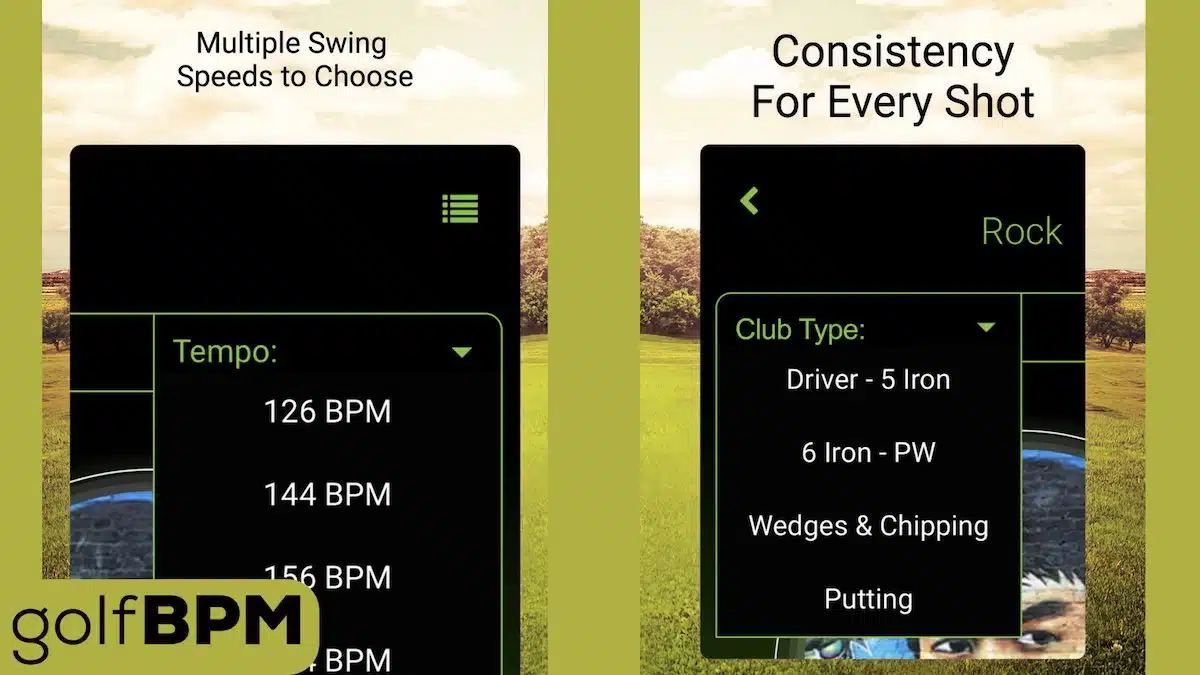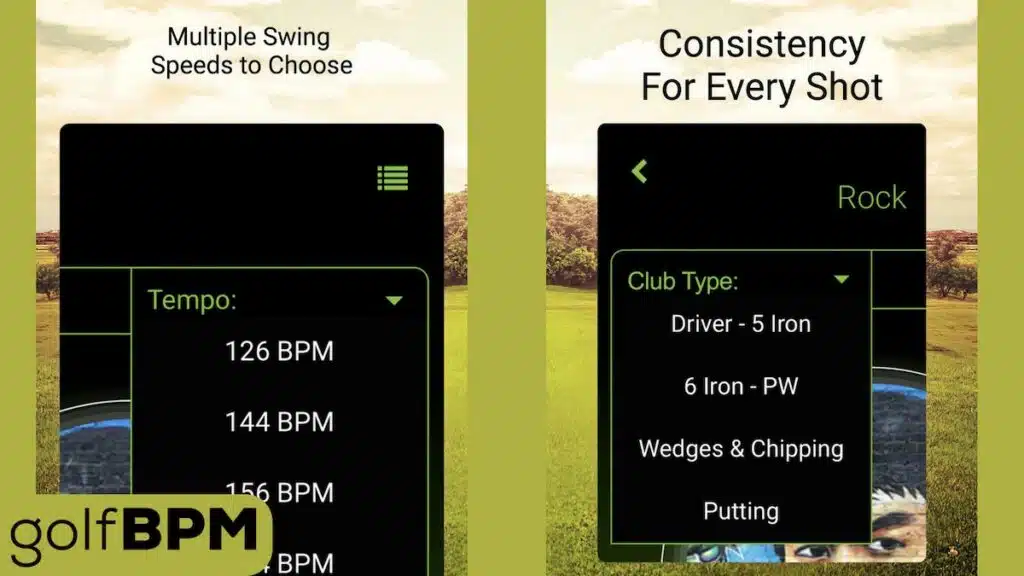 Pros
Improves your tempo
Uses music
Free to download
Available on iOS and Android
Easy to use
Cons
Some players may find the music distracting
It doesn't offer other insight into your swing
The Golf BPM Tempo Swing Track is a slightly different take on swing analysis apps. It uses music to train you. Well, I like music, so this was fun to test.
Download the app and enjoy the complimentary registration before commencing your training. Select a station with your music of choice, then select the club in hand and your average swing speed.
Next, you start your takeaway on the first count and initiate your downswing on the second count. Finally, your clubface should strike the ball on the third count. Working on this drill frequently leads to a consistent swing without even thinking about it.
While I preferred the visuals on V1 and Sparrow, I know that the auditory focus can help a lot of golfers. Some days I prefer to listen to music, and if it can improve my game, that's a plus.
The cost is a bit pricey though, given that there's less analysis. The cost is about $6 per month or $60 per year. I like that there's a lifetime membership option currently at $90. So it's cheap to try and if you like it, then pay one time and you're done, unlike V1 and the others which only allow recurring yearly payments.
Rating: 3.0
7. Golf SwingPlane – Best For Swing Plane Training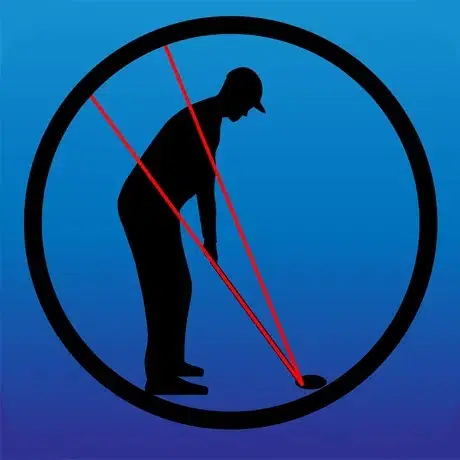 Pros
Records your swing
Robust tool for serious golfers
Free to download
It offers lessons from professionals
Helps you understand and improve your swing plane
Cons
Only available on iOS
Difficult to learn and understand for the average golfer.
The Golf SwingPlane app offers a detailed design, enabling the user to record your swing and overlay shapes to highlight each point of the swing. The boxes are drawn around the frame of your body, while the lines extend from your ball up the shaft, and another one runs parallel up to your trail shoulder.
Next, the circle is to draw around your clubhead after takeaway and at the top of your backswing. These props help you understand where your hands, wrists, elbows, and clubhead are relative to the impact zone throughout the swing.
Besides the swing plane assistance, the app features videos from Tiger Woods, Ernie Els, Rory McIlroy, and Phil Mickelson.
Rating: 3.7
Budget-Friendly Launch Monitors with Swing Analysis Apps
Pros
Comprehensive data with metrics like carry distance, spin rate, and more
Compact and portable
A budget-friendly option
Simple setup and user-friendly app for many Android users and some iOS users
Cons
Accuracy issues
Not for advanced golfers
The iOS app version feels outdated
Unlike the app only mentioned in this list, Flightscope's Mevo is a pocket-sized 3D Doppler radar launch monitor with an app you can use to analyze your swing. It's designed for both indoor and outdoor use. I've been testing with this nifty gadget. First off, the size is perfect—it's super compact, fits right into my pocket, and sets up easily whether I'm hitting indoors or teeing up outside.
The real-time feedback on all my swing metrics? Spot on. It's just like having a mini-coach in my pocket. Plus, the video analysis feature is cool. I've been breaking down my swings after each session, and it's helped me a lot.
Now, about the app—got mixed feelings here. I downloaded it on my iPhone, and the Bluetooth connectivity was smooth. Setting up was a breeze, and using it indoors is pretty legit. But here's the thing, the app feels… well, old. It's like they made it way back when iOS 4 was the latest thing. A bit clunky, sometimes unresponsive, and could seriously use a facelift. I've heard it works better on Android, but I haven't tried it.
Pros
Auto Rewind Feature: Perfect for perfecting that one tricky shot.
Accuracy: Really impressive for its price point.
Universal Club Compatibility: Works with all my clubs.
Feature-Packed Software: 15 courses, a driving range, multiplayer option, and more.
PC Friendly: Seamless integration.
Setup: Honestly, pretty straightforward.
Graphics: If your PC can handle it, it's a visual treat.
Budget-Friendly: Doesn't drain the bank.
Cons
Limited Multi-Player Settings: Not customizable for multiple players.
Connectivity Issues: Had a couple of hiccups connecting to the dongle.
Mac Compatibility: It's a no-go for Apple's OS.
Additional Equipment: You'll need a mat and impact net for indoor sim action.
Short Chip Readings: Inconsistencies popped up for me.
I recently decided to give the Rapsodo R-Motion a swing, and let me tell ya, I'm pretty impressed with what it offers for its price. Unlike the other app-only swing analyzers on this list, this uses a launch monitor. This means you'll get a lot more data, but you'll also pay a bit more.
But this thing isn't just another launch monitor; it's a mini golf revolution, especially considering how pocket-friendly it is. It uses this fancy photometric tech to gauge both my swing and the ball data, so whether I'm indoors practicing my swing or out on the course, it's got my back.
What's super cool is how the ball flight trajectory shows up. Whether I'm hitting a slice, hook, or that elusive perfect draw, it displays it all. No more guessing games! And the setup? A breeze! You just clip the unit onto your club shaft. Oh, and no extra gear is needed! It lets me preload data for all my clubs, so selecting the right one for a shot is quick and painless.
I'm a tech geek too, and the software experience was a treat. It's all Windows 10-based, and the graphics? Seriously immersive, especially if your rig can handle 4K. I've been lost in the 15 virtual courses and practicing on the driving range feature. The outdoor setup is hassle-free, with a rechargeable battery lasting me a good 4 hours. My personal favorite? The Auto Rewind Feature! It lets me hit the same shot repeatedly, helping to nail down those tricky trajectories.
What's The Best Way To Record Your Golf Swing Using A Swing Analysis App?
Want to break down your swing and fine-tune your game? Using a swing analysis app is the way to go! But to get the most out of these apps, you've got to record your swing properly. Enter the SelfieGOLF Record Golf Swing. It's a cell phone holder that's touted as a game-changer for golfers who want to capture their swings. But, does it really live up to the hype? Here's my take as a golfer who's given it a whirl.
SelfieGOLF Record Golf Swing
Pros
User-Friendly: Clipping my phone onto the alignment stick was a breeze, and it held up well, even against some gusty winds at my local range.
Sturdiness: The phone stays firm and stable, so no worries about it toppling over mid-swing.
Flexibility: Loved the added bonus of the folding alignment sticks! Comes in handy in more ways than one.
Versatility: Whether it's for my personal swing analysis or for showing off a sweet driver distance in the group chat, it's got me covered.
Cons
Setup Time: Honestly, getting it clamped to the bag, sticking the alignment stick in the ground, and ensuring everything was perfectly aligned behind me took longer than I'd have liked. I've found using a smartphone tripod can be a quicker alternative.
Stability Issues on Alignment Stick: Perfect in theory, but the alignment stick setup doesn't always hold up. It works best in perfect turf conditions and with zero wind. On windier days, it's safer to clip it to your bag or push cart.
After hearing it won the PGA Best Product, I was pretty stoked to get my hands on the SelfieGOLF. Straight out of the box, it promises compatibility with all cell phones and a neat feature that lets you adjust your phone's height. On top of that, there's a 30-day money-back guarantee which gave me the confidence to give it a go.
All in all, the SelfieGOLF Record Golf Swing is a solid accessory for recording swings. While it has its quirks, especially with the alignment stick setup, it's super easy to use once you get the hang of it. Watching my swing on video was an eye-opener. It's one thing to feel what you're doing wrong and another to see it. With this tool, I've spotted my mistakes and worked on correcting them (or, at least, giving it my best shot). If you're in the market for a golf recording tool. Just maybe keep that tripod on standby for those breezier days.
FAQ
Is There A Free App To Measure Golf Swing Speed?
Yes, GolfTrak is a launch monitor application that monitors golf swing speed, spin axis, club path, and distance. It is also compatible with E6 Connect golf simulator software, but you must pay the annual subscription fee.
Is There An App That Tracks Golf Shots?
Yes, apps like V1 Game and Shot Tracer allow you to track golf shots to analyze your round later. Although not as glamorous, there are Digital Scorecards like Hole 19 and Swing U that track your strokes and distance.
What Is The Best Golf Swing Analysis App For iPhone?
The V1 Golf offering is the best golf swing analysis app for iPhone, thanks to its recording capabilities, silhouette guides, and access to a wealth of drills and tutorials.
Conclusion
Our best golf swing analysis app review for 2023 showed five products that excel in their respective categories. The only app that thrived overall was the V1 Golf App for its analysis, tutorials, and drills.
Golf swing analysis apps are built to identify your address, takeaway, top of the swing, and impact position. Moreover, they also enhance your tempo, club head speed, and swing path, which helps you deliver consistent shots without overthinking your swing.
While our five best golf swing apps are worth considering in their respective categories, I suggest considering the V1 Golf App for an overall experience.
Read More: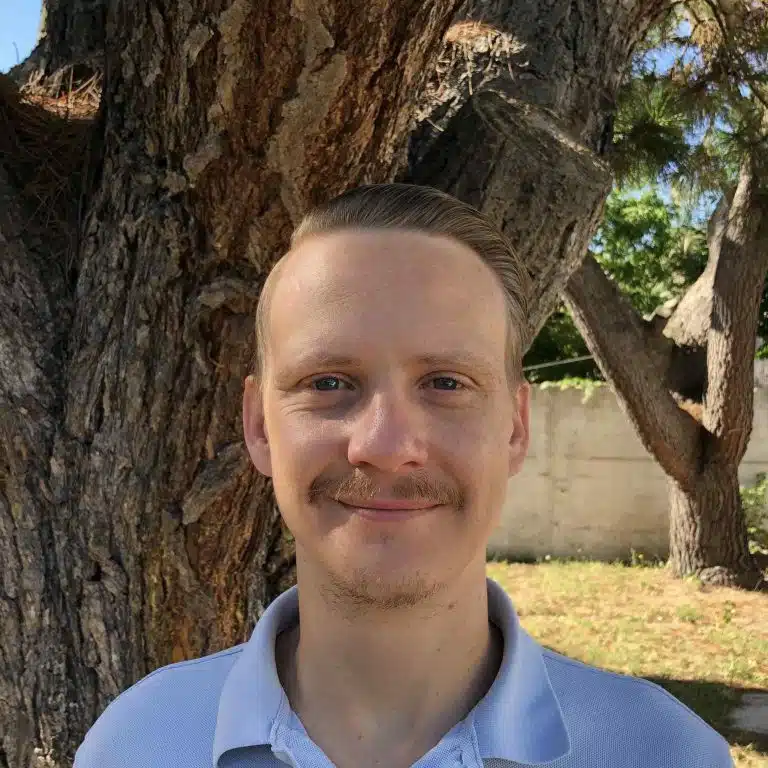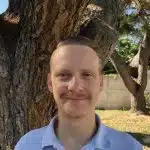 Matt is a seasoned golf equipment writer and sports fanatic. He holds a Postgraduate in Sports Marketing and has played golf for over 28 years.