Golf apps are quickly changing how we perceive golf and helping millions change their game. Multiple golf apps for Android help golfers track their performance every day and have millions of downloads.
But there are hundreds of Android apps, and some can cost more than $100 a year.
The 10 best golf Android apps of 2023 are:
With so many options, you'll want to find the right app to meet your needs. Some golf apps can act as a rangefinder (saving you hundreds of dollars). Other apps will track your stats. And some even connect you to like-minded golfers.
On the other hand, poorly designed apps waste your time, energy, and maybe even your money.
Read on to learn the pros, cons, and prices of each of the best golf apps on Android for 2023, and at the end, you can see what features to consider when purchasing an app.
Top 3 Golf Android Apps for 2023
Best Overall
Best Value for Your Money
Best Free App
GOLF PAD Golf GPS Rangefinder
GolfShot: GPS + Caddie
Hole19
Pros

Maximum unpaid features
App optimization to save battery life
Easy link to smartwatch
Lots of pre-installed golf courses
Accurate yardage
Tracks score and stats

Various packages based on your budget
Brand partner discounts
Book tee times through the app
Real-time distances
3D previews of the golf course

Club recommendations and handicap calculator
Live leaderboards for real-time games and score comparison
A reasonably priced premium version

Cons

It does not give separate stats based on the type of ball you're using.

Cannot adjust the target on the free version
No monthly subscription options

Multiple ads in the free version

Price Score
95/100
90/100
98/100
GPS Rangefinder
95/100
90/100
85/100
Free Features
90/100
90/100
95/100
App Optimization
95/100
85/100
85/100
Rating
4.7/5
4.5/5
4.5/5
The Best Golf GPS Apps
Golf courses usually span thousands of yards, and it usually takes a long time to understand a new course completely.
Knowing where the green is, the sand, bunkers, etc., can significantly impact your play. This is where golf GPS apps come in handy.
Golf GPS apps act as rangefinders and tell you the exact distance from the green – some even provide aerial views of the location.
Rangefinder apps can be a lifesaver if you play on a new or unfamiliar course.
Here are the top two GPS apps that you can download for golf. Alternatively, you can also check out this article for more of the best golf GPS app for Android 2023.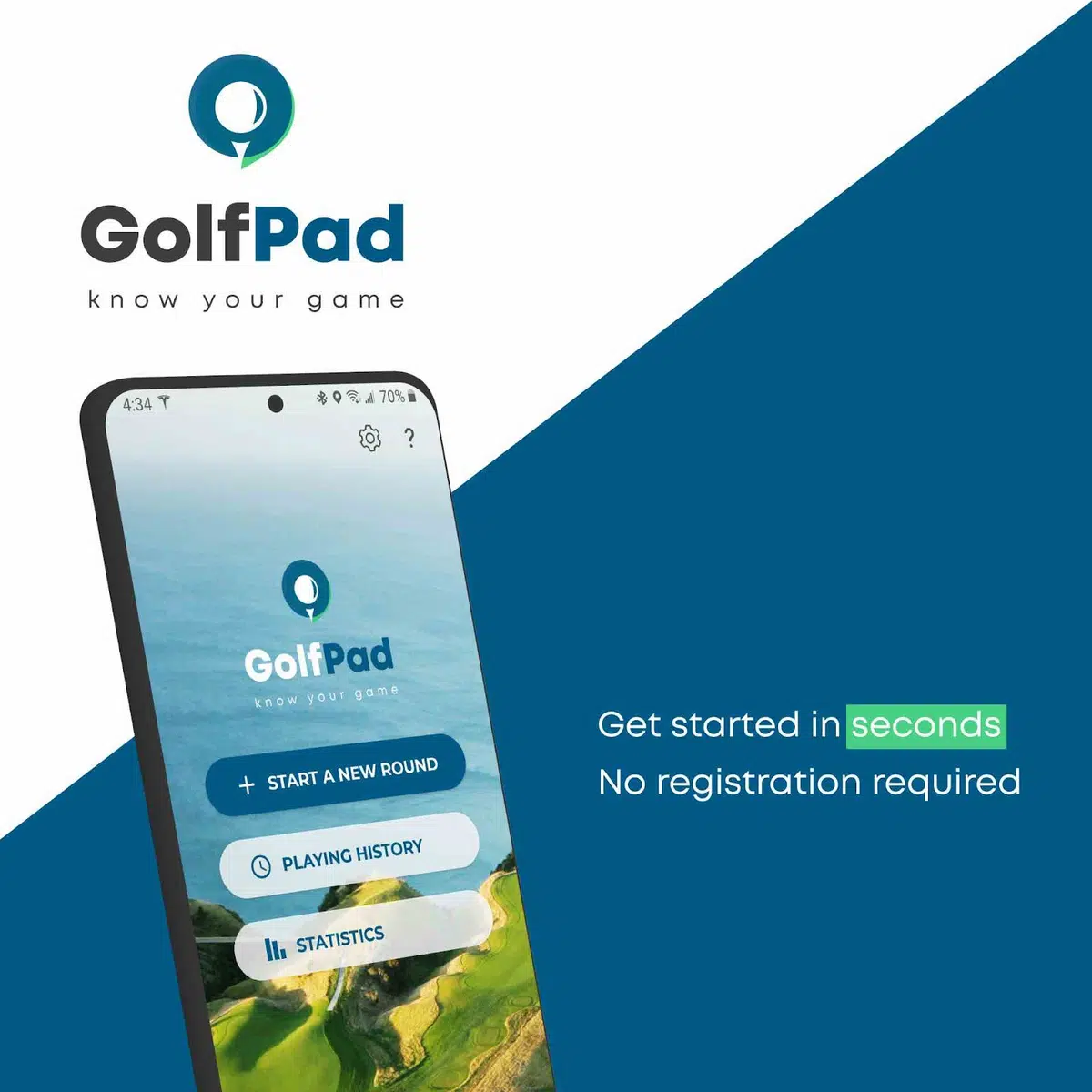 Pros
Many free features
App optimization to save battery life
PGA quality scorecard and shot tracking
Easy link to smartwatches
GPS rangefinder and aerial tracking
Tracks scores and stats for up to 4 golfers at one time.
Cons
It does not give separate stats based on the type of ball you're using
Rating: 4.7/5
Premium Subscription: Starting for as low as $19.99/year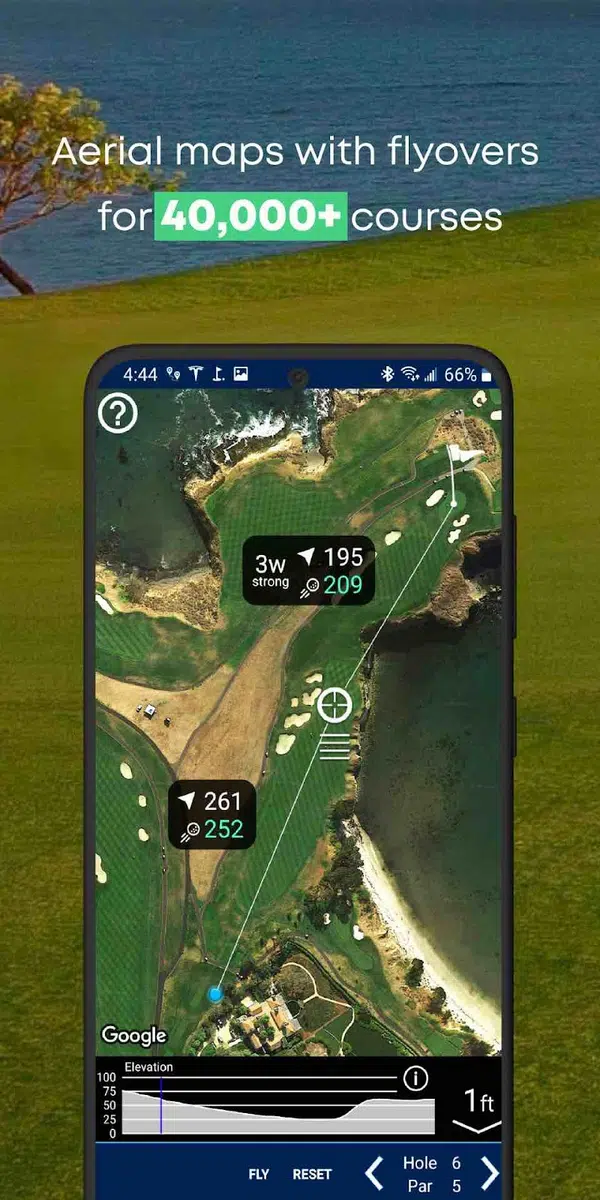 GolfPad is one of the best golf apps for Android, and it's the main golf app I use. The app has over 2 million downloads and over 7 million games played. Its wide range of features makes it a go-to app for many average golfers.
Although multiple golf apps offer similar features, what sets GolfPad apart is its wide variety of free features.
Regarding the GPS rangefinder, GolfPad is a clear-cut winner since it gives you an accurate distance from your position to different points on the course. The aerial view feature is also great for getting a different course perspective to plan your shots accordingly.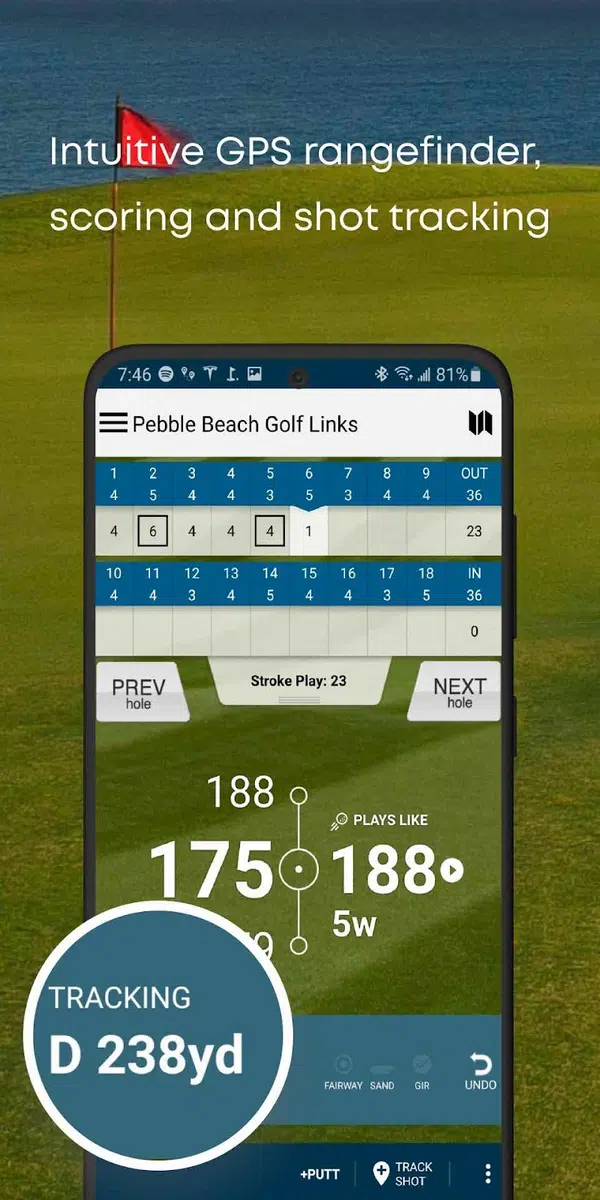 The app also has a PGA-quality scorecard that tracks scores, penalties, sand, and much more for up to four players for free. You can also add player emails, and once your round is completed, the app will automatically send everyone their scorecards and performance.
Golf Pad also has a Regulation Mode that lets you play according to tournament rules to be best equipped for the big day.
A highly overlooked feature I loved about GolfPad is its customer service. It's normal for apps to face occasional glitches, but fast and efficient tech support helps you resolve your queries instantaneously.
The app also gets easily linked to your smartwatch, and the battery optimization ensures that your battery life is not affected by the GolfPad app running in the background.
Read more: The Best Golf Rangefinders On The Market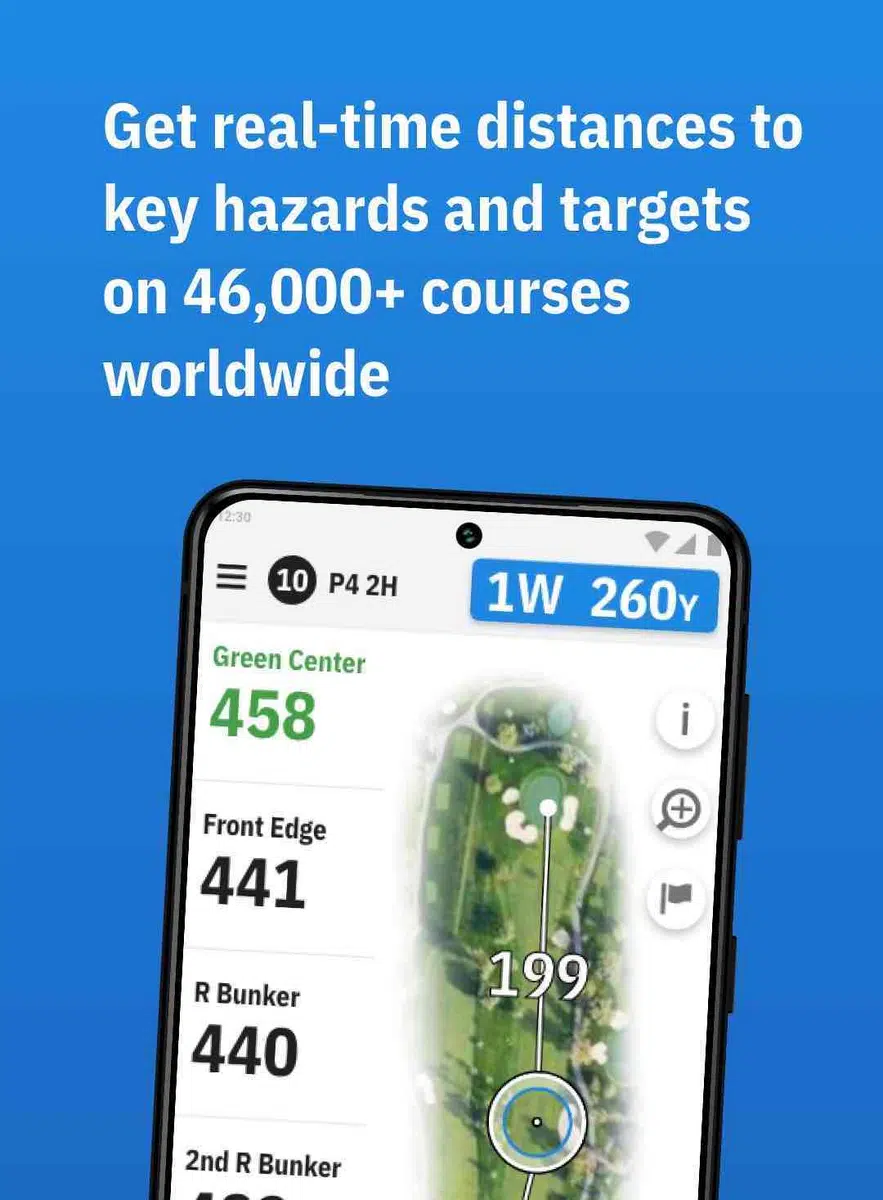 Pros
Various packages based on your budget
Book tee times through the app
Tee to green stats and hazard distances
Real-time distances on 46,000+ golf courses worldwide.
3D previews of the golf course
Cons
Cannot adjust the target on the free version
Does not work on all courses
No monthly subscription options
Rating: 4.5/5
Premium Subscription: $39.99/year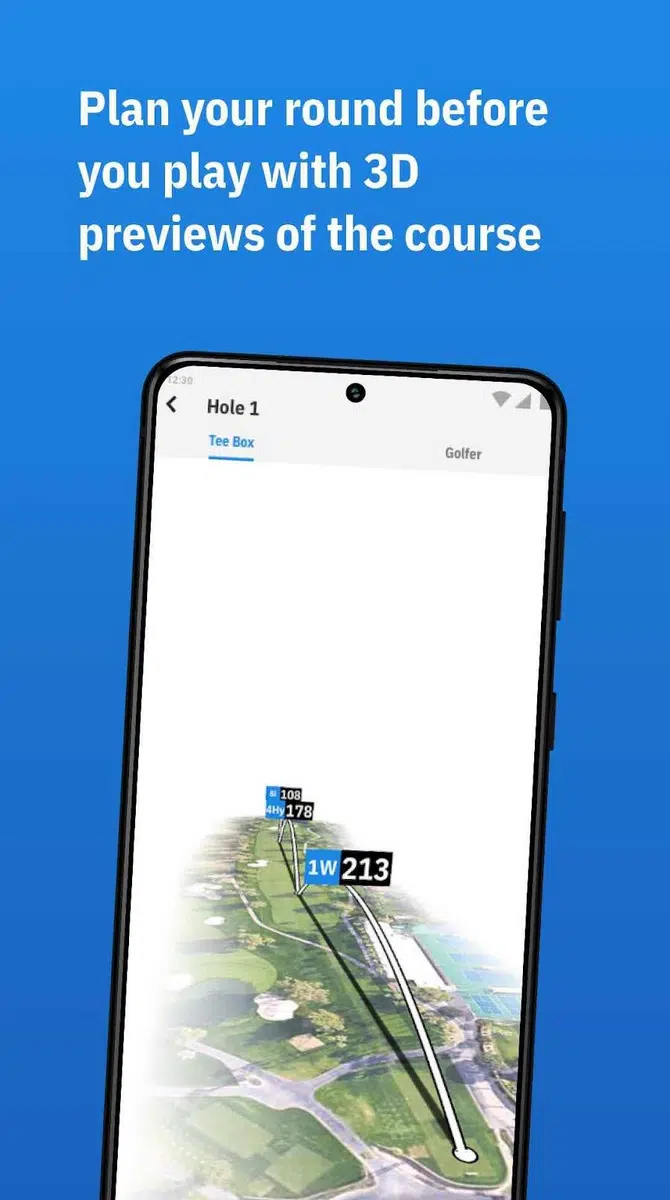 For all the golfers on a budget looking for premium golf apps, this is the app to get. You can choose between the free, entry-level, medium-range, and premium versions based on your budget.
For a reasonable fee, you can get augmented reality GPS tracking that shows distances from greens to hazards and layup points. The app also offers a flyover preview to plan your shots accordingly.
Golfers can easily link their GHIN number to the app and directly post their scores onto the handicap index.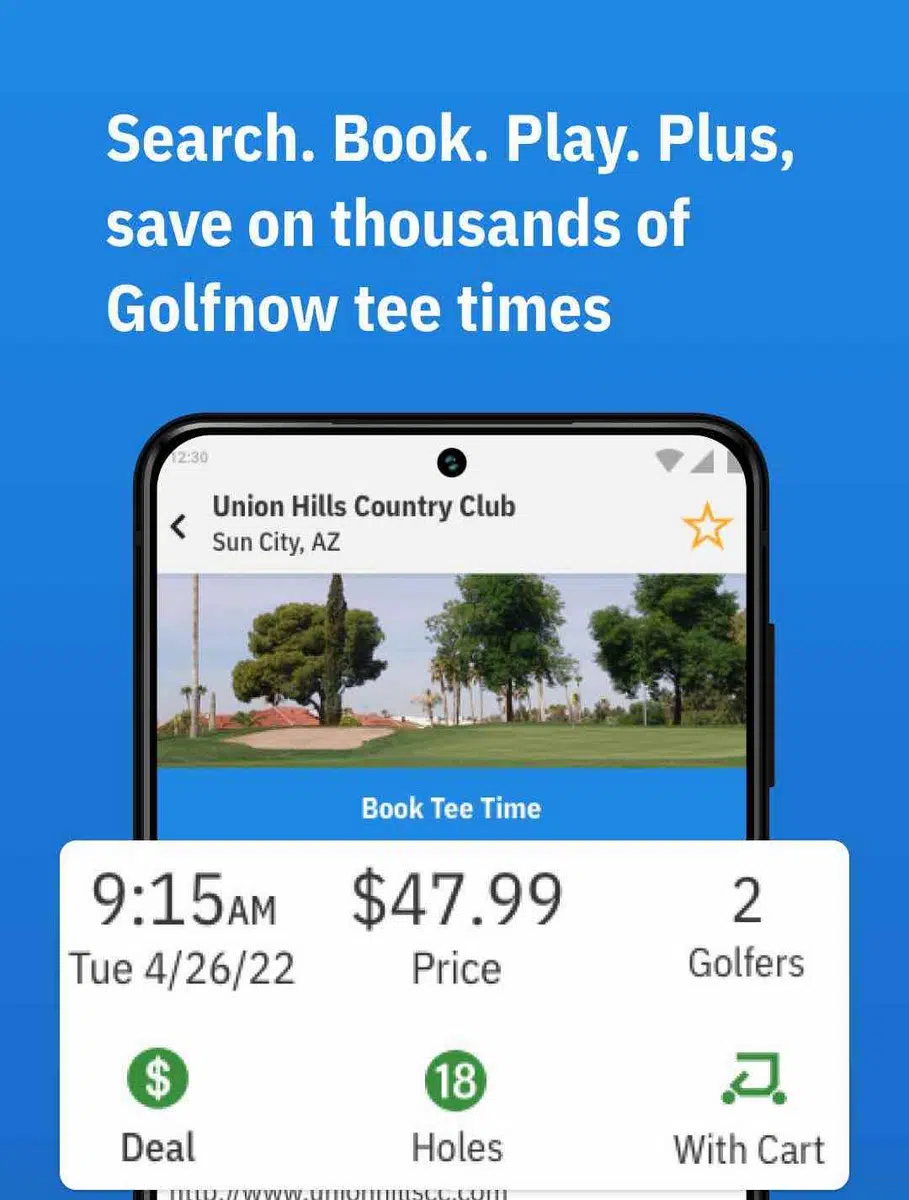 One of the best features of this app is that you can easily plan your play before your tee time. The app allows you to view your golf course in 3D and better understand the course design and distances.
Apart from GPS tracking and scorecards, the Golfshot app partnered with multiple brands to offer its users exclusive discounts on numerous places.
3. Hole19 – Best Free App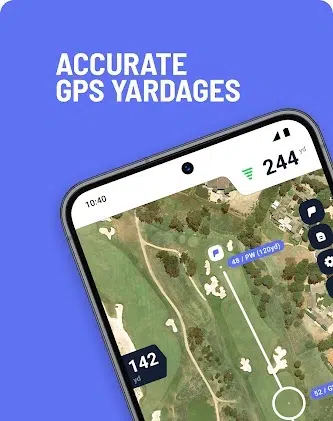 Pros
Multiple free features
Club recommendations and handicap calculator
Live leaderboards for real-time games and score comparison
A reasonably priced premium version
Cons
Numerous ads in the free version can be troublesome
Rating: 4.5/5
Premium Subscription: For as low as $5/month.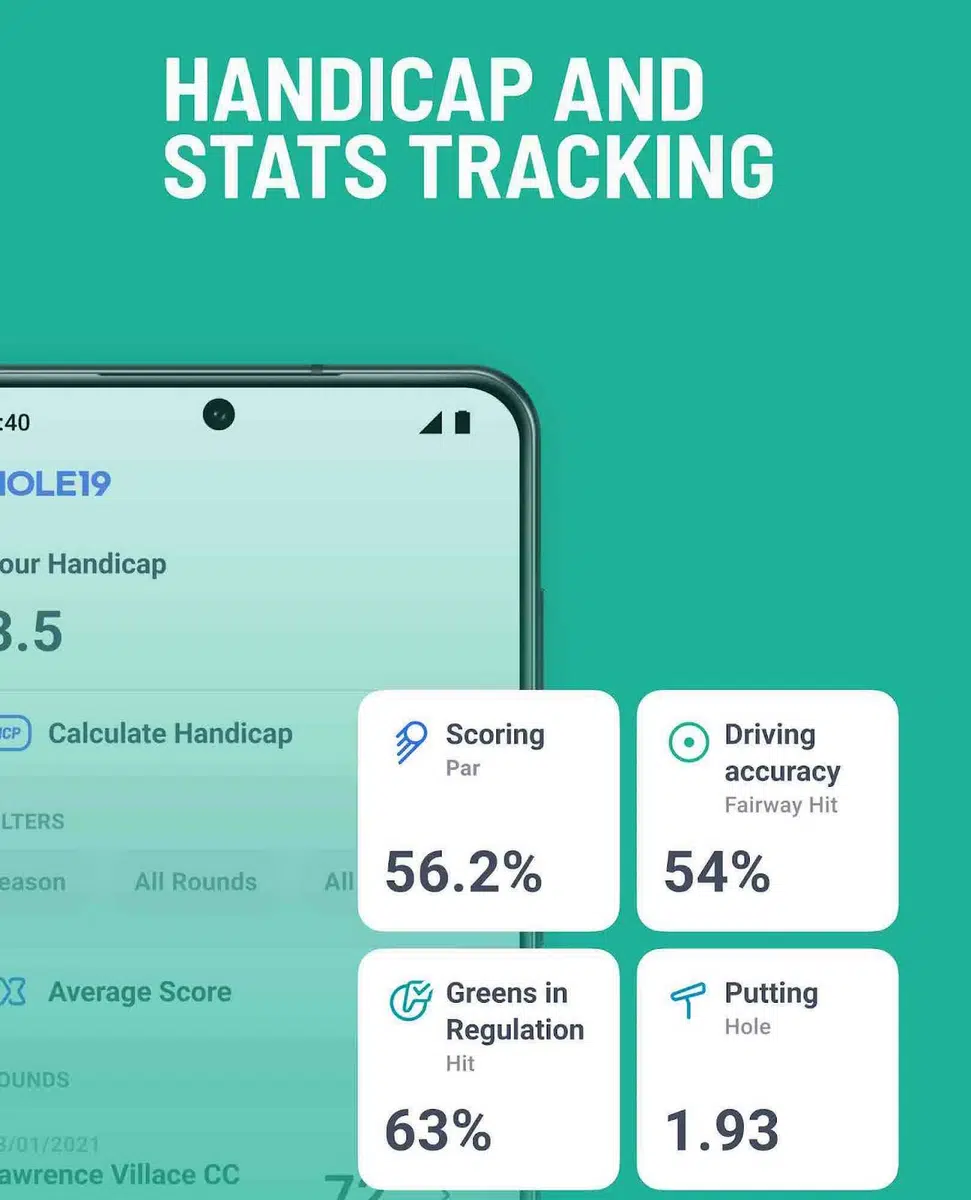 Hole19 is the best free golf app for Android that not only allows you to track your score but helps you significantly improve your game as well. It's arguably the best golf app for Android while being our top pick for best free app.
Multiple expensive rangefinder apps on the PlayStore offer a variety of features. What makes Hole19 stand out is that it provides the same features but at a significantly lower price, or even for free.
I tried this app when I started playing golf, and it helped track my GIRs, putts, and driving accuracy. The app has a nice user-friendly design too.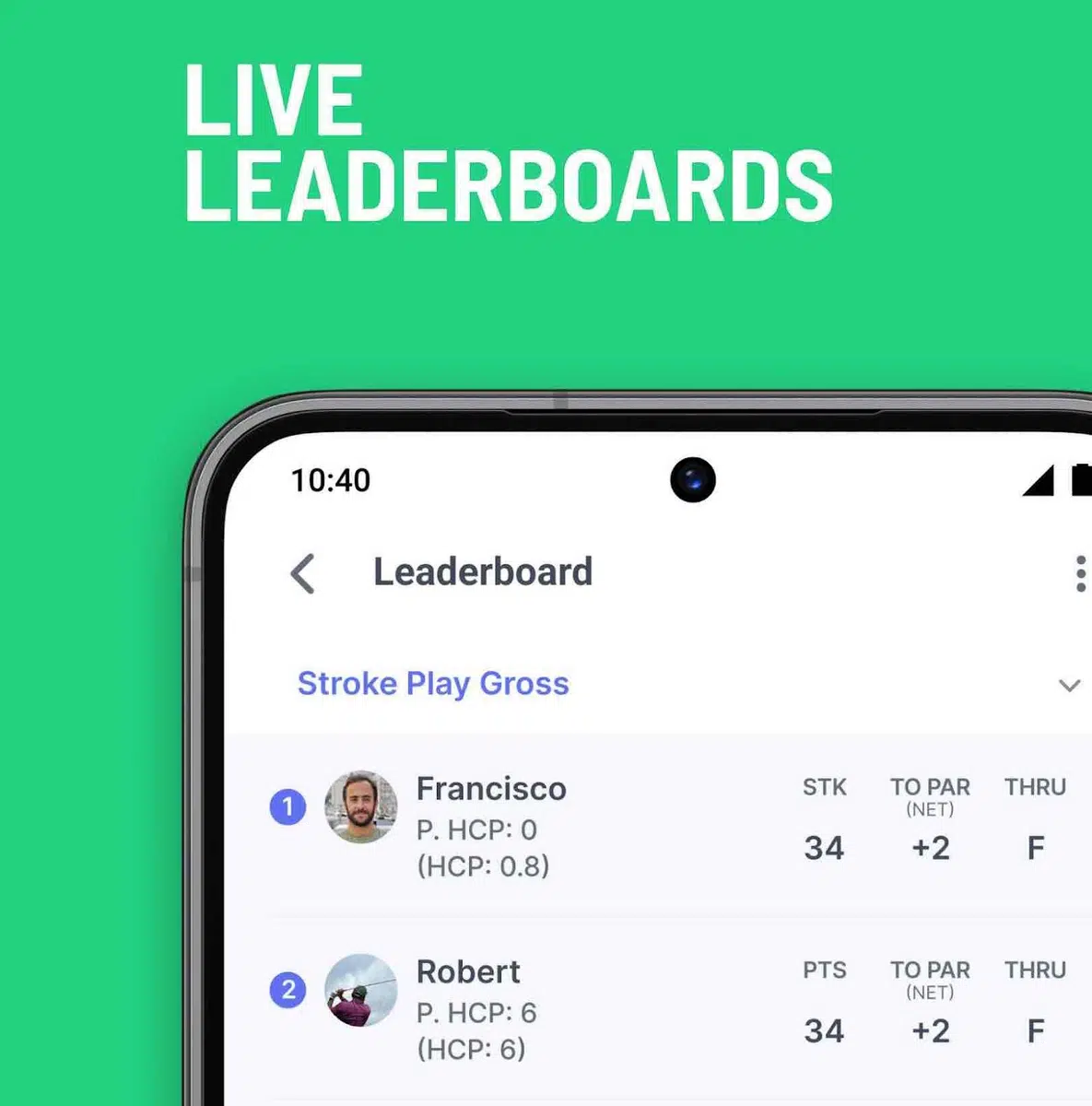 The app covers over 40,000 courses worldwide, and the GPS rangefinder is great for checking the distance from the greens and the hazards.
An intriguing feature of the Hole19 app is its Live Leaderboards. It lets you connect with and play live matches with over 3.2M golfers on the app.
The app also offers various club recommendations, and the handicap calculator is great for understanding better and improving your shots.
The app also has a strong social community where you can connect and chat with other golfers and play real-time games with them.
4. 18 Birdies – Best GPS Yardage App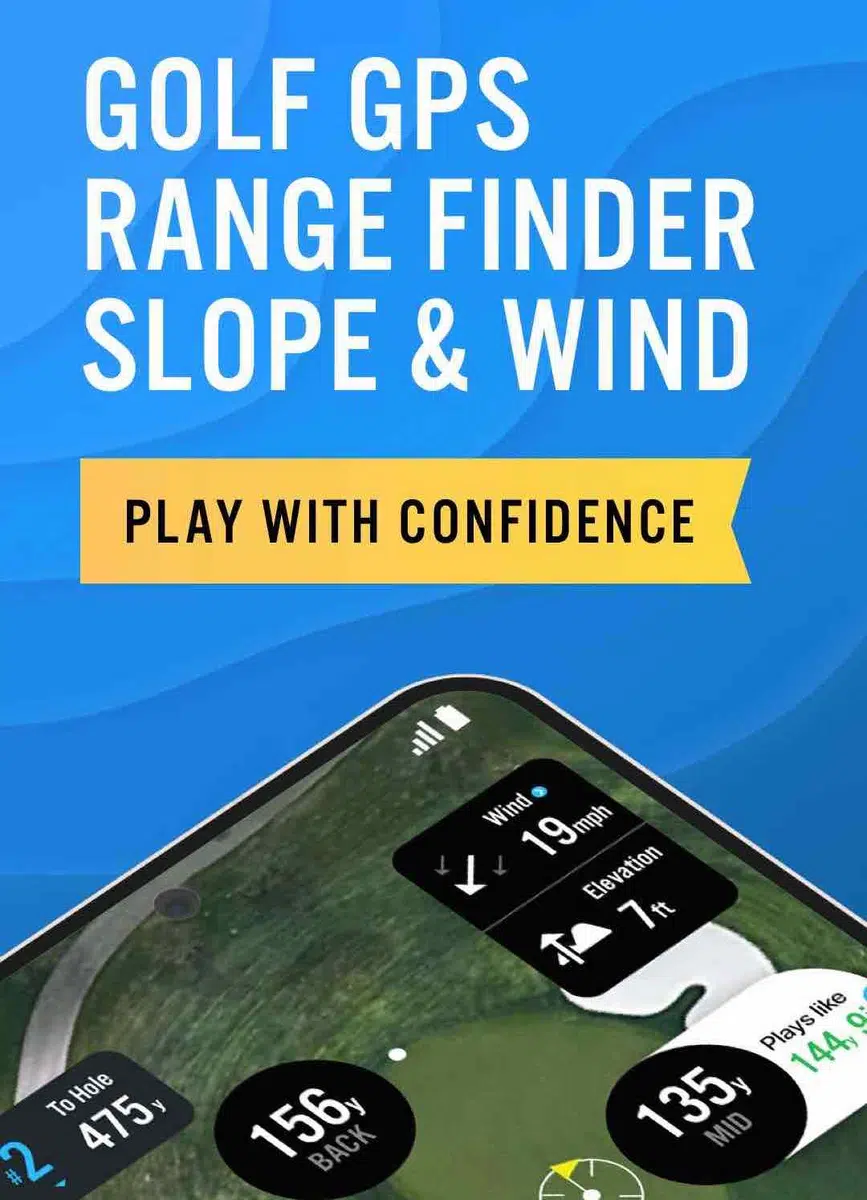 Pros
Tracks stats
Accurate GPS yardage and rangefinder
AI Coach for personalized swing and club recommendations
9+ side games
Cons
The wrong info cannot be changed; you must set up a new tournament.
No longer offer tee time bookings
Rating: 4.6/5
Premium Subscription: Starting as low as $99.99/year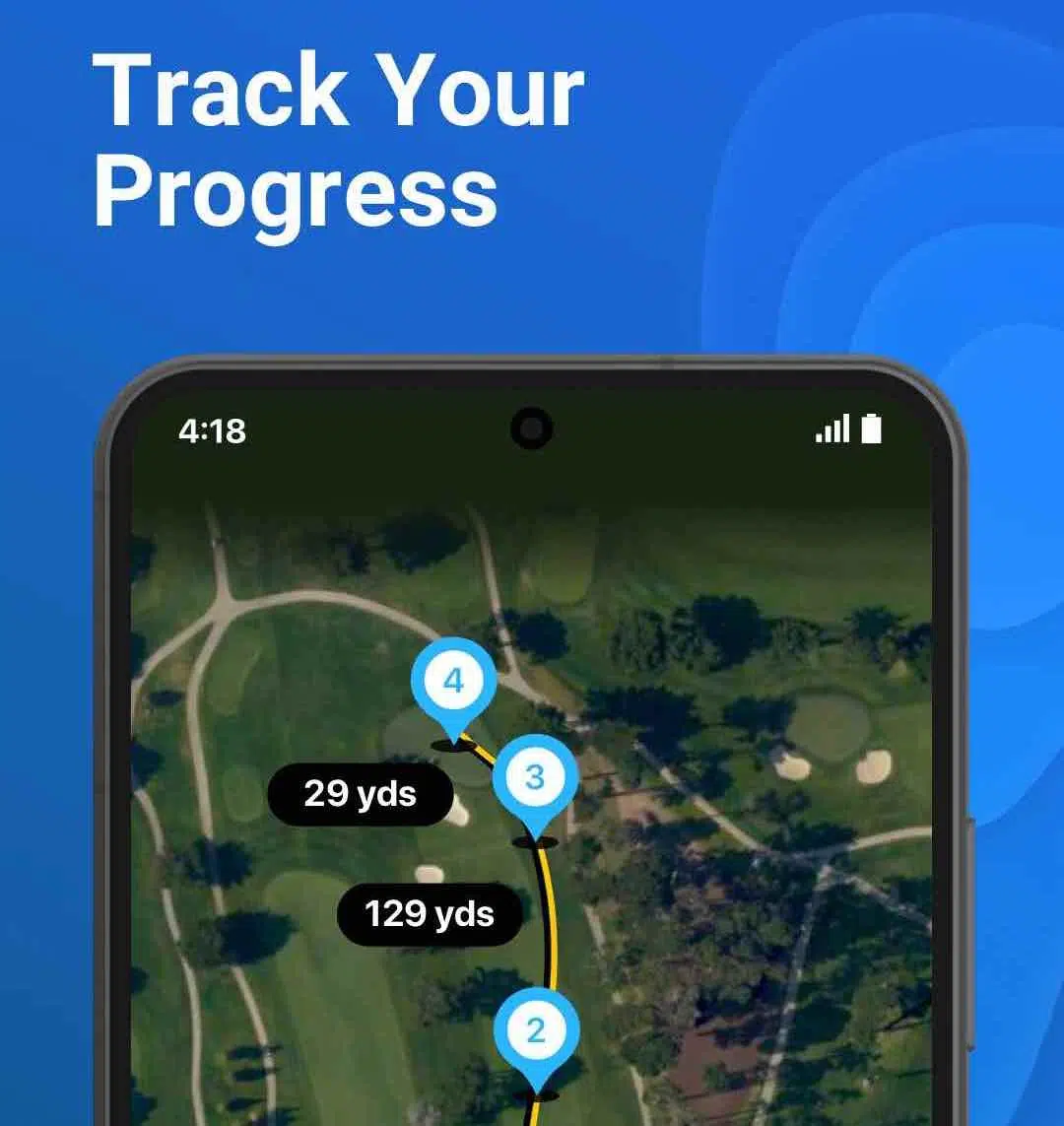 With over a million downloads, 18Birdies is undoubtedly one of the best Android golf GPS app on the PlayStore.
The app covers over 40,000 golf courses and has multiple free and premium features available for its users.
The GPS rangefinder accurately tells you the distance to the green from whichever position you're in. You can also play nine different side games, such as Wolf, Dots, and Skins, on the app for free, a major win.
The free version also lets you track your progress throughout the year.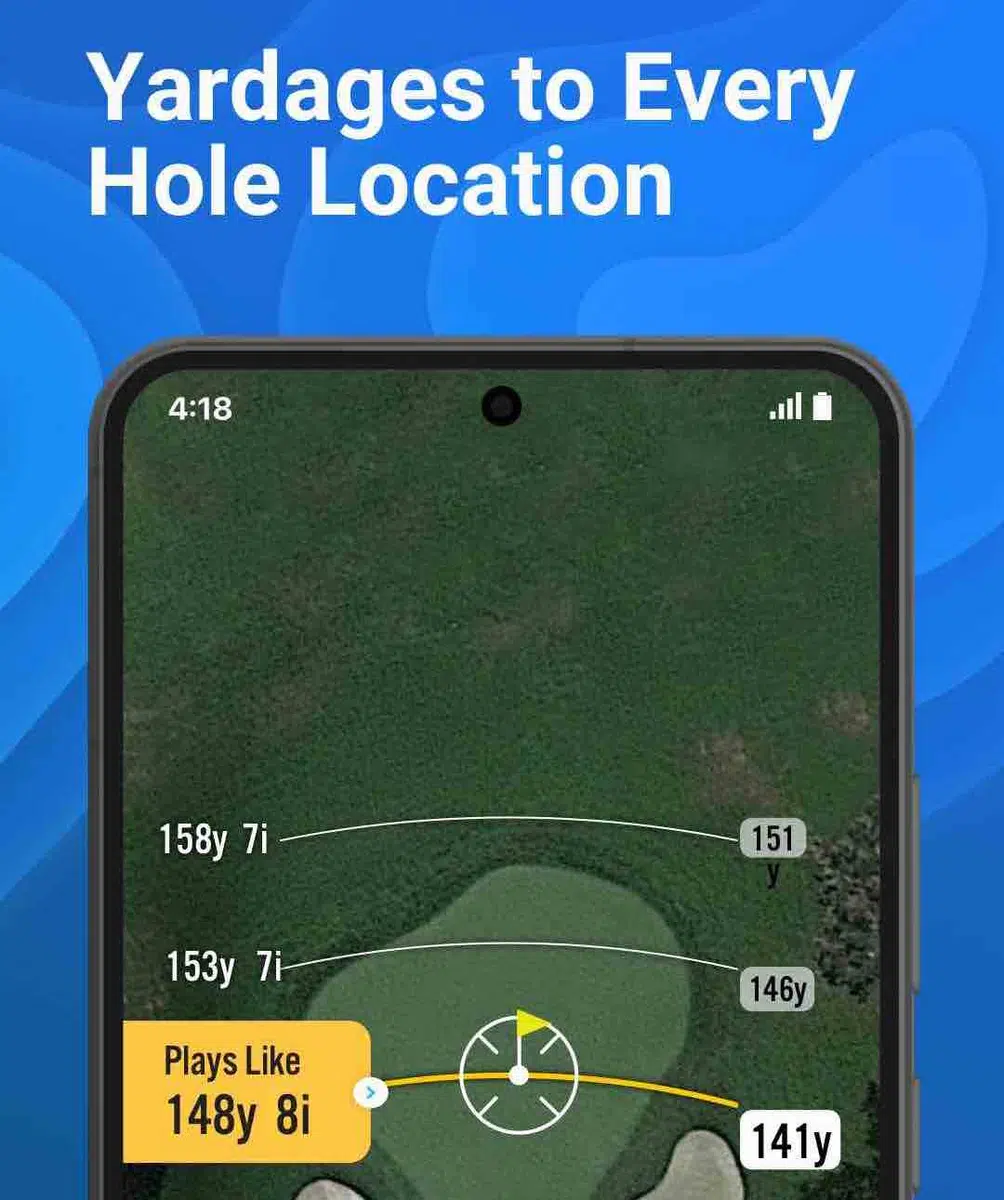 While it offers a wide range of free features, the premium version is where the true beauty of the app lies.
The premium version provides individualized club suggestions based on weather conditions, elevation, and more.
I love the AI Coach that helps you analyze your swing and tells you how to improve your game. All you have to do is upload a video f your golf swing, and the AI Coach will handle it from there.
5. SWING U – Most Free Features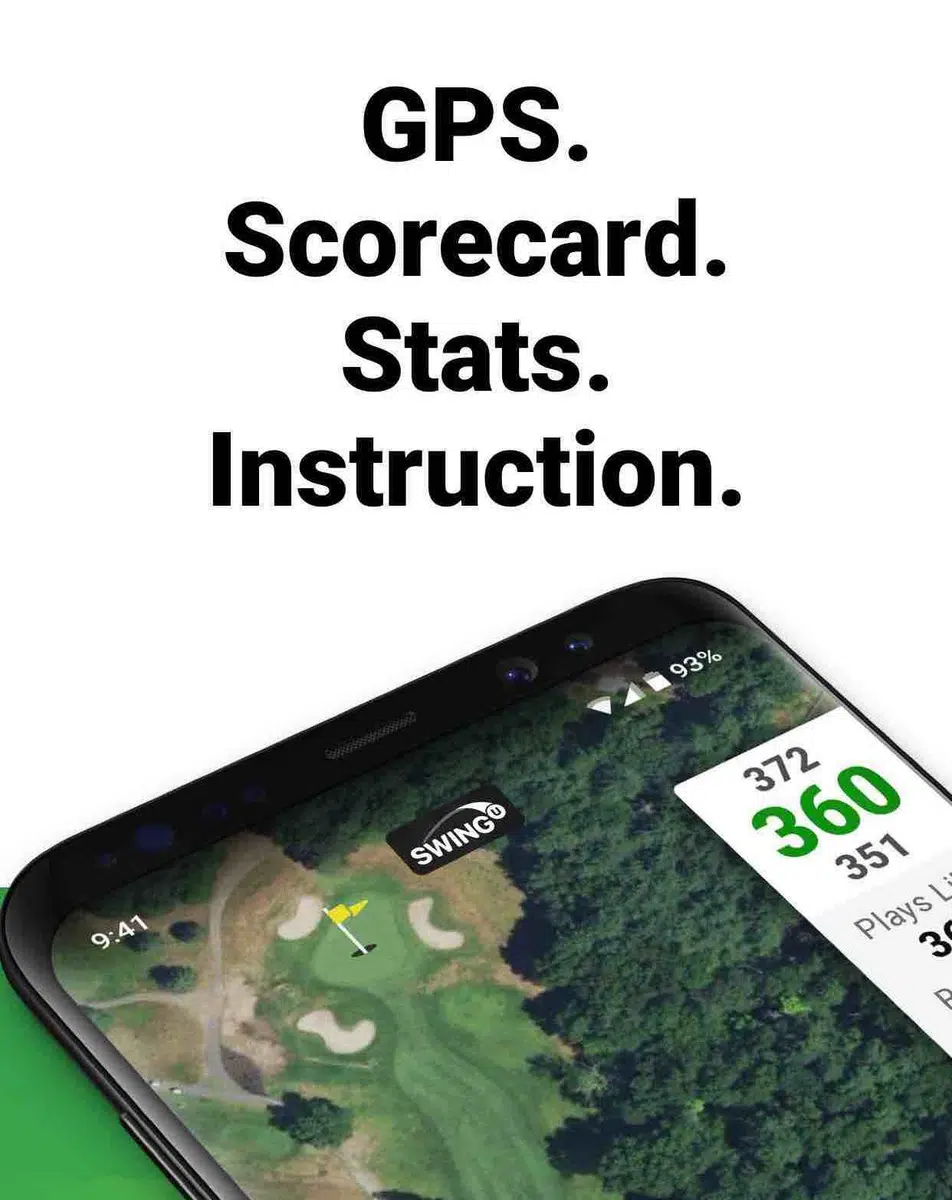 Pros
Golfer community-verified course database
Maps for 13,000 courses worldwide
Rangefinder and Shot tracker
Easy link to the smartwatch
It can also track calories burnt
Cons
Background GPS causes fast battery drainage
Sends too many notifications
Rating: 4.3/5
Premium Subscription: Starting as low as $99.99/year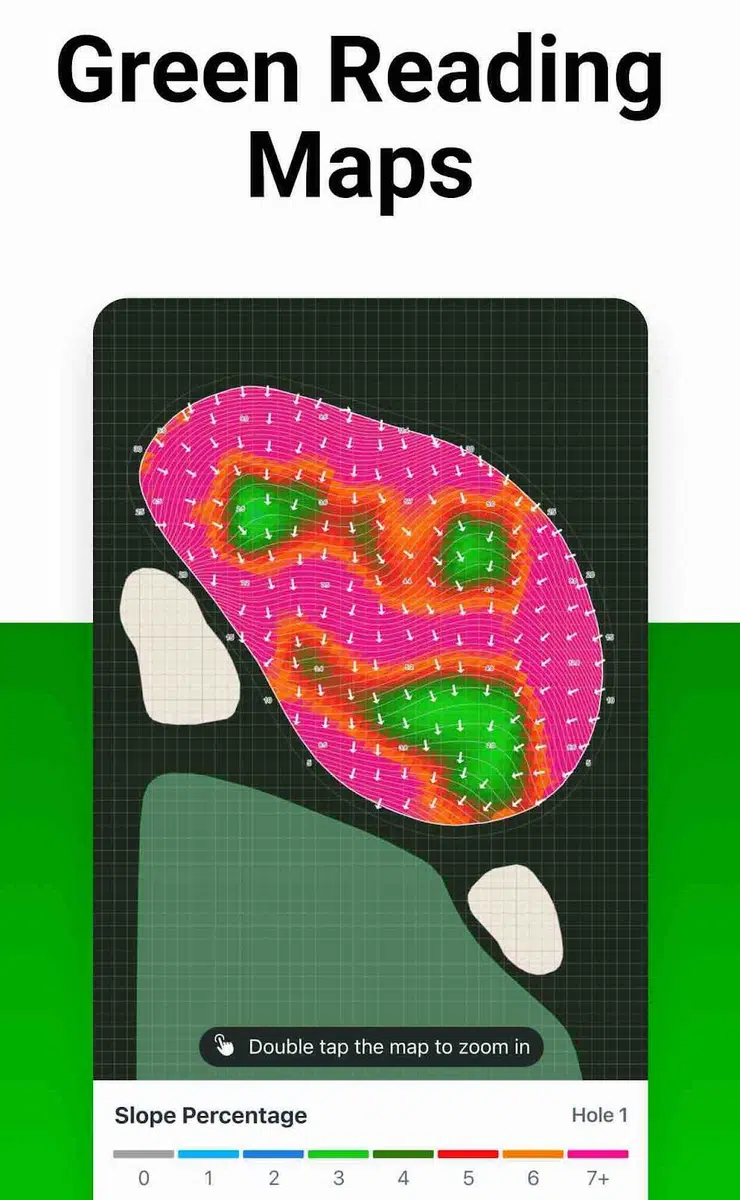 You can't talk about GPS golf apps and not mention SwingU.
With over 6 million downloads on the PlayStore, it's easily one of the most popular golf apps. The best part is that it's free to use for most of its features.
The app provides insights on how far you hit your clubs and keeps track of your shots. The GPS rangefinder provides accurate distances to the greens and other obstacles for every course.
If you've got a smartwatch, you'll enjoy linking the app to your smartwatch and keeping track of your scores and distances from it. A standout feature of this app is that you can even track your calories burnt while on the course.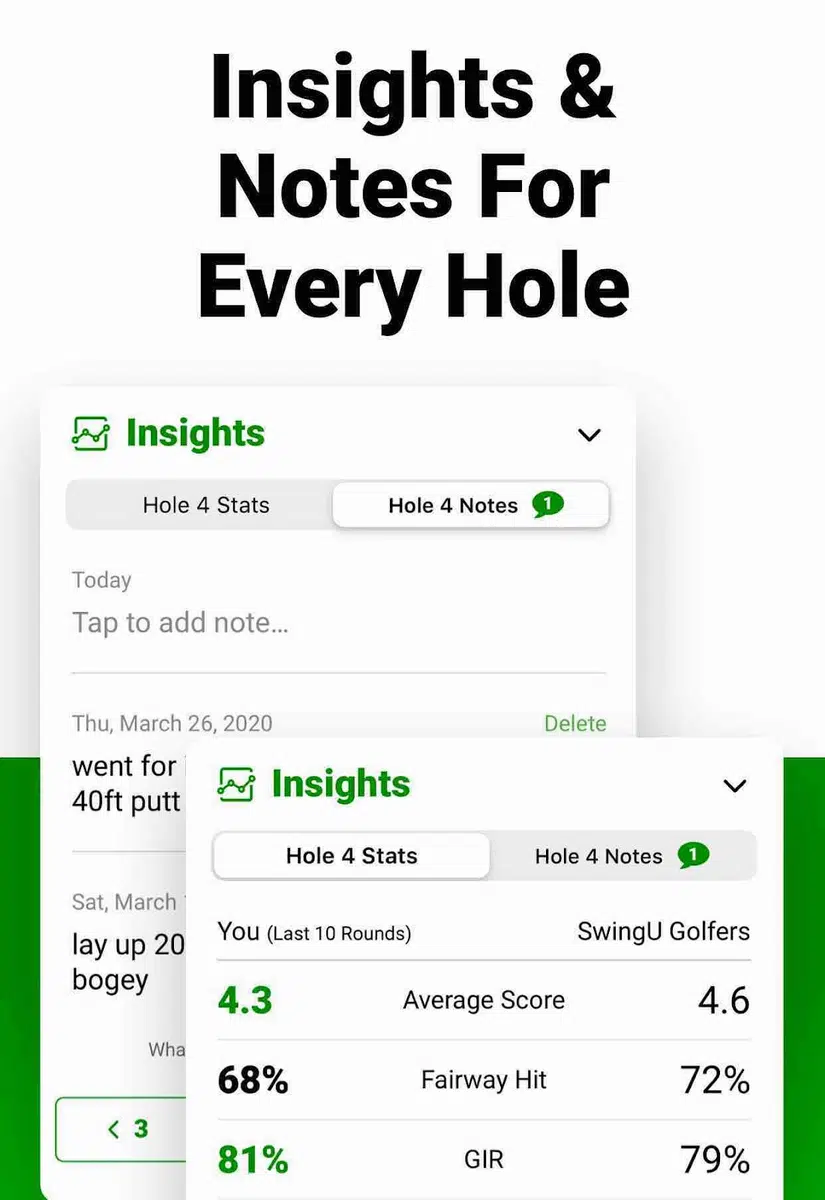 The app is extremely user-friendly and has regular updates for bug fixes and new features, so the user experience remains optimal.
SwingU also collaborated with some of the best golf instructors in the world to bring daily golf tips to its users.
SwingU is also especially popular for its digital scorecard, which keeps track of your putts and scores and automatically advances from hole to hole based on your entered course.
The Best Golf Instructions Apps
6. Golf Coach – Best Swing Analysis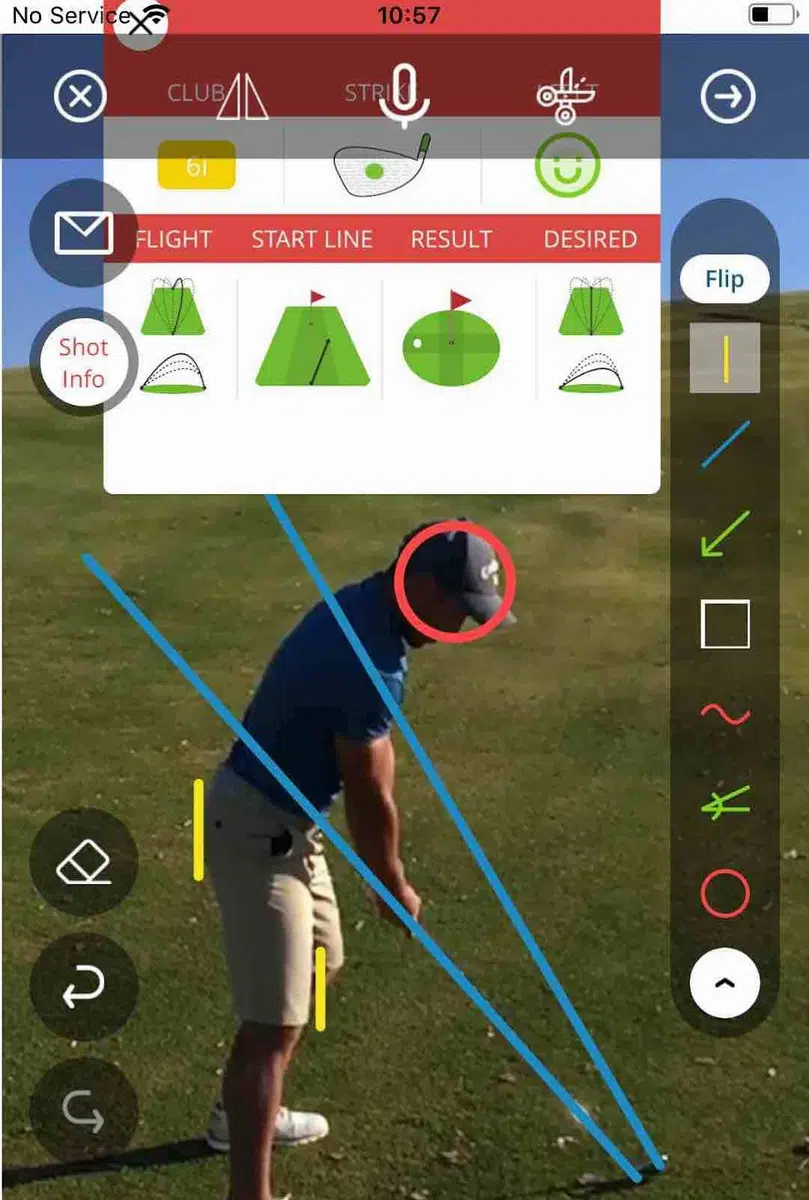 Pros
State-of-the-art video functionality
Coaches can personalize the app according to their preference
Connects students with coaches across the globe
Cons
A little complicated to understand at first
You need a second person to record the video for you
Rating: 4.3/5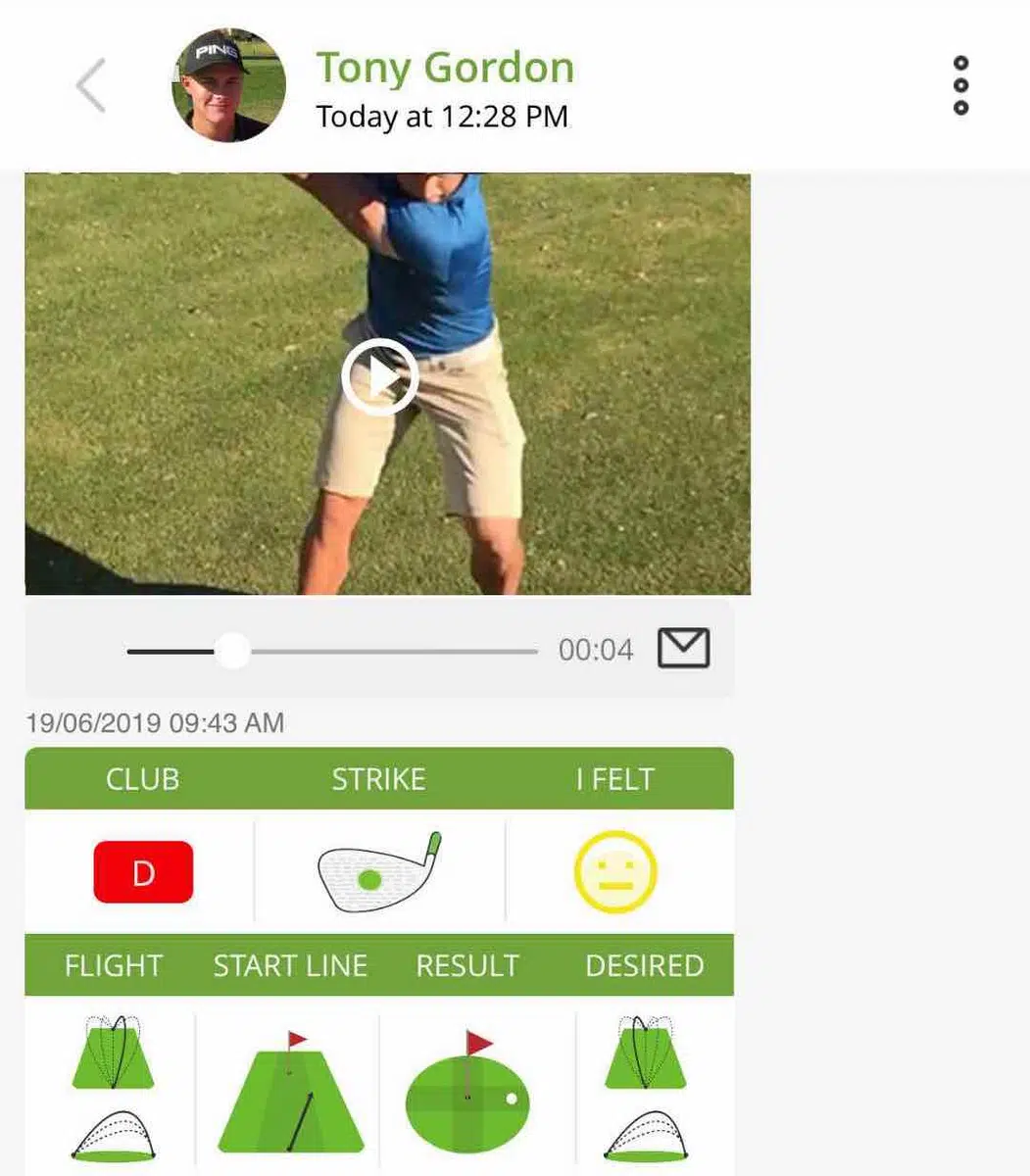 Whether you're an aspiring student or a single digit handicapper, the Golf Coach app is for you. It's one of the best apps dedicated specifically to golf and helps coaches connect with students worldwide.
I've gone through multiple swing analysis apps, and I can safely say that the video functionality and detailed swing analysis provided by the Golf Coach app are second to none.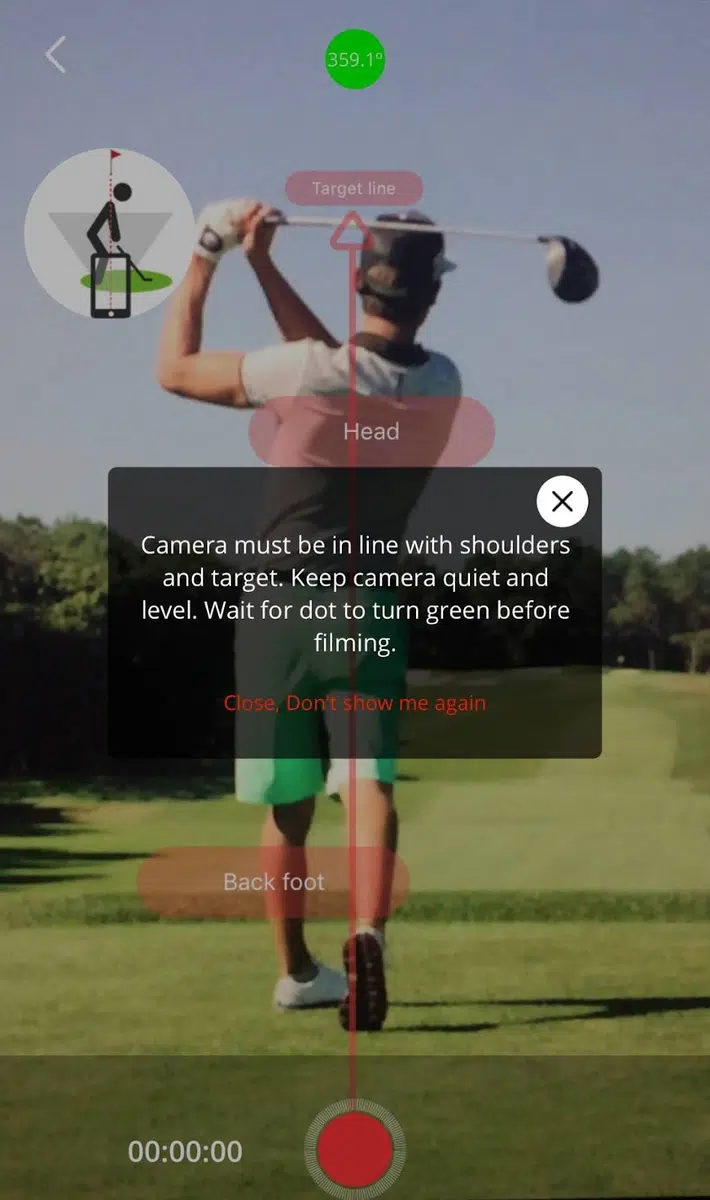 I liked how the app helps you better understand being on the plane and the importance of having a stable base.
Initially, the app is a little complicated to understand, and you'll have to add information about your strike, ball flight, etc. Still, it's truly a gem once you get the hang of it.
7. Hudl – Best Athletic Analysis App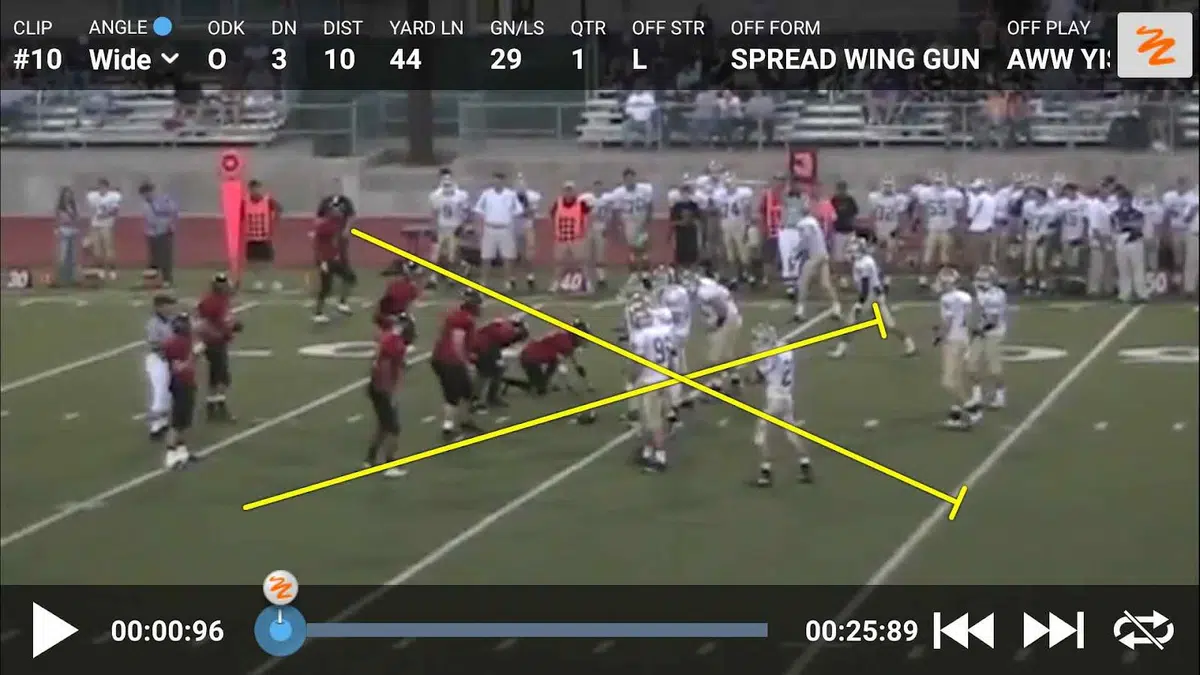 Pros
Personalized analysis and notes based on your uploaded clip
Great for teams to work together
It also covers other sports, not just golf
Cons
No direct in-app account registration
You need a coach or athletic director to help you make an account
Rating: 4.2/5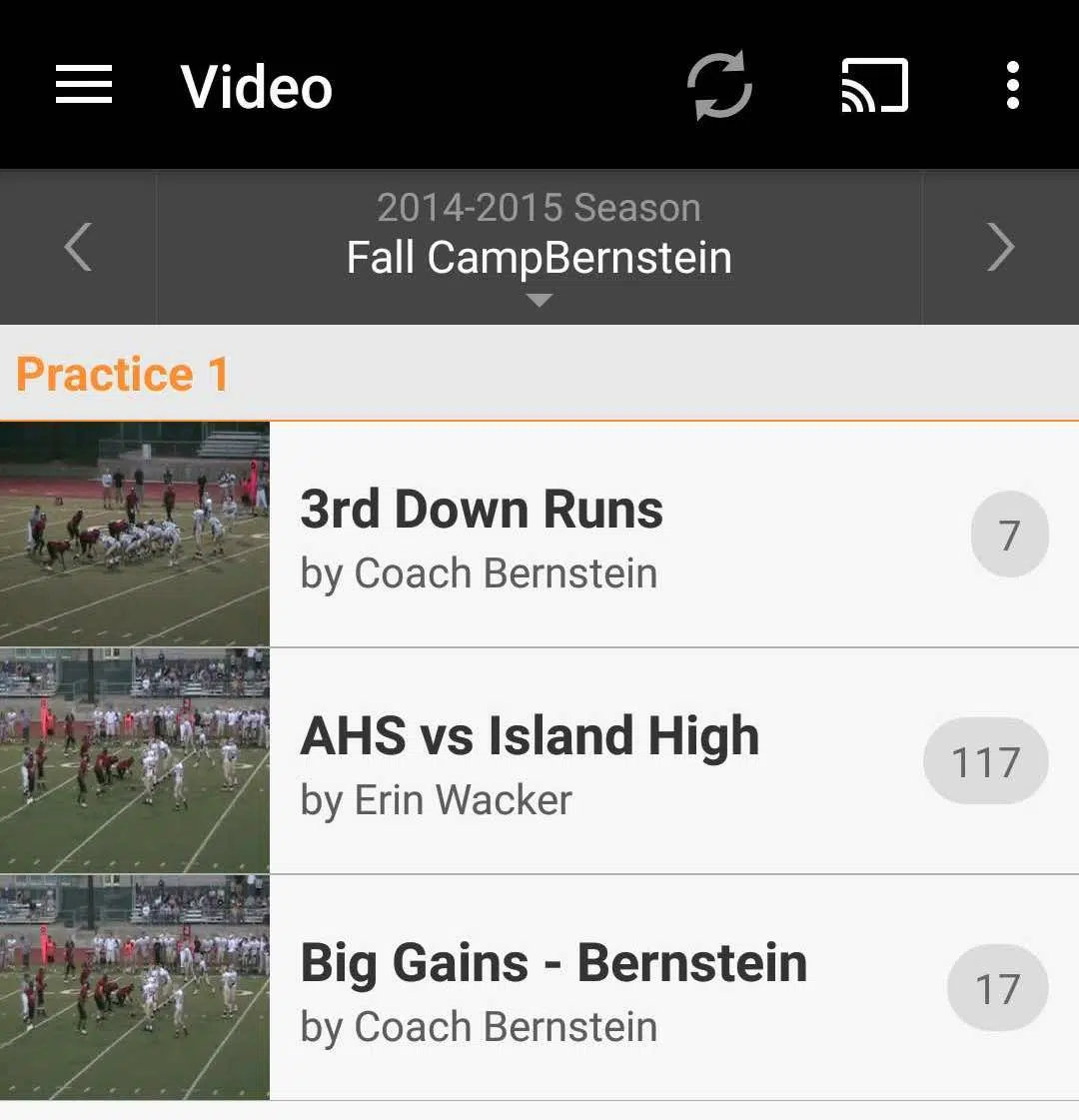 If you're an athlete looking to perfect your technique, the Hudl app is your best friend.
Simply record a video and upload it onto the Hudl app and let the app analyze your swing. Hudl helps connect coaches with athletes worldwide so you can work with and get guidance from some of the best coaches in the world without having to travel long distances.
You can study your uploaded clip on the app alongside a full analysis and notes of each video.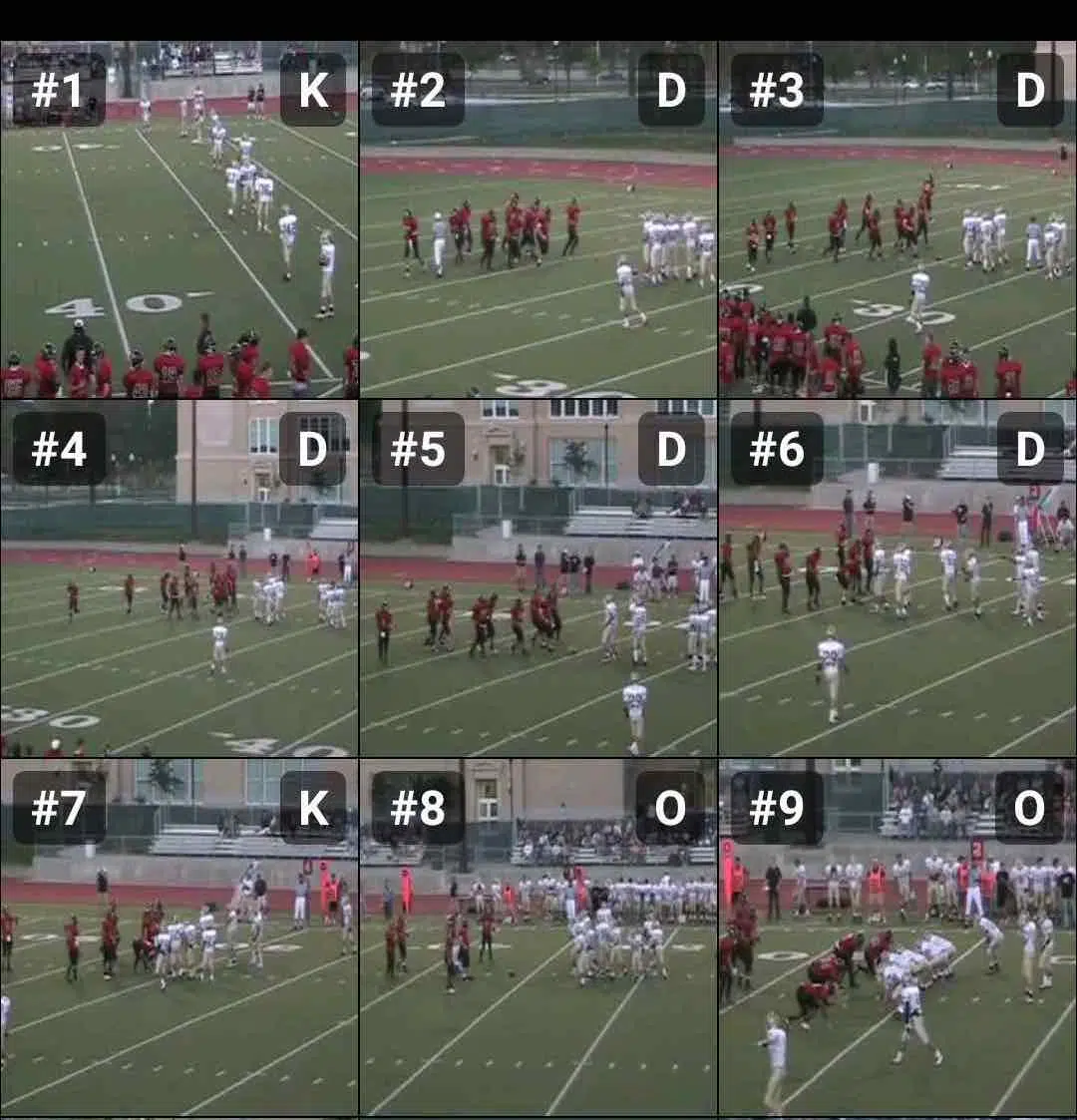 Once you think you've perfected your technique, you can share it with your friends on the app to help them improve their game.
Plus, not just for golf, the Hudl app is made for all types of athletes and is specifically great for teams to work together on their game.
The only drawback about the app is that you must first make an account on Hudl.com, and from there, you can work with coaches to improve your game. There's no direct in-app account registration.
Best Golf Game Apps
Nothing beats being on the course and swinging the club, but sometimes you simply want to lay back and enjoy the feeling of playing golf while sinking into your couch.
Whether you're an adult or a young child, virtual golf games are always a fun way to unwind. Here are some of the best golf games on the Google Play Store
8. Golf Battle – Best Animated Golf Game App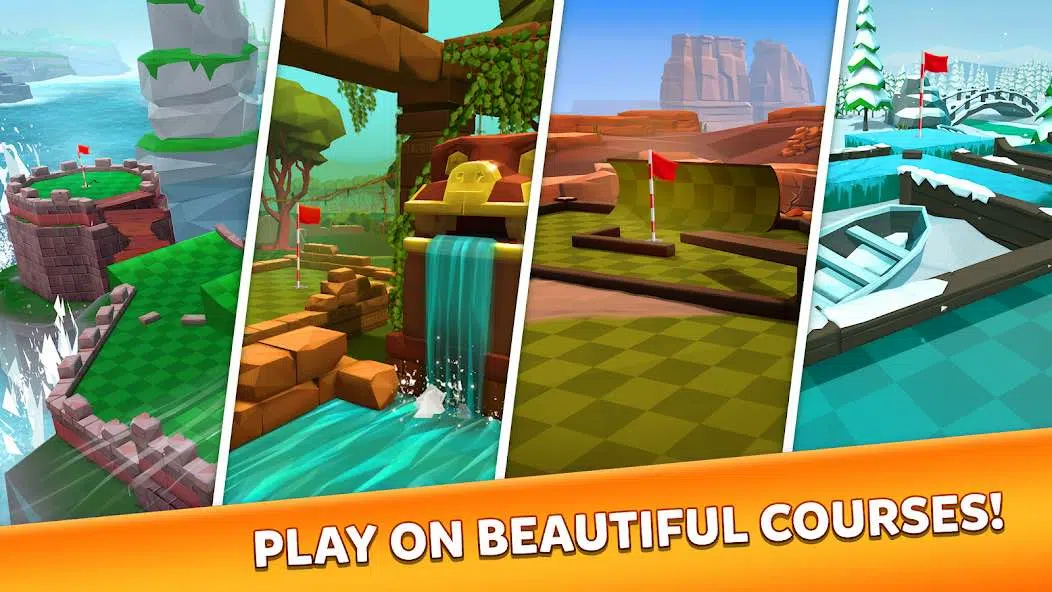 Pros
Up to 6-player multiplayer gameplay
Over 120 minigolf courses
Amazing 3D graphics
Entertainment for all ages
Different levels to make the game more challenging
Cons
You need an internet connection to play
Rating: 4.4/5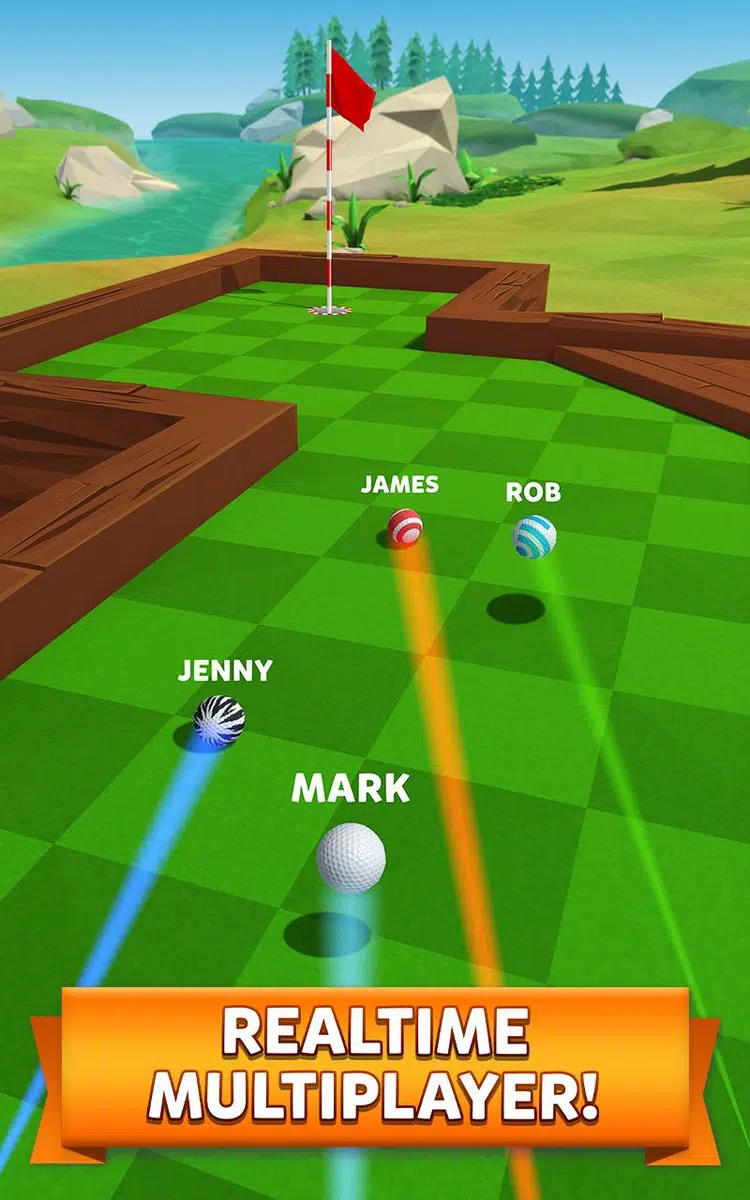 Golf Battle is arguably one of the most popular games, with over 50 million downloads. You can connect with other players worldwide and challenge them in 1v1 or multiplayer matches.
This game is more like a virtual mini-golf, but its fun graphics and competitiveness give you the same feeling as that of an accrual round of mini-golf.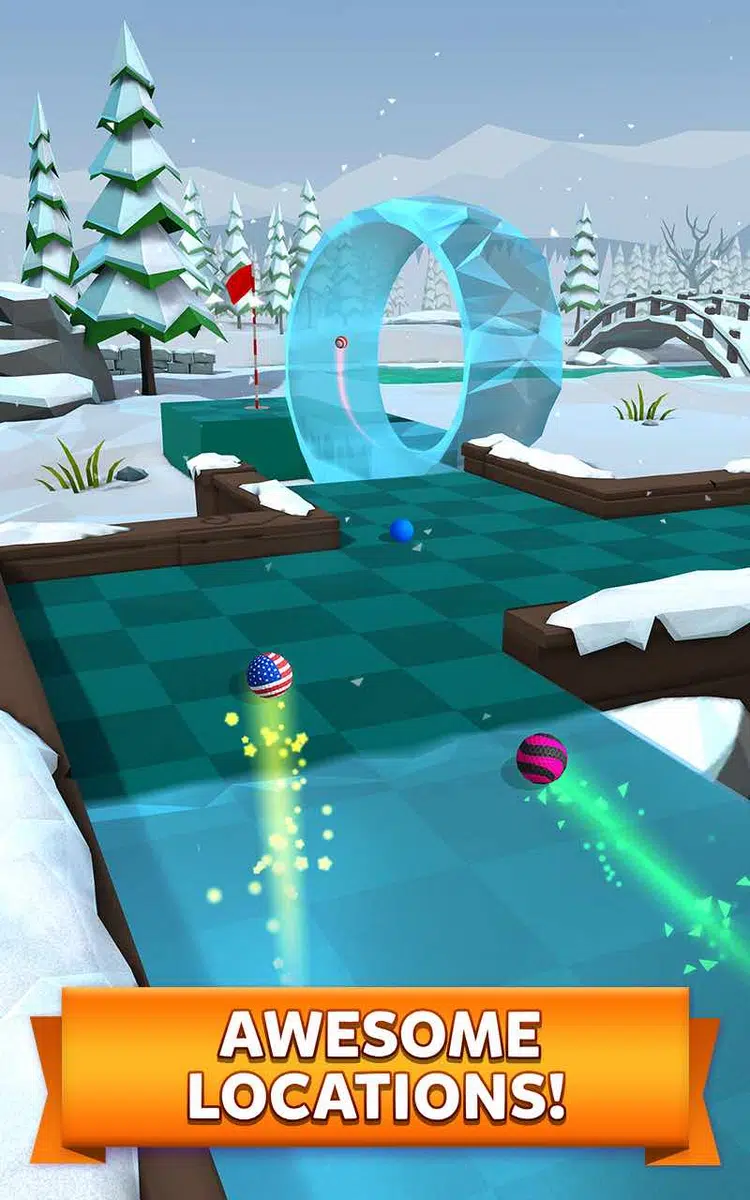 You're spoilt for choice with exciting landscapes such as the Rocky Mountains, Mayan Jungle, Pine Forest, and much more.
Golf Battle has multiple fun and quirky golf clubs and balls you can unlock as you progress. The more you play and win, the more upgrades you get to your golf clubs. These upgrades give you a significant advantage over the other players.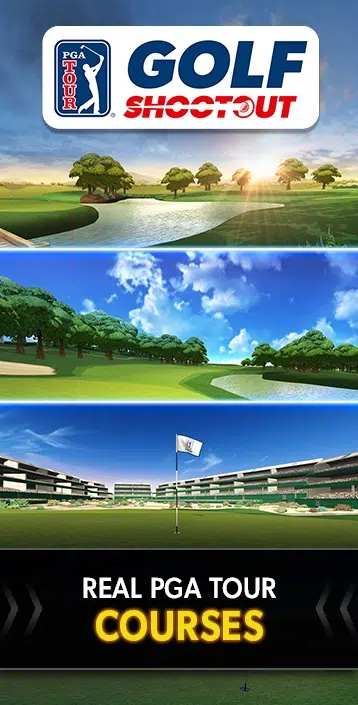 Pros
Five real-life golf courses
Multiplayer mode and 1v1 challenges
Great 3D graphics
Upgrade golf clubs as you progress
Cons
Wifi connection needed to play the game
It may have occasional glitches
Rating: 4.3/5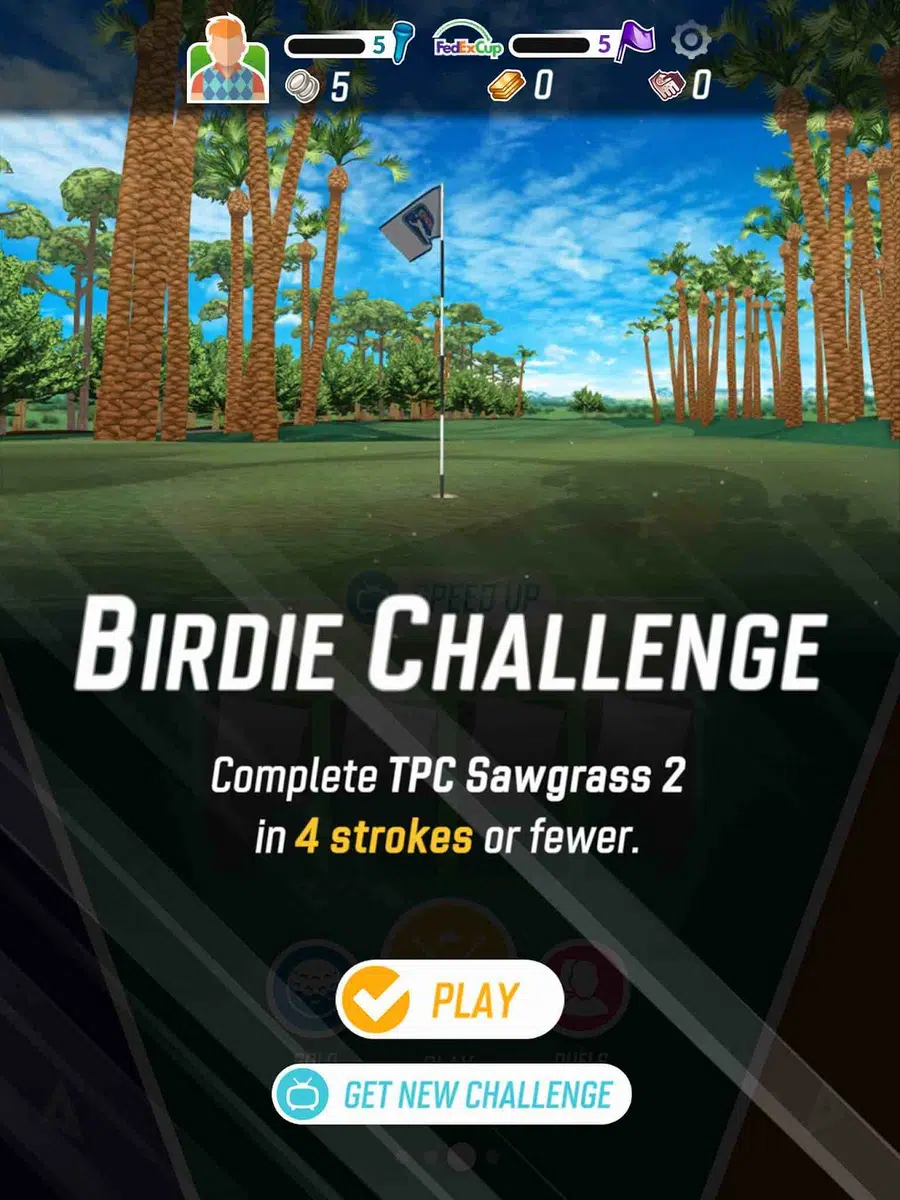 PGA is already leading the world of golf, but it seems like they're also coming for the virtual thrown. But honestly, I'm not complaining because this PGA tour app is surely one of my favorite game apps on the Play Store.
The app is easy to understand and a great way to pass the time if your golf plans are interrupted on a rainy day.
You can sink birdies, collect tees and upgrade your golf clubs as your progress in the game and experience the fun of a real-life golf game anywhere in the world.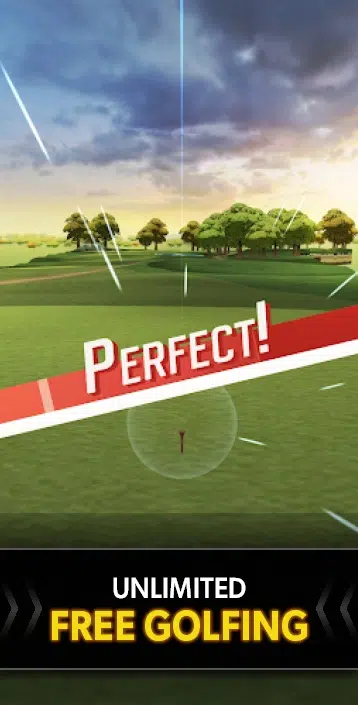 With five real-life golf courses and 85 holes, the challenges are neverending, and you're sure to bring out your competitive side.
Like the PGA tour, you can enter a virtual golf tournament, play a 1v1 match, and show off your skills. Alternatively, you can start your golf clubhouse and invite friends to play there.
Best Golf Social Apps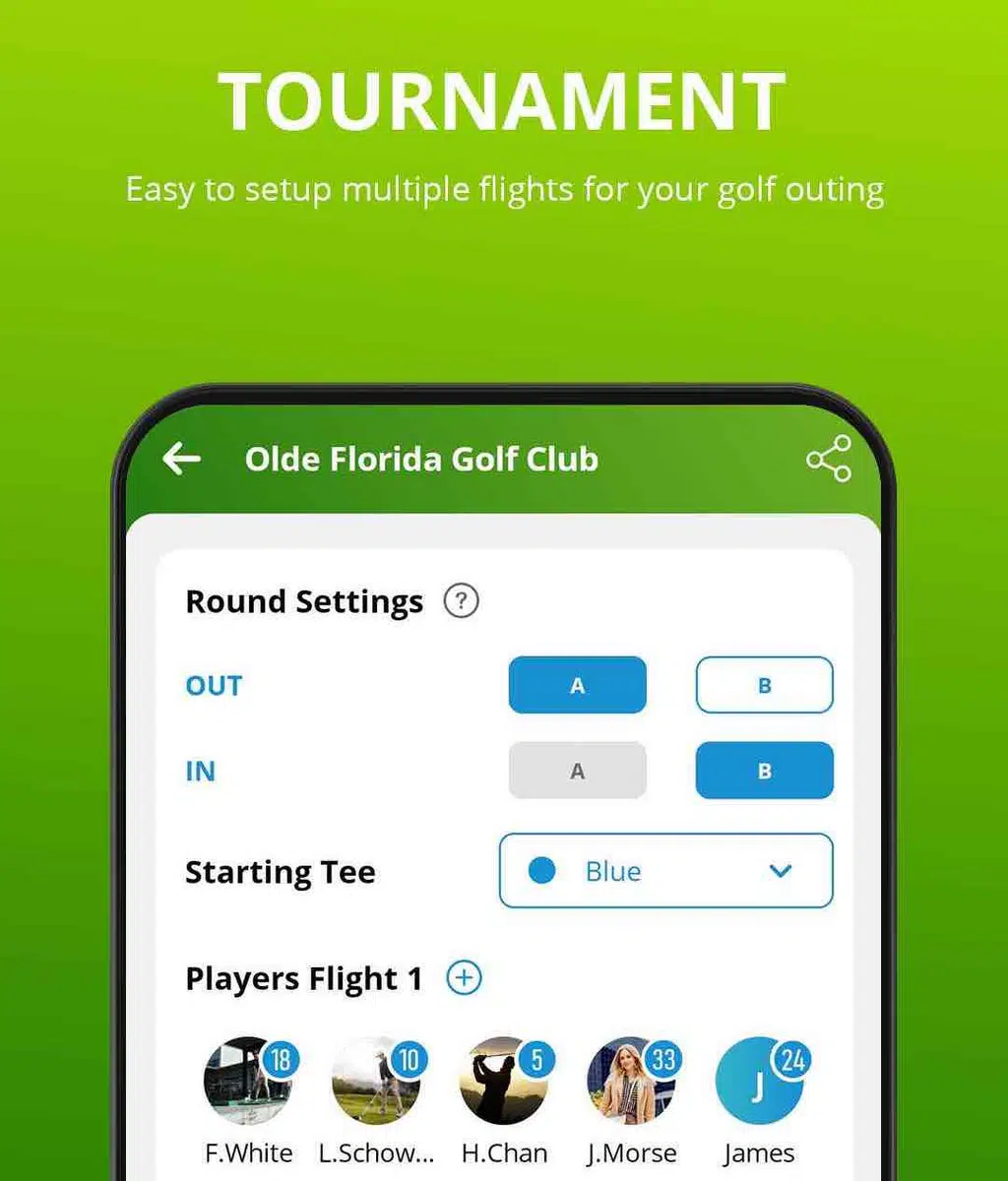 Pros
Free app
Digital Scorecard
Chat community to connect with other golfers
GPS rangefinder and Handicap features
Cons
No tee booking feature
The app may lag at times
Rating: 4.6/5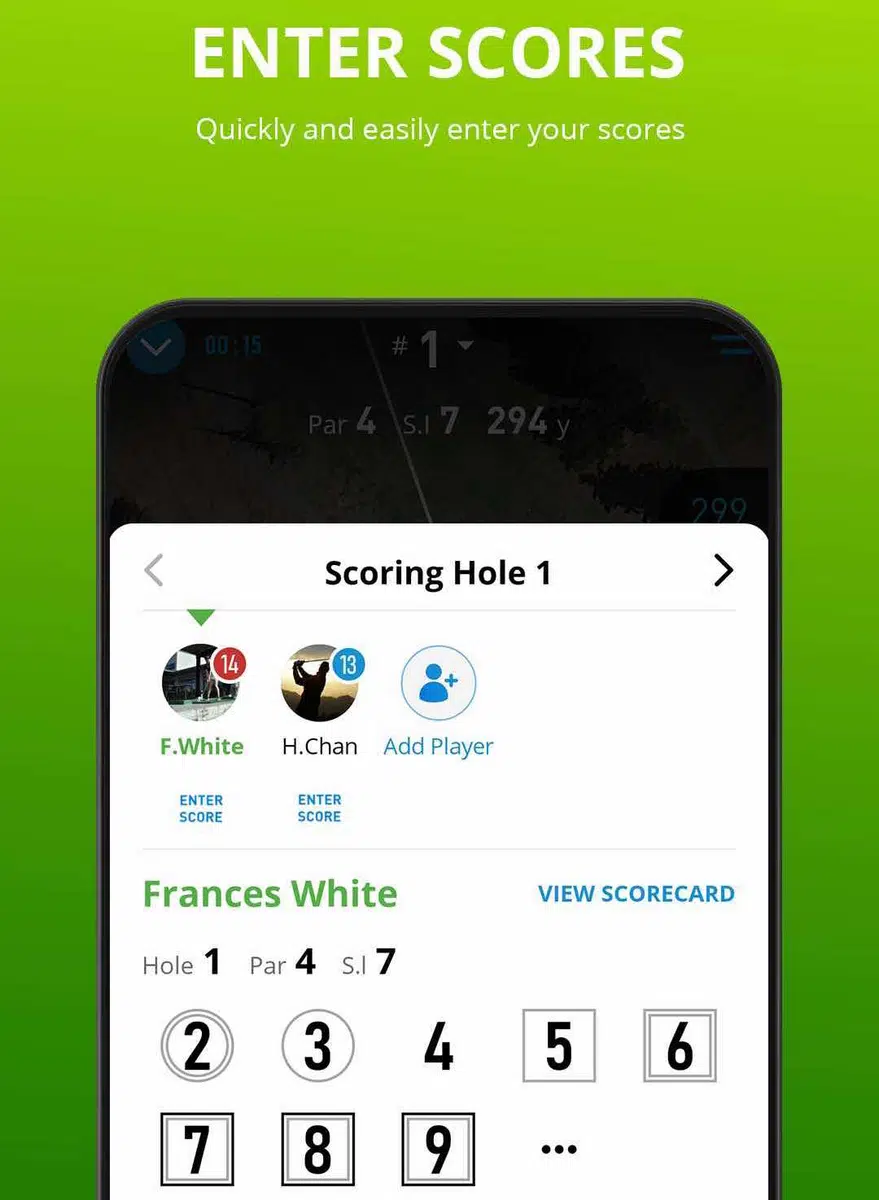 If you're looking for an app that works as a GPS scorecard and lets you connect and socialize with friends, look no further.
EasyGolf has an excellent GPS rangefinder that works on over 40,000 courses across the globe, and you can even find your handicap through the Handicap feature.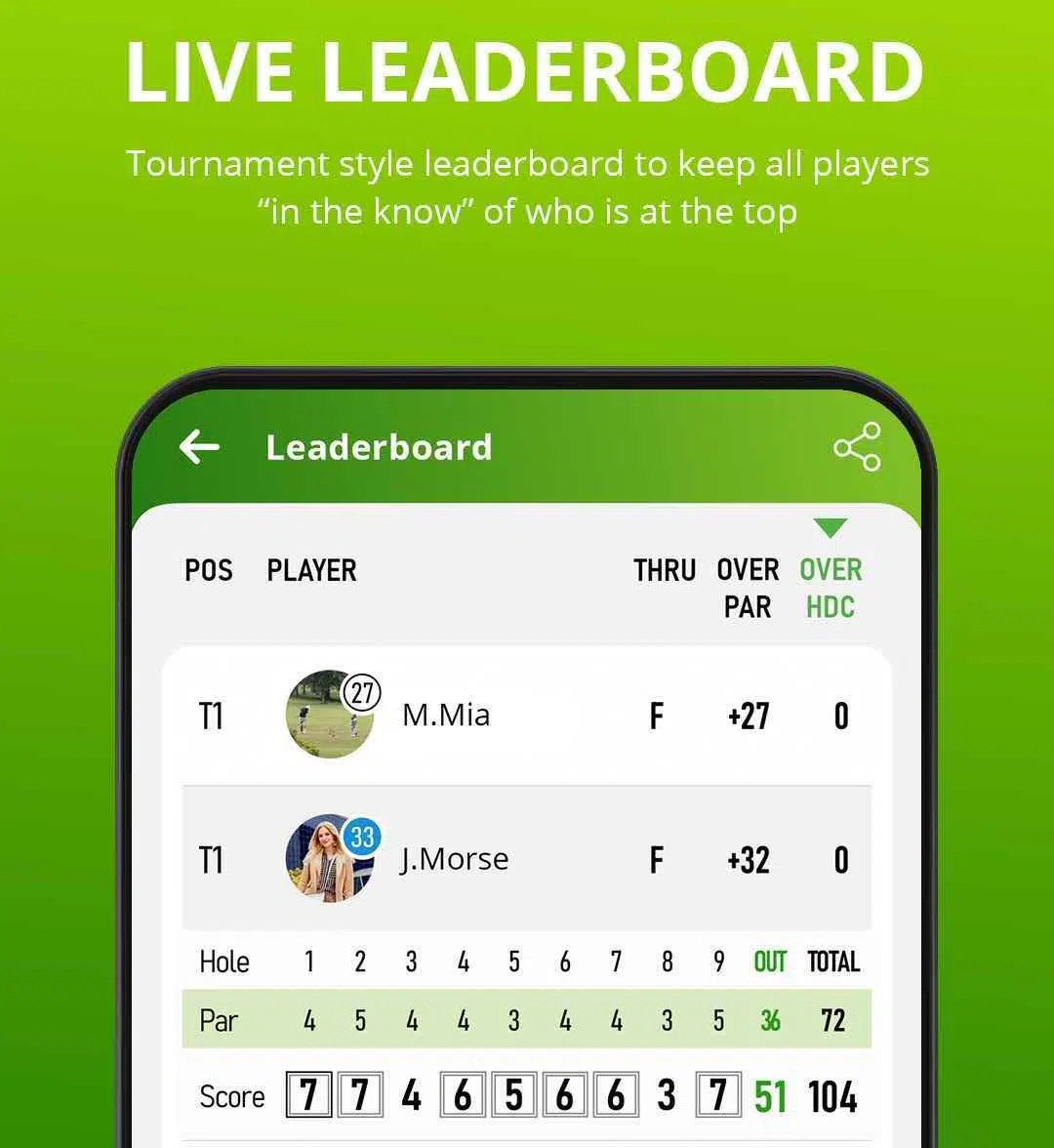 But the standout feature of the EasyGolf app is its chat community. The app provides a great platform for golfers to connect with each other through the messing feature. You can form friendships, plan golfing days, discuss swing techniques, and more.
It's always fun to interact with people who have similar interests as you, and EasyGolf is exactly for that.
What To Look For in a Golf App?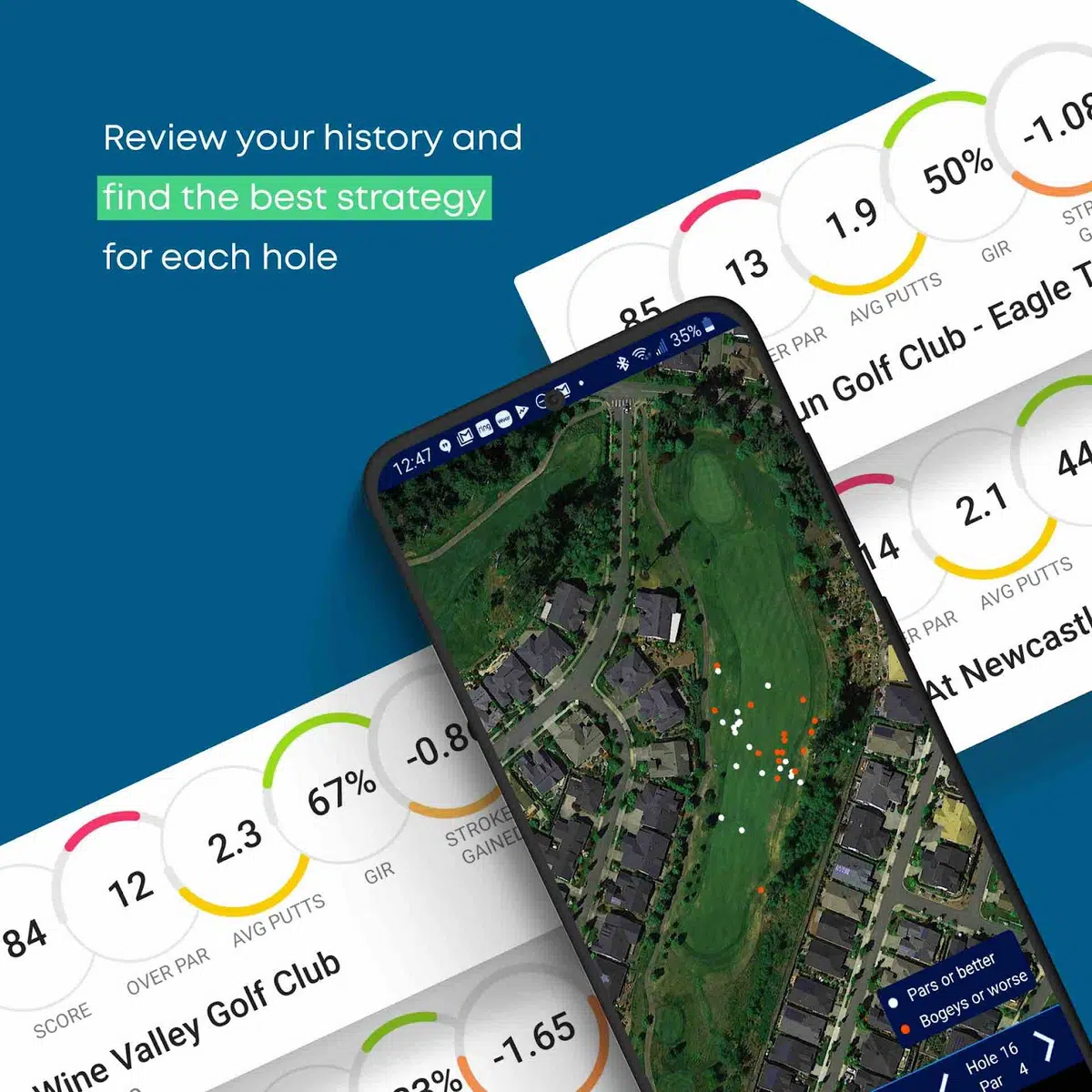 Don't just jump into downloading a golf app. Consider these things so you don't waste your time and phone space before downloading a golf app.
1. Features
This is the most important thing to consider before downloading the app. Before you even download the app, you've got a fair idea of what you're looking for or wish to gain from the app.
Some apps offer great 3D visuals from the course, while others keep it simple with 2D visuals.
Multiple apps are specially made for swing analysis and help you improve your technique.
Multiple apps are dedicated to that if you're looking for good golf apps to track your stats.
2. Ease of Use
User interface and ease of use are among the most overlooked yet important things to consider in a good golf app.
No matter how good an app may be, if it's too complicated, it's likely that you won't be able to get much use out of it.
Most of the time, you're using the app while playing on the course. So, do you want to figure out how to use the app or focus on your game?
The easier the app is to use, the more likely you will use it. Try opting for user-friendly apps to incorporate them into your game regularly.
3. Free Features
Budget is extremely important to remember if you're looking to invest in the premium version.
Multiple golf apps come at different price points. Some offer a wide range of features for higher monthly prices, while others have limited features and charge small premium fees. It all depends on how much you're willing to spend on a golf app.
The most widely used golf apps will let you test it for free and upgrade for more features.
4. Connectivity on Multiple Devices
When everything is interlinked, having apps that you can easily connect on multiple devices is important.
Numerous apps are compatible with smartwatches, including Apple watches, and you can easily access them through it.
This is extremely helpful on the golf course as you don't have to take out your phone to constantly check the stats and can easily look at them through the wristwatch.
Conclusion
Among thousands of apps, I've listed the best golf Android apps in this article for you to choose from. This list contains GPS apps, games, instructions, and social apps too.
Great golf apps can help you improve your game and learn more about yourself with the right stats and instructions. You can connect with other golfers, learn from them, or even experience a virtual game at PGA golf courses.
Multiple Android golf apps are available for you to download or explore. But before downloading any app, you must know what exactly you're looking for in an app.
The features, premium subscriptions, connectivity, and user-friendliness are vital in each app.
Golf apps such as GolfPad, Hole19, and 18Birdie are some of the best apps on the market and definitely worth a try.
In the end, the best golf app depends on your requirements. So, explore our list and see which one works best for you.
Read more:

As a skilled golfer and wordsmith, Abdulmoiz brings a fresh and engaging voice to the golfing world. Whether he's on the course or at the keyboard, he strives to improve and inspires others to do the same.