Golf apps offer an affordable and convenient option compared to a launch monitor or rangefinder device. However, in the past, these apps have not performed to the level of single-purpose golf technologies.
Like anything, the app developers needed time and customer feedback to improve their products, which brings me to the point of this post. We are searching for the best golf app for Apple Watch to save you from going down the rabbit hole of finding the right option.
What You Need To Know Before Downloading A Golf App?
As you can imagine, there is no shortage of golf apps for your Apple Watch. That is why it is best to have an idea of the features you prefer and a budget to exclude any outliers off the bat.
Below are a few tips to help you arrive at a shortlist of the applications that cover all your needs.
Are All Smartphones Compatible With An Apple Watch App?
Screenrant's John Finn mentions that you need an iPhone to set up and use your apple watch. Therefore, if you have an Android-operated phone, you will need to purchase an iPhone to run any golf apps. As Golfpass' Brandon Tucker explains in this review.
Are Apple Watch Golf Apps Cheaper Than A Range Finder Or Launch Monitor?
Generally speaking, a golf app is a more affordable option compared to a range finder or a launch monitor. However, the subscription fees do add up and, it is worth getting out the calculator. It helps to know if a rangefinder, for example, is actually less expensive over time.
If you are not up for paying anything, there are free apps. But, obviously, you will have a limited amount of features.
Read more: You can find budget-friendly launch monitors to check the current prices and see the full review.
What Are The Features Of Apple Watch Golf Apps?
Apple Watch golf apps offer various features to help you navigate most golf courses in the world. That is why you need to ask yourself, what are you looking to gain by using an app?
Are you after a basic GPS application that gives you the yardage to hazards, doglegs, and various points on the green? Or maybe you want to measure the distance of your shots, keep score or receive a club suggestion for your next shot.
The Best Golf App For Apple Watch
1. Best Overall Golf App – 18Birdies
When we take a closer look at the full scope of features offered by 18Birdies, there is no doubt that it is the best overall golf app for Apple Watch. Surprisingly, 18Birdies does not feature in many of the Apple Watch Golf App reviews.
To help you around the golf course. The app features a doppler radar view of the weather in the surrounding area. Adding to the cause is the virtual caddie function t plays like distance to your target and recommends the best club to get you there.
A unique feature of the app is the tee shot planner that shows you the best area to hit to, based on data from other players. Furthermore, the app includes a blind shot compass. This helps you ensure that you are aiming correctly at blind targets.
Added to the guidance it provides on the course, it also enables you to access Pro tips during your round to see how to play shots from various lies. The final on-course feature worthy of mention is the digital scorecard that allows you to track your strokes, FIR's, GIR's, penalties, and putts per round.
Off the course, the application allows you to analyze your stats to identify the strengths and weaknesses of your golf game. Plus, you have their A.I. coach at your disposal to analyze your swing and provide drills to enhance your skills.
Besides the features of this app, it is more affordable than many of its premium competitors. And caters to golfers of all abilities.
Subscription Fees
Unlike other apps with multiple subscription tiers, 1Birdies keeps it simple with a free trial and premium version. You can cover your subscription by forking out an annual, monthly, or weekly fee.
An annual fee of $99 gives you a two-week trial period, while the monthly fee of $9.99 includes a one-week free trial. If you opt for the weekly subscription fee of $4.99, you will not enjoy access to a free trial.
Pros
GPS yardage provides plays like distance
Recommends clubs based on previous data from that distance
The AI coach helps you hone your skills
The tee shot planner helps you hit the ball to the best spot for your approach shot
The blind shot compass feature keeps you on target, even when you cannot see the flag.
Cons
The app does not have a free version, but only a limited free trial
There is no free trial with the weekly subscription
Score: 92/100
Read more: You can compare this app with the latest prices of GPS devices and watches in this full review.
2. Best Overall Features – V1 Game
It comes as no surprise that the V1 Game app tops our list for best overall features. It gives you everything you could ever need in one application, which impressed our team of golf techies.
The V1 Game is a premium virtual caddie that offers detailed insight, providing everything from yardage readings to shot tracking and post-round statistics.
The GPS functionality of the app features data for 40,000 golf courses worldwide which covers most layouts on earth, according to Golf Monthly's Elliot Heath. This function gives you yardage to the green, water hazards, bunkers, and landing zones, to help you plan your hole from the tee.
Furthermore, the app's rangefinder technology enables you to manually set the position of the pin on your watch for a more precise club selection.
Added to the app's GPS function. It is also able to track your shots to better understand your distance capabilities with each club. This setup is helpful to improve your distance control and get closer to the hole with your approach shots.
The app is not only focused on yardage. It also acts as a digital scorecard for you to record your strokes on every hole. This includes penalty strokes, putts per hole, and fairways in regulation (FIR).
The data recorded during your round is uploaded to the cloud for you to view and analyze later. Having access to this level of data gives you insight into your game that I wish I had access to when I started playing.
There isn't a golfer on the planet who wouldn't benefit from detailed insight into their game. Aided by a virtual caddie for 18 holes. However, it offers an excellent roadmap for mid to high handicappers to route out your weaknesses and begin lowering those scores.
Subscription Fees
While all of these features are outstanding, they do come at a cost. Fortunately, V1 Game gives you three options. The most affordable option is the par package, followed by the birdie and, you probably guessed it, the eagle.
The par package runs you $20 per year, while the birdie membership works out to $59.99 per year. Finally, the app's premium subscription, the eagle, comes in at $119.99 for twelve months.
If you are not ready to commit to an annual subscription, you can opt for a monthly fee. Just remember to cancel it if it is not for you, as it will auto-renew. You can find the monthly pricing in the description on the App Store.
Pros
The GPS feature contains data on 40,000 golf courses
The GPS rangefinder provides accurate yardage to hazards, landing zones, and the green.
Offers detailed insight into your game to help you improve
Functions as a digital scorecard
Tracks the distance of your shots
You have three tiers of subscriptions to suit every budget
There is a free version that includes GPS distances and shot tracking
Cons
The Par subscription only offers one more feature than the free version
To enjoy all the features of the app, you will need to subscribe to the eagle package for $119 per year
Score: 90/100
Read more: A rangefinder can also help you with club selection, so here is an in-depth review of the best rangefinders on the market today.
3. Best Free Golf App – SwingU
If you are not ready to pay for a Golf App, there is the option of a free version. Bear in mind that you will not enjoy the luxury afforded by premium products, but it is a great way to test the waters.
Although SwingU offers a paid-for premium version packed with features, it tops our list for the best free golf app. While many golf apps offer a free trial for a one or two-week period, this app has a full-time free version.
Granted. Many features are omitted, but it provides GPS rangefinder features and a digital scorecard at zero cost.
The GPS rangefinder functionality of the app gives you the yardage to hazards and the green on most golf courses in the world. Plus, it allows you to track the distance of your shots to analyze after your round.
On top of your distance analysis, SwingU allows you to keep track of your score, FIR's, GIR's and putts per round. This gives you deeper insight into your overall performance, helping you identify areas that need improvement.
As far as a free Golf GPS app goes, SwingU is the best place to start. It is ideal for those of you on a budget, or beginners looking to test out the world of Apple Watch golf apps.
Subscription Fees
Besides the free version of their App, SwingU also offers a premium option if you are looking for more advanced features. If you pay annually, you will have to fork out $99. However, there is the option of a monthly fee of $14.99.
Pros
There is no cost unless you wish to upgrade
GPS rangefinder functions on most courses
Provides yardage to the green and hazards
Measures the distance of your shot
Tracks your handicap through the round
Cons
You will need to upgrade to premium to enjoy the host of game-improvement features SwingU has to offer
Score: 88/100
Read More: For further instruction on hitting laser-straight shots including a one-on-one session with a pro, check the current price on the Ballstriking Mastery Program.
4. Best Golf App For Scoring- The Grint
The Grint is a quirky app that has revolutionized scoring among large groups. Having played in my fair share of amateur tournaments, I also felt it would personally help to know where I stood in the field. But, there was no way of knowing until you had signed your card and handed it in.
While you can't see this feature on the Apple Watch app, you can check it on your iPhone. The application enables you to record your score on each hole, along with the accuracy of your drive. It also includes an option for shanks.
The scoring feature also tracks the distance of your putts and how many putts you made per hole. Plus, you can also track the club that you used for each shot. Finally, you are also able to record whether you landed in any hazards on a hole.
Besides its diverse scoring features, it also functions as a golf GPS, providing yardage to landing zones on the fairway and the green. It is also set up to make it easier than ever before get a World Handicap System Number and upload your scores.
Subscription Fees
There are two types of subscriptions for The Grint app. Handicap and Pro. Handicap sets you back $19.99 per year and gives you a World Handicap System Number. However, if you want access to the GPS and scoring features, you require the Pro membership at $39.99 per year.
There is a free option available. However, you can only use the app on your Apple Watch if you have the Pro version.
Pros
Record your putts per round
Keep track of your strokes per hole
Provides yardage to the fairway and the green
One of the most affordable annual subscriptions around
Track the club used for every shot in your round
Cons
You have to have the pro membership for the app to function on your Apple Watch
It only provides yardage to the green and not to the pin
Score: 86/100
Final Thoughts
It is phenomenal to see how far golf apps for wearable devices have come in a short space of time. There is no doubt that they enhance the convenience of a virtual caddie device which helps to speed up play.
In the intro, we asked the question, what is the best golf app for the apple watch, and we have the answer. 18Birdies tops our list because of its robust features and affordability, compared to similar options on the market.
From virtual caddie assistance to advanced statistics, weather forecasts, and a blind shot compass. It is well worth considering. While $99 per year may sound exorbitant, it is three to four times more affordable than the price of a premium laser range finder.
Out of all the apps on the market, this one actually deserves the tag of a virtual caddie. It is helpful for all amateur golfers, both low and high handicappers.
If our review has you excited to get out on the course and see how you perform with the 18Birdies app. You can download it here.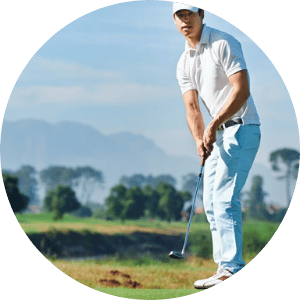 Nick Lomas is the founder of GolfSpan, an avid golfer, not quite a pro but has over 15-years of experience playing and coaching golfers from all over the world. His mission is to bring the golfing community a better experience then it comes to choosing the right golf gear, and finding the right set up for your game.