With 106 professional career victories under his belt, Tiger Woods is arguably the greatest golfer to have ever walked the planet. So, what happens when he takes his experience from the course to help design a revolutionary golf ball?
We will answer that question in this post as we conduct a Bridgestone Tour B XS review. We will highlight the features and benefits of this Tiger designed ball to help you determine if it suits your swing.
Things To Consider Before Buying Golf Balls
Value For Money
Even if you have the budget to spend roughly $50 on a premium box of balls, you need to ask whether it is worth it.
If you lose one or two balls every 18 holes, then a dozen premium golf balls will last you a while, and it may be worth it to receive a balanced performance from the ball from tee to green.
Those of you who lose multiple balls per round will want quantity over quality. There is no point paying $50 for a dozen premium balls when you could pay $50 for two dozen mid-range balls. It will hurt your morale and pocket less when you lose a $1.85 ball vs one that is $4.15.
Ultimately, just because you have the budget, it doesn't mean that you should be playing with premium golf balls. Always opt for the balls that offer the best value for money for your game.
Covers
According to Golf Monthly's Sam Tremlett, two predominant types of golf ball covers exist. They are urethane and ionomer.
Urethane covers are typically softer and are found on premium quality balls that offer exceptional spin. They also absorb the impact of your strike well to provide additional spring off the tee and increased spin on wedge shots. Furthermore, urethane is more durable and does not contort even when high heat is applied.
Ionomer covers are commonly found on mid-range and entry-level-priced balls. The material is cheaper to manufacture than urethane and is less durable the softer it is molded.
The hard structure of the ionomer means the club does not grip the ball like the urethane cover, leading to less spin, which is ideal for increased distance on longer shots.
While urethane is superior in durability, feel, and overall performance, you will need to fork out a fair few dollars to add these kinds of balls to your bag. Unless you are a low handicap amateur or a Pro, I suggest focusing on the more affordable ionomer designs.
Durability
The durability of a ball must be considered to extract the most value for money from that product. If you lose a ball every couple of holes, then the durability is irrelevant. You won't own a ball long enough for it to pick up scuffs and become unusable.
The durability factor is more pertinent to superior players who don't know what it feels like to constantly lose a ball. Urethane covers tend to last for longer before becoming significantly scuffed and unusable. However, they demand a higher price tag.
Ionomer-covered balls are less durable and likely to scuff faster. However, they are often nearly half the price of a urethane-covered ball.
Aerodynamics
The dimples in a modern golf ball enable it to glide through the air and optimize carry. While all golf balls have dimples, they form various shapes and designs to enhance the aerodynamics of your ball.
Ball Speed
If you struggle to generate sufficient ball speed on your shots. It makes sense to acquire a product that assists you in this department. The more ball speed you spawn, the more distance you will enjoy, and it, therefore, makes sense to acquire a ball that promotes rapid ball speed.
Spin
If distance is your main concern, you will want a ball that helps reduce your spin. While this is ideal for driver and longer iron shots, it leaves you with no spin control around the green.
Fortunately, some balls offer accelerated ball speed and low spin off the tee, and higher levels of spin on wedge shots. However, these are premium products and cost a pretty penny.
Bridgestone Tour B XS Review
Not only is the Tour B XS designed by Tiger Woods, but it is also his ball of choice on tour. The stand-out feature of the Bridgestone tour ball is the Reactiv technology. It is designed to spring more on high-impact strikes and absorb the impact for increased spin on wedge shots.
This three-piece premium grade ball features a moderate to firm core with a compression score of 86, which combines with the soft urethane cover to deliver a combination of distance and spin.
Although this ball eradicates the need to choose between distance and spin, it does not suit the average amateur golfer. As the name suggests, Bridgestone created the Tour B XS for professional players who swing a driver faster than 105 mph.
Finally, the price tag of a dozen of these balls reflects the fact that they are a premium product.
So, if you have the budget and don't frequently lose balls. Then you may find value in the Bridgestone's. However, we average golfers who constantly donate balls back to the Golfing Gods would be wiser to opt for a more affordable option.
Reactiv Urethane Cover
The Reactiv urethane cover on this ball provides impact modification for optimal performance from tee to green.
The ball absorbs the impact on your wedge and short iron shots to deliver optimal levels of speed for greenside control. Conversely, the cover provides high resilience on drives and longer iron shots for exceptional power and ball speed for optimal distance.
Gradational Compression Core
The moderately firm gradational compression core in the Tour B XS is designed to deliver exceptional distance off the tee. The accelerated levels of ball speed and lower spin combine to offer more length.
Furthermore, the rapid ball speed prompted by the core enhances the forgiveness of the ball by maintaining speed even on off-center strikes.
Dual Dimple Technology
Bridgestone's Dual Dimples enhance the aerodynamic ability of the ball, resulting in more carry and total distance. The dimples reduce drag through the air, helping your ball enjoy a more efficient ball flight trajectory.
Furthermore, the more efficient trajectory increases the momentum of your ball. Helping you to achieve optimal roll for more distance.
Seamless Cover Tech
The final feature of the Tour B XS is its seamless cover technology that creates a balanced dimple pattern. This pattern optimizes the ball's aerodynamics, leading to less drag, more carry, and longer total distance.
Alternatives to the Bridgestone Tour B XS
1. Bridgestone Tour B X
The Bridgestone Tour B X ball is designed for the superior players among us who swing a driver over 105 mph. Testament to its tour features. The ball is endorsed by Bryson DeChambeau, Matt Kuchar, and Lexi Thomson. The rapid ball speed generated by the Tour B X helps it deliver more distance off the tee. However, it also features hit and sit technology to help provide a powerful launch and soft landing on approach shots.
Like the Tour B XS, this ball features a Reactive urethane cover. It offers more spring at impact on longer shots but absorbs the shock and grips the ball for maximum spin on wedge shots. The Tour B X is a versatile ball that performs as needed from tee to green.
The higher price tag of a dozen of these balls, combined with the fact that they are made for those of us with swing speeds over 105 mph, means only superior golfers should be playing these.
2. Bridgestone Tour B RX
Contrary to the Tour BX and the Tour B XS. This ball is designed for a player who swings a driver under 105 mph. The Tour B RX promotes rapid ball speed for optimal distance off the tee. However, it combines with hit and sit technology to give you a soft landing on approach shots. Furthermore, the ball features Bridgestone's trademark Reactiv urethane cover that delivers exceptional spring on high-impact shots, including drives and long iron strikes. While it grips to the clubface on wedge shots to initiate more spin.
The B RX is one of the few Bridgestone Tour balls suited to the average golfer, looking for more distance off the tee, and enhanced spin around the green.
3. Bridgestone Tour B XS TW Edition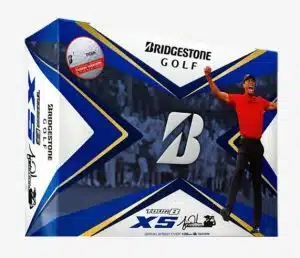 The Tour B XS TW edition is a collaboration between Bridgestone and Tiger Woods. The team constructed this ball for players with a swing speed that exceeds 105 mph. Off the tee, it prompts increased ball speed and forgiveness for optimal distance. However, on approach and around the green, this ball stops rapidly. The packaging for this set features a commemorative Tiger Woods major-themed design, and his name is stamped on each ball.
Like the other Bridgestone tour balls, the B TW edition features a Reactive urethane cover for optimal spin and ball speed from tee to green. While the gradational core helps to maintain your ball speed. And lower the spin on long shots for increased distance.
Like Bridgestone's other Tour balls, the B XS TW edition is best suited to superior players looking for a rounded performance from their ball, from tee to green.
Final Thoughts
Our Bridgestone Tour B XS review has highlighted the multi-purpose ability of the modern-day golf ball. We no longer have to choose between a ball with distance and spin. Thanks to the work of Tiger and the Bridgestone team, there is now a ball that offers rapid speed, optimal spin,, and reduced drag.
While all these features are phenomenal, the Tour B XS is not suited to the average golfer. Unless you swing a driver over 105 mph, this ball is not for you.
So, if you are an aspiring tour Professional or a competitive amateur looking for an all-around performance from your ball. Take a look at the Bridgestone Tour B XS here.
Related Articles
Nick Lomas is the founder of GolfSpan, an avid golfer, not quite a pro but has over 15-years of experience playing and coaching golfers from all over the world. His mission is to bring the golfing community a better experience then it comes to choosing the right golf gear, and finding the right set up for your game.