Sadly, we cannot always make it to the golf course or the driving range. Several things could get in the way like… bad weather, a lack of time, money, or a host of other reasons, but, worry not! The best practice golf balls will allow you to practice your swing at home (or practically anywhere else) whenever you have time.
Some can be used indoors. Others have a design that helps them fly a bit further. Yet, they still carry little to no risk of broken windows or injured neighbors.
There are different designs and materials for practice golf balls, so it might be tricky to decide on the best one for your needs. But, we're here to help. Read on as this article will help you make the right choice.
Overview Of The Best Practice Golf Balls
Best Plastic Practice Golf Balls
Best Foam Practice Golf Balls (Premium Pick)
Best Budget Practice Golf Balls
PrideSports PAWB5612


Callaway HX Soft-Flight


Orlimar Golf 36 Practice Balls



Pros

Suited for both indoor and outdoor use

Cheap enough to buy in bulk

Similar flight path to real golf balls

More durable than most other practice balls

Realistic look and response

Bright colors make them hard to lose

Great value for money

Both types of practice ball in one pack

Durable foam balls

Cons

Not built to last

Not ideal to practice driving

More expensive than the competition

Not the best to practice chipping with

Not very responsive

Flimsy Packaging

Rating

4.6 Stars

4.5 Stars

4 Stars
The Benefits of Soft Practice Golf Balls
Every golfer knows, including or especially the pros, that the best way to improve your game is through hours of practice. Top golfers may have inherent talent and athletic ability but they got to their level through years of practice. For the average golfer, it is challenging to get in enough practice though.
Read also: Golf Balls For The Average Golfer
This is why buying the best practice golf balls can be a great investment.
While many factors make a good player, your swing is the most important. Getting this right is imperative. The best way to do that is to practice. You need to know what you are doing wrong and correct it through understanding and correcting through consistent practice.
The theory is easy and multiple resources like swing aid technologies will help you understand how to improve your swing. Getting these improvements right does, however, take practice. You need to develop muscle memory that makes you swing naturally. That is how advanced golfers make it look so easy, but trust us… it probably took plenty of time and effort.
One of the benefits of practice balls for golf is: You can practice almost anywhere in any weather.
Finding the time to get in enough practice can also be a rather costly exercise. Another major factor, particularly in some areas, is that for many months it is impossible or at the very least unpleasant, to be outdoors.
With practice balls, you can play in your backyard, a park, or even inside. All you need is enough space (height mainly) to swing a club. The balls we will recommend are soft and safe so are very unlikely to break windows or do damage to property. A practice ball will also not hurt someone if they are struck by it.
Using the balls also makes your practice session more efficient as you do not have to walk far to collect the balls for the next session.
The balls themselves can be highly affordable. Most do not last all that long, but the price is so low that this is not a concern. Some of the (slightly) more expensive options are more durable. Using practice balls at home also means there are no other costs such as transport, club fees, or driving range fees.
Once you are ready to start playing on a course consistently, check out our review of the best amateur golf balls to get started on the right foot.
The Downsides to Practice Golf Balls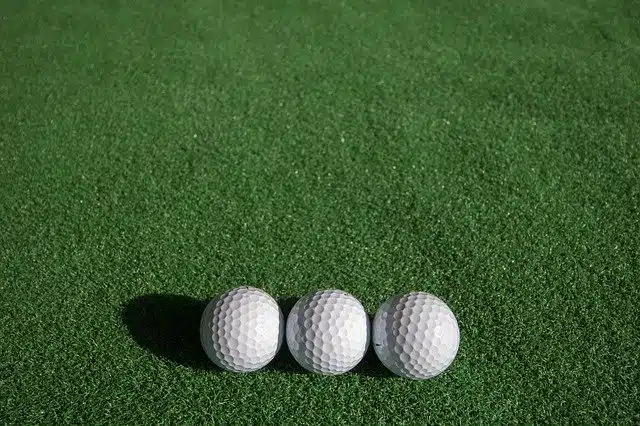 While practice golf balls can be beneficial to your overall game, there are a few issues. We discussed durability above but this is not a major issue due to the low cost.
What is not ideal is practice golf balls have a vastly different feel to a regular ball. Because they are light, there is little to no feel or sound.
They are also not practical for outdoor use if it is very windy. As the balls are light they will be affected by the wind and not demonstrate the true flight path of your shot.
Plastic or Foam – Which is Better For You?
There are two main options available for practice golf balls: plastic and foam. You will need to decide which option is best for your needs and your environment. Both have advantages and disadvantages so let's take a look.
1. Plastic Practice Golf Balls
These are the most popular option and they are inexpensive.
Sometimes called Wiffle balls, these balls are safe and will give you a good indication of any problems with your swing. They're great practice golf balls that don't go far so can be used in very small spaces. This makes them among the best practice golf balls for backyard use.
This video gives some input on plastic practice balls.
Pros:
Cons:
Not durable
Sensitive to wind
Zero feel
2. Foam Practice Golf Balls
These are slightly more expensive but they are a lot more durable. Simply put, they will last longer. Like the plastic balls, they will not do damage to people or property.
Check out this video on practicing using foam balls.
Pros:
More durable
A bit more feel at impact
Cons:
Which Type of Practice Balls Should You Get?
There is no definitive answer as both are very popular and either option will allow you to practice in a small space whenever you want. They will both give you an idea of where your swing might be going wrong and allow you to work on improving it. All for a few dollars.
Given the fact that both options, plastic, and foam, are inexpensive, you can experiment with both to see which works better for your environment and your needs. Some packs even have a combination of both. Check out our reviews below.
Alternatives To Practice Golf Balls
We have already mentioned practice nets and this is the main alternative. They can be used indoors or outdoors. You can hit real golf balls into the net with all the same feedback and feel you would get from a normal swing.
The downside is that you do not get to see the flight path. You will not know if the shot went straight or hooked or sliced. Practice nets are still good for practicing the swing mechanics and building that muscle memory. Another idea is to use a net with practice golf balls if you can only practice in a confined space.
The other option is one of the various simulators or swing analyzers. The good ones are a large investment but they offer many advantages. They can be used at home in the garden or indoors if you have space.
Reviews of the Best Practice Golf Balls
1. PrideSports PAWB5612 Orange Perforated Practice Balls
Pros:
Ideal for indoor or outdoor use
Safe around windows, furniture, children, and pets
Realistic flight path
Very low price
Lightweight
Can be used for putting practice
Cons:
Not very durable
Some find them too soft
Not ideal for use with a driver
No feel
Ok, so we have established that plastic practice balls are not highly durable, particularly if you want to use your driver. However, given the low price you can get 12 of these balls, that should be of little concern.
They are a super-bright orange so they're easy to track in the air and have a decent flight for a budget ball. These balls are perforated to reduce the distance they travel while still showing you if the shot is hooking or slicing. This allows you to practice in a small area and makes retrieving balls quick and easy.
They are fine for indoor or outdoor use and are perfectly safe. They will not be suitable outdoors on windy days.
As you would expect from a light plastic ball there is practically no feedback but they are still great for working on your swing and seeing where you may have issues.
Callaway makes some of the best golf equipment available. Part of their range includes one of the best limited-flight golf balls. Callaway went so far as to include their famous HEX dimple design on the foam balls. It looks like the real thing.
These balls fly well and give you a good idea of what the shot would have done without going very far. They are more durable than the average practice golf ball but are slightly more expensive. While it still does not offer much feel it looks the part and delivers a realistic flight path over a shorter distance than a regular golf ball.
They come in three highly visible colors in the 9 pack: green, pink, and orange. There is also an 18 pack that comes in green or orange. They come in a handy mesh carry bag.
As you would expect from Callaway, this is a quality product in this category. It is one of the more realistic and accurate balls.
They are still perfectly safe for indoor or outdoor use and won't harm property or people.
The popularity and very positive feedback on these plastic balls speak to their quality and performance. They are one of the more durable plastic balls on the market thanks to the SKLZ "pop-back technology". Unless you are really giving it your all with a driver they should last a pretty long time. Despite this, they are not that much more expensive than budget options.
They are regulation size but have a rather unusual design and color. The cutouts are triangular and the ball is yellow on one side and black on the other side. While it looks pretty snazzy, the black can make it difficult to see in the grass.
The design and materials do, however, perform well and give the ball strength and durability.
You can expect a maximum distance of around 45 yards so they are perfect for practicing outdoors or indoors.
They do not bend, dent, or crack after a few shots like many plastic practice golf balls. They give you a true reflection of your shot, good or bad. This will help you identify any weakness or issues with your swing which you can then work on correcting.
They are especially good for chipping practice and short irons but you can use them with all clubs, including your putter.
How about having the best of both worlds? The Olimar Golf 36 ball practice set comes with plastic and foam. This means you can use the plastic balls for getting a strong indication of any issues in your swing and for smaller spaces. Then, you can switch to the foam practice balls when you want to get a bit more feeling from your club and to hit the ball a little further.
The foam balls in this pack are limited to about 30 yards which is much less than many competitors. While this may seem like a drawback, you need to keep in mind the space you're going to use them in. A smaller total distance means less chance of hitting them over a fence.
Although these practice balls are decent, they're not as good as the single-type packs that landed higher in our top picks. They just feel a bit dead on impact from your club in comparison.
For example, you would be better off buying a set of Pridesports plastic balls and Callaway HX foam balls if you wanted to practice with both types. Still, the Olimar balls offer great value for money and are a perfect choice the get some variety in one well-priced pack.
If you are looking for something a bit closer to the real thing but still want to use it in a small area this option is a fantastic choice. They look and feel very much like a real golf ball but have limited flight. This makes them great best practice balls for practicing your drives. You can still use them in a small space but they give you a lot more feel and feedback.
These practice balls are top-sellers and the feedback from users is extremely positive. You can expect a maximum distance of around 100 yards and roughly 40 yards with a wedge. You could use them with a golf practice net if 100 yards seems too long for your practice space.
While they are a bit more expensive than the average practice golf ball, you get a whole lot more. Furthermore, they are a lot more durable than most so the small extra expense is justified. They are not quite as safe as the very light plastic or foam practice balls but still restrict flight and are unlikely to damage property or injure people or animals.
They come in a pack of 10 and are a highly visible yellow so it is easy to track in the air or see on the ground. These are ideal for practice sessions where space is limited and ideal for all golfers including juniors and beginners.
What is impressive is that the flight is highly realistic including the spin. They behave very much the same as a regular golf ball. They are one of the few practice balls that give you some feel and feedback at impact.
The Best Practice Golf Balls – FAQs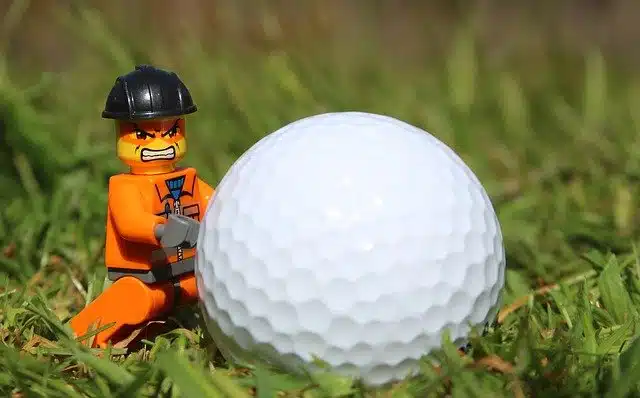 Still not sure which is best for you or, if you should even bother with practice balls? These FAQs may ease your mind.
Is Hitting Plastic Golf Balls Good Practice?
Hitting plastic golf balls is good practice. To dive into it more, you must not equate the practice you get with practice balls as equivalent to using real golf balls. They fly differently and are not a perfect indicator of a good swing but can still help to pinpoint major issues. They work great for your mid and short chip game, but generally won't do a great job helping you practice your drives or putting.
Are Plastic or Foam Practice Golf Balls Better?
Foam balls are better — they are more durable and feel closer to a real golf ball when you hit them. Although, they are more expensive than plastic practice golf balls.
Are Perforated Golf Balls Good for Practice?
Yes, they are great for chip shot practice but you'll need to pay attention to the wind more with these training golf balls than with a real golf ball. They're much safer when practicing in residential areas too.
What Are Almost Golf Balls?
Almost Golf Balls are an industry leader in practice golf balls. They're touted to travel the same as a real golf ball at 1/3 of the distance. Making them among the best golf practice balls. They're also soft enough to use in your backyard, but they don't make great indoor golf balls.
How Far Will Foam Golf Balls Go?
Most designs will fly over 40 yards with longer clubs. Some can even get as far as 100 yards. So, you'll still need to be careful not to lose them when using them outside.
Final Thoughts
You now have no excuse not to practice. You can pick up quality practice golf balls for less than the cost of a cup of coffee. Many do not last very long but these are inexpensive and easy to replace. You can choose between foam, plastic, rubber, or give them all a try.
They will allow you to practice all year round no matter what mother nature throws your way. It is quick and easy to get out and work on your swing with these balls and can be done almost anywhere. There is no risk of hurting people, children, pets, or breaking windows and furniture.
The best practice golf balls will allow you to work out where your swing is going wrong and give you the opportunity to practice the correct technique to overcome any challenges you're likely to face on the golf course.
We reviewed five of the best options available and there is something to suit all needs. Based on their practical ease of use and affordability, the PrideSports PAWB5612 Orange Perforated Practice Balls stood out as our winner.
For a more realistic practice session, try the Almost Golf Balls. 
Related Articles