Manufacturers are constantly moving forward with their innovation, however, development costs need to be recovered and this sometimes just puts the new technology out of reach for the average golfer. No need to despair, as many of the products become available on used sites, at reasonable prices, and in good condition. Today we take a look at the best used 3 woods…
Best Used 3 Woods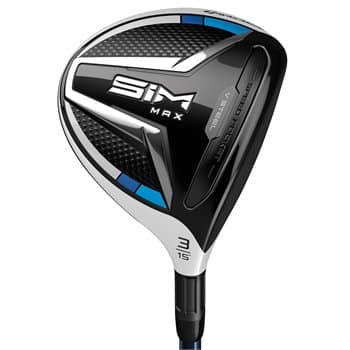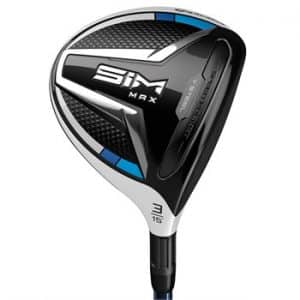 TaylorMade has a great range of Sim Max fairway woods that will appeal to all players looking for forgiveness and distance. A Multi-Material Fairway Wood Construction with a Carbon Crown set on a 185cc Steel Body allows the weight to be set precisely. Ultra-low CG offers high launch, mid-low spin, and explosive distance. The V-Steel Sole Design improves versatility and good turf interaction, resulting in an easy launch from tight or difficult lies.
A Twist Face utilizes corrective face angles to compensate for mis-hits, whilst still delivering straighter shots and a fair distance.
The TSpeed Pocket increases sole flexibility, additional ball speed, and forgiveness. In addition, the TC300 Ultra-Strong Steel Face provides a faster and stronger explosive speed at contact.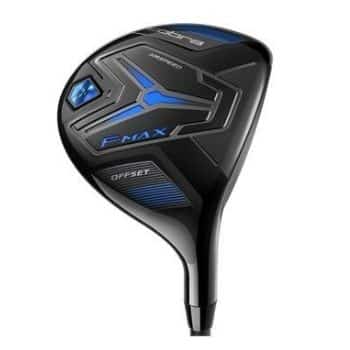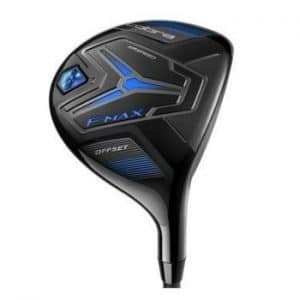 King Cobra has created a fairway wood with weight reduction all round with an increase of swing speed the desired objective. This includes the head, shaft, and grip. Ideally suited to golfers with a slower swing speed, this lightweight combination will add distance, accuracy, and an easy launch. The F-Max is the lightest, most forgiving engineered fairway wood from the Cobra stable.
The Carbon Crown head design saves 10 grams of weight and a shallower profile at address promotes higher launch.
An offset hosel creates a draw bias for longer, straighter ball flight. A crown alignment detail makes for easy alignment for straighter shots. Low CG is enhanced by a fixed heel weight positioned near the hosel and compensates for mis-hits, whilst the forged 455 stainless steel face insert propels the ball at a faster speed.
Lighter swing weights help generate improved swing speeds for greater distance and control and the lightweight shafts make it easier to get the ball out there without extra effort. Improved comfort and consistency are derived from the larger, midsize grips.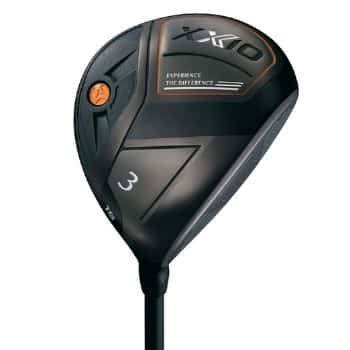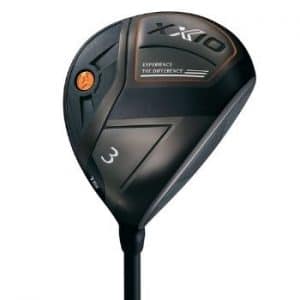 The X Black fairway woods provide slow to moderate swing speed players with the opportunity to put an upmarket, high-performance club into play. Distance and forgiveness have just been made easier, and better players are still able to apply shotmaking playability. The Canon Sole has a weight pad low and behind the clubface which generates greater ball speed and distance, even on mis-hits and shots hit low on the face.
A Cup Face Design that increases the hitting area on the face making off-center hits much more forgiving in terms of distance and accuracy. The clubhead feels lighter due to weights under the grip and enhances swing speed without effort.
Eight fitting positions from the new lightweight, aerodynamic hosel sleeve enable the golfer to fine-tune shot trajectories through lie and loft adjustments. CG is set low for all-around playability and forgiveness. This is possibly Pings easiest to hit fairway wood.
More speed through impact is created with the improved Active Recoil Channel system 4.0 version that has a shorter channel wall. CG can be adjusted with a 3 position track weight and the clubhead weight is also adjustable by -4gm to +4gm. A 3 position track weight allows for adjustable CG placement and clubhead weight is also adjustable (-4g to +4g.)
This increased control brings new confidence, which impacts improved scores. Callaway's groundbreaking Jailbreak Technology, with bars connecting the sole and the crown, increases stiffness promoting more ball speed. Progressive lengths make this fairway wood easier to launch straight and far. In addition, Callaway has used premium components like the RCH Shaft and Active Tip Flag.
The new Hosel System that is lighter and shorter, saves weight which is repositioned to lower the CG and increase MOI for straighter ball flight. The Epic Flash Fairway was awarded the Golf Digest Gold Medal in 2019.
Callaway has combined their industry-leading technologies to deliver fast ball speed for distance, forgiveness, and performance from every club. A unique Progressive Leading Edge Geometry is placed in every model, for easy launch. The woods come with premium stock shafts and grips.
Ball speed is further enhanced by the Hollow Split Rail System set in the front of the sole. It allows 70% more flex from the heel to the toe. delivering more ball speeds and higher launch.
An Advanced Speed Pocket Design with improved slot flexibility creates a larger COR area and minimizes distance loss on mis-hits, especially low on the face strikes. A new TPU Slot Insert sits more flush with the surface and improves turf interaction in all conditions.
Pings Spinsistency, which is derived from a Complex Face Curvature that normalizes spin even on low strikes on the face, is an added feature that will appeal to all golfers. A 3-dot alignment on the crown assists in aligning the shot with ease.
The adjustable hosel has eight settings for loft and lie angle. It sits well at address and the head has two subtle alignment lines on the crown. A solid feel and good sound at impact make this a fairway that the better golfer will enjoy.
The large head model is distance-oriented and produces a high-launch and low spin performance. Stability and forgiveness matched with playability, make this a great fairway wood for all levels of golfer.
Final Thoughts
As mentioned in the opening paragraphs of this article, there are many good-value 3 woods available on the market. With technology changes coming thick and fast, it may be a good strategy to keep up to date with your equipment, by purchasing good used 3 woods.
It must be said, that there are innumerable makes of 3 woods available on the used market, and some of the lesser-known brands provide good quality products that incorporate similar technology, at a fraction of the cost of leading brands.
Test them all before you purchase, if possible, and enjoy the experience.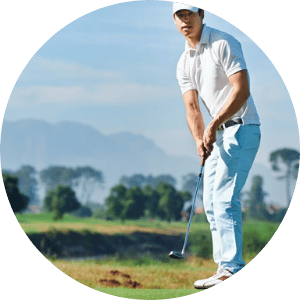 Nick Lomas is the founder of GolfSpan, an avid golfer, not quite a pro but has over 15-years of experience playing and coaching golfers from all over the world. His mission is to bring the golfing community a better experience then it comes to choosing the right golf gear, and finding the right set up for your game.