Pinemeadow makes a variety of affordable golf club sets, wedges, hybrids, woods, drivers, and more. But are they any good? Let's find out in this Pinemeadows golf clubs review of the PGX set.
I'll also review some additional Pinemeadow golf clubs to buy individually.
Pinemeadow Golf Clubs are recognized for producing affordable and good-quality clubs. They sell complete sets like PGX and individual golf clubs, providing the features to kickstart your golf addiction. I recommend them to beginner golfers for their forgiveness, affordability, and modern design.
Spending too much money on the wrong golf clubs can be painful for new golfers. Most beginners will want to upgrade as they improve, but this may be difficult if you've wasted money.
Be sure to read the full post to see if the Pinemeadow golf clubs like the PGX can be a great starter golf club set for you.
This article will dive deep into everything you need about the PGX clubs. You'll learn:
Overview of Pinemeadow golf clubs
Pros and Cons
What's included in the set
Pinemeadow golf club set rating
Who they're best for
Verdict
Pinemeadow PGX golf clubs review
Alternatives to the PGX set
So, if you're still wondering, "Is Pinemeadow a good golf brand?" this article will put your question to rest.
Overview of the Pinemeadow Golf Clubs
Before diving into the club set, knowing a little about the company and who makes Pinemeadow golf clubs is important.
Pinemeadow Golf was established in 1985 by Guy Mount III. It aims to deliver high-quality golf clubs at low prices for golfers worldwide. From beginner-friendly clubs to more professional-level clubs, Pinemeadow has something for every golfer.
The PGX set of clubs by Pinemeadow is one of the cheapest sets available. What puts the Pinemeadow clubs a class apart is that although the prices are low, the company ensures that quality is not compromised. They're forgiving, deliver great performance, and are perfect for beginners.
However, Pinemeadow isn't the only company making affordable yet highly functional golf clubs. If the brand name is not what you're after, check out this article for some of the best off-brand golf clubs available.
Note: Do not confuse off-brand clubs with knock-off brands.
Pinemeadow PGX Golf Clubs Review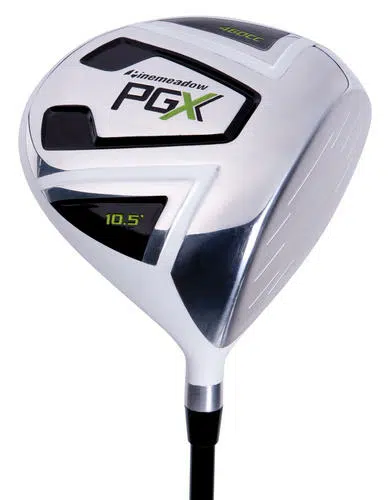 Pros
Budget-friendly
Sleek, stylish designs
Customization options available
Forgiving clubs
The performance and build of golf clubs are better than other comparable clone golf clubs in the market.
Cons
Performance cannot be compared to high-end golf manufacturers.
The build quality of golf clubs is subpar compared to premium golf cubs.
What's Included in the Set?
460cc Driver
3 Wood
Hybrid
5 irons + Pitching Wedge
The set does lack a few clubs. No sand wedge or putter is included in the set, so you'll have to buy these separately. You could try the Pinemeadow putter or one of the best putters.
There is also no golf bag, so if you've got an old one at home already, you're good to go. Otherwise, you'll have to purchase a golf bag to carry these clubs.
Pinemeadow Golf Clubs Rating
Here's my rating of the PGX clubs.
| | |
| --- | --- |
| Overall | 94 |
| Forgiveness | 94 |
| Feel | 94 |
| Workability | 91 |
| Aesthetics | 90 |
| Price | 98 |
Who Is It Best For? Handicap Range
The Pinemeadow PGX clubs are specifically designed for golfers with a higher handicap range, such as beginner golfers. The clubs are forgiving, so any mistakes you make during your swing or strike will get some help. But you'll still get decent yardage and height.
Yes, they're not the most seamless clubs, and I probably wouldn't rate them too high on the feel scale. But for beginners, they more than do the job. Someone starting golf is likely not looking to spend thousands of dollars on their first set of clubs. So this makes these PGX golf clubs a good budget-friendly option to start the game.
Golf likes deep pockets, but it's better to start small, develop your interest and effort, and work on your swing. Opt for premium golf clubs once you understand what to do in your golf swing.
For golfers with a handicap range of 17 or higher who are looking to upgrade from their old and worn-out set, the PGX clubs are a safe investment. These clubs will make the process much easier for golfers with slower swing speeds.
The Verdict
My PGX golf club review is that these are a solid set of clubs, falling into the low-budget category. For a bargain price, you get 9 great quality clubs that are durable and have a minimalistic yet stylish look.
The clubs are forgiving, offer good performance, and will help you improve your golf game, making them the perfect set for beginners.
Pinemeadow golf clubs are not designed for the low percentile of good golfers. They are designed for the golfer unwilling to purchase high-end clubs.
Pinemeadow PGX golf clubs will provide comparable features at a very affordable price range. Icing on the cake, these golf clubs perform better than other clone golf clubs on the market, and they are also great-looking golf sets in a golf bag.
With all that being said, something worth keeping in mind is that these are not the most reliable golf sets. They are great for kickstarting your career but are not sustainable over longer periods.
Read More: Golf Clubs Under $300
Why You Should Trust Us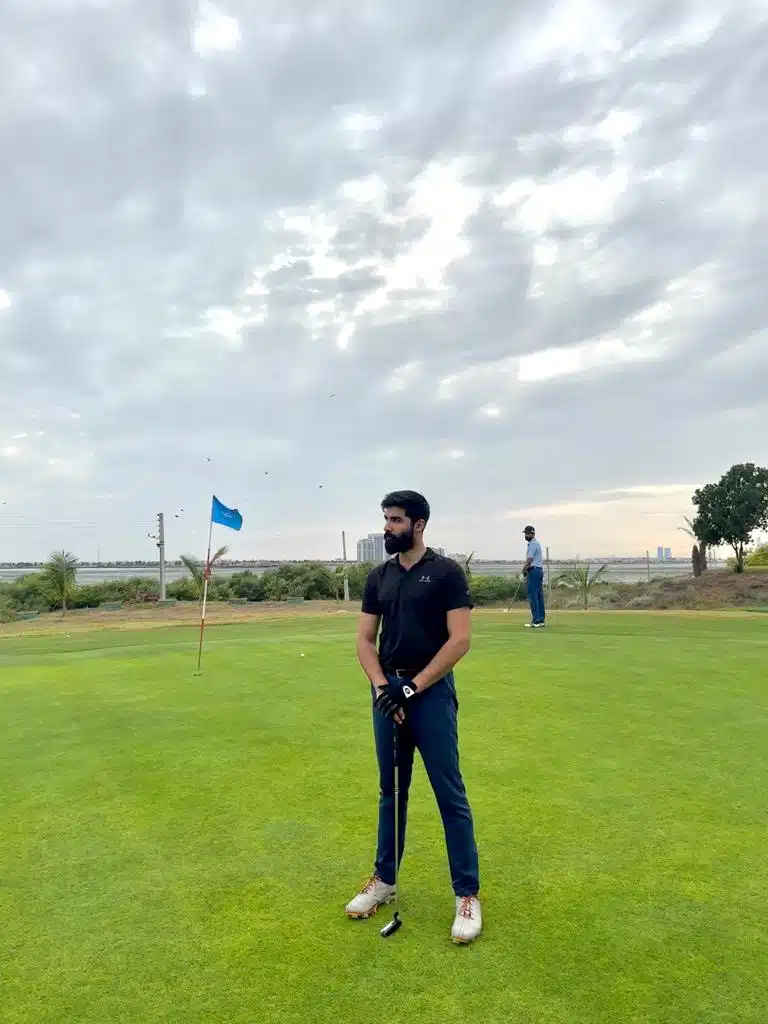 Our team spends thousands of hours trying out and researching golf equipment to help you take your game to the next level. Here's our product review process.
We can bring these reviews to you through the small commissions we earn if you buy through the links below.
How We Reviewed These Products
Golfspan only shares equipment and brands we trust.
I've been golfing and reviewing golf equipment for half a decade. I researched and evaluated the Pinemeadow golf clubs. Then, an editor reviewed and fact-checked the list.
The information you get in this article is up-to-date because we conduct regular content audits to update and revise our reviews to ensure you receive the latest information.
Things to Consider When Buying Pinemeadow Golf Clubs
Consider these points before buying the Pinemeadow golf clubs:
Your Skill Level: If you're a good, experienced golfer, I recommend you not opt for these golf clubs. If you're someone who has recently taken up the sport, take a look at Pinemeadow PGX golf clubs.
Your Budget: It's no joke that better equipment in golf will produce better results, but you need to spend more for better equipment. If you're looking for a balance of quality and budget, Pinemeadow can be worth consideration.
Your Requirement: If you plan on being a casual golfer, then go ahead and buy a good-looking golf set that can keep you afloat on the golf course. If you plan on improving your game and progress in the sport, go for more reliable and premium golf clubs.
PGX Golf Club Review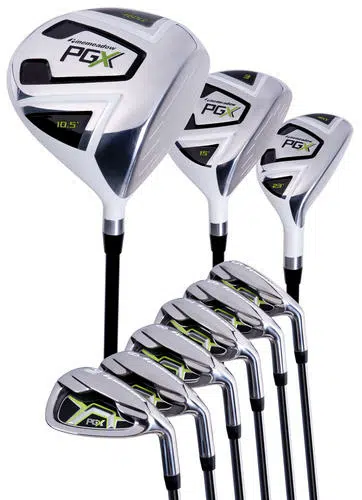 I did some digging and discovered that the company offers different golf sets and produces all clubs ranging from drivers to putters.
Other than that, when you go to their website, you can fill out a survey about your game and your body dimensions, which helps them decide the right set of golf clubs for you.
Now, let's dive into my complete research on the Pinemeadow golf clubs.
Design and Construction
The PGX set is highly affordable, so you can't expect it to look fancy like the high-end models.
The overall design of these clubs is decent, and they're made of stainless steel. As a beginner, you have nothing to worry about. They don't look ugly, but neither do they look fancy.
Performance
Performance-wise, these clubs are ideal for beginners. They're made with forgiveness and decent distance in mind, and they deliver exactly that.
I particularly appreciated the range of irons and their cavity back design, making these clubs much more forgiving and performing better with each shot.
At the same time, the wood and hybrid have a low profile design, making them launch the ball higher and further.
So you've got forgiveness, precision, extra distance, and height, all within this set – perfect for building your confidence levels if you're just starting the game.
Durability
When it comes to durability, I must commend Pinemeadow PGX. Compared to their clubs from half a decade ago, which would scuff easily, the more recent clubs are much more durable and long-lasting.
You still cannot compare them to the durability of higher-end clubs from Callaway or Titleist. But that's because those clubs use top-quality materials and are much more expensive.
Although, given the price point, I don't think you could find a set of clubs with better durability at this price. These clubs are built to last, so if you're looking to buy a reliable new set of clubs or simply replace your older ones, these are a safe bet.
Price
Finding a better deal than this set would be close to impossible. Even the mid-tier irons start from $500, while this is a set of 9 PGX clubs for less than half that price.
One of the most common reasons why new golfers prefer this set is because of the price tag. It won't hurt your bank, and you'll also be ready to golf.
Distance
Every golfer wants more distance. While working on your swing can make a significant difference, your golf club plays just as important a role (if not more).
The Pinemeadow golf clubs are designed to give you good yardage while being forgiving. Just so you know, you'll find tons of clubs with better yardage than these PGX ones, but even with these, you won't complain as a beginner.
I was hitting a driver at a 160-yard par-3 when I started golf. Now I play an 8 or 9 iron at the same distance. The point is beginners don't need to focus on maximizing their distance. They need to get the basics right and stay on the fairway.
Forgiveness
While these PGX clubs can fall short in providing the extra yardage, they don't fall short regarding forgiveness.
Pinemeadow knows that beginner golfers make multiple mistakes, and since these clubs are designed specifically for them, they do a great job at forgiveness.
If you're new to golf, you're better off with more forgiving clubs than clubs that increase distance. Golf is rarely about how much distance you cover and more about staying on the fairway as a beginner.
Club Specifics of the PGX Golf Set
Let's have a look at each club of this set.
One Length Irons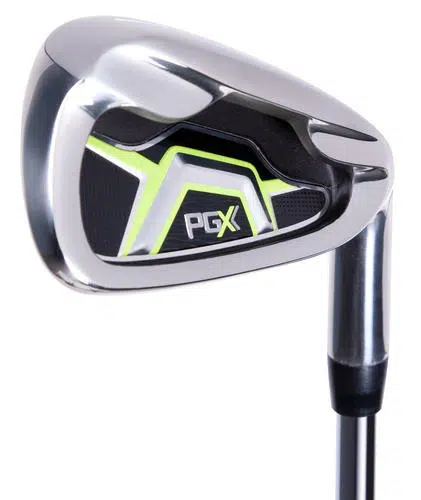 The PineMeadow set contains 5 one length irons and a pitching wedge. The one-length irons give golfers a much more standardized and simplified introduction to the irons.
The same length irons are about the length of a 7 iron. If you're a little taller or prefer to play with irons of different lengths, this may require some attention. But if you're just starting off, these are a great option.
I'd even compare them to the one-length irons offered by Cobra that are just as good, except they come with a much heftier price tag.
The 460cc Driver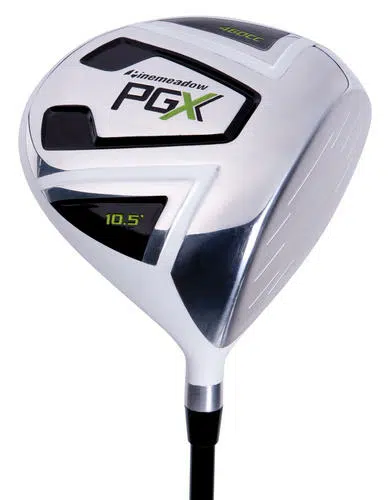 Realistically, beginner golfers aren't hitting bomb drives. Their focus should be staying in the fairway and covering a decent distance for their approach shot.  The PGX driver does a great job in that.
Beginners usually struggle with ugly slices off the tee, but the offset anti-slice technology of the PGX driver allows you to minimize the slice.
Design-wise, the driver looks acceptable for the course. Again, it's not pretty like TSi drivers, but it's good enough for beginners. The entire kit costs less than half the price of a TSi driver, so I can't complain.
I'd like to go out on a limb and say that the performance of this driver reminds me of Callaways famous Big Bertha.
The slight drawback that I found in the driver was that it made a louder sound than most other drivers, but that's something I'm willing to overlook for the price I'm paying for it.
Hybrid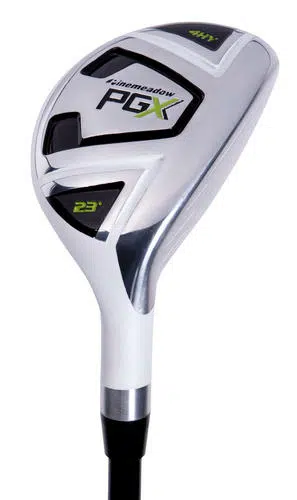 One great thing that the PGX set offers is a hybrid club. Hybrids are great for beginners to get used to the feeling of a long iron without experiencing the dreadfulness of them.
The PGX hybrid is a nice introductory club with a low-profile design that makes it more forgiving.
Pinemeadow PGX Wedge Review
If you buy the Pinemeadow PGX set, you'll probably need an extra wedge. Fortunately, Pinemeadow has one of the cheapest wedges on the market.
I think these wedges are ideal for beginners since they're easy to hit and don't create a big mess on the course, either.
They should give good control yet a decent amount of spin.
Regarding the feel of the wedges, they're not going to feel like the Vokey SM9, but they're decent, and that's what a beginner golfer should look for.
Alternative to the Pinemeadow PGX Golf Clubs
Although the PGX clubs are a solid buy and an absolute steal at their price point, they do have a few minor drawbacks.
If you're looking for a complete set of golf clubs that are high quality and beginner-friendly, here is our alternative:
The Callaway Strata golf set consists of every essential club you can need, from the 6-9 irons to the sand wedge, the driver, the hybrid, and the putter.
The Strata is one of the most popular golf club sets for beginners.
Pros
Reasonably priced
Beginner friendly
Complete set of clubs, including a putter
Hybrid is beginner-friendly
A lot of forgiveness
Cons
Club heads may feel heavy
Not for experienced golfers
Rating: 4.6/5
FAQs
Are They Good for Beginners?
The Pinemeadow PGX golf clubs are designed specifically for beginners and golfers with a high handicap. This is because these clubs are designed to give maximum forgiveness and high performance with each swing, so the frequent mistakes made by beginners can easily be compensated for.
Do Any Pros Use Pinemeadow Clubs?
Pinemeadow clubs are designed to keep beginners or golfers with a budget in mind. Professional-level golfers usually require higher-end clubs designed specifically keeping the more minute details in mind. This is why these clubs aren't as common among pro golfers. But if you're just starting off your golfing journey, Pinemeadow clubs are the best deal you'll get in the market.
Final Thoughts
That's the end of my Pinemeadows golf clubs review. If you're still wondering, 'are Pinemeadow golf clubs good?' Yes, they are. But I'd recommend them only for beginners.
Is Pinemeadow a good golf brand? It's a decent brand with a focus on manufacturing affordable golf sets for beginners.
The Pinemeadow PGX golf club set is a great option for beginners, especially if you're on a budget. For a bargain price, you get 9 durable golf clubs that will help you work on your posture, swing, and confidence level as you make your way up the golfing ladder.
While these are great for beginners, if you're a mid or low-handicapper, I'd recommend opting for more advanced-level golf clubs that will help you work more on the minute details of your game instead.

As a skilled golfer and wordsmith, Abdulmoiz brings a fresh and engaging voice to the golfing world. Whether he's on the course or at the keyboard, he strives to improve and inspires others to do the same.