Are you having a tough time finding a set of clubs that compliment your game and are a reputable brand? It is kind of tough to find clubs with those criteria nowadays. A viable option could be the Callaway Strata golf club set.
Finding a set that is from a reputable brand, has a reasonable price point, and has great reviews is tough. I think that Callaway had this in mind with these clubs because they cross off all three of those points with ease.
A 12-piece set is a perfect set of clubs for someone that is just getting started in the game or they have experience and just want to upgrade to a new, shiny set of Callaway golf clubs. I wish that something like the set of Callaway Strata golf clubs existed when I first started playing!
Things to Consider When Buying a Set of Golf Clubs
The first thing that is going to matter to people when buying a set of golf clubs is the price point because we are all consumers and trying to get the best deal. When buying a set of clubs, you could spend anywhere from $200 all the way up to $1,000 in some cases.
A set like this is most likely right in the price range of everyone that would be looking for a set of golf clubs made by one of the best golf companies in the game.
Another important thing to consider is the longevity of the clubs. You certainly do not want to spend your money on a set of clubs that is only going to maintain great condition for 2 years. With a great set of clubs, you should expect to use them for many years if your heart desires.
The last major point that I want to point out is that you want a set that is versatile. A cheap golf set might only give you a driver and 4 irons to choose from, usually a 6-iron to a 9-iron. That kind of a set is not going to be adequate for your game if you keep progressing.
You want a set of clubs that has enough firepower to reach a variety of distances and not have any yardage gaps in your game.
The Callaway Strata 12 Piece Golf Club Set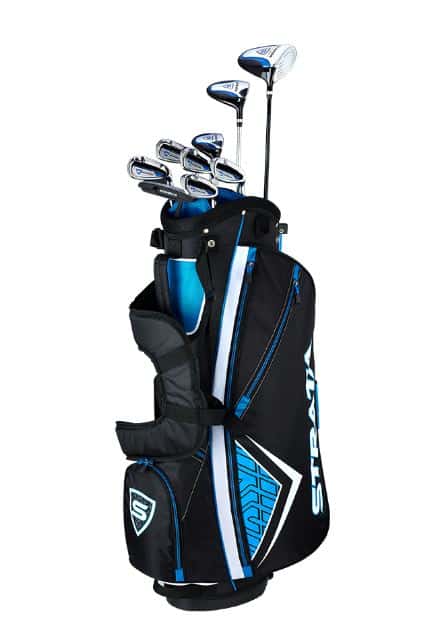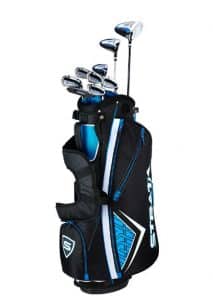 Pros:
Hybrids are more beginner-friendly compared to long irons
Game improvement clubs to be more forgiving on mishits
Lightweight bag with many convenient pockets
More options to choose from besides a 12-piece
Cons:
Some players may be too used to long irons and not favor hybrids
Limited bag color options
Not for experienced and advanced golfers
The Callaway Strata comes in many different sets, but we will be mainly covering the most popular version which is the 12-piece set.
 The set includes:
Driver
3 Wood
4 & 5 Hybrid
6-9 Iron
Pitching Wedge
Putter
Stand Bag
4 Headcover
A 12-piece set is pretty standard for a high-quality golf set. Other sets maybe an 8, 10, or 14 piece. This set is mainly targeted at new golfers that want a great first set, or average golfers that want to upgrade their old clubs for whatever reason.
The Callaway Strata golf club set is not really aimed at scratch or great golfers because the clubs are game improvement style and it just would not make sense. There are definitely better options out there for an advanced golfer.
Benefits of the Callaway Strata Golf Set
A full Set That is Versatile
Something that is often overlooked with a golf set is if it will make a golfer have yardage gaps in their game. For instance, so golf sets have a 3 wood and then the next longest club in the bag is a 5 or 6 iron. That is leaving a large gap between clubs.
Nothing is worse than spending your hard-earned cash on a set that has a large distance gap between clubs. As you get better, you are going to want to upgrade so you can shorten the gap between all of your clubs.
This set already does that, so it makes sense to choose it now.
A quick way to pigeonhole yourself with your golf game is if you can't put it on the green from certain distances. Having to cut down on your swing from certain distances is no fun!
Game Improvement Technology
For average golfers and beginner golfers, taking every possible advantage that you can possibly get is very smart. For instance, choosing a forgiving set like the Strata golf club set is going to help with this problem.
The large club faces and the design of the irons make them more forgiving than other golf clubs on the market and that makes them a huge advantage on the golf course.
You are probably not hitting every ball very crisp and off the center of the club, and the Callaway Strata golf clubs could potentially help with that issue.
Another point to the game improvement theory is that hybrids are included in the set. Most golfers find that hybrids are much more forgiving and are going to help you with a longer range shot to the green.
No longer do you need to struggle with your 3, 4, and 5 iron because they seem to be pretty tough for beginner and novice golfers to make clean contact with.
A Bag That is Everything You Could Need
There are some sets on the market that have great clubs but lack in the bag aspect of the set. A bag is arguably just as important because you are going to be transporting your valuables and clubs in it everywhere you go.
The lightweight and durable bag is useful for both golf cart golf and walking. The number of pockets and storage is certainly adequate for all golfers. You can carry balls, clothes, tees, beverages, and other golf materials that you choose to carry with you on the golf course.
The stand bag feature makes it versatile for anyone that switches between walking and riding a golf cart depending on the day. Too many people buy a cart bag that can't be carried, and it limits them to how much golf they can play!
A Lot of Options With Callaway Strata Golf Sets
This post is mainly all about the 12-piece set, but there are actually other options. And I am not just talking about the choice between a red and a blue theme on the bag and clubs.
There are actually different sizes to choose from, with a 12-piece set being the smallest and it goes all the way up to a 16-piece set. You can even choose between different flexes on the shafts. There is also a women's set available in different sizes. It is pretty rare to find a set of clubs that comes in these many variations.
That leads me into the next section for alternatives to the Callaway Strata 12-piece golf set.
Alternative Options
Different sizes of the Callaway Strata Golf Club Sets (14 and 16)
Precise M3 Men's Golf Club Set
Wilson Golf Profile SGI Golf Club Set
Obviously as mentioned above, maybe you like the set but want more options such as a sand wedge included in the set. Well, there are other sets to choose from such as the 14 or 16-piece set.
Another great option on the market that is comparable to the Callaway Strata set of clubs is the Precise M3 Men's set of golf clubs.
This may be a better option for golfers that want to save a bit of money and do not care about owning a premium brand. The social proof is evident in the ratings and review scores that this set can get the job done.
Another comparable set is the Wilson Golf Profile SGI golf clubs. They are in the same price range as the Callaway Strata golf clubs and offer comparable clubs. One thing that the Wilson set has over the Strata set is a better golf bag for players that enjoy walking most of their rounds.
The Verdict
I mean honestly, you really can't do much better than this set of Callaway Strata Golf Clubs if you are looking to upgrade from old clubs or just getting into the game.
The investment is not really much after you think about how long these clubs will last you in your golf journey.
The game improvement technology, longevity, and quality golf bag set this club apart from others on the market. I like to think of this golf club set provides a huge bang for your buck because of those three main reasons.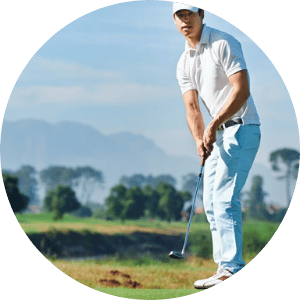 Nick Lomas is the founder of GolfSpan, an avid golfer, not quite a pro but has over 15-years of experience playing and coaching golfers from all over the world. His mission is to bring the golfing community a better experience then it comes to choosing the right golf gear, and finding the right set up for your game.