Are you having a tough time finding a set of clubs that complement your game, are from a reputable brand and have stellar reviews? It is kind of tough to find clubs with those criteria nowadays.
Yet a few sets fit the bill, and we think the Callaway Strata golf club set is one of them.
It's a 12-piece set and is a perfect collection of clubs for someone that is just getting started with golf, or who has experience and just wants to upgrade to a new, shiny set of Callaway golf clubs. I wish a similar set existed when I first started playing!
Are the Callaway Strata golf clubs right for your game?
Read on to learn everything about them in this Callaway Strata review.
The Callaway Strata 12 Piece Golf Club Set
Verdict: The Callaway golf men's Strata complete set is a great affordable option for beginner to intermediate players. The set represents incredible value and has high forgiveness, so we strongly recommend it. Stick around and read our full Strata golf club review to see all the details.
Pros:
Hybrid is more beginner-friendly compared to long irons
Game improvement clubs are more forgiving on mishits
Lightweight bag with many convenient pockets
More options to choose from besides a 12-piece
Strata golf club reviews are very popular among players
Cons:
Some players may be too used to long irons and not favor hybrids
Limited bag color options
Not for experienced and advanced golfers
The Callaway Strata set comes in many different sets, but we will mainly cover the most popular version, the 12-piece set.
 The set includes:
Driver
3 Wood
5 Hybrid
6-9 Iron
Pitching Wedge
Putter
Stand Bag
2 Headcovers
A 12-piece set is pretty standard for a high-quality golf set. Other sets may be 8, 10, or 14-piece. The Strata 12-piece bundle is mainly targeted at new golfers that want a great first set, or average golfers that want to upgrade their old clubs for whatever reason.
The Callaway Strata golf club set is not really aimed at scratch or great golfers because the clubs are game improvement style and it just would not make sense for players of their level. There are definitely better options out there for an advanced golfer.
Callaway Strata Review
A Full Set That Is Versatile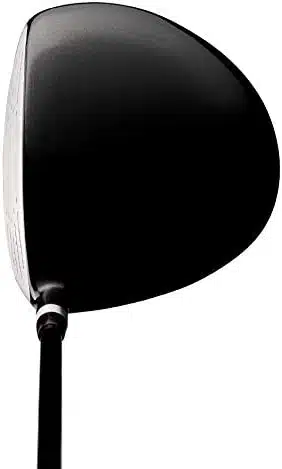 It is often overlooked with a golf set if it will make a golfer have yardage gaps in their game. For instance, some golf sets have a 3 wood, and the next longest club in the bag is a 5 or 6 iron. That is leaving a large gap between clubs.
Nothing is worse than spending your hard-earned cash on a set with a large distance gap between clubs. As you get better, you will want to upgrade to shorten the gap between all of your clubs.
This set already does that, so it makes sense to choose it now.
A quick way to pigeonhole yourself with your golf game is if you can't put it on the green from certain distances. Having to cut down on your swing from certain distances is no fun!
Game Improvement Technology
For average and beginner golfers, taking every possible advantage, you can get is very smart. Therefore choosing a forgiving set like the Strata golf club set is a smart decision.
The large club faces and the design of the irons make them more forgiving than other golf clubs on the market, making them a huge advantage on the golf course.
You are probably not hitting every ball very crisp and off the club's center. Therefore the Callaway Strata golf clubs could potentially help with that issue.
Another point to the game improvement theory is that the set includes a hybrid. Most golfers find that hybrids are much more forgiving — they help you with long-range shots to the green.
You no longer need to struggle with your 3, 4, and 5 iron because they seem pretty tough for beginner and novice golfers to make clean contact with.
A Bag That is Everything You Could Need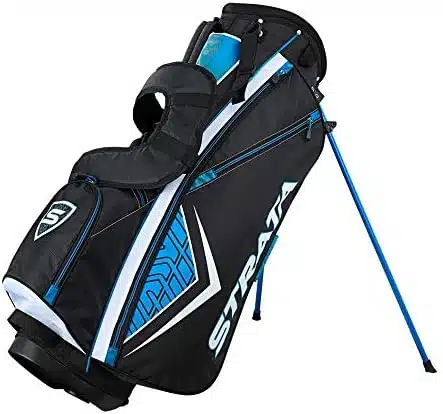 Some sets on the market have great clubs but lack in the bag aspect of the set. A bag is arguably just as important because you will be transporting your valuables and clubs everywhere you go.
The lightweight and durable bag is useful for both golf cart golf and walking. The number of pockets and storage is certainly adequate for all golfers. You can carry balls, clothes, tees, beverages, and other golf materials you choose to carry on the golf course.
The stand bag feature makes it versatile for anyone that switches between walking and riding a golf cart depending on the day. Too many people buy a cart bag that they can't comfortably carry, limiting how much golf they can play!
A Lot of Options With Callaway Strata Golf Sets
This post is about the 12-piece set, but there are other options.
There are two different sizes to choose from, the 14-piece set is known as the Strata Plus set, and the 16-piece set is called the Strata Ultimate set. Besides the color difference and number of clubs, you can easily distinguish between the three sets as the clubs have their names printed on them.
There is also a women's Callaway Strata equivalent to choose between, with differing numbers of clubs in each set. However, we should note that the base Callaway Strata men's set comes with 11 clubs as opposed to the 12 in the men's set.
A Look at Each Type of Club
Driver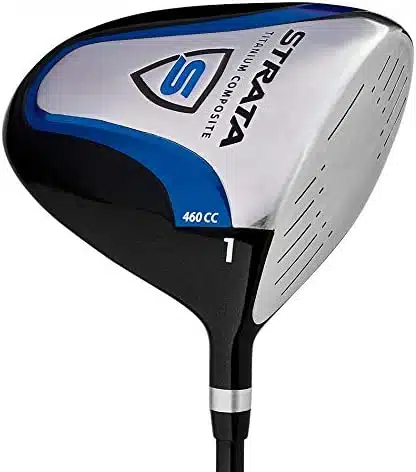 The Driver has a steel shaft with an oversized 460cc head. This gives it a massive sweet spot, making it much appreciated by players of all levels. However, it is perhaps beginners who will appreciate it the most. You get great launch on balls even when your contact is not quite right, and the flight path is much straighter on mis-hits compared to other drivers. It undoubtedly has the greatest forgiveness of all the clubs in the set.
We also find it quite the looker, producing a very satisfying sound for clean hits.
Fairway Wood
The 3-wood is probably the weakest component of this set. Featuring 15.5 degrees of loft, it has a much smaller clubface than the driver. It is by no means small, but after the high forgiveness of the driver, the 3-wood leaves a lot to be desired.
Control is not as high as we would like, and beginners may find that they lack consistency during initial use. However, we don't think adapting will take too long as it has a decent level of forgiveness.
Hybrids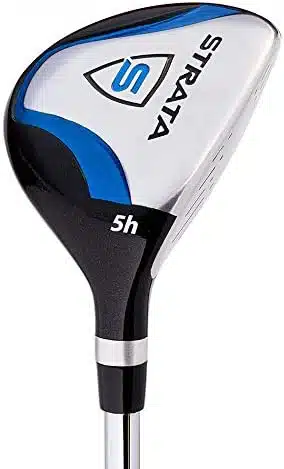 As a beginner-friendly alternative to long irons, the hybrid must impress in a beginner set, and fortunately, it does.
The 5-hybrid is great for getting you out of trouble on the rough as it has a huge sweet spot. The clubface could be larger, but perhaps we are being picky.
You should be aware that the 5-hybrid features a steel shaft instead of a graphite one. This helps keep the cost of the set low, but the increased weight and lack of flex does mean it could be better, especially for beginners.
Irons
In the Callaway Strata 12-piece set, you get a total of five irons ranging from the 6-iron to the pitching wedge. They feature steel shafts with cavity-backed clubface, which makes them highly forgiving. The topline is adequately thick, which we like, and the moderate offset helps minimize the damage of players who tend to slice the ball with their irons.
Something to note is that the 12-piece set only comes with a 44-degree pitching wedge. So if you want the added versatility of a 54-degree sand wedge, you should choose either the 14-piece or 16-piece version.
Putter
The putter is another weaker area of this set. It's a blade putter that doesn't feature an insert. The ball pulls left or right for putts unless you are skilled.
For us, this is a clear area where you can make an upgrade. The set is well worth the money for beginners to the golfing scene, but an upgrade here will certainly help improve your game. To see our favorite mallet putters read our guide.
Unboxing
Check out this unboxing video if you want a closer look at the set. The gentleman also conducts his own mini Strata Golf clubs review.
Alternative Options
Callaway Strata 16-Piece Set
As mentioned earlier, the Callaway Strata 12-piece set is lacking a key club in the sand wedge. Therefore purchasing the larger 16-piece set may well be worth the price increase to many players.
You also get a 4-hybrid and another two headcovers. The woods and drivers also see an upgrade as the steel shafts are switched out for higher quality graphite.
Precise M3 Men's Complete Set
Another great market option comparable to the Callaway Strata complete set is the Precise M3 Men's set of golf clubs. It includes the same clubs as the Strata, so you'll be missing a sand wedge.
Despite its admirable performance and price tag, we find it a tough set to recommend. This is simply because the set is made by a smaller golf brand that doesn't have the same rep as Callaway, and also, the bundle is notably more expensive.
Wilson Men's Profile SGI Set
Another comparable alternative are the Wilson Golf Profile SGI golf clubs. Included in this bundle is a driver, 5-wood, 5-hybrid, 6-9 irons, PW, SW, putter, bag, and head covers. This means you have a more complete club collection than the 12-piece Strata golf set. It's also only a little more expensive, so we feel it is certainly worth considering.
Something else to note is that the golf bag is much better in our eyes. So if you're a beginner and enjoy walking most of their rounds, this could be the set you are after.
Conclusion
Honestly, you can't do much better than this set of Callaway Strata Golf Clubs if you are looking to upgrade from old clubs or just get into the game.
The investment is not all that high if you consider how long these clubs will last you in your golf journey.
The game improvement technology, longevity, and quality of the golf bag set this collection apart from others on the market. You'll be hard-pressed to get more bang for your buck with any other golf set! So make sure to add it to your considerations.
If you found this Callaway Strata review helpful, please consider sharing it, and keep an eye out for our new posts!
FAQs
Who Makes Strata Golf Clubs?
While Strata golf clubs carry the Callaway name, our research has led us to believe that they may not be manufactured by the company. Rather, they work closely with the manufacturer and distribute them. While this may seem like a negative, you have quality assurance. Callaway is one of the top brands in the US, and they would not sell poor-quality equipment.
Are Strata Golf Clubs Any Good?
Strata golf clubs are perfect for beginners and intermediate players, and a great buy for the price. Callaway Strata Golf club reviews are overwhelmingly positive, with an average of 4.6/5 stars on Amazon. However, if you have more money to invest, higher quality sets are available.
Are Callaway Strata Clubs Forgiving?
We find them to be very forgiving. The driver, hybrid, and irons in particular have great forgiveness. The fairway wood and putter are our least favorite clubs as it is easier to make mistakes while using them.
Is Callaway Strata an Intermediate Golf Set?
The Callaway Strata set is most commonly advertised for beginners. However, it is still a great option for many intermediate golfers too. In fact, it topped our list for the best intermediate golf set for this year.
How Long Do Strata Clubs Last?
Provided they are well looked after, Strata clubs should last anywhere from 3 years to a lifetime. There are multiple factors that affect a club's longevity, such as the amount of usage, the abuse it receives, as well as care and repairs. So it's tough to be specific. To learn more about how long clubs last, read our guide.
What Is the Difference Between Callaway Strata and Strata Plus?
The Callaway Strata is the 12-piece base set. The Strata Plus, on the other hand, is the larger 16-piece set. With the Plus, you get a 4-hybrid, sand wedge, and two extra covers.
Are Callaway Strata Clubs Graphite?
Unfortunately, the 12-piece set does not include any graphite shafted clubs. However, the 14 and 16-piece sets have graphite woods and drivers, making them a notable upgrade.