As a beginner, acquiring your first set of clubs is overwhelming, time-consuming, and expensive if you haven't done your research. That's why I always suggest that beginners look at full golf sets to start. They are more affordable and feature every club a newbie needs.
Are the Callaway Edge clubs good for beginners? 
You'll learn the answer to that and everything else you need to know in this Callaway Edge review. 
Callaway Edge Review
Pros
Balanced combination of clubs:

This is great for beginners, so you have lots of options and can work on all aspects of your game. This helps to stave off boredom and frustration as well. If you're having issues with one club, just switch to one of the many others. 

Explosive ball speed:

The driver produces fast ball speed to deliver increased distance. This is a high-quality driver that you can not only learn with but benefit from as well. It's great for golfers at all levels. 

Low center of gravity:

Low CG of the 3-wood promotes high and straight shots, especially for new golfers. Getting the ball off the ground is step one, and that's hardest to do with a fairway wood. This one helps you bridge that gap between beginner and novice seamlessly. 

Good turf interaction:

The 5-hybrid provides exceptional turf interaction for a clean strike from any lie. The beauty of any hybrid is its versatility, but having a 5-hybrid means this will probably be your favorite club. 

Stable mid irons:

The mid irons are stable and promote straight shots so you can develop good habits. 

Wedges have spin:

The set's pitching and sand wedge induce optimal spin for superior greenside control. While this may not seem important to you now if you're a beginner, it will help you the better you get, so it's nice to have this level of attention in your first set of clubs.
Cons
No bag included

No longer irons, if you prefer lower ball flight and spin

10-degree loft difference between the 3-wood and 5-hybrid
The Callaway Edge golf set features ten clubs. That gives beginners everything they need to start successfully navigating the golf course.
Callaway has provided a long but forgiving 10.5-degree driver for your tee shots. Plus, the set features a 15-degree 3-wood and a 25-degree 5-hybrid.
Following the trend of modern golf sets, the Edge does not include any long irons. Instead, a 6-iron cavity back is the strongest lofted club in this category. And it is capped off by a 39-degree 9-iron.
Regarding your short game, Callaway equipped their Edge set with a 44-degree pitching wedge and a 54-degree sand wedge. The final piece of the set is the Odyssey White Hot Pro putter, which is great for developing a solid putting stroke.
Even though the contents of the set are excellent for beginner golfers, the downside is that it does not come with a bag.
Callaway Edge Features & Benefits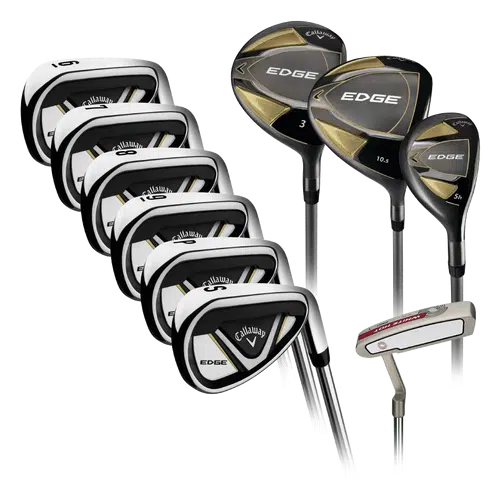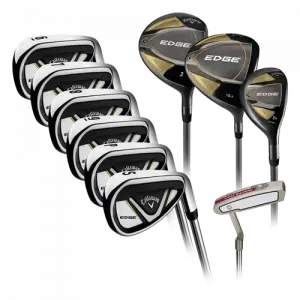 Titanium Driver — ★★★★★
This Callaway Edge Driver review looks at the 10.5-degree Callaway Edge driver. It features an oversized titanium head and a fast, thin face that produces optimal ball speed, even with off-center strikes.
The lightweight shaft construction adds to the accelerated ball speeds, combining with low CG for a high launch to deliver optimal distance.
3-Wood — ★★★★☆
Like the driver, the set's 3-wood contains an oversized profile. That allowed Callaway to position the CG low and apply perimeter weighting to promote high and straight ball flight.
The 15 degrees of loft on the club is standard for a 3-wood. However, some players may prefer a 16 or 16.5-degree option. This may be a bit tough to hit from thick rough but that's what you have a hybrid for.
5-Hybrid — ★★★☆☆
Callaway's 5-hybrid in the Edge set substitutes a four and 5-iron because it is easier to launch high and long. The club's compact head helps it glide through the turf from any lie, delivering clean contact with the ball.
Furthermore, the high trajectory of shots with this hybrid leads to softer landings, making it easier to hold the green from far out. Having only one hybrid gives you limited options so as you grow, you may want to add a 4-hybrid to fill the gap between your 5-hybrid and 3-wood. 
Irons — ★★★★☆
This Callaway Edge irons review will look at the four clubs featured in this set since it does not include longer irons. The strongest lofted option is a 6-iron with 26 degrees, while the set's 9-iron is 39 degrees.
These cavity back irons feature an oversized head profile and perimeter weighting for optimal forgiveness. They are designed to provide exceptional stability at impact to ensure a stable clubhead and straighter shot from many different lie conditions.
Wedges — ★★★☆☆
Callaway added two wedges to the Edge set: a pitching and sand wedge. The set's pitching wedge sports an aggressive groove design for enhanced shot-stopping power and spin on pitch and chip shots.
The sand wedge, on the other hand, contains a wide sole. It is engineered to glide through rough and sand. As a result, it promotes an impeccable connection between clubface and ball.
Putter — ★★★★★
We saved the most essential instrument, the putter, for last. Callaway's Edge golf set features a simple Odyssey White Hot Pro putter designed for players with an arc stroke.
Furthermore, the putter is fitted with a Super-Stroke grip to reduce wrist movement and ensure stability through your stroke.
Callaway Edge Alternatives
1. Callaway Strata Complete Set
Callaway's Strata set one-ups the Edge because it comes with a bag and an additional club. The set is equipped with a 12-degree driver and a 15.5-degree 3-wood for your long game.
Furthermore, Callaway included a 22-degree 4-hybrid and a 26-degree 5-hybrid, eliminating the risk of any gapping issues. As is customary with irons, the set only comes with a six, seven, eight, and nine, while a pitching wedge, sand wedge, and putter round it out.
Unlike the Edge, the Callaway Strata set also includes a lightweight stand bag that is easy to carry over 18 holes. In conclusion, this is one of the most well-equipped golf sets on the market, catering to every element of your game.
2. Wilson Men's Complete Golf Set
This 10-club Wilson set covers your game from tee to green. However, it does not include a 3-wood. The longest club in the set is a 10.5-degree driver, which is supported by a 5-wood and 5-hybrid. Many amateurs struggle to get their 3-wood shots airborne, so a 5-wood is an excellent alternative.
As you would expect, the set includes four irons, with a six being the strongest lofted, and the nine the weakest. Furthermore, Wilson added a pitching and sand wedge to the set to give you variation with your short game. And, capping off the set is a forgiving mallet head putter and an ergonomically-designed stand bag.
3. Precise M3 Set
The Precise M3 Set is an affordable option for players who are unphased by brand names. This set features nine clubs, which is less than the other alternative options we have mentioned.
Your tee shots are covered by a 10l.5 degree driver, while a 3-wood and 21-degree hybrid make up the remainder of clubs for your long game. One more, the longest iron is a six, and the shortest, a nine.
The set does include a pitching wedge but offers no other option to generate optimal spin on greenside shots, such as a sand wedge. Finally, Precise added a mallet head putter to deliver maximum forgiveness on off-center strokes.
If you were wondering how to carry this set, it comes with a lightweight stand bag, enabling you to lug your bag.
What's Included In A Callaway Edge Complete Set?
You may think that buying a full set means that it has everything you need. The truth is a full set can mean very different things from one company to another.
This Callaway Edge golf clubs review will detail the types of clubs included below. 
Driver
You can't play golf without a driver, or at least it will be less fun if you do. All complete sets come with a driver, and it's usually the crowning jewel of the set. Don't get too starry-eyed by this club though, you only need it 14 times throughout a round (most courses have 4 par 3s). Callaway is known for its drivers, so it's nice to know that you have a brand name and high-quality driver in your bag when you show up to the first tee. 
Woods and Hybrids
Woods are becoming increasingly scarce, so we're happy to see that this complete set includes one. You get a 3-wood, which is great for beginners who may not be ready for the driver yet. While many sets feature a 3-wood, it is becoming more common to see manufacturers substitute fairway woods for hybrids.
Given the complexities of getting a golf ball in the air, some golfers find it easier to launch hybrids than stronger lofted fairway woods, especially on approach shots. Because of this, Callaway has included a 5-hybrid that acts as your 5-wood AND your 5-iron. 
Irons
Six irons are common in many modern golf sets, thanks to the versatility of hybrids. Which irons you get is a different story. This Callaway golf set starts with a 6-iron and goes down to a sand wedge.  
The strengthened lofts of a three, four, and 5-iron are often difficult for a beginner golfer to launch high and long. On the odd occasion that you flush it, the reduced spin with these irons could see your ball run off the back of the green.
Hybrids solve this issue by delivering a higher flight and a soft landing to give new golfers more control.
As you improve and get better with your 6-iron, you may consider getting a 5-iron or 4-iron in your next set. Most irons sets for intermediate and experienced golfers include these two and maybe even a 3-iron. 
Wedges
As seen in the bottom of the above image, this can be a bit confusing because wedges are also part of the iron family. When a company says they offer six irons in a set, that includes any wedges that come with it. 
The wedges are what separate golf sets. Many sets only offer a pitching wedge and focus little on your short game. Whereas other manufacturers like Callaway ensure they equip you with the necessary clubs to thrive around the green.
I advise sticking to the sets that come with a pitching and a sand wedge. You will soon learn the versatility of a sand wedge and realize it does more than just get you out of the sand. 
Putter
This is a very personal decision, but if you're a beginner, you have no prior information to base anything on. This is great news because the Callaway Edge golf set includes a neutral putter. 
Putters come in so many different shapes, sizes, lengths, weights, grips, colors, etc., that you can easily get lost in the selection process. Make it easy on yourself and commit to this putter for at least one season. 
Use it to learn the basics and what your natural tendencies are. Next year, you'll be able to walk into a store and tell the sales clerk exactly what you're looking for. 
Bag
This set does not come with a bag. Higher-end sets like those made by Callaway usually don't. There are plenty of opportunities to get a bag, and chances are one of your friends has one sitting in their basement just waiting for a new lease on life. 
The bag has no effect on how well you play. Ensure it has all the pockets you need to hold your belongings and golf equipment. It's a good idea to have room for a water bottle, a sweater, and a lot of golf balls.
If you want to match, Callaway makes some great bags and has a whole new line of Callaway golf bags for 2023.  
FAQs
Are Callaway Edge Clubs Any Good?
Yes, Callaway Edge clubs are good. Callaway is a prominent name within the golf industry and having these clubs to get you started will ensure you're on the right track. Quality clubs like these will help you learn faster and have you hitting great shots sooner than you think.  
Are Callaway Edge Worth It?
Yes, Callaway Edge clubs are worth it. You may find cheaper clubs and some sets even come with a bag. But the money you save there will not make up for the quality craftsmanship that Callaway Edge irons have. Getting frustrated is inevitable. Having a good set will help reduce those frustrations so you can enjoy the game more from day one. 
Are Callaway Edge Clubs Forgiving?
Yes, Callaway Edge clubs are forgiving as they are meant for beginners and those who have limited experience. The irons are perimeter-weighted, enlarging the sweet spot and putting less pressure on you to hit the middle each time. The driver is top-tier and uses Callaway's proprietary technology that is present in their most advanced drivers. 
What Are the Lofts on Callaway Edge?
The lofts on the Callaways Edge set range from 10.5° to 54°. The shorter irons are a bit stronger than most to help beginners gain a little extra distance. The driver is standard loft because the club's design allows even new golfers to get their ball airborne and on a nice straight line.  
How Long Are Callaway Edge Clubs?
The length of Callaway Edge clubs is standard. The 7-iron is the best club to identify length, as the rest of the set will move in half-inch increments from there. This 7-iron is 37", which is standard for a men's set with steel shafts. Graphite shafts can be a half-inch shorter since they provide extra flex without the added length.  
What Degree Is the Callaway Edge Sand Wedge?
The Callaway Edge sand wedge is 54°, which makes it a little stronger than standard sand wedges. Most will be 56°, but having this extra loft will help players use it from further away, giving them more versatility. At this loft, it's also useful from the sand and around the greens. 
What Are the Shafts in the Callaway Edge Golf Set?
The shafts in the Callaway Edge come in two different materials. The irons, wedges, and putter all come with a steel shaft. Steel is better for accuracy and when you're aiming for the green, that accuracy is needed. The driver, wood, and hybrid have graphite shafts to help gain a little more distance. 
Is Callaway Edge Good For Beginners?
Yes, Callaway Edge golf clubs are good for beginners. Having a full set gives you many options and will help stave off boredom and frustration when practicing. They are also designed with Callaway's top-notch experience, so you can start hitting great shots right out of the box and with minimal practice. 
Final Thoughts
As a beginner, I urge you to avoid getting caught up in the latest and best equipment. Sure, the products look good, and they promise you the world. But at this stage of your golfing journey, you must keep it simple and focus on the basics.
With that said, our Callaway Edge review revealed that this is a basic set that gives beginners everything you need to navigate a golf course. The downside of this set is that it does not include a bag. However, that is an easy fix.
If you are new to golf and have no idea where to start looking for clubs, I recommend taking a close look at the Callaway Edge set.
Related Articles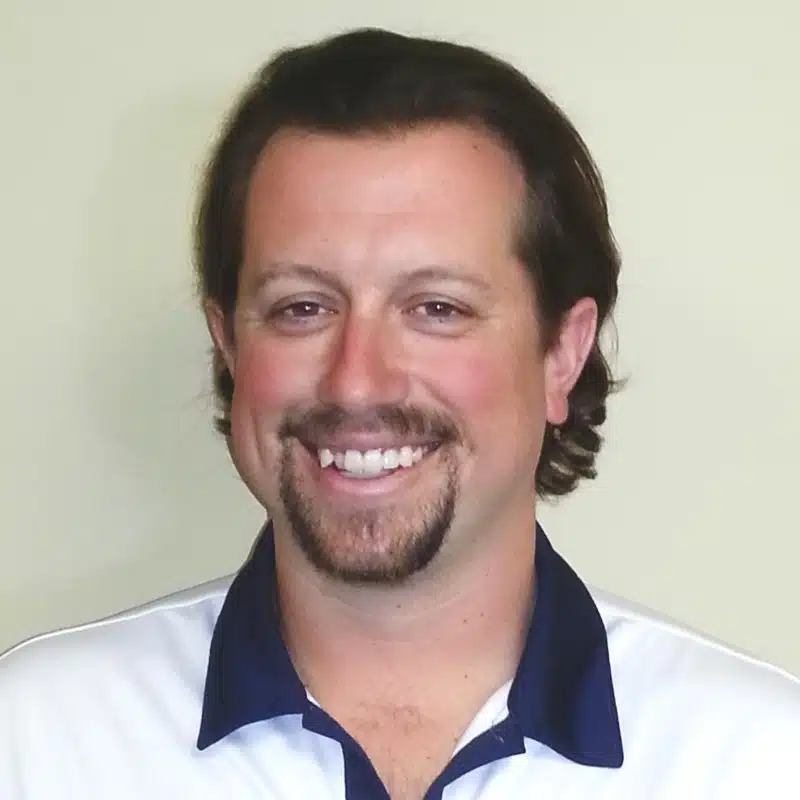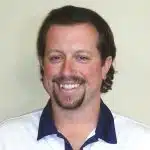 Clint became the Head Teaching Professional at one of Toronto's busiest golf academies and was featured on Canada's National Golf TV program, "Score Golf Canada," twice. He now tests and reviews golf equipment and gets to enjoy the game he loves whenever he wants while helping people lower their scores.