In this post, we are conducting a Callaway Edge review. We intend to see if the set is suitable for beginners looking to get serious about golf.
As a beginner, the task of acquiring your first set of clubs is overwhelming, time-consuming and expensive, if you haven't done your research. That is why I always suggest that beginners look at golf sets to start. They are more affordable and feature every club a newbie needs.
What To Consider Before Buying a Set
Budget
As a beginner, I suggest drawing up a budget for yourself. Without one, you will head down a rabbit hole and waste precious time looking at premium clubs that only superior golfers are suited to playing.
If you have the capital to buy the best clubs, go ahead, but it makes no sense to pay a premium when you don't know how to use your tools.
Woods and Hybrids
Even though it is one of the more difficult clubs to master, most sets include a driver with a loft of 12.5 degrees or more. While many sets feature a 3-wood, it is becoming more common to see manufacturers substitute fairway woods for hybrids.
Given the complexities of getting a golf ball in the air, some golfers find it easier to launch hybrids than stronger lofted fairway woods. Especially on approach shots, as you can see in this MyGolfSpy article.
Irons
Six irons are the longest in many modern golf sets, thanks to the versatility of hybrids.
The strengthened lofts of a three, four, and 5-iron are often difficult for the everyday golfer to launch high and long. On the odd occasion that you flush it, the reduced spin with these irons could see your ball run off the back of the green.
Hybrids solve this issue by delivering a higher flight and a soft landing to give you more control.
If you appreciate the lower ball flight of the longer irons, you will need to purchase them separately from the set.
Once you are happy with the number of irons in the set, the next step is to determine if the lofts suit your swing. Golf Monthly's Elliot Heath writes that the standard loft of a 6-iron is 31-degrees, while a 7-iron is 35-degrees, and an 8-iron operates with 37 to 39-degrees.
Heath further states that the average loft of a 9-iron is 41 to 43-degrees, and a pitching wedge carries 45-47 degrees of loft. Any lofts that are under these numbers are strengthened, and better suited to faster swinging players. Lofts that exceed these numbers are weakened and designed for the slower swingers among us.
Wedges
The wedges are what separate golf sets. Many sets only offer a pitching wedge and leave little focus on your short game. Whereas other manufacturers like Callaway ensure they equip you with the necessary clubs to thrive around the green.
My advice is to stick to the sets that come with a pitching and sand wedge.
Putter
To determine if the putter in the set is suited to your game, you need to know what stroke you have. Do you follow a back-and-through motion, or do you have an arc putting stroke?
If you are like me and putt back and through, you need a center shafted putter. However, those with an arc stroke are best suited to a plumbers neck putter.
Furthermore, if you need to reduce wrist action during your stroke, you should opt for a heavy putter. Whereas. Those of you with no wrist issues are geared better for a lighter design.
Bag
You would think that clubs sold as a set would come with a bag. However, that is not always the case. If the bag is a deal-breaker, check to ensure that it is included in the deal before you finalize your purchase. Keep in mind that no bag is likely to reduce the total price.
Pros
Excellent combination of woods, hybrids, irons, and wedges
The driver produces explosive ball speed to deliver increased distance
Low CG of the 3-wood promotes high and straight shots
The 5-hybrid provides exceptional turf interaction for a clean strike from any lie
The mid irons are stable and promote straight shots
The set's pitching and sand wedge induces optimal spin for superior greenside control
Cons
No bag included
No longer irons, if you prefer lower ball flight and spin
10-degree loft difference between the 3-wood and 5-hybrid
The Callaway Edge golf set features ten clubs. That gives beginners everything they need to start successfully navigating the golf course.
For your tee shots, Callaway has provided a long but forgiving 10.5-degree driver. Plus, the set features a 15-degree 3-wood and a 25-degree 5-hybrid.
Following the trend of modern golf sets, the Edge does not include any long irons. Instead, a 6-iron cavity back is the strongest lofted club in this category. And it is capped off by a 39-degree 9-iron.
When it comes to your short game, Callaway equipped their Edge set with a 44-degree pitching wedge and a 54-degree sand wedge. The final piece of the set is the Odyssey White Hot Pro putter, which is best suited to players with an arc stroke.
Even though the contents of the set are excellent for beginner golfers, the downside is that it does not come with a bag.
Features & Benefits
Titanium Driver
The 10.5-degree Edge driver features an oversized titanium head and a fast, thin face that produces optimal ball speed, even with off-center strikes.
The lightweight shaft construction adds to the accelerated ball speeds, combining with low CG for a high launch to deliver optimal distance.
3-Wood
Like the driver, the set's 3-wood contains an oversized profile. That allowed Callaway to position the CG low and apply perimeter weighting to promote high and straight ball flight.
The 15-degrees of loft on the club is standard for a 3-wood. However, some players may prefer a 16 or 16.5-degree option.
5-Hybrid
Callaway's 5-hybrid in the Edge set substitutes a four and 5-iron because easier to launch high and long. The club's compact head helps it glide through the turf from any lie, delivering clean contact with the ball.
Furthermore, the high trajectory of shots with this hybrid leads to softer landings, making it easier to hold the green from far out.
Irons
Given the difficulty of launching longer irons, the Edge set only features four clubs in this category. The strongest lofted option is a 6-iron with 26-degrees, while the set's 9-iron is 39-degrees.
These cavity back irons feature an oversized head profile and perimeter weighting for optimal forgiveness. They are designed to provide exceptional stability at impact to ensure a stable clubhead and straighter shot.
Wedges
Callaway added two wedges to the Edge set, a pitching and sand wedge. The set's pitching wedge sports an aggressive groove design for enhanced shot stopping power and spin on pitch and chip shots.
The sand wedge, on the other hand, contains a wide sole. It is engineered to glide through rough and sand. As a result, it promotes an impeccable connection between clubface and ball.
Putter
We saved the most essential instrument for last, the putter. Callaway's Edge golf set features a simple Odyssey White Hot Pro putter designed for players with an arc stroke.
Furthermore, the putter is fitted with a Super-Stroke grip to reduce wrist movement and ensure stability through your stroke.
Callaway Edge Alternatives
1. Callaway Strata Complete Set
Callaway's Strate set one-ups the Edge because it comes with a bag and an additional club. For your long game, the set is equipped with a 12-degree driver and a 15.5 degree 3-wood.
Furthermore, Callaway included a 22-degree 4-hybrid and a 26-degree 5-hybrid, eliminating the risk of any gapping issues. As is customary with irons, the set only comes with a six, seven, eight, and nine, while a pitching wedge, sand wedge, and putter round it out.
Unlike the Edge, the Callaway Strata set also includes a lightweight stand bag that is easy to carry over 18-holes. In conclusion, this is one of the most well-equipped golf set's on the market, catering to every element of your game.
2. Wilson Men's Complete Golf Set
This 10-club Wilson set covers your game from tee to green. However, it does not include a 3-wood. The longest club in the set is a 10.5-degree driver, which is supported by a 5-wood and 5-hybrid. Considering that many amateurs struggle to get their 3-wood shots airborne, a 5-wood is an excellent alternative.
As you would expect the set includes four irons, with a six being the strongest lofted, and the nine the weakest. Furthermore, Wilson added a pitching and sand wedge to the set to give you variation with your short game. And, capping off the set is a forgiving mallet head putter and an ergonomically designed stand bag.
The Precise M3 Set is an affordable option for players who are unphased by brand names. This set features nine clubs, which is less than the other alternative options we have mentioned.
Your tee shots are covered by a 10l.5 degree driver, while a 3-wood and 21-degree hybrid make up the remainder of clubs for your long game. One more, the longest iron is a six, and the shortest, a nine.
The set does include a pitching wedge but offers no other option to generate optimal spin on greenside shots, such as a sand wedge. Finally, Precise added a mallet head putter to deliver maximum forgiveness on off-center strokes.
If you were wondering how to carry this set, it comes with a lightweight stand bag, enabling you to lug your bag.
Final Thoughts
As a beginner, I urge you to avoid getting caught up in the latest and best equipment. Sure, the products look good, and they promise you the world. But at this stage of your golfing journey, you need to keep it simple and focus on the basics.
With that said, our Callaway Edge review revealed that this is a basic set that gives beginners everything you need to navigate a golf course. The downside of this set is that it does not include a bag. However, that is an easy fix.
If you are new to golf and have no idea where to start looking for clubs, I recommend taking a close look at the Callaway Edge set here.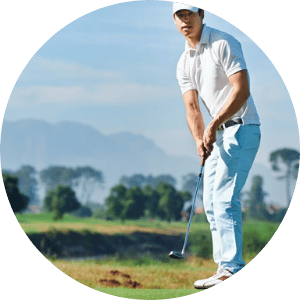 Nick Lomas is the founder of GolfSpan, an avid golfer, not quite a pro but has over 15-years of experience playing and coaching golfers from all over the world. His mission is to bring the golfing community a better experience then it comes to choosing the right golf gear, and finding the right set up for your game.