The best golf clubs for senior ladies have a unique design to help high-handicappers improve their swing speed and distance. The shaft weights on senior ladies clubs is usually no more than 60 grams. But there are other features like a special grip and more forgiveness for lower dispersion.
Senior ladies golf clubs can vary from set to set though, so here 9 of the best golf clubs available for senior ladies:
The right golf clubs can help you enjoy the game late into your life, so you won't want to miss reading about each club to see which will bring you the most joy. Read on to learn the pros, cons, features, and our experience testing each club.
Then if you want to learn how the pros buy clubs, check the buyer's guide.
At a glance: Our Top 5 Picks for Best Golf Clubs For Senior Ladies
Why You Should Trust Us
Our team spends thousands of hours trying out and researching golf equipment to help you take your game to the next level. Here's our product review process.
How We Reviewed These Products
Golfspan only shares equipment and brands we trust.
I started Golfspan years ago after a 15-year career instructing and coaching golfers, and I meticulously researched and reviewed each of the golf club sets below. Following this, an editor combed through all of the information to ensure it reads well and is factual. We also regularly review our content as the market changes to bring you the latest in golfing gear.
For this post, I considered the following criteria:
Forgiveness

Cost

Spin

Feel

Sound

Appearance
Quick Overview: Our Top Picks for Best Golf Clubs For Senior Ladies
The Best Golf Clubs for Senior Ladies Are:
In my testing, the Powerbilt Women's Pro Power RH Ladies Flex Golf Set stood out. Powerbilt has been in the game for quite some time. Even if they might not be rubbing shoulders with the top-tier brands, they sure pack a punch, especially for our senior lady golfers.
That 12-degree 460cc driver with a lightweight graphite shaft? It's a game-changer. You'll love how easily you can launch the ball and the sweet distance you get from the tee. The set is pretty comprehensive with a driver, a 3 fairway wood, a 6-hybrid, and those irons we all love – from 7 to 9, including a Pitching Wedge and Sand Wedge. And let's not forget that slick blade putter – it's designed to boost your confidence on the greens.
As much as I admire this set, I've noticed one downside. Some of my students felt the grip could've been a bit more comfortable, especially during those longer sessions on the course.
Comparing it with the Founders Club Believe Women's Ladies Complete Golf Set, Powerbilt does come across as more vibrant and energetic in its design. But the Founders set stands out regarding grip comfort and overall balance. So, if you're someone who values comfort a tad more, the Founders Club set might be your preference.
2. Founders Club Believe Women's Complete Golf Set
Pros
460cc largest driver head allowed for forgiveness and confidence on the tee
Wide soles for maximum forgiveness and launch on your iron shots
Mallet putter
Bag that has 7 zippered pockets for maximum storage
Bag also has a 14-way divider for maximum organization on the golf course
Cons
Bag is pink or blue and that might not be your color of choice
May be priced too high for a beginner budget
Does not have an insulated beverage pocket
Founders Club has meticulously crafted the Women's Believe Golf Set that's practically a hole-in-one for those considering an upgrade or even for those picking up their first set.
Boasting a comprehensive 16-piece collection, this set ensures you're well-equipped for any shot. You'll appreciate the minimal yardage gaps, empowering you to approach those pins with the precision and confidence of a pro. After all, with the right tools in hand, dominating the green becomes second nature.
The Callaway Strata is one of the top golf sets available on the senior circuit. Consisting of a driver, two fairway woods, four irons, two wedges, and a putter, it gives you most of what is needed. It has all the ingredients for a perfect round of golf between a group of senior ladies. The golfer in the group playing with this set will have an absolute advantage over the rest of the group.
Firstly you will experience the typical lightweight, easy-swinging Callaway Strata 460cc forged driver with an aerodynamic head shape for extra speed, a large sweet spot and produces efficient distance and forgiveness to ensure maximum distance. All of the requirements to ensure that senior golfers get maximum enjoyment from a round of golf are present.
Then there are two excellent woods producing extremely efficient contact and forgiveness to inspire confidence when you are required to take up the challenge for longer shots. The wood covers the fairway woods as well as the long irons for ease of play, distance, and forgiveness.
Four irons range from a 6-iron to a pitching wedge and a sand wedge. These irons have weight distributed to the perimeter and progressive width in the sole technology for increased distance and stability.
Visual alignment aids on the putter round the set off in perfect harmony with the rest of the set.
Cobra 2021 Women's Fly XL Complete Set consists of a 13-piece women's set that includes
A lightweight 12.5-degree titanium driver with an oversized head,
Set of 3 fairway woods featuring a shallow profile with heel-biased weighting offering increased accuracy without sacrificing distance
A hybrid equivalent of a 5-iron
Irons ranging from a 6-iron to a 9-iron
Pitching wedge and sand wedge
Putter
Cart bag with 14-way top and 7 zipped pockets
For senior women golfers seeking both quality and versatility, the Cobra Fly XL set is a worthy consideration. Notably, its diverse wood options combined with irons starting from a 6-iron make it an excellent choice for both beginners and high-handicap female golfers. Compared to the Powerbilt set, the Cobra stands out in its extensive club range, making it especially suitable for senior ladies.
A highlight of the Cobra set is its alignment with Cobra's long-standing reputation for crafting quality clubs. These clubs don't just look good – they ensure robust distance, further solidifying its suitability for senior players.
While every component of this set impresses, the putter truly stands out. Recognizing that putters are highly personal, Cobra introduces a machine-faced design that promises a remarkable feel and control. However, it's essential to note that, like all putters, this one might not cater to everyone's taste or playing style – a slight downside amidst its many perks.
The set's storage solution is equally commendable. It comes with a cart bag that boasts not just one but seven zippered pockets, including a velour-lined pocket for those treasured valuables. And for those sweltering golf days, you'll appreciate the insulated cooler pocket, ready to hold refreshing beverages.
Available in chic mint/black or pink/black color combinations, it's clear that style and functionality go hand in hand with the Cobra set.
Wilson offers a great range of sets for senior golfers and is highly recommended for all levels. The Wilson SGI Women's Golf Set is a highly rated complete set of senior golf clubs.
The long clubs consisting of a driver, a three wood, and a hybrid comes standard with a stainless steel and titanium club head construction. Swing speed and turf interaction are enhanced through the aerodynamic design of the sole.
The cavity-backed irons include everything from a six-iron to the sand wedge. All aspects of the set have been designed with the lady golfer in mind and it is an ideal set for seniors.
This set is aimed specifically at the senior lady market where the golfers struggle to master the irons. The set comprises of eight oversized clubs ranging from a 3-iron to a pitching wedge. Although the heads are oversized, it retains a low profile look to enable alignment. It's also notable that you can have the set custom made to fit your height.
The shot dispersion achieved with the hybrid clubs should be much tighter than what you will achieve with a set of irons. Mishits will be corrected slightly for even better results.
Maximum distance can be achieved as the Senior Lady Flex Velocity Graphite shafts are extremely suitable to lower swing speeds and the drag reduction resulting from the aerodynamic design as found on the senior circuit.
Arrow markers on the black crown assist with alignment towards the target area.
This set consists of 11 lightweight clubs ranging from a 460 cc driver, a number 3 fairway wood, 2 hybrid irons, 6 irons with extra-wide soles, and a putter. This will enable you to have full experience with no limitations on distance.
The driver is set at the maximum size the golfing governing bodies allow. Besides the size, the driver offers maximum forgiveness and does not lack distance on mishit shots.
A low central center of gravity will allow you to attain a high-flying trajectory from either the tee box or fairway shots with the number 3 wood.
Two-hybrid irons replace long irons as it would in any set since the hybrid clubs are superior to irons for seniors or people with slower swing speed.
Wide-soled irons will allow you to get out of the rough with little effort.
Rounding the set-off is a mallet putter that produces efficient roll on the greens for more opportunity to achieve birdies.
TaylorMade Golf offers an ultra-lightweight 11-piece set of Kalea clubs that counters the dwindling swing speed and driving distance experienced by so many senior golfers.
The set consists of a driver, 3-wood, 5-wood, 5-hybris, 6-hybris, irons ranging from a 7-iron to a 9-iron, pitching wedge, sand wedges, and a putter.
Optimized club length offers wide coverage with a minimum gap between clubs.
Putting is made so much simpler with the addition of TaylorMade's popular spider putter for increased confidence on the putting greens
TaylorMade's Speed pocket technology allows for flexibility low on the face while offering you the ability to launch the ball high.
The Spider putter with its Pure Roll™ Insert offering better forward roll is extremely popular on professional tours and by amateurs of all capabilities alike.
The set also offers a unique bag and headcover design available in Gray/Green, Charcoal/Blue, and Black/Violet color combinations.
9. Cleveland Bloom Lavender Club Set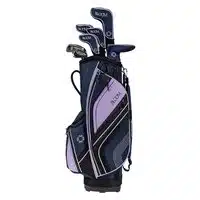 Pros
Designed to increase distance for senior women golfers

The high lofted big head driver launches high and far

The light-weight cavity back irons are easy to hit
Cons
Better players may want a different configuration in the set

The high lofted driver may not suit the stronger player
For senior women golfers considering an upgrade, the Cleveland Lavender Bloom set emerges as a compelling option. At first glance, its quality is undeniable, further accentuated by the stylish, lightweight cart bag that complements its overall appeal.
When juxtaposed with the Powerbilt clubs, a few unique features of the Cleveland Lavender Bloom set shine. For starters, the clubs' standard-length shafts and lie angles indicate a design conscious of varied playing techniques. Furthermore, the ladies' flex Cleveland Lavender Bloom graphite shaft is crafted to ensure balls are launched high and cover remarkable distances, a feature that many senior ladies will appreciate.
The brilliance in design extends to the driver and fairway wood, which, with their low CG in their sizeable heads, promise an effortless launch even with slower swing speeds. The lightweight cavity back irons deserve a special mention – they are tailored to bolster launch, pinpoint accuracy, and enhance the game's overall feel. This means fewer deflections and minimized loss of distance, even on those occasional mis-hits.
As for the putter, its perimeter weighting is a game-changer. Not only does it foster easy line-ups, but it's also bound to instill confidence right where golfers need it most – on the greens.
In summary, the Cleveland Lavender Bloom set perfectly balances aesthetics and functionality. Whether you're a beginner or an intermediate player, this set is tailored for game improvement, offering a worthy comparison against the notable Powerbilt clubs.
What To Consider When Selecting Clubs Suitable For The Senior Lady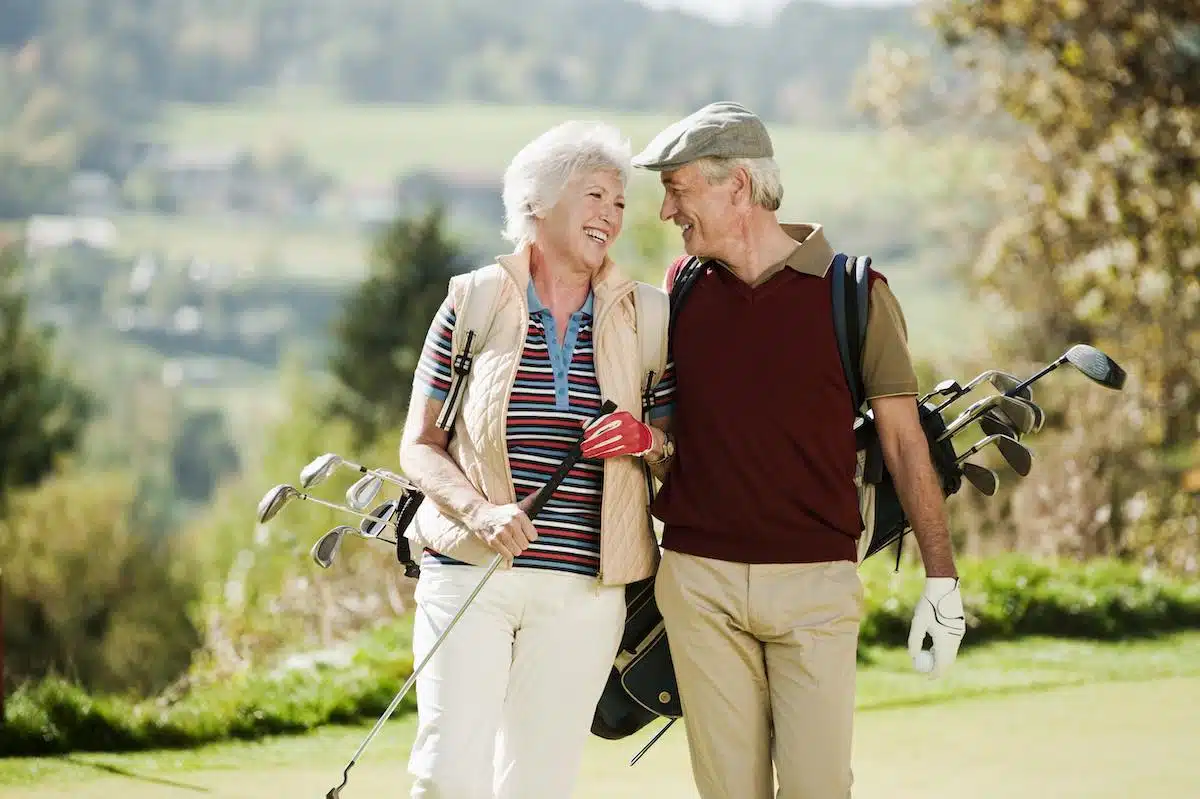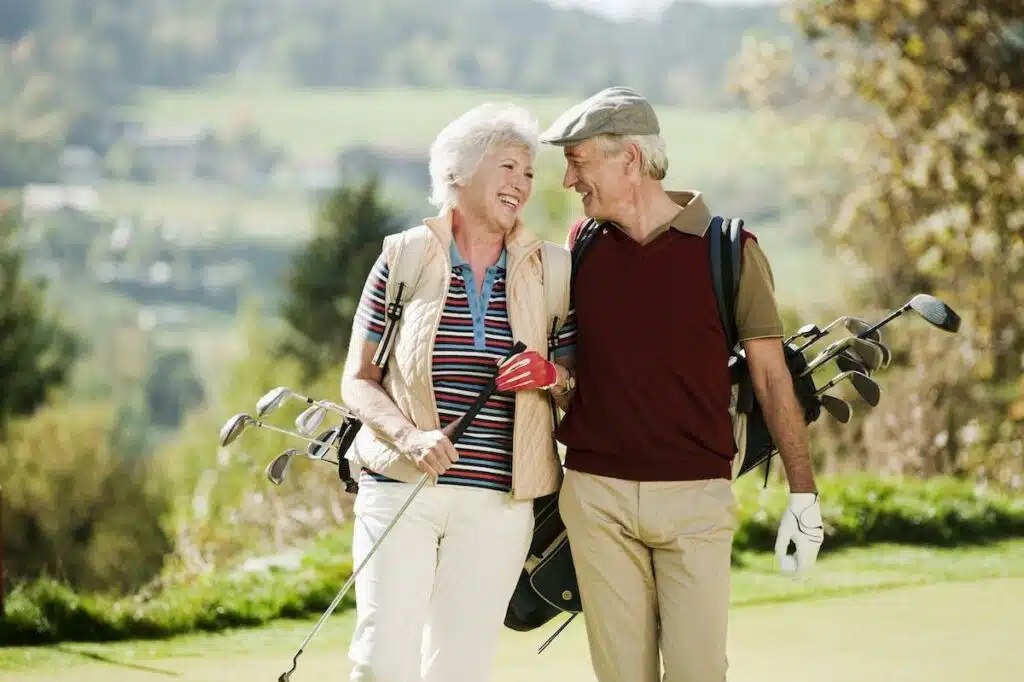 Your body inevitably changes as you age, and you encounter challenges you've never experienced.  However, you have worked hard all your life, and now is the time to enjoy the fruits of your labor and play as much golf as you can.
Moving into the selection of the clubs that will provide you with hours of pleasure out on the course, there are some pointers to keep in mind.
Shaft on Senior Ladies Golf Clubs
The shafts of your clubs are extremely important and will play a big role in determining the outcome of your effort. There are several areas related to the shaft to take cognizance of:
Shaft Torque
The torque plays a role in the trajectory of your shots. A lower torque, let's take a 3 degree, will not only feel stiffer than a 5 degree, but the trajectory of your ball will also be lower than the 5 degrees one.
Shaft Weight
The lighter the weight, the faster you can swing your club and the more distance you will achieve. It is highly recommended that seniors do not exceed a shaft weight of more than 60 grams. Many manufacturers produce shafts that weigh around 50-55 grams which will be an excellent fit for most.
It is important not only the weight but also how it is distributed along the shaft. The grip end should be heavier than the tip to maximize accuracy.
Take note of the length of the shaft as well and ensure that you fit the longest shaft that you can comfortably swing and control. You will gain more speed and distance as a result. If the shaft is too long you will lose control of your swing.
Shaft Flexibility
The flexibility is the amount of bend you can extract out of the shaft during your swing. This will assist you in generating more speed and power. Set your flex to your swing speed for maximum benefit. Most manufacturers have shafts that are specifically aimed at the senior market and will enable optimal performance.
Club Head Loft on Senior Ladies Golf Clubs
The next area that plays a crucial role in your ability to lift the ball off the ground to soar like an eagle, is your clubhead.
The areas to concentrate on here would be the loft of the head as this affects how quickly the ball gets into the air and how high it can reach. The slower your swing speed the more loft you will need for maximum results. Forget the 9-degree loft on your driver, you will be far more pleased with your shot off a 15-degree driver.
Club Face
Manufacturers spend millions of dollars yearly to make the clubface thinner and more flexible to achieve the highest MoI possible and the biggest possible sweet spot. They further look at strengthening the face and bulging it in the correct areas to enable you to achieve the best shape and most forgiveness.
Head Design
This area is not just for good looks; the design plays a big role in obtaining top speed for maximum distance.
Final Thoughts
The golf clubs for senior ladies can help you play your best as you enjoy your golden years. No matter your age, ability, or fitness level, golf remains one the very few sports that can be played (and played competitively, thanks to the handicap system) until a ripe old age. There is no reason to give up on our beloved sport while you can still swing a club at any decent speed.
But the clubs reviewed here are all competitive in the 'best golf clubs for senior ladies' ranking and should be tested to find a suitable set. There are no sets under all of the reviews that you can exclude for any reason.
Our best-performing set is the Powerbuilt Pro golf clubs. The cavity-backed irons are easy to launch and highly forgiving. The shafts are ideal for senior lady golfers, and the set is great value for money.
Nick Lomas is the founder of GolfSpan, an avid golfer, not quite a pro but has over 15-years of experience playing and coaching golfers from all over the world. His mission is to bring the golfing community a better experience then it comes to choosing the right golf gear, and finding the right set up for your game.