Comparing two titans of the golf game is never easy. Both Callaway and TaylorMade have differing benefits for different types of golfers.
They are two of the biggest golfing equipment and clothing brands ever encountered.
Let's compare Callaway vs. TaylorMade: For those with a higher handicap, Callaway generally has more products aimed at your ability. Conversely, if you have a mid to lower handicap, TaylorMade has more products you will enjoy.
However, there is much more to it. This comprehensive piece will explore their differences, provide an overview of each brand, the best products each offer, and which you should opt for: Callaway or TaylorMade.
Let's dive in!
Callaway vs. TaylorMade: Differences Between the Brands
Here are some of the key differences in the TaylorMade vs. Callaway battle:
Callaway is better for beginners
Callaway's irons are more expensive
TaylorMade has the best driver
Callaway Suits Beginners More
Both brands sport a similar audience, but lately, Callaway is more tailored towards beginners with its latest offering of clubs. The Big Bertha and Paradym X sets come to mind.
The former is nearly 30g lighter than a tour driver and features an ultra-lightweight chassis. This makes it super handy for those wanting to increase their swing speed. The clubs are some of the most forgiving drivers and irons Callaway offers.
The Paradym X has a high MOI and a stretched profile, making it ideal for those wanting a high launch and lots of forgiveness.
Callaway's Irons Are More Expensive
Currently, driver prices between the two brands are similar. For example, TaylorMade's most expensive driver is the MyStealth 2 Plus driver ($729.99), and Callaway's driver that will set you back the most is the Great Big Bertha driver ($699.99).
However, the top iron price differs quite significantly for a set. TaylorMade's most pricey iron set, and one of its best, is the P7TW ($1,999.99). By comparison, the Great Big Bertha irons will set you back $3149.99 for the set.
TaylorMade Has The Best Driver
The TaylorMade Stealth 2 is the primary driver and is a leader in distance and forgiveness. They call it "fargiveness."
Callaway's Paradym looks great and will also help golfers hit longer and straighter shots from "tee to green."
However, in tests, TaylorMade's Stealth 2 goes a few yards farther than Callaway's driver.
Callaway Overview & Best Equipment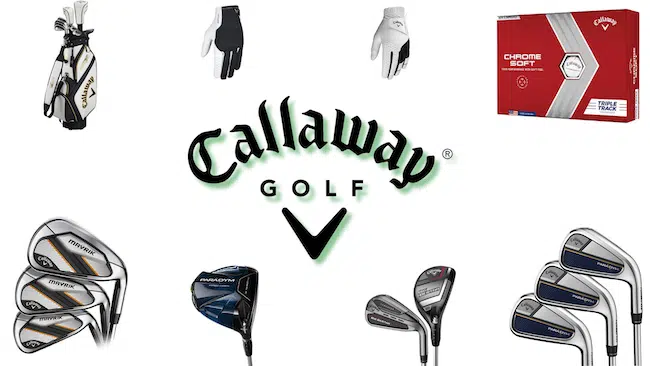 You need to head back to 1982 for the beginning of Callaway's story. Since then, the brand has developed into a one-stop shop for all your golfing equipment needs. Callaway Golf provides quality clubs, balls, and clothing.
Names like Phil Mickelson, Sergio Garcia, Henrik Stenson, Jim Furyk, Danny Willett, and Ryo Ishikawa have all won tournaments, including majors, using Callaway gear.
The likes of Jon Rahm, Xander Schauffele, and Sam Burns are the brand's faces.
To decipher which is the best brand: TaylorMade or Callaway, we have picked out each of the brand's best products to compare.
Callaway's Best Driver — Paradym
Pros
Huge weight savings
Enhanced ball speed
More forgiveness
3 options
Cons
The Paradym driver has made waves in the industry because there is no titanium in the body of the club. This is thanks to the 360-degree Carbon Chassis, which delivers a 44% lighter body than one with all titanium.
Both Callaway and TaylorMade's leading drivers are operating lighter drivers than previously – the Stealth is 2g lighter.
Therefore, it offers increased ball speeds and forgiveness. Our analysis revealed that its only downside is the high pricing, but nevertheless, it is an exciting proposition.
Rating: 4.5/5
Callaway's Best Irons — Mavrik
Pros
Rapid ball speeds
Good feel
Optimal spin
High launch
Cons
Not as much forgiveness compared to Max
Spin levels can further harm slices
Based on our expertise, the Mavrik irons have almost everything you could want. They promote fast ball speeds and an optimal launch, all while providing a good feel.
The main downside is that the high spin can punish poor execution, so if you're prone to slicing the ball, they are probably not the best choice. The Mavriks are more suited to low handicappers. This greatly contrasts the TaylorMade SIM MAX 2, which is loaded with forgiveness.
Fun fact, the Mavrik is one of Callaway's best drivers too!
Rating: 4.5/5
Pros
Maximum stability
Great alignment
Solid forgiveness
Cons
Not as good feedback as other putters
We found that the Odyssey Eleven sports a wide, square head for optimal stability and consistency. It boasts great alignment and solid amounts of forgiveness too.
It does not offer as good feedback as other putters like the Odyssey Hot Pro 2.0, but overall it makes up for this with bags of other qualities. Like most others from the Odyssey line, it's equipped with the White Hot Insert and has excellent alignment aids.
Rating: 4.5/5
Callaway's Best Ball — Chrome Soft
Pros
Encourages high launch
Very soft
Adds distance for slow swingers
Durable
Cons
My research found that the Chrome Soft suits the slower swingers among us as the ultra-soft ball adds distance. Its compression score sits at 75, which, while low, is far from being the softest. The Callaway Supersoft, for instance, is rated 35. If you want a similar TaylorMade ball, the Tour Response is probably your best bet, as its compression score is 70.
The Chrome Soft encourages a high launch and offers low driver spin for ideal carry distance. The ball promotes a straight ball flight, too — what is not to love?
It is worth being mindful that it is an expensive ball, but sometimes the price is worth paying!
Rating: 5/5
Callaway's Best Bag — Fairway 14
Pros
Carry strap is comfortable
Large storage space
Hip pad protects you
Self-balancing strap
Lots of colors available
Cons
More expensive than other carry bags
Reasonably heavy
Often you have to pay a premium for quality, which is the case with the Fairway 14 bag. It may be more expensive and a bit heavier than other carry bags, but our observations reveal its large storage space, and comfort make it a great pick.
The carry strap and hip pad reduce the strain on your body, allowing you to get through a whole round of golf without soreness or aches. Moreover, you can pick up the Fairway 14 in a staggering 20 colors, which is way more variety than most other bags.
If you want a cheaper alternative, though, the Fairway C bag may be more to your liking.
Rating: 4.5/5
TaylorMade Overview & Best Equipment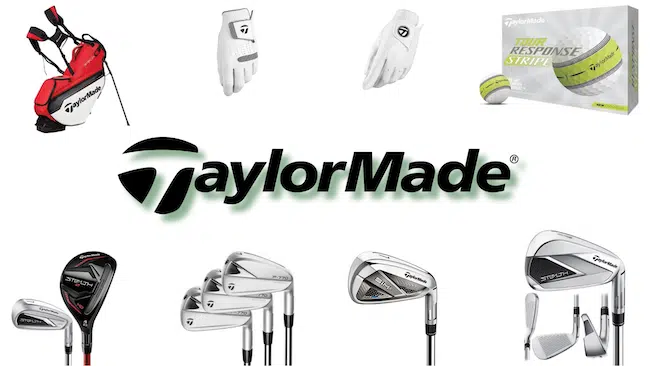 Three years before Callaway's beginning, Gary Adams founded TaylorMade golf and took out a $24,000 loan on his home. Initially, the only offering was a metal driver with 12 degrees of loft.
In 2023, TaylorMade now provides clubs with technologies such as unique carbon twist faces and Thru-Slot Speed Pockets. They also offer apparel, footwear, and balls.
Some pros of TaylorMade equipment include Tiger Woods, Scottie Scheffler, Rory McIlroy, Nelly Korda, and Tommy Fleetwood.
TaylorMade Best Driver — Stealth 2
Pros
Able to produce big distance
Maintains speed on off-center shots
Lighter
Cons
The Stealth 2 continues on from the Stealth line. Our investigation found that the new Carbon Twist Face sports Inverted Cone technology, which is 2g lighter than previously. Also, shots can retain speed on off-center strikes thanks to a larger sweet spot.
Though, it is worth noting that it is an expensive bag.
Distance is also encouraged through a revolutionary nanotexture polyurethane cover too. When comparing TaylorMade vs. Callaway drivers, they are tough to separate. Both the Stealth 2 and Paradym produce excellent distance and forgiveness.
We recommend the Paradym if you care more about shaping your shots and the Stealth 2 if you prefer higher spin.
Rating: 5/5
TaylorMade Best Iron — SIM MAX 2
Pros
Great forgiveness levels
Promotes accelerated ball speed off the clubface
Bigger sweet spot
Affordable
Cons
No 4-iron or sand wedge in the set
Not much workability
Our findings are that this is TaylorMade's best iron. Thanks to an enlarged sweet spot, they offer forgiveness and distance, and the clubface encourages fast ball speeds.
The negatives are that it lacks workability and no 4-iron or sand wedge within the bag.
When comparing Callaway vs. TaylorMade irons, the SIM Max 2s differs quite a bit from the Mavrik as it is more of a forgiving club and suits higher handicappers rather than producing high spin levels like the Mavrik.
Rating: 4.5/5
Pros
Lots of stability
Beautiful putter
Improved feel and sound
Cons
This beautiful putter offers bags of stability due to the perimeter weighting and a light top.
Not only that, the open-frame multi-material design is revolutionary. It provides a great feel and sound when connecting with the ball.
Yes, it may be an expensive option, but my research shows this is the highest quality TaylorMade putter on the market. Therefore if money is a non-factor, we would determine that it's the best TaylorMade putter you can get your hands on.
The Spider Tour putter is a better option for those watching their wallets.
Rating: 4.5/5
TaylorMade Best Ball — TP5x
Pros
Great ball speeds
Low spin on driver shots
High amounts of wedge spin
Soft feel
Cons
Compression suited for faster swing speeds
High price tag
As per our expertise, this ball offers great ball speeds, low spin levels on driver shots, high wedge spin, and a soft feel. What more could you want?
It also helps provide a precise flight for great distances. The ball is not too dissimilar from Callaway's Chrome Soft ball, albeit the latter is more focused on beginners and those with slower swing speeds, whereas the TP5x is more aimed at faster swings.
Be mindful that it comes with a high price tag, though.
Rating: 4/5
Pros
Lots of space for clubs
Features a shoulder strap
7 pockets
Water-resistant pocket for your valuables
Cons
Lacks stability due to legless design
TaylorMade's answer for the best golf bag is a very solid one. With huge club space and many pockets for your other gear, the Select ST has much going for it.
The bag features 15 dividers, one of which is a dedicated spot for an oversized putter. As for the pockets, you get 7 in total, so running out of space is almost impossible. Furthermore, the upper-end pocket is water-resistant, making it the perfect pocket for storing your valuables.
The main downside to this bag is its lack of stability. But again, this is true of all cart bags — with no legs for support, you need a cart to keep them upright.
I think the Callaway Fairway 14 clearly wins in this area as it is a stand bag, yet when it comes to space, TaylorMade's Select ST cart bag is the victor.
Rating: 4.5/5
Which Brand Is the Winner?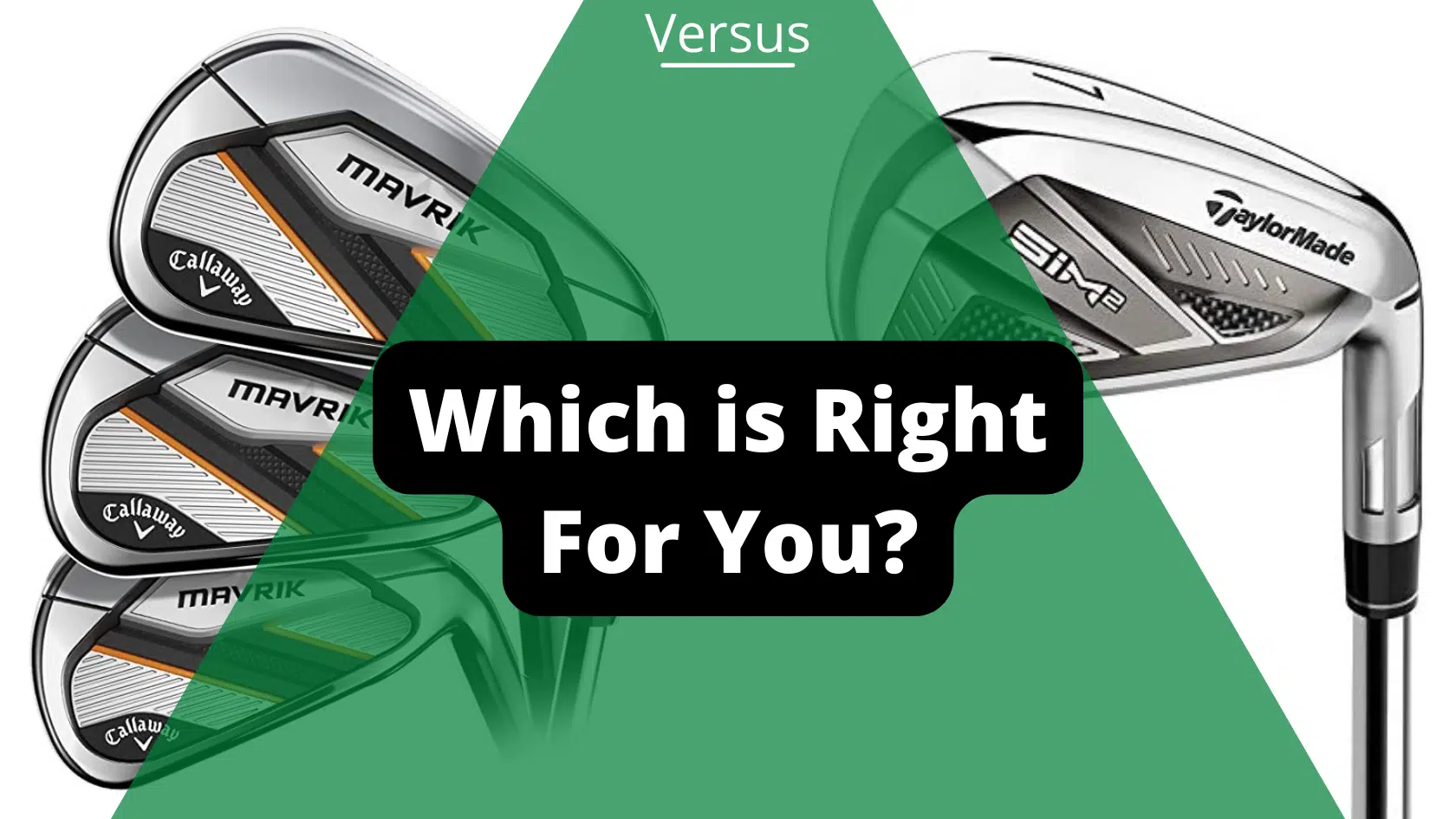 Both brands have some top-quality products, but you didn't come to read a review that sits on the fence.
For newer golfers and those with a higher handicap, we believe that more Callaway products are tailored to you. So, if you consider this your skill level, we recommend you check out Callaway's equipment. For example, when studying Callaway drivers vs. TaylorMade drivers, we consistently found them more forgiving, an essential trait for high handicappers.
Though, if you are a medium to low handicapper, our analysis found that there are probably more products that suit you at TaylorMade.
Of course, you can find forgiving TaylorMade clubs and those that suit lower handicappers at Callaway. It just comes down to the golfer.
Overall, the top products that stood out to us from both brands are:
Final Thoughts
Now you know that Callaway vs. TaylorMade products' showdown is close. Both brands produce excellent products; Callaway generally caters to higher handicappers, while TaylorMade targets lower handicappers.
We would encourage you to try both companies, though, and make informed choices based on what you need, prefer, and find attractive, as your clubs and items must be personal.