The first time I caught wind of the Superspeed Golf Training system was at the 2017 Players Championship. I saw Phil Mickelson warming up with it and read how much it improved his swing speed. I didn't pay much attention to that or any other speed programs until Bryson DeChambeau walked onto the scene. Seeing what an increased swing speed did for his game is evidence that it works.
Generating accelerated clubhead speed on the downswing can do wonders for your distance. Trackman found that adding 1 mph of clubhead speed can deliver another 3 yards off the tee. For most amateurs, increasing their swing speed could mean hitting short irons and wedges into greens. 
That is why I will touch on the distance and power benefits of this golf swing speed trainer in our full review.
Superspeed Golf Training System Review
| | |
| --- | --- |
| Total Score | 90.3 |
| Star Rating | 4.5 stars |
| Price | 87 |
| Usability | 91 |
| Performance | 93 |
Pros
Delivers 5 to 8% extra swing speed
Superspeed offer training programs and levels to guide you in increasing speed
It increases your energy transfer from clubface to ball
Assists you to generate optimal distance
Works to improve muscle memory to repeat the same swing consistently.
Cons
Moderately expensive
You cannot track your progress without a launch monitor
Read more: Before purchasing, you can read our full review of the best golf training aids on the market today.
How To Use Super Speed Sticks – Important Product Details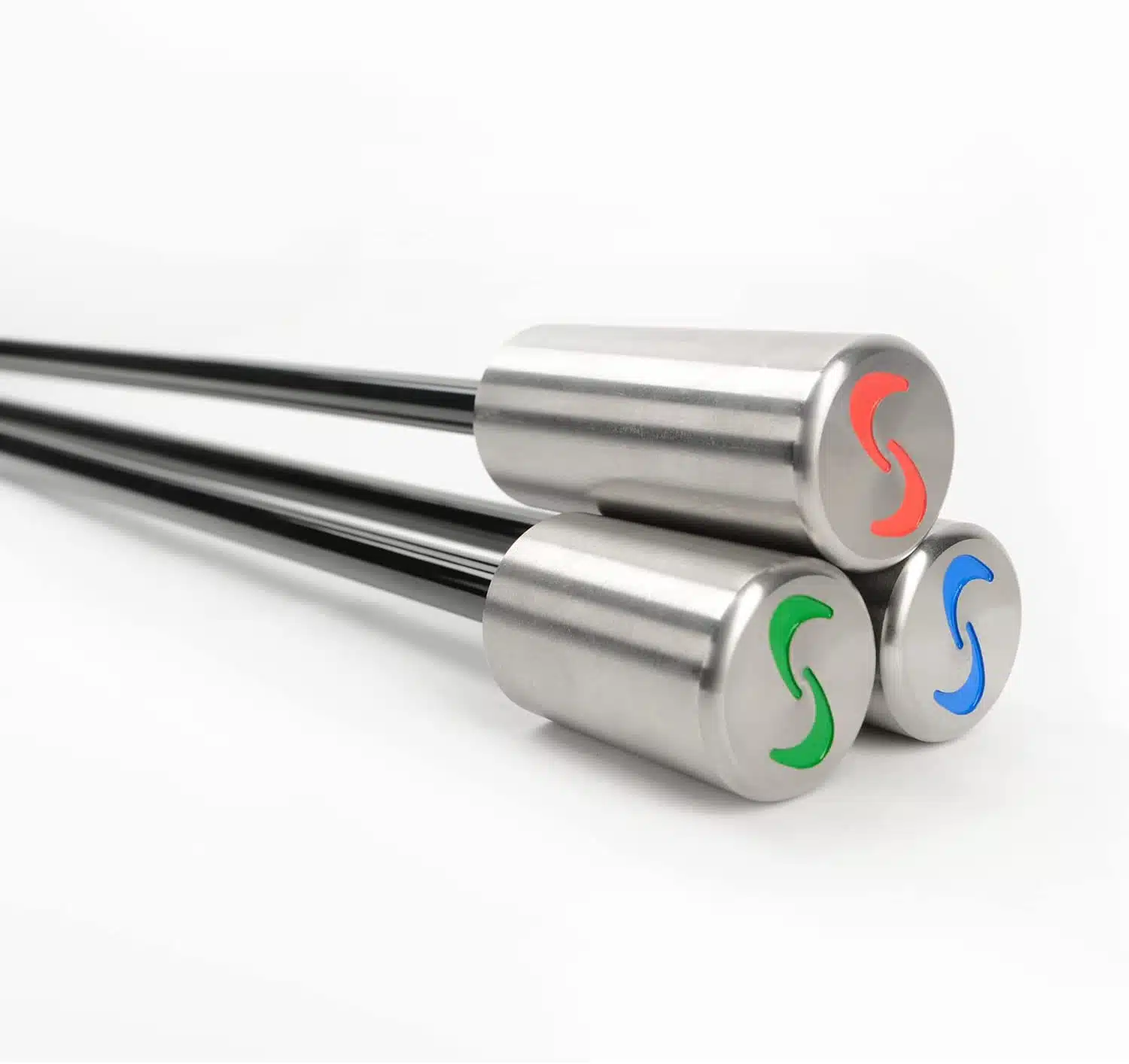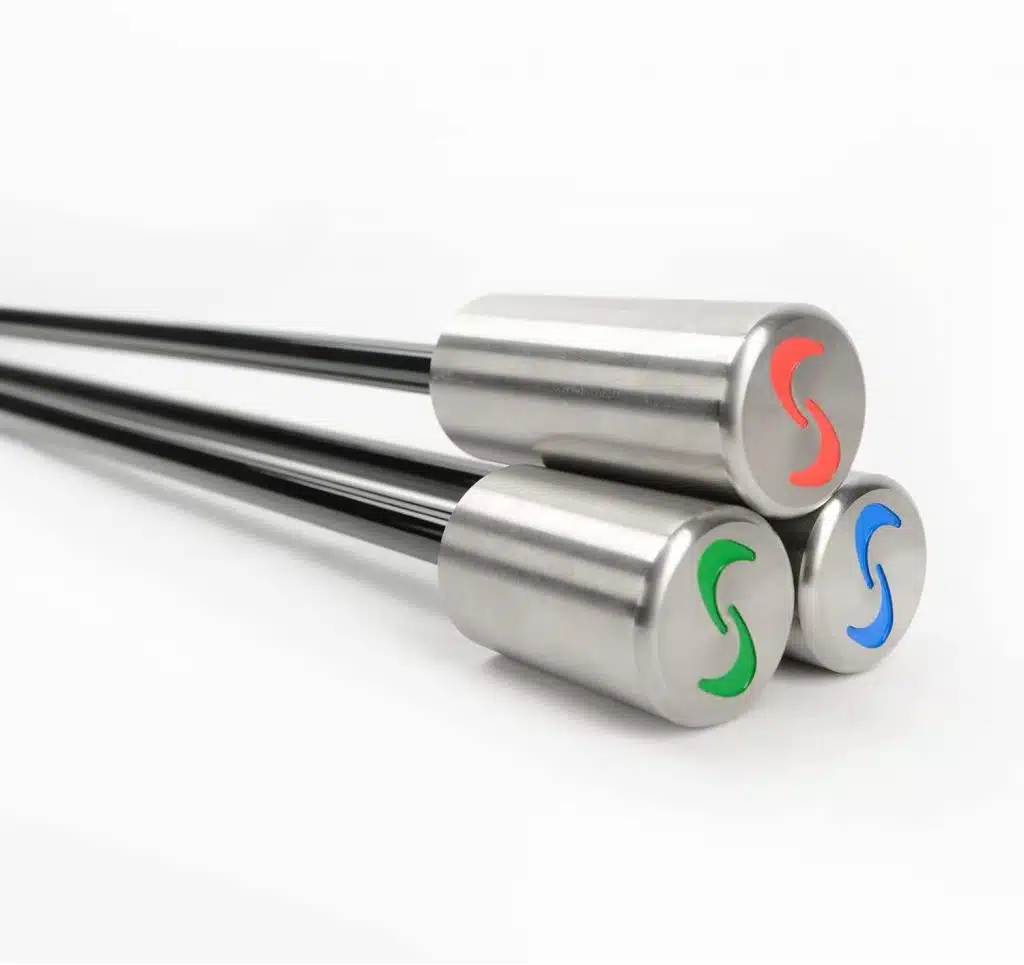 The Superspeed Golf Training system comes with three swing speed sticks to help you boost your swing speed in stages. Each swing stick is color-coded, and two of them are lighter than the mass of an average driver, while one is heavier.
Green Club Weight
The lightest speed stick in the Superspeed golf training is green and weighs approximately 20% less than a standard driver. This reduced weight helps you produce 20% more clubhead speed. This is the stick that you start your training with, enabling you to ease into increasing your swing speed.
A lighter construction makes it easier for players with slow swing speeds to boost their performance. Over time, your muscles get used to repeating this action, and you consistently enjoy an increased swing speed.
Once you have reached a consistent speed, it is time to level up and bring out the blue stick.
Blue Club Weight
The Blue swing stick is 10% lighter than the average driver and pushes you to generate 15% more clubhead speed.
It is designed to help you generate faster swing speeds with a slightly heavier construction. However, since it is lighter than your driver, it is easy for the average amateur to grip and rip.
Once you have revved up your swing speed with this stick consistently, you are ready to swing a heavier club.
Red Club Weight
Just because you can swing fast doesn't mean you can generate optimal clubhead speed. Reduced speed off the face of the golf club will minimize your coefficient of restitution (COR) and lead to a loss of distance.
That is where the Red Club comes in. It is the heaviest stick in the set and weighs 5% more than your driver. Superspeed suggests that it produces 12% more velocity than you can manage with the big stick.
It aims to help you maximize rotation and clubhead speed by familiarizing your muscles with the additional weight.
Online Training Protocols
Superspeed Golf offers a range of online tutorials and training programs to assist you in accelerating your swing speed. In addition to the tutorials, they have tailored a 46-week training cycle, executed over three phases.
After the cycle, you should see a permanent increase in your swing speed.
In addition, there are five levels of swing speed training. The further you progress, the more it demands optimal rotation and power. More so than you are used to producing.
Factors To Consider Before Purchasing A Speed Training System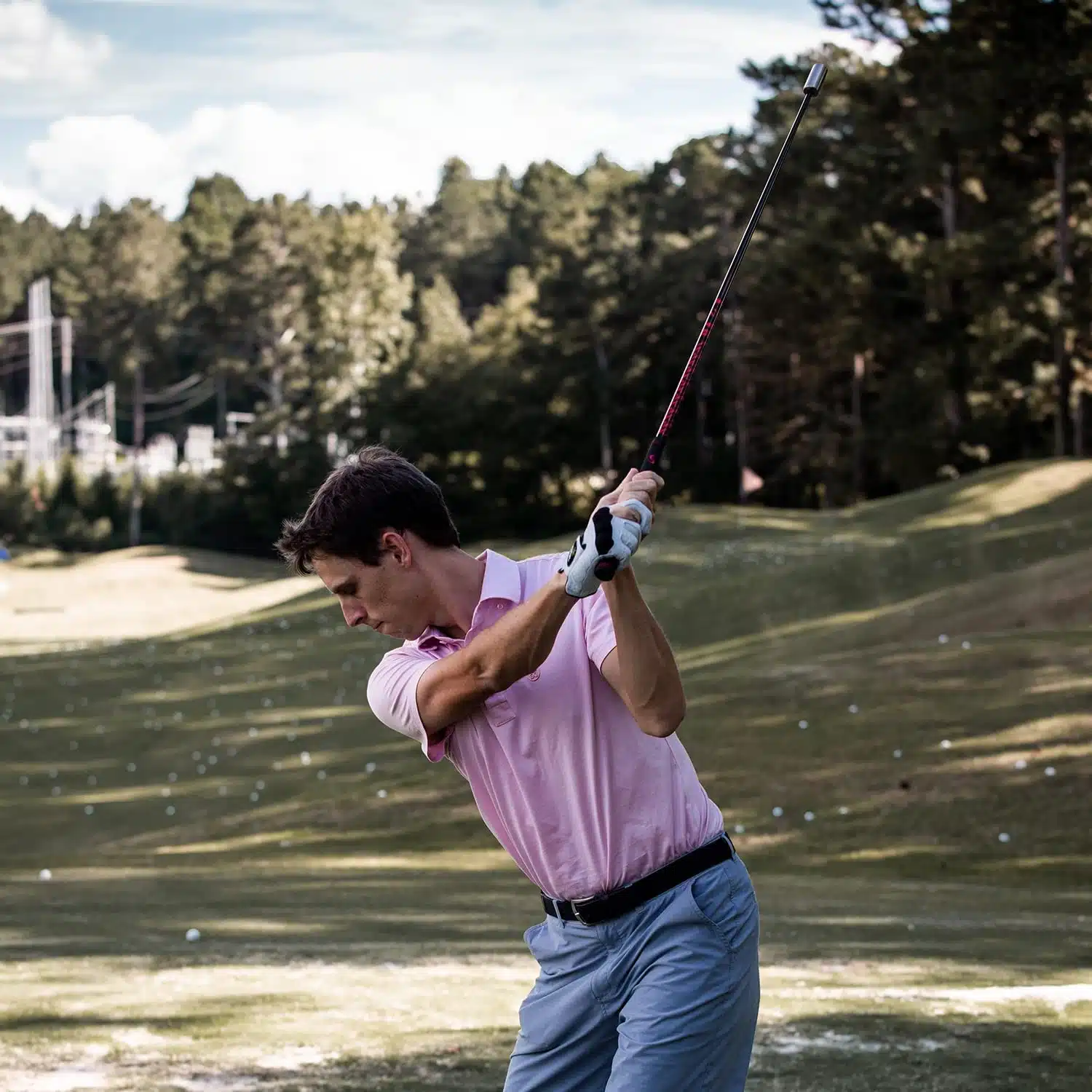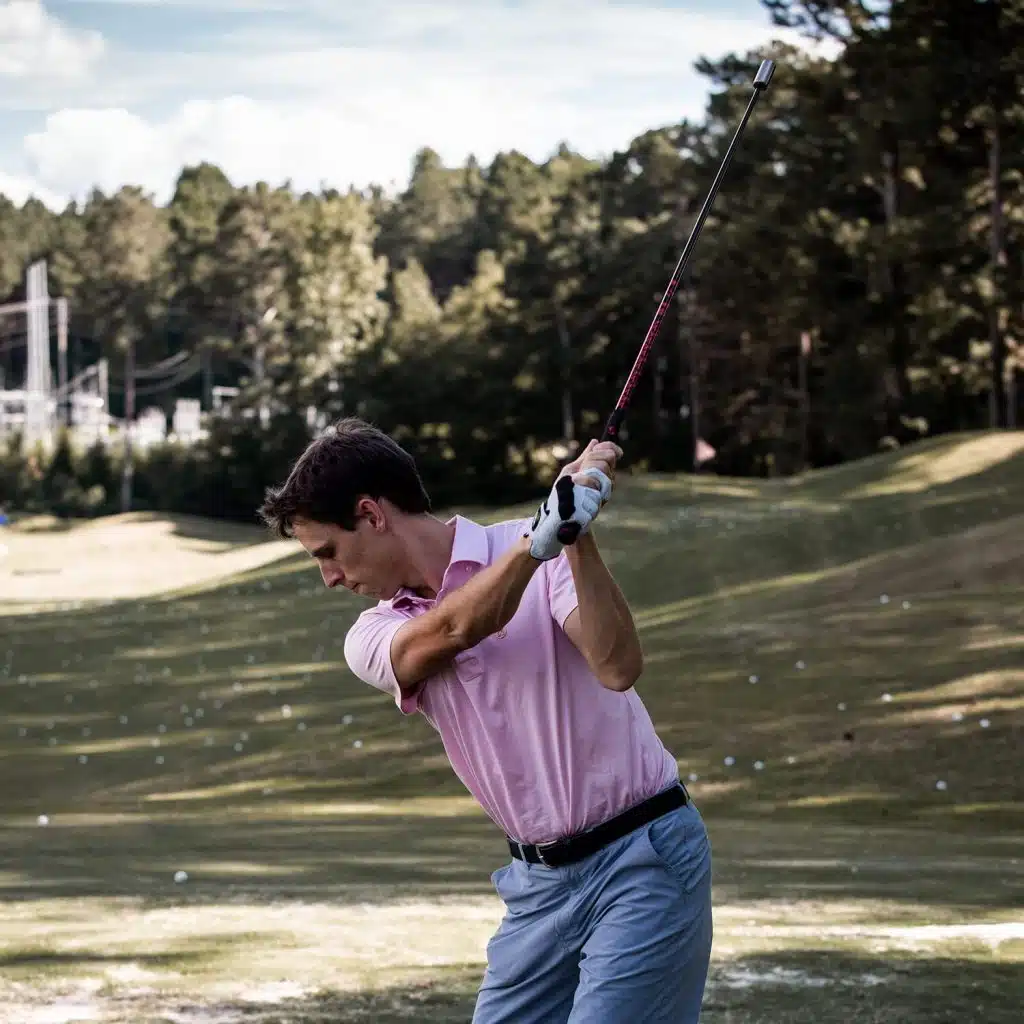 Is the Superspeed Golf Training System right for you? Here are the factors to consider when weighing it against the competition.
Budget
If you are adamant that you want a speed training system, I suggest drawing up a budget. While the swing sticks are relatively affordable, you may need to purchase additional equipment to measure your progress.
Grip
To successfully increase your swing speed on the course, you need to train with tools that resemble your golf clubs. I recommend ensuring that your swing sticks contain a rubber golf club grip to give you the feel of a standard club.
Launch Monitor
Without a means to track your progress, a swing training setup is pointless. That means that you need to acquire a launch monitor that measures swing speed. Although premium models like the Trackman 4 and GCQuad cost thousands of dollars, there are more wallet-friendly options.
Superspeed Golf recommends the PRGR Pocket Launch Monitor, which is only a couple hundred dollars.
Weight
The weight of your swing sticks is vital. I suggest starting with a stick that is at least 20% lighter than your driver. It will help you ease into the motion. Once you consistently see improvement with the lighter stick, progress to using a heavier option that is still lighter than your driver.
When you see a permanent improvement, you are ready to take on a heavier swing stick than your driver. This is where you learn to combine your increased swing speed with a weighted clubhead. As a result, you develop rapid swing and clubhead speed for superior COR, launch, and distance.
Tutorials
Once you have found speed training sticks that suit your needs, the next step is to assess the tutorials they offer. Without guidance, it is challenging to generate increased speed permanently, which is why you need a detailed program that will help you realize the desired results.
Super Speed Golf Training System: FAQs

Does Superspeed Golf Really Work?
The pros and amateurs who have consistently followed the training program show that the SuperSpeed Golf system works. For example, Phil Mickelson found that the system helped him increase his driver swing speed by 4-mph from 2018 to 2019.
Is Superspeed Golf Worth The Money?
Yes, the SuperSpeed Golf system is worth the money. In addition to Phil Mickelson's success with the training aid, Trackman suggests that an additional 1 mph of clubhead speed can deliver another three yards off the tee.
Of course, you still need to strike the ball cleanly, to maximize your COR and ball speed for optimal distance. When you combine distance and accuracy, it places you in a better position to attack the flag, and putt for birdie.
Keep in mind that to harness the true impact of the SuperSpeed Golf System a launch monitor is required. Otherwise, you will have no way of tracking your progress and determining your clubhead speed.
What Are The Weights Of Superspeed Golf?
The Superspeed Men's Golf System has three weights: green, blue, and red. Green is the lightest weight in the pack, weighing 20% less than the average driver. Blue is the middleweight and carries 10% less mass than a driver.
Finally, the heaviest weight in the set is the red option. It is the only weight heavier than the average driver by 5%.
What Pros Use Superspeed Golf?
According to Golf.com, over 600 Tour Professionals employ the SuperSpeed Golf System in their training routines. Arguably the most famous among them is six-time major winner Phil Mickelson.
Alternative Options To The Superspeed Golf Training System
Pros
Helps to accelerate swing speed
Improves your tempo
Boosts your balance
Enhances timing
Cons
Requires a launch monitor to track progress
It doesn't increase swing speed by 20% instantly, as claimed
The Orange Whip Distance Duo is a suitable alternative to the Superspeed Golf Training system. It is slightly more affordable and helps you improve your tempo, balance, and timing, in addition to your club speed.
This set features a 43 and 47-inch sticks to help you optimize your speed, timing, tempo, and balance. Improving these areas of your swing works to maximize distance and launch.
Ultimately, the Orange Whip Distance Dup set is well suited to those players looking to work on every aspect of their swing. If you desire better contact, faster speed, and superior tempo, it is worth considering.
Pros
Increases swing speed by 5% in 6-weeks
More affordable than the Superspeed Golf Training System
Improves your transfer of energy from the club to the ball at impact
It helps you increase distance
Cons
It does not include a workout program
The Detroit Golf Overspeed Swing Trainer offers the best value for money of any option in this category. The set is much cheaper than Superspeed Golf, but its weight setup is similar.
There are three weights included in the package: green, blue, and red. The green weight is the lightest in the set, weighing 285-grams, while the blue is 315-grams. Finally, the red weight is the heaviest of them all, at 335-grams.
Like the Superspeed System, these weights feature a standard rubber grip to give you the feeling of your golf club while training.
If you are looking for a quality set of speed sticks for less than the Superspeed Golf Training System, the Detroit Golf Overspeed is a strong contender.
Pros
It can be attached to your golf clubs
Super affordable
One of the few speed training systems where you can strike golf balls
Increases swing speed
Optimizes rotation
Cons
It does not come with a structured training program
If your budget is tight, the Aero Swing Training Aid is the one to consider. The downside of this training aid is that it is designed differently from other swing speed trainers.
The Aero Swing Training aid contains two stabilizers and a carry bag. The stabilizers attach to your swing stick or golf clubs to add extra weight to reduce your clubhead speed. On average, one stabilizer reduces clubhead speed by 10 to 15-mph.
This extra weight pushes you to increase your speed to compensate for the heavier club. The Aero Swing Training is also different, as you can strike balls while working on your swing speed.
Finally, on top of its innovative design, the Aero Swing Training Aid is the most affordable, quality swing speed training aid on the market.
In summary, this is the best golf swing speed training aid for those players on a strict budget.
Final Thoughts
When we look at a modern golfer like Bryson DeChambeau, it is clear that swing speed training plays an integral role in his success. That is why, if you want to keep up with your peers, you could try similar training to maximize your swing speed.
The Superspeed Golf Training System offers golfers a structured, proven program to permanently increase your clubhead speed, which is why it is approved by the likes of Phil Mickelson.
If you are serious about ramping up your clubhead speed, the Superspeed Golf Training System could be the way to go. The weights combined with their detailed tutorials give you the highest chance of achieving your goals.
Those in the market for a Golf Training System can check out the most recent price here.