The best golf training aids are big business as all golfers will go to extremes to tap every last opportunity to improve their performance and enhance the enjoyment of the beloved game.
Training aids cover a wide spectrum of the game, but most aids can be found in the swing improvement category. While training aids are useful for beginners, golfers use many at all levels.
The short game (chipping, putting, etc.) is the area where most shots can be shaved off your score and should not be neglected.
The Best Golf Training Aids
Overall Best Golf Training Aid in 2022

Overall Best Golf Swing Aid in 2022

Best Short Game Golf Aids 

deWiz Swing Modifier

SKLZ Gold Flex

Orange Whip Wedge

 

Pros

Provides instant feedback in 2-milliseconds 

Enables you to implement changes on your next shot

Wearable device 

Provides tips to help you improve different aspects of your swing 

Loaded with games and challenges

Ease of use

Competitively priced

Great for practice at home. A couple of swings a day in your garden or garage can help keep your tempo on point.

Any golfer can gain benefits regardless of size, age, gender, length, or handicap

Promotes short game rhythm, tempo, and balance that you can feel

Trains solid contact for improved distance and accuracy

Develops sequencing of the body, arms, and clubhead release

Enhances creativity and feel for every shot around the green

Helps you understand how to conquer the yips

Used to practice short game shots up to 25 yards

Develops core muscles, wrists, and forearms

.

Cons

Super expensive for a golf training aid

Not an all-around swing solution.

No ball contact and thus no feedback

It might interfere with Overspeed training

A few golfers with a slow backswing might find it challenging

Functionality Score

98.2

93.7

92.2

Durability Score

96.6

90.8

91.2

Price Score

79.4

85.2

82.8

Rating

4.5 Stars

4 Stars

4 Stars
Our Research Parameters 
Golfspan is independent and not pressured by manufacturers to recommend products. We were not paid for the golf training aid reviews in this article. These golf aids were selected by our team, who have over 50 years of experience playing golf and hundreds of hours reviewing products. We may earn an affiliate commission when you purchase something through our retail links.
28 Products were considered from 12 brands on:
At a glance: Our Top 5 Picks for Best Golf Training Aids
How Do Golf Training Aids Work?
The purpose of golf training aids is not to cure your slice or avoid fat shots. Golf training aids provide the required feedback on the causes of the outcomes for you to address the right area.
So before deciding which training aid to buy, a visit to your local pro for an assessment will be a great investment.
This will ensure that you buy the most suitable aid and gain the most from the training aid. Alternatively, take an honest look at your game and determine your strengths and weaknesses.
To maximize your improvement at golf, your swing should repeat consistently. Every repetition must provide feedback on your technique and the effectiveness of the outcome.
Therefore obtain as much feedback as possible on your technique and the outcome of every shot.
Swing
The swing areas that produce most of the poor outcomes can be categorized into the following three areas.
Grip and Tempo

Weight transfer and ball contact

Swing Tempo
Short Game
The following areas will improve scores and your enjoyment of the game.
Hitting accurate medium and short shots within 60m from the green.

Hit shots with the correct elevation and accuracy.

Chip shots close for up-and-down situations.
Putting
Golfers of all abilities and handicaps could do with some assistance in improving their putting ability. There is no shortage of golf training aids to improve your putting to address this.
Some will aim to address your mechanics, allowing you to improve consistency and bring confidence to every putt.
The aids are aimed at assisting you to improve 
The arc of your stroke

Maintain the correct acceleration throughout your stroke

Reducing the number of off-center strikes.
How To Select a Training Aid
Consider your strengths and weaknesses to determine the areas that will benefit the most from a training aid.
Also, consider how and when you wish to use the aid. Some are easy to use anywhere, often even indoors, while others need a bit more space.
Look at the options while considering the areas you want to improve. This will help you decide on the best option for your specific requirements.
Use Your Training Aid
While this sounds obvious, many people buy these aids with great intentions, and then they get left in a corner and forgotten about. Some will take a while to master, but the good ones can certainly help your game. Use them regularly and monitor your progress as you go.
We have reviewed some of the best options available, and if used correctly and often, they can certainly help your game.
How We Chose The Training Aids
We wanted to present a range of quality products that have proved themselves in the market. We looked at what they do and how they work, but we also read a lot of feedback from golfers that have tried them. This gave us a good indication of what works for most golfers.
Quick Overview: Our Top Picks for Best Golf Training Aids
The Best Golf Practice Tools Reviewed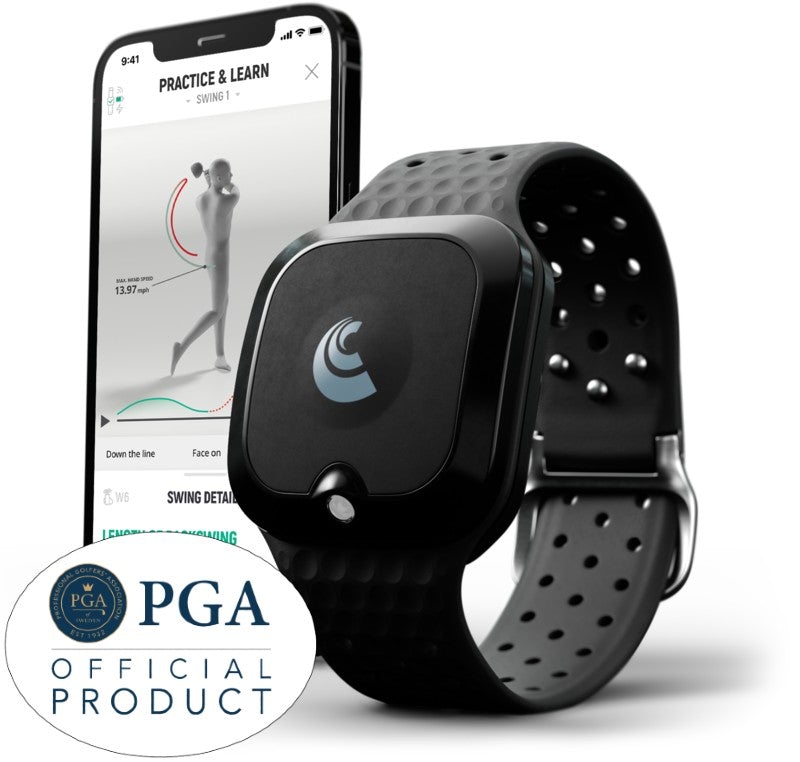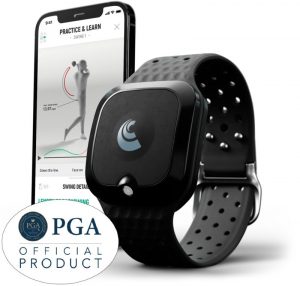 Pros
Provides instant feedback in 2-milliseconds 

Enables you to implement changes on your next shot

Wearable device 

Provides tips to help you improve different aspects of your swing 

Loaded with games and challenges 
Cons
Expensive for a golf training aid
After considering 28 products for the best golf training aids, the deWiz Swing Modifier came out as the overall winner. Although it is a premium-priced property, which reduced its overall score, its technology and value addition are incomparable.
The wearable hardware contains motion sensor chips that analyze every aspect of your swing. From there, it generates a 3D image of your backswing and downswing. Then it feeds that data to the app on your smart device in 2-milliseconds.
Thanks to the instantaneous feedback, you can analyze your previous swing and immediately make corrections for your next shot. That saves you from hitting a bucket of golf balls and making the same mistake, then only finding out what is wrong when you get home.
The Modifier is loaded with tips and instructions to help you improve every element of your swing. For example, if you struggle to achieve your desired tempo, you can access training tips specifically for that.
In addition to the swing tips, the deWiz training aid features games and challenges to have fun while working on your action. It enables you to play individually or battle a friend for the king of the swings.
The insight that this deWiz training aid provides enables us to understand the details of our swing like never before. Although it carries a premium price tag, it adds significant value to golfers of all abilities.
Rating: 4.5 Stars
2. SKLZ Gold Flex – Most Versatile Swing Training Aid 2022
Pros
Ease of use
Competitively priced
Great for practice at home. A couple of swings a day in your garden or garage can help keep your tempo on point.
Any golfer can gain benefits regardless of size, age, gender, length or handicap
Cons
Not an all-round swing solution.
No ball contact and thus no feedback
No matter what game improvement equipment you own, golf is a horrible game to play if your swing mechanics are rusty. The SKLZ Gold Flex helps you optimize your swing tempo and strength for superior accuracy and distance on the course. That is why it tops our list of the most versatile golf swing training aids for 2022.
In addition, it optimizes the core elements of your swing, including flexibility, power, tempo, and rhythm. Plus, you can work on your swing at home. If you enjoy practicing in your living room, you may appreciate our post on how to practice golf at home.
The benefit of using the SKLZ Gold Flex during warm-up is that you can keep it in your bag during your round of golf, and it will not count as the 15th club, but remember to refrain from using it out on the course as that may lose you some shots and possibly friends.
The KLZ Gold Flex is available in 40″ vs 48″ shafts. It is recommended that you purchase the 48" shaft as it will work for the entire family. A short husband, wife, or junior can use the 40". An alternative is to stick to the 48" shaft and choke down on the grip.
Most golfers have the habit of starting the downswing too early and then rushing to catch up on the process with their arms and body. The exaggerated flex keeps your hands and arms extended, thus lengthening your swing.
Once you reach the top of your backswing, the momentum created by the weight at the end of the accessory continues for a split second. That creates the required lag and prevents you from starting your downswing too early.
The slight delay at the top of your backswing and the correct transition into the downswing encourage your hips to transfer weight forward while ensuring that your wrists lag momentarily. The delayed release allows for a powerful follow-through which contributes to effortless distance.
The Golf Flex is of great assistance in rectifying your golf grip, thus leading to an improved swing. If it had not claimed the title for the best overall product, it was a candidate for the best golf grip trainer. 
There is no training required to use the SKLZ Gold Flex. Once you have unpacked it, you can start swinging right away. Your swing will feel natural, and the tempo will soon join the feeling of utter pleasure.
The SKLZ Fold Flex ensures that you don't force your downswing. Conversely, it promotes a flatter swing plane, initiated by the rotation of your hips and not your arms.
This is a must-have training aid for golfers of all shapes, sizes, ages, and skill levels. It is easy to use away from the course and driving range.
Now that meeting that kept you in the office, the extra 30 minutes or the frustrating traffic jam on the way to the course will soon be forgotten when you can warm up your key swing muscles before your round of golf.
Rating: 4 Stars
3. Orange Whip Wedge – Best Short Game Golf Aid
Pros
Promotes short game rhythm, tempo, and balance that you can feel
Trains solid contact for improved distance and accuracy
Develops sequencing of the body, arms, and clubhead release
Enhances creativity and feel for every shot around the green
Helps you understand how to conquer the yips
Used to practice short game shots up to 25 yards
Develops core muscles, wrists, and forearms.
Cons
It might interfere with Overspeed training
A few golfers with a slow backswing might find it challenging
A few facts about the Orange Whip Wedge
Voted #1 Teaching and Training Aid by PGA.com and GRAA
Used by over 300 PGA, LPGA, and Champions Tour Players
Top Swing Trainer choice of PGA and LPGA Members and Instructors and Top 100 Instructors
The Orange Whip Wedge is a training tool designed to help you enhance your short game through rhythm and feel. Its ability to help you strike the ball cleaner is why it is our best short game golf training in 2022. 
The 56-degree Stan Utley-designed wedge head combines with a flexible shaft to optimize the rhythm of your swing. That helps you develop a solid contact routine and improve distance and spin. 
The Orange Whip Wedge is a valuable training aid to help you maximize your potential on shots within 25 yards from the hole.
Standout benefits from the Orange Whip Wedge:
The benefits of freeing up your elbows, arms, and wrists result in a vast improvement in the rhythm of your swing around the greens.

The enhanced rhythm and sequence and the timeous load and reload of the shaft result in consistently solid contact. This adds to distance control and the ball landing in the predefined landing spot and predictable rollout to the hole.

The consistency of the swing and contact leads to better Trajectory control, and you will gain confidence and more feel for the difficult chips, pitches, and flop shots.
Rating: 4 Stars
In the era of work from home, many of us have extra time on our hands. That means we can practice our golf game from our home office. 
Putting is the part of the game that many amateurs fall flat, which is why you should use any chance you have to hone your skills. On the topic of home offices, the PuttOut Pressure Putt trainer is our pick for the best indoor golf training aid in 2022.
Putting training aids have been around a while and have aided professionals and amateurs in boosting their flat stick game. 
On that list is the PuttOut Pressure Putt Trainer, which comes in the form of a parabolic ramp that folds flat and can easily be stored in your travel or golf bag.
To hole a putt on the PuttOut system, your ball needs to cross the standard hole-size white disc at the bottom of the ramp. 
Miss-hit strokes will either fall off the side, drop over the top or return halfway back to you. This provides instant feedback on distance control as well as direction.
To put the perfect putt to test, the PuttOut system has a pop-out on the ramp, and only perfectly struck putts will stay put in the hole.
Rating: 4 Stars
5. EYELINE Putting Alignment Mirror – The Best Putting Training Aid
Pros
Variations of the EyeLine Mirror allow you to address different areas of your putting stroke.
The alignment lines highlight the path of the putter especially compared with your alignment lines on your putter
Cons
The mirror, especially on the larger options, is likely to scratch with long-term use.
Sticking with short game training aids is our selection for the best putting training aid in golf. The EyeLine Putting Mirror has assisted many professional and beginner golfers in fine-tuning the eye, shoulder, putter face alignment. This allows you to immediately identify where you should place the focus.
Accurate feedback from the training aid puts it at the top of its class, and you get immediate visual feedback from the Alignment Mirror.
The Putting Mirror helps you identify putter face alignment at impact, allowing you to make necessary improvements.
Golfers have their individual preferences when it comes to eye alignment, but you will receive feedback on your specific setup and how it suits your putting stroke. It also allows you to practice the length of your stroke to your individual preferences and putting stroke.
It is not difficult to set the aid up before you can start using it. Find a flat surface, place the mat where it would allow for you to address in comfort, and start your practice.
It fits in a bag quite easily, making it perfect for use wherever you may find the time and inclination to work on your setup. Putts in the range between 10" and 15" will benefit most from the Alignment Mirror.
There are 3 models available, each serving a different purpose:
9.25″ x 17.5″

– Ideal to see the ball in a parallel "slot and comes with Putter Gate Slots to set up a gate with tees for tees the toe and heel of the putter. This results in a more constant stroke resulting from more contact with the putter's sweet spot. It is a less durable version. But, it helps you understand the role that your shoulders play in the putting stroke.

7.5″ x 12″

– Ideal for shoulder alignment

5.75″ x 11.75″

– The Putting Alignment Mirror is great for a quick alignment check and for traveling.
Current users of the EyeLine Mirror and none of them are paid to use the system.
16 of the Top 20 Players in the World (OWGR)

7 of the Top 10 in "Strokes Gained Putting"

9 of the last 12 Major Champions
Rating: 3.5 Stars
The EyeLine Golf Speed Trap is a versatile golf swing training aid purposed to improve your swing plane. Plus, help you induce different shot shapes from various positions, such as a draw or a fade.
The base is constructed of polycarbonate and is virtually indestructible. It links to the base by virtue of Velcro, which means it won't impact your equipment.
It is a very easy training aid to set up and to use. Ensure you align the white target line to your desired location and secure the polycarbonate base to the ground with two tees.
A trademark of great training aids is immediate feedback. It informs you whether you are hitting the ball fat or scooping it. Immediate feedback from an errant swing will see the rods flying about.
No harm will be done to your equipment, although your ego may be impacted at the sight of the rods flying around. Any over the top or casting will be highlighted very quickly by the flying rods as well.
The benefit of the Velcro connections of the rods is that it makes the system flexible for use by beginners and single handicappers.
By changing the position of the rods, you can work on any swing path and adjust to your skill level. The rods can be placed so that the aid can be used b left-hand and right-hand golfers.
You can train your swing plane to guide the club through the middle of the path provided by the rods. You can start off slowly and increase the speed as your confidence grows in the correct plane and swing path.
The cut-out in the front of the Speed Trap will allow you to take a divot once you have resolved the trajectory issues and found the correct weight transfer.
Rating: 3.5 Stars
Lag in the swing has become a major point of discussion. That is because professional golfers take deep divots and generate low penetrating shots that travel forever and stop quickly. To help you optimize your ball-striking ability, we have selected the Lag Shot 7-iron as our best golf swing practice tool.
Amateur golfers are keen to get a similar ball flight and have to learn to generate or improve the lag created in their swing.
Lagshot swing trainer comes in the dimensions of a 7 iron with a heavier clubhead weighing in at 20 ounces and a thicker, heavier, flexible shaft.
The purpose of the Lagshot swing trainer is to grow consistent tempo and sequence in your swing. Furthermore, it aims to correct the swing path and create more lag.
Since it comes in similar dimensions to a 7-iron Lagshot swing trainer can be swung in the same manner as a real club.
The flexible shaft enables you to:
Master lag

Create a smoother transition from the top of the backswing to the downswing

Enhance your swing sequence

Create consistent solid contact

Achieve more distance and accuracy
To assist you in creating the lag that you require, Lagshot provides access to a library of instructional videos. These videos teach you how to benefit from the training aid. And also offer tips on how to improve your swing to play better golf.
Rating: 3 Stars
One of the best golf swing aids on the market is the Impact Snap Golf Swing Trainer. The Impact Snap addresses the club's position at the point of impact, creating a better shaft angle and shaft lean.
These mistakes result in quite a high number of faults in striking the ball. Inconsistent ball striking results from the inconsistent position of the club at impact. Scooping the ball is one of the most committed faults due to an early release of the wrists.
A better shaft angle and shaft, while not eradicating the problem, will improve the quality of ball striking.
The design of the Impact Snap is aimed at promoting a late release. That helps you generate optimal power on the downswing and leads to maximum ball speed. That is achieved by the Impact Snap making a "snapping" sound when you have released the wrist angle too soon.
The purpose of Impact Snap is to delay the "snapping" noise in your swing. You should only hear the noise briefly before impact. The point is to delay the "snapping" noise from early on in your downswing to only snap when the club is very close to the point of impact. The delay in the snap and forward shaft lean position improves the ball's compression between the clubface and the surface, resulting in better ball striking.
The Impact Snap system will be most beneficial to golfers that tend to scoop the ball as the forward shaft lean and delayed "snapping" sound will give them confidence in their swing.
The Impact Snap can be used for improving your short game as well. By turning the Impact Snap to allow the ball to rest on the inside of your lead arm. It locks your wrists, creating the feel of sustaining the lag and promoting a flat lead wrist during impact.
Scooped shots around the green tend not to roll out to the hole. Delaying cocking your wrists will lead to superior contact with the ball and more consistent impact, flight, and roll on the greens.
If you are committed to mastering your swing, it is worth looking into the best golf swing analyzer. These products help you identify the weaknesses in your setup, enabling you to take action and improve your results.
Rating: 3 Stars
Golf Training Aids FAQs
What Training Aids Do Pros Use?
Golf coach Peter Finch explains that the Visio Mi Putting Template is one of the most popular golf training aids among pros.
In this 2015 article from the PGA Tour, Henrik Stenson was found warming up with a curved shaft training aid. The DST Golf Compressor is ideal for helping players get their eye in before their round. The curve shaft pushes the face to square up at impact for optimal ball speed and accuracy.
Finally, James Achenbach from Golfweek mentions that professionals use alignment aids thanks to their versatility. Besides helping you aim, the stick works as a swing and plane guide to induce your preferred shot shape.
Do Pros Use Orange Whip?
Yes, pros do use the orange whip wedge to improve their swing rhythm. According to this post by the Golf Channel, they identified over 200 Pros who have added it to their practice regimen. To further back up these claims, Orange Whip Golf Company shared a video of Sergio Garcia using the aid on the practice range at Augusta in 2018.
Does The Golf Hanger Really Work?
Golf Coach Chris Ryan has found that The Hanger works well to help you control your wrists during your swing. By controlling your wrists, you have more chance of getting the clubface into the desired position at impact. 
Ryan has found that many amateur golfers induce an open clubface at impact. That results in excessive side spin and a sliced shot. The Golf Hanger works to correct that action by helping you square your face up at impact if you are looking to hit a straight shot.
In summary, yes, The Golf Hanger really works.
Can You Use The Hanger With Your Driver?
Yes, you can use The Hanger with your driver, as demonstrated by the team at Watson Golf. Employing The Hanger on your driver helps you limit your wrist movement during the swing to promote a sweeping action and a square face at impact.
As a result of excessive wrist movement, many amateurs end up hooking or slicing their drives. With less wrist movement at impact, you can square the face-up and effortlessly hit the ball on the up. That results in straighter, longer drives.
Can Orange Whip Increase Swing Speed?
Luke Kerr-Dineen from Golf Magazine explains that the original Orange Whip was designed to help you synchronize your golf swing for optimal tempo. However, the Orange Whip Lightspeed helps you increase your clubhead speed.
Therefore, the Orange Whip training aid does not increase swing speed. However, the Lightspeed option helps you improve your clubhead speed.
Conclusion
That concludes our guide to the best golf training aids in 2022. As you can see, we included various options to cover every element of your game. Whether you need to improve your swing tempo and power or refine your putting stroke, this guide has something to offer you.
Before I wrap up, it is worth recapping the winners of our 2022 golf training aids winners.
The standout training aid: deWiz Swing Modifier – This high-end training aid can help you improve your swing and takes it a step further with fun Challenges and comparisons to the pros. 
Most versatile golf training aid: SKLZ Gold Flex – This is the most versatile swing training aid. Tempo, lag at the top, and increased speed at impact.
For swing path and plane Improvement: EyeLine Golf Speed Trap – Versatile and adjustable with Immediate feedback on swing path and plane faults.
Favorite short game improvement: Orange Whip Wedge – "The kind of training aid that gives you several options in one."
Best for Putting: Putting Alignment Mirror – "Immediate feedback and alignment for every round"
If you are searching for a handy golf swing training aid, I recommend looking into the SKLZ Golf Flex option.
You can also check the best online golf lessons to help you improve your swing.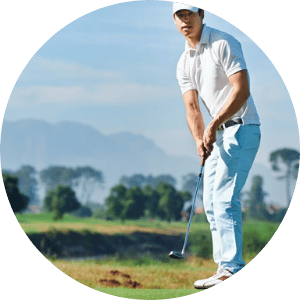 Nick Lomas is the founder of GolfSpan, an avid golfer, not quite a pro but has over 15-years of experience playing and coaching golfers from all over the world. His mission is to bring the golfing community a better experience then it comes to choosing the right golf gear, and finding the right set up for your game.