As golfers, we are constantly looking at ways to enhance our golf swing and ways to reduce our handicaps. Continuous improvement is an ongoing process, and golfers should utilize only the best golf swing analyzer on the market to aid in the search for perfection.
Using golf swing analyzers records multiple parts of your swing, ball and clubface contact, ball flight, and distance achieved. The technology and features offered in swing analyzers differ to provide for different needs and budgets and are aimed at golfers of different skill levels.
This article aims at aiding you in your search for the most suitable golf swing analyzer in the process of improving your swing.
6 Best Swing Analyzers for 2023
What Does A Swing Analyzer Do?
A swing analyzer takes various forms to measure your wrist flexion and extension, club path, club head speed, and swing plane. However, most swing analyzers focus on specific aspects of the swing, given the wealth of data required to accurately analyze every shot.
For example, the HackMotion Plus measures your wrist extension and flexion at address, the top, and impact. Conversely, Blast Golf determines your swing tempo to help you develop a fluid swing for consistent ball striking. 
Why You Should Trust Us
Our team spends thousands of hours trying out and researching golf equipment to help you take your game to the next level. Here's our product review process.
We can bring these reviews to you through the small commissions we earn if you buy through the links below. 
How We Reviewed These Products
Golfspan only shares equipment and brands we trust. 
I'm an experienced golfer of 28 years and thoroughly researched and evaluated the products shared below. Then an editor reviewed and fact-checked the list. Finally, we conduct regular content audits to update and revise our reviews to ensure you receive the latest information. 
To select these swing analyzers, we considered these criteria:
Cost
Easy to Setup
Ease of Use
Accuracy of Data
Durability
Quick Overview: Our Top Picks for Best Golf Swing Analyzer
6 Best Golf Swing Analyzers – Reviews & Ratings
I recently snapped up a HackMotion Plus sensor. After several trips to the range and closely following the tutorials, I am sold on its effectiveness. Many amateurs spend boatloads on new golf clubs to change their game. However, our best golf swing analyzer for 2023 offers a better investment.
It gets to the root cause of your wayward shots, honing in on your wrist angles and their positioning throughout the swing. In the case of my slower single-plane swing, my wrists were too extended through impact compared to my two-plane buddy.
As a result, he managed to generate sufficient rotation through impact for wrist speed, energy transfer, and compression at contact. Naturally, he hit the ball further than I, and thanks to the HackMotion Plus, we can pinpoint why.
By accessing this data, my playing partner and I could pinpoint and adjust specific elements in our swing to better control the clubface. Although my wrists were excessively extended, I was more accurate than him, which is ultimately what I desire over length.
Next, we enjoyed the tutorials offered by HackMotion, which turned this complex equipment into a user-friendly tool. The Latvian outfit went the extra mile with the details adding a live 3D wrist that tracks your movement in real-time.
The final stand-out feature compares tour pro averages with different clubs. I am under no illusions that my swing is anywhere near professional golfers. However, it offers a benchmark to work towards.
Verdict
The HackMotion Plus is a brilliant professional golf swing analyzer that helps you improve clubface control for greater accuracy and distance. Although it is pricey for the average golfer, it is an investment to help you generate accelerated wrist and clubhead speed through impact for consistent length. 
A unique product and ideal for the golfer who enjoys the practice range and requires data that will improve his game.
The Swing Caddy SC 200 Plus is a simple portable launch monitor that will help all golfers improve their game.
About the size of a cell phone, it can be used anywhere. Set the device up behind you and start hitting shots.  Captures swing speed, carry distance, ball speed, smash factor, and launch angle.
A new feature is a swing speed only mode which will register the clubhead speed without hitting a golf ball.
Settings can be changed via the small remote that accompanies the Swing Caddy.
The Practice, Target, and Approach mode are easily set either by remote or on the side of the launcher.
 You can select the distance you want to hit a particular club and get a measurement of how successful you were at achieving it.
Input your loft angles on each club and see the distance you carry the ball. Approach mode gives alternate random distances, so you can monitor your accuracy on approach shots.
A fun way to take the boredom out of long practice sessions, but delivers all the key data required.
Verdict
A winner at this price. Although it is technically a launch monitor, it covers fewer data points than its peers. However, I found it's all the average golfer needs to identify velocity, distance, and smash factor.
The Blast stroke analyzer falls in the golf wearables category, which has recently gained popularity for both beginners and advanced golfers. This device is also popular with professional players on many of the international golf tours.
Any movement during your golf swing is detected by the Blast golf swing stroke analyzer, which then collects the information gathered to do an analysis and provide feedback.
The device is placed in the back of your grip and can be transferred to any club, including your putter.
You can connect the Blast golf swing stroke analyzer to your smartphone or other smart mobile devices via Bluetooth for instant feedback after every swing.
For a yearly add-on subscription, you can get targeted instruction content for rapid improvement on your swing.
Verdict
The Blast Motion Swing Analyzer is trusted by a substantial number of professional players and coaches. It has been used on professional tours around the globe.  It is easy to operate and can be used in all weather conditions. The price can be high for the weekend golfer.
The Arccos Gen 3+ Smart Sensors focus predominantly on the outcome of each swing rather than analyzing the mechanics itself. However, I find its insight handy when gauging strokes gained analysis, distance averages for each club, and an A.I.-powered rangefinder.
I enjoyed the Automatic Shot Tracking feature, which calculated my yardage after each shot and stored the information for future analysis. The app provided an average for each club and suggested clubs for each golf shot based on my proximity to the flagstick.
Another efficient feature came in the form of the Strokes Gained Analytics, which seriously opened my eyes to the strengths and weaknesses of my game. Identifying how many strokes I lost or gained from tee to green made it easier to work on my specific weaknesses.
For example, at one stage, I was losing 2.4 strokes on my approach shots on average per round, which was the weakest area of my game. I dedicated the next month to reducing my backswing and taking more club to improve my accuracy on approach and enjoy a higher chance of making birdies or pars.
Finally, the Arccos Gen 3+ requires you to fit sensors into the top of your grip to track your performance on every strike.
Verdict
The Arccos Gen 3+ delivers exceptional insight into the distance averages with every club in your golf bag and displays your strokes gained results from tee to green. However, it does not offer in-depth insight into your wrist position, swing plane, tempo, and club head speed like other swing analyzers.
This award-winning shot-tracking system from Game Golf is reasonably priced and decked out with all the features you need to help you reach your next golfing milestone.
The main device attaches to your belt and then communicates with feather-light sensor tags attached to the top of your clubs. Once the devices are in place, simply download the app, and start swinging.
For some, attaching the device to a belt might not seem ideal – but considering the amount of data you get from such a small device, it's surely worth the slight inconvenience.
The GPS Automatic Shot Tracking feature will measure each of your shots and store the data for post-round analysis. There's also a built-in rangefinder, meaning you can get precise measurements to greens, hazards, and doglegs.
A particularly handy feature is the Strokes Gained Analysis. This shows you where you gained strokes during the round – which is usually quite difficult to manually calculate.
Additionally, you can take advantage of the Insights feature, which allows you to review your shot tendencies for both your tee and approach shots. This really helps to cut out the guesswork and makes it easier to track your progress over time.
And as a final bonus, the Challenges feature allows you to compete online with friends and golfers worldwide.
Verdict
is a reasonably priced product that functions well and has a great range of features. The built-in GPS is particularly welcome, especially for those who do not already own a rangefinder.
The Dewiz Swing Modifier has recently been released and is one of the hottest products this year. It feels and looks like a smartwatch, but is lighter than one.
You can track 5 data points using the Dewiz:
Backswing speed
Downswing speed
Swing tempo ratio
Pause length
Start to impact duration
Then you can modify the metrics as you see fit so you can work on a swing that is perfect for you.
Let's say you wanted to cure your slice. The Dewiz measures your on-plane transition and will alert you with learning stimuli feedback (a mild vibration) that you are off track or on track. This instant feedback allows you to improve your golf game much quicker than on your own, and even faster than with an experienced golf coach.
Distwedge
You could also improve your short game. The Distwedge feature allows you to work on 3 common chipping swing lengths: 80, 100, and 120 cm. You simply set the swing length you prefer on your Dewiz, then swing. Its feedback will let you know if you are on track or off track. With dedicated practice, you can now make your short game much more predictable.
Challenge Your Friends
You can choose from several modes: Discovery, Practice & Learn, and Challenge. In Discovery mode, you will be familiarized with the features of Dewiz. It only takes a few minutes to figure out how to use this easy tool. In Practice & Learn, you can improve your swing and fix common problems like a hook or increasing your shot power. Then in Challenge mode, you can take your skills to the next level by scoring points and competing against your friends.
Verdict
The Dewiz Swing Analyzer is a new, high-end model that lightly sits on your wrist and gives you instant feedback to improve your swing. We love that you can customize it to address the swing issues you want to solve immediately. The interface is easy to use, and the Challenge feature is a lot of fun since you can compare points against your friends. You can also compare your swing to professional golfers and see how you stack up.
Swing Analyzer Types
There are numerous golf swing analyzers available: and we will present a few options below:
Launch Monitors
These measure various data points that aid in developing a solid swing.  They are ideal for getting fitted for a set of clubs and dialing in on weaknesses.
The launch monitor can obtain data from the start of your backswing right through to the completion of your swing. Furthermore, they provide details of what happens during contact between the clubhead and the golf ball, which is valuable once you understand the details provided by the feedback. Launch monitors are typically placed at ground level close to the golfer for accurate readings at impact
Most launch monitors provide feedback on ball data such as ball speed, smash factor, spin, launch angle, angle of descent, carry distance, roll, and total distance.
In the category of club data, you can expect data on clubhead speed, attack angle, dynamic loft, club path, face angle, and impact location.
ShotLink-style Systems
These are aimed at improving your course management by providing feedback on which clubs produce the best results. Golfers that strike the ball well but it does not reflect in their scores will find the ShotLink style systems valuable. You will have immediate access to the data on the distance achieved with every club for more consistency in club selection.
Wearable Analyzers
These differ from launch monitors as you can either attach them to your club or somewhere on your body. The body attachments can link to your hand, come as a watch, or attach to your clothing.  You can expect to be provided with detailed information when using sensors attached to your club.
Classic Swing Analyzers
These can be a low-cost alternative to expensive launch monitors. It is a simple high-definition video camera such as found on most of the current smartphones. The video cameras will take HD video of your swing and enable you to view the playback in slow motion. You can post the video online or provide it to a professional for analysis.
Golf Swing Trackers – A Complete Buying Guide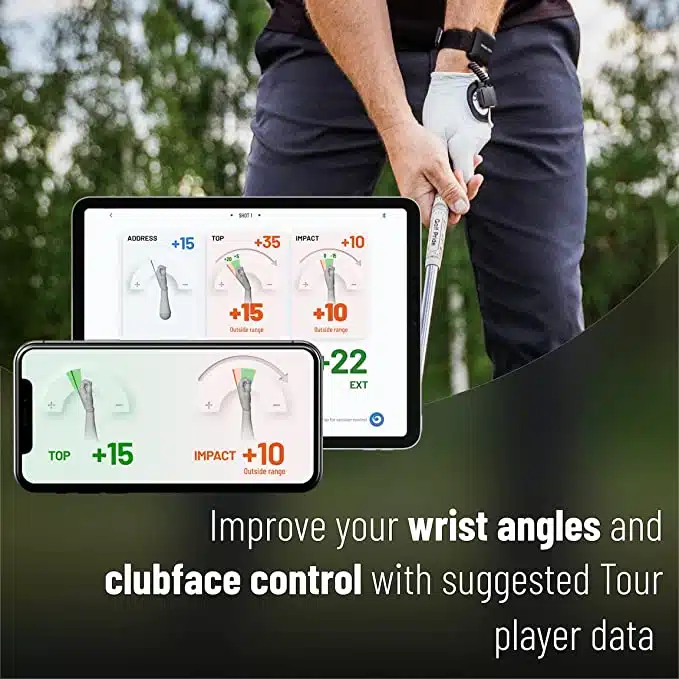 Ease of Use
A best swing analyzer should easily set up, turn on, align, and display feedback. If the swing analyzer does not conform to these requirements, you will likely get frustrated and not obtain maximum benefit from it. The fewer buttons it requires to complete the setup and feedback, the easier it will be to use.
The automatic interface between a swing analyzer that is attached to your club or hand and the receiving device is crucial. If the interface is not automated, you must download the information after every shot before you can analyze it.
To get the most out of your swing analyzer, it should be portable, and you should be able to use it at the golf driving range. This will enable you to hit shots, review the feedback and make adjustments right away, thus accelerating your improvement.
Golf Technology
The technology used by the best golf swing analyzers is important as it will dictate the feedback's level and accuracy. Most swing analyzers utilize Bluetooth technology to connect to your mobile device and provide feedback on the app located on your mobile device.
Three-Axis Gyroscope
The swing data you generate is measured using a gyroscope. The gyroscope has tiny parts that move ever so slightly and measure angle, speed, and force.
Dual Accelerometers
The distance that the golf ball travels depends a great deal on the speed of the club at the point of contact.
Some club sensors measure each shot's g-force and clubhead speed to determine your swing's speed accurately.
Sensing Technology
Many top manufacturers have developed sensor technology specific to their devices and not generalized systems. This improves the accuracy of the device.
Attachment Option
The best golf swing analyzers attach to your hand or club should not impact your swing or disrupt your rhythm. If you decide on an attachment option, ensure it is comfortable and does not hinder your swing.
Smartphone Compatibility
Many swing analyzers connect to mobile devices via Bluetooth technology and download the information to the apps available on the mobile device. Not all apps are compatible with both iOS and Android which could affect your ability to review the feedback unless you have access to mobile devices covering both technologies.
Durability
Golf swing analyzers are not cheap, and you want it to last for an extended period. Many less expensive devices are built with cost-saving at the top of their priorities thus the manufacturer uses less expensive materials. Look for a device that is lightweight and built from strong materials.
Accuracy
The purpose of using a swing analyzer is to improve your game. If the feedback you receive is inaccurate, you will not reach your full potential, as you will not be able to determine how far you hit each club in your bag. Distance is not the only determining factor, as many other swing parts are being analyzed. Highly accurate devices will provide you with more insight into areas that requires improvement.
Analysis
Golf swing analyzers provide feedback on a wide variety of data related to your swing and the impact between golf ball and clubhead. This will enable you to identify areas in your swing that need improvement.
Feedback is most commonly provided on the following:
Swing Speed
As mentioned earlier, your swing speed is crucial in the distance the ball travels. In addition to the distance the ball travels, it will determine the clubs you put in your bag as your swing speed determines the shaft type.
Swing analyzers can provide feedback on your current swing speed and you can immediately see the effect of any changes made during your practice session.
Swing Path
Your swing path can significantly affect your ball flight. Swing analyzers will provide information on where your swing is going awry. Improvements to your swing path will dramatically increase the distance achieved and the ball flight. You can strike the ball better when you have resolved most of the issues in your swing path.
Angle at Impact
Information related to the contact between clubface and golf ball at the time of impact will enable you to improve on the attack angle, the lift produced by the impact and the spin rate.
Tracking and History
The more categories of swing data the analyzer tracks, the quicker you can identify areas that require improvement and the more value you will gain from the use.
Your golf analyzer records the information and should store it in a database for future reference to see how your swing has improved or areas that have gone off the boil.
With access to the internet, people have been able to communicate with others worldwide instantaneously. Many mobile app apps enable you to share your swing information with your coach or friends on social media.
In sharing your data, you can compete with your friends to determine who is showing the most improvement. Getting feedback from your friends or coach on the videos posted can assist you in improving your game rapidly.
Price
Many swing analyzers are available at prices varying from very affordable to the top of the commercial range costing several tens of thousands of dollars. Set your budget and stick to it, however difficult it may be.
Ensure that you get value or money by determining which features and measurements will improve your game the quickest.
How Can Swing Analyzers Improve Your Game?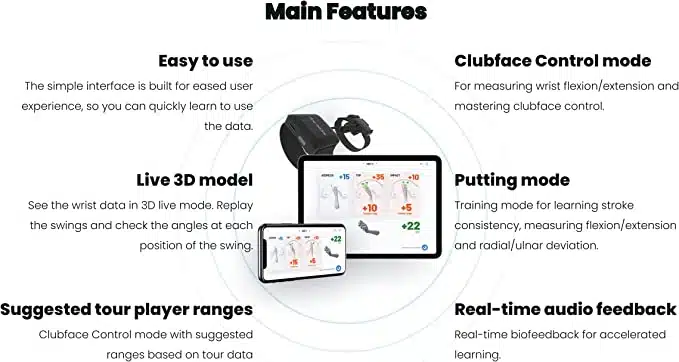 Golfers spend hours on the driving range hitting hundreds of balls to improve their swing. Once you have achieved a level of consistency and want to fine-tune your swing, the best swing analyzer will guide you to areas that require improvement. Let's just be clear that this does not mean that beginners will gain tremendously from using swing analyzers.
The feedback provided by the swing analyzers may be confusing if you are not aware of the meaning of each category that feedback is provided on.
To optimize your gain from using a swing analyzer, it will be beneficial to understand what the feedback consists of and how it can aid you in improving your swing and golf game.
Another method worth mentioning is to check the best online golf lessons to improve your swing.
Final Thoughts
Using golf swing analyzers enables golfers to record different parts of their swing, such as ball and clubface contact, ball flight, and distance achieved. 
The article lists the best golf swing analyzers in 2023, catering to different budgets and skill levels. It also explains that swing analyzers measure various aspects of the swing, such as wrist flexion and extension, club path, club head speed, and swing plane. 
However, most analyzers focus on specific aspects of the swing due to the large amount of data required to analyze each shot accurately. 
Overall, the Hackmotion Plus is the best swing analyzer this year. Check out the price and other user reviews to see if it will suit your game as you aim to master your swing. 
FAQ
What's The Difference Between A Golf Swing Analyzer And A Rangefinder Or Golf Gps?
The difference between a golf swing analyzer and a rangefinder is the data they track. A swing analyzer provides insight into data points like wrist angle during the swing, club path, swing plane, club head speed, and face angle at impact. 
Conversely, a rangefinder is a distance-measuring device that provides yardage from your golf ball to the flag stick.
What's The Difference Between A Launch Monitor And A Golf Swing Analyzer?
A launch monitor measures or calculates numerous golf club and ball data points and is packaged in a portable, stand-alone device that sits behind or beside the impact zone. 
On the contrary, a golf swing analyzer is typically a wearable device that gives insight into your wrist angles, tempo, club path, swing plane, and clubface position at impact, including club head and ball velocity, spin rate, and distance. 
Are Swing Analyzers Worth It?
Yes, swing analyzers are completely worth it. I have owned my HackMotion Plus for just under a year and it has changed my game. Understanding how my wrist flex and extension and ulnar and radial extension impact my clubhead speed and clubface position at impact.
As a result, it has helped me work towards faster club head speed and consistently square my clubface at contact.
Read More: How To Swing A Golf Club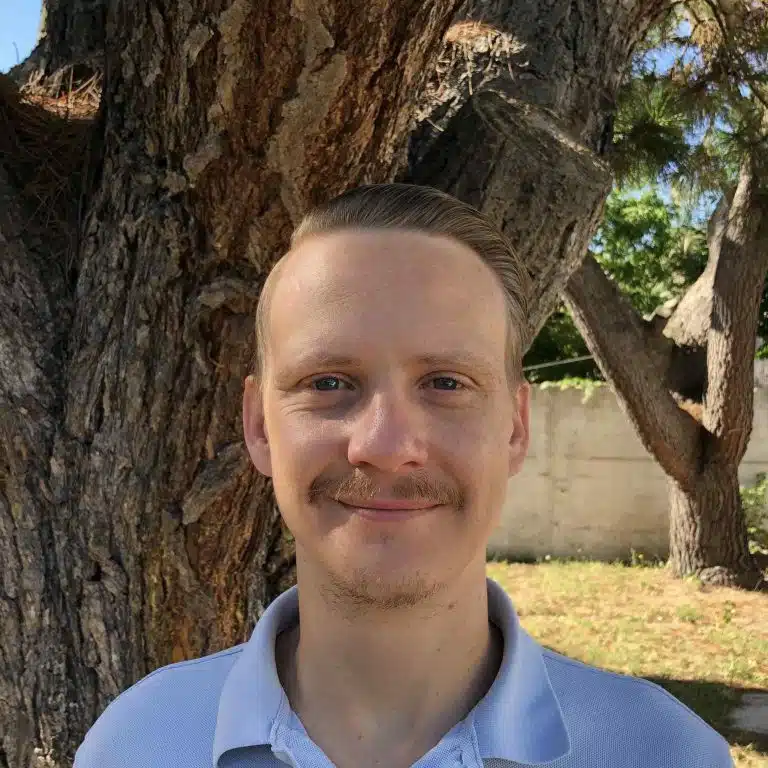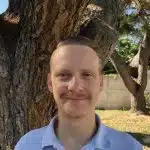 Matt is a seasoned golf equipment writer and sports fanatic. He holds a Postgraduate in Sports Marketing and has played golf for over 28 years.