Hitting a driver off the tee is one of the most satisfying, yet most difficult shots, in the game of golf.
Sometimes the driver is just not the best tool for the trade. The wind howling into your face will result in the ball ballooning miles into the air and blowing back toward you thus losing distance.
So, what are your alternatives? A fairway wood? A hybrid? A long iron? Or is there something else?
To the rescue comes the driving iron.
This article will look at the 5 best driving irons to get you off the tee at the best trajectory generating the longest distance.
3 Top-Rated Driving Irons 2023 
Best Overall
Best Budget
Most Forgiving

TaylorMade Stealth DHY

Cleveland Launcher UHX

Cobra King Tec Utility

 

Pros

Generates controlled flight

Lowers spin

Expanded active zone

Variable strength milled steel face

V-shaped sole

Hollow construction

Forgiving

Minimizes spin across the clubface

Accelerates ball speed

Cons

Moderately expensive

Difficult to strike from the rough

This club is more about distance than feel.

Could be straighter

Expensive

Moderately expensive

The elevated launch may not appeal to higher swing speeds

Price Score

87.1

93.4

89.2

Distance 

93.2

84.8

94.1

Ball Flight

96.3

91.3

86.4

Forgiveness

86.4

92.4

94.3

Rating

4.7 Stars

4.6 Stars

4.5 Stars
Our Research Parameters 
Golfspan is independent and not pressured by manufacturers to recommend products. We were not paid for the reviews in this article. These driving irons were selected by our team, who have over 100 years of experience playing golf and thousands of hours reviewing products. We may earn an affiliate commission when you purchase something through our retail links.
10 Products were considered from 10 brands on:
Construction

Spin 

Launch

Distance 

Forgiveness

Price
10 Best Driving Irons in 2023
Pros:
Generates controlled flight

Lowers spin

Expanded active zone

Workable flight

Clean turf interaction
Cons:
Moderately expensive

Difficult to strike from the rough
Specs:
Lofts:

17°, 19°, 22°, 25°

Shafts:

Adila Ascent Black (S, XS)
The TaylorMade Stealth DHY tops our best golf driving irons review for its mid-to-low launch, enhanced control, and superior forgiveness. It delivers maximum ball speed and minimal spin off the tee to boost distance and accuracy.
Unlike its relative, the UDH, the DHY version carries a longer blade to expand the active zone. The added surface helps reduce spin and preserve ball speed on mishits for a consistent mid to low launch and enhanced forward momentum.
The driving iron carries a rounded heel-toe radius to minimize turf interaction. While I enjoyed the distance consistency and accuracy off the tee, it was not the smoothest club to play off the deck.
It was solid for long shots from the fairway, but the lower flight and added run rendered it challenging to hold the green. Then, my challenge was elevated from the rough, where consistency disappeared.
TaylorMade crafts the Stealth DHY in 4 loft profiles, ranging from 17 to 25 degrees. Finally, the stock shaft is the Aldila Ascent Black which is only offered in a stiff and extra stiff shaft for higher swing speeds.
Rating: 4.7
Read more if you are looking for a complete set of the
most forgiving irons
on the market.
Pros:
Variable strength milled steel face

V-Shaped Sole

Hollow construction

Great Forgiveness

Created for a large audience and not just the elite golfer.
Cons:
This club is more about distance than feel.

Could be straighter

Expensive
Specs:
Lofts:

18°, 20°, 23°

Shafts:

Adila Ascent Black (S, XS)
Cleveland Launcher driving iron generates a high launch that is almost as easy to hit as a hybrid.
The club head is not fully forged, but Cleveland used a two-steel process that adds a high-strength steel insert for the face. This steel insert is milled, adding a slight texture for enhanced control and backspin.
Like many competing driver and utility irons, Cleveland's Launcher driving iron has a hollow construction to boost forgiveness on off-center hits.
Cleveland implemented its well-known V-style sole for better turf interaction, unlike most golf driving irons with flat soles. The drawback of the V-sole is that it is slightly more difficult to use on steep lies.
The Cleveland Launcher driving iron is competent from both the tee and fairway, making it worthy of a slot in your bag.
Rating: 4.6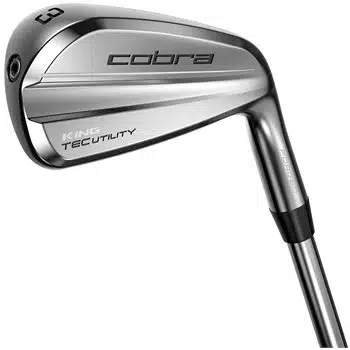 Pros:
Forgiving

Minimizes spin across the clubface

Accelerates ball speed

Launches higher than other driving irons

Shafts are available in a single length or standard setup
Cons:
Moderately expensive

The elevated launch may not appeal to higher swing speeds
Specs:
Lofts:

17°, 19°, 22°, 25°

Shafts:

MCA MMT Hybrid, KBS $-Taper Lite
Driving irons are utilized by superior golfers for their lower flight and control, whereas mid and high-handicappers turn to hybrids. However, the Cobra King Tec Utility irons show that your utility iron can offer more forgiveness without sacrificing playability and length.
The brand's popular H.O.T Face Technology creates variable thickness across the face for limited spin and rapid speed. Velocity is further bolstered by the incredibly flexible Forged PWRSHELL Face, which prevents speed loss on low-face strikes.
I found the Cobra King Tec Utility irons launched higher than their counterparts owing to the 61 grams of tungsten weighting positioned low and deep. It shifts the CG lower and encourages a higher consistent launch, which mid-handicappers will welcome.
The engineers filled the hollow body construction with light foam for increased stability and a soft feel. Cobra offers the King Tec Utility iron in standard or one-length shafts, the setup employed by Bryson DeChambeau.
Next, the longest iron in the set is the 2-utility golf club set at 17 degrees, while the weakest is a 25-degree 5-utility iron. Lastly, the MCA MMT Hybrid is the only graphite stock shaft, while the KBS $-Taper Lite is the steel option.
Rating: 4.5
Read about more forgiving utility clubs in our best driving irons for high handicappers review.
4. Wilson Staff Model – Most Workable Best Driving Irons 2023 
Pros:
Workable flight

Prompts a higher launch than other driving irons

Explosive clubface

Minimizes spin

Crisp turf interaction
Cons:
Specs:
Lofts:

18°, 21°, 24°

Shafts:

KBS Hybrid
Lower handicap golfers typically welcome a workable utility iron, enabling them to induce the desired shape off the tee and the deck. When called upon, the Wilson Staff Model delivered, prompting impressive shot shape, turf interaction, and more ball speed across the clubface.
Initially, the hollow head design was a prototype for P.G.A. Tour players. However, Wilson engineers have refined it to fit amateurs. The added sole weight and a high-strength C300 steel face combination encourage a powerful elevated launch and ample carry distance.
In addition, the sole proved efficient in navigating the fairway and light rough, enabling me to strike it cleanly off the deck. 
However, I struggled for consistency out of the thicker grass. Plus, I felt the clubface offered adequate leniency with an enhanced sweet spot to contain spin and increase ball speeds on mishits.
The Staff Model is crafted in a 2, 3, and 4 driving iron setup, ranging from 18 to 24 degrees. Lastly, the only shaft is the KBS Hybrid in a regular, stiff, or extra stiff shaft.
Rating: 4.3
Pros:
Outstanding distance

Forged construction

360 face cup

Tungsten infused insert

Forgiving club
Cons:
Best for elite players with fast swings

It is one of the more expensive driving irons
Specs:
Lofts:

18°, 21°, 24°

Shafts:

Project X U 105 Steel, Project X U 110 Steel, Project X HZRDUS Smoke Black 80 Graphite
The Callaway X-Forged utility iron is built to maximize the distance of superior golfers off the tee and on approach..
The compact forged clubhead is hollow with a tungsten insert that offers a small sweet spot. Golf balls struck in the middle of the sweet spot produce phenomenal ball speed, a low flight, and tremendous accuracy.
Skillful golfers will get the same, if not better, performance than they would get from a hybrid.
The hollow forged construction results in a better overall feel and sounds at impact as well as more control.
Callaway's innovative technology used in the X-Forged utility iron includes the 360 Face Cup technology. This reduces spin on mishits for increased distance.
Callaway X-Forged Utility Club comes with a specially infused tungsten weight near the sole/toe of the club, promoting a squarer or even slightly closed clubface at impact. 
Rating: 4.2
6. Mizuno Pro Fli-Hi – Softest Feeling Driving Irons
Pros:
Soft feel

Optimal feedback

Amplified acoustics

Stable design

Explosive clubface
Cons:
Specs:
Lofts:

16.5

°

, 19

°

, 21.5

°

Shafts:

Aldila Ascent Ultralite 50, Project X HZRDUS Smoke RDX Black 80, 90, 100, Project X U Steel, UST HeLIUM NanoCore 50, UST Lin-Q Blue 75
Experienced golfers typically desire a soft-feeling driving iron, which emits feedback on all shots, and a soft feel. The blacksmith experts from Hiroshima impress again with the Pro Fli-Hi driving iron. They combined a forged stainless steel body with a maraging steel face to deliver an impeccable touch and superb feedback.
Adding to the feel of the superior long iron replacement is Mizuno's famed Harmonic Impact Technology (H.I.T). It amplifies acoustics and delivers a "springy" sound as the MAS1C clubface increases ball speed to blast it into the distance. The manufacturer previously reserved the material for fairway wood faces.
Apart from feel, I enjoyed exceptional stability with the Fli-Hi, which proved valuable at contact, preventing speed loss while restricting revolutions. The balance stems from a 21-gram tungsten weight positioned low and deep to encourage a consistently elevated launch.
Next, the Mizuno Pro Hi-Fli stood out for its gorgeous looks, with a blacked-out clubhead that prevents glare. Despite the positives, it is an unforgiving golf club, which produced an erratic dispersion record owing to some heel, toe, and low face mishits.
The Pro Hi-Fli series offers a 16.5, 19, and 21.5-degree setup, following a slightly stronger lofted pattern than its peers. Finally, Mizuno has a host of stock shafts to apply to the Pro Fli-Hi. However, the Aldila Ascent Ultralite 50 best suits a wider audience.
Rating: 4.1
7. Ping iCrossover – Best Adjustable Driving Irons 2023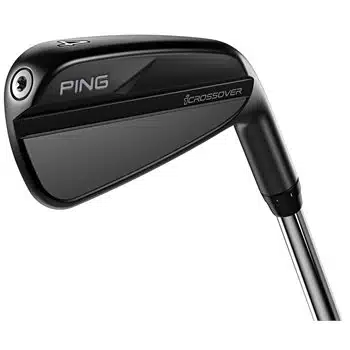 Pros:
Adjustable hosel

Elegant dark finish

Preserves ball speed on off-center strikes

Rapid clubface

Generates consistent distance
Cons:
High price tag

Heel and toe strikes were punished
Specs:
Lofts:

18

°

, 20

°

, 22.5

°

Shafts:

PING ALTA CB Black, Hzrdus Smoke Red RDX, Kai'li White
So far, our driving iron reviews have covered non-adjustable golf clubs, but the Ping iCrossover changes that trend. It features a Trajectory Tuning 2.0 hosel, enabling you to strengthen or weaken the standard loft by 1.5 degrees.
The 2-iCrossover is the lowest lofted long iron replacement set at 18 degrees. The Trajectory Tuning 2.0 hosel strengthens to 16.5 degrees, the equivalent of a weak 3-wood. Conversely, it weakens to 19.5 degrees, equivalent to a 4-iron in the G430 iron set.
I appreciate the aesthetics of the iCrossover range with its dark, glare-resistant finish and the lack of offset in the club. It looks clean at address and enables greater shot shaping off the tee and on approach.
Ping engineers did insert an EVA polymer behind the clubface to boost MOI and stability at impact. This preserved ball speed, minimized spin, and prompted the famed "Ping" sound as the golf ball released. Plus, the lower-hinged clubface enhanced flexibility to generate a higher launch.
Finally, the elegant, forgiving, and adjustable Ping iCrossover contains three stock shafts. The Alta CB, my favorite, works for mid to high-launching shots. Conversely, the Hzrdus Smoke Red RDX and Kai'li White shafts are better suited to high swing speeds seeking mid or low launch.
Rating: 4.0
8. PXG Gen4 0311 – Best Driving Iron Golf Clubs For Mid Handicappers
No products found.
Pros:
Boosts COR for increased speed

Minimizes spin

Soft feel

Affordable

Adjustable head weight
Cons:
Only available in a single loft profile

Slower swing speeds may struggle with the lower launch
Specs:
Lofts:

18

°

Shafts:

Aldila NVS Orange Hybrid NXT 85, Mitsubishi MMT 70, Project X Cypher 60i, UST Mamiya Recoil Dart 75
Mid and high-handicap amateurs typically struggle with producing a clean strike with driving and traditional long irons, prompting undesirable results. PXG overcomes that challenge with their Gen4 0311 X driving iron that encourages better compression, optimal ball speed, and impressive forgiveness.
PXG only crafts one loft option in the series, an 18-degree structure equivalent to a 2-utility iron. Thanks to a 5X forging process, the 8620 soft carbon steel irons create a tight grain set up to soften the feel of each strike, a sensation welcomed by all golfers.
The Gen4 0311 carries high-strength Nisshin steel, which is incredibly thin and fast, delightful for accelerated velocity and a powerful, piercing flight. PXG engineers combined the thin clubface with innovative XCOR technology to boost compression and speed while minimizing spin.
XCOR technology increases the coefficient of restitution (COR) on each strike for a powerful launch and maximal yards. The Gen4 0311 is always equipped with Precision Weight Technology that allows you to adjust the clubhead weight in 2-gram increments.
Finally, the PXG driving iron carries a multitude of stock shafts to suit varying swing speeds. However, I feel the Mitsubishi MMT 70 is best for the average player.
Rating: 3.8
9. Srixon ZX MKII – Best Golf Driving Iron For Reduced Turf Interaction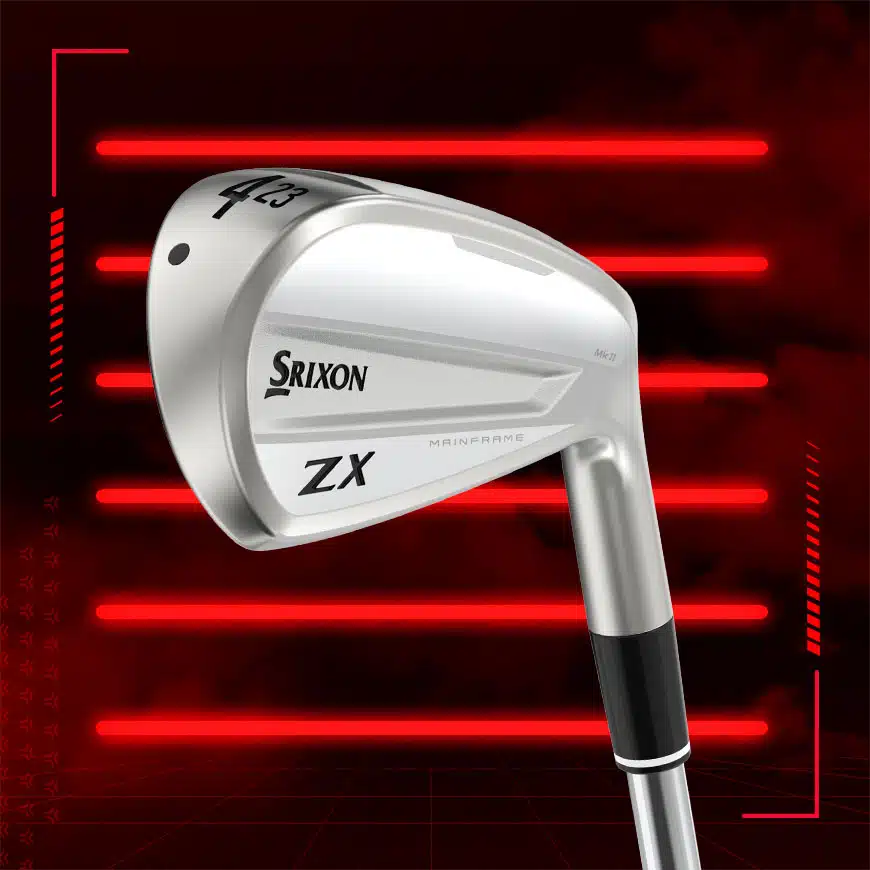 Pros:
Minimal turf interaction

Fast clubface

Enhances energy transfer at impact

Limits spin

Soft feel
Cons:
Only one stock shaft option

Some higher swing speeds may demand a lower launch
Specs:
Lofts:

18

°,

20

°, 

23

°

Shafts:

UST Mamiya Recoil Dart 90
The Srixon ZX MKII is built to reduce turf interaction from the fairway and rough, thanks to sole notches on the heel and toe. In my experience, the design also aided my club head speed on the downswing by resisting drag and promoting acceleration.
Besides its speed and reduced turf interaction, the ZX MKII consists of a Main Frame design that increases COR and lowers the CG for a consistent launch. The technology saw Srixon engineers apply variable thickness patterns across the clubface to prevent pace dropoff and control spin.
When the variable face thickness pairs with the low CG, it produces rapid ball speed and a high launch. While some high swing speeds may find the launch excessively elevated, most golfers will welcome the consistent long game ball flight.
In addition, the ZX MKII contained an explosive face with a soft feel, owing to the forged SUP10 clubface and 1020 carbon steel body. The combination allowed the clubface to flex into impact, ensuring optimal zip on low-face strikes for an element of forgiveness.
Srixon built the ZX MKII to fit the UST Mamiya Recoil Dart 90 shaft, available in an extra stiff, stiff, and regular flex. Lastly, the driving irons carry 18, 20, or 23 degrees of loft.
Rating: 3.6
10. Titleist U-505 – Best Driving Irons For Low Handicappers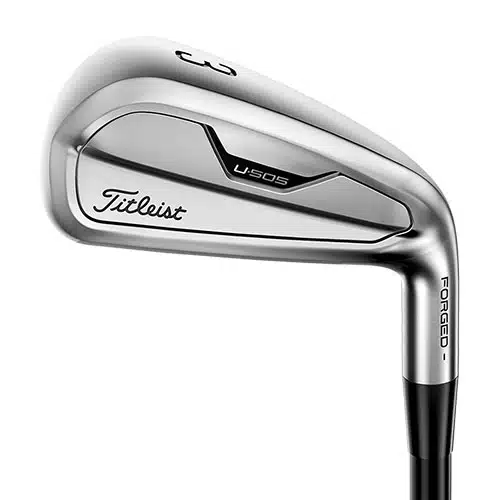 Pros:
Soft feel

Explosive ball speed

Workable flight

Among the best 3 irons for 2023

Elevated MOI
Cons:
Expensive

The higher launch may not suit the average golfer.
Specs:
Lofts:

16

°,

18

°,

20

°, 

22

°

Shafts:

Project X HZRDUS Smoke Black RDX HYB 80g, Premium Graphite Design Tour AD DI-85, Premium Graphite Design Tour AD IZ-95 Hybrid
We conclude our best utility iron 2023 edition with the top-rated pick for low handicappers. The Titleist U-505 generates a buttery-soft feel, workable flight, and forgiveness in a compact head design.
The engineered muscle plate amplifies acoustics and softens the feel of each shot for improved feedback. A High Resilience Polymer Core dampens vibrations from off-center strikes to protect your palms. 
Despite its favorable features for low handicappers, it goes above and beyond to deliver forgiveness and enhanced launch. D18 tungsten weighting casts low in the clubhead, encouraging a higher launch.
The forged high COR SUP-10 L face generated explosive ball speed and a delicate feel across the clubface. Plus, its Max Impact Design worked to produce a high COR, low spin, and rapid velocity.
Next, The U-505 is available in a 16, 18, 20, and 22-degree loft. I felt the 20-degree was the best 3-iron driving iron I tried in 2023, thanks to the combination of launch, feel, and distance. Lastly, the driving iron fits three stock shafts, with the Project X HZRDUS Smoke Black RDX HYB 80g, suited to mid and high-swing speed.
 Rating: 3.5
What is a Driving Iron?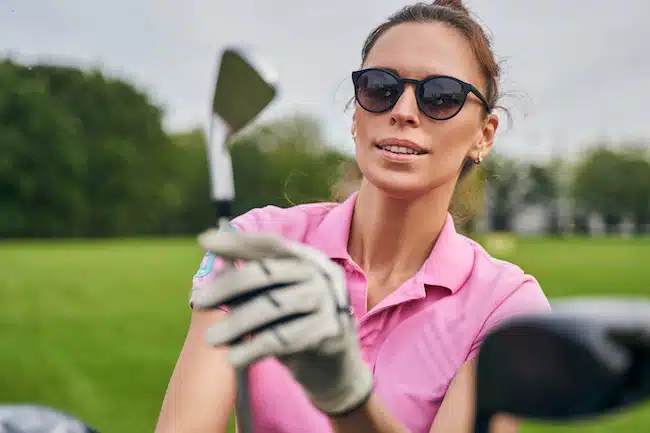 Driving irons can best be described as a fusion between a hybrid and a long iron. They came before the hybrid but did not keep pace with the technology built into hybrids.
The technology used in hybrids offered golfers the convenience they wanted, becoming the favored option.
Driving irons are a compromise between long irons, fairway woods, and hybrids. They optimize the advantages while minimizing the cons.
With a standard iron body and a lower face angle, driving irons allow golfers to hit more accurate tee shots with just a smidge less distance.
Hybrid technology offers more distance than a driving iron at the expense of control.
An enlarged sole combined with the iron-like face on the driving iron golf club can tempt some to replace a hybrid.
Hybrids and driving irons may play a similar role, but they are two vastly different clubs. Let us look at the differences.
Advantages and Disadvantages of Driving Irons
There are a lot of good things about driving irons, but they're not for everyone.
Advantages of Driving Irons
Driving irons generally have a larger sweet spot than fairway woods for extra forgiveness.
Driving irons generate lower ball flight making it ideal for use in windy conditions or to keep your golf ball below overhanging branches.
The traditional iron look, prominent profile, and feel will make the golf ball easier to hit and boost your confidence
Additional mass behind the ball creates a bulkier look and feel. This extra mass behind the ball can help get a little more power in your shot.
Disadvantage of Driving Irons
To hit a driving iron, you will require a good skillset. The smaller clubface makes them far more challenging to use and you will need to be able to hit the sweet spot consistently with a fast swing speed.
Who Should be Playing a Driving Iron?
Driving irons are not suitable for all golfers. They are seen to be geared toward the lower handicap golfers. Although they are closer in design to a hybrid than a typical long iron, they require a high swing speed to optimize the ball trajectory and distance.
You have to earn the right to use a driving iron. Many hours will be required on the driving range to increase swing speed and get used to the intricacies of hitting a driving iron.
If generating clubhead speed and distance is a problem, you may want to stay clear of these clubs.
Due to the lack of mass behind the ball compared to a hybrid, driving irons are less forgiving and generate less distance. However, they have more mass behind the ball than a traditional long iron, making them more forgiving at the expense of control.
Many professionals believe that swing speeds less than 100 miles per hour would be better off using a fairway wood or a hybrid.
If you frequently play in windy conditions, investing time on the driving range and learning to hit a driving iron would be wise.
Hybrids vs Driving Irons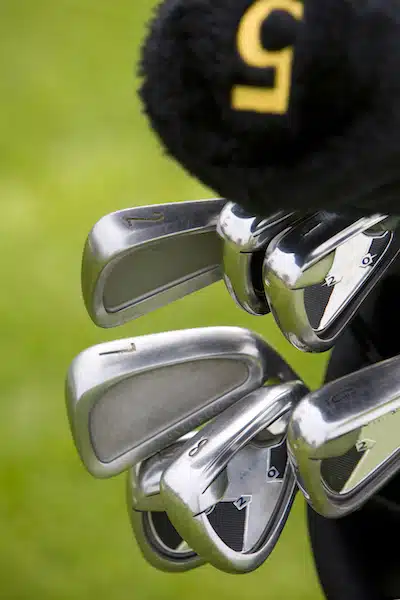 Driving irons have a traditional iron shape with a larger clubface, while a hybrid has a more rounded body and smaller overall clubface.
Driving irons tend to be much more controllable than a hybrid.
A hybrid offers more distance and better turf interaction.
When to Use a Driving Iron?
Selecting the right situation to put your driving iron into play and leave your driver in the bag can be rather challenging. Even the best drivers in the world sometimes have to sacrifice distance for accuracy.
Using a driving iron is most apt when accuracy matters more than distance. This does not apply off the tee, but a driving iron could be better than putting a fairway wood in play on long approach shots where accuracy is required.
The Best Way to Use a Driving Iron
To get the most out of your driving iron requires an aggressive yet controlled swing. Do not overswing or force the swing. Allow the power to come mostly from the driving iron itself.
What To Consider When Picking the Best Driving Iron for You
Loft
The first factor to consider when picking a driving iron is the ideal loft. You want a club that seamlessly bridges the gap between your 3-wood and long irons. Golfers swinging a strong lofted 3-wood around 13-degrees may desire a utility iron between 16 to 18 degrees of loft.
In my experience, these irons offer the greatest versatility, enabling you to deliver comparable distance to a fairway wood off the tee and the deck. However, most driving iron sets reach 22 to 24-degrees, if you prefer a lower launching, forgiving option, compared to a long iron.
Shaft Flex And Material
Next, think about your preferred shaft material and flex to boost clubhead speed, stability and energy transfer at impact. Regular amateurs with moderate swing speeds might consider a durable, higher springing graphite shaft with a regular flex.
Conversely, high swing speed golfers are better equipped to a steel shaft, with stiff or extra stiff flex. These shafts deliver minimal spring assistance leading into contact, and provide exceptional stability to prompt a lower apex and piercing ball flight.
Top Driving Irons FAQs
Which Is The Best Driving Iron?
Our driving iron reviews have displayed that the Cleveland Launcher UHX utility iron is the best. It provides increased forgiveness, superior turf interaction, and explosive ball speed for an affordable price.
As a result of its features, the Cleveland Launcher UHX is suitable for mid and high-handicap golfers seeking an affordable and easy-to-launch driving iron,
Are Driving Irons Good?
Yes, I have found my 2-driving iron invaluable to my game. The low ball flight it produces, coupled with limited sidespin, offers enhanced accuracy. However, technology has evolved rapidly since I purchased a 2-driving iron. Now you can find higher launching irons to optimize your carry distance.
What Are The Most Forgiving Driving Irons?
The most forgiving driving irons on the market come from the Cobra King Tec Utility. They are affordable, glare resistant, and easy to launch. Plus, they work to limit sidespin and promote straight shots.
Is A Driving Iron The Same As A 1-Iron?
Although a standard 1-iron and driving iron may have the same loft, the difference lies in the profile of the head. 
Driving irons often possess a wider sole construction to offer an expanded sweet spot for supreme forgiveness. The shorter blade length and thinner sole of a standard 1-iron are what the average golfer fears.
How High Do You Tee A Driving Iron?
You shouldn't tee your ball more than 0.2 to 0.3 inches above the clubface. It is the same principle for iron shots on a par 3.
Can A Driving Iron Replace A Driver?
You can use a driving iron as a replacement for your driver if you are looking to increase your accuracy. However, if you play with a 22-degree loft driving iron, you cannot possibly hit it as far out the screws as you would a 10.5-degree driver.
Yes, you can use a driving iron instead of a driver. However, you will lose significant distance compared to your big stick. Overall, that doesn't matter if your driver sends you into the woods on every hole while a driving iron keeps you straight.
What Are The Other Names For The Driving Iron?
Utility iron is the most common alternative name used for a driving iron. It earns this name because it allows golfers to play shots from the tee box, the rough, and in my case, I use a 2-utility iron to play longer bump and run chips.
What Are The Best Driving Irons Of All Time?
The Titleist U500 and U510 and the TaylorMade GAPR Lo are regarded by amateurs as three of the best driving irons of all time. In addition, The Callaway X-Tour, the TaylorMade SIM UDI, and Rapture DI.
Final Thoughts
Driving irons have improved tremendously over the last couple of years and inherited some of the technology that has made hybrid clubs so popular.
Do not expect to go out there and put a driving iron in your bag and hit it low and straight every time.
Hitting a driving iron requires skill and a high swing speed. Not just one of the two, it requires both. And you have to earn the right to hit it straight by working it out on the driving range.
Once you have mastered the driving iron, you can tackle the wind head-on and walk away as the winner.
I looked at a sample of the wide range of driving irons, and there are more to be assessed.
If you are an above-average player with a relatively low handicap, a forged-style driving iron will be the best choice. Alternatively, if you are a higher handicap player that insists on using a driving iron, a cavity back would be better suited for your game.
With that out the way, let us once again praise the winner of the best driving irons in the 2023 competition, the TaylorMade Stealth DHY. Its explosive ball speed, forgiveness, and maximum distance set it apart from its competitors.
Those searching for an affordable, forgiving, and long-driving iron can look at the Launcher UHX below.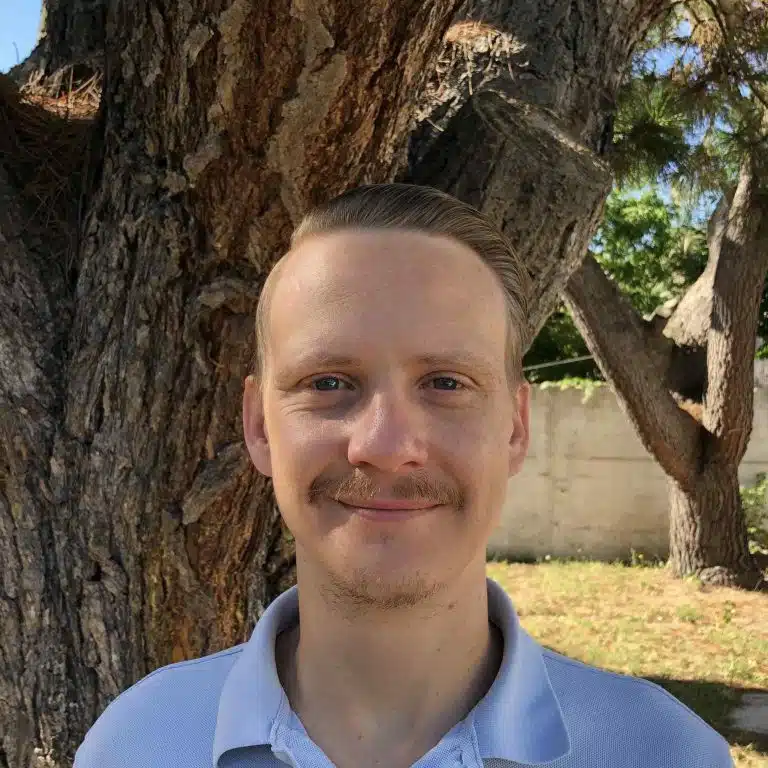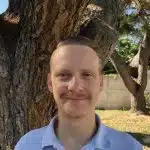 Matt is a seasoned golf equipment writer and sports fanatic. He holds a Postgraduate in Sports Marketing and has played golf for over 28 years.