What is your preference when it comes to longer clubs? Do you enjoy fairway woods and hybrids? Or are you a traditionalist who opts for long irons? Besides your preferences, it helps to understand where you stand compared to other golfers.
If your 5 iron distance is far below the average, but you hit a 5-hybrid or 11-wood further than most. It is time to toss the iron and focus on what works for you.
What Is A 5 Iron?
A 5-iron is a long iron used on approach on long par 4's and off the tee on par 3's. It is a club that many of us struggle to master, given its stronger lofts and compact clubhead.
What is the Loft?
Golfweek's Sharon Penn states that the typical loft of a 5-iron is 28 degrees. However, it is becoming more common to find companies releasing these clubs with strengthened lofts between 24 to 26 degrees.
Stronger lofted 5-irons are more prevalent in the player's distance irons category. These irons are designed to increase distance and lower spin.
What is the Average 5 Iron Distance?
In our article on golf club distances, you can see that the average 5 iron distance for a male golfer is 160 yards. Female golfers, on the other hand, gain 140 yards.
Of course, these distances vary based on weather conditions, time of day, and the type of grass you are playing on.
How Far Do The Pros Hit A 5 Iron?
GolfWeek's M.L Rose explains that the average Pro on the PGA Tour hits a 5-iron between 195 to 205 yards. Of course, this is nothing compared to Bryson DeChambeau, who sends his 5-iron an average of 235 yards.
What Is The Fairway Wood Equivalent?
Andrew Tursky from Golf.com tested his 5-iron against an 11-wood to see how they compared. While the 11-wood had five degrees less loft, the results were close. Besides swing and ball speed where the long shaft on the fairway wood made the difference.
Performance
Even though the CG in modern long irons is positioned low and back to promote a higher launch, a sizeable portion of amateurs struggle to achieve consistent launch and carry.
A 5-iron delivers a mid to low launch compared to a fairway wood or hybrid. However, the compact design of irons makes them easier to shape shots with over other clubs.
Finally, hybrids and fairway woods help you land the ball softly and hold the green from far out. Whereas the mid to lower ball flight will see your 5-iron shots release more.
What Is The Hybrid Equivalent?
The hybrid substitute for your 5-iron would be a 24 to 27-degree option, which is also known as a 5-hybrid.
Pros
More controlled launch
Increased workability
Superior ball strikers will gain more distance than with the hybrid or fairway wood equivalent
Better shot dispersion
Mid to low launch
Cons
Compact profile
Difficult to launch
Lower ball flight doesn't hold greens as well.
Our Favorite 5 Irons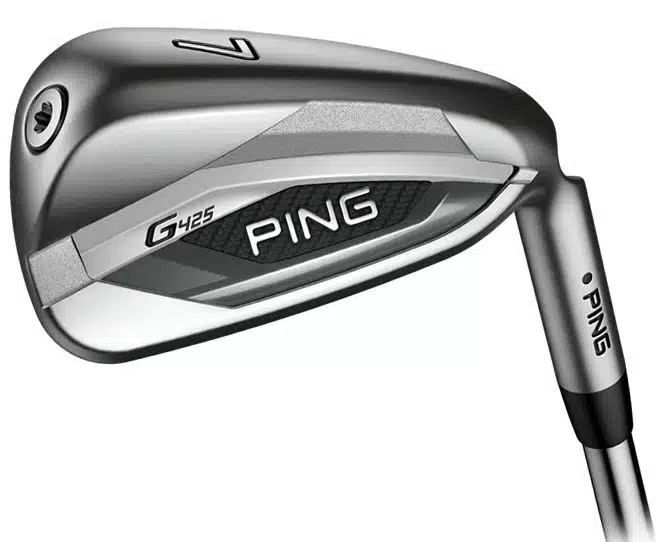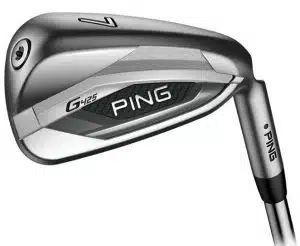 Key Features
Metal wood-style clubface
Expanded perimeter weighting
Cascading sole
Top rail undercut
Shorter blade than G410 irons
Hydropeal Chrome finish
Pros
Prompts clean contact from the rough and in the wet
Generates increased ball speed
High launch
Soft landing
Clean look
Superior feel
Cons
The high launch and soft landing can reduce your distance
The stronger lofted long irons may prove challenging for slow swinging players to launch
No products found.
Key Features
Cap Back construction
Thru Slot speed pocket
Echo Dampening System
Pros
Honed sweet spot
Enhanced forgiveness
Delivers increased distance
Prompts faster ball speed
Consistently long distance
High ball flight
Absorbs vibrations on off-center contact
Cons
Significantly strengthened lofts do not suit slower swinging players
High launch and a soft landing is not conducive to links courses
Key Features
Flash Cup face designed by A.I.
Five times more tungsten than Apex 19 irons
Standard offset
Moderate sole width
1025 carbon steel body
Inserted urethane microspheres
Pros
Provides faster ball speed
Delivers exceptional distance
Initiates a powerful launch
Amplified forgiveness
Buttery soft feel
Crisp acoustics
Cons
Moderately expensive.
The strong loft is a challenge for slow swingers to launch.
Final Thoughts
As you can see, long irons are not built for everyone, but those of you who are superior ball strikers will enjoy enhanced workability, consistency, and control from a 5-iron.
In concluding our review on 5 iron distance, it is clear that the average male golfer hits the club 160 yards. However, the average female player gains 140 yards with it in hand.
I recommend that higher handicappers steer clear of this club. But, if you feel it will work for your game. I recommend testing the Ping G425 5 iron.
Related Articles
Nick Lomas is the founder of GolfSpan, an avid golfer, not quite a pro but has over 15-years of experience playing and coaching golfers from all over the world. His mission is to bring the golfing community a better experience then it comes to choosing the right golf gear, and finding the right set up for your game.