Most people think that single-length irons are something new in the way of golf club development. However, these clubs have been around since the 1930s but were only mass-produced in the late 1980s.
Tommy Armour, who was one of the leading manufacturers in those days, came out with a set of Tommy Armour EQL irons. All the irons were 37-inches and the length of today's traditional 7-iron.
The woods were all 41,5-inch long which is equivalent to a traditional 5-wood.
The idea did not take off as most pro golfers of that era believed it was a fad.
Bryson DeChambeau
Bryson DeChambeau can be credited with the single-length iron revival.
He has a major degree in physics and used this knowledge to fashion out his personal set, after signing a deal with Cobra Golf. He won the John Deere Classic in 2017 with one-length irons and is the first on record to achieve this feat.
His irons are all at a traditional 6-iron length of 37,5-inches. He stands and swings much more upright using a single swing plane. The irons have extremely thick Jumbo Max Grips which allow him to move away from the traditional finger/palm grip, to a more full-palm grip.
Clubheads are all identical weights and the lie angle is about 10-degrees more upright than normal. One-length irons have now become more popular, although not all club manufacturers have moved in this direction.
The 3 Most Popular Single-Length Irons In 2022
Cobra Golf Single Length
Sterling Irons-Wishon EQ1-NX Single Length
Pinhawk SL
1. Cobra Golf
Cobra Golf leads the way in variety on single-length irons and offers a range of 6 models to cater to the new demand.
The top three sets are reviewed below.
They generally carry some or all of the latest concepts, but each set has its characteristics and suitability for golfers across the handicap spectrum.
Shaft choice will determine the length of the iron as graphite tends to be ½-inch longer.
Cobra King Forged One Length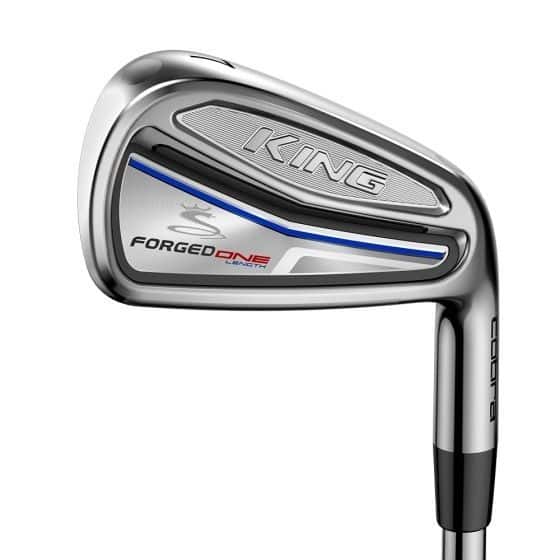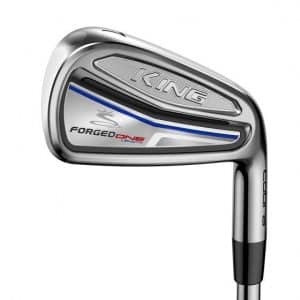 The Cobra Forged One Length was the first-ever forged set from Cobra Golf and was inspired by Bryson DeChambeau who was starting to make a name for himself on the PGA Tour.
The one setup concept is used as a marketing tool throughout the Cobra Golf range but has its merits and adds simplicity to a difficult game.
Most golfers have a preferred iron in the bag and generally, it is the 7-iron.
A shaft length of 37-inches throughout the set will inspire confidence when it comes to hitting long irons. Many a teaching pro in the early days would instruct his pupil to swing all clubs like a 7-iron.
Characteristics are long irons with consistent distance and easy launch.
Tighter dispersion on approach shots will improve the scorecard.
Short game improvement and confidence will offer more birdie opportunities.
The Forged One Length is a player's iron suitable for low handicaps and the small compact head will appeal to golfers moving away from traditional blades.
Increased forgiveness using the latest technology will not harm anyone's game.
Cobra Forged Tec One Length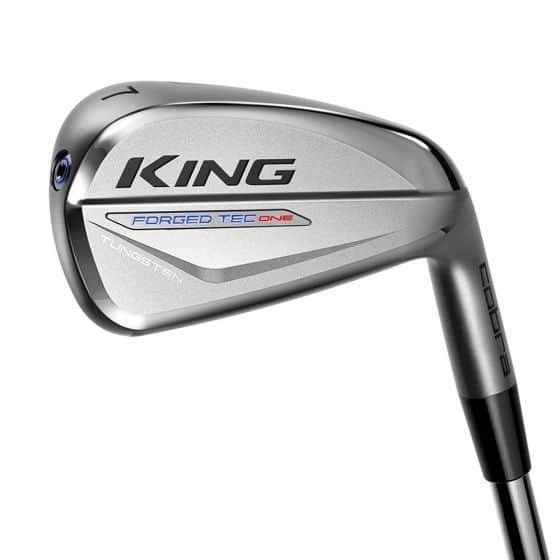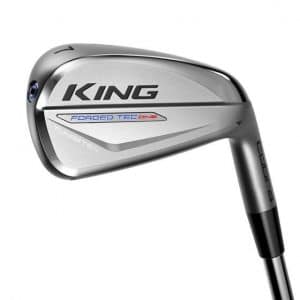 Engineered to deliver consistency, distance, and playability in a compact muscle-back shape. This player's iron packs all the latest technology from Cobra Golf.
THe PWRSHELL Face expands the sweet spot across the face for more ball speed, higher launch, in a good-looking head shape.
Matching head and swing weights create a consistent feel at contact.
The fine-tuned lie angles optimize trajectory throughout the set, with the progressive shaft weights producing easy launch in the long irons and more control in the heavier wedges.
The classic muscle back shape contains a hollow core that delivers a low CG and maximum playability. Tungsten toe weighting centers the CG behind the hitting zone to maximize distance on mis-hits.
Soft feel and sound are created by infusing foam microspheres in the cavity head.
A player's iron that delivers with a bit more forgiveness and suitable for low to mid handicaps.
Cobra King Radspeed
The Radspeed model features Cobra's most advanced technologies to date, including a Radial Weight and the first-ever 3D printed Medallion. Cobra Golf claims this one-length iron set to be the longest, fastest, and most forgiving.
Extreme heel and toe weighting are achieved with 10gm and 3 gms mass positioned on the extremities of the head. A combination of low spin, speed, and stability optimizes performance.
Further weight saving of 2gm is achieved with a carbon fiber top line which lowers the CG and increases MOI. An all-new black carbon finish creates the illusion of a thinner top line and sleek look at address.
The Radspeed One Length irons have a slightly oversize shape and a progressive wider sole. Wider soles on the long irons make them easy to launch and the traditional width on the short irons and wedges gives increased control.
This set is ideal for any mid handicap golfer looking to improve their game, using the latest technology, with good looks and feel to boot. Other One Length Iron Sets from Cobra Golf include the Speedzone, F8, and F9.
All carry the latest technology in different forms and are well worth testing if considering moving to a One Length set.
2. Sterling Irons-Wishon EQ1-NX Single Length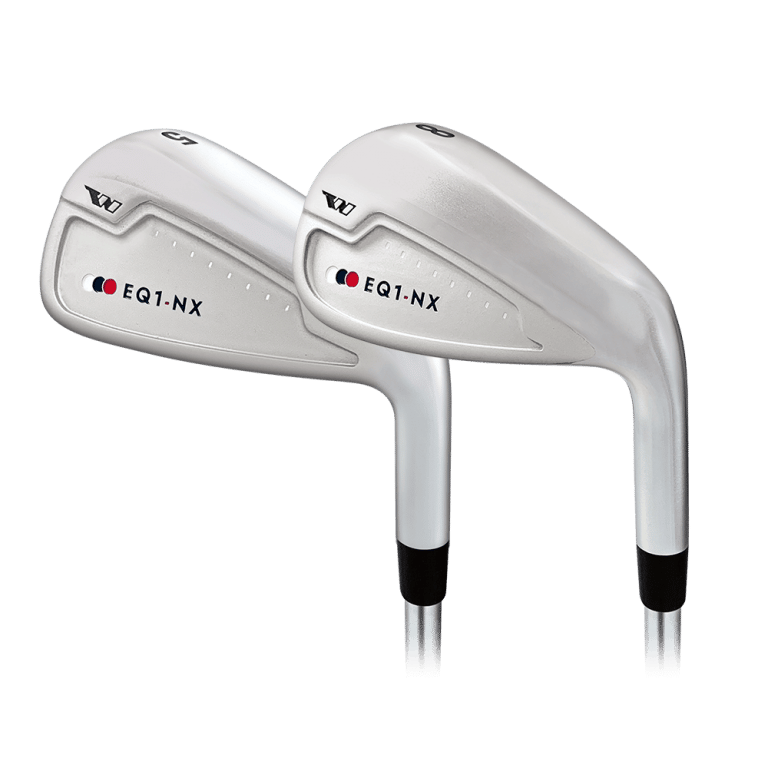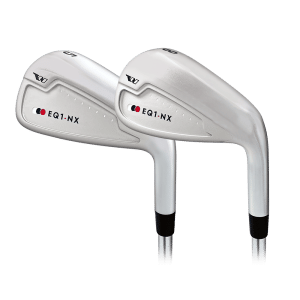 As far back as 2013, club designer Tom Wishon used his experience to improve what was then available on the market for single-length irons.
Obtaining feedback from many sources, aesthetics was a major stumbling block for those players wishing to venture into One Length Irons. He came out with a head design that proved extremely good-looking, and also matched all the groove requirements of the USGA rules.
His ultimate aim was to get these irons used on the PGA Tour. Another issue reported that other manufacturers were having a problem with low ball flight and lack of distance with the long irons, and high-lofted irons flying too high and far.
Gapping between irons was another problem that Wishon concentrated on, and finally produced the results required. Today their same length irons travel at the same trajectories and distance that any modern set of standard irons achieve.
This has made the company an industry leader. Originally the club's shaft length was that of a traditional 8-iron at 36,5 inches, but they also offer 36,75 and 37-inch sets.
The thinking was that an 8-iron is the most consistent iron with regards to hitting it flush in the middle of the face. A simple question put to golfers was would you rather hit an 8-iron or a 6-iron for an approach shot?
Another good point is that the length gap between a standard wedge and the one length wedge is minimal and does not require a huge adjustment. Limited custom fitting options were also an issue from other manufacturers.
Sterling irons have 8620 Carbon Steel in them which allows for approximately 3-degrees of loft and lie bending options. The shaft hosel has a hidden weight bore in all of the club heads which allows them to build various lengths while achieving desired swing weight and MOI options.
A variety of steel and graphite shaft and flex options are available including options for grip size. The final result is that Sterling One Length Irons are the most technologically advanced and highest performing ever made.
3. Pinhawk SL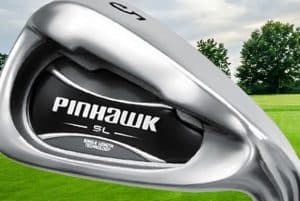 Pinhawk Single Length Irons offer accuracy and consistent ball flight, rather than sheer distance.
Easy to hit, high launching, and very forgiving, these will appeal to many golfers wanting to switch to single-length irons. A great choice for the mid to high handicap golfer looking for consistency from these cavity back irons.
Shafts are 37-inches long which equates to the traditional 7-iron. A feature other than the single 37-inch length shaft is the exact same clubhead weight throughout the set.
The Swing Weights are consistent and a variety of shaft flexes are available.
Apollo steel and graphite are the most popular and range from Ladies, Senior, Regular, Stiff, and Extra-Stiff.
A seriously good-looking set of 11- irons from 4-iron to Lob Wedge is on offer.
The 4 Wedges ie Pitching, Gap, Sand, and Lob sit well at address and inspire confidence in the all-important short game area.
Should I use Single Length Irons?
The concept of only producing one setup and swing for all shots played with the long and short irons will appeal to many golfers. The standard 7-iron 37-inch length shaft is probably the most preferred iron in any mid to high handicap golf bag.
Adapting to a more upright swing plane and lie angles will determine if the One Length set will suit your game. The best way to find out is to hit the clubs on the range or play a round with a set.
Will One Length Irons Improve My Game?
Depending on the skill level of the player and the practice time available between games will go a long way to resolving this question. The adaptation to the One Length shaft will require a few fundamental changes in the swing.
Whilst it is true to say that hitting a 7-iron more consistently and accurately builds confidence, it also comes with a few drawbacks. Distance always plays a part in improving the golfer's game, but ingraining the thought process to swing a 4-iron like a 7-iron is difficult even for the better golfer.
Testing the irons on a range or playing 9-holes with a set, will offer a good understanding of whether to switch or not.
Are One Length Irons Good For The High Handicap?
Many opinions abound about playing with One Length Irons. On the PGA Tour, only Bryson DeChambeau has ventured into using these irons, and now with increasing success, he has made them more popular amongst amateurs.
One set up, one swing all sounds good, and may well suit the high handicap golfer that tends to do this by default. Cobra Golf has a range of One Length irons that come with all the technology and playability to help the high handicap to improve his or her game.
Do Any Pro Golfers Use One Length Irons?
As mentioned earlier in this article, Bryson DeChambeau has been instrumental in putting these irons into the spotlight on the Tour. The clubs were built around his specification requirements by Cobra Golf after signing a sponsorship deal with him.
If there are other pro golfers out there that are using them on the Tour, their success has not come to light. There is no doubt that many of the younger generations have or will try them.
Understand that Bryson is a bit of a "tech geek" and has used his physics degree like no other in the history of golf. He also spends many, many hours on the range.
Can I Make Up My Own Set Of One Length Irons?
Making up a set of One Length irons is not a process of cutting all the shafts to a single length. Weighting in the head and the shaft require finesse and technical know-how.
Swing weight is very important to obtain the consistent performance and distance requirement on each iron.
The lie angle and gapping of the lofts have been a major problem for the manufacturers of One Length Irons. The bottom line is that it is highly unlikely that a home-manufacture One Length set of irons will prove consistent.
In summary, the concept of One Length irons is bound to attract more and more players to testing and playing with these sets.
New ideas and design changes invariably always have positive and negative issues to deal with and below are a list of Pros and Cons to consider.
Pros
One Length means one setup and one swing throughout the set.
No adjustment is required for moving the ball forward or backward in the stance.
No resetting or stance change for the long or short irons. (this is the No 1 selling point and may suit high handicaps or beginners)
Lower numbered irons should be easier to hit and control with a shorter shaft than the traditional length.
Higher numbered irons and wedges should fly further with longer shafts.
In theory, single-length irons should assist golfers with consistency from each swing.
Cons
Lower-numbered irons will fly less distance because of shorter shafts than traditional ones.
Lower-numbered irons fly a little lower than traditional shafts.
Players who struggle to launch lower irons with a high trajectory are penalized.
Loft gapping tends to be more condensed from high numbers to wedges.
The rate at which club design and development is evolving should soon see these problems overcome. In fact, Wishon of Sterling One Length Irons spent many hours overcoming the problems listed, and lead the field in One Length Irons.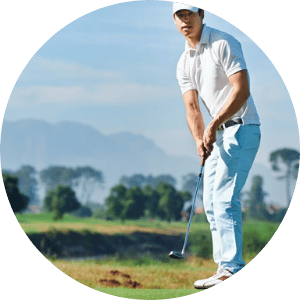 Nick Lomas is the founder of GolfSpan, an avid golfer, not quite a pro but has over 15-years of experience playing and coaching golfers from all over the world. His mission is to bring the golfing community a better experience then it comes to choosing the right golf gear, and finding the right set up for your game.