Most people think that single-length irons are something new in golf club development. However, these clubs have been around since the 1930s but were only mass-produced in the late 1980s.
Tommy Armour, one of the leading manufacturers in those days, came out with a set of Tommy Armour EQL irons. All the irons were 37-inches and the length of today's traditional 7-iron.
The woods were also the same length, 41.5-inches long, equivalent to a traditional 5-wood. But the idea did not take off until recently, as most pro golfers of that era believed it was a fad. So what are single-length irons, and are they for you? 
The 4 Most Popular Single-Length Irons In 2023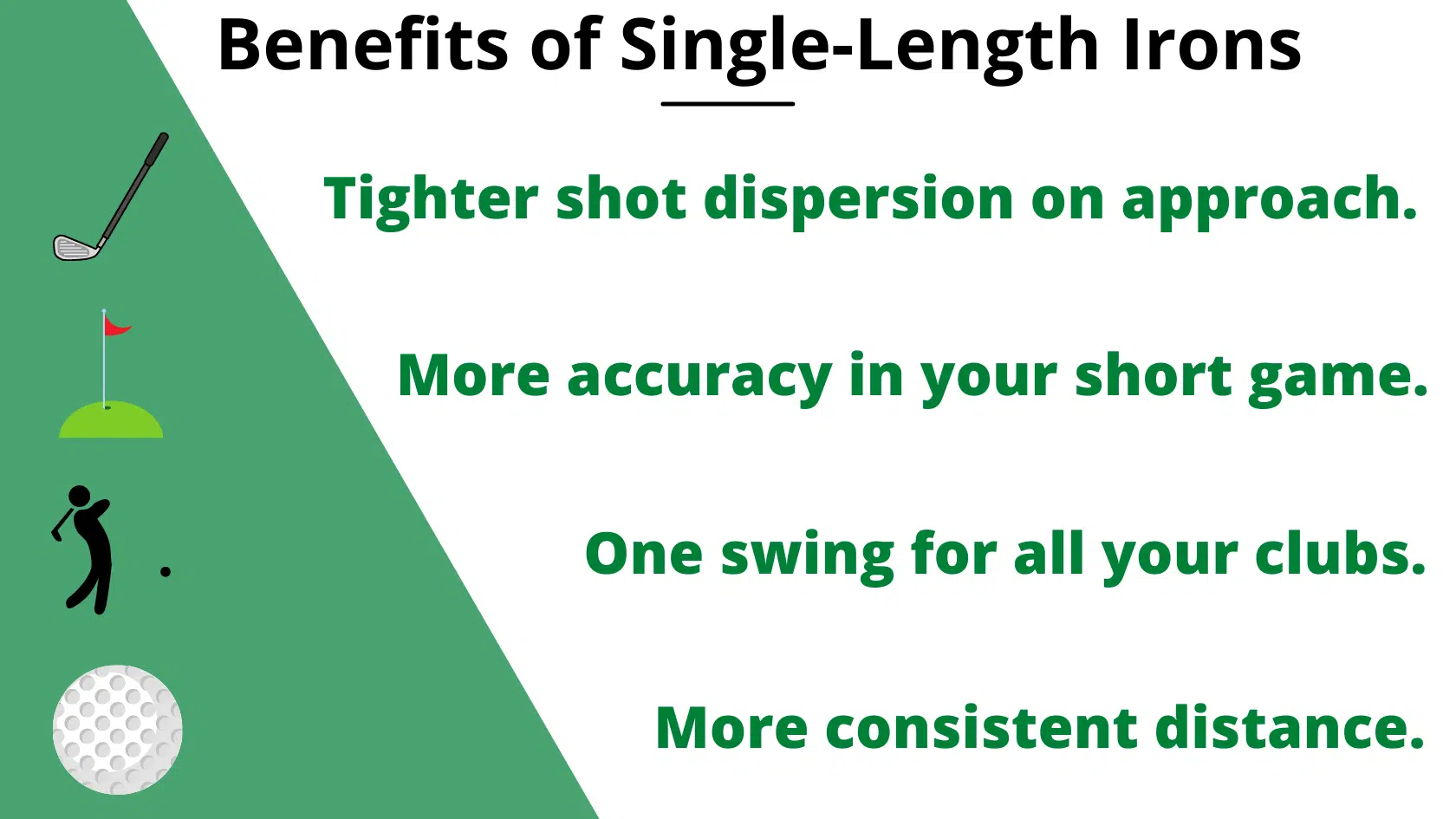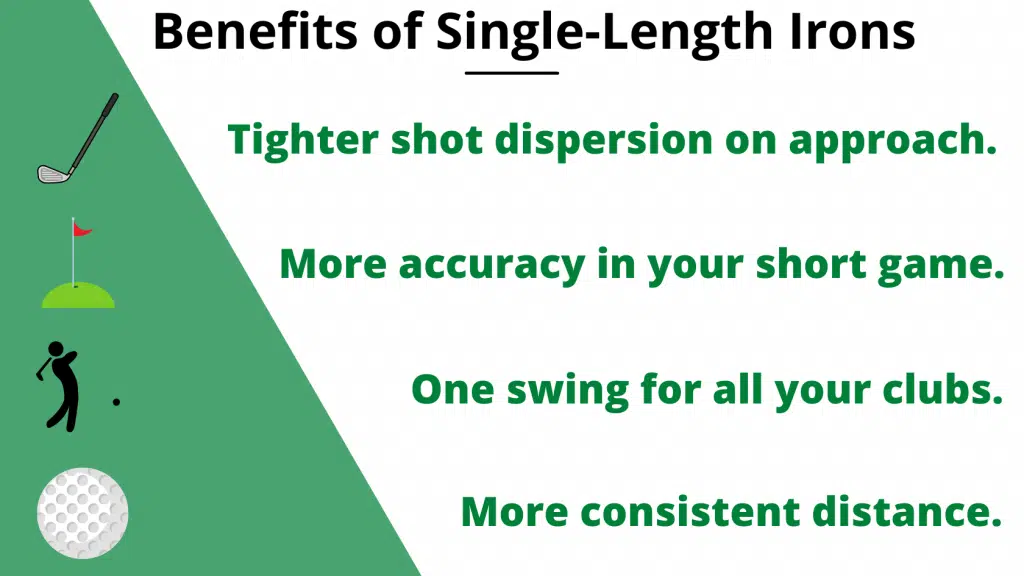 Are Single Length Irons For You?
Pros
One Length means one setup and one swing throughout the set.

No adjustment is required for moving the ball forward or backward in the stance.

No resetting or stance change for the long or short irons. This #1 selling point may suit high handicaps or beginners.

Lower numbered irons should be easier to hit and control with a shorter shaft than the traditional length.

Higher numbered irons and wedges should fly further with longer shafts.

In theory, single-length irons should assist golfers with consistency from each swing.
Cons
Lower-numbered irons will fly less far because of shorter shafts than traditional ones.

Lower-numbered irons fly a little lower than traditional shafts.

Players who struggle to launch lower irons with a high trajectory are penalized.

Loft gapping tends to be more condensed from high numbers to wedges.
The rate at which club design and development is evolving should soon see these problems overcome. In fact, Wishon of Sterling One Length Irons spent many hours overcoming the problems listed and now leads the field in One Length Irons.
Bryson DeChambeau's Single Length Irons
Bryson DeChambeau can be credited with the single-length iron revival.
He has a degree in physics and used this knowledge to fashion out his personal set after signing a deal with Cobra Golf. He won the John Deere Classic in 2017 with one-length irons and is the first to achieve this feat.
His irons are all at a traditional 6-iron length of 37.5-inches. He stands and swings much more upright using a single swing plane. The irons have extremely thick Jumbo Max Grips, which allow him to move away from the traditional finger/palm grip to a more full-palm grip.
Clubheads are all identical weights, and the lie angle is about 10-degrees more upright than normal. Although not all club manufacturers have moved in this direction, one-length irons have become more popular.
Factors To Consider When Purchasing Single Length Irons
Budget
Single-length iron sets vary in price depending on the brand and construction of the irons. On the lower end of the spectrum, there are sets for a couple hundred dollars. These are ideal for mid and high handicappers who play infrequently and cannot justify paying a premium for golf clubs.
In addition, low handicappers who hit the links regularly may prefer irons with superior looks and feel. These sets can run you thousands of dollars, but they promote increased workability and control for exceptional golfers.
Blades Or Cavity Backs?
The clubhead construction that you choose will impact your total spending. Plus, it determines the level of forgiveness and consistency that you will enjoy. Blades are also referred to as muscle backs or players' irons. They offer exceptional feel and acoustics and promote maximum workability for lower handicap golfers.
This sounds wonderful, and it is when you execute a pure strike. However, the CG is located behind the center of the face, and there is no perimeter weighting to combat off-center strikes. Therefore, if you mishit your shot, the result is catastrophic. That is why mid and high-handicappers should steer clear of blades.
On the contrary, cavity backs are designed with game improvement technology to make life easier for the average golfer. They contain perimeter weighting to boost stability and forgiveness on off-center hits. The clubhead resists twisting to remain square at impact, prompting rapid ball speed and a straight flight.
Furthermore, the CG in longer cavity back irons is often positioned low and back to encourage a high launch for optimal carry distance.
Set Composition
Once you have chosen between blades and cavity backs, the next step is to look at your set composition. Can you consistently launch long irons, or do you prefer hybrids? What wedges do you excel with? Answering these questions helps you compose your set. 
Golfers who struggle to get long irons airborne should employ hybrids in place of your 4 and 5-irons. Therefore the longest iron in your set will be a 6-iron. If you like striking long irons, you will need a set that includes a 4-iron.
Most sets include two wedges. Naturally, the pitching wedge is a no-brainer. Then, they either include a gap or a sand wedge. A gap wedge helps you fill the hole in your distance between a pitching and sand wedge. 
Furthermore, a sand wedge is a versatile club that helps you escape bunkers and chip and execute flop shots. If the set excludes this wedge, I suggest adding it on as an extra. Alternatively, focus your energy on options that do include the club.
Forgiveness
The wrong choice of irons can significantly reduce your forgiveness and consistency. Unless you are a budding professional who can afford to sacrifice leniency, there is no reason to give it up.
Look at irons that promote a consistent, high, straight launch to limit the damage of off-center strikes. Plus, consider options with a flexible clubface that prompts accelerated ball speed.
Therefore, when you mishit your shot, the damage is restricted. Thanks to consistent ball speed and straight flight.
These features deliver long, straight shots to make your life easier. If you forfeit forgiveness, your bad shots are disastrous. You lose considerable distance and accuracy.
Quick Overview: The Best Single Length Irons
The Most Popular Single-Length Irons In 2023
Pros
Prompts accelerated ball speed

Increased MOI

Delivers a high launch

Produces straight ball flight

Drowns out vibrations 
Cons
The strong lofted long irons may prove challenging for slower swingers to launch

Moderately expensive
Rating:
4.8 Stars
The Cobra King Speedzone produces accelerated ball speed and ensures a high moment of inertia (MOI) for optimal distance and accuracy. 
The engineers employed a PWRSHELL face insert to expand the sweet spot and etch out a deep undercut. The combination maintains ball speed across the face. As a result, you enjoy consistent distance on mishits and pure strikes.
Furthermore, weights are positioned in the extreme heel and toe of the irons to bolster stability across the clubface. This design also pushes the center of gravity (CG) low and back, increasing MOI and encouraging a high launch. Therefore, you enjoy straight flight and added yardage.
Lastly, a multi-material light medallion features to improve your feel on off-center strikes. The medallion reduces vibrations and improves the acoustics of each shot. Overall, the Cobra King Speedzone is suitable for mid and high handicap golfers seeking forgiveness, feel, and distance.
Specs
| | | | | | | | | | |
| --- | --- | --- | --- | --- | --- | --- | --- | --- | --- |
| Club | 4 | 5 | 6 | 7 | 8 | 9 | PW | GW | SW |
| Loft | 19.5° | 22.0° | 24.5° | 27.5° | 32.0° | 37.0° | 42.5° | 48.0° | 54.0 |
| Length | 37.25″ | 37.25″ | 37.25″ | 37.25″ | 37.25″ | 37.25″ | 37.25″ | 37.25″ | 37.25″ |
2. Orlimar Golf Intercept – Best One Length Irons For High Handicappers
Pros
Affordable

Advanced undercut cavity for added MOI

Flex face technology prompts high flying 5 and 6-irons hots

Pleasant look at address

Delivers optimal trajectory through the set
Cons
Durability

The set does not include a sand wedge
Rating:
4.7 Stars
Olimar Single Length Golf Irons offer accuracy and consistent ball flight rather than sheer distance.
Easy to hit, high launching, and very forgiving, these clubs will appeal to many golfers wanting to switch to single-length irons. They are a great choice for the mid to high handicap golfer looking for consistency from these cavity back irons.
The shafts are 37-inches long, which equates to the traditional 7-iron. A feature other than the single 37-inch length shaft is the same clubhead weight throughout the set.
The Swing Weights are consistent, and a variety of shaft flexes are available.
They come with a steel shaft and are available in stiff or regular flex.
A seriously good-looking set of 7 irons from 5-iron to 9-iron is on offer.
The 2 Wedges (Pitching and Sand) sit well at address and inspire confidence in the all-important short game area.
Specs
| | | | | | | | |
| --- | --- | --- | --- | --- | --- | --- | --- |
| Club | 5 | 6 | 7 | 8 | 9 | PW | GW |
| Loft | 23.5° | 27° | 31° | 35° | 40° | 45° | 50° |
| Length | 37.00″ | 37.00″ | 37.00″ | 37.00″ | 37.00″ | 37.00″ | 37.00″ |
Pros
Increased face flex

Low CG

Increased MOI

Encourages straight ball flight

Stable through impact
Cons
Reduced workability

Strong lofted long irons may be difficult for some players to launch.
Rating:
4.4 Stars
The Cobra King Radspeed One Length irons combine precision weighting with innovative technology. The result is consistent, same-length golf clubs that maximize your yardage. 
3-grams of tungsten are added to the heel, while a 10-gram construction sits in the toe. These weights push the CG to the center of the face, improving stability through impact. That helps the club remain square to give you the best shot of a straight-flying shot.
In addition, a forged PWRSHELL face insert maximizes the flexibility of the clubface to maintain ball speed on all shots. The added flex is particularly helpful in combating shots low off the face. 
Furthermore, a carbon fiber topline shaves 2-grams off the total mass of the club. This enabled the engineers to lower the CG and further boost MOI. Therefore, the irons deliver high-flying golf balls and increased accuracy.
In summary, the Radspeed One Length Irons are long, consistent, and forgiving. They are well suited to mid-handicappers looking for an all-around performing iron.
Specs
| | | | | | | | | | |
| --- | --- | --- | --- | --- | --- | --- | --- | --- | --- |
| Club | 4 | 5 | 6 | 7 | 8 | 9 | PW | GW | SW |
| Loft | 19.0° | 21.5° | 24.0° | 27.0° | 31.5° | 36.5° | 42.0° | 47.5° | 54.0 |
| Length | 37.25″ | 37.25″ | 37.25″ | 37.25″ | 37.25″ | 37.25″ | 37.25″ | 37.25″ | 37.25″ |
4. Cobra King Forged Tec – Best Single Length Golf Clubs For Low Handicappers
Pros
Attractive appearance

High launching long and mid irons

Optimal playability

Superior acoustics

Soft feel
Cons
Expensive

Not suited to mid and high handicap golfers.
Rating:
4.3 Stars
The Forged Tec irons present a traditional players iron appearance with revolutionary technology. The result is an attractive set of irons that offer maximum playability for superior golfers.
These are the best single-length irons for low handicappers in 2023 and feature a classic muscle back appearance. However, it covers an expanded hollow core which lowers the CG. Foam Microspheres are inserted into the hollow cavity, further soften the blows on off-center strikes. Plus, the foam amplifies the acoustics.
Cobra engineers added tungsten weight to the toe of long and mid irons. This spreads the CG to the center of the clubface for consistent distance on all shots. The toe weighting is removed from the short irons and wedges to optimize your workability and control on approach to the green.
The Cobra King Forged Tec are classic-looking golf clubs that offer superb playability and distance. However, it delivers reduced levels of forgiveness, making it ideal for low handicap golfers.
Specs
| | | | | | | | | |
| --- | --- | --- | --- | --- | --- | --- | --- | --- |
| Club | 4 | 5 | 6 | 7 | 8 | 9 | PW | GW |
| Loft | 21.0° | 23.0° | 26.0° | 29.5° | 34.0° | 39.0° | 44.0° | 49.0° |
| Length | 37.25″ | 37.25″ | 37.25″ | 37.25″ | 37.25″ | 37.25″ | 37.25″ | 37.25″ |
Read more:
Golfers not ready to use players clubs should read our guide on the best
players distance irons.
FAQs
Do You Lose Distance With One Length Irons?
You can have plenty of distance with One Length Irons. You needn't look further than Bryson DeChambeau to see that. The single length brings consistency to your setup and swing. This enables one to strike the ball cleanly, maximize the coefficient of restitution (C.O.R), and boost distance. 
However, a shorter shaft often means less clubhead speed, and this is where amateurs lose distance with long single-length irons.
Rick Shiels explains in the video above that insufficient clubhead speed is delivered by your long irons, leading to minimal distance difference. 
For example, he achieved an average of 13-yards extra from his gap wedge up to 6-iron. Then, he only hit his 5-iron an average of 4-yards further than the 6-iron. In addition, his average 4-iron distance was 198-yards, 9 more than with the 5-iron.
Therefore, if a 5-wood is Shiels' next strongest lofted club, and he hits it an average of 220-yards, he is missing nearly 22-yards in his bag. The reason is that his same length golf clubs are not delivering optimal distance at the top end.
Do One Length Clubs Influence Yardage Gaps?
I have seen many comments of golfers claiming that one-length irons brought up yardage gaps in their game. Most of them complained about the issues with the long irons. 
As Rick Shiels explains, the problem stems from reduced clubhead speed to generate consistent flight. The reduced clubhead speed, coupled with off-center strikes, results in a loss of ball speed and total distance. 
Can You Buy A One Length Fairway Wood?
Yes, you can acquire a one-length fairway wood from a company called Pinhawk Golf. All their fairway woods are 41.5-inches to offer consistency in your long game.
Is Cobra The Only Company That Makes One Length Irons?
Cobra is not the only company that makes one-length irons. However, they are certainly the most reputable. Other brands that construct one-length irons include Orlimar Golf, WishOn Golf, and Pinemeadow Golf.
Should Beginners Play With One Length Irons?
One Length irons make life easier for beginners to set up. It promotes consistency and helps them repeat a fluid swing with long irons to wedges.
Should I Use Single Length Irons?
Using one setup and swing for all shots with your long and short irons will appeal to many golfers. The standard 7-iron 37-inch length shaft is probably the most preferred iron in any mid to high handicap golf bag.
Adapting to a more upright swing plane and lie angles will determine if One Length golf clubs will suit your game. The best way to find out is to play a round with a set at the driving range.
Will One Length Irons Improve My Game?
Your skill level and practice time will go a long way to resolving this question. The adaptation to the One Length shaft will require a few fundamental changes in the swing.
While it is true to say that hitting a 7-iron more consistently and accurately builds confidence, it also comes with a few drawbacks. Distance always plays a part in improving the golfer's game, but ingraining the thought process to swing a 4-iron like a 7-iron is difficult even for the better golfer.
Testing the irons on a range or playing 9-holes with a set will offer a good understanding of whether to switch or not.
Are One Length Irons Good For The High Handicap?
Many opinions abound about playing with One Length Irons. On the PGA Tour, only Bryson DeChambeau has ventured into using these irons, and now with increasing success, he has made them more popular amongst amateurs.
One setup, one swing sounds good and may well suit the high handicap golfer that tends to do this by default. Cobra Golf has a range of One Length irons that come with all the technology and playability to help the high handicap to improve their game.
Do Any Pro Golfers Use One Length Irons?
As mentioned earlier in this article, Bryson DeChambeau has been instrumental in putting these irons into the spotlight on the Tour. The clubs were built around his specification requirements by Cobra Golf after signing a sponsorship deal with him.
If there are other pro golfers out there using them on the Tour, their success has not come to light. There is no doubt that many of the younger generations have or will try them.
Understand that Bryson is a bit of a "tech geek" and has used his physics degree like no other in golf history. He also spends many, many hours on the range.
Can I Make Up My Own Set Of One Length Irons?
Making up a set of One Length irons is not a process of cutting all the shafts to a single length. Weighting in the head and the shaft require finesse and technical know-how.
Swing weight is very important to obtain the consistent performance and distance requirement on each iron.
The lie angle and gapping of the lofts have been a major problem for the manufacturers of One Length Irons. The bottom line is that it is highly unlikely that a home-manufacture One Length set of irons will prove consistent.
Final Thoughts
In summary, the concept of One Length irons is bound to attract more and more players to testing and playing with these sets. I suggest you start by looking into the Cobra King Speedzone.
If the best single-length irons may not suit your taste, read about the best game improvement irons.
Related Articles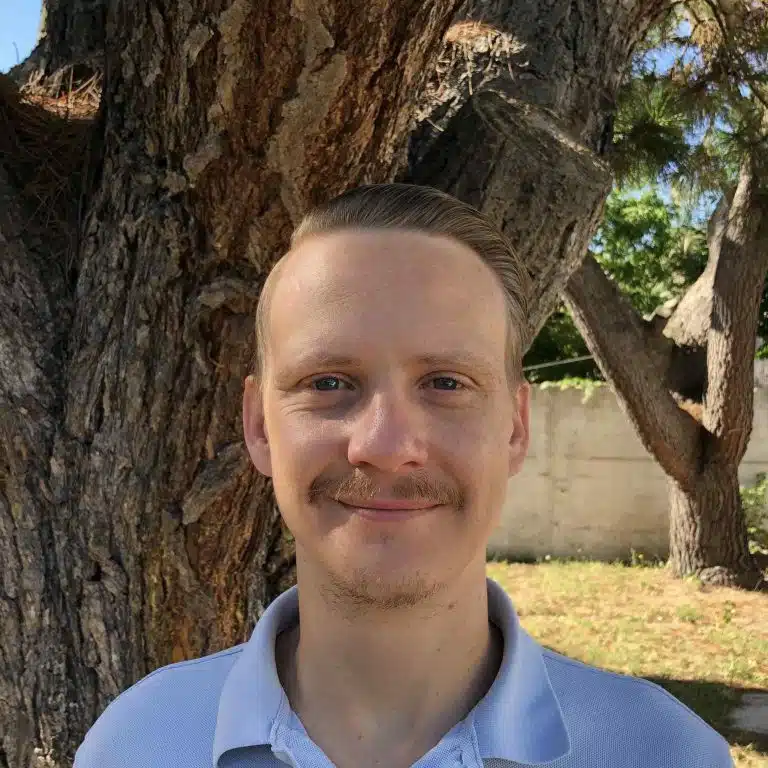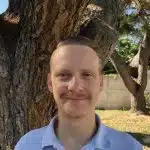 Matt is a seasoned golf equipment writer and sports fanatic. He holds a Postgraduate in Sports Marketing and has played golf for over 28 years.