Golf irons can be divided into four broad categories. Players distance irons best suit golfers who're looking to hit the ball further and gain more control over their fades and draws.
We will look at 12 of the best players distance irons available on the market today. These are for players with more skill and control.
Now if you're a mid to low-handicapper and you feel that you lack distance on your irons, this article is for you. The right equipment does matter and players distance irons can be a game-changer. It was for me, and for hundreds of other golfers, I know.
In this article, I'll cover the 12 best players distance irons along with their prices and top features, whether you should buy them, and when you should start using them. So, let's get started!
Top 3 Players Distance Irons 
Best Overall
Best Long Range Distance
Best Premium Irons
Cobra King Forged TEC
Callaway Apex 21
Titleist T200
Pros

Solid feel and build quality.
Great control and spin.
Increased ball speed and distance.

High ball speed and increased long distance.
The irons are designed using A.I. and include Tungsten technology.
Forgiving and precise centre of gravity for better launches.

High control and forgiveness.
Satisfying feel and sound.
Lightweight irons.

Cons

Expensive set of irons.
Slightly less forgiving.

Smaller sweet spot.
Colored shaft.

Expensive golf irons.
Average appearance for Titleist.

Price Score
87.3
84.2
90.1
Distance 
93.7
94.9
92.7
Forgiveness 
89.1
92.2
90.4
Quality
96.2
91.4
94.9
Rating
4.1 stars
4.4 stars
4.8 stars
Why You Should Trust Us
Our team spends thousands of hours trying out and researching golf equipment to help you take your game to the next level. Here's our product review process.
We're able to bring these reviews to you through the small commissions we earn if you buy through the links below.
How We Reviewed These Products
Golfspan only shares equipment and brands we trust.
An experienced golfer from our team thoroughly researched and evaluated the products we shared below. Then an editor reviewed and fact-checked the list. Finally, we conduct regular audits of our content to update and revise our reviews to ensure you're receiving the latest information.
To select these players distance irons, we considered these criteria:
Cost: Since players distance irons are high-quality and made for experienced golfers, they cost more than beginner iron sets. We've listed the best products on their cost-to-quality ratio.
Distance: The entire point of players distance irons is increasing your distance and range of irons. We've researched and listed irons that deliver the longest distance without compromising on forgiveness.
Forgiveness: Although, with increased distance, you compromise on forgiveness and need to have a great impact on every swing to prevent erros. However, I also researched the forgiveness of each iron in the products mentioned in this article.
Quality: You're spending a heavy amount purchasing the players distance irons, and you only deserve the premium product. All irons mentioned in this article are of high-quality and durable material.
What Are the Players Distance Irons?
Although most skilled golfers do not have a problem with distance off the tee, everyone wants some extra carry distance no matter what club they have in hand.
A players' distance iron provides consistency of distance for the ultimate in distance control and workability required by better golfers without sacrificing length. Forgiveness is not the major selling point that a manufacturer sells on their players' irons.
Forgiveness and feel are two opposite poles in golf. The more feel a club provides, the lower the forgiveness and vice versa. If forgiveness of a club is most important to you, players' irons are not what you should put in your bag.
Players clubs initially consisted of muscle-back irons and blades. The advancements in technology-enabled manufacturers offer a wider range of players irons at different levels of feel and forgiveness.
How Do Players Distance Irons Work?
When you enter into the realm of players' clubs you generally strike the center of the clubface more frequently than not. The smaller sweet spot provides you with sufficient ball speed but off-center strikes will leave you well short of your target and sting your hands for trying to play above your level.
At the player level, shot-making and shot-shaping are more important than forgiveness. Even at this level you still want to get as much distance as possible. The more distance you get, the shorter and more accurate the club you will play on your next shot. To understand golf club distances, you must also know the degrees of loft between your irons.
Experienced players want a good-looking blade-like club with a thin top line and a smaller head. This provides more feel of the small sweet spot. It is not advisable to change to players' irons if you are uncertain that you can play the shot required, whether it is a draw, fade, high, or low, on-demand.
At the player level, you will most likely be able to shoot at a specific point on the green rather than just accepting that you hit the center of the green in regulation.
Player distance irons aren't just for fast swing speed players. Swing speed only affects the shaft in use, not the type of clubhead that you play with. You may be able to work the golf ball and place it precisely with a slow swing speed.
Who Should Use Players Distance Irons?
Players distance irons are often compared with game improvement irons. If you're a beginner golfer or you feel improvement in your golf, game improvement irons would suit you better . I've used both kinds of irons and in my experience, golfers with handicaps above 10 should go for game improvement irons.
The players distance irons suit mid-hanicap to low-handicap golfers best. These irons are designed for less forgiveness and more distance control. Most players distance irons are blade irons which are naturally less forgiving.
When to Use Players Distance Irons?
I personally recommend getting players distance clubs once you're satisfied with your ball striking and you consistently keep hitting the sweet spot on your club head, but you still lack distance or control over your ball flight.
These irons will allow you to shape your shot and position yourself near the green or avoid obstacles in a more controlled manner.
Generally, if you're breaking 80, your skill level should be great to shift to players distance irons. However, once you make the shift, give yourself some time to adjsut to your new irons. It's completely normal to hit a few shanks and slices once you pick up new irons.
Top 9 Players Distance Irons 2023
Pros
Solid feel and build quality.
Great control and spin.
Increased ball speed and distance.
Cons
Expensive set of irons.
Slightly less forgiving.
Key Features
65 grams of tungsten for more stability.
CNC milled face & grooves.
Flexible foam inside the hollow club head.
Forged face cup design.
Forgiving irons that deliver distance as well.
Rating: 4.1/5
Cobra King Forged TEC One is a hollow body construction which is one of the best irons for distance and one of the most forgiving players distance irons. A players' iron with ample forgiveness all in one club.
A compact head with a thin top line is one of the traditional features of players' irons that remains steadfast in the Cobra forged irons. Foam microspheres are infused into the hollow body construction to create a soft feel off the clubface.
For increased distance and face flex, Cobra made the face of the Forged TEC irons ultra-thin allowing golfers to have more control over the shaping of shots.
The Center of gravity is lined up to the center of the face through the use of toe-biased tungsten weights. This adds distance and produces a higher ball flight.
A great combination of distance, feel, and workability makes the Cobra Forged Tec one of the better players' irons. As a bonus, it's also one of the best single length irons for low handicappers.
Cobra is one of the few companies offering their best irons in one length as used by Bryson DeChambeau.
Who's It For
If you prefer the look of a blade to the look of cavity-backed irons, the Cobra King forged TEC irons will appeal to you though some golfers will not appreciate the slightly thicker top line.
If you're a mid to low-handicapper and you're looking for one of the top players distance irons, this one's ideal for you.
Pros
High accuracy and sweet spot.
Buttery soft feel.
Beautiful clubs and high-end finish.
Delivers increased distances.
Cons
Less forgiving.
Slower swing speeds might find it challenging to adjust.
Key Features
Low profile tungsten weighting for a lower center of gravity and higher launch.
Speedfoam for a better feel and controlled face speed.
Forged hollow-body design with ultra-thin face for more feel, distance, and forgiveness.
Thru-slot speed pocket and progressive Inverted Cone Technology (ICT).
Rating: 4.8/5
TaylorMade offers two sets of irons that are among the best golf clubs for distance and are very competitive in the players' irons market. Both of these sets have stolen the hearts of golfers that want an exceptional-looking iron that performs fantastically.
For this piece, we will only look at the TaylorMade P790 irons which Dustin Johnson currently uses as well.
At first sight, you will believe that the P790 is designed with Tour players in mind, and you will not be too far off the mark since there are professional golfers that play P790 irons and the previous P770 models.
There is no lack of distance or workability when you swing the TaylorMade P790 irons. These are some of the longest players irons you can find. The best part is, you may even experience a touch of forgiveness as well.
Speedfoam is injected into the forged hollow body construction adding a solid feel off the face and extra distance. For a more balanced center of gravity and MOI, the tungsten weighting added by TaylorMade throughout the set enables a higher launch angle.
To add a touch of forgiveness, TaylorMade P790 players' irons come with progressive variable thickness patterns reducing the loss of distance in the unlikely event of a mishit.
Standing above the clubhead you will feel like a professional golfer with a slim topline and compact face.
P790 irons use the tried and tested TaylorMade speed pocket and Thru slot technology which provides the maximum forgiveness, you will experience on a players' iron without foregoing distance.
Read our detailed review of the TaylorMade P790 irons to make an informed purchase.
Who's It For
This is one of my personal favorite clubs. They look absolutely beautiful and suit any mid to low-handicap golfer who's looking for extra distance and some forgiveness too.
Pros
High ball speed and increased long distance.
The irons are designed using A.I. and include Tungsten technology.
Forgiving and precise centre of gravity for better launches.
Cons
Smaller sweet spot.
Colored shaft.
Key Features
Patented urethane microsphere technology and hollow body construction gives the ultimate forged feel.
Tungsten energy core (90 grams) improves forgiveness and launches.
A.I. design gives more spin and control.
Rating:4.4/5
Callaway set the standard for one of the best distance irons with the release of the Apex range in 2014. Manufacturers strive to compete with the Callaway Apex and the 2021 version continues the trend.
Apex irons are ideal for mid-to-low handicap golfers with the optimal mix of game improvement and players' features. Its cavity back offers forgiveness without sacrificing distance and feel when it matters most.
Below the face is a tungsten core to enhance the launch capabilities of the iron without forfeiting forgiveness.
The 2021 version of the Apex players irons are the first batch designed with the assistance of artificial intelligence creating the flash face with optimized loft.
Callaway spared no detail in the design of the Callaway Apex irons and still reap the benefits.
Apex irons are not made on the cheap and are not one of the cheapest irons on the market. But you pay for the quality and consistency.
If you're considering purchasing this club, here's a complete Callaway Apex 21 irons review you must check out before making your purchase.
Who's It For
Golfers that want forgiveness and long distances, you're in for a treat with the Apex irons. They look like blade irons, but they're not. And, you get a soft feel, forgiveness, and long ranges.
Pros
Power hole arrangement for maximum speed, distance, and forgiveness.
A lot of carry and high launch in these forged irons.
Low center of gravity and lightweight.
Cons
Not very recognized clubs.
Power holes might not be for everyone. Takes time to get used to them.
Key Features
Asymmetrical power hold arrangement designed by computer technology in 7-irons and higher.
Low center of gravity for higher launches and steeper trajectories.
Two-piece 8620 carbon steel for a softer feel.
Forged irons
Rating: 5/5
Wilson Staff stepped into the golfing industry in 1914 and has been creating high-quality golf products ever since.
Wilson Staff D9 Forged irons were launched in 2021 which replaced the D7 irons. The D9 irons are one degree stronger than their precessors, but because of a lower center of gravity, they deliver a higher and steeper shot which increases your chances of landing on the green from a distance.
Although these are players distance irons, you'll feel like you're playing with game improvement irons – which is not a bad thing. The D9 gives you a softer feel and a thin topline which suits better players.
These forged irons have an asymmetrical power hole arrangement which are urethane-filled holes for maximum face flex which also increases your sweet spot and results in more forgiveness.
The D9 irons are not the longest irons but they're not short on range either. You'd be surprised by the soft feel and sound when striking with these irons.
The Wilson D9 forged irons checks all requirements you need in a players distance irons and are one of the most underrated irons in my opinion.
Who's It For
The Wilson Staff D9 forged irons checks all the boxes required in a players distance irons. These are best for mid to low-handicappers who are looking for players distance irons with everything.
5. Honma TR21X – Best Underdog Irons
Pros
Exceptional club feel.
Delivers great distances.
You'll feel improved control.
Cons
Key Features
Larger chassis size.
L-shaped cup face.
Narrow topline.
Hollow body.
Rating: 4/5
Honma is relatively new to the golfing market but is very competitive in the players' distance iron market.
Its 2021 Honma TR21X irons are hollow head construction that is filled with foam to dampen vibrations, especially required on off-center shots, and increase the feel of the ball off the face.
Center of gravity and MOI can be controlled via tungsten weights, up to 73 grams, which can be placed deep and towards the back of the club head, providing a higher launch and more face flex resulting in more distance.
TR21X irons have a classic muscle-back forged iron appearance that is so sought after by experienced golfers.
Stepping away from the traditional naming conventions, Honma renamed the pitching wedge a 10-iron and the gap wedge an 11-iron.
Honma is not the most budget-friendly club on the market, so be prepared to pay a premium for their players' irons.
Future generations of Honma irons could improve the workability of the TR21X.
Who's It For
Honma clubs are unique and are known for their high-quality, durability, and consistency. I'd suggest mid to low-handicappers to go for these clubs.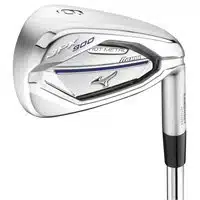 Pros
Extreme stability for the club face and a stronger loft.
Delivers accuracy and a great feel with a sleek look.
4335 Nickel Chromoly metal body delivers more strength.
Cons
Lacks some distance.
Quality can be improved.
Key Features
vibration controlling V-Chassis and deep CG design.
8% thinner club face than previous models.
White satin brush and finish to reduce sun glare.
Seamless cup face construction and a deep center of gravity.
CNC milled grooves for maximum spin.
Rating: 4.3/5
Another competitor from the Mizuno stable in the players' distance irons market is the JPX923 hot metal pro irons.
These are the latest Mizuno irons that came after the JPX921 Hot Metal Pro clubs but with slight differences.
The Mizuno JPX923 is easier to hit and has a stronger loft with a sleek look compared to its previous model. These irons smash long-distance shots with an outstanding feel.
The 4335 Nickel Chromoly is a new technology that focuses on your clubface delivering maximum distance and control over your ball. You get the electrifying ball speed and extra flux that you're looking for.
Furthermore, the use of Chromoly enables Mizuno to stretch the face to the thinnest possible thus saving weight to distribute to the back of the head for a low center of gravity.
Mizuno's Stability Frame with toe bias weighting increases stability enabling the JPX923 hot pro to launch mid-level for a penetrating ball flight. Accuracy is built into Mizuno's DNA and you will definitely experience that with the JPX923 Hot Metal Pro.
Don't be surprised if the JPX923 Forged steals your heart on the tee with its majestic looks.
Although it is a great club for feel and workability, the JPX923 Forged lacks a little distance and forgiveness compared to other players' irons on the list.
You can read this article if you're looking for the most forgiving irons or check out this article for the 7 best golf irons if you're looking for a general list.
Who's It For
If you're a high-handicapper and you're assuming players distance irons are challenging for your skill level, you could be wrong. These irons are suitable for high to mid-handicappers.
7. Ping I525 – Best Ping Irons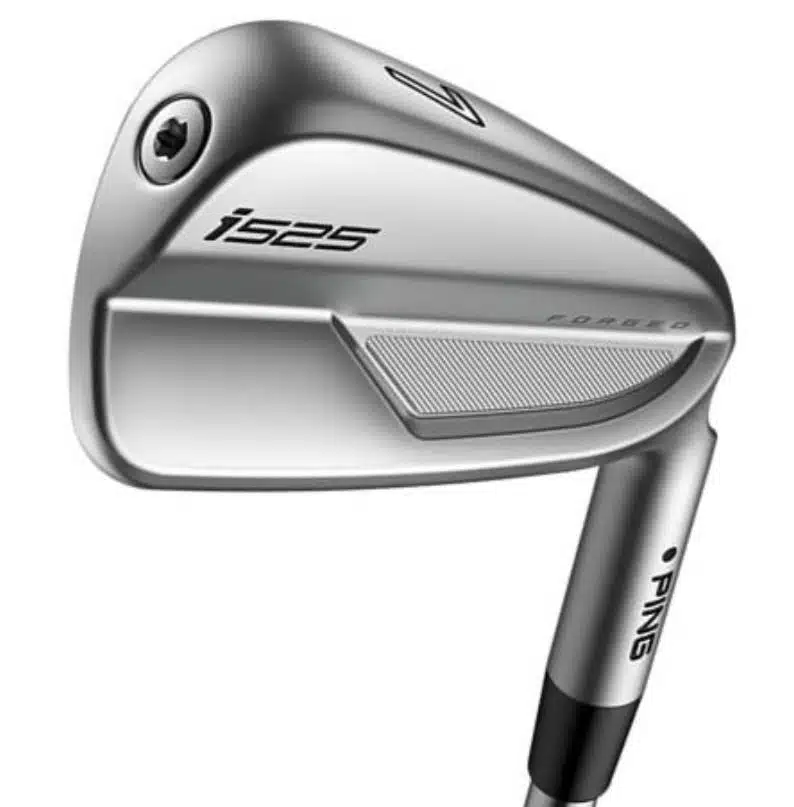 Pros
Enhanced spin, speed, and control.
Beautiful sound and feel.
High-end finishing and durability.
Cons
Expensive irons.
Not very forgiving.
Key Features
Muscle-back look and micromax grooves.
Forged and precision-milled.
Improved feel and sound.
Compact blade-style design.
Precision grooves on the club face.
HydroPearl Chrome 2.0 Finish.
Rating: 4.7/5
Ping provides a range of players' irons such as the iBlade and the i525 irons which are the successors of the 2018 Ping i500 irons. We will look at the Ping i525 irons in this section.
I525 irons were introduced in March 2022, and these irons provide you with a tremendous balance of precision and power from the hollow body construction with a thin maraging steel face offering maximum strength for amazing ball speed off the clubface.
Amazing features built into the clubface ensure that players get that extra distance they require of players' distance irons.
As a result of the hot pace off the face, Ping can rely on technology rather than a stronger loft to generate the height and distance required.
Visually the design of Ping i525 irons appears compact and leaves no doubt that it is a forged club that provides you with the feel and workability you require.
Ping i525 irons are not for you if forgiveness is higher on your priority list than feel and workability.
PING I59 Forged Irons, the replacement for the five-year-old iBlades, was released shortly before this article and will be reviewed at a later stage.
Read our Ping i525 irons review.
Who's It For
Ping irons are quite expensive and designed for excellent performance and great feel. These clubs aren't very forgiving, so it's best for low-handicap golfers that love Ping and want that premium feel.
8. Srixon ZX5 – Best Blade Irons
Pros
Explosive distance, control, and feel.
Increased spin.
Surprisingly forgiving.
Cons
Expensive irons.
Lacks some distance.
Key Features
Maximum COR because of the milled pattern.
Progressive grooves.
V-shaped soles.
Added tungsten which helps with MOI and forgiveness.
Rating: 4.8/5
If your mind is set on players' irons that look and perform like a blade, the Srixon Z5 is the club for you. As a bonus, Srixon adds a little forgiveness to the ZX5 to get you through those difficult days when nothing goes according to plan.
The great looks and added forgiveness make the design of the Srixon ZX5 appealing to golfers that are close, but not quite ready to play players irons while growing into complete golfers.
Having a hot forged face provides you with confidence that you can generate sufficient ball speed off the face to reach a great distance while tungsten weights lower the center of gravity and raise the MOI. The result of this technology is a high-launching iron creating maximum distance
Well-designed wedges with progressive grooves generate the right among of spin and feel around the green where it matters most.
Srixon is not the cheapest brand on the market, and they may lack some distance and workability compared to others in this piece
Who's It For
These Srixon clubs are ideal for golfers looking to get their first players distance irons.
Pros
Surprisingly very forgiving clubs.
Hits long-distance shots even for moderate swing speeds.
High-quality premium clubs that look beautiful.
Cons
Costs a lot of money.
The deep cavity design might feel different than traditional forged irons.
Key Features
Forged 455 face designed by A.I.
Hollow body.
Speed frame construction and a thin face for lightning-fast ball speeds.
Patented urethane microspheres that deliver ultra-soft feel and sound.
Dual tungsten weighting of 67 grams.
Rating: 5/5
The Callaway Paradym irons will catch your attention because of how beautiful these irons look. Apart from their appearance, these are one of the most forgiving and best-performing players distance irons of 2023.
Using A.I. technology, Callaway has designed one of their strongest forged iron face to date. These clubs have a hollow boy with a speed frame construction that smacks the ball so far even with a moderate swing speed.
The best part about these players distance irons is that they're forgiving like game improvement irons and deliver players distance results.
Callaway has designed each club with tungsten weights and a thin face to deliver higher launches, more speed, and consistent spin. However, a lot of golfers have felt a slight lack on the spin side of these clubs.
Who's It For?
There aren't a lot of players distance irons as forgiving as the Callaway Paradym. I believe that golfers with moderate to fast swing speeds can really capitalize on using these clubs.
Pros
Butter smooth irons and great feel.
You can customize your irons to your requirements.
Massive control over your shots and long distances.
Made in Japan and high-quality finishing.
Cons
More expensive than other players distance irons.
Classic and clean appearance of the clubs. Nothing flashy.
Key Features
Manufactured in Hiroshima, Japan.
Grain flow forged 4135 Chromoly face and neck.
Harmonic impact technology.
The hot metal blade design with a microlayer of copper.
Rating: 4.7/5
It's really difficult to not see Mizuno irons on a golf course. Mizuno has been manufacturing high-quality golfing equipment for golfers of all skills.
The Mizuno 225 players distance irons are relatively new clubs designed for skilled golfers that are looking to add distance and improve the feel of their shots.
You'll barely see any golfer regret buying these clubs because of how smooth they are. The Mizuno 225 features the hot metal blade design combined with COR hollow body technology for better playability and control.
These clubs have about 28.5g tungsten weights for higher launches, steeper angles, a stable ball flight, and faster ball speeds.
While these clubs will add distance to your shots, you'll need to hit consistent and accurate shots since you might not feel enough forgiveness in the Mizuno 225 irons.
Who's It For
The Mizuno 225 irons are ideal for skilled golfers that want the best performance with a great soft feel. I wouldn't recommend these clubs to beginners or high handicappers.
Pros
Patented urethane microspheres are up to the 6th groove for a better feel and consistent performance.
A lot more distance and ball speed.
Forgiving like game improvement irons.
Cons
Difficult to hit for high handicappers.
Not suitable for moderate to slow swing speeds.
Key Features
Hollow body construction and a beautiful players iron appearance.
Face cup designed using A.I. technology for more ball speed and consistency.
Up to 48g of precision tungsten weighting for higher launches and maximum control.
Premium shafts.
This is the third Callaway iron on our list and it's not because Callaway sponsored us. It's because they've earned their spot with their high-quality irons.
The Rogue ST Pro models have everything in the standard Rogue models and much more. Callaway states that these are their fastest irons currently.
These irons deliver performance like a players distance but have a feel and forgiveness of a game improvement. The clubs cost some money but not as much as a few other options on this list.
The Rogue ST Pro has a beautiful look in a hollow body construction and compact players shape. They're designed using A.I. technology and feature added tungsten for higher launches and control.
Callaway has a patent over their urethane microspheres which essentially absorbs the unwanted vibration you get on impact. The microspheres on these clubs go up to the 6th groove for maximum performance.
Rating: 4.5/5
Who's It For
Callaway designed the Rogue ST Pro clubs for low to single-digit handicappers. They're a little challenging to hit and suit more skilled golfers.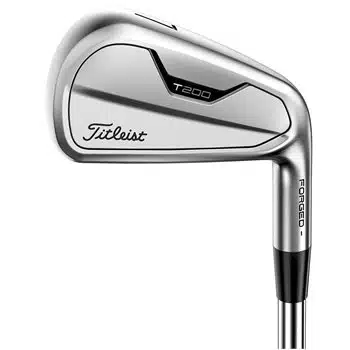 Pros
High control and forgiveness.
Satisfying feel and sound.
Lightweight irons.
Cons
Expensive golf irons.
Average appearance for Titleist.
Key Features
D18 density tungsten.
Forged face and forgiving performance.
Multi-material hollow body construction.
Rating: 4.8/5
No list of players' irons will be complete without at least on Titleist set of irons.
Titleist's T200 irons could be the players iron that is the closes in looks to a cavity back iron than any other players' iron.
Don't let the look mislead you, Titleist T200 irons are capable of working the ball around in whatever shape you prefer and can skillfully execute. With just a tad of forgiveness on those odd slight mishits.
You can expect the ball flying off the clubface super-fast without completely losing control and forgiveness.
The hollow head construction is filled with an extremely lightweight silicone polymer for the maximum forgiveness you can expect from a players' iron while retaining the workability of a players' iron. Furthermore, the silicon polymer assists Titleist in producing a great feel off the face.
The weighted design of the T200 helps in producing a penetrating ball flight.
Titleist has never been known to be the lowest priced in the market, and the T200 will not deviate from that tradition. Be prepared to pay a premium for the Titleist T200. And if the T200 irons don't make you want to splurge, you can review the 7 best Titleist irons in 2023.
Who's It For
For all Titleist lovers and skilled golfers, these players distance irons are one of the best from Titleist. If you want players distance irons, get the T200 iron set and watch your shots gain distance.
Our Choice
Although the competition is stiff in the players' distance irons category and all brands have their diehard supporters, we have to select a winner.
Cobra irons have gained popularity because of their quality, distance, and forgiveness in one iron set. We've selected the Cobra King Forged TEC as our overall winner.
These forged irons deliver consistent feel, quality, and distance without compromising much on forgiveness. You get all the distance you require, excellent workability, and ample feel to produce the ultimate in shot-making.
Add your opinion about our selection and which player irons you would like to see on the list in the comments section below.