There are two types of people in this world: blade people and cavity back people.
While many sets are starting to combine the two, if you ask around your local club, I think you'll find that everyone has a very definitive opinion regarding blades vs. cavity back irons.
Often these terms can get confused amongst each other or other terms meaning the same thing. Use this guide to clear the air and be knowledgeable about golf club blades vs. cavity backs on your Saturday foursome.
Are you considering blades or cavity back irons? Which is right for your game?
Read more to answer all your questions and help select the right irons for you.
Difference Between Blades And Cavity Backs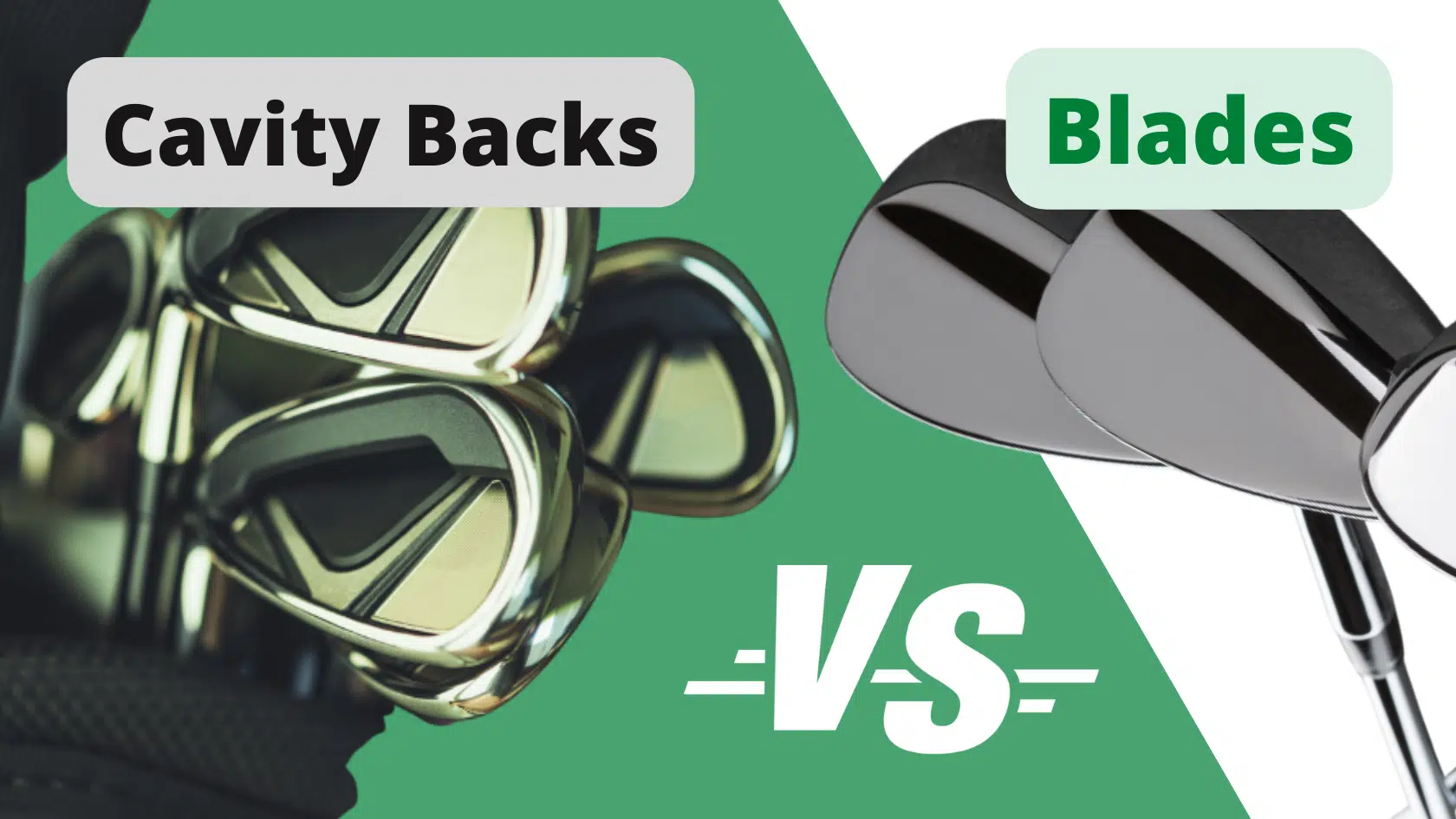 Cavity back irons literally have a cavity cut out of the back of them. This is to reposition the weight to the perimeter, opening up the clubface and increasing the sweet spot's size.
Blade irons are weighted low and directly behind the impact zone, which feels great when you hit it but not so much if you miss the sweet spot.
Cavity Back vs. Blades Feature Comparisons
Without hitting each one extensively, here's what you can expect from each aspect of your game when thinking about blade irons vs. cavity back.
Feel
For better feel, blades are a much better choice. They provide more precise information from each strike, so you know exactly what happened and how to fix it. Hitting the sweet spot on blades is the best feeling in golf. You can feel it immediately, and it gives you major satisfaction when you do so — talk about a confidence builder.
Regarding cavity back irons vs. blades, cavity backs have many more variations in design, but some designs provide an excellent feel akin to blades. A forged cavity back iron can look very similar at address but have a much larger sweet spot.
Some pro players and low-handicappers pass on this because they want to know when and where they missed the sweet spot.
Forgiveness
This is the category that cavity backs always excel. Recently, this theory has been taken to the extreme in the relatively newly designed game-improvement irons. The science supports that by putting weight around the perimeter of the face, your off-center hits will not be so damaging.
This design feature increases the bounce and flexibility of the face to help propel the ball at higher speeds. Some companies have taken this further by lowering the center of gravity and widening the sole. Both methods help to increase forgiveness even further.
The only downfall to this design is the lack of feel, so it's hard to tell how to improve your shots or if you are hitting the sweet spot or not. If you can't tell where you made contact, improving and having beneficial practice sessions is tough.
Control/Workability
Everyone has different play styles, you may want more control over the spin of your ball or you may value distance above all else. Some players, such as Bubba Watson and Justin Thomas, like to shape their shots more and require a club to help them do that.
Blades provide the most control over your ball flight due to their precision.
Cavity backs have bigger sweet spots, which means they are programmed to send the ball in one direction — straight. While you may be able to work a draw and a fade every so often, they are not equipped to handle a wide range of different trajectories.
A blade iron has most of its weight directly behind the face, which helps it create sidespin easier. This is either good or bad, depending on what kind of golfer you are and how much control you have over your swing.
Longevity
Getting a new set of irons is a joyous occasion, albeit expensive. Ensuring you get the right one will set you up for years of plummeting scores and enjoyable rounds with your friends and family. Cavity back irons are the top choice for players who want to have their set for a long time.
This isn't because blade irons are faulty or become less effective; rather, it's the player that changes. Even if you're good enough to play with blades now, will you still appreciate them if you don't golf as much? Having blades is not like riding a bike; extended layoffs will make you rusty, and blades are not forgiving to this at all.
Who Are Blades Meant For?
Golfers who will benefit most from blade irons will be those with a high level of comfort with their swing. Having the confidence to pass the club through impact at a precise point is a requirement for getting blades.
If you are currently using cavity back irons and want to switch to blades then your swing is established and the cavity back irons aren't providing a small enough margin for error. If you hit shots that you think are bad but turn out decent, then you may benefit from a blade iron vs cavity back.
Pros
Exceptional feel at impact
Easier to work the ball left and right
Club head glides through rough with little resistance
Shorter irons feel like wedges and help you hit more greens in regulation
Have better control over trajectory
Cons
Very little forgiveness on off-center hits
Typically more expensive
Harder to hit long irons
Who Are Cavity Backs Meant For?
Cavity back designs have a much broader selection, so it will be easier to find something that suits your game perfectly. Even low-handicap players use cavity back irons sometimes because the benefits are too great to ignore.
However, beginners and high-handicap players will improve their game most if they choose the correct cavity back iron. Casula golfers also love cavity backs because of their consistency. If you don't play often and just want to get out there with your buddies for a relaxing afternoon, then you're not concerned as much about improvement, which is totally fine.
Pros
More forgiveness with off-center strikes
Helps with hitting shots out of the rough
Makes hitting long-irons much more palatable
Controls trajectory and spin on all shots
Many different styles available
Cons
Very little feel on all shots
Hard to manipulate ball flight
Less touch with shorter irons
Blades vs. Cavity Back —Which Should You Use?
| | |
| --- | --- |
| Handicap | Recommended club |
| 0-8 | Blade |
| 9-15 | Combo Set |
| 16-20 | Cavity Back |
| 21+ | Game Improvement Cavity Back |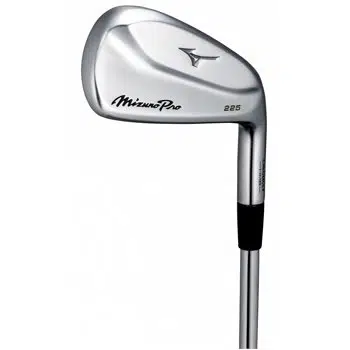 If you're a low-handicapper and have hit these irons before then, you're probably drooling just at the thought of them. They are gorgeous to look at, and past versions of this have been hit and used by hundreds of PGA pros even though Mizuno doesn't pay stars to use their clubs.
There are only a handful of brand ambassadors for Mizuno, but nothing like TaylorMade or Callaway. Mizuno prefers to let their work speak for itself and what great work it is.
All Mizuno blade irons are produced in Japan using their patent process that is not publicly known. The attention to detail and polished look are just a few things that make these legendary irons and have been for a couple of decades.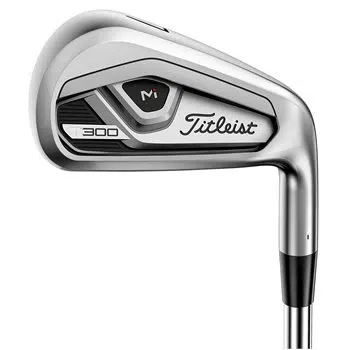 Titleist has some great blade irons that rival Mizuno, but they really impressed with this set that are clearly cavity back but display hints of blades. These are great for mid-high handicappers who want to improve but don't have the time to dedicate hours on the range.
Yes, there are tons of other cavity back irons out there, but these are the best because they have all the benefits of cavity back with the appearance of blades. Titlieist is also known for its customization program, so you get the most optimal specs to match your swing.
They have a slender profile which makes the ball look bigger at address. The genius happens behind the face where they have placed tungsten weights to improve forgiveness. This special tungsten is denser, so they can compensate for off-center hits without having to make the clubhead larger.
Definitions
These words get thrown around a lot if you hang out in any pro shop in the country. Unfortunately, not everyone knows their true meaning and the specific definition. You will notice that there is some overlapping of terms which is where the confusion arises when talking about blade vs. cavity back irons.
What Are Blades?
Otherwise known as "butter knives," a blade iron is distinctly thin and on all sides. The top line is razor sharp, and the sole is so narrow that stamping a number on it requires precise placement. You will also notice next to no offset. This is to help with controlling the club head through impact to manipulate the ball flight.
Examples:
What Are Cavity Back Irons?
This name makes a lot of sense once you understand it. The back of the club head has been hollowed out to move the weight from the center of the club head to the perimeter. This allows designers to place weights where they want to, so they can affect ball flight and launch angle. This also makes the face more springy for added distance.
Examples:
Muscle Back
Muscle back irons are the opposite of cavity back. There is a strong representation of weight behind the impact zone that is evenly distributed. You can have a muscle back iron that is not a blade, but you cannot have a muscle back that is also a cavity back.
Examples:
Game-Improvement
Relatively new to the world of golf, game-improvement irons are cavity backs on steroids. They take all the aspects that make cavity backs easy to hit and multiply them. The most defining characteristic is a thick sole. This helps get the ball in the air fast out of any lie. You will also find pronounced weight around the perimeter to create maximum distance.
Examples:
Forged
This term refers to a building process and less about structural design features. It means the club has been created from one piece of metal, and there are no parts that are glued together. This old-school method is still used today to give players the best feel possible, or the worst if you mis-hit them on a cold day.
Examples:
Should Beginner Golfers Use Blades?
The small compact head in the blade set is intimidating to the beginner.
When starting the priority for all beginners is to first make contact with the ball, and secondly to get it airborne.
Accuracy and distance will follow, but confidence in achieving the first two is paramount.
The larger sweet spot and head size make it easier to hit the ball in the air more consistently and will encourage the beginner to persevere.
Golf is a difficult game, and although the ball is stationary, it requires repetitive swing actions to improve the strike.
If tour players and low handicap amateurs have moved away from playing blades, surely it makes sense for the beginner to follow suit!
Do Blade Golf Clubs Go Further?
Manufacturers of cavity back irons have recently moved away from traditional lofts through the set of irons.
Distance is a key factor for prospective buyers of a new set of irons, irrespective of the playing ability.
With the larger sweet spot provided in the cavity backset and the fast face technology employed, it is possible to de-loft the irons to increase the distance without sacrificing playability.
Wider soles make the irons easier to hit from tight lies and the rough.
The CG is lowered creating an easy launch for high ball flight.
Traditionally the blade irons had a slightly higher loft than the cavity back irons and the CG was higher on the face.
The muscle back irons have more weight in the back of the head and provide a solid strike when in the hands of a good amateur or a professional golfer.
All things being equal, there is no doubt that the amateur golfer will not extract more distance with blades.
Distance is important, but to hit the ball far and into the rough or bush will not improve the scorecard.
The latest technology should be embraced by all amateurs and cavity back irons will prove to be the most consistent and provide the length all players seek.
FAQs
Are Blades Harder To Hit Than Cavity Back?
Yes, blades are harder to hit than cavity backs because their sweet spot is much smaller. Cavity backs can forgive mis-hits due to the added weight around the perimeter. This makes the face more flexible and able to correct off-center hits without losing too much distance.
Do Pro Golfers Use Blades Or Cavity Backs?
Pro golfers use both, sometimes even combining the two within the same set. It's not uncommon to see a pro with blades for their short irons and cavity backs for their long irons. This gives them maximum m control when around the greens and a little forgiveness when attacking from further out.
When Should I Switch From Cavity Backs To Blades?
You should switch from cavity backs to blades once you have a consistent swing and can strike the sweet spot often. Blades will help you gain more accuracy when going for greens and provide feedback on your less-than-perfect shots. This is helpful if you have time to visit the range and work out minor details.
Can A High Handicapper Play Blades?
No, a high handicapper cannot play blades. At the end of the day, it's your choice but thinking that you can start with the tougher clubs and get better is a falsehood when it comes to this game. You shouldn't just jump in the deep end. It will stifle your learning, cause you to dislike the game, and get very frustrated.
Do Blades Make You A Better Ball Striker?
No, blades do not make you a better ball striker, but they can help you become a better ball striker over time. To use blades, you should already be a competent ball striker looking to improve minor details about your swing. Blades will help you identify how you strike the ball, so eventually, you will become a better ball-striker
Conclusion
It's safe to assume that all irons have to choose a side in the battle of iron blades vs cavity backs. However, it's not as cut and dry as it sounds, as there are varying levels of each.
As we speak, manufacturers are working on ways to improve your game but, in doing so, tend to blur the lines between blade vs cavity back.
If you think of it more like a spectrum and less like a set-in-stone moniker, you'll have an easier time identifying each style. Whichever one you choose, be sure you are comfortable, and they look good to you. Confidence is key; you can't have that if you don't like what you see when you address the ball.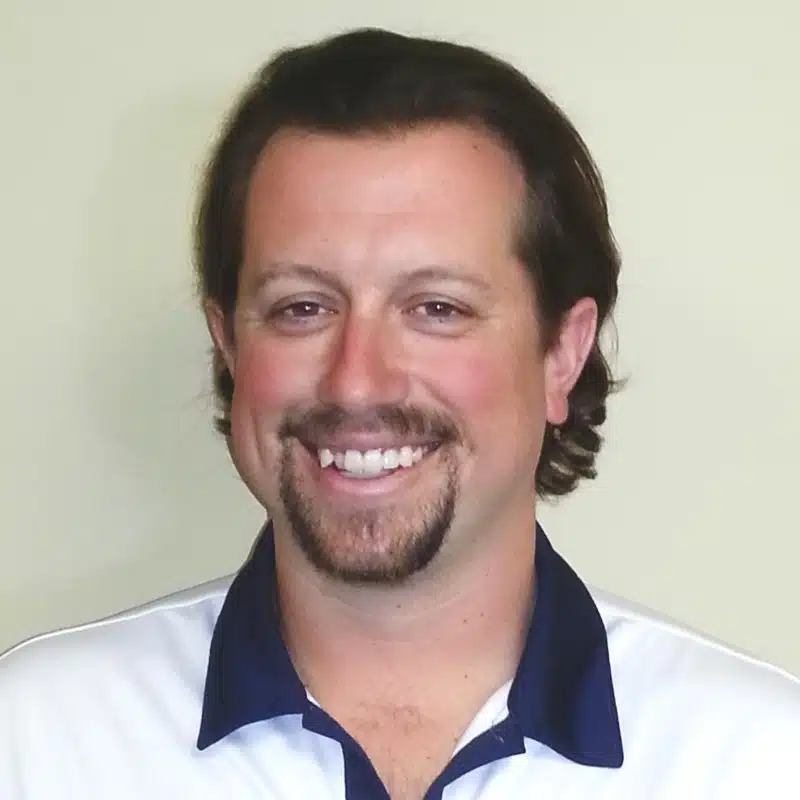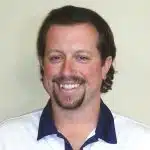 Clint became the Head Teaching Professional at one of Toronto's busiest golf academies and was featured on Canada's National Golf TV program, "Score Golf Canada," twice. He now tests and reviews golf equipment and gets to enjoy the game he loves whenever he wants while helping people lower their scores.