Many golfers, like me, find out early in life that golf is a passion and that they want to pursue a career in this great game.
If that's you, in this article, I'll show you that you don't need to be the next Tiger Woods to be a golf professional. You can learn to be a golf instructor and make a good living teaching the sport you love.
I was 15 years old when I knew I wanted to become a PGA of America member and a Golf Instructor. That was at a time when there was no Google and no iPhones and basically no easy ways of doing research like there are today.
I eventually found my way and became a PGA member in 2009. This was after majoring in Golf Course Operations. Then going through the PGA of America's Golf Professional Training Program (as it was known at the time). Eventually, I became the Director of Career Development for an accredited golf career college.
Of course, your journey to being an instructor could be different, and I hope to show you the way.
So, how does one become a golf instructor?
Read on to learn everything you need to know how to become a golf instructor.
What is a Golf Instructor?
To start, let's look at the question of what a golf instructor is. Or maybe you're wondering what a golf teacher is called?
A golf instructor is an individual who deeply understands the game, has the ability to demonstrate those skills, and mentor a student through their journey toward improvement. Sometimes called golf coaches, these individuals are professionally trained in teaching golf with the certification to prove it and get paid decent money.
Maybe you are hoping to become a golf instructor and wondering how to do it?
The most respected way to become a golf instructor is by way of the PGA of America's PGA Associate program. Through this program, you will embark on a journey that will make you the most complete golf instructor you can be. It will also make you PGA-certified, which is the gold seal in the industry.
The process, which we will explore in a moment, will take anywhere from three to nine years to complete. What's a golf instructor's salary? As a certified PGA Professional and Coach, you can make upwards of $150,000 or more as a golf instructor or coach.
What Skills Are Required To Become a Golf Instructor?
There are countless skills required to become a golf instructor. The following are examples of knowledge and skills you'll need. But don't let it overwhelm you. Below you'll learn the exact steps you can take to start on your journey to teaching this historic game.
Technical Skills:
The meat and potatoes of becoming a successful golf instructor lie in the technical skills and components of the game as laid out here. To be the most complete golf instructor, you'll not want to skimp on knowledge in the following areas:
Pre-Swing Fundamentals

Posture, Grip, and Alignment
Ball Flight Laws

Centeredness, Speed, Angle of Approach, Club Face, and Club Path
The Mechanics of all Areas of the Game

Full Swing, with all clubs and the various shot shapes and trajectories
Trouble Shots and Uneven Lies
Short Game: Pitching, Chipping, and Bunker Shots
Putting
Course Management Concepts as well as the Mental and Emotional Aspects of Golf
The Right Equipment To Help Different Types of Players
The Rules of Golf
Golf Fitness and Biomechanics
Soft Skills:
Beyond the technical skills required for becoming a true professional among the ranks of golf instructors, you must be able to possess a variety of soft skills. The areas included are listed below and cover a variety of personal traits found in all of the best golf instructors in the industry.
Love of the game
Honesty and Integrity
Accountability
Confidence
Creativity
Communication Skills– You also must have the ability to be engaging.
Ability to Build Relationships– It is critical to building a customer base.
Listening Skills– Much like your ability to communicate well, being able to really hear your students is critical.
Positivity– Golf is hard, so having a positive outlook at all times will help students when things get tough.
Ability to Delegate– As your business grows, you will need to have the ability to find the right help and delegate work and responsibilities.
Business Skills:
Lastly, let's look at some of the business skills required for success as a golf instructor. You may have a superior ability to teach all aspects of the game and work very well with people, but if you can not run a business, you are destined to fail.
Marketing– You must have the ability to let people know about your teaching business.
Budgeting– Like any business, you will incur costs in running a golf instruction business properly.
Accounting– Keeping track of your revenue and expenses, even if you have an accountant, is just part of running a good business.
Business Planning– Having the right plan and having the ability to adjust as needed is critical.
Employee Relations– Also, you'll want to be a good boss and leader as you grow.
How to Become a Golf Instructor: Step-By-Step Guide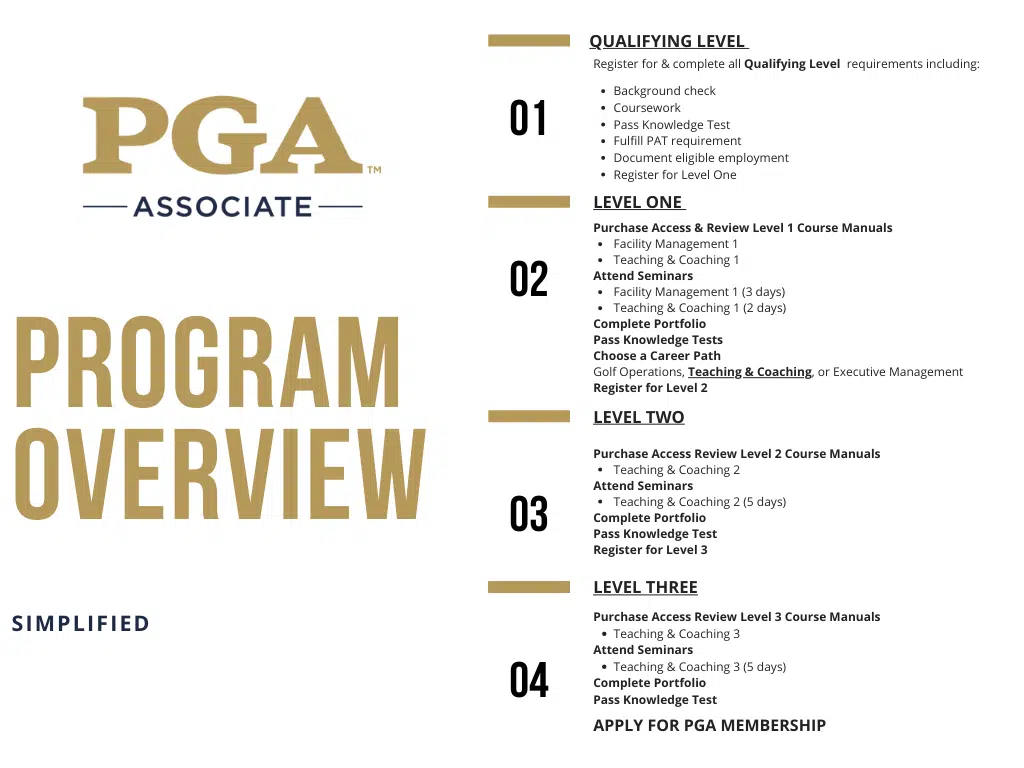 There are a handful of ways to become a golf instructor. But the most notable and respected way is to become a PGA of America member. I'll mention some of the other avenues that you could go with if the PGA route is not your chosen pathway (but I highly suggest you choose the PGA route). Let's cover that now.
The PGM Associate Program
The most current steps towards becoming a PGA Teaching Professional (Some information taken from the PGA of America website):
Background Check
All individuals registering or re-registering as an associate must complete a background check.
Qualifying Test
Applicants need to purchase and review the five qualifying level courses: Introduction to the PGM and the Golf Profession, PGA History, PGA Constitution, Rules of Golf, and Career Enhancement to be eligible to register for the qualifying test through the PGA's third-party test company virtually.
Player Ability Test (PAT) or Employment
One of the following must be completed within eight years before registering for the PGA Professional Golf Management Program:
Pass the 36-hole Playing Ability Test
Attempt the PAT at least once within the eight (8) years before registering into the PGA PGM Program. Within that time frame, shoot one 18-hole score in a PAT that is equal to or less than the PAT target score for 18- holes, plus 5 strokes. Note: Each PAT score has a validity date of eight years.
The 36-hole PAT remains valid during the Acceptable Progress period. To pass the 36-hole PAT, you must achieve a 36-hole score within 15 shots of the course rating. For example, if the course rating is 72, the target score for the 36 holes would be 159 (72 x 2 – 144 +15 – 159).
This competition is normally conducted in one day. Fewer than 20% of those taking the test achieve a passing score. Therefore, it is highly recommended that you work diligently on your game before registering for the PAT.
Eligible Employment
To be eligible to register as an associate, individuals must be employed in an eligible position within one of the approved PGA classifications. While many traditional golf positions may be top of mind, there are many non-traditional jobs that are also eligible positions, including things like tournament director, sales & marketing, hospitality, and even real estate.
NOTE: Participation in an amateur event will forfeit all work experience credits earned before the event.
Pay Associated Costs
Fees – must be current on all fees and costs associated with the application process (see the fee details at PGA's website).
Apply to the PGM Associate Program
Successful completion of the Qualifying Level, meeting the minimum Playing Ability Test requirement, a valid background check, and the Associate Registration form verifying employment must be signed and submitted by you before you are admitted to the PGA PGM 3.0 Associate Program.
These are the first steps to moving your way through the PGA's Associate Program, which is necessary to become a golf instructor. Then you'll start moving through the actual education portion of the program, which we will lay out next.
PGA PGM 3.0 Associate Program Overview
To be elected to membership once admitted to the PGA PGM 3.0 Associate Program, Associates will have to meet the appropriate milestones and requirements as laid out below. This is the nuts and bolts of the program's educational component and becoming a PGA Professional, which is necessary to become a PGA teaching pro instructor.
Acceptable Progress
Level 1 must be successfully completed within three years of the Level 1 Start Date
Level 2 must be successfully completed within three years of the Level 2 Start Date
Level 3 and election to PGA Membership must be successfully accomplished within nine years of the Level 1 Start Date
Associates have nine years from their Level 1 Start Date to graduate from the PGA PGM Program, meet all election requirements, and become elected to PGA Membership. Failure to complete Level 1 or 2 within three years of the Level's start date will result in suspension. Failure to exit suspension by the end of two years will result in termination from the PGA PGM Program.
Education – must have a high school diploma or be at least 18 years of age and have the equivalent of high school education.
Employment – A total of 28 work experience credits must be earned in addition to fulfilling the PGA PGM Program. (One credit per month while eligibly employed full-time.) 12 credits are awarded for a four-year college degree and six credits for a two-year college degree.
Amateur Status: Work experience earned before participating in an amateur event will be forfeited.
Completing PGA PGM 3.0 and all of its requirements will finally allow you to gain PGA teaching certification and Professional status and call yourself a PGA Instructor and Coach. This is the gold seal in the industry.
Another Avenue: The PGA University Program
You can earn a degree through the PGA University Program while becoming a Class A PGA member professional and an "Expert in the Game and Business of Golf." Those that go through the University program earn a Bachelor's Degree (types vary by school) and their Class A PGA membership.
The following Universities are PGM Schools:
Ferris State University (Est. 1975)
Mississippi State University (Est. 1985)
New Mexico State University (Est. 1987)
Penn State University (Est. 1990)
Campbell University (Est. 1999)
Coastal Carolina University (Est. 1999)
Methodist University (Est. 1999)
University of Nevada-Las Vegas (Est. 2002)
University of Idaho (Est. 2002)
North Carolina State University (Est. 2002)
University of Colorado- Colorado Springs (Est. 2003)
University of Nebraska, Lincoln (Est. 2004)
Sam Houston State University (Est. 2005)
Florida Gulf Coast University (Est. 2005)
Eastern Kentucky University (Est. 2006)
University of Maryland Eastern Shore (Est. 2008)
University of Central Oklahoma (Est. 2008)
Making your way through the PGA University Program not only grants you PGA Professional status and the ability to call yourself a PGA Instructor and Coach with a PGA teaching card, but also allows you to gain a Bachelor's Degree from one of the country's best universities.
Other Avenues to Become a Golf Instructor
There are a few other ways to accomplish the goal of becoming a Golf Instructor. Females looking to accomplish this goal would look towards the LPGA. There are other options for those looking to bypass the PGA or LPGA programs, but again, the gold seal, without question, is becoming certified through the PGA or LPGA.
The LPGA
The LPGA has a Teaching and Coaching division that oversees the business and teaching side of the ladies' game. Like the PGA of America, the LPGA offers a similar training program to become a certified LPGA member.
Professional Degree Programs
A handful of career colleges offer degree programs in Professional Golf Management. One of the most notable is the College of Golf at Keiser University. Their faculty is comprised of PGA Master Professionals and Certified PGA Professionals. At the College of Golf at Keiser University, you can earn an Associate of Science Degree in Golf Management online or on-campus in just 16 months.
Final Thoughts
Golf is big business. The game is booming, with 25.1 million on-course golfers playing 529 million rounds at a green grass facility in 2021. The golf economy is directly responsible for generating $84 billion in revenue annually, and indirectly, the game generates $192 billion. The game is responsible for 2 million jobs and $59 billion in total wage income.
For those looking to set a career path in golf and wanting to know how to become a golf instructor or coach, there is ample opportunity to do just that. I may be biased, but it may be one of the most rewarding career paths that exist…especially if you love the game.
FAQs
How Does A Golf Instructor Differ From A Golf Professional?
A golf professional, not to be confused with a professional golfer, is generally regarded as someone who makes a living in the golf business, either teaching or working in some aspect of running a golf facility or other golf-related business.
The largest and most notable organization that trains individuals to become golf professionals is the PGA of America. With 28,000 members, the PGA of America is the world's largest professional sports organization.
For a point of clarification, a Professional Golfer is generally regarded as someone who makes a living playing golf. A PGA Tour or LPGA Tour member is a Professional Golfer.
Do Golf Instructors Make Money?
Becoming a golf instructor or coach can be a very lucrative profession. Like anything, you get out of it what you put in. Salaries can range greatly, with a low-end figure for a full-time instructor being roughly $40,000 and for those more aggressive and business-minded coaches, well north of $150,000 a year.
Can I Teach Golf Without Being a Pro?
If you do not earn an income from teaching, sure. By USGA definition, however, you must declare yourself as a Professional if you earn money for teaching. In addition, if becoming a Golf Instructor or Coach is a career you are serious about, you would need to be professionally trained.
Is Becoming a Golf Instructor Worth It?
It is worth it if you love the game and helping people. As laid out in this article, however, you need to gain a great deal of knowledge about the game to be successful. For anyone that loves golf, is great with people, has a solid knowledge base about the game, and is open to becoming a lifetime learner surrounded by the beauty of golf, it really is something to consider.
How Long Does It Take To Become a PGA Teaching Professional?
To become a PGA Member Professional, once you get through the initial qualifying requirements and are entered into the training program, it could take you anywhere from 3 to 9 years. That 9-year mark is the furthest out the PGA will allow you to complete all your requirements.
Read More: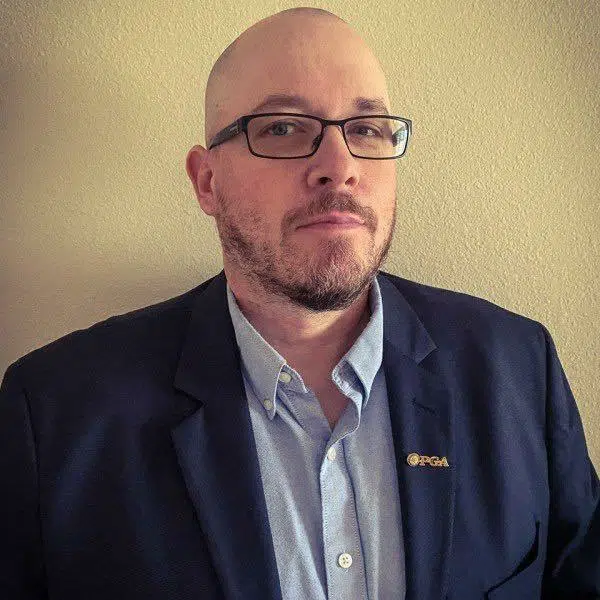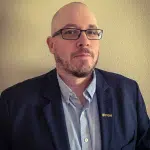 PGA Professional Brendon Elliott is the founder of Little Linksters, LLC, and its nonprofit arm, the Little Linksters Association for Junior Golf Development. He is the winner of 25+ prestigious industry honors, including the 2017 PGA National Youth Player Development award. Brendon is a respected coach, businessman, writer, and golf industry expert.