I know that my swing has improved like crazy by taking online lessons. Truth be told, there's always room for improvement in your golf game. Tiger Woods even retrained his swing at the peak of his career to lower his scores on the PGA Tour. Unfortunately, not all of us can pick apart our own game as he can.
Many of us simply can't afford to get private lessons either. But, there is hope. Online lessons are much cheaper than private lessons, and you can interact with them at your own time and pace.
You can also find private tutors online. While this method can be a little pricey, you know you're getting a premium product. They're usually still a lot cheaper than real-life lessons too.
In this article, we will weigh up some of the best online golf lessons, so you can find your perfect swing under smart tuition.
The Best Online Golf Instruction in 2023
Improve Your Swing – Rotary Swing with Chuck Quinton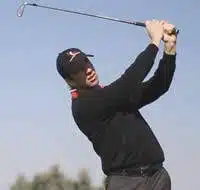 Pros:
Biomechanical science-based program
Fair pricing
Something for every skill level
Cons:
Some may not like the underlying DEAD system that Rotary Swing use
Rotary Swing has been around since 2004 and, during that time, has helped over 400,000 people improve their golf swing.
Chuck Quinton runs the Rotary Swing system and has done since the site's inception. Although the videos and course have updated over the years, the core concept remains the same—building a biomechanically sound and repeatable golf swing.
Working alongside Chuck is an entire team of doctors and scientists that worked together to create the perfect swing method. The Rotary Swing team includes a biomechanist, an orthopedic surgeon, and a neuroscientist.
The course content falls under three main areas:
The brain
The body
The physics
So, not only will you learn about how to improve your swing, you'll understand why the improved movement works and how to prime your thinking for the perfect swing.
They've built the bulk of the content around performing drills. Repeating movements is the perfect way to perfect a skill like a golf swing, so the drills work well. They call the system for their exercises the DEAD system.
Improve Your Swing – Rebellion Golf with Monte Scheinblum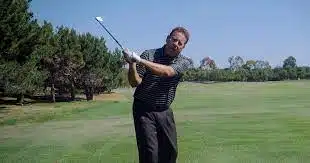 Pros:
Several ways to learn
Many different courses to suit any golfer
Competitive pricing
Cons:
An overwhelming choice of lesson types
Rebellion Golf is the brainchild of the very experienced golf coach Monte Scheinblum. The standout of the Rebellion Golf program is the variety of ways you can learn to improve your swing. Monte offers:
Single videos
A full improvement plan
Online lessons
Remote live lessons
Clinics
In-person lessons
He also has an informative blog for everything golf-related. With all of these available lesson types, there is sure to be something compatible with your learning style. It's also clever to use a combination of the learning styles.
For example, you could follow the improvement plan while also engaging with the single video online lessons for particular parts of your game that you know are weak. Then you could attend a clinic or book a remote live lesson to make sure you're converting the knowledge from the videos into an outstanding swing.
The online lessons are a great way to improve the exact issues with your swing. To do one, you must record your swing, send the video to Monte and then he will provide you specific feedback and make suggestions on how to improve. You'll then have one week after receiving feedback to ask Monte any follow-up questions.
Huge Library Covering All Aspects Of Your Game – Me and My Golf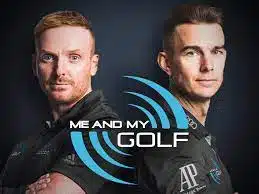 Pros:
Huge lesson library
Courses tailored to skill levels
Run by a team of expert golfers
Cons:
Having several instructors creates slight inconsistency between the lessons
Me and My Golf is incredible for many reasons, primarily the sheer breadth of lessons. They have 18 coaching plans, and each of those contains between 5 and 40 individual lessons. Me and My Golf tailored the coaching plans to:
Beginner
Intermediate
Advanced
All levels
They have excellent content for newbies and therefore provide some of the best online golf lessons for beginners.
No matter what aspect of your game you need to work on or what level you're at, you'll find something suitable in their catalog of lessons.
The individualization that the huge lesson library provides makes this one of the best platforms to use. The best part is that since each coaching plan is sold separately, you only need to buy the exact lessons you need to improve your game, saving you money.
The majority of the coaching programs last between 5 and 8 weeks that entail 20-minute weekly lessons. They cover everything from improving your drive to recognizing yardage. Once you own the program, you can repeat the lessons as often as you need.
Something to keep in mind with this program is that there are several different instructors. If you loved the way one of the instructors taught a program, you might not be able to get the same one on the next course. However, every instructor that works for Me and My Golf is top-notch and knows exactly what they're talking about.
Simple Step-By-Step Guides – The Art of SimpleGolf with Alex Forty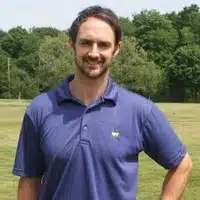 Pros:
Lesson paths aimed at novice, intermediate, and advanced golfers
Short and easy to follow lessons
Plenty of free resources
Cons:
A little on the expensive side
Alex Forty not only runs The Art of SimpleGolf but also has over 25 million views on his golf content on YouTube. So, you can get a solid understanding of what to expect behind the website's paywall by first trying out the free lessons.
This program is a little more expensive than some of the competition, but you do get a lot of content and plenty of personalized help when you need it. It's also backed by a satisfaction guarantee, so if you don't like the lessons, just cancel in the first month to receive a full refund.
The lesson style of The Art of SimpleGolf uses short, easy-to-follow tips and guides that make it simple to improve small aspects of your swing as you go. Concentrating on minute details at a time should help prevent many learners from becoming overwhelmed.
The Best YouTube Golf Instructors
All of the above lesson providers have their own YouTube channels. You can follow them to get started for free. But, there are even more coaches you should follow to capitalize on all the free lessons you can find. Here are a few of our favorites:
Rick Shiels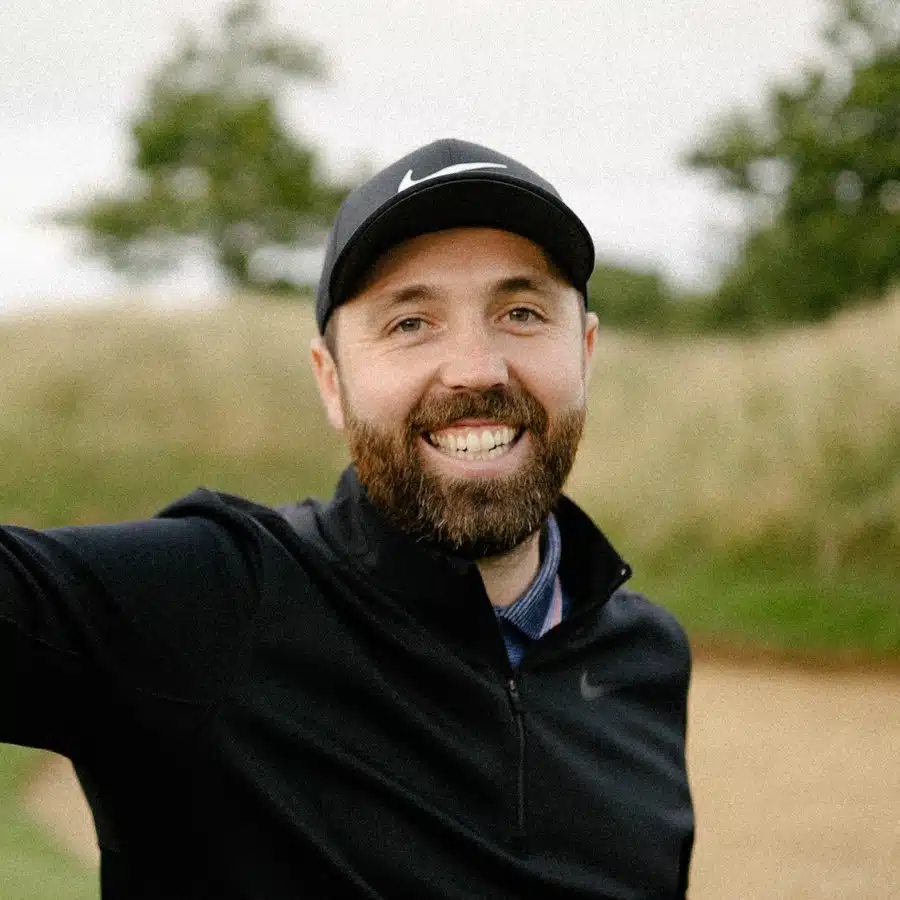 Rick Shiels is a PGA Tour coach with a huge following on YouTube. Many of his videos have soared past a million views. He also runs his own golf podcast. Through these two channels, he provides a ton of golf-related content. So, he is a great social media influencer to follow if you're a golf nut.
As he is a social media whizz, his lessons are much more engaging and interactive than many other top golf coaches. On the flip side of that coin, many people who just want to "get in and learn" without any of the extra fluff may get frustrated skipping through the videos.
The quality lessons also get a little lost under all the extra content. Yet, there is some absolute gold to be found if you're okay with doing some digging. He has some of the best online golf instruction videos that you can get for free.
The best way to take advantage of Rick's lessons is to run through the lesson playlists. The complete golf swing guide is the best for beginners and intermediate players. It covers broad stroke topics to improve your swing and is delivered in 6 short and digestible lessons.
Shawn Clement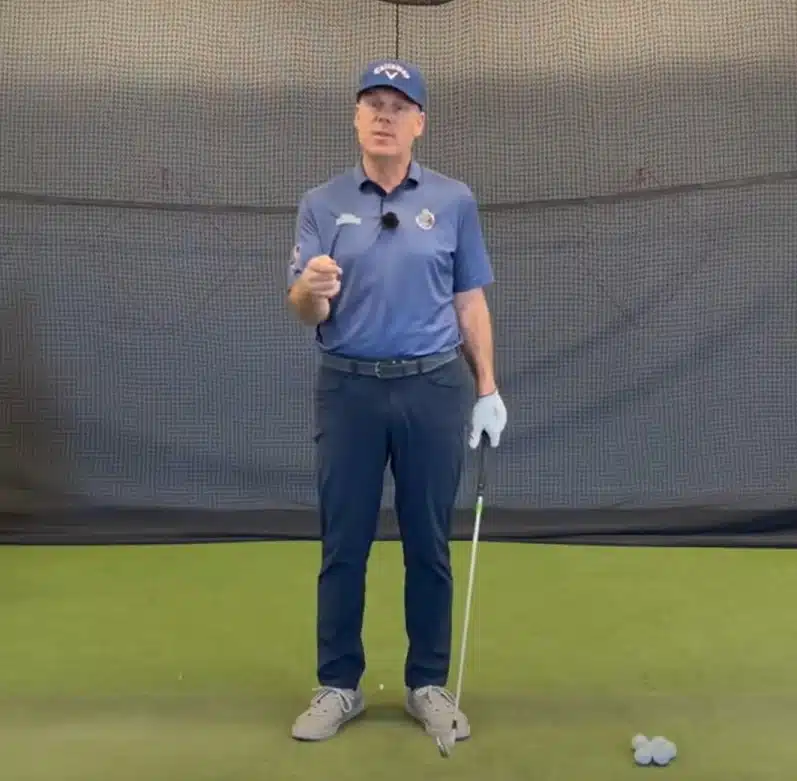 Shawn Clement is one of the longest-serving YouTube coaches, and as such, his channel has helped millions of golfers over the years.
Many of his lessons revolve around getting out of your own way, both in terms of overthinking your shots and the physicality of swinging the club. His philosophy is that golfers should focus on the body as a whole rather than the individual parts.
That being said, since he has such a huge library of lessons on YouTube, you'll still find videos of his that cover smaller details about improving your swing too.
Following Shawn Clements's guides should help you make your swing fluid, athletic, pain-free, and strong.
Danny Maude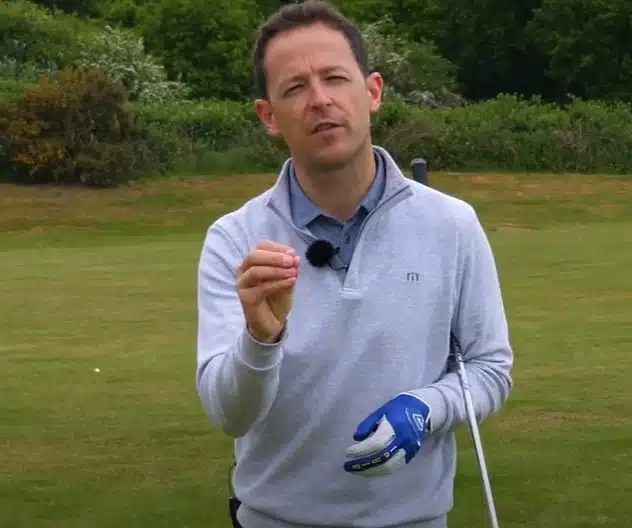 Danny Maude is a newer YouTuber but has been pumping out some seriously fantastic content for the last 7 years.
He's most well-known for his Catapult Driver Method that you'll find many copy-cats talking about on Youtube. But he also has a plethora of content that covers improving your irons swings and short game.
Most of Danny's lessons are under 12 minutes and focus on particular parts of your swing that you can work on. He also has plenty of content sorted into playlists so you can tackle more broad aspects of your game.
Other Ways You Can Improve Your Game
You can do a few extra things outside of watching lessons to improve your practice. Here are some of the easiest ways to improve your swing.
Training Aid Golf Clubs
When you watch YouTube lessons, you'll find that many of the coaches talk about using training aids to get smart feedback on your swing. Some of the best are Lag Shot clubs. They will provide feedback on your transitions and tempo to improve your accuracy and distance.
You can get an iron, driver, wedge, or a package with all three.
Visiting Virtual Golf Courses Get Your Own Golf Simulator
Virtual golf is not just a way to get a round in without suffering lousy weather. The cameras on the system can often provide real-time feedback about your swing. Then you can use that data to find the correct lesson from online providers to fix the issues that the system points out.
You could also buy golf simulator for your own home. Here are some of our favorite options for this:
Golf Bay Net Return Simulator
The Golf Bay Net Return is perfect for any serious golfer that has the space and budget to get one. It is a fully functioning golf simulator that would stand up to any other system you'd find in a virtual golf center. Work on your drives, chips, and putts with one simple-to-use system all from the comfort fo your own home.
Garmin Approach R10, Portable Golf Launch Monitor
With a top-of-the-line golf launch monitor like the Garmin Approach R10, you can work on your swing at home, in the driving range, or on the course. They have a built-in camera to help you get the most consistent swing possible by giving you direct feedback on your club speed, spin, swing tempo, and launch angle.
You can also play virtual rounds on over 42000 golf courses and enter into tournaments every week with leaderboards spanning thousands of users. These have ten hours of battery life and charge quickly so you'll always be ready for a virtual round.
Phigolf Mobile and Home Smart Golf Game Simulator with Swing Stick
The Phigolf Mobile simulator is a much cheaper option than the above two simulators. Although it doesn't provide feedback as accurately as the more expensive competition. It's a fantastic hassle-free way to work on your swing at home. It requires minimal setup and doesn't even require you to get out your golf clubs. You only need to use the Swing Stick for every shot.
Get to the Driving Range
Repetition is crucial for improvement. While it's great to think about everything you've learned from online lessons on the course, it's not as useful as repeating the stroke fixes. Being alone at the driving range also means that you can review the lesson as you practice and see what went wrong when you slice a shot.
Read and Interact with Golf Related Content
It's not just dedicated lessons that will help you with your swing. Listening to podcasts and reading the best golf magazines can help you master every aspect of golf. More exposure to quality content means golf is on your mind more, and you'll be more likely to focus on ways to improve.
Check out our reviews of the best golf books too.
How To Pick The Best Online Golf Lessons
While effective coaching methods vary between students, there are a few qualities that you should generally try to keep in mind before you check out our online golf instruction reviews.
Real-World Experience
Unfortunately for the sports education industry, anyone with a phone and a YouTube account can put lessons on the web.
While the best coaches don't have to be PGA Tour golfers, it's a good idea to check up on their experience as a golfer, teacher, or both. Do they have verified success with their methods?
Plenty of Content
If you are going to spend money on lessons, it's worth figuring out if the classes cover the parts of your golf game that need work. It also doesn't hurt to have access to more content than you need. This is better than not having enough content and running out in a few weeks.
What Suits You Best
No matter how good at golf a teacher is, you won't learn from them if you hate interacting with their content. For example, some instructors dive straight into the physical movements while others talk more about the mechanics and mindset associated with a good swing. Others you may just find plain annoying.
We'll give you a quick taste of some of the best online coaches and lessons, so you can jump straight into testing them out.
Best Online Golf Coaching Platforms FAQs
Are Online Golf Lessons Worth It?
Yes, virtual golf lessons are worth it. You can watch free lessons on YouTube that will definitely help you improve your swing. Paid lessons are also a great idea. Often, you can send a video of your swing to get invaluable advice back from one of the best online golf coach platforms.
Who Is the Best Golf Teacher on YouTube?
The "best" golf teacher on YouTube depends on your taste. There is a certain level of conjecture as to what makes the perfect golf swing, and different coaches have different approaches. You need to find one that works for you. With that in mind, here are a few of the best online golf coaches:
Rick Shiels
Shawn Clement
Chuck Quinton
Monte Scheinblum
What Should I Do Before a Golf Lesson?
You should keep a few things in mind before your first golf lesson. These include:
Know what you want to work on
Be ready to learn by warming up beforehand
Keep an open mind and try not to get defensive of criticism
How Often Should I Take a Golf Lesson?
You can usually take golf lessons online once a week. You need time to practice what you learned either in the driving range or on the course. Doing lessons too often means you won't absorb everything.
Get the Best Online Golf Instruction for You
Every course and YouTuber has a different approach to coaching. Every learner is different and it's most important to find a path of learning that resonates with you. Aside from picking the best online golf lessons, the most important thing is that you use what you learn. The term "use it or lose it" exists for a reason. We hope this helped you find the perfect coach to lower your score over time.
Chris's love for golf is only rivaled by his wanderlust. A globetrotter at heart, He's played courses throughout Europe and Asia and at home in NSW, Australia. With a writing style as smooth as his golf swing, he'll help you find the right gear to match your skill level and style. You can connect with Chris on LinkedIn.