We all love a little nostalgia from our childhood, and you'd be forgiven for thinking that the RAD in Radspeed is just a reference to the common '90s expression. After all, '90s kids are now the optimal target market for new golf clubs with all our expendable income.
However, the Rad in the Cobra Radspeed driver stands for something else. It signifies the Radius of Gyration that you'll learn more about later in this article.
Get ready to learn as we take a deep dive into the tech behind these drivers and just what makes their performance so "radical."
Cobra Radspeed Driver Verdict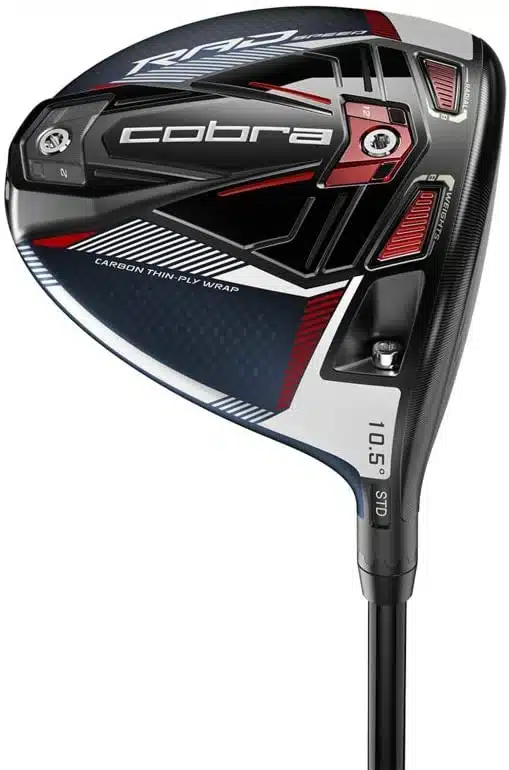 Cobra Radspeed Driver
Pros
Forgiving for a low spin driver
Adjustable weighing
Very aerodynamic
Looks great
Milled face
Cons
Flashy appearance won't suit traditionalists
Low spin design is not ideal for high handicappers
| | |
| --- | --- |
| Total Score | 87.5 |
| Star Rating | 4-stars |
| Distance | 88 |
| Forgiveness | 87 |
| Feel | 79 |
| Workability | 88 |
| Aesthetics | 95 |
| Price | 88 |
King Cobra Radspeed Driver Features
| | |
| --- | --- |
| Length | 45.25″ |
| Loft | 9°, 10° |
| Loft settings | -1.5° / -1.0° / -1.0° Draw / STD° / STD° Draw / +1.0° / +1.0° Draw / +1.5° |
| Adjustability | Back / Front |
| Year | 2021 |
Cobra Radspeed Driver Stats
| | |
| --- | --- |
| Spin | 1750 RPMs |
| Launch Angle | 12.5° |
| Dispersion | 5.63 yards |
| Club Head Speed | 109 mph |
| Ball Speed | 162.3 mph |
| Total Distance | 304.5 yards |
| Carry Distance | 282.3 yards |
RAD for Radius of Gyration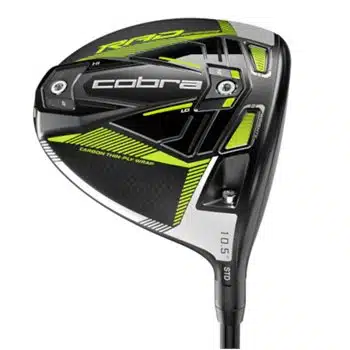 The Radius of Gyration is Cobra Golf's way of indicating that these are low center of gravity drivers. Much like the Cobra F9 drivers, they push weighting as close to the club's edge as possible to provide a maximum-sized sweet spot.
You need to keep in mind that three different models of the Radspeed move this sweet spot around the club to compensate for swing bias.
Radspeed for a standard swing
Radspeed XB for a rear weighted club (higher MOI than the standard version)
Radspeed XD for those with a heavy draw bias
While this is a new name for a well-established golf club engineering technique, the RAD technique is an evolution of older ideas. And it cements Cobra as one of the leading brands in low center of gravity golf clubs.
Cobra has been pushing this design style in their drivers for almost a decade now, since the FLY-Z. Every iteration of the flagship drivers from Cobra since has only improved upon previous designs. They're masters at designing low spin drivers that don't sacrifice much forgiveness.
T-Bar Chassis Design
The Cobra Rad driver chassis and crown are the lightest of any driver they had previously produced. That is largely thanks to the sophisticated T-bar construction. If you've taken a look at a cross-section of a Speedzone driver before, this should look familiar. Yet, the chassis in the Radspeed drivers are thinner and lighter by a whole 7 grams.
The crown and wrap are two ultra-light and thin ply carbon pieces which are also significantly lighter than any older Cobra drivers.
Cobra Radspeed Driver Weights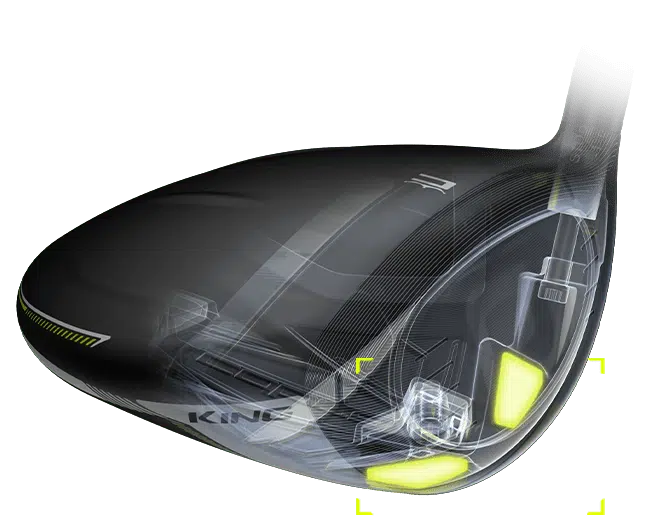 All the saved weight from the chassis and crown allowed Cobra to move the weight into the most appropriate areas to maximize distance off the tee and forgiveness.
The best part is that the weights are adjustable. Let's say you get the Radspeed XD, but you find that your draw bias is not as intense as it once was. You can swap the weights out to compensate for the changes to your swing.
Milled CNC Infinity Face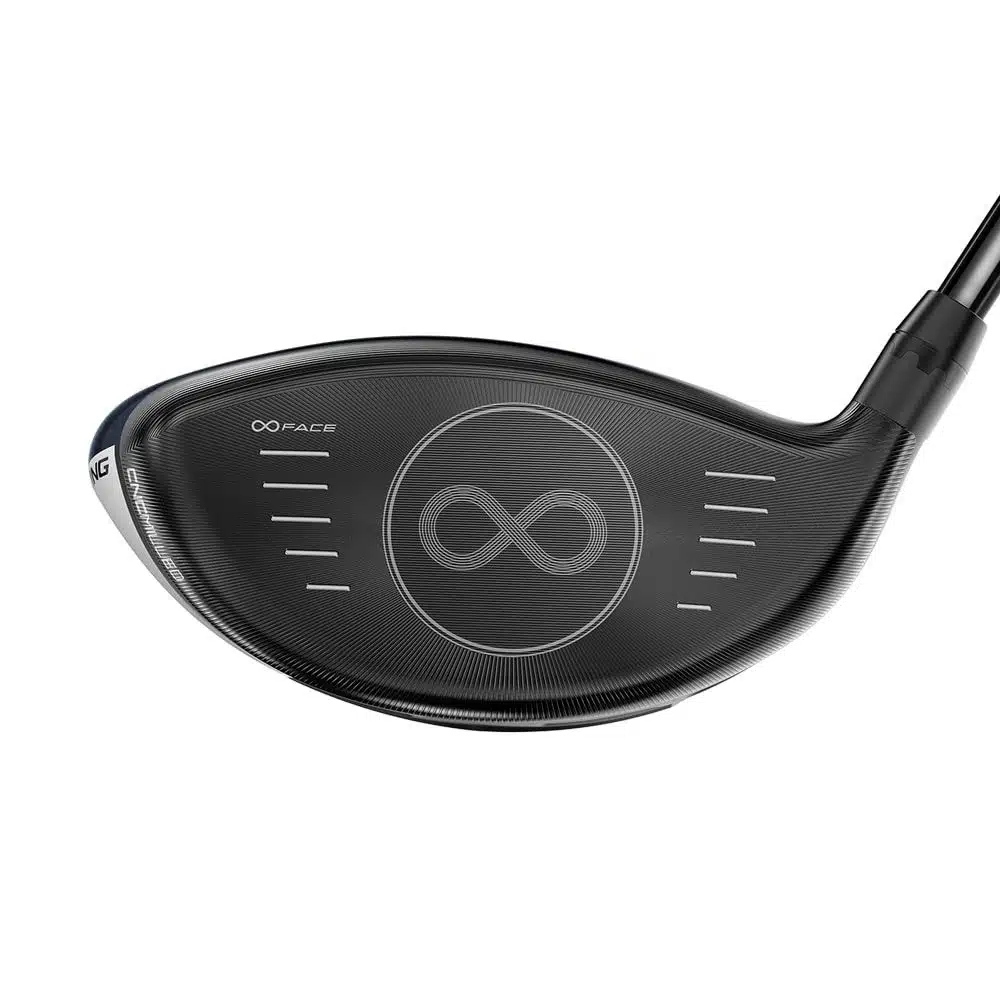 You should be familiar with the milled Infinity Face if you've been a fan of Cobra drivers for a while. Cobra prefers milling to polish as it allows for exact tolerances. Therefore it is a more accurate face to the initial design parameters.
Golf club engineers crunch the numbers for the optimal roll radius and bulges. The milling accuracy allows the face to be as close to the original intent as possible. There's less change between "identical" clubs than between polished drivers.
The updated design looks great and helps to move moisture away from the sweet spot. This helps create more accurate shots that aren't impacted by bad weather.
Cobra Rad Speed Driver Shaft Options
You can get the following stock shafts on the Radspeed drivers:
Fujikura Motore X F3
This is a shaft designed for tight dispersion with high launch and fast ball speeds. Available in:
Stiff – 68g
Regular – 67g
Fujikura Motore X F1
For fast ball speeds and further reduced spin. Available in:
Extra Stiff – 69g
Stiff – 68g
Project X HZRDUS Smoke RDX Blue
For those that have an aggressive swing profile and want a mid-range launch profile. Available in:
Extra Stiff – 64g
Stiff – 64g
Premium Finishes
There's no denying that Cobra makes some of the best-looking modern drivers. Yet, they won't suit everybody's golf bag. The Radspeed drivers are available in black with white accents and hints of your choice of yellow or red. The radial weights are also painted with the optional colors.
What Type of Player Plays the Cobra Radspeed Driver?
The standard Cobra Radspeed driver suits mid to low handicap players. Although these clubs have relatively good forgiveness for a low spin driver. They fall shorter in correcting mishits than equivalently priced high MOI drivers designed to create high spin off the face.
They are not ideal for beginners or high handicap players.
The Coba Radspeed XB compensates for this with rear weighting, so if you're a low handicap player and have your heart set on the Radspeed line, make sure this is the one you get. Yet, there are still more forgiving drivers you could try out first. Even the XD is better for those that slice a lot of drives.
As we briefly mentioned earlier, the Radspeed XD is for golfers with a draw bias. Still, it's best suited for mid to low handicap players aware of issues in their drive swing. The weighting is quite intense, so you may need to change out the radial weights if you only have a slight bias.
Wrapping Up the Cobra Radspeed Driver Review
In short, the Cobra Radspeed Driver is a fantastic option for those looking for a high swing speed and low spin driver that doesn't sacrifice too much on forgiveness. While some newer drivers outperform it, the Radspeed still competes at a fraction of the price.
Alternatives to the Cobra Golf Radspeed Driver
Since the Cobra Radspeed is over a year old now, they are getting harder to find. It also means plenty of other drivers have come along that operate within a similar space, including a newer Cobra driver.
Let's take a look at some of the competition if you can't get hold of the right Radspeed driver for your swing.
The New Rad – Cobra LTDx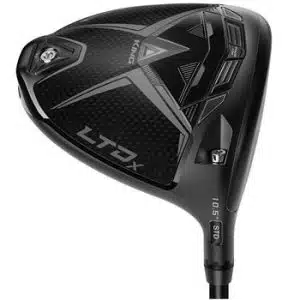 *Get 8% off from Global Golf with Code: GOLFSPAN
Pros:
A newer, better version of the Radspeed
Very forgiving for a low spin driver
Astonishing distance off the tee
Cons:
Expensive
Hard to justify the extra cost when compared to the Radspeed line
The Cobra LTDx is the newest low spin driver from the same manufacturer as the Radspeed. As tech for golf clubs improves exponentially, the LTDx does everything the Radspeed does but better.
With the Radspeed range, you can get a driver to suit your swing. We'd recommend the MAX version if you're a high handicap golfer. It will give you plenty of forgiveness and even a little extra distance because of the oversized clubhead with rear weighting.
In fact, the LTDx range is one of the most forgiving low spin drivers ever created. It's arguably as game improving as some older high spin drivers. So, if you love the looks and prestige of Cobra Golf drivers but lack consistency in your swing, these drivers are a great choice.
The only downside of the LTDx range is that they cost more than twice as much as a Radspeed driver. You'll often find the Radspeed line on sale now, which makes the price gap even bigger. Truth be told, the Radspeed drivers are still a great choice, and the savings you make mean that they shouldn't be ruled out.
Another Adjustable Option – TaylorMade Stealth
Pros:
Speed pocket keeps the ball straight on low face strikes
Improved swing speed for all swing styles
Huge MOI for unparalleled forgiveness
Cons:
Pricey
Only available in one color palette
The TaylorMade Stealth is one of the best drivers on the market. It features a revolutionary Carbon Twist face that allows for maximum forgiveness. The design of the face combats last-second wrist movements like no other club on the market.
It features a nano texture polyurethane cover over the face that optimizes launch and spin by creating the perfect amount of launch and spin no matter the conditions.
As if they were taking a leaf out of the long history of Cobra Golf's focus on aerodynamics, TaylorMade designed the stealth range of drivers to slide through the air with as little resistance as possible. The result is an ultra-fast swing speed.
These drivers are just as happy in a low handicapper's hands as on the PGA Tour. They offer enough control and forgiveness to suit almost any golfer. They are also adjustable.
Again, the drawback with the Stealth drivers is their price tag. They're much more expensive than the Radspeed range but are worth the extra spend if you can afford it.
A Similarly Priced Option – Callaway Mavrik
Pros:
Excellent quality to cost ratio
Readily available
Very forgiving
Perfect for mid to high handicap golfers
Cons:
High spin design won't appeal to low handicap golfers
The Mavrik line of clubs from Callaway includes irons and fairway woods. You could fit your whole golf bag with Mavrik clubs for the price of the more expensive drivers we mentioned above. Despite the relatively low cost of these drivers, they still come packed with plenty of premium features.
The AI-designed clubface offers plenty of forgiveness on slight misstrikes or awkward follow-throughs. That makes these an awesome option for high handicap golfers and beginners, especially when compared with the Radspeed line.
The carbon crown, aerodynamic shape, and Jailbreak tech also encourage a fast swing speed comparable to the Radspeed drivers.
If you're a low to mid handicapper and love the Radspeed drivers but are struggling to find a good deal, the Mavrik drivers are the best comparable option for a similar price.
Cobra King Radspeed Driver FAQs
Is Cobra Radspeed Forgiving?
The answer to whether or not the Cobra Radspeed is forgiving or not depends on your expectations. Regarding a low spin driver, the Radspeed is one of the most forgiving on the market. This is especially true for the XB and XD models. However, they are not as forgiving as high spin, game-improving drivers.
What Year Did Cobra Radspeed Come Out?
The Cobra Radspeed came out in January 2021. The Cobra LTDx drivers are newer, but the Radspeed still stands up surprisingly well in comparison.
How Do You Adjust Cobra Radspeed?
You can make Cobra Radspeed driver adjustments by changing out the radial weights. You can replace them to impact the spin level or compensate more for a draw bias. You will need the right-sized tool to remove the weights, but it usually comes with the replacement weights.
The Radspeed also has adjustable lofts. Here's a video guide on how to adjust your Cobra Radspeed.

Is the Cobra Radspeed Good?
The Cobra Radspeed was a class-leading driver upon its release in 2021. Although there are now better low spin drivers on the market now, this is still one of the best bang for the buck options available. It still stands tall against most of the more expensive competition.
Chris's love for golf is only rivaled by his wanderlust. A globetrotter at heart, He's played courses throughout Europe and Asia and at home in NSW, Australia. With a writing style as smooth as his golf swing, he'll help you find the right gear to match your skill level and style. You can connect with Chris on LinkedIn.