As the late legend Arnold Palmer once said, 'What other people may find in poetry, I find in the flight of a good drive.' Unfortunately, many beginners rarely experience this thrill because of ill-fitting equipment and swing mechanic flaws.
But if you have the right driver, even players with a slower swing can see the beauty that Palmer was talking about.
Players with slower swing speeds require a lightweight, flexible, and forgiving driver to generate consistent ball speed and spin for optimal yardage. But not every driver will be right for your game.
What's the best driver for slow swing speeds in 2023?
Read on to learn about the pros and cons, and see which will fit your budget.
Top 3 Slow Swing Speed Drivers
Best Overall
Best Budget
Most Forgiving
Callaway Big Bertha B21
Tour Edge Hot Launch C521
TaylorMade Stealth HD
Pros

Lightweight clubhead
Internal draw bias
Increased forgiveness

Value for money
Prompts straight shots
Forgiving

Extreme forgiveness
Fights slice
Generates straighter flight

Cons

Not well suited to players with a natural draw
Limited option on loft degree and shaft options specifically for the left-handed player

Reduced workability
Low CG may cause mid to fast swingers to produce excess height on each shot

Super expensive
The high draw bias can prompt a hook

Price Score
90.1
96.5
89.7
Forgiveness
93.2
88.1
92.4
Accuracy
94.6
90.2
93.5
Distance
88.4
87.8
90.1
Rating
4.5 Stars
4.5 Stars
4.5 Stars
What Is A Slow Swing Speed?
A golfer with a slow swing generates less than 83 mph driver clubhead speed. Golfers with these swing speeds are best suited with flexible club shafts and weaker lofted drivers, which provide maximum ball velocity and launch assistance.
What To Consider When Purchasing A Slow Swing Speed Driver
Clubhead Aerodynamics
When we think of this word, 'aerodynamics', we immediately think of sports such as cycling and its importance during grueling races such as the Tour De France.
In golf, it's not a matter of life or death. However, it is vital for folks with a slow swing speed. Manufacturers such as Ping employ turbulators or ridges on the crown of the G410 SFT clubhead, reducing drag or resistance and accelerating swing speed.
Shaft Flex
As a junior golfer, I had no interest in the technicalities of golf clubs. I just wanted to play. And play I did, except with my father's old stiff shaft clubs. These were produced for faster swingers, who generate over 97 mph clubhead speed with a driver.
So, you can imagine life was tough for my skinny frame. I felt like I was fishing with a heavy and stiff titanium pole. There was just no give.
When I switched to ladies' shafts, my entire game changed, and I managed to produce added distance. Golfers who swing below 83 mph are considered slow swingers and require the most flexible shafts on the market.
Golfers in this bracket are advised to start with senior flex shafts, which provide ample spring into the ball at impact. However, if you still deliver low ball flight and minimal yardage, consider ladies flex shafts.
Swing Speed vs Shaft Flex
| | | | | | |
| --- | --- | --- | --- | --- | --- |
| Swing Speed | > 105 mph | 97 – 104 mph | 84 – 96 mph | 72 – 83 mph | < 72 mph |
| Shaft Flex | X Stiff | Stiff | Regular | Senior | Ladies |
Brush up on your knowledge on this vital component of your golf club with our review of the best driver shafts for 2023.
Low Center of Gravity (CG)
CG affects your launch's sound, feel, and height. Manufacturers apply low CG to drivers for slower swing speeds to encourage a high launch for maximum carry distance.
The CG is a little box placed near the center of the driver's head. Golf brands often claim that their products contain super forward or back CG. However, the truth is that there is only so much space near the center where you can fit it.
Overall, if the CG is placed closer to the center, it will decrease the launch and spin. Conversely, when the CG is further back, it will promote a higher launch and a lot more spin.
Low Spin VS High Spin
Mid spin drivers are optimal for slow swing speeds due to the high launch and maximum carry. In addition, they decrease roll on select courses such as the legendary Scottish links, St. Andrews.
On the other hand, low spin drivers are ideal for high swing speeds and more powerful individuals searching for piercing ball flight and maximum roll.
Our Research Parameters
Golfspan is independent and not pressured by manufacturers to recommend products. We were not paid for the driver reviews in this article. These drivers were selected by our team, who have over 50 years of experience playing golf and hundreds of hours reviewing products. We may earn an affiliate commission when you purchase something through our retail links.
Read Next: Bookmark this post on the best golf balls for slow swingers. This will help you identify the best combination to optimize your distance off the tee.
The Best Drivers For Slow Swing Speeds In 2023
1. Callaway Big Bertha B21 – Overall Best Driver For Slow Swing Speeds
Lofts: 10.5 degrees
The Callaway Big Bertha B21 tops the charts as the best driver for slower swing speeds in 2023, thanks to its exceptional forgiveness, distance, and accuracy. The original Big Bertha hit our shelves in 1991 and kicked off the age of stainless steel drivers and oversized club heads.
Ely Callaway opted for the Big Bertha name because of its similarities to the WW1 German howitzer. It's more powerful and larger than anything else on the market.
I noticed that the Carbon Crown Clubface technology promoted rapid club speed and straighter shots. An internal draw bias combats slices and promotes long and straight ball flight through the air.
You'll notice that the tall triangular-shaped head is visually appealing with a slick and modern design. Finally, this is the best driver for 80 mph swing speeds in 2023, and I enjoyed the high launch and low spin of the B21, which stemmed from super low and forward CG.
Pros
Lightweight clubhead – A greater swing speed
Internal draw bias
Increased forgiveness
A unique combination of low spin and high launch
A tall triangular-shaped head
Cons
Not well suited to players with a natural draw
Limited option on loft degree and shaft options specifically for the left-handed player
Rating: 4.5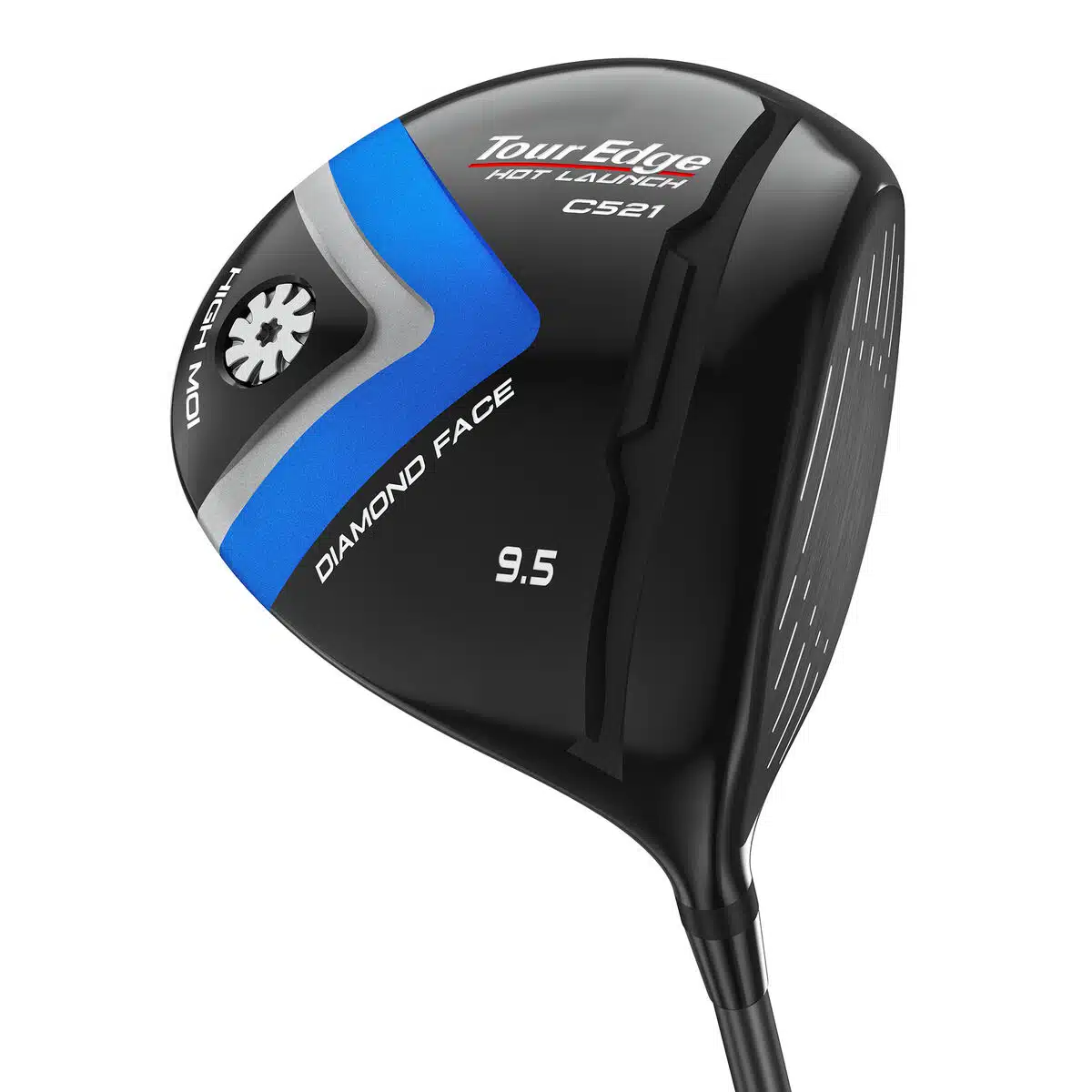 Lofts
9 degrees
10.5 degrees
12 degrees
The Tour Edge brand was founded on the vision that the superior brands were not accommodating the everyday amateur golfer. David Glod sought to produce a quality driver with modern specs at a very modest price point. The C521 continues that trend and earns our nomination as the best driver for low swing speed in 2023.
This driver possesses Diamond face technology that litters the clubface with 'mini trampolines' to maximize spring at impact. You will notice that this accelerates ball speed and restricts spin encouraging a powerful launch for optimal length.
Furthermore, I appreciated the driver's high MOI profile that saw it resist twisting during my swing, to produce straight, long shots. This suits the average high handicapper, who could use my time on the fairway.
Lastly, the value for money is its stand-out feature, which Glod envisioned for the brand in his garage three decades ago. The cost-to-quality ratio is unmatched for a mid-to-high handicap, low-swing speed golfer.
Pros
Value for money
Prompts straight shots
Forgiving
Rapid ball speed
Low spin
Cons
Reduced workability
The low CG may cause mid to fast swingers to produce excess height on each shot.
Rating: 4.5
3. TaylorMade Stealth HD – Best Slow Swing Speed Driver For Forgiveness
Lofts
9 degrees
10.5 degrees
12 degrees
Ely Callaway may have started the oversized titanium driver trend in the 90s, but the 2020s are all about Taylormade. The Stealth HD marks their shift toward carbon drivers, which offer exceptional feel, forgiveness, and ball speed.
Taylormade labels it 'The Carbonwood age.' This Carbon face features 60 layers of Carbon sheets to elevate the energy transfer to a larger area of the clubface surface. This assists off-center hits by producing an extremely forgiving and predictable feel.
The aerodynamic clubhead on this driver helped me create a super nippy swing speed. This baby is built for speed; you will experience this firsthand when you get your hands on it.
With an HD or High draw design, Taylormade employed a draw bias without losing forgiveness and MOI, something I appreciate intensely.
Finally, this seductive Taylormade driver will set you back more than the average driver. However, from my experience, it is very well worth it.
If you want to see a broader range of clubs in this category, head over to our guide of the most forgiving drivers in 2023.
Pros
Extreme forgiveness
Fights slice
Generates straighter flight
Aerodynamic clubhead
Consistent distance
Cons
Super expensive
The high draw bias can prompt a hook
Rating: 4.5
4. Cobra Radspeed XD – Best Slow Swing Speed Driver For Distance
Lofts
9 degrees
10.5 degrees
12 degrees
Cobra drivers have always been an enticing option for the average golfer. This stems from their innovative technology and devilishly good looks. The Radspeed XD driver is constructed to fight slices and produces rapid ball speed for superior length off the tee.
The Radspeed XD has an extreme draw bias owing to an additional 10 grams of weight in the club's heel. In addition, 14 grams of weight features at the back for elevated launch and forgiveness.
I found the CNC-milled Infinity face generated explosive ball speed across the clubface for optimal distance. The horizontal milling structure removes moisture from the surface and expands the active zone for rampant velocity on all strikes.
Furthermore, you will notice that the Radspeed XD features an aerodynamic clubhead designed to boost your club speed on the downswing.
Finally, one challenge I experienced with this club is the shiny clubhead that gives off a glare on a sunny day. This may be off-putting for some but appealing for others.
Pros
Optimal distance
Adjustable weights
Extreme draw bias
Modern slick design and look
Low spin
Cons
Minimal glare resistance
The high MOI reduces workability
Rating: 4
5. Ping G410 SFT – Best Driver For Slower Swing Speed Accuracy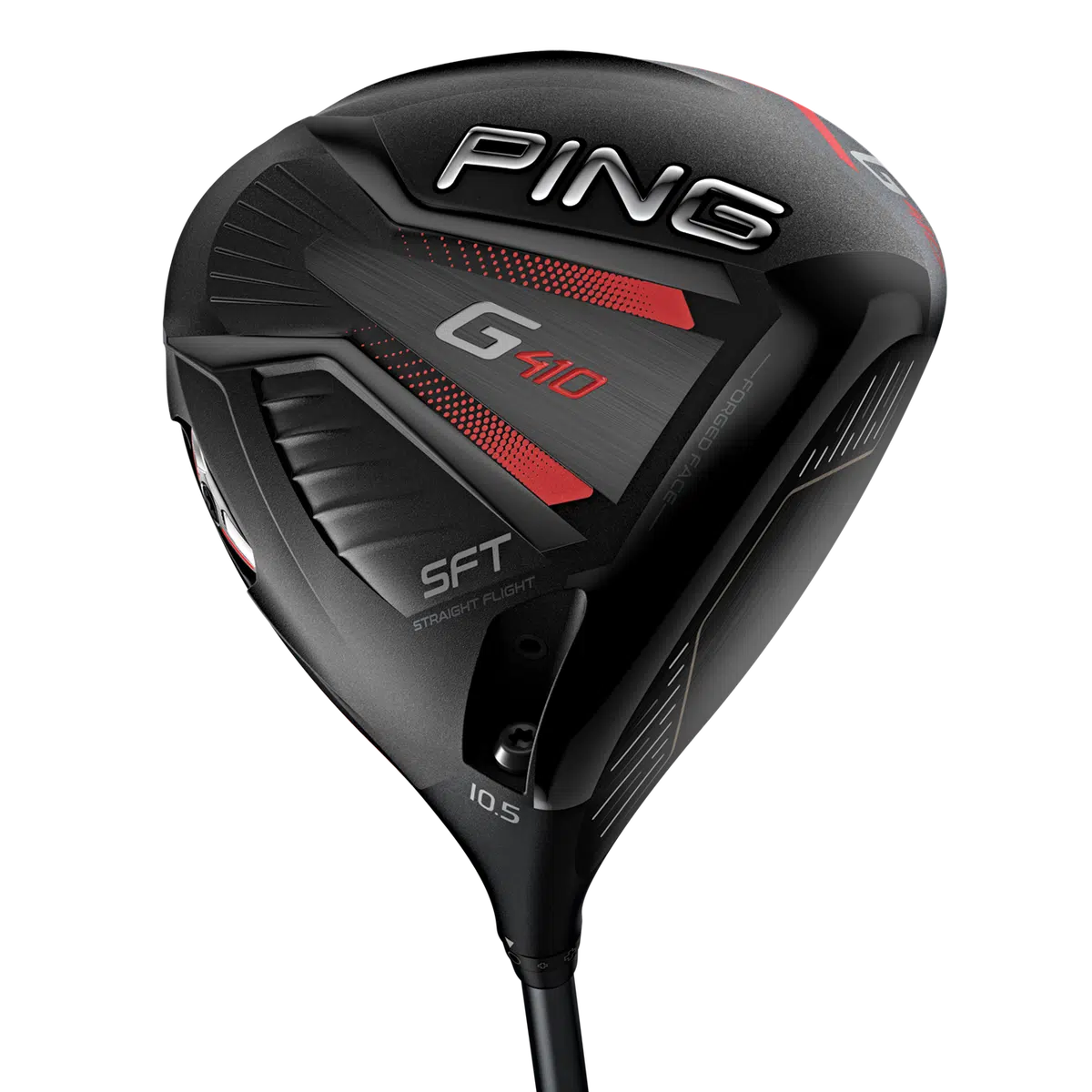 Lofts
Since Karsten Solheim tinkered with putters in his garage in the late 50s, he strived to construct forgiving clubs for the average golfer. Ping honors Solheim's wishes with the G410 SFT, our top pick for accuracy in 2023. Thanks to its maximum forgiveness, a high MOI, and consistent spin and speed.
This is an excellent option for mid to high handicappers that struggle with distance and need a larger sweet spot for off-center shots to maintain velocity and reduce spin across the clubface. Ping constructed this big stick for casual players who often miss the sweet spot and require elevated leniency.
In addition, SFT stands for Straight Flight Technology, which is brilliant for amateurs suffering from hooks and slices. This manipulates the direction of your launch to encourage direct flight for improved accuracy.
Furthermore, the driver is equipped with an adjustable hosel, enabling you to alter the loft and lie of the clubface for your preferred launch setup.
I enjoyed the look and feel of this club with the matte black finish, which reduced glare, a downside I noted with the Cobra Radspeed driver. I am not the greatest fan of the gigantic head, but I am a traditionalist. It is perfect for slow swing speed golfers who require an expansive sweet spot for consistent ball zip and spin.
Pros
Produces straighter flight
Promotes accelerated swing speed
Exceptional forgiveness
Retains ball speed
Generates mid to low spin
Cons
Provides minimal workability
The oversized clubhead may not appeal to all golfers.
Rating: 4
Lofts
9 degrees
10.5 degrees
12 degrees
We already know the impressive story of David Vlod and the Tour Edge brand, and the C721 is another well-priced, forgiving driver. It combines enhanced MOI with low spin and escalated speed to encourage accurate, long drives.
You will notice that the Diamond Face 2.0 resurfaces on the C721, this time with 7 distinct layers and 43 diamonds behind the clubface. Tour Edge claims that the Diamond face has decreased the thickness by 20%, which I noticed created more ball speed and a hint of extra forgiveness.
The engineers employed Ridgeback technology and Dual carbon wings to bolster the stability of the clubface leading into contact. As a result, it increases MOI to encourage a square face at impact for straight, accurate drives.
Pros
High MOI
Promotes an elevated launch
Generates straight ball flight
Accelerated velocity across the clubface
Adjustable hosel allows you to alter the loft and lie of the clubface
Cons
Restricts your ability to shape shots
The slight offset is unappealing at address
Rating: 4
7. TaylorMade SIM 2 Max – Best Adjustable Slow Swing Speed Driver
Lofts
9 Degrees
10.5 Degrees
12 Degrees
Adjustable drivers allow golfers to alter the loft and lie of the clubface to generate your preferred launch. I suggest the TaylorMade SIM 2 Max is for the best adjustable slow swing speed driver.
Besides its adjustable hosel, the Taylormade Sim 2 Max driver pushes the legal limits of ball speed, thanks to the Speed Injected Twist face. As a result, you produce maximum distance on the golf course, positioning yourself optimally for your approach shot.
In addition, a Thru-Slot Speed Pocket boosts the flexibility of the clubface to ensure accelerated pace on low-face hits.
Sticking with speed, you will notice that the clubhead slices through the air and promotes an impressive pace on the downswing. TaylorMade engineers made this possible thanks to the Shape In Motion Inertia Generator. Plus, the Inertia Generator reduces the clubhead weight, enabling engineers to position the CG low and deep.
Finally, the TaylorMade SIM 2 Max is constructed with a draw bias profile to fight slice sidespin generated by high handicappers. Although you have 3 lofts to choose from, I suggest you stick with the 12-degree setup for an easier launch.
Pros
Increased forgiveness
Promotes a high launch
Combats slice side spin for straighter shots
High launch
Consistent distance
Cons
Prevents you from shaping your shots
Similar technology to previous TaylorMade models
Rating: 3.5
Lofts
9 Degrees
10.5 Degrees
12 Degrees
The Callaway Rogue ST Max is the latest release from the behemoth brand created to maximize clubhead and ball speed for optimal distance off the tee. The aerodynamics of the driver's head and its clubhead speed stood out to me as the most impressive features.
Callaway engineers stuck to the faithful Jailbreak Bars and a Carbon fiber crown, which I found on the Big Bertha. The difference is that the Rogue ST Max has a carbon fiber sole to accommodate the 26-gram Tungsten weight, positioned in the rear part of the club head.
Like the Big Bertha, this modern model offers a low CG for a high, powerful launch. However, the spin rates differ. The Rogue ST Max has a higher spin rate, but the distance is on par.
In my experience, the Callaway Rogue is less bulky and awkward than the Big Bertha, which suits a wider range of players, specifically mid to low handicappers. The semi-draw bias fights slices but enables an additional element of workability to the ST Max D.
If you are torn between the Rogue ST Max and the Big Bertha, you will enjoy greater mercy from the latter. However, golfers seeking more workability and versatility will enjoy the reduced draw bias of the ST Max.
Pros
Maximum forgiveness
High launch
Rapid ball speed across the clubface
Enhanced MOI
Promotes straight ball flight
Cons
Super expensive
The wrench is not included by Callaway
Rating: 3.5
10. PXG 0211 – Best Feeling Slow Swing Driver
No products found.
Lofts
9 Degrees
10.5 Degrees
12 Degrees
PXG has a relatively short history compared to its competitors with generations of experience. However, the new kid continues to impress and align their products with the best in the industry. The PXG 0211 earned my respect as the best feeling slow swing speed driver because of its impeccable Honeycomb TPE insert.
I found that the insert drowned vibrations on off-center strikes to protect my hands and ensure a soft, comfortable feel. In addition, it amplified the acoustics to produce a deafening sound at contact.
Furthermore, the 0211 is incredibly stable and durable because of its Hybrid Crown construction and Railed Sole Geometry. In addition, the sole construction increases MOI to help keep the clubface square through contact for enhanced accuracy.
Finally, PXG opted for a high-speed Ti412 titanium clubface, which stiffens the structure, prompting escalated zip and limited spin off the clubface. These characteristics combine to produce consistent distance for the slower swinging golfer.
Pros
Excellent value for money
Super forgiving
Soft feel
Amplified acoustics
Accelerated ball speed
Cons
Precision weighting technology weights are not included in the sale
Minimizes workability
Rating: 3.5
10. Wilson D9 – Best For Accelerated Ball Speed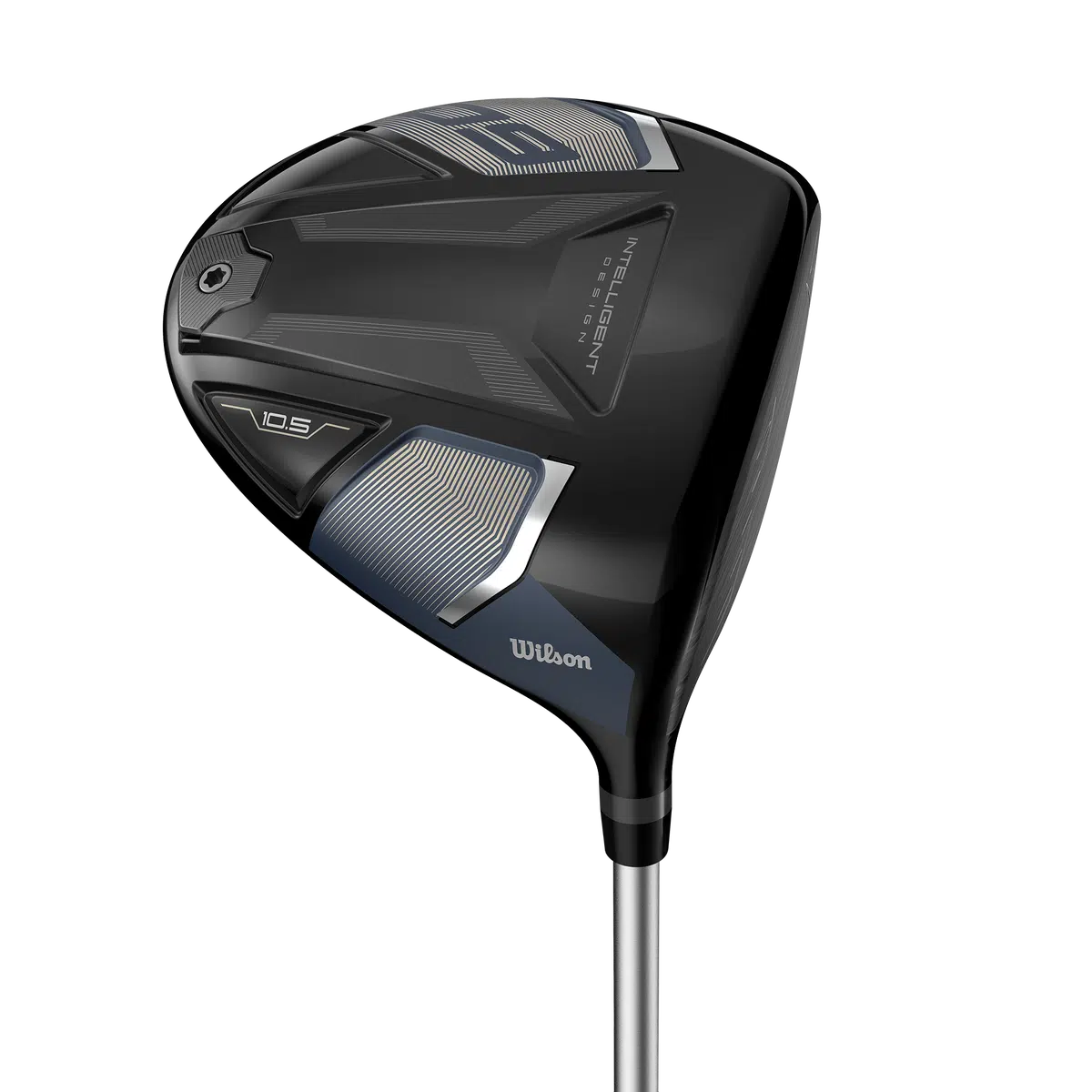 Lofts
9 degrees
10.5 degrees
13 degrees
Wilson is one of the oldest and most reputable brands in the modern game of golf. I have always appreciated the company's commitment to producing game improvement equipment for improved results. The D9 driver earns the final spot on this list for its increased ball speed off the clubface.
The Wilson D9 driver features Peak Kinetic Response Clubface, the most advanced technology ever used on their drivers. It also features different weight options sitting in the back of the club head to assist a high launch angle and a clean ball flight.
I found that the Titanium clubface worked well to accelerate ball speed and lower spin for added length off the tee. Plus, it promoted a high, powerful launch, making it easy for you to get the ball airborne.
You will also notice that the club head is semi triangular and semi-round, which I enjoy on a driver. That is because of its aerodynamic prowess, balance, and lightweight, which helps slow swingers accelerate club speed.
One potential threat is the super high ball flight that the driver produces, which can cause faster swingers to balloon shots. However, this feature makes it easier for high handicappers to consistently launch their ball for optimal carry distance.
The final feature worth mentioning is the price point of this driver. It is moderately positioned in the market and offers excellent value for money based on its durability, forgiveness, and consistency.
Pros
High launch and ball flight
Delivers rapid pace across the clubface
Accelerates clubhead speed
Forgiving
Moderately priced
Cons
Traditional sound due to the thin aluminum and titanium face can be off-putting for some
No adjustable hosel
Rating: 3.5
FAQ
What Shaft Is Best For A Slow Swing Speed?
A graphite senior flex shaft is best for slow swingers who swing a driver below 83 mph. However, if you find the senior flex too stiff, I recommend testing a ladies flex shaft. Conversely, should a senior's flex prove too flexible, try a regular flex construction.
I suggest getting fitted and analyzed by a professional if you are uncertain about the correct shaft. It is not the cheapest endeavor, but the investment will yield rewards in the long term.
What Is The Best Driver For A 85 Mph Swing Speed?
The best driver for an 85 mph swing speed is the Callaway Rogue ST Max. At this rate, you are considered a moderate swinger. Therefore, you require a consistent ball speed, forgiveness, accuracy, and distance driver.
Should I Buy An Oversized Driver If I Have A Slow Swing Speed?
An oversized driver will provide an expanded sweet spot which helps you maintain ball speed and limit spin on off-center strikes. This suits slow-swinging beginners in desperate need of a lenient driver. However, your added clubhead speed will come from a lighter, more flexible shaft than the club head itself.
Conclusion
Those are your top 10 best drivers for low swing speeds in 2023. You will notice a common theme among these drivers, rapid velocity across the clubface, enhanced MOI, and slice fighting profiles. However, they carry varying price points to suit every golfer's budget.
If you have relatively deep pockets, the Taylormade Stealth HD is an excellent option and a solid choice for longevity and consistency. In addition, the Tour Edge Hot Launch C521 is an excellent value-for-money driver that works for the average golfer.
Finally, the Callaway Big Bertha B21 is our best overall driver for slow swing speed. The clubhead reduces drag to cut through the air on the downswing. In addition, the clubface offers maximum forgiveness and prompts straight flight for consistent distance and accuracy.
Read More: