Small head drivers promote boosted workability off the tee, reduced spin, and a lower launch for low-handicap golfers.
So, what are the best small head drivers this year?
But the right driver for you will depend on several factors. If you select the wrong one, you could start off every hole at a disadvantage.
Read on to learn more about the top drivers under 460cc for low-handicap golfers to achieve a penetrating trajectory, optimal shape, and super low spin.
Here is a brief rundown of what you can expect from the best small head drivers review for 2023:
The Top 5 small head drivers with specs, pros, and cons
Factors to consider before acquiring a small head driver
Which small head driver suits each low-handicap golfer?
Top 3 Small Head Golf Drivers
Best Overall
Most Forgiving
The Longest
Ping G430 LST
Callaway Rogue ST Triple Diamond
Cobra AeroJet LS
Pros

High MOI promotes maximum stability
Prompts an elevated launch
Lowers spin across the face

Maximum forgiveness off the tee
Lowers spin
Explosive ball speed

Promotes optimal distance
Fast, aerodynamic clubhead
Minimizes spin

Cons

Premium price tag
No weak lofts for slow swing speed

Premium price tag
The wrench to adjust the CG position is not included in the sale

Priced at the higher end of the market
The lower launch is not ideal for slower swing speeds

Price Score
76.5
83.2
78.6
Spin
94.3
95.3
93.8
Distance
92.8
89.5
96.3
Forgiveness
91.4
91.3
89.2
Rating
4 Stars
4 Stars
4 Stars
What Is The Difference Between A Small Head Vs Large Head
Small headed drivers measure less than 460cc (the size of modern, forgiving large heads). Although the TaylorMade Original One measured 275 cc, the latest smaller head drivers are not significantly less than their larger counterparts.
The smallest driver on our 2023 list is the Titleist TSR4, measuring 430cc driver. While you may not notice the size difference with the naked eye, it exists and impacts the forgiveness and consistency of your driver. Small changes can impact the aerodynamics of your driver.
Small head golf drivers offer less surface area to strike the ball over larger 460cc drivers. As a result, strikes require greater precision for a consistent launch, trajectory, and distance. That is why small head drivers are better suited to lower handicappers with better ball-striking abilities.
The Best Drivers With Smaller Heads In 2023
1) Ping G430 LSR  – Overall Best Smallest Driver Head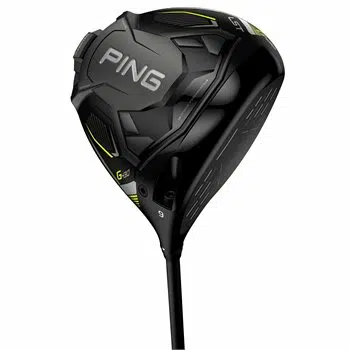 Pros
High MOI promotes maximum stability
Prompts an elevated launch
Lowers spin across the face
Adjustable CG and hosel
Superb forgiveness for a small head driver
Cons
Premium price tag
No weak lofts for slow swing speed
Specs
Head Size: 440 cc
Lofts: 9, 10.5
The Ping G430 LSR is set to hit shelves on January 26, and there is much to look forward to. My overall top pick for 2023 provided ample forgiveness, stability, adjustability, and launch. Despite its reduced size, the G430 LSR provided a decent surface to strike the ball and send it high and long.
During testing, the lightweight Carbonfly crown proved efficient in resisting drag and accelerating clubhead speed on the downswing. In addition, its lighter stature enabled the engineers to push the center of gravity (CG) low and deep for a higher launching tee shot.
Next, the LSR sports enhanced the moment of inertia (MOI), increasing stability at impact, which did wonders for ball speed and lower spin. Plus, the Spinsistency technology creates less loft across the lower clubface to minimize spin and deliver accelerated ball speed.
Ping employed a 3-position CG shifter which allows you to set up for a draw, neutral, or fade bias. According to the brand, this alters your curve by 7 yards, although I maxed out at 4-yards. Lastly, the Trajectory Tuning 2.0 hosel lets you strengthen or weaken the clubface loft.
Rating: 4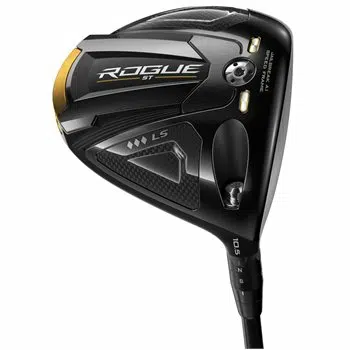 Pros
Maximum forgiveness off the tee
Lowers spin
Explosive ball speed
Mid, controlled launch
Adjustable CG and hosel
Cons
Premium price tag
The wrench to adjust the CG position is not included in the sale
Specs
Head Size: 450 cc
Lofts: 9, 10.5
The Callaway Rogue ST Triple Diamond LS is their lowest-spinning driver from 2022, and packs ample forgiveness for a place on our 2023 list. Our most forgiving best small head driver is stable, produces rampant ball speed, super low spin, and an adjustable CG and hosel.
A 20-gram tungsten cartridge forms an integral part of the Triple Diamond LS and shifts the weight low and deep. As a result, it naturally promotes mid-launching tee shots and maintains ball velocity on off-center hits.
The A.I. designed Jailbreak Speed Frame was exceptional in maintaining ball zip and limiting spin across the clubface. It led to consistent results on heel and toe mishits and exploded the ball off the clubface on sweet strikes for maximum distance and accuracy.
Sticking with artificial intelligence, the engineers used the innovation to lower spin and boost launch on off-center strikes. As a result, it helps the average golfer get airborne and achieve optimal carry on all tee shots.
Finally, the Triple Diamond LS drivers carry a refined shape that is super aerodynamic and encourages accelerated clubhead speed on the downswing.
Rating: 4
3) Cobra AeroJet LS – Longest Small Headed Driver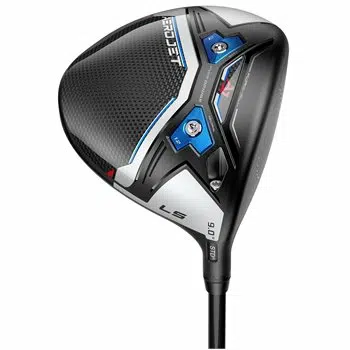 Pros
Promotes optimal distance
Fast, aerodynamic clubhead
Minimizes spin
Accelerates ball speed
Adjustable CG and hosel
Cons
Priced at the higher end of the market
The lower launch is not ideal for slower swing speeds
Specs
Head Size: 457 cc
Lofts: 9, 10.5
Cobra will launch the revolutionary AeroJet LS drivers in February 2022. Fortunately, we have had the chance to test it out and like what we tried. Maintaining their recent reputation, the AeroJet LS is the longest of the smaller head golf drivers in 2023 because of lightning swing speed, consistent ball zip, and an increased launch.
In my experience, the Cobra AeroJet LS cut through the drag and accelerated unhindered down to the golf ball. This produced lightning clubhead speed and enhanced energy transfer for rapid ball zip, a controlled launch, and supreme driver yardage.
In addition, a Forged PWRSHELL Face Insert and a H.O.T Face design increase clubface flexibility and variable thickness. As a result, I produced lightning velocity on all strikes for a consistent launch and distance.
Cobra also employed Two Adjustable Weight settings to alter the position of your CG for a neutral or fade bias flight. Lastly, the driver is fitted with an adjustable hosel enabling you to strengthen or weaken the clubface loft by 1.5 degrees.
Rating: 4
4) Titleist TSR4 – Lowest Spinning Small Head Driver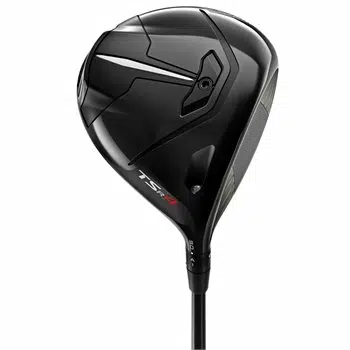 Pros
Super low spin levels
Flexible clubface
Adjustable hosel
Compact, attractive 430 cc clubhead profile
Produces impressive distance
Cons
Priced at the top end of the market
Not suited to mid and high handicappers
Specs
Head Size: 430 cc
Lofts: 8, 9, 10
Golfers generating excess spin off the clubface are bound to lose a few yards off the tee due to a loss of forward momentum in flight. The Titleist TSR4 overcomes this challenge by adopting an incredibly low-spinning golf driver with small head dimensions.
The spin magic is prompted by the Adjustable Spin Control technology, which places mass in the forward and back of the club head. I found the forward setting minimized spin better than the back. However, the latter enabled a moderate setup with a higher launch.
Besides spin control, the TSR4 proved effective in exploding my golf ball off the clubface thanks to a Variable Face Thickness design. I experienced consistency across an expanded zone on the clubface, resulting in an optimal launch, spin, and carry distance off the tee.
Added to its distance abilities were an impeccable feel and amplified acoustics for a premium experience with the big stick. Finally, a SureFit adjustable hosel allows you the flexibility to alter the clubface loft and lie angle for your desired launch.
Rating: 3.5
Pros
Attractive carbon chassis
Superior MOI profile for consistency
Flexible, explosive clubface
Adjustable hosel and CG
Low, controlled launch
Cons
High-end price tag
The low launch is not suited to slower swing speeds
Specs
Head Size: 450 cc
Lofts: 8, 9, 10.5
The Callaway Paradym Triple Diamond driver is the successor to the Rogue ST Max and will be released at the end of February 2023. The 360-degree Carbon Chassis sports the looks of a high-end golf club and offers formidable forgiveness, ball speed, low spin, distance, and accuracy.
Callaway's 360-degree Carbon Chassis features a lighter carbon sole which is attractive and encourages precise weight distribution for greater MOI. As a result, I felt the clubhead resisted twisting during the swing to deliver sensational stability at impact for rapid ball speed and low spin.
Like previous Callaway drivers, the engineers employed a Jailbreak A.I. system which maximized the stability of the clubface. This led to preserved ball speed and minimal spin on all strikes for increased carry and total distance.
The Jailbreak A.I. structure is supported by a Forged Titanium Cup Face, which is highly flexible and improves energy transfer at contact. This helped me generate sufficient velocity on all strikes for consistent launch, carry and roll after landing.
Rating: 3.5
Why You Should Trust Us
Golfspan is independent and not pressured by manufacturers to recommend products. We were not paid for the reviews in this article. Our team has over 100 years of golf experience, has spent thousands of hours reviewing golf equipment, and has hand-picked these drivers. We may earn an affiliate commission when you purchase something through our retail links.
What To Consider When Purchasing Smaller Headed Drivers
Loft
In my experience, modern smaller driver heads carry stronger standard lofts than their 460 cc counterparts. The weakest option available is a 10.5-degree, while 9-degree lofts are also up for grabs.
The lowest stock loft on small head drivers is 8 degrees for those super fast swing speeds seeking a lower launch.
Even though the average loft of PGA Tour players has been increasing, it may benefit you to have a lower loft.
Should none of your preferred drivers sport your ideal loft, you can also consider models with adjustable hosels. All of our best small head drivers carry adjustable hosels for exceptional adaptability.
Moment Of Inertia (MOI)
Despite a reduced clubhead size, some modern drivers offer sufficient MOI to maintain ball speed and restrict spin across the clubface. However, engineers maintained stability without compromising the workability of the driver.
Even low-handicap golfers strike the ball off-center, and when it happens, you will appreciate the leniency provided by increased MOI. Although all the models on our 2023 list offer adequate MOI, I found the Ping G430 LSR contained the most.
Low Spin
You will notice that the best small head golf driver products limit spin and produce a penetrating trajectory with added roll upon landing. This helps low handicappers maximize total distance by adding extra yards on the ground.
Besides the momentum, lower spin enhances your control off the tee and prevents faster swingers from ballooning shots.
Workability
Low-profile golf drivers allow for improved maneuverability during the swing to induce your desired swing path and clubface angle at contact. Lower handicappers looking to draw or fade the ball around a dog leg will welcome this feature thanks to improved control and versatility off the tee.
However, this may prove a curse for less skillful players who end up hooking or slicing tee shots with these drivers. As a result, mid and high handicappers may prefer staying with the larger 460 cc at this stage.
FAQ
Should High Handicappers Use A Smaller Driver?
High handicappers should avoid a smaller driver and stick to the broader 460 cc profile. The oversized driver head offers a larger surface area and higher MOI, leading to better contact, consistent ball speed, and lower spin.
Are Smaller Golf Drivers Adjustable?
Yes, most smaller head drivers on our list carry adjustable hosels to alter the loft and lie of your clubface. In addition, drivers like the Ping G430 LST feature a CG shifter enabling you to achieve a draw, fade, or neural ball flight.
Is A 3 Wood Better Than A Small Head Driver?
No, in my experience, small drivers are better off the tee than a 3 wood because of their enlarged surface area, launch, and distance. The 3 wood clubhead is significantly smaller than a driver.
For example, the Callaway Paradym Triple Diamond is 450 cc compared to the 174 cc of a 3 wood. Therefore, the 3-wood leaves you with a reduced active zone to strike the golf ball and receive forgiveness. However, some golfers may find the weaker loft and higher launch of a 3-wood easier to operate.
What Type Of Golfer Is Suited To A Small Head Golf Driver?
Low-handicap golfers with faster swing speeds are better suited to a small head golf driver. This stems from the lower spin, reduced launch, workable flight, and less forgiveness offered by small headed drivers.
What Is The Smallest Driver Head?
The smallest driver head is the TaylorMade Original One which measures 275 cc. However, since it was released in 2014, it is challenging to source one of these new. The smallest driver in 2023 is the Titleist TSR4, with a 430 cc head.
Conclusion
Small head drivers delivered exceptionally low spin, rapid ball speed, a penetrating launch, and workable flight in our 2023 test. The refined size of the clubhead improved aerodynamics and clubhead speed on the downswing for a powerful launch off the tee.
In my experience, there is little doubt that mid and high-handicappers should avoid these driver heads, given the reduced, forgiving surface area. Low handicappers can take advantage of lower flight, control, and superior length.
While all of our top 5 smaller headed drivers are worth a look this year, I found the Ping G430 LSR a step above the rest. It produces ample forgiveness for a smaller head driver, consistent launch, low spin, and carries an adjustable CG weight and hosel.
As a result, it provides superior golfers with distance, workability, and speed without completely sacrificing forgiveness.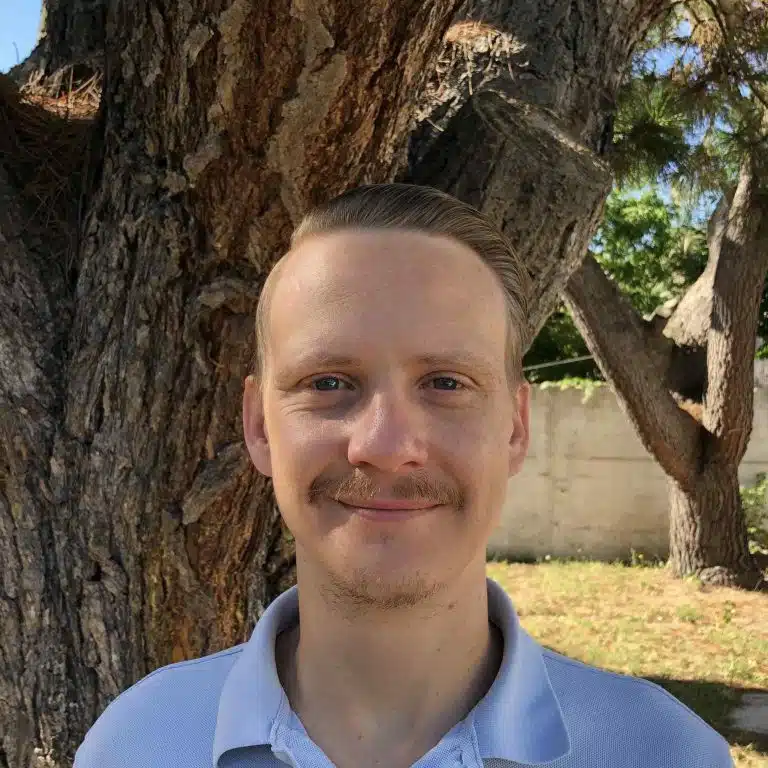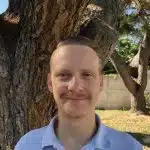 Matt is a seasoned golf equipment writer and sports fanatic. He holds a Postgraduate in Sports Marketing and has played golf for over 28 years.