We all want to hit our drives far, but we also need to hit them straight. Most golfers do not consistently strike the ball on the dead center of the face. So while distance is essential on a good driver, it needs to still be forgiving.
Manufacturers are making rapid progress in creating forgiving drivers that hit far. In our Callaway XR 16 Driver Review, we will show you how they are managing to achieve this.
Things To Consider Before Buying a Driver
There are a number of important factors to consider when making your driver selection. You want to get a good balance of these important elements without having to sacrifice one for the other.
Distance
As we said above, this is really the primary goal of a driver. You need to get as close to the green as possible, especially on the long par 5s. Without good distance, you will struggle with longer holes.
Forgiveness
At the same time, you want the driver to help you out when you mishit the ball. A forgiving driver will still give you good distance and fair accuracy on those occasions you strike the ball outside of the center of the face.
Loft and Launch
You need to be able to get the ball up in the air. The slower your swing speed the more challenging this can be. Look for a driver with a loft option that will compliment your swing speeds and style.
Feel and sound
These are both important factors that need to be considered when selecting a driver.
Adjustability
Many golfers want to be able to adjust the lie or loft of the driver for a number of reasons. Adjustability will let you fine-tune the driver according to your needs on the day.
Looks
We all wany clubs that look good both in the bag and in your hands at address.
Budget
Drivers are generally the most expensive piece of equipment in your bag. Consider how much you are able to invest in a quality driver. Remember the good ones are an important tool and will last you many years.
Callaway XR 16 Driver Review
Pros:
Excellent aerodynamics
Good ball speed and distance
Highly forgiving
Great adjustability
Powerful and pleasing acoustics
Value for money
Cons:
Some players would prefer less spin
Not as workable as other leading drivers
Less response and feedback than some other drivers in this category
While Callaway is probably most famous for the legendary Big Bertha it is not their only or even their best driver to date. The XR15 was a phenomenal success and Callaway has built on that to create the XR16.
The XR16 packs a serious punch and has a lot to offer for the vast majority of golfers.
"Forgiveness Meets Fast" is the tag line for this driver and Callaway has every right to say this. It meets the bill on both counts. The face is strong and thin for faster ball speeds and resulting distance.
It has a low center of gravity for low spin and an easy launch. The internal ribs give stability to the thin face and the driver is extremely aerodynamic.
The XR16 will work well for a wide range of golfers. It is probably not ideal for absolute beginners and better players might want to opt for the XR16 Pro. For everyone else, it has a lot to offer.
The bulk of the market would be mid to low handicappers.
Features and Benefits
Aerodynamics
In our Callaway XR 16 Driver review, Aerodynamics deserves to be mentioned first as Callaway has invested heavily in research and development. They went as far as using Boeing engineers to help with the head design. They did the same with the XR 15 but Boing were more involved and committed to the development of the XR16. This shows in the aerodynamics of the head as well as other aspects of the driver.
Part of the improvements includes a raised area on the crown for optimal airflow and improved aerodynamics. This titanium raised area allows for optimal airflow on the surface.
The end result is a driver with a low drag that allows for higher swing speeds. This will naturally translate to a greater distance.
The encounter with the brains at Boeing drove Callaway to raise the speed step slightly. The front to back length was also increased allowing the center of gravity (CG) to be positioned further back and low which makes the driver more forgiving.
The collaboration with Boeing certainly paid dividends and the XR16 is fast and hits far without sacrificing forgiveness.
R-Moto head and face
The face is large and therefore has a large sweet spot. It is also light and super-strong. It is made from 8-1-1 Titanium. This makes it highly forgiving and faster. Callaway tells us it is 19% thinner than previous iterations making it lighter but more importantly faster. It has great energy transfer for exceptional ball speeds and therefore good distance.
The MOI, moment of inertia, is great across the face. This is partly what makes the XR 16 highly forgiving. Should you not strike the ball dead center it will stay fairly well on track and still travel a good distance.
R-Moto technology was first used in the legendary Callaway Big Bertha Alpha 815 drivers. It consists of internal ribs that give strength and support. It allows for the use of thinner materials while maintaining strength. Again, this promotes ball speeds, forgiveness and helps with the launch.
Adjustability
You can select the loft and the options are 9°, 10.5°, and 12°. The Callaway Optifit adjustable hosel allows for a complete range of loft positions. Depending on your desired loft, you may have to play around a bit to get the loft you want. The XR-16 can be adjusted 1 degree lower or 2 degrees higher.
Keep in mind that when adjusting lower, you will open the clubface somewhat, and when adjusting higher, the clubface will close a bit. In addition, there is a draw setting to help the player get the club closed at impact.
Appearance
Callaway kept the crown design simple and understated but that just makes it look more sleek and stylish. It is finished in a matte black. The sole, however, has rather busy graphics. The wavey lines on the sole are purely cosmetic and do not affect performance in any way.
The head design is relatively wide and long. Most people appreciate the looks of the XR16 but they do not work for everyone.
At address, the clubface is wide which should inspire confidence.
Materials
Apart from the improved aerodynamic design, the head is lighter. 8-1-1 Titanium and aluminum have been used making it significantly lighter without compromising on strength.  The R-MOTO face is also light and strong. The ribs allow the thin face to flex which increases energy transfer for greater ball speeds and distance.
Sound and Feel
The face is responsive and the sound is powerful and appealing. Most golfers enjoy the feel of the XR16. You will have an idea when you mishit the ball although it will still sound pretty good, travel a decent distance and not stray too far off course. It has a very slight draw bias.
Shaft
The XR16 comes standard with a Fujikura Speeder Evolution 565 shaft. There are a few options you could choose from at no additional cost.
Callaway XR16 Driver Alternatives
Here are a few other worthy options you could also consider after reading our Callaway XR 16 Driver review.
While the XR16 is ideal for medium to low handicappers the Pro version is designed for better players. While much of the same technology has been used it is lower spinning,  has a 450cc head and a deeper face.
The CG is slightly more neutral so it does not have quite as much forgiveness and takes a bit more speed to launch well. The Pro comes standard with a Fujikura Evolution 2 TS 665 shaft.
The Titleist TS3 is an extremely popular driver with professionals and amateurs alike and a viable alternative to the Callaway XR16 driver.
If you are looking for extra forgiveness off the driver face, sophistication, more distance, and an aerodynamic clubhead, the TS3 will not disappoint. Drag is reduced by approximately 20% on the downswing. However, this comes at a price compared to the Callaway XR16 driver.
Low spin off the face promotes longer drives and tight shot dispersion.
In the visual appeal department, it compares well with a striking black finish and exceptional aerodynamic looks.
A slightly less expensive option, this driver has a range of technologies and design features to make forgiving while offering great distance. The speed channel works well for Cobra and they removed weight from the crown to optimize CG.
This low CG allows for greater distance, an easy launch, lower spin, and great forgiveness. It also works well for players with a lower than average swing speed.
Final Thoughts
There is no doubt that Callaway has gone to great lengths to ensure this driver has both distance and forgiveness in abundance. Given that these are the two most important aspects in a driver, most players agree that the Callaway XR 16 works for them.
The combination of advanced aerodynamics, the R-Moto technology, thin face, optimized weight, and adjustability combine to deliver a driver that hits fast and far with plenty of forgiveness.
If you are looking to up you game off the tee, check out the Callaway XR 16 here.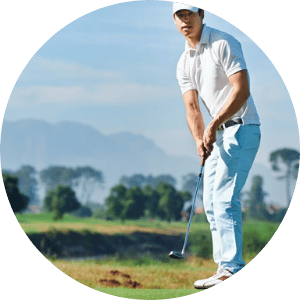 Nick Lomas is the founder of GolfSpan, an avid golfer, not quite a pro but has over 15-years of experience playing and coaching golfers from all over the world. His mission is to bring the golfing community a better experience then it comes to choosing the right golf gear, and finding the right set up for your game.