First, let me welcome you to the greatest game ever played. Trust me when I say we are all happy that you've decided to take up golf, and I'm sure you'll be hooked, just like the rest of us.
Now that all the pleasantries are out of the way, it's time to start talking turkey. This game is hard, really hard. You will lose balls, lose your cool, and contemplate quitting many times. Fight through it; we've all been there.
One shot that keeps us coming back for more is the drive. Letting loose and cranking a tee shot right down the center of the fairway is arguably the best feeling in the world—I'm not exaggerating.
Selecting the best drivers for beginners is no walk in the park, but hopefully, you enjoy the process as it will help you increase your overall golf IQ.
This guide will take you through the important points to think about and show you some of the best golf drivers for beginners available right now. All are explained in easy-to-understand terms.
Top 3 Beginner Driver Selections
Cleveland Launcher XL—Best Overall
Wilson Staff Golf Men's D9 Driver—Most Affordable 
Cobra RadSpeed XD Driver—Best For Preventing Slices
The 10 Best Drivers for Beginners
Here's a detailed look at each driver so you can learn as much about them as possible. Physically trying them is less important at this stage since you're still ironing out the kinks in your swing. Choose based on what looks good and one that best matches your swing speed to find the easiest driver to hit 2023.
Pros
Easy to swing and look down at
Clean design simple accents
Lines on the crown for easy alignment
Affordable
Cons
Loud
High-swing speed golfers will not appreciate the offset.
Although Cleveland, and by association Srixon, may not be the most used golf clubs on the professional tours, they have produced great clubs for the high handicapper. Their golf drivers are also in the game improvement category to help launch it higher and longer.
The Hibore crown has a lighter and lower center of gravity and is known for its forgiving nature. The lower center of gravity increases the launch angle and ball speed.
The Moment of Inertia (MOI) was increased by adding weight to the grip and making the clubhead lighter.
Loft is available in 9°, 10°, and 12° degrees. The Launcher XL is aimed at golfers with lower swing speeds therefore, the highest loft will be most suitable.
Cleveland had a shaft designed specifically for this golf driver for a beginner, which is different from the standard shafts that are designed to fit the clubface. Although you don't get to select a shaft option, you can be confident that the clubhead/shaft combination provides maximum distance and ball speed.
Advanced golfers with high swing speed will not benefit from using this beginner driver. The offset may not suit some of the better golfers.
Pros
Ultra-light and easy to swing
Generates good speed and distance
Durable
Good sightlines
Cons
One of the outstanding features that makes it such a good driver for beginners is the superlight design. Wilson used a combination of crafty engineering and advanced materials to achieve this. The head weighs less, and they have kept the shaft weight down.
This will allow golfers with a slow to moderate swing speed to achieve higher speeds and, therefore, greater distance. Speed is further enhanced by a streamlined aerodynamic design. The D in D9 stands for distance, which is what you can expect from this driver.
It has a pleasing sound, good feedback, and a feel. This is primarily due to the [K]omposite Crown. Wilson has crafted the 3-piece crown from Kevlar sandwiched between woven carbon fiber. This dampens vibrations and delivers a fulfilling sound on impact.
The D9 has a new and improved face that is optimized to the millimeter. Each fractal zone of the face was carefully researched and tested to improve shots struck anywhere on the face.
Some beginners and high handicappers are not impressed that this driver lacks adjustability. But unless you really know what you are doing, as a beginner, adjustability can be more of a distraction than a benefit. It would also add additional weight to the driver and make it more expensive. The way the D9 is designed and set up makes it ideal for beginner golfers.
Pros
All Cobra's latest technology in the driver
Increased forgiveness on mis-hits while maintaining stability
Draw bias head for straight or draw shots
Radical ball speed and distance
Flashy head colors
Cons
Yellow and black head color may be off-putting for some
Sound at Impact
Cobra Golf has always been known for producing beginner drivers that are long off the tee, and the RadSpeed XD is no exception. Recently Cobra Golf has attracted much attention due to the exploits of their signature player, Bryson DeChambeau. He is revolutionizing the game of golf and hits the ball with his driver at phenomenal distances.
The Cobra Radspeed XD Driver is a good beginner golf driver because you can take advantage of the latest Cobra Driver technology on the market. Most beginners tend to slice the ball, and the draw bias internal Radial Weighting will reduce this tendency and straighten out tee shots while still delivering fast clubhead speed. A 10-gm heel weight assists in closing the clubface for straighter shots.
Swing performance is optimized with the new Carbon Wrap Crown System, which is 30% thinner and allows for weight distribution to other parts of the head. Ball speed is increased and spin reduced with the incorporation of a refined lighter T-Bar Speed Chassis. Weight is redistributed towards the front, producing less spin.
An Infinity CNC Edge Face design expands the milled area by 95% increasing ball speed and contact area. Combining these technologies improves forgiveness on mis-hits while maintaining stability through impact, with high ball speed.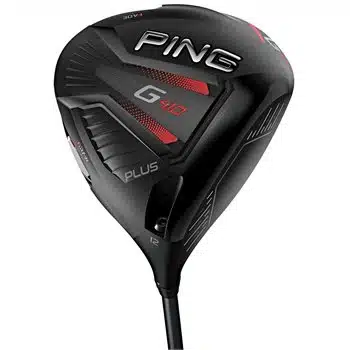 Pros
10.5° for high easy launch (other lofts available)
Patented DragonFly Technology and new creased head design
Improved looks and confidence-inspiring at address
The forged face and internal geometry of the head produce a powerful feel and sound
A lightweight 55gm Alta CB Red graphite shaft
Cons
Players may not like the look of the club head at setup
10.5° may be too high a loft for coastal players
The graphite shaft may be too light and soft for stronger players
The Ping G410 Plus at 455cc has a slightly smaller head than many of its rivals but is very appealing at address.
They have an added ball speed and forgiveness required to hit long and straight drives.
The latest DragonFly Technology incorporated in the new head design, which also boasts a forged face, gives a solid and powerful sound at impact.
The aerodynamic lightweight adjustable hosel with 5 loft settings allows players to set the club for variable playing conditions.
Ping shafts are well recognized for their quality, and the Alta CB Red 55gm Graphite shaft delivers the goods.
Pros
Superb distance
Highly forgiving
Lightweight
Good aerodynamics
Attractive appearance
Cons
The graphics do not appeal to all golfers
Relatively expensive for beginners
Distance and forgiveness are, in most cases, the two most important things a beginner wants from their driver. Often one has to choose between the two because they are seldom both good on one driver. This is not the case with the Callaway Big Bertha B21.
Thanks to extensive research and development and clever design, materials, and engineering, Callaway confidently boasts that the B21 offers plenty of both.
They managed to make a head that is large and forgiving yet light and aerodynamic. It has a large MOI, large sweet spot, and a low COG. These features combine well to make this highly forgiving.
The jailbreak technology that has been successful for Callaway was re-engineered to minimize drag and make it uber-aerodynamic. The A.I.-produced face, another trademark Callaway feature, has also been upgraded for higher ball speeds.
This consists of internal ribs that allow for a strong but ultra-thin face with great flex. The energy transfer is phenomenal. Combined with the light head and aerodynamics, you will get high ball speeds and great distance from the Big Bertha.
Loft is another aspect many beginners have difficulty with, and Callaway did not ignore this. There are 3 loft options to choose from according to your swing speed and style.
This will allow you to get the ideal setup for your drive for an easy and effective launch. Without the right loft, you will not get the full advantage of the speed and distance benefits the B21 offers.
This durable driver will serve you well for a long time. You will not have to replace it quickly as your game improves.
Pros
A TaylorMade driver made for beginners
Lightweight carbon construction increases swing speed
Forged aluminum frame for stability
Heel weighted to offset slices
Patented twist face technology
Cons
A bit pricey
Not as forgiving as other drivers on this list
TaylorMade isn't always known for their beginner products, but they have a few strong offerings these days. Starting with the SIM 2 Max.
There are a few different models of the SIM 2, but for beginners, SIM 2 Max is meant specifically for you. They have taken all their research data and poured it into this club that has more forgiveness than any other TaylorMade driver.
The first thing to note is the weight; it's very light. This is due to the use of carbon fiber in the crown and the sole. Carbon fiber has been around for a while but has never really seen success in the golf world until now. Its strength and weight make it ideal for a beginner golfer.
However, it takes more than just some carbon fiber to hit booming drives down the middle of the fairway. To counter the weight loss from using carbon fiber, the designers outfitted the frame with a forged aluminum ring. This provides stability and opens the sweet spot to accommodate off-center strikes.
The added weight in the heel makes this so special for beginners. This gives it a draw bias feel and will prevent you from making the most common mistake that beginners make, slicing the ball.
Combine all that with TaylorMade's twist face technology that is used in all drivers, and you have a very special club here. The twist face process allows the face to be thicker where you need it—in the toe—and thinner elsewhere—in the sweet spot—so you get maximum distance no matter where you make contact.
Pros
Heel-weighted to soften slices
Jailbreak technology to support the sweet spot
A.I. developed club face
Carbon fiber crown
Strategically placed tungsten weight
Cons
Higher price tag than others
Callaway also makes great drivers for beginners but being the big name that they are; they sometimes are a bit expensive. If a brand new Callaway driver is within your budget, then this will be one of the best options for any beginner.
The Callaway Rogue ST Max is a variation of the Rogue line of drivers and is made to be much more forgiving than the others. It also has a noticeable draw bias that helps to reduce slices and even increases your chance of producing a draw.
Just like other Rogue drivers, this one comes with Callaway's special jailbreak technology. This construction technique makes for a very hot face. The two titanium bars surrounding the sweet spot help launch the ball off the club face. 
Speaking of the club face, it is built with A.I. technology. It's a process used to create variable thicknesses across the face to maximize your drives from any contact point. This is done to the millimeter, but generally, the face is thicker around the toe and thin around the sweet spot and heel. There is more girth high on the face as well to help prevent pop-ups or ballooning drives.
A large tungsten weight is placed in the rear of the club head to improve your launch angle. This is great for beginners who tend to miss low on the face and produce a lot of worm burners. They have added a carbon fiber crown to accomplish this without making the clubhead too heavy.
All this technology in one club will immediately improve your drives without having to spend crazy hours on the range. However, if you add some practice, you won't be considered a 'beginner' for much longer.
Why You Should Trust Us
Golfspan is independent and not pressured by manufacturers to recommend products. We were not paid for the reviews in this article. These drivers were selected by our team, who have over 100 years of experience playing golf and thousands of hours reviewing products. We may earn an affiliate commission when you purchase something through our retail links.
What To Consider When Selecting A Golf Driver
Here are a few important factors to consider when choosing the best driver for beginners;
Do I Really Need A Driver?
It's common for a beginner golfer to be intimidated by drivers and believe they are hard to hit. Some might be tempted to get around with a hybrid or a fairway wood.
While drivers a few decades ago were indeed rather scary, modern drivers are a pleasure to hit and relatively easy to get right. Provided, of course, you get the best beginner driver for your game.
Getting to the green on a par 5 or even many par 4s will take some time without a decent driver. While your drive is only one aspect of your game, it is an extremely important one.
The distance and quality of your drive will, to a large extent, set the tone for the rest of the hole. A forgiving driver is, without a doubt, something every beginner needs.
Fortunately, beginner golf drivers are easy to swing, will increase club head speed, and give you optimal ball flight for great distances. The key is to find the right driver for your skills, swing speed, and style.
Do I Need A Specific Golf Driver For Beginners?
Determining the best driver for new golfers is tricky because all golfers look the same at first. Many modern drivers are highly versatile, but you certainly want one that accommodates a beginner. You want something with a lot of forgiveness, generates good swing speed and is the easiest driver to hit.
The golf drivers designed for professionals tend to have smaller heads, less forgiveness, more playability, and a different kind of titanium face. They are designed for ultra-fast swing speeds, which most beginners do not have.
Go for a beginner's driver that will benefit you as your skills improve.
What Should Beginners Look For In A Driver?
There are several specifics beginners want to look out for when selecting the best driver for beginners in 2023. Given that it is such an important decision, they're all worth thinking about before deciding. Let's take a look.
Head Shape And Size
These days you get a dazzling array of head shapes. There is no best shape; it is all about what works for you, gives you confidence, and feels right. Round shapes tend to be easier for beginners, and aerodynamics are important to help you generate clubhead speed.
Bigger is better, and current rules allow for a head up to 460cc. As a beginner, you should take full advantage of this. It will be a more forgiving driver with a large sweet spot and generous loft.
Modern materials and design will still make a large head relatively easy to swing.
Shaft Length
A driver is the longest club in your bag. Do not be intimidated by how long it is but do remember to get the correct length for your height so you end up with the easiest-to-hit driver.
The incorrectshaft length will increase the difficulty of using your driver effectively. Your swing style and speed are also factors that need to be considered. Professional fitting is a great idea if you have the opportunity and budget.
Shaft Material And Flex
This is critical if you want to get a decent drive. Steel shafts are less expensive but heavier and have less flex. Ideally, you want a graphite shaft that is lighter with more flex.
Most beginners should be fine with aregular flex. Basically, the slower your swing speed, the more flex you want.
Material
Material has advanced in recent years, and a range of options are available. The durability, weight, and how they work together are all that really matter.
The type and quality of the material will have a major impact on the cost of the driver, but many modern materials are lighter and perform better. You will have to balance your needs with your budget.
Loft
This is an important aspect to consider and something many beginners have difficulty with. Absolute beginners will generally be better off with a higher loft to achieve a higher ball flight.
You can go down a bit as your skills develop and your swing speed increases. It is certainly easier for beginners to hit a higher-lofted driver.
Adjustability
This is a great feature to have, provided you know how to use it. As a beginner, there are many things to think about, and adjustability could well add to this. If you have a nagging slice, then utilizing a draw bias feature could greatly help you.
Otherwise, adjustability will add weight and raise the price of any driver. Unless you understand the intricacies of adjustability, do not let it be a big concern.
Budget
This is a tricky one. What is important to remember is that good quality design, materials, and engineering will cost money.
There are many 'value for money options' if you are on a really tight budget, but it is worth investing in a quality driver that will help you off the tee and give you a good start on most holes. The best driver for beginners will last a long time and will work with you as your game improves.
FAQ
What Is The Easiest Driver To Hit For A Beginner?
The easiest driver to hit for a beginner is the Cleveland Launcher XL. It's lightweight and has a large face that is made to forgive almost all your off-center hits. This design ensures you can still keep your drives in play even if you're still working on your swing and figuring out this crazy game.
What Degree Driver Should A Beginner Use?
The degrees that beginners should use on their golf drivers is above 10.5°. Since beginner golfers have trouble producing a consistent swing, they often fail to get the ball airborne. To help improve this, add loft to your driver and other longer clubs. This will help to create a high launch to optimize your ball flight.
Read more: What Loft Should My Driver Be
Are Shorter Drivers Easier To Hit?
Yes, shorter drivers are easier to hit. By trimming a quarter inch or two off the length of your driver for beginners, you reduce your margin of error because you are slightly closer to the ball, and less can go wrong. However, the shorter you go, the less distance you will also create. Short drivers equal short but accurate drives.
Final Thoughts
While all of these good drivers for beginners will help most newbies, the Cleveland Launcher XL Driver is our top pick. It has a deep face that will give you huge confidence when you address the ball. It is highly forgiving and will deliver maximum distance.
The adjustable hosel is an added bonus that will allow you to set the driver up for your swing speed and style and allow you to make changes as you improve. Additionally, it offers good playability, so you will not grow out of it too quickly.
Look at your skills, weaknesses, swing speed, and budget to find the best golf driver for beginners that suits you specifically.
Other Articles You May Like