This guide will take you through the important points to think about and show you some of the best drivers for beginners available right now.
What To Consider When Selecting A Driver
Here are a few important factors to consider when making your selection:
Do I Really Need A Driver?
Many beginners are intimidated by drivers and believe they are hard to hit. Some might be tempted to get around with a hybrid or a fairway wood.
While drivers a few decades ago were indeed rather scary, modern drivers are a pleasure to hit and relatively easy to get reasonably right. Provided, of course, you get the correct drivers for your game.
Getting to green on a par 5 or even many par 4s will take some time without a decent driver. While your drive is only one aspect of your game it is an extremely important one.
The distance and quality of your drive will, to a large extent, set the tone for the rest of the hole. A quality driver is, without a doubt, is something every beginner needs.
Fortunately, modern drivers are relatively easy to swing, rather forgiving and will give you a good distance when you hit reasonably well. The key is to find the right driver for your skills, swing speed and style.
Do I need a specific driver as a beginner?
Many modern drivers are highly versatile but you certainly want one that accommodates a beginner. You want something with a lot of forgiveness that allows generating a good swing speed.
The drivers designed for professionals tend to have smaller heads, less forgiveness, and more playability. They are designed for ultra-fast swing speeds which most beginners do not have.
Go for something that will work for a beginner but still benefit you as your skills improve.
At a glance: Our Top 5 Picks for Best Drivers For Beginners
What should beginners look for in a driver?
There are several specifics beginners want to look out for when selecting a driver. Given that it is such an important decision, they are all worth thinking about before making a selection. Let's take a look.
Head shape and size
These days you get a dazzling array of head shapes. There is no best shape, it is all about what works for you, gives you confidence and feels right. Round shapes tend to be easier for beginners and aerodynamics are important to help you generate clubhead speed.
Bigger is better and current rules allow for a head up to 460cc. As a beginner, you should take full advantage of this. It will have a large sweet spot, be more forgiving and easier to loft.
Modern materials and design will still make a large head relatively easy to swing.
Shaft Length
A driver will generally be the longest club in your bag. Do not be intimidated by the length of the driver but it is important to get the correct length for your height.
The incorrect shaft length will increase the difficulty of using your driver effectively. Your swing style and speed are also factors that need to be considered. If you have the opportunity and budget, professional fitting is a great idea.
Shaft material and flex
This is critical if you want to get a decent drive. Steel shafts are less expensive but heavier and have less flex. Ideally, you want a graphite shaft that is lighter with more flex.
Most beginners should be fine with a regular flex. Basically, the slower your swing speed, the more flex you want.
Material
Material has advanced in recent years and there is a range of options available. The durability, weight and how they work together is all that really matters.
The type and quality of the material will have a major impact on the cost of the driver but many modern materials are lighter and perform better. You will have to balance your needs with your budget.
Loft
This is an important aspect to consider and something many beginners have difficulty with. Absolute beginners will generally be better off with a higher loft.
As your skills develop and your swing speed increases you can go down a bit. It is certainly easier for beginners to hit a higher lofted driver.
Adjustability
This is a great feature to have provided you know how to use it. As a beginner, there are many things to think about and adjustability could well add this.
It will add weight and cost to the driver do unless you have a good understanding of the intricacies of adjustability do not let it be a big concern.
Budget
This is a tricky one. What is important to remember is that good quality design, materials and engineering will cost money.
There are many 'value for money options' if you are on a really tight budget but it is worth investing in a quality driver that will help you off the tee and give you a good start on most holes. A good driver will last you a long time and will work with you as your game improves.
This video will give you some additional advice:
Quick Overview: Our Top Picks for Best Drivers For Beginners
5 of The Best Drivers for Beginners – Reviews
Although Cleveland, and by association Srixon, may not be the most used clubs on the professional tours, they have produced great clubs for the high handicapper. Their drivers are also in the game improvement category to help launch it higher and longer.
The Hibore crown has a lighter and lower the center of gravity and is known for its forgiving nature. The lower center of gravity increases launch angle and ball speed.
The Moment of Inertia (MoI) was increased by increasing the weight in the grip and making the clubhead lighter.
An aesthetically pleasing view faces you when looking down on the crown. It comes with a matte finish with spines running across the crown.
Loft is available in in 9°, 10°, and 12° degree. The Launche HB turbo is aimed at golfers with lower swing speed therefor the highest loft will be most suitable.
Cleveland had a shaft designed specifically for the HB Turbo which is different from the standard shafts that is designed to fit the clubface. Although you don't get to select a shaft option, you can be confident that the clubhead/shaft combination provides maximum distance and ball speed.
Advanced golfers with high swing speed will not achieve the full benefit of using the HB Turbo. The offset on this driver may not suit some of the better golfers.
Cleveland Turbo Launcher HB is an easy to hit club making it an ideal driver for beginners.
One of the outstanding features of this driver and something that makes it ideal for beginners is the Superlight Design. Wilson used a combination of crafty engineering and advanced materials to achieve this. The head weighs a mere 192g. They have also kept the shaft weight down.
This will allow golfers with a slow to moderate swing speed achieve higher speeds and therefore greater distance. Speed is further enhanced by a streamlined aerodynamic design. The D in D7 stands for distance and that is what you can expect from this driver.
It has a pleasing sound and good feedback and feel. This is primarily due to the [K]opposite Crown. Wilson has crafted the 3-piece crown from Kevlar sandwiched between woven carbon fiber. This dampens vibrations and delivers a fulfilling sound on impact.
The D7 has a feature Wilson call Dynamic Launch Control. This refers to the positioning of internal weighting according to the different lofts. So the weight is forward on the 9.0º Driver, midsole on the 10.5º and low and back on the 13º Driver. This optimizes the weight on each option for improved performance and optimal launch.
Most players enjoy the appearance of the driver and the sleek crown. There are 3 shaft options, stiff, regular and senior flex.
Some golfers are not impressed that a club in this price range lacks adjustability. Unless you really know what you are doing, as a beginner, adjustability can be more of a distraction than a benefit. It would also add additional weight to the driver and make it more expensive. The way the D7 is designed and setup make it ideal for beginners.
3. Cobra RadSpeed XD Driver
Pros:
All Cobra latest technology in the driver

Increased forgiveness on mis-hits, while maintaining stability

Heel-weighted head for straighter or draw-biased shots

Radical ball speed and distance

Flashy head colors
Cons:
Yellow and black head color may be off-putting for some

Sound at Impact
Cobra Golf has always been known for producing drivers that are long off the tee, and the RadSpeed XD is no exception. Recently Cobra Golf has attracted much attention due to the exploits of their signature player, Bryson DeChambeau. He is revolutionizing the game of golf and hits the ball with his driver, phenomenal distances.
The Cobra Radspeed XD Driver will suit beginners, who can take advantage of the latest Cobra Driver technology on the market. Most beginners tend to slice the ball and the heel-biased internal Radial Weighting will reduce this tendency and straighten out tee shots, while still delivering fast clubhead speed. A 10-gm heel weight assists in closing the clubface for straighter shots.
Swing performance is optimized with the new Carbon Wrap Crown System, which is 30% thinner and allows for weight distribution to other parts of the head. Ball speed is increased and spin reduced with the incorporation of a refined lighter T-Bar Speed Chassis. Weight is redistributed towards the front, producing less spin.
An Infinity CNC Edge Face design expands the milled area by 95% increasing ball speed and contact area. The combination of these technologies improves forgiveness on mis-hits while maintaining stability through impact, with high ball speed.
The Verdict
The Cobra RadSpeed XD lives up to its name for distance and forgiveness on tee shots. Starting any game of golf with a confident tee shot increases the pleasure of the round. Ensure the correct shaft is fitted to match your swing speed and maximize the performance on the course.
4. Ping G410 Plus Regular Flex Driver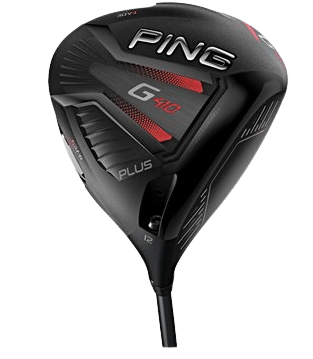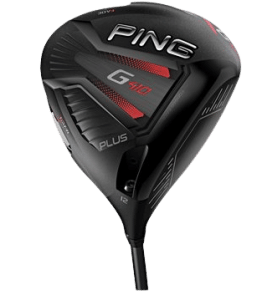 Pros:
10,5 Degrees for high easy launch ( Other lofts an option)
Patented DragonFly Technology and new creased head design
Improved looks and confidence-inspiring at address
The forged face and internal geometry of the head produce a powerful feel and sound
A lightweight 55gm Alta CB Red graphite shaft
Cons:
Players may not like the look of the clubhead at setup

10,5 degrees may be too high a loft for coastal players

The graphite shaft may be too light and soft for stronger players
The Ping G410 Plus at 455cc has a slightly smaller head than many of its rivals but is very appealing at address.
They have an added ball speed and forgiveness required to hit long and straight drives.
The latest DragonFly Technology incorporated in the new head design, which also boasts a forged face, gives a solid and powerful sound at impact.
The aerodynamic lightweight adjustable hosel with 5 loft settings allows players to set the club for variable playing conditions.
Ping shafts are well recognized for their quality and the Alta CB Red 55gm Graphite shaft delivers the goods.
5. Callaway Men's XR 16 Driver
Pros:
Superb distance
Highly forgiving
Lightweight
Good aerodynamics
Attractive appearance
Cons:
Some players do not enjoy the spin
The graphics do not appeal to all golfers
Relatively expensive for beginners
Distance and forgiveness are, in most cases, the two most important things a beginner wants from their driver. Often one has to choose between the two are they are seldom both good on one driver. This is not the case with the Callaway Men's XR 16.
Thanks to extensive research and development and clever design, materials, and engineering, Callaway confidently boast that the XR16 offers both and plenty of both.
They even went as far as to work with Boeing to refine the aerodynamics.
They managed to make a head that is large and forgiving yet light and aerodynamic. It has a large MOI, large sweet spot, and a low and deep COG. These features combine well to make this highly forgiving.
The Speed Step that has been successful for Callaway was re-engineered to minimize drag and make it uber-aerodynamic. The RMOTO face, another trademark Callaway feature, has also been upgraded for high ball speeds.
This consists of internal ribs that allow for a strong but ultra-thin face with great flex. The energy transfer is phenomenal. Combined with the light head and aerodynamics, you will get high balls speeds and great distance from the XR 16.
The face is made from a strong and durable 8-1-1 titanium.
Loft is another aspect many beginners have difficulty and Callaway did not ignore this. There are 3 loft options to choose from according to your swing speed and style.
This will allow you to get the ideal setup for your drive for an easy and effective launch. Without the right loft, you will not be able to get the full advantage of the speed and distance benefits the XR16 has to offer.
The shaft is lightweight graphite and is available in stiff, regular or senior flex. Be sure to match the flex to your swing speed for best results.
This durable driver will serve you well for a long time. You will not have to replace it in a hurry as your game improves.
Final Thoughts
While all of these drivers are great for beginners, the Cleveland Golf Classic XL Driver is our top pick. It has a deep face that will give you huge confidence when you address the ball. It is highly forgiving and will deliver a decent distance.
The adjustable hosel is an added bonus that will allow you to set the driver up for your swing speed and style and allow you to adapt the drives as you improve. Added to that, it even offers good playability so you will not grow out of the driver too quickly.
Look at your skills, weaknesses, swing speed and budget in order to find the best driver for your needs.
Other Articles You May Like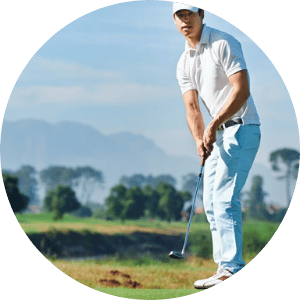 Nick Lomas is the founder of GolfSpan, an avid golfer, not quite a pro but has over 15-years of experience playing and coaching golfers from all over the world. His mission is to bring the golfing community a better experience then it comes to choosing the right golf gear, and finding the right set up for your game.