Golf has always been a game of advancement and evolution. Players look to improve with every shot they take, new swing techniques seem to crop up every week, and golfing equipment becomes more sophisticated with every passing year.
One club type in particular often finds itself packed to the brim with the 'latest and greatest' game-advancing designs: the driver.
The TaylorMade M6 made many such claims. When it was released, it came with the promise of coming as close to the legal limit of speed as possible, thanks to the implementation of new technology. 
In our full TaylorMade M6 Driver review below, we'll explore the validity of these claims, and help you decide whether or not the M6 is the shiny new driver you've been looking for. Or is it overrated? 
Pros:
High ball speeds
Easy to hit
Forgiving
Looks good
Sounds great
Cons:
Not much adjustability
Gains over the M4 seem to be minimal
Ratings
Overall: 9.4/10

Distance:

9/10

Looks: 8.6/10

Performance: 9.3/10

Forgiveness: 9.8/10

Adjustability: 9.9/10
Following on from their successful M4 model, TaylorMade sought to push the boundaries of legal ball speed with the production of the M5 and M6, both of which contain the special 'speed injected twist-face' technology. The The The The TaylorMade M5 and M6, were released in February 2019, and both made quite a stir at the time. 
However, TaylorMade M6 (the focus of this review) is slightly cheaper than the M5.
As well as speed, the large face of the M6 also promises more forgiveness than that of its predecessors. The head has a low center of gravity (CG) as standard, which is weighted more towards the back, making it easier to get the ball up and away. Unlike the M5, the CG of the M6 is not adjustable – hence the lower price.
The design of the head – both aesthetically and functionally – is of particular interest. It is noticeably symmetrical, and the rear section has been replaced with what TaylorMade is calling an 'Inertia Generator' – a 46g weight hanging off the sole which, as its name suggests, keeps the clubhead steady throughout the swing.
Visually, the club is very well designed. The bottom of the head wouldn't be my first choice of driver apparel, but the top of the head was a joy to look down on. The silver titanium strip combines with the TaylorMade logo to form an effective alignment aid, and they're contrasted by a sleek, dark, circular pattern covering the rest of the head.
It also feels great to hold, and especially great to swing. It makes a satisfying crunching sound on impact – a call back to the earlier M2 and M3 models (which can only be a good thing).
Not only is this a quality driver, but it's also one of the easiest to hit on the market. Thus, it should be well suited to players of all abilities. Higher handicappers can enjoy the high levels of forgiveness, and lower handicappers can seize the potential for some huge hits.
Below you'll see the TaylorMade M6 Driver Adjustment Chart: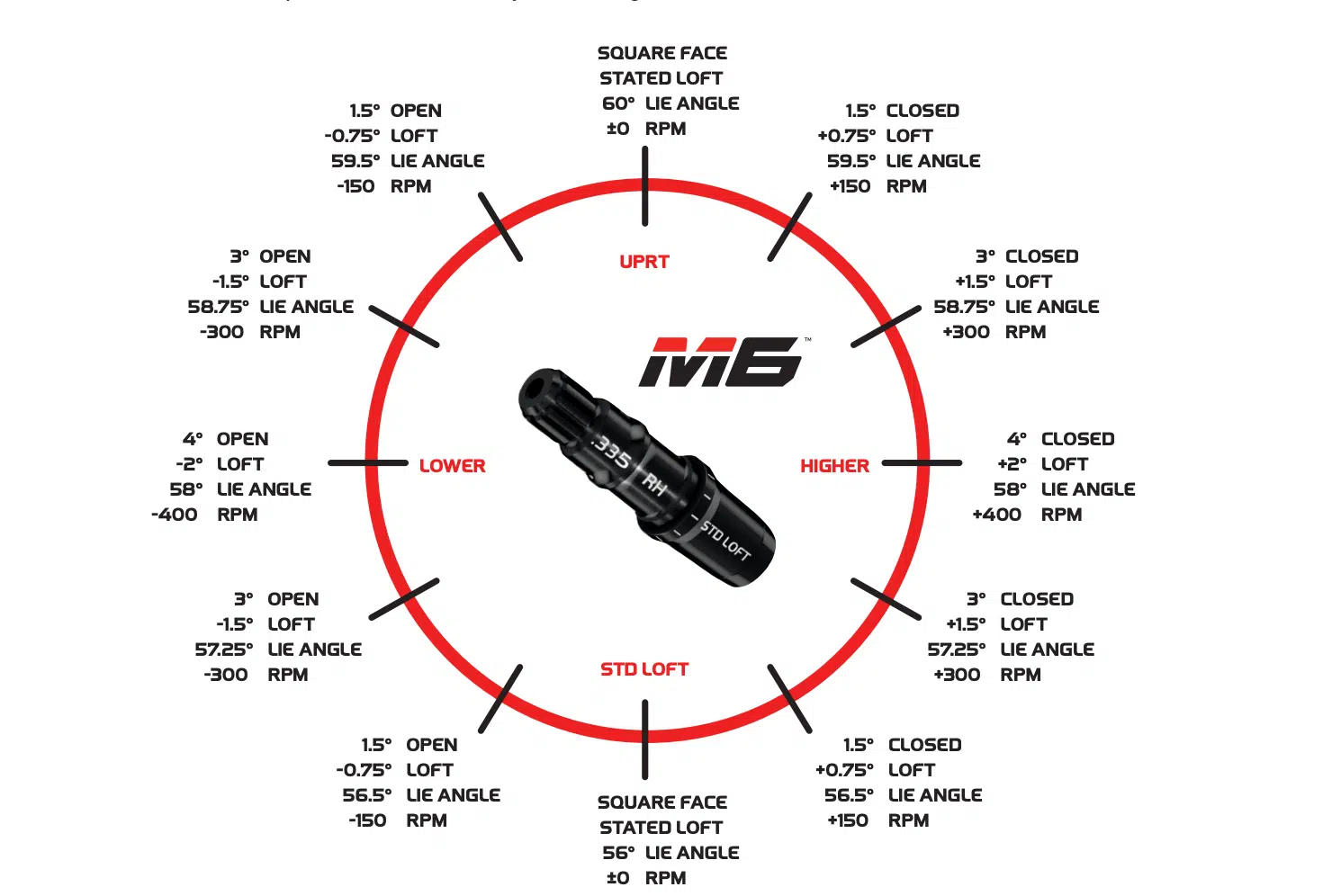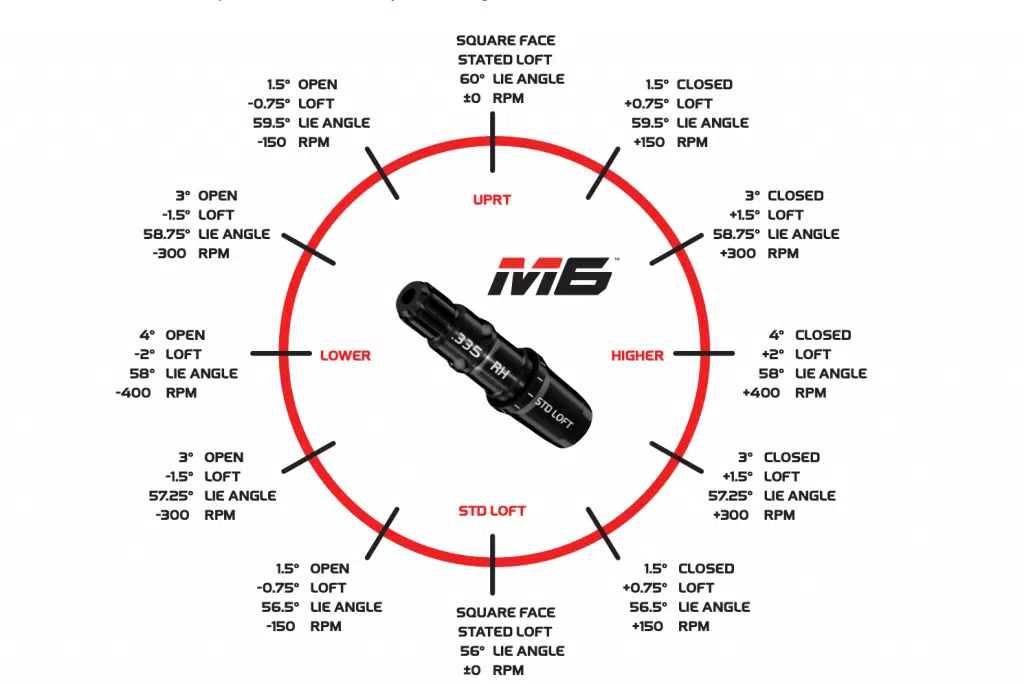 TaylorMade M6 Driver Features and Benefits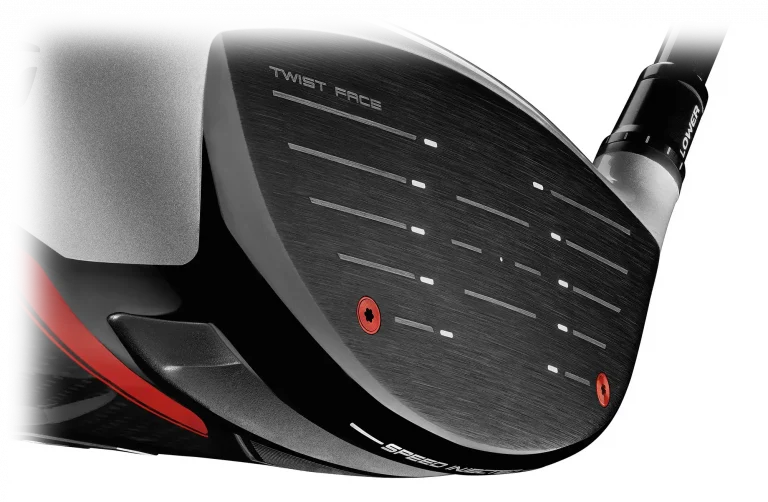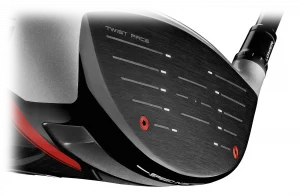 Speed Injected Twist Face
The centerpiece of this driver is the face technology, which TaylorMade has intended to produce the fastest possible legal ball speed. Looking at the face, you'll notice two red screws in the bottom corners. These are not designed to be taken out or adjusted in any way – they are actually ports.
These ports allow TaylorMade to insert resin into the head after it's been made in order to slow it down. Why on earth would they want to slow it down, we hear you ask?
Well, according to TaylorMade, when they first make the face, it is literally too fast to comply with regulations set by the R&A and the USGA, making it an illegal club. By inserting resin into the toe and heel using a special algorithm, they can slow the face down to just below the legal limit. Theoretically, this allows the manufacturer to consistently get as close to the legal limit as possible.
In practice, there's no denying the pace and power that this club can generate. Combined with the low spin rates, this face can be a real rocket launcher when it connects.
However, looking back through our data, we didn't see any significant increase in ball speed compared to the previous model of this driver, the M4. The M6 is an improvement in most aspects, but in terms of ball speed, we can't say for sure that the Face Twist technology is worth the extra money.
Hammerhead 2.0
The M6 features a bigger and better sweet spot thanks to the hammerhead 2.0 slot. Thanks to the use of the speed injection, the slot can be more flexible, offering greater support on off-center hits.
We certainly found this club to be very forgiving. We were able to maintain impressive ball speeds when hitting off various points of the face, and because the sweet spot is so large, we didn't have to be perfectly accurate in order to hit some of our biggest shots.
Inertia Generator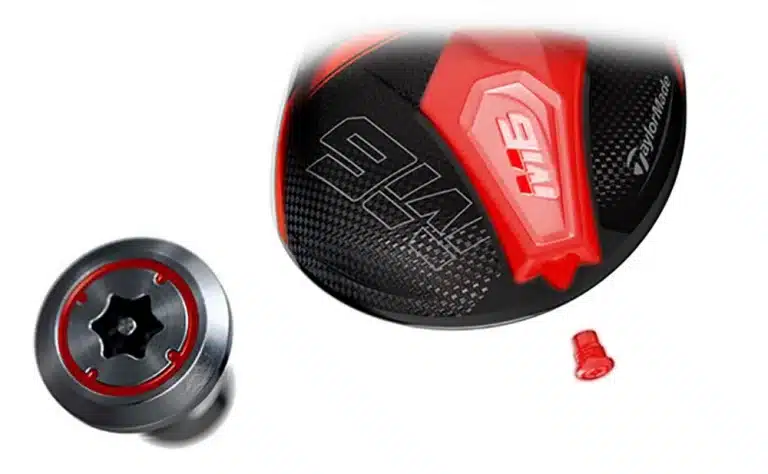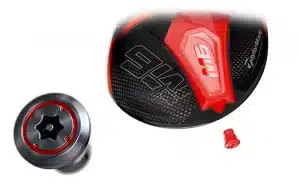 Helping to maintain distance as well as direction is TaylorMade's new Aerodynamic Carbon Sole, introduced with the M6 to provide greater stability. By using 54% more carbon than its predecessor, the M6 could basically allow more weight to be housed low and back of the head. Thus, A 46g weight, known as the 'Inertia Generator', hangs off the bottom of the sole.
This carbon sole negatively impacts the aerodynamics ever-so-slightly, but the benefits that come from having a lower CG more than make up for it. All in all, we found this to be a very welcomed feature.
TaylorMade M6 Driver Shaft Options
You can change your shaft at no charge with TaylorMade. The stiffness, launch, and spin characteristics of your TaylorMade driver can be changed to provide the best driver/shaft mixture for your swing. 
The Fujikura ATMOS Orange 5 (mid-high launch) is the stock shaft but can be upgraded to Fujikura ATMOS Black 6 (low-mid launch). 
For women, the TaylorMade Tuned Performance 45-inch Ladies Flex is available.
TaylorMade M6 Driver Specs
Release date:

15 February 2019

Handicap Range: Low to High
Golfer: Men and women
Hand Availability: Men – Left and Right; Women – Right only
Men: Left-Handed – Lofts 9° and 10.5°
Men: Right-Handed – Lofts 9°, 10.5°, and 12°
Women: Lofts 10.5° and 12°
Lie Angle: 56 to 60°
Shaft Length: 45 ¾ inch
Material: Titanium, Carbon
Head Volume: 460 cc
Swing Weight: D3
Adjustability: Loft, Face Angle
Shaft Name: Fujikura Atmos
Shaft Type: Graphite
Shaft Flex: Regular, Stiff
Grip: TaylorMade Dual Feel
A 4° loft sleeve allows up to 12 possible sleeve combinations for loft, lie, and face angle. 
Loft can increase or decrease by between 0.5° and 0.75°, the lie angle can be adjusted by between 0.5° and 0.75°, while the face angle can be adjusted by between 1° and 2°.
TaylorMade M6 vs TaylorMade M6 D 
An addition to the M6 range is the TaylorMade M6 D, designed with a draw bias for golfers that struggle with a slice.
The M6 D Type produces mid-spin off the clubface that is ideal for beginners and high handicap golfers that need assistance to get the ball straight down the fairway.
TaylorMade M6 FAQs
Is TaylorMade M6 driver for high handicappers? 
The TaylorMade M6 is an excellent choice for mid and high handicappers but can serve the low handicap golfer as well.
The combination of length and accuracy allows for high handicap golfers to get a fair distance off the tee enabling them to reduce their handicap.
Is TaylorMade M6 driver good for beginners?
The combination of forgiveness and distance will allow beginners to use a driver from the start and get off the tee without a problem.
Is the TaylorMade M6 driver worth the money?
TaylorMade drivers are not the cheapest on the market but have received rave reviews from golfers that have played the M6.
TaylorMade M6 Driver reviews on e-commerce sites such as Amazon and GlobalGolf average above 4.75 out of 5.
Is TaylorMade M6 driver good for seniors? 
The TaylorMade M6 drivers are good for senior golfers that can still keep a relatively fast swing speed to get the ball a fair distance off the tee. Seniors with lower swing speed will struggle to get the best out of the M6. Also available is the M6 D-Type driver, which encourages a draw bias.
To improve the looks of your driver, check out the TaylorMade M6 headcover:
TaylorMade M5 Driver Alternatives
If you've read through our TaylorMade M6 review and think that this driver won't quite fit the bill for you, not to worry. Here are some worthy alternatives you could also check out.
With this driver, PING has refined what was an already highly successful model. Slight improvements have been made to the head and face design, and the G410 actually offers some of the fastest ball speeds and highest MOIs in golf.
The main difference is the adjustment technology, and if you felt that the TaylorMade M6 was lacking in adjustability, then this club would be a logical alternative. It features a slider at the back, allowing you to set the face to a draw, fade, or neutral position.
This is also a forgiving club, though perhaps not quite as forgiving as the M6.
2. Cobra King F9 Speedback
Featuring a breakthrough SPEEDBACKTM technology, which combines a highly aerodynamic clubhead with low CG, providing a game-changing advancement in driver performance.
The goal was to generate the three elements of the perfect drive: speed, low spin, and high launch. Before this driver came along, you usually had to sacrifice one in order to gain another. Now that they're all in the same place, remarkable distances can be achieved.
Thus, this could be a go-to driver for those looking for the best distances. It doesn't have as much to offer in the forgiveness department as the M6, and it isn't as adjustable as other drivers at this level, but overall it's a superb product.
3. Titleist TS2
The Titleist TS2 is praised most specifically for two things: high launch and high forgiveness. As with most Titleist products, you can be fairly confident that it's going to perform, and this driver is no different.
The TS2 really flies, and the high levels of forgiveness make it accessible to golfers of all abilities. Adjustability is limited, but other than that, this driver can really compete with the best. Be sure to make the most out of Titleist's superb fitting services.
Things to Consider Before Buying a Driver
We know that it's easy to be drawn in by a particular selling point of a driver; who wouldn't want to go the fastest and the furthest? But there are numerous factors that should be considered when buying a driver, and striking a balance is usually the best way to go.
Distance
Of course. Drivers are designed for distance, and going big off the tee is one of the most enjoyable parts of golf.
Forgiveness
Forgiveness is important for players at every level, but especially for those who are just getting started on their golfing journey. Mishits happen more frequently than any of us would like to admit, so it's important to have a driver that can still produce good shots when you don't hit it out of the center.
Loft and Launch
The perfect drive, as well as having speed, power, and direction, must have just the right amount of loft to achieve optimal flight. How high your driver launches the ball on impact is a crucial aspect of its performance.
Feel and Sound
The feel of a driver is something that will be personal to you. It's good to trust your instincts; if the club doesn't feel good to hold or swing, it probably isn't the driver for you. Also, listen to the sound it makes as it strikes the ball – it's usually a very good indicator of quality.
Adjustability
As club technology has advanced, manufacturers have been able to make their products more and more adjustable. Since everyone has slightly different swings, it helps a great deal to be able to tailor a club to suit your own style.
Looks
Call us shallow, but we consider the looks of a club to be an important factor. Liking the way your driver looks is very likely to have a positive impact on your performance.
Final Thoughts
Though high-speed was absolutely delivered by the Face Twist technology, it is, perhaps, not quite as groundbreaking as TaylorMade claimed it would be.
Regardless, the TaylorMade M6 is an excellent driver. With a low CG, high MOI, a huge sweet spot, and an intelligently designed face, it's a true joy to hit, and with each swing, you can hope to break some personal records of driving distance. Plus, it looks, sounds, and feels great.
If you're looking to pick up some extra yardage, find more forgiveness, or simply play with a great driver, check out more details about the TaylorMade M6 here.
Related Articles