With all the latest technology developments in the golf industry, there comes a hefty price tag, which not all golfers can afford or want. So the used club market has taken off and thrived and today we focus on the best used golf irons available.
It is not necessary to lay out huge sums of cash if an upgrade to improve the game is desired. Used clubs are readily available on many golf sites on the internet, and are worth visiting to check out availability. Among them are Callaway Golf and Global Golf to name just two.
Quick Overview: Our Top Picks for Best Used Golf Irons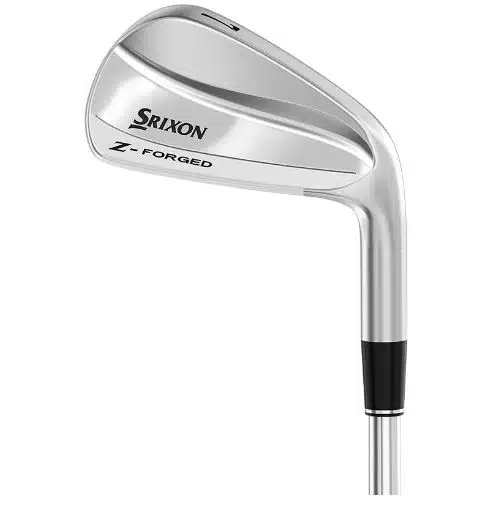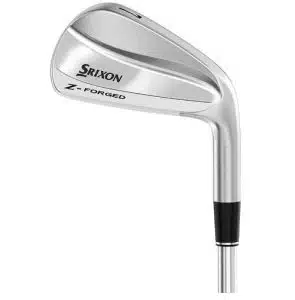 *Get 8% off from Global Golf with Code: GOLFSPAN
Pros
Fastball speed technology
Progressive groves for more stopping power
Thin top-line and cavity back forgiveness
Cons
Longer blade length will not appeal to all
Thin top-line may be off-putting for higher handicaps
VT Sole design not traditional
The ZX5 Irons bring pioneering ball speed technology and a premium forged feel to give you a forgiving iron that looks as good as it plays. Featuring a Cavity-Back Design for a classic look, with a thin topline and longer blade for enhanced forgiveness. A milled pattern on the back of each iron face maximizes ball speed and distance.
The Tour V.T. Sole glides smoothly through the turf, even if you strike slightly behind the ball.
The Progressive Grooves are sharper, deeper, and narrower on the short irons from 8 to pitching wedge for more spin and stopping power on approach shots to the green. The forged face enhances speed and distance, whilst the long and medium irons feature tungsten in the toe for more MOI and increased forgiveness and stability. The irons sit well at the address and increase confidence.
2. XXIO X Black Irons
Pros
Explosive ball speed and distance
Hot-forged faceplate with Tungsten weighted sole
A professional look at address
Cons
Even used irons are relatively expensive
More suited to the low handicap player
Less expensive used irons that will deliver similar performance
XXIO X Black irons are for the better player that likes to use top-class equipment but also likes the fantastic feel off the face that these clubs deliver. The two iron slots cut into the iron body just behind the face increase flexibility while still maintaining strength for long straight shots. Coupled with the tungsten sole weight and the hot-forged titanium faceplate, explosive ball speed, distance, and forgiveness just got better.
Irons just look great at address and deliver the goods. Top selling brand in Japan and Korea. Another feature is the lightness of the club which assists players with slow to medium swing speed's to develop more clubhead speed at impact. They have gone further with this and have added brass and rubber weights in the butt of the club. This shifts the balance point to assist players to find the correct position at the top of the swing.
3. Cleveland Launcher XL Irons
Pros
Dual Hollow and Cavity Back irons for ultimate performance
Explosive ball speeds off the face
Distance and easy launch from the fairway and the rough
Cons
The bulky head may not suit the better golfer
Different construction through the set not for all players
Thickish top line and sole not for all
Cleveland Golf has introduced a set of irons that will appeal to the golfer looking for that extra blend of accuracy, distance, and forgiveness. The Launcher XL Irons has a variable high strength steel face insert that delivers explosive ball speeds and increased distance. This face insert reduces vibration and still delivers distance on mis-hits.
The Hollow and Cavity Back Construction is an innovation from Cleveland Golf. The long irons from 4 to 7 have a hollow construction that provides forgiveness with deeper, lower weight distribution. The Cavity Back short irons from 8 to dual wedge offer better control on approach shots to the green. The V-Shaped Sole glides through all turf conditions and the dynamic turf interaction provide pure contact adding more spin to the short irons and low spin distance to the long irons. Tour ZIP Grooves enhance easy, high launch and stopping power on the greens.
4. Titleist T300 Irons
Pros
Easy launch with higher ball speed
Less offset and a thinner topline
Trendy modern mid-size head
Cons
The offset will not appeal to the better player
The longer blade can be off-putting
Launch characteristics not for all
Titleist T-Series irons have been well accepted by the market and the T300 is a winner.
Regarded as the best irons ever produced by Titleist this set will meet all the demands that every player seeks. The T300 features a longer blade length which is well balanced with tungsten weighting in the toe and delivers greater MOI.
Titleist club designers worked with their ball R & D partners to create a unique polymer core that enhances great sound qualities and damping. Off-center shots still travel a fair distance, without great vibration through the hands. Precise CG placement provides easy launch and a strong ball flight.
Titleist has added their MAX Impact Technology that is spread across the very forgiving mid-size face, which produces faster ball speeds. The slightly reduced offset, stronger lofts on the cavity back head, and the fast action off the face enhance distance on all shots.
5. Callaway Mavrik Irons
Pros
Longest Mavrik iron in the series
Easy long launch trajectory off the Flash Face
Latest Callaway A-I technology
Cons
A thickish topline not for all
Better players will not be driven by distance only
Head shape not for all
Callaway has incorporated all their latest A-I Technolgy into the Mavrik irons and this is the longest iron in the series. Incredible fastball speed from their A-I developed Flash Face Technology produces easy launch and maximizes consistent distance, and mis-hits still travel straight and far.
Callaway's improved face architecture allows the installation of a unique face into each iron. A first in the golf industry! Increased spin robustness on each iron and boost in ball speed is another feature. The precision CG placement comes from the custom tungsten-infused weights throughout the set.
Player preferred trajectory, spin rates, and land angles are produced by strong lofts and optimum launch and ball flight. The patented urethane microspheres offer an incredible feel, absorbing vibration on mis-hits while maintaining COR for tremendous ball speed.
6. Callaway Big Bertha B21 Irons
Pros
Engineered for ball speed and distance
All Callaways latest A-I design technology
Greater offset allows the clubhead to be turned over easily for accuracy
Cons
Wide sole not suited to the better player
Bulky head and thick topline
High launch not always preferred
The Callaway Big Bertha B21 Irons is a good-looking set of irons that delivers performance through the set. Callaway is always at the leading edge of technology development and this set has all their latest A-I technology. Engineered for fast ball speed, high launch, and straight shots.
A 100% forged body gives an improved feel and control on all shots. The first Big Bertha Irons using Callaways A-I designed Flash Face Cup.
Callaways AI-designed Flash Face Cup produces high ball speed at contact and increased spin robustness. The 360 Face Cup enhances ball speed by flexing and releasing at contact. Turf interaction is improved in all conditions by the wider sole.
A low CG is created by the placement of the tungsten weights low in the head. Unwanted vibration on mis-hits is reduced by the patented urethane microspheres in the head and distance is maintained. Greater offset is added which promotes an easy launch, lower spin, and straighter flight. A serious distance club for all players wanting to get the ball further out there.
7. Titleist T400 Irons
Pros
Long and easy launch
Increased swing speed through the strike
Playability for game improvement
Cons
Bulky head not for lower handicaps
Thick progressive sole not for all
Weight movement could be overkill for most golfers
The Titleist T-series irons are one of the best irons produced by the company and they have a range that will cater to every golfer's needs, irrespective of ability. The T400 iron set is a tremendous set for the golfer seeking game improvement through all the irons. The Split-Sole design to the wide-body shape glides through all turf conditions offering maximum ball contact on every swing. Moderate swing speed players will obtain the maximum benefit from the T400.
The hollow head construction from lightweight materials creates a high MOI and increases clubhead speed through the strike maximizing distance, and forgiveness on off-center shots. Vibration through the club is reduced significantly. Titleist has added high-density tungsten weighting of 100 gms per head and the combination of the weighting and super-thin forged SUP-10L-Face Insert, delivers explosive ball speed and launch from the rough and fairway.
Titleist's progressive set design is an outstanding feature, with progressive blade lengths, hosel lengths, and sole widths. Moving the tungsten weights around in the head allows the player to change the launch angle, flight, and shot shape through the set. A draw, neutral, or fade bias can be dialed into each iron. The set provides fantastic playability, high launch, good looks and sound, and the feel that makes this game a pleasure.
9. Ping G425 Irons
Pros
Flex face for ultimate ball speed
Increased size of sweet spot
Sleek compact head with high MOI
Cons
Cascading sole is not for everyone
High launch characteristics not for coastal players
Price
Ping has moved away from tradition with the new G425 iron with a re-engineered face of a metal-wood style, incorporating a variable face thickness (VFT) design. This distance iron uses a greater flexing of the face to increase ball speed, higher launch, and still deliver stopping power on the green. The perimeter weighting with a tungsten toe screw and hosel weight increases the sweet spot for added forgiveness.
A Hyper 17-4 stainless steel face is said to deliver the fastest ball speed ever in the Ping G-Series and gets the ball out there. The patented cascading sole and top rail undercut combine to form a hinge, flexing and launching the ball at great speed. A shorter blade length with a higher MOI than the G410 model creates a good-looking compact head at address and inspires the all-important confidence all players seek.
Ping has added a 3-piece Multi-Material Cavity Badge that covers more of the face to absorb vibration on mis-hits. Performance with fantastic sound and feel is the result. The resilient hydropearl chrome finish repels water in wet conditions and improves contact. Ping has fitted the Arccos Caddie Smart Grips as a standard feature. Paired with the Arccos Caddie app, a full analysis of every shot can be recorded.
10. Cobra King Forged Tec Irons
The Cobra King Forged Tec have a traditional look with the latest technology for distance and control. A forged-face insert gives you a big sweet spot so you can get high launch and fast ball speeds.
The Muscle Back Shape offers more stability on mis-hits and decreases vibration through impact.
Cobra Connect features a breakthrough in iron performance with its first-ever carbon fiber topline, PWRShell Technology, and Speedzone Shaping for maximum power, speed, and forgiveness. Carbon Fiber saves weight due to its lightness and coupled with the forged PWRShell face insert, offers a 35% larger sweet spot and an 8% deeper undercut to enhance ball speed and launch across the face.
Final Thoughts
Before spending your hard-earned cash on a new set of irons, test the market for all the available used sets. Most golf sites offer a guarantee or return of purchase policy with the used purchase, and this should bring peace of mind.
Test the irons before purchase, if possible, on the range and on the course to find the right club for you. Always ensure that the shaft matches your swing speed.
Related Articles
Nick Lomas is the founder of GolfSpan, an avid golfer, not quite a pro but has over 15-years of experience playing and coaching golfers from all over the world. His mission is to bring the golfing community a better experience then it comes to choosing the right golf gear, and finding the right set up for your game.