TaylorMade is a brand that finds its way into many major tour championship bags thanks to players like Tiger Woods, Dustin Johnson, Sergio Garcia, and Rickie Fowler. So if you're looking for a set of high-quality irons, they're a top choice. But what about two of their most popular sets?
Let's compare the TaylorMade M2 vs M6 irons.
Although the M2 and M6 irons are a little older, their performance remains today.
Read on for a detailed comparison of the two and figure out which will suit you better.
TaylorMade M2 and M6 Irons
M6 Irons

M2 Irons

Pros
Pros

Huge Sweet Spot
Fast off the face
Substantial MOI

Tungsten weights
Forgiving face slots
Workable

Ratings
Ratings
Distance: 88/100

Accuracy: 83/100

Forgiveness: 89/100

Feel And Control:79/100

Overall: 86/100

Distance: 84/100

Accuracy: 83/100

Forgiveness: 84/100

Feel And Control: 83/100

Overall: 84/100

Ideal For
Mid-to-high handicap players that want to maximize forgiveness without breaking the bank.
Mid-to-high handicap players that perform best from club feedback and like a little extra control over their shots.
Overview
These are two of TaylorMade's best and most popular legacy iron sets. Sometimes finding a used set of either is like searching for a needle in the haystack.  If you're lucky enough to have the opportunity to choose between the two, you'll want to make the right choice.
In short, the M6 irons are a lot newer, have better tech, and are more forgiving. Yet, the M2 irons are still a high-quality product and shouldn't be overlooked and are better if you value club feedback to control your shots.
Who Should Play the M2 and M6 Irons?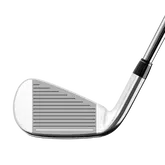 Mid-handicap golfers and beginners will experience the forgiveness, distance, and consistency that help you enjoy every round and improve your scores. Seniors and women golfers can also benefit from the all-around performance. Single-figure golfers with slower swing speeds should consider these irons to improve their consistency too.
It may be a good idea to break down the various specifications to find the best set for your game.
Taylormade M2 Irons vs M6 Irons: Direct Comparisons
Let's take a quick look at the benefits of M6 vs M2 irons: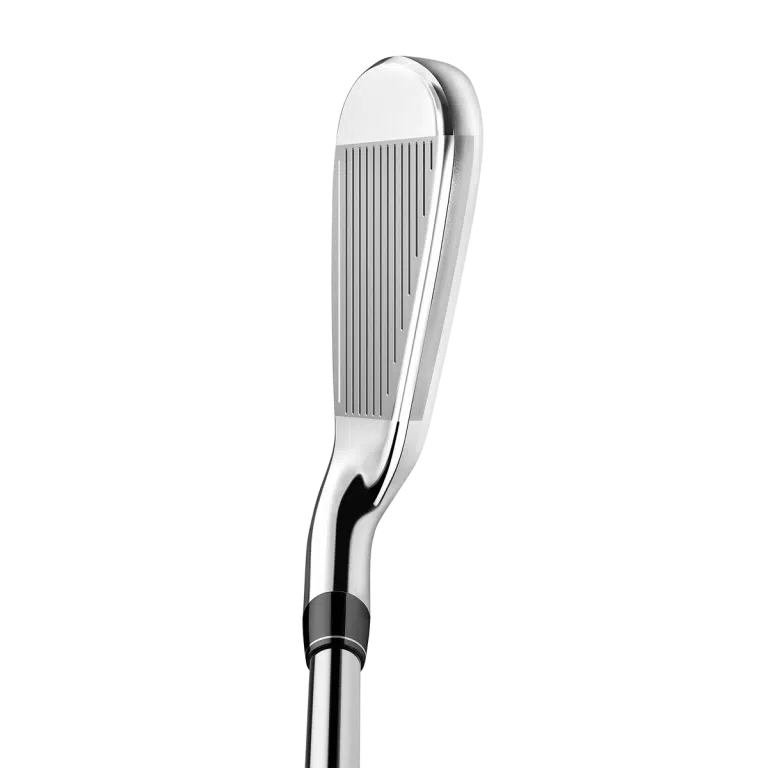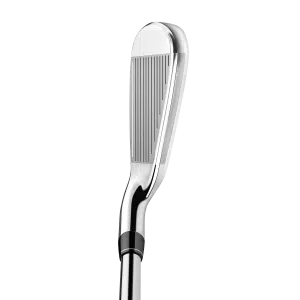 Composition and Lofts:
The M2 and M6 irons have the same lofts, but the M6 has more wedges in its standard set.
| | | |
| --- | --- | --- |
| Iron Type | M2 Lofts | M6 Lofts |
| 4 | 19 | 19 |
| 5 | 21.5 | 21.5 |
| 6 | 25 | 25 |
| 7 | 28.5 | 28.5 |
| 8 | 33 | 33 |
| 9 | 38 | 38 |
| PW | 43.5 | 43.5 |
| AW | 49 | 49 |
| SW | x | 54 |
| LW | x | 59 |
Sound and Feel:
The M2 irons have more satisfying feedback, which should appeal more to those with a slightly lower handicap as it helps with precision.
On the other hand, the M6 irons have a HYBAR which reduces vibration on impact and slightly dulls the sound. Yet, the M6 set will still feel more like a forged club. If that's what you're used to playing with and are looking to switch to game improvement irons, they're the smart choice.
Price:
As the TaylorMade M2 and M6 irons are both sought-after older irons, you'll usually find them at similar prices. The difference is that the M6 irons also include sand and lob wedges, so you get a little more bang for your buck.
TaylorMade M2 vs M6 Irons Reviews
This was one of the best iron sets released in 2017. TaylorMade has packed this model with features that will appeal to all skill levels. The clubs look great at address, and this inspires confidence. A 4 iron to a Pitching Wedge is included in the set. The thinner topline and shallower blade height combine to give a more compact look.
A redesigned speed pocket with a thinner wall improves performance and creates a higher launch, even on shots struck low on the face. The face slots preserve ball speed on mis-hits off the heel or the toe, which improves consistency.
Weight is saved with a lighter fluted hosel which allows TaylorMade to provide a lower and deeper center of gravity. Optimal sound and feel are created by combining acoustic management with geometry in the overall design.
The sweet spot is enlarged with Inverted Cone Technology, and side spin is reduced for straighter, longer shots. An Echo Damping System reduces vibrations through the hands at impact. Ball speed and distance are easily attained through the set. Graphite and Steel shafts are available.
Features and Benefits
4 to Pitching Wedge in the set
Thinner topline and shallower blade height give a more compact look
Redesigned thinner Speed Pocket for higher launch
Face Slots preserve ball speed on mis-hits
Fluted Hosel and a lower CG
Inverted Cone Technology enhances the sweet spot
Echo Damping System reduces vibration through the hands
The M6 irons are similar in performance to the earlier model M2, with a few technical advancements which come with every newer generation of TaylorMade irons. Additional distance is a key and will attract golfers wanting to hit the ball just that little bit further than their mates!
For many golfers, the club's look is an important factor when choosing irons.
Certainly, the way the club sits at address is most important to inspire confidence. New Speed Bridge structure enhances ball speed through impact and delivers extra distance. It allows TaylorMade the ability to use their most flexible thru-slot Speed Pocket engineered to generate more ball speed than ever before.
Music to the golfer seeking distance! Energy loss is reduced with the increased stiffness in the head structure, allowing for higher ball speed. The ultra-thin face design incorporating Inverted Cone Technolgy delivers fantastic ball speed over the entire face. Mis-hits travel exceptional distances, and consistency is retained.
Feel and sound is improved due to Speed Bridge supporting the topline to reduce low-frequency vibrations at impact. Advanced HYBAR compression damper filters unwanted vibrations off the face producing a soft and solid feel on every shot. A Fluted Hosel and 360 undercut effectively lower CG for a higher launch angle and ball speed.
Ball flight is penetrating and strong even on low-face strikes. Inverted Cone Technology maximizes the sweet spot and produces straighter shots. The M6 has a wider sole which enhances easy launch and turf interaction. The blade length is a healthy 90mm.
Features and Benefits
New Speed Bridge structure enhances ball speed and distance
Increased stiffness in the head to reduce power loss
Inverted Cone Technology maximizes the sweet spot
Advanced HYBAR compression damper reduces vibration through the hands
Fluted Hosel and 360 undercut lower CG for easy launch
90mm blade length
4 to Pitching Wedge in the set
Which One We Recommend and for Who
We'd recommend either of these iron sets if you can get your hands on them for a good price. They are both decent game improvement irons that perform well beyond their price point and would suit mid-to-high handicappers.
But, the M6 irons are undoubtedly the more advanced game improvement irons. Yet, by that logic, you should also consider an even newer TaylorMade set that is among the most forgiving irons on the market today.
Taylormade M6 Irons vs M2 Frequently Asked Questions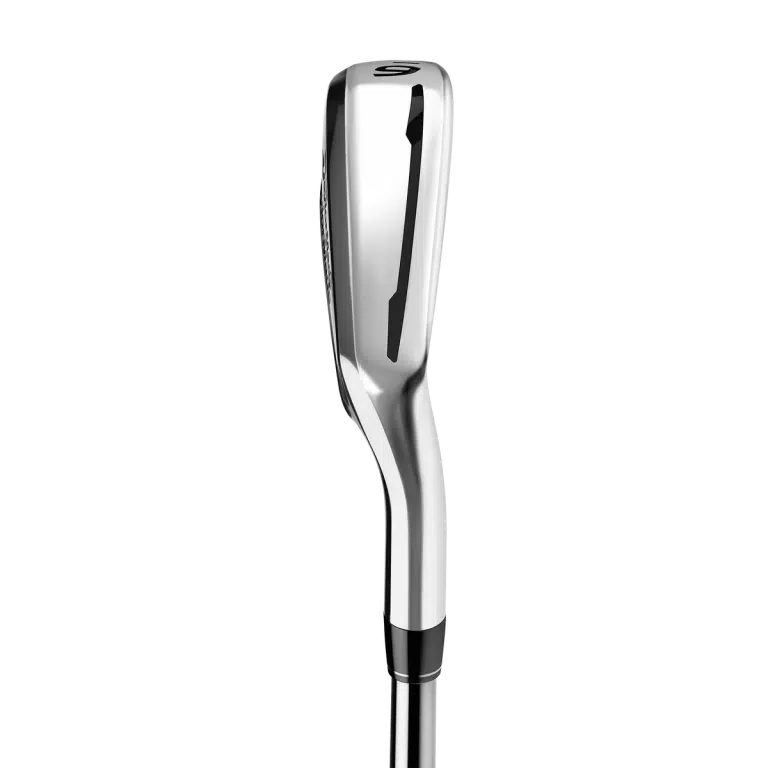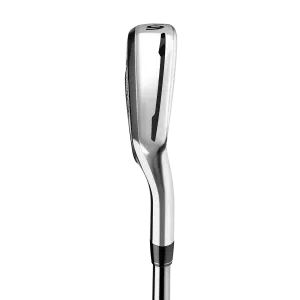 Is the M2 Better Than the M6?
That depends on what you're looking for. The M2 provides better feedback but is inferior in forgiveness and distance.
What Handicap Is TaylorMade M2 For?
TaylorMade M2 irons are ideal for golfers with a handicap of 10 or above.
What Handicap Is TaylorMade M6 For?
M6 irons are even more forgiving than the M2 irons, so they also suit those with a handicap over 10. But, they're even better if you have a 13 or more handicap.
Final Thoughts
TaylorMade is a leading brand in the golf industry and benefits from many top professional endorsements for its product. All their products, from the ball, irons, drivers, fairway woods, and putters, attract huge volumes of amateurs to their ranks.
Deciding on the better when comparing TaylorMade m2 vs m6 irons is difficult, and if you have the opportunity, you should test them both out. But, if we had to choose for you, we'd go for the M6 irons.
Nick Lomas is the founder of GolfSpan, an avid golfer, not quite a pro but has over 15-years of experience playing and coaching golfers from all over the world. His mission is to bring the golfing community a better experience then it comes to choosing the right golf gear, and finding the right set up for your game.