Growing up, I spent countless summers playing golf in 95-degree heat where traditional slacks were not an option. Based on my experiences, I have decided to compile a list of the best shorts for golf, to keep you cool and comfortable during the summer.
At a glance: Best Shorts For Golf
In this article, we will cover our top five options and delve into the features and benefits of each pair of shorts. The purpose is to save you time window shopping and help you identify the ideal option for your needs, and spend more time on the course.
Quick Overview: Best Shorts For Golf
Men's Best Shorts For Golf Overall
1. Under Armour Throwdown Golf Shorts
Features of Under Armour Throwdown Shorts
Stretchy Woven Fabric
By using a stretchy woven fabric, the designers at Under Armour were able to optimize the mobility of these shorts. The design ensures freedom of movement when rotating your hips and walking.
The one downside of this design is that the material is not the most durable, resulting in tears in the crotch area over time.
Sweat Wicking Material
Under Armour crafted the Throwdown shorts by applying sweat-wicking material to remove sweat and keep your pants dry in blistering heat. The material also induces maximum airflow to allow the breeze to cool down your skin.
Stretch Waistband
As if the sweat-wicking material and stretchy woven fabric didn't offer enough comfort. Under Armour also fitted a stretch waistband. It helps to enhance your mobility while rotating your hips, ensuring comfort throughout your round.
Colors
Although the Throwdown's don't offer the variety of colors that the Ultimate 365 shorts do, they still have more than ten options. Color availability depends on the size of the item that you are ordering.
Value For Money
The Under Armour Throwdowns fetch more than the Adidas Ultimate 365's per unit and are priced towards the higher end of the spectrum. Overall I found that despite the higher price. These shorts had a shorter lifespan compared to the Adidas design.
As a result, there are better value-for-money golf shorts on the market.
Under Armour Throwdown golf shorts are engineered for optimal stretch.
They are crafted using nylon, polyester, and elastane. Which is designed to deliver exceptional comfort and mobility while out on the golf course. Plus, the material is designed to wick away sweat and rapidly dries your shorts.
Verdict
You cannot fault Under Armour for the comfort and stretchability of these pants. If that is what you are after, I would suggest taking a closer look at the Throwdowns. However, the higher price, and the stitching weaknesses, are factors to be wary of.
Features of Puma Jackpot Throwdown Shorts
Drycell Technology
Like its competitors, the Puma Jackpot golf shorts feature technology that helps to wick away moisture from your skin to keep you dry. However, instead of being called moisture-wicking, Puma named their's Drycell technology.
Drycell technology expels sweat from your body to keep you dry on warm days on the course.
Stretch Waistband
Puma's design department included a PWRSTRETCH waistband to keep your shorts in place and enhance freedom of movement during your swing. The better the freedom of movement, the less restricted you feel, and the more comfortable you will be.
Performance Fit
As a company at the forefront of athletic apparel, you would expect them to deliver shorts that enhance your experience on the course. Their performance fit design increases your freedom of movement around the thighs during your swing and while walking.
Silicone Gripper Tape
Silicone gripper tape is an excellent addition to the Puma Jackpot shorts. The tape grips onto your shirt to keep it tucked into your pants, eliminating distractions from your line of sight on your backswing.
Colors
If you ever felt that company's don't offer sufficient color combinations, you may appreciate Puma's Jackpot shorts. You can purchase a pair of these golf shorts in one of twenty-six colors, providing a broad offering.
Value For Money
Jackpot golf shorts are priced at the higher end of the market, which may put some of us off them. However, when you want premium quality, it often comes at a price. And that is what happened here.
Puma proudly proclaims the Jackpot Shorts as their best pair of half-pants yet. The apparel giant crafted these shorts with specific fabric, designed to expel sweat and moisture from your body to provide a cool, comfortable feel. Plus, you have the option of 26-colors.
Furthermore, a stretch waistband increases your freedom of movement, while silicone gripper tape holds your shirt in place. Although these shorts provide a stylish look and exceptional comfort, they are a premium product with a higher price tag.
Verdict
The Puma Jackpot shorts are of premium quality that provide a mix of comfort, style, and Drycell technology.
Based on the higher price tag of these shorts, I would opt for other better for value money options on this list. However, if you demand quality and name brands, a pair of these is worth considering.
3. Adidas Ultimate 365 Shorts
Features of Adidas Ultimate 365 Shorts
Shirt Gripper Tape
One challenge I always have is keeping my shirt tucked in, resulting in me looking as scruffy as the late Simon Hobday. I am impressed with the shirt gripper tape feature on the Ultimate 365 shorts. The printed silicone tape holds your shirt in place to eliminate any distractions during your backswing.
Increased Stretch
As embarrassing as it may be. I have ripped multiple golf shorts as a result of poor stitching and excessive hip rotation. Using 12% spandex material, Adidas has designed the shorts to deliver additional stretch. This enhances the durability of the shorts and optimizes comfort while walking or swinging.
Water Resistance
Following on from the optimal stretch of these shorts is their water-resistant capability. What that means is that it repels light quantities of water away from the inside of the shorts.
If you are caught in a rainstorm, your shorts will get soaked. However, they handle well in light rainfall.
Advanced Breathability
When you play in intense heat, sweating causes extreme discomfort and drenches your clothes as much as a torrential rainstorm. Adidas also employed wicking fabric and micromesh pockets for maximum comfort.
The design of the fabric wicks away sweat from your body, while micromesh pockets encourage airflow for enhanced breathability. As a result, you stay dry and remain fresh.
Colors
If you come across a design of shorts that you enjoy, you may want to stock up on a few pairs. With Adidas Ultimate 365 shorts, you have over thirty colors to choose from, meaning that you can rock the pants that you love in multiple styles.
Value For Money
A pair of Ultimate 365's fit into the mid-price category and are not overly expensive. While there are more affordable options out there, their quality and performance offer excellent value for money.
The Adidas Ultimate 365 shorts top our list as the best shorts for golf overall, thanks to their comfort, style, and vast color options. A water-resistant construction delivers optimal stretch and breathability, while the shirt gripper feature keeps your shirt in place.
Verdict
The Adidas Ultimate 365 pants are comfortable shorts that provide exceptional stretch, water-resistance and keep your shirt in place. As a mid-priced product with various color choices, these are well worth trying on for summer.
4. Izod Swingflex Stretch Shorts
Features of Izod Swingflex Stretch Shorts
Swing Flex Technology
Izod's Swing Flex technology allows the fabric to stretch in all directions, increasing the durability and comfort of the pants. Whether you are walking, swinging a golf club, or bending down to read the line of a putt.
Cooling Technology
When you wear shorts on a golf course, the chances are that the temperature is soaring. That is where Izod's cooling technology steps in and lowers the temperature around your thighs and crotch. As a result, it helps to provide optimal comfort.
Sun Control
Added to Swingflex's Cooling Technology are its sun protective qualities. Izod employed UPF-15 UV technology that shields your skin from harsh rays and reduces the risk of sunburn.
Moisture Wicking
The moisture-wicking properties of the Izod Swingflex shorts push sweat away from your body to keep you cool and dry throughout your round. That design optimizes your comfort and helps you enjoy your round of golf.
Colors
Based on the other pants on this list, the Swingflex pants offer limited color options. Five, to be exact. The colors on offer are your standard khaki, black, and navy designs.
Value For Money
If you consider the features of these golf shorts, it is surprising to see that they are priced as an entry-level product. As a result, it is fair to state that the Swingflex Stretch shorts are excellent value for money.
Louis Oosthuizen is not just an exceptional golfer. He also knows a thing or two about playing golf in warm conditions. So, when he dons a pair of shorts for a casual round, they better wick away sweat, keep him fresh. Plus, they must be comfortable, like the Izod Swingflex Stretch shorts.
Besides sponsoring the South African, Izod manufacture premium quality golf shorts that contain technology to optimize your experience on the course.
The material used to create these shorts keeps your body cool and dry and wicks away any sweat. Plus, it blocks out any sun rays to avoid burning your thighs.
Verdict
After looking into the finer details of the Izod Swingflex Stretch shorts, we see that they are well made, perform exceptionally, and are highly affordable. As a result, I would recommend these to all golfers, as it caters to all budgets.
5. Royal & Awesome Patterned Golf Shorts
Features of Royal & Awesome Patterned Shorts
Cotton Material
It is not often that you find cotton products these days in a sector dominated by polyester. Instead of applying moisture-wicking technology to keep you dry, Royal & Awesome rely on the soft, breathable qualities of cotton.
The downside of cotton is that it wrinkles easily. If you plan to wear these shorts for your next round, make sure you leave enough time to run the iron over them.
It is also necessary to point out that your shorts may shrink around the waist and leg. It is only temporary when you take it out of the dryer.
Spandex
Although cotton is the star material in these shorts, Royal & Awesome added 3% of spandex to increase the amount of flex when you rotate your hips.
Tee Loops
The tee loops on the outside of the side pocket seem quirky at first, but it solves a legitimate challenge.
Whenever you store tees in your pockets, the sharp point drives into the material and eventually causes it to rip. As a result, you have holes in your pockets and can't store anything in them. With tee loops, you keep them secure, and everything remains intact.
Colors
Royal & Awesome not only offers different color choices, but each option also features a different pattern. From pink half-pants with little aliens to board shorts more suitable for South Beach, Miami. There is a design for all tastes.
Value For Money
The Patterned golf shorts do run you more than some of the items featured on this list. However, since they use cotton and sport out-of-the-box designs, these are good value for money golf shorts.
A list of the best shorts for golf would not be complete if it didn't feature an outrageous design, and that is where Royal & Awesome's Patterned golf shorts come in. If you have the style of Ian Poulter, these half-pants may be right up your alley.
The Royal & Awesome Patterned shorts lack the innovative technological features that competitor pairs possess. However, it makes our list for their funky style and quality material.
Verdict
Traditionalists will likely not approve of anyone who dons a pair of these pants. But who cares what others think. If you enjoy setting fashion trends, love cotton, and appreciate the tee loop feature, these pants are worth trying on. Just be prepared to pay more than you would for your average pair of shorts.
Final Thoughts
After scouring the kingdom of golf apparel, we have finally completed our top five list for the best golf shorts.
To recap, it was the Adidas Ultimate 365 shorts that came out on top overall. The sophisticated stretch and waterproof material of these affordable half-pants, combined with their breathable qualities, made them the superior option.
However, there are other outstanding performers. Such as the Under Armour Throwdowns, which earned our pick for the best stretchable golf pants.
Next up was the Izod Swingflex Stretch shorts that earned the top spot for the most protective pair. All thanks to their ability to shield you from the sun.
The final two places on our list of the five best shorts for golf in 2021 went to the Puma Jackpots and Royal & Awesome Patterned design. The Jackpot's topped their class for their comfortable fit, and Royal & Awesome blew the competition away for the most stylish shorts of 2021.
If you plan to spend most of your summer on the golf course, you can take a closer look at the Adidas Ultimate 365 shorts here.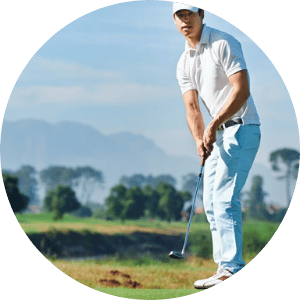 Nick Lomas is the founder of GolfSpan, an avid golfer, not quite a pro but has over 15-years of experience playing and coaching golfers from all over the world. His mission is to bring the golfing community a better experience then it comes to choosing the right golf gear, and finding the right set up for your game.