At a glance: Our Top 5 Picks for Best Golf Sunglasses
Do You Need Golf Sunglasses?
A good pair of sunglasses has become an essential part of golfing gear over the last couple of years and as the technology improved it is now providing fantastic protection against the sun and delivering improved color differentiation that sharpens the depth perception especially on and around the greens.
The use of sunglasses is highly debated all over the golfing world. Some players have made this part of their golfing attire while some swear to never don a pair of sunglasses while playing golf.
Many golfers use their everyday sunglasses when playing golf, but the technology built into golf sunglasses is specific and is not found in a regular pair of sunglasses. Golf sunglasses are specifically designed to lower distortion of your view on the lower half of the lenses and wrap around much of your peripheral vision through the use of larger lenses.
This protection is especially required by golfers that have light-sensitive eyes. Prolonged exposure to sunlight considerably increases the risk of cataracts and other eye diseases.
Your sunglasses not only serve as protection against harmful UV rays but provide an unimpeded green backdrop against a blue sky. The strain on your eyes in sharp sunlight is extremely high when you have to squint to locate the golf ball after your well-struck shot.
What To Look For When Buying?
Polarized or Photochromic Lenses
Just as the use of sunglasses is highly debated the use of polarized lenses vs photochromic lenses polarizes the golfing community. Each technology has followers that will defend the technology to the end of the earth. Ultimately it comes down to personal preference when selecting your pair of sunglasses.
Polarized
The primary function of polarized lenses is to reduce glare reflected from flat surfaces and this diminishes the contrast between objects and the color that you see. This is highly visible when there is a body of water or you want to find your ball in the water. If glare is a major concern you should seriously consider a polarized pair of golf sunglasses.
Some golfers have claimed that polarized lenses make them nauseated and a few argue that it impedes their depth perception. This has never been proven scientifically.
Advantages – Polarized lenses help you see clearer and farther while reducing the strain on your eyes when trying to find the target or your golf ball. Polarized lenses are available with UV protection to keep your eyes healthy.
Disadvantages – Polarized lenses do not adjust the color according to the prevailing lighting conditions. They remain the same regardless of the light exposure. These lenses could be effective some days while being ineffective on exceptionally bright days.
Photochromic Lenses
A round of golf takes a few hours to complete and the light conditions vary during the duration of the game. Photochromic lenses vary tint level based on the light intensity. Bright light will darken the tint while the tint is reduced when the light is fading.
Advantages – Photochromic lenses are ideally suited for golfers whose eyes are light sensitive. They will seamlessly adjust to the light conditions for a clear view by reducing glare which will aid you in reading greens better. Most photochromic lenses come standard with some level of UV protection.
Disadvantages – The photochromic lenses may often offer less UV protection than polarized lenses and may offer too much optical clarity for golfers that are not used to them.
When selecting sunglasses based on the UV protection rating, consider that most eye doctors agree that your sunglasses should be rated to 99-100% for all UVA and UVB rays.
Appearance
Although the main purpose of your sunglasses is to protect your eyes and aid you in removing glare presenting you with a clear picture, you still want to look great when wearing them.
Faces vary in shape and size so will the style of the sunglasses that suit your face the best. We will describe a few pointers to look out for when assessing the appearance of the sunglasses.
The Design
Manufacturers offer a wide variety of designs to suit almost any shape and size so there should be no reason for you not to find a pair of sunglasses that will make you look great.
Many people make use of prescription sunglasses and the good news is that many manufacturers offer golf sunglasses with prescription lenses as well.
Sporty design sunglasses could look awesome on the golf course but not appear at its best when worn away from a sporting event. The more traditional-looking sunglasses will be suitable for everyday use but may not have all the functionality required for golf.
Frame
Lightweight plastic frames are extremely popular as they are not susceptible to elevated temperatures and never become a weight problem when worn for a substantial time during your golf game. The high-quality plastic frames are more durable than metal frames and less likely to get damaged when dropped.
Lens Quality
There are different tints of lenses available.
High-quality lenses are an essential part of your sunglasses as that is the part that will provide you with the clarity of vision on the fairways as well as the greens. There are cheap lenses available from various convenience stores that will protect you against UVA and UVB rays but not provide the view required for golf.
High-quality lenses will provide you an in-depth perception which is crucial reading the course and making good contact with the golf ball.
The Lens
Many of the golf sunglasses manufacturers provide multiple interchangeable lens types offering you a selection of tints and colors.
Educate yourself to be aware of the various lenses that are most suitable for the various weather conditions as you may have to change your lenses accordingly.
Specific Tints for Golf
Golf sunglasses are specifically designed to filter out certain wavelengths of light to provide you with the best possible view of the course and aid you in reading the green when putting. Find a good tint guide to assist in your final decision-making process.
The most generic colors are green and grey lenses, but they don't aid depth perception or enhance contrast. They are mostly used for looking into the distance by shutting out the excessive brightness on a sunny day.  A green lens enhances the color balance while a lighter or medium grey lens is most suitable to overcast days.
Yellow lenses are superb for contrast and depth perception but not ideal for reading the greens.
Red lenses distort colors quite a lot but provide good contrast and highlight red and yellows in the green which is a great aid for putting.
Amber, copper, cinnamon, and brown lenses are the perfect sunglasses for golf. They all rate highly on distance vision, contrast, and depth perception. They work equally well on fairways as well as putting surfaces without distorting the true and natural color of objects.
Blue lenses are not highly recommended as they reduce contrast on green backgrounds making it more difficult to see a golf ball against a green background.
Material
The majority of lenses are manufactured using polycarbonate as it is lightweight and weighs approximately a third of a glass lens. Another benefit is that the polycarbonate material is more durable and scratch-resistant than glass.
Durability
Sunglasses are subjected to prolonged periods of wear and many removals from your face so they must be durable enough to cater to all the handling.
Comfort
Sunglasses must fit perfectly on your nose and around your ears to prevent them from becoming a burden when worn for prolonged periods. Ensure that they fit snugly enough to stay attached when you are swinging the club without pressing too hard against pressure points.
Resistance
Most sunglasses have a hydrophobic coating in the lens or the frame, which makes them water-resistant to a good extent. Over and above being water-resistant, you would want them to be scratch and impact resistant.
Accessories
To protect your investment in the best sunglasses for golf you should ensure that they have a case to be stored in when not in use. Sunglasses that are specifically used for your golf game should ideally have a hard, or semi-hard case for storage in your bag together with other accessories.
Another important accessory if a soft microfiber cloth to keep the lenses clean without causing damage or scratches.
Investigate the replacement policies for lenses and frames as well as the warranty conditions and period.
Quick Overview: Our Top Picks for Best Golf Sunglasses
Best Sunglasses For Golf – The Reviews
Within a stylish frame, the lenses of the Callaway Kite Sunglasses have been specifically tailored to provide optimal vision and protection out on the course. In terms of protection, there's an 8 Base lens configuration to keep UV rays away from the eyes. In addition, they provide 100% protection from UVA, UVB, and UVC rays.
Thanks to the polarized lens block glare, these Callaway sunglasses manage to enhance the user's vision without sacrificing any protection. The lenses, which are noticeably lighter, let in twice as much light as the average sunglasses lens, offering an excellent amount of depth perception. Users have widely reported an enhanced ability to read greens whilst wearing these sunglasses.
The frame is ultra light, and compliments the overall design of comfort. Hydrophilic Megol temple tips provide a secure fit regardless of conditions, while the adjustable nose pads offer a great amount of versatility, providing fitting options to suit a variety of head shapes. These sunglasses are best suited to medium and large head sizes.
As a bonus, the Callaway Kite Sunglasses come fully kitted out with numerous accessories, including a lens cloth, carry pouch, and a hard case with a hanging clip.
Performance and comfort aside, these sunglasses, as many people agree, look pretty fantastic. Simple yet stylish, with a brown frame of rich wood and an ocean blue lens.
Key measurements:
Bridge: 16mm
Temple: 130mm
Lens Width: 59mm
2. Oakley Flak 2.0 XL Sunglasses
Pros:
Variety of frame and lens colors
The lens technology is specifically created for golfers
Impact and scratch-resistant
Clarity of vision
Premium look and feel
Consider glare reduction
Lightweight and comfortable
Protection from UVA, UVB and UVC rays
Cons:
Expensive option
Not suited to golfers with larger faces
The lenses found on the Oakley Flak are PRIZM lenses that are known to deliver sharp contrast, great visibility, and the clearest views all-round and have become known as the gold standard in golf sunglasses. The PRIZM lens technology is known for its enhanced ball tracking.
Aesthetically the Oakley Flak is generally considered an incredibly good-looking pair of sunglasses. They provide 100 percent UV protection keeping your eyes safe from the harmful UVA, UVB, and UVC rays while blocking out strong sunlight, reducing glare and improving optical sensitivity on the course.
The Oakley Three-Point Fit System ensures a snug fit while improving your field of vision. The anti-slip rubber pad across your nose combined with the ear sock ensures that the sunglasses remain in place even when your face is wet or sweating and even in extremely windy conditions. Wearing a hat will present no problem as the Oakley's fits comfortably under a golf hat.
The lightweight lenses are made from scratch-resistant plastic and are impact resistant and can accommodate many cycles of removal from the head and adding back onto your head. Oakley can manufacture prescription lenses for those that need them. The large lenses are interchangeable while the base curve extends peripheral view and side coverage for improved vision.
The sunglasses are protected from harm's way by the Oakley Sports Soft Vault case and cleaning is provided via a microfiber cloth.
These Oakley golf sunglasses deliver on functionality, looks, and price while many golfers have indicated that it is almost like looking at a high definition view when they use the Oakley Flak golf sunglasses.
Key measurements
Bridge                  12mm
Temple                 133mm
Lens Width          59mm
Diagonally           63mm
Lens Depth          38mm
8.5 mm base curve
The Under Armour Igniter is based on the Oakley design and comes at a reduced price making it an affordable alternative for Oakley fans.
The Multiflection coated mirrored lenses are approximately 10 times stronger than polycarbonate lenses while making them scratch resistant and excellent value for many outdoor sports. You gain a 20% increase in visual quality through the Armor Sight Technology for improved peripheral vision The Under Armour golf lenses are not polarized thus it does not protect against glare, but it does provide full protection against UVA and UVB rays.
The lightweight frame is manufactured from titanium and Grilamid using Armour Fusion technology. The adjustable nose pad provides extreme comfort. The UA Auto Grip technology and flexibility of the arm provides a snug and comfortable fit on the temples. Unfortunately, the frame is only available in one size.
Key measurements:
Bridge                  19 mm
Temple                 123 mm
Lens Width          66 mm
4. Maui Jim Ho'okipa Sunglasses
Pros:
Colors come to life with the lenses
Durable, impact and scratch-resistant
Premium look and feel and an affordable price.
Lightweight and comfortable
Fit snugly and comfortable
Practically unbreakable frames
Cons:
Expensive
Nose pads tend to lift
Polarized lenses are not everyone's preference
The rimless Maui Jim Ho'Okipa sunglasses are designed and manufactured in Hawaii have become extremely popular and provide exceptional protection with a minimalist design. They are durable and tough, scratch, wind, and dust resistant and come with a good 3-year guarantee.
The original design was aimed at improving the view of the true colors of the Hawaiian island and ocean that is frequently reduced with the glare caused by the illumination of the Hawaiian sun.
The PolarizedPlus2 lens technology used on the four polarized lenses features Clearshell hard coating treatment in a lightweight frame while the saddle-style nose bridge provides exceptional comfort. The polarized lenses decrease glare created by water, snow, and dust. The rectangular shape of the lenses makes it versatile and will fit nearly any face shape.
These lenses contain blue-light protection to assist in protecting your eyes from UVA and UVB rays. The neutral grey lenses provide sharp contrast and reduce glare excellently. Through the use of Clearshell coating, the lenses are highly scratch resistant and virtually shatterproof.
The lightweight and flexible Grilamid TR 90 nylon frames are impact-resistant and have extreme bending strength while retaining their shape. The frame has a thickened area for protection and comfort behind your ears.
There is an anti-corrosive stainless-steel hinge providing strength to the golf sunglasses. Protection to your nose and increased comfort is provided by a non-slip, rubber nose pad.
Maui Jim Ho'okipa sunglasses are protected in a semi-rigid black Mau Jim case while cleaning can be done with the soft pouch.
Key Measurements:
Bridge: 17 mm
Temple: 130 mm
Lens width: 64 mm ​
​Lens Depth: 39mm
8 Base Curve
Lenses on the Adidas Kumacross golf sunglasses come with large, rectangular wraparound lenses with up to a 10 base curve providing optimal coverage and widest field of vision. The LST lens technology promotes extreme lightweight yet impact resistant sunglasses.
The lenses can be swapped swiftly through the Quick-Change lens system thus enabling you to fit the correct lenses for the prevailing weather conditions. Once changed, the Lens lock system ensures that the lenses are attached into place securely.
The premium Adidas Kumacross 2.0 pair of sunglasses provide a distortion-free view that is clear which provides you with an advantage when attempting difficult shots.
Ventilation through the use of the ClimaCool technology redirects air to avert fogging on those early summer mornings when there is some morning condensation around.
The sunglasses are extremely light and comfortable while it is pressure-free assisted by the use of the Traction Grip technology is responsible.
Frames are available in the following five distinct colors:
Flash red
Green
Yellow
Navy
Black
The lenses are available in the following colors while varying in tints:
Gold Mirror
Grey/Blue Mirror
LST Contrast Silver
Grey
Key Measurements:
Bridge: 18mm
Temple: 127mm
Lens Width: 60mm
Lens Width: 37mm
Final Thoughts
Golf sunglasses are a big part of the golfing gear used by many golfers and aids in protecting the golfer's eyes while providing a clear view of the course. There are a variety of shapes, colors, and sizes to fit the requirements of any golfer.
After reviewing the products, the Oakley Flak gets our vote as the best golf sunglasses with the quality of the lenses that have ultimately become known as the best in the industry while the frame provides excellent technology and durability.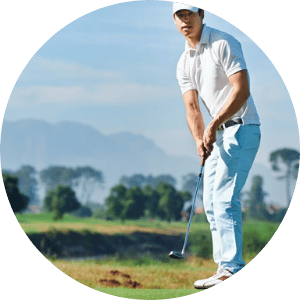 Nick Lomas is the founder of GolfSpan, an avid golfer, not quite a pro but has over 15-years of experience playing and coaching golfers from all over the world. His mission is to bring the golfing community a better experience then it comes to choosing the right golf gear, and finding the right set up for your game.