Swing speed radars use Doppler radar technology to measure your club head speed. You'll want to know your clubhead speed to know which shaft is optimal for your clubs.
I think swing speed radars are a lot of fun because I can see how my speed improves as I train.
Here are the best 3 swing speed radars:
Best Overall
Runners Up
Best Affordable Option
Sports Sensor Swing Radar Tempo Trainer
PRGR Black Pocket Launch Monitor
Sport Sensor Swing Speed Radar
Pros

Better optimization and improved swing consistency
Portable
It gives accurate results each time
Auto sleep mode to save battery life

Measures multiple parameters, including ball speed, total length, and smash factor
Provides a factor
Superior accuracy

Budget-friendly and value-packed
Extremely accurate readings
It can also be used for baseball practice
Measures speed between 20-200mph

Cons

Does not record shots below 40mph

It does not have a comprehensive instruction manual

Accuracy
95/100
90/100
95/100
Ease of Use
95/100
81/100
95/100
Durability
90/100
90/100
90/100
Features
86/100
97/100
80/100
Rating
4.4/5
4.3/5
4.4/5
Read on for the full list so you don't waste money on a swing speed radar that doesn't fit your goals.
Knowing your club head speed will help you adjust your swing to optimize distance, accuracy, and consistency. This article will take you through some of the best swing speed radars available. So, continue to read my golf swing speed radar reviews.
Why You Should Trust Us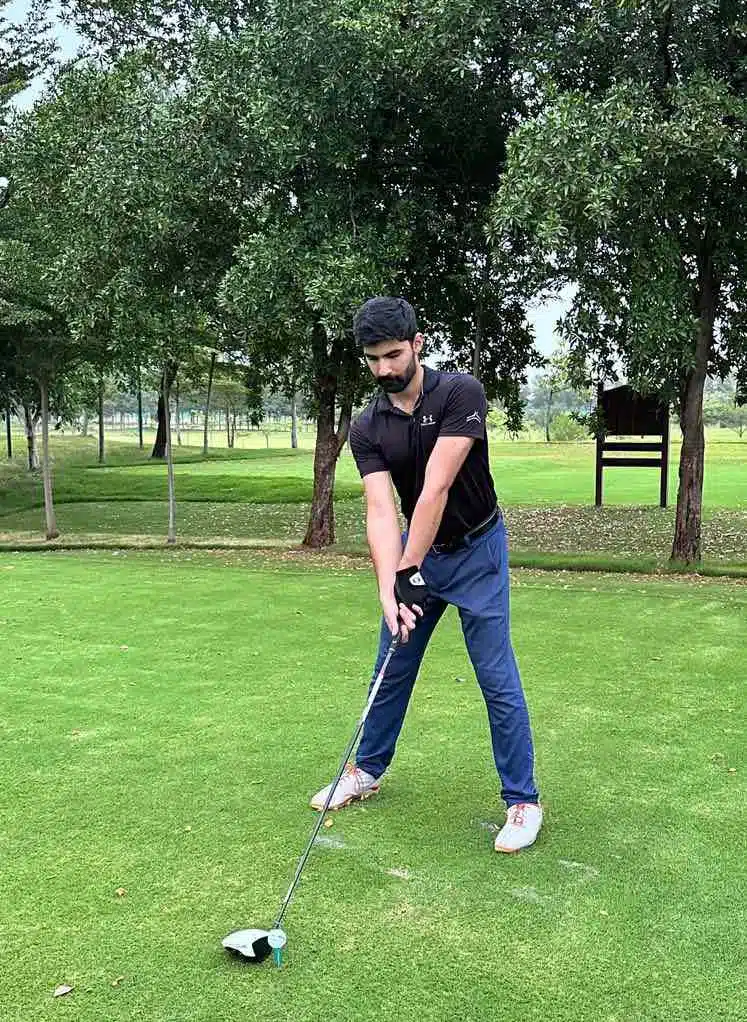 Our team spends thousands of hours trying out and researching golf equipment to help you take your game to the next level. Here's our product review process.
We're able to bring these reviews to you through the small commissions we earn if you buy through the links below.
How We Reviewed These Products
Golfspan only shares equipment and brands we trust.
To help you avoid wasting so much time watching swing speed radar videos, I have checked out over 37 reviews of 45 of the most popular swing speed radars. Then, I compared reviewer opinions based on these criteria:
Cost
Features
Performance
Value
Durability
After that, an editor reviewed and fact-checked this list. Finally, we conduct regular content audits to update and revise our reviews to ensure you receive the latest information.
The 7 Best Swing Speed Radars For Golf
Pros
Better optimization and improved swing consistency
Portable
It gives accurate results each time
Auto sleep mode to save battery life
Cons
Does not record shots below 40mph
Rating: 4.4/5
The Sports Sensor swing speed radar comes in two versions – with a tempo timer and without it. Both have made it to this list.
The tempo timer version (red) is the best golf swing speed monitor in my testing. Apart from recording your swing speed, it also records your tempo time and consistency, a feature that most other monitors do not have.
It's lightweight, making it easy to carry around and compact, so it can easily fit in your golf bag pocket. The processor is quite fast, so you don't have to wait long for it to generate your results.
I've found this monitor occasionally shows you completely random results, which have you scratching your head. But it's a rare occurrence, and you can simply reshoot, and it'll get back on track.
View this post on Instagram
Pros
Measures multiple parameters, including ball speed, total length, and smash factor
Provides a factor
Superior accuracy
Cons
It does not have a comprehensive instruction manual
Rating: 4.3/5
This PRGR pocket launch monitor is one of the best swing speed monitors for golf and could seriously give some high-end monitors a run for their money.
This isn't just a golf swing speed measuring device, but a launch monitor, and getting a launch monitor for this price is an absolute steal. It may not look as fancy as the higher-end monitors, but its readings are spot on.
It's extremely easy to set up and requires no external device or Wi-Fi connection.
I only looked to review swing speed radars, but the additional parameters were pleasant. By knowing your ball speed and smash factor, adjusting your swings to maximize distance and trajectory becomes much easier.
3. RYP Radar – Best Voice Feedback
Pros
Budget-friendly
Can store data for up to 10 previous shots
Measures speed up to 200mph
It does not require an actual golf ball for measurement
Can also give voice feedback
Bright LED display
Cons
Requires batteries to work
Can occasionally give inaccurate values
Rating: 4.1/5
Another affordable and extremely useful golf swing speed device is the RYP radar. It's also small and compact with foldable standing legs, so it can easily fit in the palm of your hand or any small pocket in your golf bag.
Upon reviewing it, I was quite impressed by the readings on the RYP radar, and I particularly liked the bright LED display on the monitor.
The voiceover feature is also particularly interesting and unique. So you don't have to leave your stance or turn your head to know the readings.
The RYP radar also does not require a physical golf ball, so you don't need to head to the range whenever you want to practice. Simply swing your club within a spacious room, with the monitor placed near you, and you'll get instantaneous feedback.
Although if you break any of your wife's expensive crystal vases during this indoor practice session, that's on you, buddy.
Pros
Budget-friendly
Extremely accurate readings
It can also be used for baseball practice
Measures speed between 20-200mph
Cons
Does not measure swing tempo
Rating: 4.4/5
If you're a golfer on a strict budget looking to work on your swing speed, this is the perfect swing speed monitor for you.
It's not the cheapest golf speed radar, but it's affordable and valuable. It's a model similar to the best overall swing speed radar; it just doesn't have a tempo trainer.
It uses microwave Doppler radar to measure the clubhead speed of your swing and has a range of 20-200mph.
Plus, for its price point, the device is also durable. I know golfers who have used this for over 2 years, and it still works perfectly.
View this post on Instagram
Pros
Records over five parameters for each shot
Gives accurate readings
Easy to carry and set up
It lets you save and store videos
Cons
The setup is a little more complicated
The mobile app is only available for Apple
Rating: 4.5/5
If you ask me, Rapsodo is one of the best launch monitors available in the market, but it's not at the top spot in our list because we're focusing on swing speed radars here. Yes, the Rapsodo does measure swing speed, but that's just one of its multiple features.
The device can easily connect to your Apple device and use your device's camera to record videos of your game and give you instantaneous feedback on 5 different parameters, including swing speed, ball speed, smash factor, and much more.
The app is quite advanced, and the premium version lets you connect with coaches from across the globe for personalized insights on your swing.
The only downside is that the company hasn't launched an Android version of its app, and unfortunately, many golfers are missing out on this experience.
Pros
Measures multiple parameters
Remote control option
Accurate readings
Lightweight
Cons
It does not measure spin or launch
A little expensive for a swing speed radar
Rating: 4.2/5
The Swing Caddie SC200 is one of the best swing speed monitors for golf that measures clubhead speeds.
I particularly like that the monitor has a manual and a remote control feature, so you don't have to bend down to set it up constantly. Plus, the voice feedback tells you your reading without leaving your stance.
This launch monitor is also lightweight and portable, easily fitting in your golf bag or carrying around.
If you wish to use this launch monitor only to measure your swing speed, you may find it more expensive than other options. But if you utilize it for all its available features, it's an absolute steal at its price.
7. DRM Speed Radar – Best For Measuring Slower Swing Speeds
Pros
Affordable
Voice feedback
Can store results from the last 10 shots
Measures speed between 3-150mph
Cons
Not as accurate as other monitors
Requires batteries to work
Rating: 3.9/5
Another budget-friendly option for golfers looking for a simple and easy-to-use swing speed radar is the DRM speed radar. It's a simple device that can fit even in the pocket of your golf pants and barely weighs anything.
This device is ideal for golfers who measure slower swing speeds, such as those during putting. It can also measure your driver and iron speeds on the range, but there's a 150mph cap.
Unfortunately, compared to other golf swing speed devices on the list, I found greater discrepancies in the values shown on this DRM radar. Still, the results are quite understandable for its price point.
This radar also requires batteries to work, which isn't a con, but if you're anything like me and forget to exchange the batteries on your devices, this could cause future inconvenience.
What To Consider When Buying a Swing Speed Radar
View this post on Instagram
You must consider some crucial factors before buying a swing speed radar.
Portability and size
Ease of use
Budget
Features
Swing speed radar accuracy
Battery
4 Benefits of Using a Swing Speed Radar
Swing speed monitors have multiple benefits for golfers and coaches. Here are some of the benefits of these radars:
1. Easy To Use
A swing speed radar is a simple device; setting it up is even simpler. All you have to do is turn it on and place it at a 45-degree angle, 6-12 inches away from your tee.
Next, you need to swing. The radar will give you almost instantaneous feedback on your swing speed.
Read this article to find out more about how golf launch monitors work.
2. Affordable
Swing speed radars are surprisingly affordable. They come in a variety of price points, with most of them within the 100-150 USD range.
3. Helps Improve Distance & Accuracy
By adjusting your swing speed, you can get better control over your distance. Based on our first-hand experience, every one mph increase in your clubhead speed equals an extra 3 yards off the tee.
Learn how to improve your clubhead speed.
4. Better Consistency
Once you play multiple shots in front of the swing speed radar and get subsequent speed values, you understand better which swing yielded the best results. This way, you can replicate that swing.
After repeated practice with the swing speed radar, you'll get a lot better at controlling your swing speed, ultimately making your swing a lot more consistent and reliable.
FAQ
Is Swing Speed Radar Accurate?
The accuracy of Swing Speed Radars depends on their make and price. Usually, higher-end radars are a lot more accurate than cheaper ones since they have more advanced technology within them.
Where Should the Swing Speed Be on a Radar?
Swing Speed Radars have monitor screens that show the swing speed on them. For devices dedicated solely to measuring swing speed, the only reading you see on the screen will be the swing speed.
Does Swing Speed Radars Work Indoors?
Yes, most swing speed radars can work indoors since they don't require you to touch the clubface to the golf ball.
Final Thoughts
Most swing speed radars come with many additional useful features. By understanding your swing speed, you can get custom-fit clubs and adapt your swing to what you want to achieve.
I've carefully picked each swing speed radar in this list so you can choose the one that meets your requirements.
However, in my experience, the Sport Sensor radars are one of the best in the market, which is why they won two spots in this article. Give them a shot, and let me know how your experience goes.

As a skilled golfer and wordsmith, Abdulmoiz brings a fresh and engaging voice to the golfing world. Whether he's on the course or at the keyboard, he strives to improve and inspires others to do the same.