The seven wood is a club that often gets overlooked. Stereotypically, they are reserved for female golfers, seniors, or anyone with a slower swing speed. While it's true that the 7-wood does benefit those with a slower swing speed, it has far more going for it than just that. So much so, that the likes of Dustin Johnson, Tommy Fleetwood, and Jason Dufner have recently been seen with one of these beasts in their bag.
Although 7-woods have been around for a while, we are currently seeing a resurgence in their usage. This is probably because, quite simply, they can be tremendously useful on the fairway, out of the rough, and of course, off the tee.
Let's take a look at all things 7-wood, and why you ought to consider adding one to your set-up.
What Is a 7-Wood?
A 7-wood has a larger head than hybrids, 3-woods, and 5-woods. With this size comes a larger amount of forgiveness, making it an ideal replacement for low irons (2, 3, or 4) and other woods.
In terms of loft, a 7-wood is comparable to a 3 iron, typically featuring 21-22 degrees. Compared with 3-woods or 5-woods, this offers a much higher ball flight.
The length of a 7-wood is typically 40-42 inches, which is about an inch smaller than the average 5-wood. Though they are shorter, they tend to be heavier than the other types of woods — usually by about 10 grams.
7-Wood Distance?
The average distance of a 7-wood is between 170-190 yards. However, some golfers will be more than capable of reaching 200+ yards with this club. It really depends on the quality of the club, the weather/course conditions, and how hard you smack it.
Why Use a Seven Wood?
The enlarged head of the 7-wood, along with the bigger sweet spot, can be greatly beneficial to many golfers. Long irons and 3 or 5-woods can be notoriously hard to hit, especially for beginners, but the 7-wood comes packed full of forgiveness and ease of use. It works great off the tee and the fairway, but this larger head can be especially useful whenever you're hitting out of the rough, as it's able to batter through thick bits of grass.
Adding to this ease of use is the higher degree of loft. When using low irons, it can be very difficult to get the ball up and away, but the 7-wood makes this far easier. This loft also gives you the means to more reliably get over tricky obstacles, as well as giving you a better chance of landing softly on the green.
The shorter shaft length can also work heavily in your favor. Basically, going shorter makes it slightly easier to get a solid impact, giving you more consistency. Sure, this might come at the expense of a bit of distance — but for the average golfer, hitting fairways and greens more regularly will be far more beneficial than squeezing out an extra few yards.
When to Use a 7 Wood?
Perhaps the best thing about the 7-wood is its versatility; it can be used in several scenarios, capable of finding greens from a distance and getting you out of some tough spots. Here are some of the scenarios where you would be wise to whip out a 7-wood:
Off the tee, if you're faced with a tight fairway.
If you're on the fairway, roughly 200 yards short of the green.
If you need to clear an obstacle, such as trees or a body of water.
From the rough, if you're a good distance away from the green.
If you're in a fairway bunker with a decent enough lie.
When you need to land the ball softly on the green with greater accuracy than a 3 or 5 wood.
Heck, you could even chip with your 7-wood around the green. This is the kind of club that allows you to get creative with various shots, adding new dimensions to your game.
Best 7-Wood Golf Clubs
There are a lot of quality 7-woods out there, most of which could really help to support and bolster your game. Some, however, stand out just a little bit more than others. Here are some of the best picks.
Pros:
Attractive design
Consistent depth
Forgiving
Cons: 
7 Wood Loft Degrees: 21°
TaylorMade has continued with its pursuit of perfection in with its Sim Max range. Among them is the 7-wood, featuring a loft of 21 degrees. The main piece of technology on offer with this club is TaylorMade's V steel, which essentially promotes better turf interaction and playability – whether you're on the fairway or in some nasty rough.
In addition, this club benefits from a carefully designed weight distribution, which basically places the CG in an optimal position for better launch conditions and spin rates. Meanwhile, the clubface has been infused with TaylorMade's Twist Face technology, which works to provide excellent ball speeds even on mishits, further increasing this 7-wood's forgiveness.
Pros:
Solid feel
Perfect for slow swingers
Flexible through adjustable weights
Cons:
Intended for newer or intermediate golfers so results will vary for top-tier players
7 Wood Loft Degrees: 21°
In recent years, Callaway has seemed to be having a lot of fun – and success – by experimenting with some cutting-edge technologies for their drivers and woods. For their 2020 range of Mavrik fairway woods, they have taken their 'Flash Face' technology and run with it, resulting in a 21 degree 7-wood that has exceptional ball speeds and forgiveness.
Callaway has also been dabbling in what they have referred to as 'progressive leading-edge technology.' In Layman's terms, this basically means that the bottom of the club is angled in such a way as to provide the best possible turf interaction. Coupled with the size and power of the clubhead, this design is a part of a club that could easily help to launch your game to new heights.
Pros: 
Fantastic ball speed
Adjustable spin
Multiple shaft options
Cons: 
7 Wood Loft Degrees: 21°
We can't wait for the upgraded edition of this fantastic club to come out. Until then, the 2021 model is still a firecracker of a club. Callaway build the Epic Max Fairway range from the ground up to provide enhanced ball speed with maximized forgiveness for off-center hits.
Callaway has always had a strong reputation regarding their high loft fairway woods. And, the Epic Max 7 wood delivers on what you'd expect. The oversized head designed by artificial intelligence makes this one of the most forgiving 7 wood clubs on the market. All this adds up to this 7 wood being perfect for those with less experience using a 7 wood. It's the perfect entry point.
7 Wood Distance FAQ
How Far Does a 7 Wood Go on Average?
For men, you're likely to hit between 170-230 yards. Women are more likely to achieve a distance between 120-170 yards. Check out the 7 wood distance chart below for an in-depth look.
What Can Replace a 7-Wood or What Club Does a 7-Wood Replace?
Don't have a 7-wood handy? You could use a 3 hybrid iron for similar results. A 5-wood or 5 hybrid iron would be the next best option. Check out the comparison chart below for a better understanding.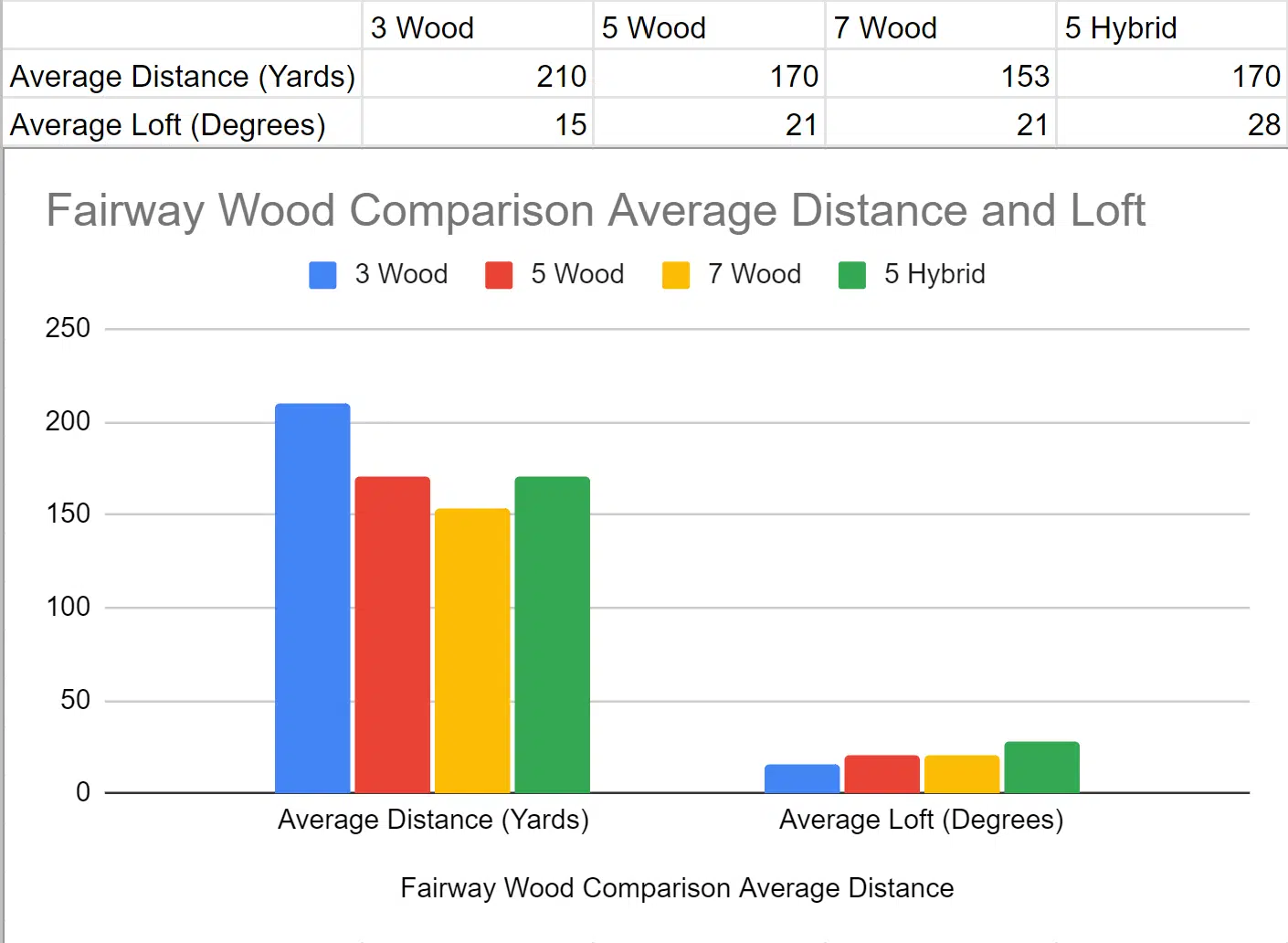 If we use this chart to compare 7-wood vs 5-hybrid we can see that, on average, 5-hybrid will strike farther and higher than the 7 wood. When comparing 5-wood vs 7-wood distance, you'll see they're fairly similar and have the same loft angle.
Final Thoughts
A seven wood isn't the most commonly used of clubs, but they are clearly growing in popularity. With their increased size, increased loft, smaller shaft length, and heavier weight, they have everything a beginner golfer could need to help them get their shots up and away. But 7-woods aren't just for beginners; even the pros are taking advantage of the versatility and accuracy of these big-hitting clubs.
Related Articles