We will take you through some important information about them and highlight a few of the best fairway woods for high handicappers.
At a glance: Our Top 5 Picks for Best Fairway Woods For High Handicappers
Do I Need a Fairway Wood?
Many beginners believe that fairway woods are not for them. This is especially true since hybrids have become increasingly popular. Many players are intimidated by the length and appearance of fairway woods.
While they are sometimes used off the tee, the main purpose of a fairway wood is to give you good distance on your second shot on long par 5's.
Given the length of many of these holes, investing a fairway wood is generally a great idea. It will take some time to get used to but once you the hang of it you will wonder how you ever lived without it. The key is to find the right one for you within your budget.
Can I Just Use Hybrids?
Hybrids are great and there is certainly a place for them in your bag. They do tend to be a bit easier to swing and most high handicappers have more confidence with them than drivers or fairway woods.
This is because they have a shorter shaft and a bit more forgiveness due to the lower COG.
Fairway woods, however, have a longer shaft and a larger head. This makes them deliver more distance which is what you want on the long par 5's. Another benefit is that fairway woods are a bit easier to play out of the short rough.
If you are concerned about hitting fairway woods, this video will give you some pointers…
How To Select a Fairway Wood As a High Handicapper?
There are a few important aspects to consider when selecting a fairway wood.
Forgiveness
High handicappers do not strike the ball dead center consistently so forgiveness is essential. The weighting, design features, head size, materials and a number of other factors will determine the forgiveness of the fairway wood.
With some clubs, an increase in forgiveness means a sacrifice in distance or other important elements. You need to balance this out when making your selection.
A forgiving fairway wood will have a large sweet spot and will allow your off-center strikes to still travel a good distance and relatively straight.
Launch
Launch is another issue that many beginners have difficulty. Fairway woods designed for high handicappers have a low and back center of gravity (COG). This is simply the weight poisoning in the head of the club. Low and back promotes an easier launch. If the launch is one of your difficulties, consider one optimized for an easy launch.
The correct loft is also a consideration and you often have a choice of lofts. Remember that a higher loft will reduce the distance so give some thought to your needs and your swing speed.
Distance
All the forgiveness and ease of launch is worthless if you do not achieve a good distance with your fairway wood. Their purpose is to get you close to the green on long shots.
Fortunately, modern materials, designs, and technologies have made today's clubs exceptionally adept at distance.
Lower spin and a good moment of inertia (MOI) will allow you to maximize distance even off a slower swing. MOI simply means that there is less twisting on impact.
Adjustability
Some fairway woods allow you to adjust the loft and lie. While there are times when this could be useful it is not essential. One needs to fully understand the adjustments and when to use them and this feature also adds to the cost and weight of the club.
Shaft
The shaft is also important. Be sure you get the correct length for your height. A lighter shaft should allow you to get faster clubhead sped for more distance.
Flex or stiffness is another aspect. Often you will get a choice of shaft flex options. Slow swing speeds, which is the case for many high handicappers, need more flex. As your swing speed increases you will want to go for a stiffer shaft.
Budget
You generally have to consider your budget and there are options to suit all budgets. Remember a quality fairway wood will last you for many years so it is a worthwhile investment.
Consider The Intended Use of Your Fairway Woods
While they are versatile clubs some players purchase them with the intention of primarily using them off the tee, as a driver replacement,  while others intend to use them more off the fairway.
If you are a high handicapper looking for a driver replacement look for a fairway wood with a loft of around 15 to 18-degrees. You want something with a relatively high launch and fairly low spin and plenty of forgiveness.
If you want the wood mainly for fairway play you want a low COG and a shallower face. A long sole profile will also make it easier to hit off the deck.
Quick Overview: Our Top Picks for Best Fairway Woods For High Handicappers
The Reviews – Best Fairway Woods For High Handicappers
While TaylorMade has stuck with much of their leading technologies with the M6, they have added a twist. In fact, they call it Twist Face. The purpose of this design technology is that the curvature of the face minimizes the negative impact of off-center hits. It also reduces sidespin. The result is greater forgiveness and straighter shots.
As you have seen with the M4, TaylorMade has a number of technological and design features to make it not only a long-hitting fairway wood but also highly forgiving. The addition of this new technology has made the M6 even more beneficial to high handicap golfers.
They have kept it simple in as much as there is still no adjustability. This should not put you off as there are so many game-enhancing technologies that, for most golfers, nothing more is needed. Many high handicappers are not entirely sure how to adjust correctly which just complicates matters and, in some cases, can do more harm than good.
So, let's run through what the M6 has that we familiar with from the M4. They still have the legendary Speed Pocket but have improved it further with a center of thermoplastic polyurethane (TPU). This simply fits better and reduces sole drag for better contact even when your lie is poor. They have made additional improvements to the sole design with more toe and heel curve. This allows you to get under the ball with less effort for an easier launch.
The rest of the technology is similar to the impressive concepts used on the M4 with a few minor tweaks and improvements.
If like most high handicappers, you want distance and forgiveness from your fairway woods then the TaylorMade M4 Fairway Wood could well be the answer, It delivers both in buckets. Added to that, it allows for an easy launch, something else that always comes in handy.
TaylorMade invests heavily on research and development and has some of the leading club technologies. The Speed Pocket on the M4 Fairway Wood, the same as they employ in their top drivers, does what it says it does – delivers speed. This obviously results in better distance.
Better still, the speed pocket is not restricted to a small sweet spot in the center of the face. It covers the entire clubface. This means greater forgiveness. Balls struck off-center will still travel far and relatively straight. Forgiveness is a major blessing to high handicappers and allows them to strike the ball with greater confidence for better results.
The face is Ni-CO C300 steel alloy and is thin yet strong. This improves forgiveness across the face while also increasing energy transfer for speed and distance. These technologies are complemented by the other famous TaylorMade feature, the Inverted Cone. This sits inside the face and delivers greater speed on off-center hits. Again, this makes the M4 ultra-forgiving.
The weight mass pads have been split which increases the MOI and improves perimeter weight distribution. The sole design is optimized for an easier launch. TaylorMade's GeoCoustic design improves sole strength while also giving a pleasing sound. The fluted hosel does a lot for the feel of the M4 and also improves the sound and feedback.
This is a popular and highly rated fairway wood that is a leading choice for high handicappers looking for forgiveness and distance.
Another fairway wood that is well-liked and popular with beginners is the Callaway Golf Men's Rogue Fairway Wood. Callaway is no strangers to technology and have some impressive design features that make this decent choice.
The standout feature has to be the Callaway Jailbreak Technology. It consists of two titanium bars that connect the sole and crown. This keeps them together and increases energy transfer to the ball. This will mean more speed and a greater distance. It also lowers the spin and allows for a piercing launch. Jailbreak technology combines well with the super-thin 455 steel face. Callaway has also used Face Cup technology. The results are high speed shots that deliver good distance.
Thanks largely to the ultra-light Triaxial Carbon Crown, Callaway saved weight which is moved to the edges of the club. Weight has been optimized to create a high MOI and a low CG. This further adds to the launch and speed. The light weight and aerodynamic design of the fairway wood allows for higher club speeds which will mean higher ball speeds and more distance.
The low CG is further enhanced by Internal Standing Wave technology. The CG is precisely and optimally positioned for low spin and solid high launches.
It is also an extremely versatile fairway wood so while it will be of great benefit to beginners it will still work well for players with faster swing speeds.
While high handicappers need many things from their fairway woods, launch is a big issue for many golfers. Cleaveland set out to make that aspect much easier for most golfers while making the club highly forgiving at the same time.
Again, this fairway wood is not adjustable but most mid to high handicappers will find it to launch effectively and give them good distance and forgiveness. Remember that this keeps the cost and weight down, both of which are beneficial.
Cleaveland has employed a HiBore Crown which is lower and lighter. They have Flex-Fins that promote distance by compressing as the ball is struck. This is particularly useful when the ball is struck on the toe or heel. The cup face improves COR across the face resulting in high speed and great distance.
A quality and lightweight Miyazaki C. Kau Shaft is used. It is available in regular, stiff or senior. The club is well made and quality materials are used throughout. There is nothing spectacular about the appearance but most people find it to be a sleek and good looking club. Many people, however, find that the silver line on the crown gives the appearance of an open face even when it is square.
This is a fairly basic but effective fairway wood if you want forgiveness and a good launch without compromising on distance. It is a popular choice and well-liked by most that have used it.
If you want a decent fairway wood but are on a tight budget the Pinemeadow PGX Offset Golf Fairway Wood is certainly worth a look. Despite the really good price, this club has a lot going for it.
The offset design makes it easier for high handicappers to keep the face square at impact. This will help you play your shots more accurately and with good distance.
If you, like many high handicappers, suffer from the dreaded slice, the anti-slice technology on this fairway wood should help. One has a choice of 7 lofts to find the ideal options to optimize your swing speed and style. Pinemeadow designed the PGX Offset Golf Fairway Wood to be forgiving and most users found that to be the case.
It comes with a free headcover for protection in your bag. Most people like the look of the fairway wood, however, some may not like the bright green detailing. The matte black finish ensures there is no sun glare at address.
There are many positive reviews about this fairway wood and it offers really good value for money. You can't expect it to perform like the top of the range fairway woods but it does a good job for the price.
Pinemeadow is an established company and has been going for many years. They make a wide range of clubs and golf equipment at affordable process.
Conclusion
That should give some insight into what to look for in a fairway wood and what some of the leading options are. While we reviewed only leading options, the TaylorMade M4 Fairway Wood is our top pick. It has pretty much everything the high handicapper needs in a fairway wood.
This versatile fairway wood is easy to launch and extremely forgiving. It has good distance even when you do not strike the ball perfectly. The feel and sound are good and it is useful when you have a poor lie.
This information should help you make an informed decision. Take a look at your needs and your skill level and then consider the options to find the one that will work best for you.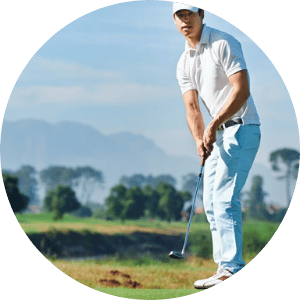 Nick Lomas is the founder of GolfSpan, an avid golfer, not quite a pro but has over 15-years of experience playing and coaching golfers from all over the world. His mission is to bring the golfing community a better experience then it comes to choosing the right golf gear, and finding the right set up for your game.