Many new or intermediate golfers strive for that perfect club that will solve all their problems with driving or longer fairway shots.
There is a lot of hype around the GX-7 X-Metal. If you have not seen the ads or infomercials our GX Golf Club Reviews will enlighten you.
For those who have seen some of the marketing or heard a few stories, it is important to understand more and to separate the hype from the facts.
What To Consider When Buying A Driver
While the short game might account for most of your extra strokes in a round of golf, driving is normally the biggest pressure on new golfers.
As you improve at the game the pressure generally remains. There are a number of things that newer golfers traditionally consider when selecting a driver. Let's take a look.
Distance
Beginners tend to have a slower swing speed than the average golfer so distance is often a concern. You want a driver that will maximize the potential of your swing speed.
Forgiveness
You will not always strike the ball dead center so a driver that has a large sweet spot and more forgiveness will help you out with minor mishits. It will still give you a decent distance without straying too far off course.
Consistency
It is important for players to understand their equipment and play relatively consistently in terms of distance and accuracy. Any club that can offer this will benefit the high-handicap golfer.
Head Size
A larger head size will give many new golfers more confidence at address. While it can slow swing speed due to the volume, many golfers find that it improves forgiveness and consistency.
The maximum size allowed is 460cc. A smaller head is generally more aerodynamic and allows for better playability.
Loft
A higher loft is easier to launch. This is something many golfers, particularly beginners battle with. Find the correct launch angle for your swing speed and style.
Shaft
Another important consideration is your shaft. The weight and flex are important. A golfer with a slow swing would benefit from a more flexible shaft while faster swingers need a stiffer shaft.
Lighter shafts make it a bit easier for slow swingers to generate more clubhead speed.
Adjustability
Many drivers have adjustability to change the loft or lie. This lets you dial the club into your specific swing speed and style and adapt to the conditions on the day.
While this is handy for some players one has to know how to use the feature effectively. It will also add additional weight and cost to the driver.
Budget
This has to be considered. Top brand drivers and clubs do not come cheaply. While some may aid your performance investing in one aspect of golf means less money to spend on the equipment of actual time on the course.
The GX7 Golf Club Review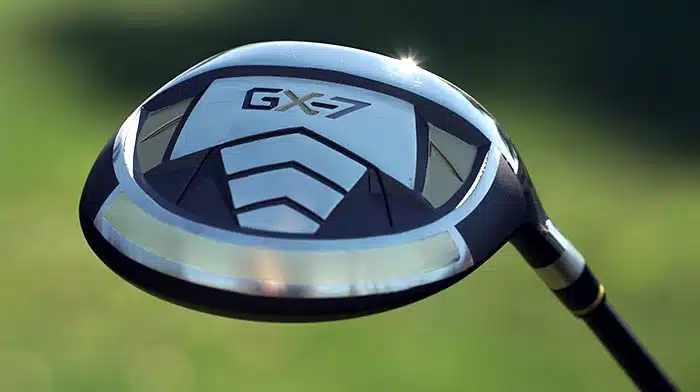 Pros
Shorter shaft for greater control
The small head offers better aerodynamics
Optimized spin
5 Shaft options
Quality build with a 1-year warranty
Cons
Some golfers found a reduction in distance
Not suitable for better players
There are a number of features that make the GX7 Golf Club unique. Many of these features will benefit beginners and intermediate players.
They have a shorter shaft length. Straight away, this makes them easier to swing and control. The idea is to give you the same feel as a 7-iron which most players agree it delivers.
One of the reasons it works so well off the tee or fairway is that it has a smaller clubhead size. This makes it more aerodynamic and allows for higher swing speeds.
Bottom line is that a shorter driver is easier to hit and the smaller clubhead allows for faster speeds.  This should allow most golfers greater control and accuracy with minimal sacrifice on distance.
They are custom built from the ground up to work with high to mid-handicappers. They do not try to adapt pro drivers for beginners. The idea is that most players will get more distance and carry and better accuracy with the GX7.
It offers a good launch angle with an optimized spin for beginners or golfers with a slower swing. While they will not work well for fast swingers, other golfers generally appreciate the launch and distance they achieve with the GX7.
The club is customized for the amateur golfer with a slower swing speed. The stainless steel face is fast and delivers good carry and roll. There are 5 shaft options according to your swing speed.
Features & Benefits
Let us take a close look at the specific features and benefits of the GX7
Loft Angle
The GX7 has a 14-degree loft, higher than most drivers. This falls between a 3 wood and the average driver. The loft is designed to give you a decent launch while minimizing any slice tendencies. It delivers an easy launch that is forgiving.
Less Volume
While most beginners or lower handicap golfers feel that bigger is better, this is not necessarily the case. The maximum volume allowed is 460cc however this driver has a mere 267cc volume. While some will find this to be counter-intuitive, it works on the GX7.
It still has the right appearance and dimensions to deliver confidence at address and the smaller volume makes it more aerodynamic. This allows for higher clubhead speeds and therefore better distance.
Shorter Shaft Length
Again, most players believe that a longer shaft will deliver greater distance. Shaft length is only one factor and the GX7 has a 43" shaft length for better accuracy. The driver will be better aligned on impact for improved consistency and control which ultimately results in greater distance and better results.
Not only does the shorter shaft help with accuracy, the opti launch shaft aids in launch.
High-Density Tungston Wrap Around Bar
This radius bar design feature ensures the weigthing is low and back on the head. The resulting center of gravity (COG) optimizes the spin and launch of the GX7. It also allows for perimeter weighting for a higher moment of inertia (MOI). This increases forgiveness for better accuracy and consistency. If you strike off-center you can still pull off a decent shot most of the time.
Leading Edge Plays Like A 7-Iron
Most golfers love to hit their 7 irons, certainly in comparison to the longer irons or drivers. A 7 iron is comfortable and familiar for most golfers. It allows for an easy loft and is highly forgiving.
The GX7 was designed to have the same feel and performance but with greater distance. Many golfers agree that they have achieved that goal.
Low Friction
Behind the leading edge is a recessed step-up sole that creates what the manufacturers call a "no friction zone". This improves turf interaction and reduces friction allowing for higher clubhead speeds with less interference.
This is one of the design features that make theGX7 play like a 7 iron.
Fast Clubface
The alloy clubface is super thin and designed to maximize energy transfer and speed across the face. This allows for more distance while also increasing forgiveness.
The face delivers a trampoline effect for impressive distance while remaining forgiving.
Face Progression
This design feature makes it easier to get the clubface square for improved accuracy. It should help most golfers that battle with a slice or hook and deliver more consistency.
Value For Money
This is an important factor to consider. Many of the leading drivers are frightfully expensive. The GX-7 X-Metal is undeniably great value for money.
They do not spend a fortune on marketing and sponsorships and this helps to keep costs down.
The GX7 has been designed and built from the ground up. It does not try to copy the traditional pro drivers but rather seeks to make a club that the average golfer can hit accurately and consistently with good distance.
It is not ideal for low handicap golfers however most amateurs that have tried it enjoy the performance.
While there are many features the combination of the shorter shat, the aerodynamic 267cc head and the 14-degree loft make this an easy and consistent club to hit with distance and accuracy.
GX Golf Club Alternatives
While the GX-7 X-Metal works for many amateur golfers, some may prefer a more traditional driver. There are many other great options.
1. TaylorMade M2
TaylorMade has used a range of materials and designs to deliver a driver with both distance and forgiveness. The multi-material 7-layer carbon composite crown makes it light, fast and forgiving.
It has a large sweet spot and high MOI. This is exactly what most amateur golfers need from a driver.
The loft is adjustable so you can dial it in perfectly according to your swing speed. This also means that you will not need to get rid of it as soon as your speed increases.
It has a quality Fujikura Pro 50 shaft which is ideal for golfers in this category. The TaylorMade M2 driver has a good feel and pleasing feedback and sound.
2. Cobra Men's KING F9 Driver
A lot of research and development has gone into the design and build of the F9 Driver. It has good adjustability to get the ideal CG for your swing and your requirements.
The forged 8-1-1 Titanium E9 face is forged and uses variable thickness. It is thin and light for a large sweet spot and high balls speeds.
The loft is also adjustable for an effective and easy launch. The Cobra Speed Channel also adds to the power and forgiveness of this driver.
All of these drivers are all good but they will cost you more than the GX7. They have a more traditional design with a larger head and a longer shaft.
Conclusion
If you are having difficulty with your driver or long fairway shots the GX7 is probably worth a look. It has been designed from the ground up to work with amateur golfers and reduce many of the issues they face.
It is aerodynamic for higher clubhead speed and has a shorter shaft for more control. Many golfers find that they achieve greater accuracy, consistency, and distance with the GX7.
It is not designed for better players that want to shape their shots perfectly and will not suit a golfer with a 100pmh or higher swing speed. For all others, it may well help your game.
Nick Lomas is the founder of GolfSpan, an avid golfer, not quite a pro but has over 15-years of experience playing and coaching golfers from all over the world. His mission is to bring the golfing community a better experience then it comes to choosing the right golf gear, and finding the right set up for your game.