The Mizuno MP20 series of golf irons have something for every golfer. Mizuno was known simply for their player's blade-type irons for so many years, but things have changed. Mizuno has golf club choices for high handicappers, low handicappers, and the average golfer.
The Mizuno MP20 Irons come in three models: MB is for low handicap players looking for workability. MMC is for distance. HMB is for forgiveness.
If you think it's time to upgrade and jump on the Mizuno train, we have all the answers you will need in our Mizuo MP20 review. Which model is best for your game?
Mizuno MP20 Irons: At A Glance
Mizuno MP20 MB
Mizuno MP20 MMC
Mizuno MP20 HMB
Best For Low Handicapper
Best For Distance
Best For Forgiveness
Buy if . . .
Low handicap player looking for ultimate workability
Mid handicapper needing a mix of distance, feel, and performance
Low to high handicappers that want a blade-like look and feel with cavity back forgiveness
Overall Rating
5 Stars
4.7 Stars
4.8 Stars
Distance
85
88
90
Forgiveness
84
88
92
Feel
99
90
93
Workability
99
90
90
Aesthetics
99
91
94
Price
89
89
91
Pros

Best looking
Easy to work the ball
Pure feel at impact

Thin top-down look
Increased distance from the blade iron
Impressive overall feel

Great for mixed sets
Extra weighting in club head for better turf interaction
Great from the rough

Cons

Not a forgiving golf iron

Feel won't be the same as the Mizuno MP20 MB

Expensive golf irons considering they are not blades
The Mizuno MP20 irons all have a few things in common, and most of them are feel related. While some golf manufacturers pride themselves on great distance or forgiveness, Mizuno really does lead the way when it comes to feel.
With the new MP-20 irons, there is a copper underlay. This underlay is found under the chrome finish on the MP20, and it simply enhances the feel and softness at impact. The copper underlay is combined with the harmonic impact technology.
The harmonic impact technology has to do with the geometric shaping of the Mizuno iron heads and their development to enhance overall feel and performance. Each of the Mizuno MP20 irons has its own unique performance benefits; let's take a deeper look into which of these features is the best for your game.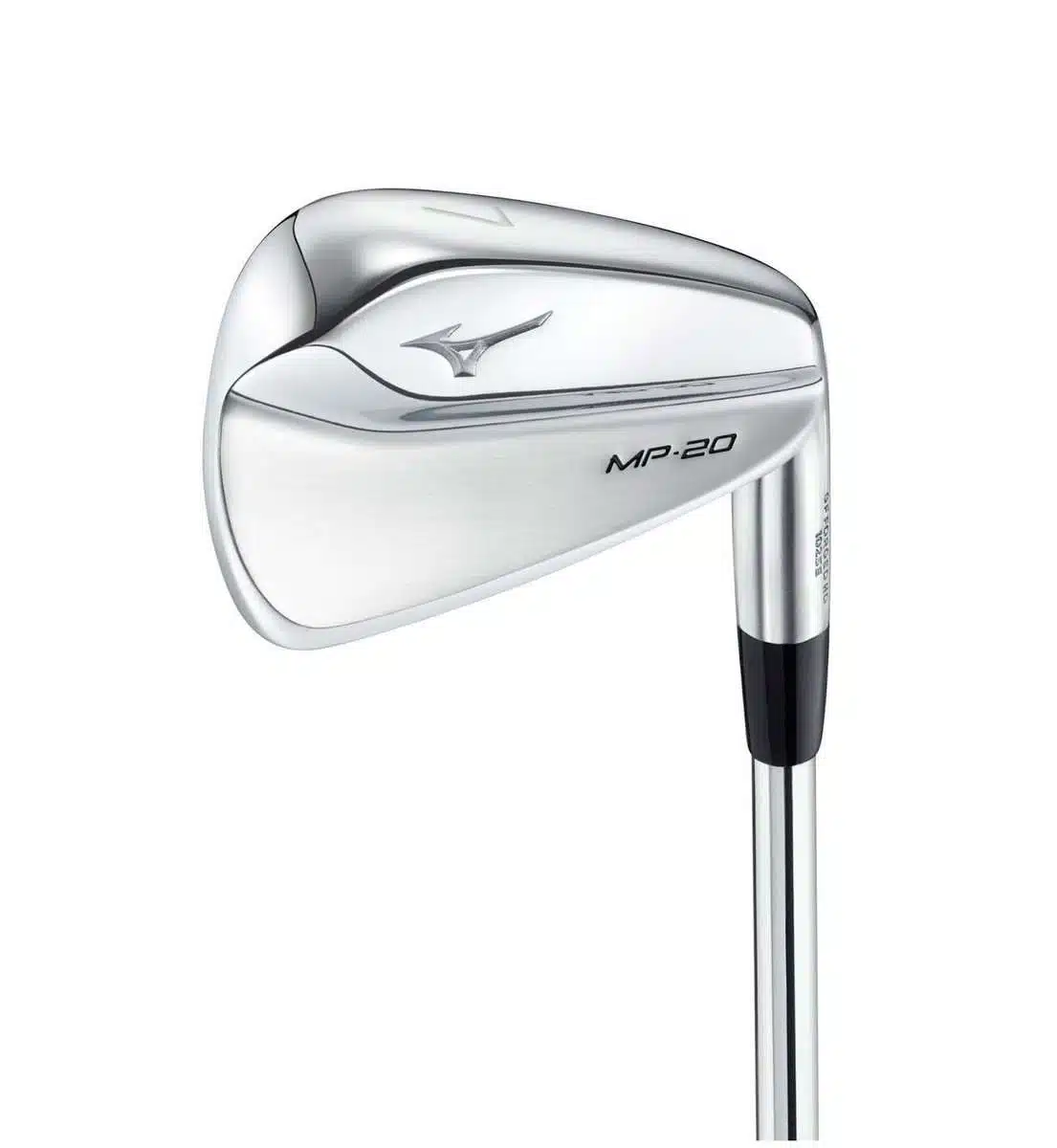 When I tested the Mizuno MP20 irons, the MP20 MB was my favorite. This is probably not surprising because when you are simply testing an iron, the best feeling one typically becomes your favorite. However, if you want to know which is the best for your game, it's important to consider all scoring aspects. Here is how the MP20 MB irons ranked.
Pros
Harmonic impact technology for improved feel
One of the best-looking golf irons designs on the market
Clean top-down look
Precision in short irons is unmatched
True golf blade technology
Manufactured in Japan under the tightest tolerances
Club transitions beautifully into the wedges
Cons
Feel
The Grain Flow Forged HD process is used to create the Mizuno MP20 MB blade irons. These clubs are made in Hiroshima, Japan, and have very tight manufacturing specs. Ultimately this is an iron that will allow you to hit the ball, left, right, high, low, and everywhere in between.
Distance
When it comes to distance, don't expect the Mizuno irons MP 20 MB to be the longest on the market. To get a great feel, golfers often need to sacrifice a few yards of distance. In addition, these clubs have a more traditional loft.
Forgiveness
Forgiveness from Mizuno blade iron is not that good. In fact, if you don't have consistency in your game and true confidence in your ability to hit a great golf shot, this is not the iron for you.
Player Type
The lower handicap golfers with extreme precision in their golf games will love the Mizuno MP20 MB golf irons.
Mizuno MP20 MB Specifications
| | | | | |
| --- | --- | --- | --- | --- |
| Club # | Loft ° | Lie Angle | Offset (inch) | Length (inch) |
| 3 | 21 | 59.5 | 0.102 | 39 |
| 4 | 24 | 60 | 0.098 | 38.5 |
| 5 | 27 | 60.5 | 0.094 | 38 |
| 6 | 30 | 61 | 0.091 | 37.5 |
| 7 | 34 | 61.5 | 0.087 | 37 |
| 8 | 38 | 62 | 0.083 | 36.5 |
| 9 | 42 | 62.5 | 0.079 | 36 |
| PW | 46 | 63 | 0.075 | 35.5 |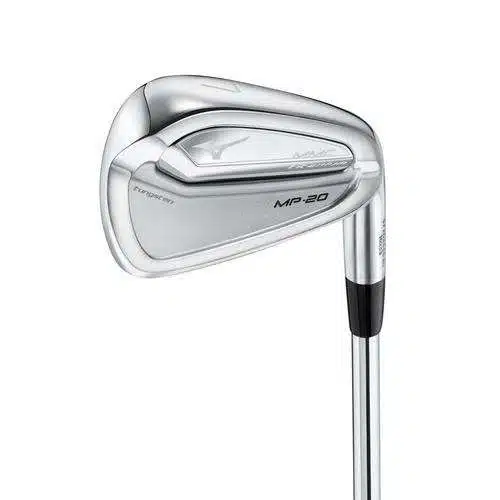 The Mizuno MP20 MMC is the cavity back iron in the MP20 series. For a cavity back iron, this is one of the better-looking options on the market. The clubs feature plenty of forgiveness, but the overall size of the iron club head is not too large and cumbersome. The result is a workable and high-performing iron for an average golfer.
Pros
Thin top-down look for a cavity back irons
The impressive overall feel from Mizuno
Brushed satin finish for a better overall look
Increased yardage from the Mizuno MP20 MB golf irons
Harmonic impact technology
Cons
As good as the feedback and feel is, it still is a bit harsher than the Mizuno blade irons
Feel
The Mizuno MP20 MMC irons have a good feel. The feel will be a bit more like a cavity back iron and not a blade, but they still have a very thin and workable club head.
Distance
Distance from the Mizuno MP20 MMC is better than with the Mizuno MP20. Some of the distance technology comes from the MMC being a bit more forgiving and easier to launch. Golfers in the mid handicap range who aren't quite ready for blade technology tend to like this golf club.
Forgiveness
Forgiveness without sacrificing feel can be tough. However, Mizuno did a pretty job with the MP20 MMC.
Player Type
We recommend the Mizuno MP20 MMC golf irons for the mid to higher handicap range. Golfers who have a hard time with consistency but still want a club with a thin top-down look will like what the Mizuno MP20 MMC has to offer.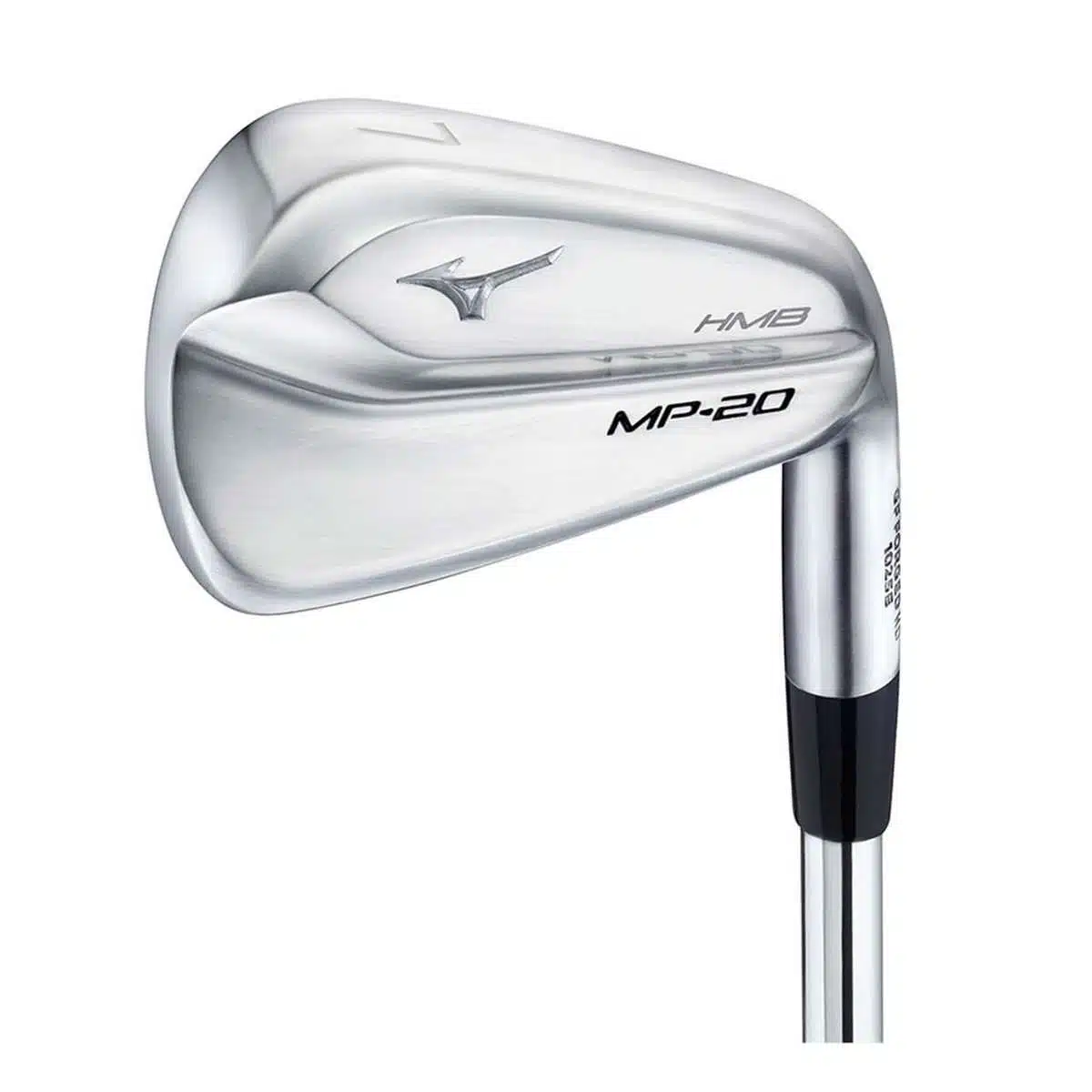 If you are a golfer that plays with hybrids well, chances are it has to do with the hollow shaping and some extra weighting in the lower bottom of the club. If you ever wished you could have that same feeling with a clean and player-type looking iron, take a look at the Mizuno MP20 HMB irons. These clubs have become an excellent option for those looking to create an iron combo set.
Pros
Grain Flow Forged Chromoly iron face
Tungsten weighting gets progressively larger in the long irons
Responsive feel
Wider sole that you won't see from the top-down
Excellent performance from the rough
Impressive overall technology and feel
It can be incorporated into sets of the MP20 MB or the MP20 MMC
Cons
Can feel a bit clunkier than the Mizuno MP20 MB irons when played in the short iron
Feel
The Mizuno MP20 HMB golf irons are the perfect mix of impressive feel and speed. These golf irons feature a forged face with a soft copper underlay. The HMB is a unique-looking iron as it looks like a muscle back, but it has a hollow iron design with a tungsten weighting on the bottom.
Distance
Mizuno MP20 irons offer plenty of great distance, especially in the long irons. Players that struggle with their 4 and 5 irons are putting the MP20 HMB into place and taking out the blade-style irons. A mixed set is a perfect solution with these Mizuno MP20 irons.
Forgiveness
The Mizuno MP20 HMB is forgiving. The 12-gram Tungsten weights in the longer irons help keep the club stable and more responsive at impact. If you love the MP20 MB irons, you can play them in your PW to 8 iron and put the HMB in place for the 7-4 irons.
Player Type
We love that the Mizuno HMB irons work for a wide range of golfers. It does not matter if you are a scratch golfer that struggles with long irons or a slightly higher handicapper that wants the increased launch and forgiveness that Mizuno blades don't offer; the HMB is the way to go.
Alternatives To The Mizuno MP20
As great as we think the Mizuno MP20 irons are, there are plenty of other options on the market. If you think that Mizuno may be a bit too unforgiving, or if the price range is higher than you may like, here are a few other options that you may want to look into.
The TaylorMade P790 irons do a great job of providing both feel and performance for the average golfer. These are hollow-back design irons with a great jump off the clubface and plenty of forgiveness. The P790 is geared a bit more towards the mid handicapper as the iron head itself is a bit large.
Although we gave you all the information you could need about the Mizuno MP20 irons, an entire line of JPX irons from Mizuno may also be a good option for golfers. The JPX line is not as much of a blade style, and it will appeal to the golfer that needs extra forgiveness.
The Callaway Apex irons are another impressive set of clubs built with feel in mind. The Apex line is similar to the Mizuno MP20 line in that there are a few different choices for players to decide between. With Apex irons, expect to get some high ball speed.
Read more: If you're looking for game improvement irons, then you can check out the best options on the market today here.
Frequently Asked Questions
Here are a few of the most commonly asked questions to complement our Mizuno MP20 irons review. These irons are a significant investment, and having the right information before purchasing makes sense.
Are MP20 HMB Blades?
The Mizuno MP20 HMB irons are not blades; instead, this is a hollow iron with impressive feel and materials used to make it feel like a blade. Golfers that use the MP20 HMB want some workability, but they are primarily looking for a blade-like feel with high forgiveness.
What year did the Mizuno MP20 come out?
The Mizuno MP20 irons came out in 2019. Since then, there are have been a few new releases from Mizuno. Luckily Mizuno golf clubs have tremendous technology and stay in excellent condition for years.
Are Mizuno MP20 HMB forged?
The Mizuno MP20 HMB golf irons feature a forged face. The forged face helps for a more pure feel at impact and impressive launch and carry.
Is Mizuno MP20 forgiving?
The Mizuno MP20 HMB and the MMC are reasonably forgiving; however, the Mizuno MP20 MB are not nearly as forgiving as the others. The MB is the player's blades, and they will reward you for a great shot, but expect to be punished when you miss it slightly,.
What does HMB mean?
The HMB stands for Hot Metal Blade. The original line of these clubs had something called hot metal technology that helped golfers get some extra ball speed. The idea was a blade-type feel with the impact position and forgiveness of a cavity back.
Is Mizuno MP20 a blade?
The Mizuno MP20 MB is a blade. In fact, this is one of the better-known player blades on the market. For golfers that are serious about working the ball and controlling what you do on a golf course, the MP 20 MB is the way to go.
Mizuno MP20: Are They Worth It?
We know the Mizuno MP20 golf irons are a bit of a big investment; however, they are worth the investment.
Golf clubs are only as good as the material and technology they have. When it comes to Mizuno, you know that the materials are top of the line, the technology was well researched, and the clubs are built to last.
Mizuno golf irons are tough to beat, and most golfers that switch rarely go back to another brand.
Read more: If you're looking for irons with forgiveness, you might want to see all the options on the market today.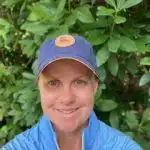 Britt has been playing golf since she was seven years old. After becoming a Class A PGA Professional, teaching professional, and golf membership director, she decided a career in golf writing was the perfect fit. Today Britt plays more golf than ever with her husband and two children and still loves connecting with golfers worldwide.