Given that 2-irons are associated with better golfers, many won't truly benefit from a 2-iron's strengths. But with consistent practice and directed training, eventually, you might need one of the best 2-irons.
But, as they're not a super popular club type, you won't be able to test many of your friends' clubs, and many pro shops have a limited range of 2-irons.
That's why you can find 8 top-rated 2-irons ranked below with everything you need to know to find the right one for you.
Best Overall
Best Budget Option
Best Value
TaylorMade P970 UDI
Mazel Driving Iron
Srixon ZX Utility
Pros

Premium feel and satisfying feedback
Control, precision, and distance

Cons

Not the most forgiving option
Pricey

Pros

Good distance and control features.
Easy launch
Ample forgiveness

Cons

No left-handed options
Not as accurate

Pros

Stylish blade design
Fast ball speeds and increased distance

Cons

Not the most workable option
How We Tested the Best 2-Irons
We took 8 of the top-rated 2-irons available in 2023 to our virtual golf course with 3 of our team and compared notes on accuracy, workability, and forgiveness. While the #1 rated club was our overall favorite, it may not be the best for everyone. Check out the reviews to find the strengths of each and make an informed decision.
The Best 2-Irons in Golf
1) TaylorMade P790 UDI – Best Overall
Specs
Loft: 17 degrees
Lie: 60 degrees
Cast Iron
Pros
Premium feel and satisfying feedback
Control, precision, and distance
Cons
Not the most forgiving option
Not cheap
Rating: 4.7 out of 5 stars
TaylorMade released the P790 UDI iron 2 clubs in September 2021 as an option that would give players an edge in terms of extra control without compromising on distance.
If you previously used the P790 irons, you will probably notice that this club is similar in appearance. Upon closer inspection, you will also find that the P790 UDI has unique features to help players looking to add an iron 2 into their bags.
The P790 UDI is made with a carbon and steel combination which the company claims makes the club face thinner by up to 37.5% in select places. This means that golfers can achieve even faster speeds off the face.
The club's hollow design has TaylorMade's revolutionary SpeedFoam air, an extra light urethane foam. This new material is lighter than the previous material by 69%, achieving even faster ball speeds with superior sound and a premium feel.
This also saves weight, allowing for the strategic redistribution of the club's weights to optimize the P790 UDI's overall mass properties. This gives players control over the club's stability, as does the tungsten weighting.
This is the best 2-iron 2023 has to offer, even though it was first released last year.
2) Titleist U-505 Utility 2-Iron – Best for Mid Handicappers
Specs
Loft: 18 degrees
Lie: 60.05 degrees
Cast Iron
Pros
Ample forgiveness
Easy Launch optionSatisfactory sound
Stylish long iron design
Cons
Expensive
Not the best option for low handicappers
Rating: 4.5 out of 5 stars
Titleist in golf is like that neighbor you keep seeing around everywhere, always willing to help you out any way they can. They have a vast collection of golf products designed to help the everyday golfer.
The Titleist U-505 is a hybrid 2-iron suited for mid-range handicappers looking for playability while maintaining the long iron look. At address, we noticed that the Titleist U-505 almost looks like a larger version of the U500. The two clubs are similar in construction, apart from a few small differences.
For instance, the blade length and sole are noticeably larger. This is to make the club more forgiving and playable than its sibling, the U500.
The Titleist U-505 comes equipped with a unique super-thin SUP-10 L-Face insert forged to help golfers achieve even faster ball speeds without compromising on distance. This custom face is also the reason for the satisfactory sound and feel upon ball impact.
Towards giving the U-505 an easy launch, the designers also fit the club with a Tungsten weight, optimizing the club's overall mass for a lower CG.
Players can choose between four loft options, including a 16°, 18°, 20° or a 22° for maximum control while on the course. But, if you are looking for a 2-iron, you should opt for the 18° option.
3) Mazel Driving Iron – Best Budget 2-Iron
Specs
Loft: 18 degrees
Lie: 60 degrees
Cast Iron
Pros
Good distance and control features.
You won't struggle with the launch.
Comes with ample forgiveness levels.
Cons
No left-handed options
Not as accurate or forgiving as more expensive options
Rating: 4.5 out of 5 stars
Another great option you should check out is the Mazel Driving Iron range. Notably, it comes with a two-figure price tag that appeals to budget golfers or those who want to experiment with a 2 iron without breaking the bank.
In addition to the Mazel Driving Iron's body coming with a hollow construction design, its muscle back shaping will give you more control in terms of ball flight.
The best 2-iron driving iron under $100 is also fitted with a CNC-milled face. This is to help players achieve a consistent ball flight. While it's less forgiving than expensive options, it still does a decent job.
The wide sole also helps with this. It allows a more significant distance to be achieved across a wider area of the face.
The low CG on these 2-irons makes them a great option for mid to high handicappers too.
Overall, a Mazel is the best 2-iron golf club you'll find for under $100. You could even opt for the three-pack and experiment with 3 and 4 irons as well.
4) Srixon Golf ZX Utility Iron – Best Value
Specs
Loft: 18 degrees
Lie: 60 degrees
Cast Iron
Pros
Stylish blade-like design.
Fast ball speeds and increased distance
Cons
Not the most workable option
Rating: 4.5 out of 5 stars
In terms of looks, there are few irons that can rival the Srixon Golf X Utility Iron. At address, it comes with a large sole and a slim top line topped off with a classic chrome and matte finish.
The body has 1020 carbon steel, which is a light material with high strength and durability. This material also reduces the vibrations brought about by impact for a soft feel. This, coupled with the fact that the ZX Utility club comes with a hollow body, makes the club more forgiving and elevates distance and speed levels for players.
Additionally, the ZX comes with a forged SUP10 face that helps players achieve faster speeds and greater distances. This face design is also significant for the club's satisfying sound and feel, which we found explosive.
Srixon placed a Tungsten weight at the base of the Srixon ZX Golf Utility club, which is essential in optimizing the club's mass properties for a higher and easier launch.
5) TaylorMade Stealth DHY Golf Club – Most Forgiving 2-Iron
Specs
Loft: 17 degrees
Lie: 59.5 degrees
Cast Iron
Pros
High forgiveness levels.
Fast ball speeds
Cons
Rating: 4.3 out of 5 stars
If you are looking for a 2 iron but are prioritizing a club with high forgiveness levels, the TaylorMade Stealth DHY is one option you should check out. Just from the abbreviation DHY (which stands for Driving Hybrid), we already get a good portion of information about this club.
At address, the Stealth DHY has a wider sole and a longer blade length. TaylorMade claims this is to make the few irons can, as a result, more forgiving.
Notably, to make the Stealth DHY more playable, TaylorMade also modified the heel-toe radius and made it more rounded. This feature also contributes to the club's classic aesthetic.
The Stealth DHY's face is designed with a special ultra-thin forged 4140 carbon steel and is made more flexible by using TaylorMade's inverted cone technology.
Like the P790 UDI, the Stealth DHY is also filled with SpeedFoam, which reduces the clubs' entire weight by 69%. This saved weight is then redistributed across the whole club to optimize its mass properties and make it more efficient in all areas. The insert also results in what we found to be a soft feel and a sweet solid sound upon impact.
If you like these clubs but want an even low-flight path, you could try the Stealth UDI instead.
6) Wilson Staff Utility Iron – Most Workable
Specs
Loft: 18 degrees
Lie: 59.5 degrees
Forged Iron
Pros
Stylish looks
Solid sound and feel
Fast ball speeds
Very workable
Cons
Forgiveness could be better
Difficult to use for high handicappers
Rating: 4.3 out of 5 stars
Before it was released in November 2019, the Wilson Staff Model Driver was a prototype for Pro tour players. As this is generally classified as a utility iron, it is a great option for players who aren't fans of hybrid irons.
It is designed with a C300 maraging steel face that delivers the fastest ball speeds regardless of where contact is made.
In a bid to make it easier to achieve high launch, optimize the mass properties and increase forgiveness levels of the Staff Utility Iron for the club Wilson also sole weighted 7 grams on the lower areas of the club's head.
The Wilson Staff Model comes with a stock KBS Hybrid shaft and Golf Pride Tour Velvet grips for the softest feel. This is ideally a mid and low-handicapper player club and is by far the most workable in our top list. If you have a 0 handicap, this is the 2-iron for you.
7) TaylorMade Sim UDI 18° – Best Second-Hand Option
Specs
Loft: 18 degrees
Lie: 60 degrees
Cast Iron
Pros
Very consistent
Fair mid-range pricing
Fast face
Cons
Older tech
Bulky design choices may not suit all players
Rating: 4.0 out of 5 stars
As the name suggests, the TaylorMade Sim UDI is part of clubs' long-standing and popular SIM range.  You'll notice the wide sole at address, which shifts the club's weight towards the lower back areas.
This, combined with the fact that the TaylorMade Sim UDI is made with a hollow body construction, results in the club being ideal for easy launch, distance, and forgiveness.
The Inverted Cone technology provides an enhanced sweet spot to strike the ball more consistently. Combined with the ultra-thin face and SpeedFoam, those consistent strikes will also be fast off the face.
This TaylorMade Sim UDI best suits mid to high-handicap range players. It can also work well for players looking for something that will have the precision and distance of a hybrid with the control, forgiveness, and stability of an iron.
8) Callaway X Forged Utility Iron – Best Forged Golf 2-Iron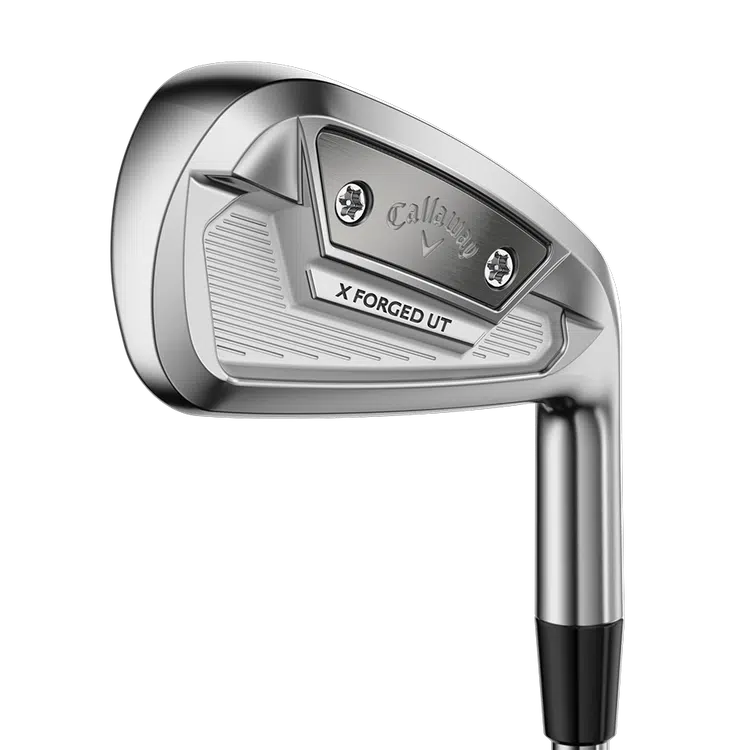 Specs
Loft: 18 degrees
Lie: 60 degrees
Forged Iron
Pros
Stylish design
Soft feel as a result of Urethane Microspheres.
Easy launch and control
Cons
Rating: 4.0 out of 5 stars
The Callaway X Forged Utility Iron comes fitted with a Flash Face Cup that is designed through a series of complex processes to optimize it to help players achieve the fastest ball speeds regardless of the contact area.
Like most clubs on this list, the Callaway X Forged Utility Iron is made with hollow body construction and uses 1025 forged carbon steel as the primary material for the body's structure. Combining these two features makes this one of the more forgiving options in a durable, long-lasting design.
The design is topped off with a chrome HydroPearl finish to ensure consistent performance regardless of the environment.
We tested out the clubs to see whether the companies claim that the Callaway X has a softer feel as a result of it being equipped with unique urethane microspheres and found the claim to be largely true. You are treated to a solid sound upon impact, and the microspheres distribute the vibrations upon impact well, resulting in a soft feel.
The Callaway X is notably bigger than most 2-irons with a longer blade and wider sole, both of which are put into place to increase the impact area making the club more forgiving. An exterior Tungsten weight helps optimize CG and plays a vital role in balancing the club's mass, given its large size.
What To Consider When Purchasing a 2-Iron
Generally, purchasing a 2-iron shouldn't be that different from purchasing any other club. It will all depend on what you intend to use the iron for. Then you can focus more keenly on specific factors that may make one option more ideal for your playing style than the other. Here's a quick checklist of factors to consider:
Aesthetics
While it may seem silly to consider appearance as a factor for selecting a club, confidence is key in golf. Having a 2-iron that you are proud to have in your bag will make you more likely to use it. And, on top of confidence, practice with a difficult club like a 2-iron is also important.
Forgiveness vs. Workability
While most manufacturers aim to achieve a mix of both of these factors, 2-irons will naturally lean more toward one or the other. Those with a low handicap should opt for a more workable option, while those that need something a little more forgiving should choose the opposite.
In many cases, 2 irons are labeled as 'hybrids' but don't look like traditional hybrids because they are so forgiving.
Shaft Options
Most 2-irons are only available with stiff or extra stiff shafts. So, if you have a slow swing speed, you may have to do some extra shopping around for a club with a more flexible shaft.
Hybrid or Utility
Utility irons tend to produce lower backspin and launch. Whereas hybrids are easier to launch. Neither is better than the other, and your decision should revolve around your strengths as a golfer and what you intend to use the club for.
What Are The Lofts for 2 and 3-Irons?
There is some crossover between the lofts of 2-irons and 3 irons. Here's where the lofts for each type lie:
2-Irons: 16-19 degrees
3-Irons: 19-21 degrees
However, you'll find that many "driver irons" and "utility irons" are labeled as such, and despite them being 17.5 to 19 degrees, they will still have the markings of 3 irons. So, don't worry if some of our top picks are technically 3 irons. Their lofts and movement off the face will be the same as those marketed as a 2 iron.
On the other hand, many utility irons are available in 2 and 3-iron loft options. So if you're buying online, make sure you select the 2-iron option to avoid ordering the wrong type of iron.
Frequently Asked Questions
Do Any Pros Use 2-Irons?
The most recent statistics on the PGA tour showed that up to 31 players were spotted with either a utility or driving iron in their bag in recent events. Of that number, 5% consists of players with 2 driving iron in their bags. Examples of players who use 2-iron clubs include; Cam Davis, Aaron Wise, Lanto Griffin, and Matt Jones. Although, as we alluded to earlier in this article, many "3 irons" have the same loft as 2 irons, so that number could balloon further than 5% if you consider this fact.
What is a 2-Iron Used For?
Generally, 2-irons have anywhere between 16 to 19 degrees loft, and their lengths range from 39 to 40 inches.
Because of its low loft, the 2-iron can be tough to use. But having one can be helpful when hitting punch shots out of the rough or from the fairway to the green.
Is a 2-Iron Difficult to Hit?
If you are new to golf, it might take you a while before you should use a 2-iron. In short, yes, it is considered one of the most difficult clubs to hit. But a hybrid version may make it a little easier.
Are 2-Irons Worth It?
Ideally, we wouldn't recommend getting a 2-iron if you fall between the mid to high handicapper range of golfers. However, if you are a good striker and fall in the low handicap range, you may discover that the extra control offered by a 2-iron is just what you need to lower your score. You may not use it in every round, but the low piercing flight can be a lifesaver if you've shot into the rough.
What Angle is a 2-Iron?
2-irons generally range anywhere between 16 and 19 degrees.
Wrapping Up the 2-Iron Guide
If you are thinking of starting your 2-iron journey, the best 2-iron for beginners is the TaylorMade Stealth DHY. It is a good starting point as it is very forgiving and may help you progress into less forgiving irons.
If you're ready for the best all-around 2-iron, the TaylorMade P790 UDI is the first place to look.