Technology moves fast, sometimes leading to some outrageous ideas. But no idea has shaken up the golf club industry like the Cobra single-length irons.
Adaptability is a skill that many golfers pride themselves on. Walter Hagen, Seve Ballesteros, and Bubba Watson are just a few examples of golfers who never swing the same swing.
But for the rest of us, swinging the same swing is our best bet, and using King Cobra One-Length irons will help the most.
Are the Cobra One Length Irons right for you? What are the pros and cons? Are there any better alternatives?
Golfers looking to make the game easier or anyone looking to try something new will benefit from this Cobra One Length irons review. Read on to learn all the details.
Cobra LDTx One Length Irons Review
Pros
Same setup for each club
All clubs are designed to be hit the same way
Each iron is outfitted with cutting-edge steel bar core
CNC milled face optimizes spin for each iron
Includes a hybrid that is 7-iron length
Tungsten weight in the toe increases MOI
Cons
Takes a bit of getting used to with the shorter irons
Irons bang against each other in the bag
LTDX Performance Ranking Table
| | |
| --- | --- |
| Distance | 95 |
| Forgiveness | 94 |
| Spin Rate | 87 |
| Feel | 81 |
| Launch Angle | 90 |
| Sound | 90 |
| Price | 98 |
The Verdict
These are very different from any clubs we've ever hit before, but we can't deny the results or the theory behind it. Having single-length irons reduces the margin of error throughout your set to make it easier to hit greens in regulation.
Focusing on one swing plane and having the clubs feel the same is a huge advantage to anyone starting. Learning how to hit 14 clubs can be daunting, but if you simplify that and focus on one swing for all your irons and hybrids, you'll improve much faster.
Who Will Benefit Most
If you're already an established golfer, these might benefit you even more since they will take a lot of strain off your mental game. Stop worrying about your ball position and having a different stance for each club. Focus on hitting your positions and maintaining a smooth tempo; that's it!
This method also makes practice easier since you are working on an overall swing instead of many different ones. As you improve your swing, your contact and ball-striking consistency will improve across all clubs at the same time.
Cobra LTDx One Length Irons Features
Cobra One-Length Specs
| | | | | | |
| --- | --- | --- | --- | --- | --- |
| | Loft | Lie | Swing Weight | Offset | Length |
| 6-Iron | 24° | 64° | D0 | 4.2mm | 37.5" |
| 7-Iron | 26.5° | 63.5° | D0 | 3.2mm | 37.5" |
| 8-Iron | 31° | 63° | D0 | 2.6mm | 37.5" |
| 9-Iron | 36° | 62.5° | D0 | 2mm | 37.5" |
| PW | 41.5° | 62° | D1 | 1.5mm | 37.5" |
| GW | 47.5° | 61.5° | D1 | 1mm | 37.5" |
Hybrids
This club is excellent for beginners who are just starting to experiment with hybrids. The length may surprise you if you already have a trusty hybrid at home, but distance is still there thanks to the club head.
The technology more resembles driver specs with its power core technology. This is Cobra's version of Callaway's jailbreak technology which focuses on creating more flex throughout the club head. This is very useful when swinging a shorter hybrid shaft, especially out of less-than-perfect lies.
Mid-Irons
Mid-irons should be an easy transition since not many changes in the equipment. However, the clubheads are designed to be a part of a one-length set, so they will react a bit differently than your old 6 or 7-iron.
The look is very slender when you consider how forgiving these are. They are a great introduction to the world of one-length irons.
That forgiveness is created by precise weight dispersion between the heel and toe. You can see the adjustable tungsten weight to help create a smooth tempo so you can square the clubface more consistently.
Short Irons
Here is where you may feel some discomfort and start to question why you got one-length irons in the first place. Swinging a 9-iron that is the same length as a 7-iron will be foreign, but so is all of golf.
The weight and lie angle has been adjusted to accommodate the same swing, so with these clubs, it's crucial to trust the fit and make your normal swing—no more second-guessing.
The CNC milling on all the irons is very helpful but more so in the short irons because they will help you most when trying to hit greens in regulation. This process is most commonly seen on wedges, but here you have it on all your irons.
Wedges
Don't worry; your 60° wedge is not the length of a 7-iron. In most cases, the gap wedge will be the last club to be 7-iron length. Wedges require a little more customization since it's such a feel part of the game.
Owners of a one-length iron set typically have taller wedges, so it's not as much of a shock to switch back and forth. You still want to maintain full comfort and control without deviating from your 'one-length' swing that all your other clubs use.
Cobra One Length Irons Alternatives
Cobra has made it easy to adopt their single-length golf clubs by making them available in several styles.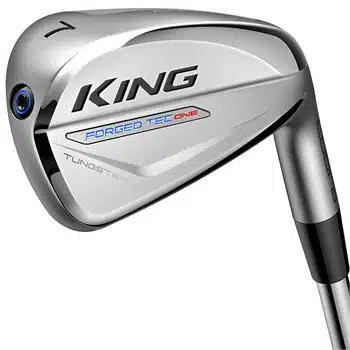 These blade-style irons are for lower-handicap players who want to be able to work the ball in both directions. The slender profile makes it easy to manipulate the clubhead and create what your imagination can come up with.
The forged clubheads are made hollow and then inserted with a special lightweight foam to create a softer feel and enhanced feedback. This also provides a little more forgiveness than your average forged irons.
A toe weight also helps to keep these irons square through impact, even in tough lies. While this isn't as prominent as in the LTDX line, it's enough to make a difference on off-center hits and will help to keep your distance consistent.
For even more forgiveness, Cobra has put their RadSpeed technology into a one length iron set so high-handicap players and beginners can get the maximum assistance. These are slightly larger than the LTDX and have a bulkier feel to them, but that's what gets the job done for anyone who's prone to missing the sweet spot.
RadSpeed is known for its design features that optimize weight around the perimeter of the club face. This RADial weighting is what makes the sweet spot so big and produces incredible distance no matter where you make contact on the face.
Speaking of the face, it's made from special stainless steel that allows for more flexibility without giving up too much stability. It's called Forged 'PowerShell Face' and piggybacks off previous cup face technology that is seen in Cobra fairway woods and drivers.
The biggest difference here is the topline of the clubhead, which is quite large. They have kept the weight down by inserting a carbon fiber rod that still holds up on impact. These clubs are perfect for golfers with slow swing speeds and who need help on off-center strikes.
FAQs
Which Cobra One Length Irons Are Most Forgiving?
The Cobra One Length irons that are the most forgiving are the LTDX irons. They provide a large head with special weight to enhance each shot that misses the sweet spot. A suspended steel core bar provides stability while spreading support across the entire face without adding too much weight.
Do You Lose Distance With One Length Irons?
No, you won't lose distance with one length irons because the club head has been adjusted to balance out the club. The lofts and lie angles differ from variable-length irons to accommodate the same length shaft. This is what allows the golfer to only make one swing for all the different clubs.
Are One Length Irons A Good Idea?
Yes, one length irons are a good idea because they will help a lot of people improve their scores and overall enjoyment of the game. This new theory could be just what many thousands of golfers need to break through to that next level. The idea has already been proven by Bryson DeChambeau by winning the U.S. Open, so it's sure to help many more at your local club.
Are One Length Irons Legal To Use?
Yes, one length irons are legal to use, but the rules of the USGA and R&A governing bodies of golf. Any golf club can be any length between 18-inches and 48-inches. Putters are allowed to be longer but may not be anchored to any part of your body.
Conclusion
This might sound a little crazy to many golf purists out there, and I have to say I was skeptical at first. Of course, you can hit a hybrid that is the same length as a 7-iron, but why would you want to? The same goes for a tall gap wedge, which doesn't sound pleasant at first.
But they will work very well if you think of them as a new way of getting your golf ball around the course. The clubs all feel very similar yet perform differently, which is their secret.
You need only worry about one swing and then truly let the club do the work.