In this Srixon ZX7 irons review, I explore the features that drive its workable flight, buttery-soft feel, and enhanced control. By the end of this post, you will know whether these players' irons work for you or if you desire more lenient tools.
How good are the Srixon ZX7 irons? The Srixon ZX7 irons offer modern technology for skilled players who want control and workability. The forged construction provides a soft feel, while tungsten weights and V-shaped sole design offer added forgiveness and improved turf interaction. The face grooves provide better spin control and stopping power on the green.
But there's more to consider when buying irons, so read on to ensure you don't waste your money on the wrong iron set.
In addition, I explain what factors to consider when searching for players' irons and provide three alternative muscle back designs.
Here is what you will learn in our Srixon ZX7 Irons Review:
Pros and cons of these player's irons
Which handicap range best suits the irons
Specs and features of the ZX7 irons range
Three alternative iron sets to consider
| | |
| --- | --- |
| Total Score | 87 |
| Star Rating | 4-stars |
| Distance | 88 |
| Forgiveness | 80 |
| Grip | 91 |
| Shaft | 83 |
| Workability | 94 |
| Price | 86 |
Pros
Amplified acoustics
Generates a buttery-soft feel
Maximum workability
Crisp turf interaction
Progressive grooves produce optimal spin
Cons
Restricted forgiveness
Less margin for error, given the smaller blade size
Who Are the Srixon ZX7 Irons For?
These irons are not suited to mid and high handicappers based on their reduced forgiveness. However, lower handicappers and pros will welcome its performance.
What is the Srixon ZX7 Irons Handicap Range? The Srixon ZX7 handicap range caters to superior, lower-handicap golfers, seeking workability, feel, and acoustics. They offer limited forgiveness on off-center strikes, making them unsuitable for the average or new golfers.
Srixon ZX7 Irons Specs
| | |
| --- | --- |
| Iron Type | Tour Cavity Back |
| Material | Carbon Steel |
| Set Composition | 3-iron – AW |
| Stock Shaft | Nippon N.S Pro Modus3 Tour 120 Shaft |
| Srixon ZX7 Release Date | January 2021 |
| Forgiveness | Low |
| Workability | High |
Why You Should Trust Us
Our team spends thousands of hours trying out and researching golf equipment to help you take your game to the next level. Here's our product review process.
We can bring these reviews to you through the small commissions we earn if you buy through the links below.
How We Reviewed These Products
Golfspan only shares equipment and brands we trust.
I'm an experienced golfer of 28 years and I thoroughly researched and evaluated these Srixon irons. Then an editor reviewed and fact-checked the list. Finally, we conduct regular content audits to update and revise our reviews to ensure you receive the latest information.
To review these Srixon irons, I considered these criteria:
Cost
Forgiveness
Control
Spin
Workability
Loft
Srixon ZX7 Irons Review: Features & Benefits
Tour Cavity
Srixon engineers employed a unique Tour Cavity design which altered the sweet spot and the perimeter weighting around the club head. As a result, Srixon engineers enhanced the workability of the irons to induce draws and fades on approach.
Progressive Grooves
I appreciate the Progressive Grooves design on the ZX7 irons, which delivered the correct quantity of spin and speed through the bag. For example, it heightened my pitching wedge spin above 8000 rpm while my 7-iron hit the low 5000 mark.
Srixon engineers applied narrow, sharper, and deeper grooves into the 8-iron through to pitching wedge. These golf clubs delivered elevated spin levels and a soft landing for maximum bite on approach.
Conversely, the broader, shallower grooves on the long irons caused the ball to spring off the clubface and create rapid speed and maximum distance on approach.
Tour V.T Sole
Srixon applied the Tour V.T. sole to the ZX7 irons, carrying a V-shaped design, for clean turf interaction. The refined design allows clean contact with the golf ball from the rough and fairway.
In addition, the heel and toe relief provided splendid stability at impact. Moreover, it was easy to open the clubface when I needed added loft.
Multi-Piece Construction
Next, the multi-piece construction results in a superb feel, accelerated ball speed, and increased moment of inertia (MOI). MOI is enhanced in the long to middle irons and provides optimal stability at impact to prevent ball speed and spin drop-off.
In addition, its 1020 Carbon Steel Body drowns vibrations from mishits and softens the touch of every strike out of the sweet spot. This level of feedback is golden for superior golfers looking to identify where the clubface struck the golf ball.
Read More: The Best Looking Golf Clubs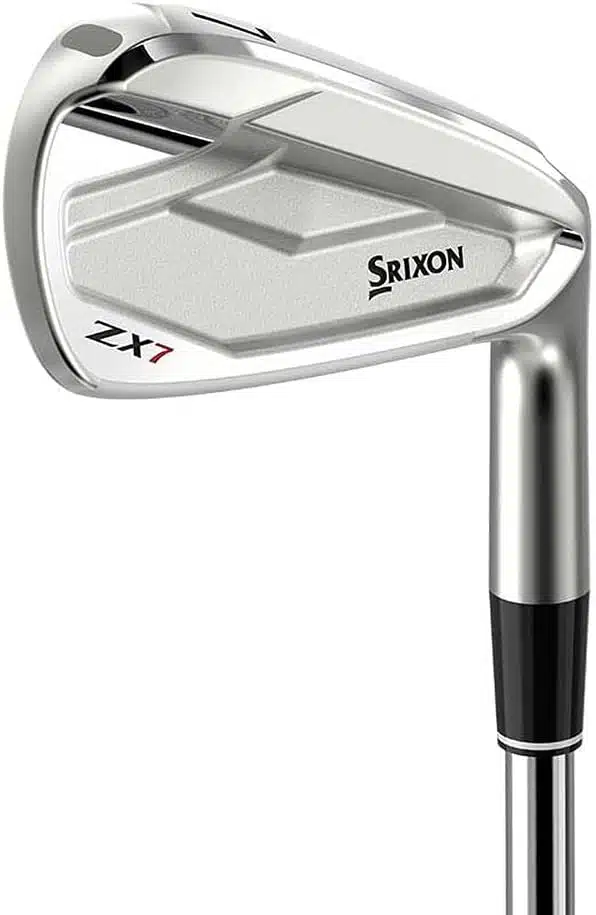 Progressive Offset
Srixon opted for a progressive offset setup in the ZX7, crafting moderate offset long irons and reducing it as the lofts weaken. The added offset in the long irons helps the clubs combat off-center hits to maintain ball velocity and minimize spin for exceptional yardage on approach.
However, the greater the degree of offset, the less workability irons typically offer. I found the best Srixon irons for low handicappers enabled optimal shot shaping in the mid and short irons, and longer irons offered more than most offset irons.
The 3-iron in the ZX7 set carries 3.6 mm of offset, while the pitching wedge carries half that quantity for added workability. Thanks to the offset in the longer irons, I escaped catastrophe on mishits and delivered straighter approach shots.
Srixon ZX7 Iron Lofts
Srixon ZX7 irons carry the standard lofts one expects from muscle back irons, starting with a 20-degree 3-iron. Today that works out to be 2 degrees weaker than a regular game improvement 4-iron, but it delivers the ideal launch and flight superior players demand from a 4-iron.
In addition, a 46-degree pitching wedge closes out the set, delivering ample height, spin, and distance. Although 3 to 5 degrees weaker than a modern game improvement set, I was content with the traditional setup.
| | | | | | | | | |
| --- | --- | --- | --- | --- | --- | --- | --- | --- |
| 3 | 4 | 5 | 6 | 7 | 8 | 9 | PW | AW |
| 20° | 22° | 25° | 28° | 32° | 36° | 41° | 46° | 51° |
Nippon N.S Pro Modus3 Tour 120 Shaft
Srixon ZX7 irons shaft options start with the one stock shaft: the Nippon N.S Pro Modulus3 Tour 120 Shaft. The Mosulus3 is available in a stiff and extra stiff flex better suited to serve higher swing speeds, seeking a low launch and maximum stability.
Golf Pride Tour Velvet 360
The final feature on the ZX7 irons is the Golf Pride Tour Velvet 360 stock grip. I appreciate the all-weather control, which improves traction in the heat and rain. Its rubber blend compound is non-slip and wicks moisture away from the surface for optimal contact between your hands and the grip.
Lower handicappers should welcome the moderate feedback it produces to better identify which part of the clubface struck the golf ball.
Factors To Consider Before Buying A Set Of Players Irons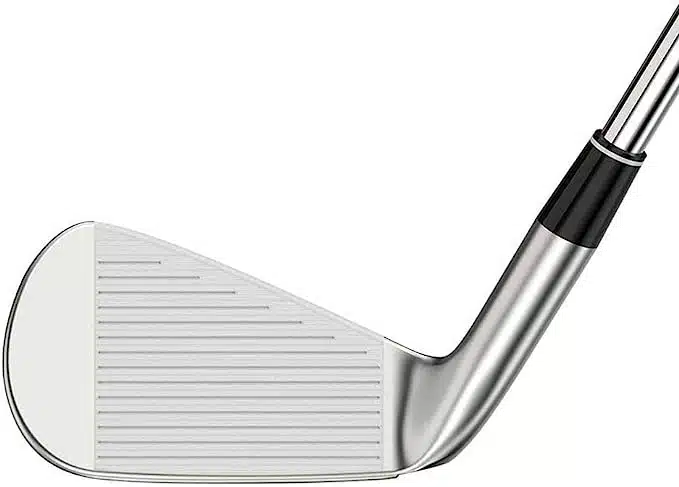 Workability
Players' irons enable optimal workability on approach for golfers to induce a draw or fade for greater control. However, the more offset an iron has, the less shape one is typically able to produce.
Modern players' irons often possess a progressive offset construction, where long irons carry moderate offset, and it reduces as the lofts become weaker. This frees you up to work the ball into the flag with your mid and short irons for greater control.
If you loathe offset and are willing to endure less leniency, search for long irons with less offset.
Buttery Soft Feel
Muscle back irons are mainly forged from premium stainless steel resulting in a durable, fast, and soft-feeling clubface. When the ball strikes the sweet spot, you enjoy a delightful feel acknowledging the cleanliness of your strike.
Conversely, off-center hits are met with nasty vibrations which rush up the shaft and notify you where the golf ball struck the clubface.
Reduced Forgiveness
When you opt for players' irons, you are closing the door on forgiveness, as these irons offer limited leniency on off-center strikes. Unlike game improvement irons, muscle backs carry a compact clubface and shorter blade, leaving you with less room for error.
Mishits result in lost ball speed, inconsistent spin, and reduced launch and carry distance. While professionals and low-handicap golfers can handle this kind of gamble, mid and high-handicappers are better suited to forgiving game improvement cavity back irons.
FAQ
Are Srixon ZX7 Considered Blades?
No, the Srixon ZX7 are Tour Cavity Back, which contains the looks and feel of a blade. The cavity back allows engineers to add game improvement technology to boost forgiveness and consistency. Conversely, a modern blade features a hollow back with limited offset to maximize workability.
What Handicap Should Play Zx7?
Low handicappers from scratch to 7 can play the Srixon ZX7 thanks to its feel, workability, speed, and control.
What Pros Use ZX7?
Yes, Pros like Brooks Koepka and Shane Lowry employ the Srixon ZX7 irons in their bag. In addition, LPGA Tour player Hannah Green also plays the ZX7 irons.
Final Thoughts
Although Srixon is best known for its golf balls, my research into the brand exposed its effectiveness as a golf club manufacturer. My Srixon ZX7 irons review revealed their soft feel, workable flight, clean turf interaction, and consistency.
While the ZX7 range is a formidable set of irons, their reduced forgiveness over game improvement cavity backs rules them out for most mid and high handicappers. However, they tick all the boxes for lower handicappers seeking workable ball flight, control, and consistent length on approach.
Casual golfers seeking forgiveness, distance, and accuracy may prefer the performance of the Srixon ZX4.
ZX7 Irons Alternatives
Cobra King CB/MB provided an exceptional combination of feel, workability, control, and clean turf interaction. The CB/MB irons are forged from 1025 carbon steel for an enhanced grain structure and feel at impact.
The long irons in the set carry cavity backs to increase forgiveness on mishits and encourage consistent ball speed and launch. On the contrary, the mid and short irons contain a minimal offset to maximize workability on approach. As a result, it empowers you to attack the flag with shorter clubs.
Despite their forgiveness for players' irons, they are not suited to mid and high handicappers. They are better off in the bag of a low-handicap golfer.
The Rogue ST Pro is not a traditional players iron as it's packed with game-improvement technology and sports a cavity back. Callaway engineers forged the body of these irons and fitted urethane microspheres between the clubface and cavity back for optimal feel and acoustics.
The long irons in the set contain an increased offset level and proved effective in calming sliced shots and mitigating the result. In addition, the CG is optimally positioned in each iron to deliver the ideal launch, distance, and accuracy.
Finally, the A.I. Optimized Face produced blistering speed across an expanded clubface area for consistent distance. While it does offer impressive forgiveness for a player's iron, I only recommend lower handicappers tack these irons.
The final alternative to the Srixon ZX7 irons is the TaylorMade P790 irons, which deliver optimal speed during testing for a powerful launch and carry distance. The SpeedFoam Air creates an incredibly thin clubface with a smart sweet spot spread to high contact points of the clubface.
In addition, the SpeedFoam softens the feel of strikes out of the sweet spot and amplifies the acoustics. Next, TaylorMade engineers applied tungsten weighting to the clubface for better stability at impact, preventing speed drop-off.
Although the P790 is a player iron, it offers an impressive quantity of forgiveness and workability on approach. Experienced mid-handicappers may survive with the TaylorMade P790, but it's better suited to low handicappers.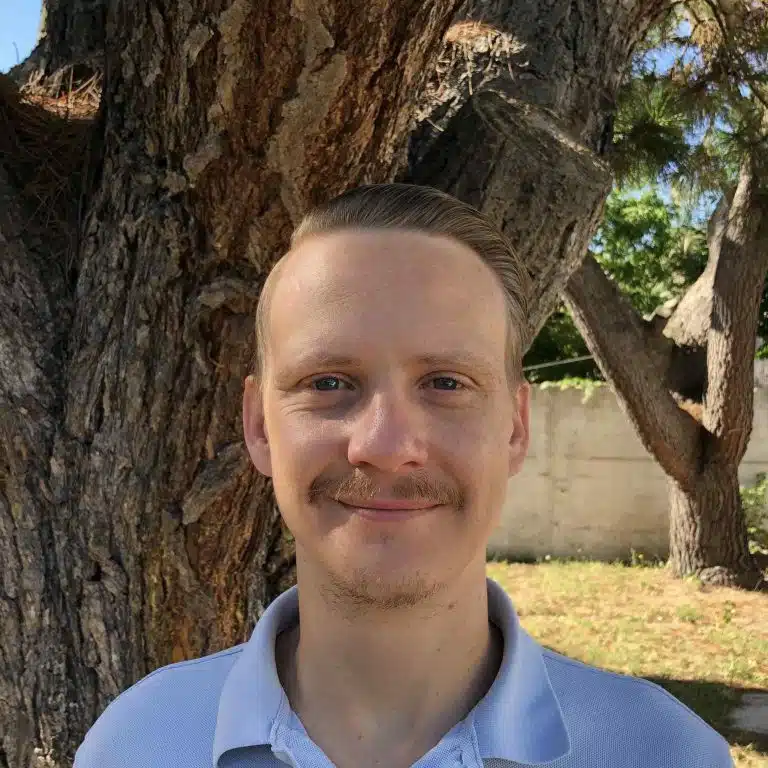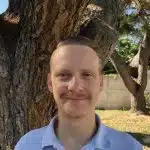 Matt is a seasoned golf equipment writer and sports fanatic. He holds a Postgraduate in Sports Marketing and has played golf for over 28 years.