Titleist leads the way in products for low-handicap golfers. Still, with the T300s, it is lending a helping hand to those with higher handicaps. This is great news because the brand has added its signature Titleist look to these forgiving game-improvement irons.
The most recent release of the Titleist T Series irons offers game improvement technology yet look like blades. 
Are the Titleist T300 irons worth it? Titleist T300 irons provide forgiveness and distance with a hollow construction, high-strength steel face, and tungsten weighting system. They are a good choice for mid-to-high handicap golfers who want to improve their game but are priced at the higher end of the market. Overall, they are worth considering for those looking for a high-quality set of irons.
Having the right set of irons will help you take strokes off your short game, one of the most important areas to focus on if you want to improve. Buying the wrong irons could set you back for years. 
Read on in this Titleist T300 irons review to learn everything you need to know, including the cost of the mid-size irons, features, and who they best suit.
Titleist T300 Review: Overview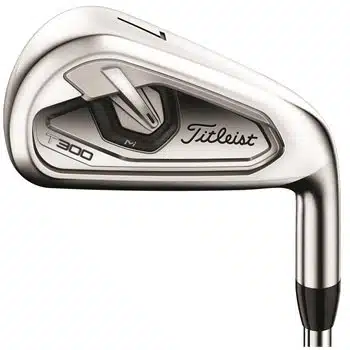 | | |
| --- | --- |
| Distance | 93 |
| Forgiveness | 90 |
| Feel | 91 |
| Workability | 85 |
| Aesthetics | 97 |
| Price | 81 |
Rating: 4.5 out of 5 stars
Quick Verdict
The Titleist T300 irons are designed to provide forgiveness and distance for golfers of all skill levels. They feature a hollow construction with a high-strength steel face and a tungsten weighting system that helps to lower the center of gravity and increase MOI.
They're not cheap though. While the T300 irons are priced at the higher end of the market, they are worth the investment for golfers who want to improve their game and enjoy the benefits of a high-quality set of irons. So, if you're in the market for a new set of irons and want to improve your game, the Titleist T300 irons are definitely worth considering.
Who Are the T300 Irons For?
I feel confident recommending the  Titleist T300 irons for those of a higher handicap. The wide sweet spot, optimized CG, added tungsten, and advanced max impact technology all contribute to this club that aids with distance and shots with high launch.
Golfers with a middle handicap could also find them useful too.
Players who want to increase their enjoyment of the game by hitting more accurate iron shots will greatly like these. New technology in the core and behind the clubface make the Titleist T300 golf clubs a standout amongst other iron sets.
The level of forgiveness means that it wouldn't suit better golfers of a lower handicap, unlike a lot of Titleist's other clubs. Despite features such as a thin top line, it is tailored towards those of a higher handicap.
Handicap Range for the Titleist T300 Irons
The Titleist T300 handicap range is on the higher end, but some mid-handicappers may also find these beneficial. They blend game-improvement qualities with a low-profile, blade-inspired look. Golfers with a handicap range of between 54 and 15 will enjoy them most.
In-Depth Titleist T300 Review

Titleist is starting to turn their attention to higher handicap golfers. The T300 irons are an excellent example of that. They are considered game-improvement irons but still have a signature classic look that all Titleist irons have.
Titleist T300 Irons Specs
Check out all the Titleist T300 loft charts and specs.
| | | | | | |
| --- | --- | --- | --- | --- | --- |
| Club | Loft | Length | Lie | Offset | Swing Weight |
| 4 | 20° | 38.5" | 61.5° | 5.4mm | D2 |
| 5 | 23° | 38" | 62° | 4.7mm | D2 |
| 6 | 26° | 37.5" | 62.5° | 4.2mm | D2 |
| 7 | 29° | 37" | 63° | 3.7mm | D2 |
| 8 | 33° | 36.5" | 63.5° | 3.2mm | D2 |
| 9 | 38° | 36" | 64° | 2.7mm | D2 |
| PW | 43° | 35.75" | 64° | 2.2mm | D2 |
| W48 | 48° | 35.5" | 64° | 1.9mm | D2 |
| W52 | 52° | 35.5" | 64° | 1.9mm | D2 |
Appearance
Typically, game-improvement irons are large and clunky, often called 'shovels.' Titleist didn't get that memo and instead created a professional-looking iron with plenty of game-improvement properties.
They come with a thin top line that is easy on the eyes when addressing the ball. Polished chrome absorbs the sunlight so that you won't get any glare from them. These two features make the Titleist T300 iron set reviews so positive.
Performance:
The cavity back design allows for a wide sweet spot, but the polymer core differs in these irons. They've used a brazing process only seen in aerospace construction to optimize the center of gravity. This gives your shots a higher launch angle and more forgiveness.
The core is made from special tungsten that is ultra-dense. This has allowed them to use 40% more tungsten than previous models. This helps to add distance overall but especially on off-center strikes.
To maintain a good feel with all this forgiveness, these clubs have variable face thickness done throughout. All the faces are made differently to maximize forgiveness all the way through.
Feel
The variable face thickness is not the only thing that Titleist improved on the face to improve feel. They are also thinner in the heel and progressively get thicker towards the toe. Since toe hits are more common in high-handicapper, this is a great idea that helps correct bad shots and gives you the best feel possible.
These clubs have the highest COR and MOI out of all Titleist irons. COR refers to how much energy is transferred to the ball at impact. Having high COR is great for players who don't have high swing speeds. MOI refers to how much the club resists twisting, which is helpful for anyone who misses the sweet spot consistently.
Alternatives
If you're looking for true game-improvement irons, then Callaway is your best bet. The new Mavrik irons are large and in charge. You will sacrifice feel, but the trade-off is fair for how much forgiveness these irons provide.
Using similar technology as Titleist, the Mavrik irons create distance and forgiveness with the precisely placed center of gravity. The tungsten-infused weights are placed differently in each iron to maximize your probability of keeping your shots straight and far.
A unique aspect of these is that they come in three different versions. I recommend the standard setup here, but you can also test the 'Max' version and the 'Pro' version. The max is even more forgiving, while the pro is smaller, increasing the feel you get.
Sticking with the standard will probably work best for most high-handicappers. These are right in the middle and take advantage of Callaway's technology and research.
[Check User Reviews on Amazon]
Taylor Made isn't always known for their high-handicap products, but this could signify a changing of the guard. Despite being named "max" irons, they are not as clunky as other iron sets with the same name.
This new design allows players to take advantage of a forgiving design while still getting some good feel and shot workability. Mid-handicappers can take advantage of these irons as well as anyone with a slower swing speed.
Using stronger and lighter polymers makes the center of gravity very low for an iron. This helps everyone get a higher launch without changing any part of your swing.
This softer blend is also used in the face to create more bounce at impact. It also reduces the sound to give you a more dampened sound that mimics tour-style irons.
[Check User Reviews on Amazon]
Cobra has a longstanding history of helping high-handicappers at a fair price. Their line of Radspeed products has been impressing golfers of all handicap levels, and this set seems to be their flagship model.
The technology here lies in the radial weighting system. This club is one of the most forgiving that money can buy. You will have no problem increasing and maintaining your distance without having to strike the sweet spot.
You can see the 10-gram tungsten weight positioned in the toe. This is taking what Titleist T300 irons do to the extreme. The added weight ensures that any toe shots will be minimally affected and still fly straight and long.
Finally, the face uses top-tier 3D printed precision to make the face as thin as legally possible. This creates a trampoline effect to rocket your ball at faster ball speeds right toward the flagstick.
[Check User Reviews on Amazon]
FAQs
Are Titleist T300 Irons For High Handicappers?
Yes, Titleist T300 Irons are for high-handicappers. They provide tons of forgiveness and a higher launch angle than other Titleist iron sets. Their cavity-back design gives the ball more bounce to add distance with a special polymer core. It's an iron set for high handicappers who prefer the look of a traditional iron.
What Year Did Titleist T300 Irons Come Out?
Titleist T300 irons release date was in 2019. The reception was warm as high-handicapped players praised the design as helpful to high handicap golfers while still providing good feel and decent shot shape capabilities. Then they were revamped in 2021. The Titleist T300 irons in 2023 are still worth looking at. They have kept the classic Titleist look, which gives players confidence when addressing every shot.
Are The Titleist T300 Forgiving?
Yes, the Titleist T300s are forgiving. They use a special variable thickness technology in the face, allowing each iron to react differently to off-center hits. The longer irons have added weight in the toe since that is typically where high-handicappers miss. The heel is thin to add spring on the rare occasion impact is also made there.
Can You Shape Shots With T300?
Yes, you can shape shots with T300 irons. Titleist has stuck very close to their classic ironhead shape and finish. A thin topline allows players to manipulate the clubface more freely once they feel confident in their ball striking. This feature makes these irons stand out from the other game-improvement iron sets.
Are Titleist T300 Cast Or Forged?
The Titleist T300 iron set is a cast set. It's pieced together using strong polymer and dense tungsten. This process allows the designers to precisely place the center of gravity in the best spot to reduce vibration and open up the sweet spot. It also allows them to move weight around to account for off-center hits.
Conclusion
We are very happy to see Titleist putting its best foot forward to help higher handicappers improve with the Titleist T300 irons.
We all know Titleist for their pro-style look and feel, but now everyone can enjoy their attention to detail and professional look.
These are built to last, so you won't need another set until you drop your handicap enough to get a set of pro-style Titleist irons. The only problem might be that it happens faster than you think with these irons.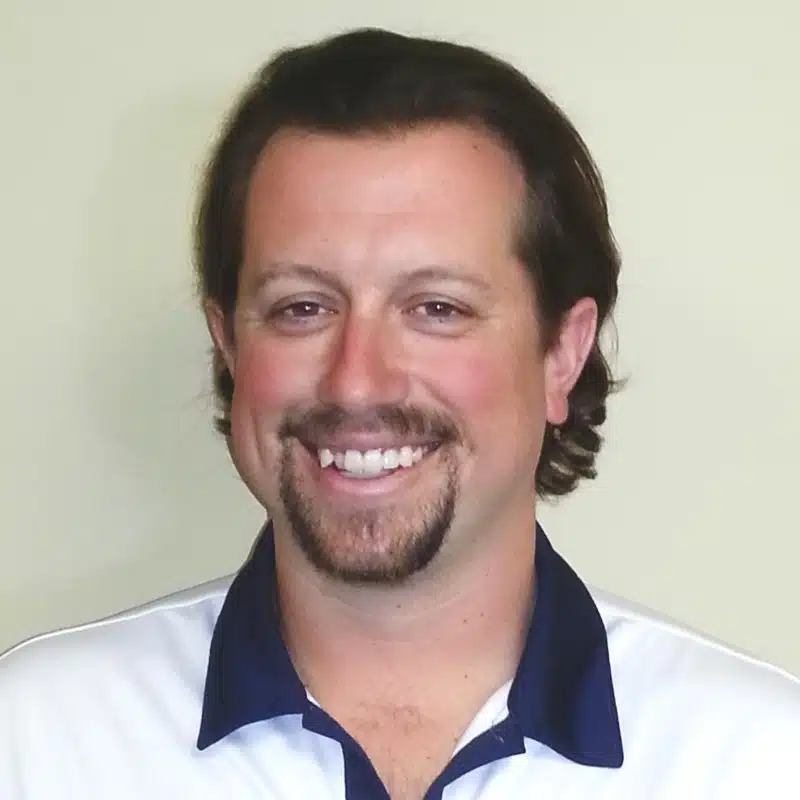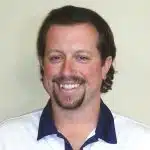 Clint became the Head Teaching Professional at one of Toronto's busiest golf academies and was featured on Canada's National Golf TV program, "Score Golf Canada," twice. He now tests and reviews golf equipment and gets to enjoy the game he loves whenever he wants while helping people lower their scores.