Looking for a shiny new set of irons? Say hello to the Wilson Staff CB Irons. Released in 2021, they build upon the form of the Wilson Staff V6 set.
They're made by a top brand. They're sleek, and professionals use them. They could make great upgrades for your golf bag. And just look at their design. They look incredible!
Are the Wilson Staff CB irons right for you?
Read this full Wilson CB irons review to learn everything you need to know.
Wilson Staff CB Irons Reviews
Key Info
💰 Price: $$$
✔️ Pros: A professional iron set with great feeling and good forgiveness
❌ Cons: A little on the expensive side and average distance
🏌️‍♂️ Verdict: Satisfying to use, and a great all-rounder
Wilson Staff CB Irons Performance Ratings
| | |
| --- | --- |
| | Best Overall |
| Distance | 77 |
| Forgiveness | 94 |
| Feel | 91 |
| Workability | 92 |
| Aesthetics | 93 |
| Overall rating | 93 |
Pros
Good forgiveness
Great soft feeling
Very professional looking
Simple launch
Cons
A little expensive
Average distance
Wilson Staff CB Irons Specs
| | | | | | | |
| --- | --- | --- | --- | --- | --- | --- |
| Model | Loft | Lie Angle | Length | Bounce | Offset | Swing Weight |
| 4 | 23° | 60° | 38.75" | 1° | 0.110" | D2 |
| 5 | 26° | 61° | 38.25" | 2° | 0.100" | D2 |
| 6 | 30° | 61.5° | 37.75" | 3° | 0.090" | D2 |
| 7 | 34° | 62° | 37.25" | 4° | 0.075" | D2 |
| 8 | 38° | 63° | 36.75" | 5.5° | 0.065" | D2 |
| 9 | 42° | 63.5° | 36.25" | 6° | 0.055" | D2 |
| PW | 46° | 64° | 35.75" | 6° | 0.050" | D2 |
Wilson Staff CB Irons Features
Performance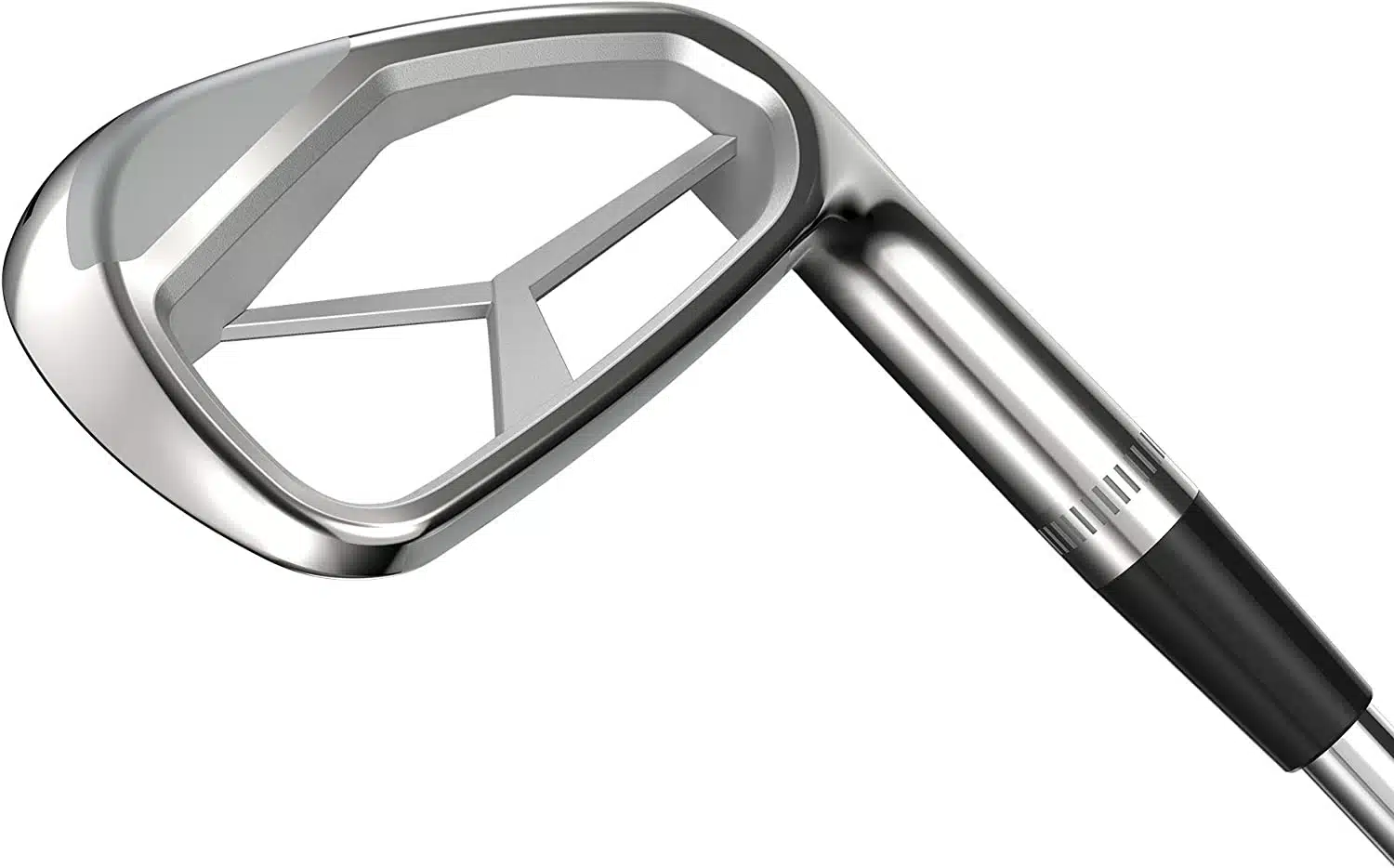 To kick off our Wilson Staff Irons review, we want to discuss the compact head size. Many golfers fear that the Staff CB Irons' comparatively smaller head size relative to the rest of the market leads to increased mis-hits. However, we did not find this to be true.
You can expect no more mishits than normal, perhaps less. They are actually pretty forgiving. The 20g of high-density tungsten embedded in the toe of the mid and long irons increases stability and lowers the center of gravity.
As the name suggests, the Tri-Brace stabilizer also helps keep the head stable, ensuring an efficient transfer of energy into the ball and helping you execute textbook swings every time.
An area the Wilson Staff Model Forged CB irons probably won't impress is distance. They are not particularly lacking. Rather, just average. If you need a little assistance on the distance front, the Wilson Staff D7 Irons are a much better pick.
Sound and Feeling
Featuring a forged carbon steel face with an integrated impact mass area, the Wilson CB Staff irons are very satisfying to use for clean strikes. They have a fairly soft feel to them and a quick launch speed.
The Tri-Brace stabilizer helps to give them a "thumping" sound which is quieter than what we are used to.
Appearance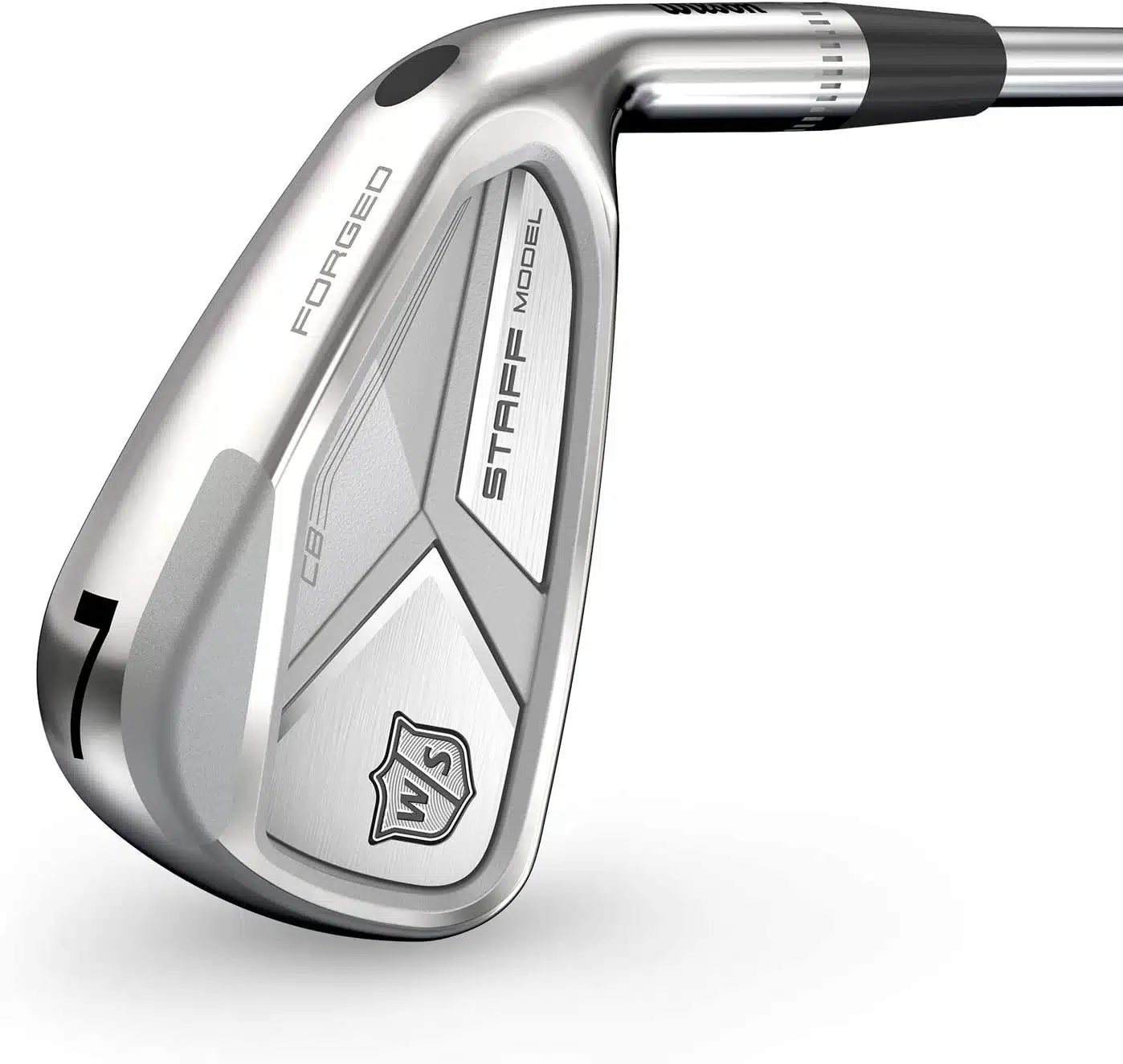 The Wilson Staff CB irons are among the best-looking clubs I have seen in a while. They appear very sleek in the bag and have an overall professional look to them.
There are no in-your-face colors, instead, you have a simple and elegant silver and black color scheme — and you really can't go wrong with that. Yet while the design is fairly simple, it's not exactly bare. The cavity sees individual branding for each of the three faces.
We also rate the opposing side. The face includes mirrored sections on the toe and heel. This adds to the sleekness of the clubs as some irons feature a completely matte finish on the face which we are not really a fan of.
What Type of Player Should Buy Wilson Staff CB Irons?
The Wilson Staff Model CBs are best wielded in the hands of mid-to-low handicappers. Sure, they are forgiving, but there are certainly more forgiving models out there.
You should also have faith in the power of your swing. As mentioned earlier, they have around average carry distance, so don't expect them to make up for any power deficits you might have.
Final Thoughts
With their amazing feel, forgiveness, and professional appearance, it's hard for us not to recommend the Wilson Staff CB Irons. If there's one thing, we want you to take away from our Wilson Staff Model CB irons review, it's that they are just so damn satisfying to use.
They compare very well against the competition and are noticeably cheaper than the offerings from the biggest four names in golf. However, if you'd prefer to keep looking around, consider reading our best golf irons guide.
CHECK CUSTOMER REVIEWS ON AMAZON
CHECK CUSTOMER REVIEWS ON GLOBAL GOLF
Alternatives to the Wilson Staff CB Irons
Wilson Staff D7 Irons
Pros
Good forgiveness
Good distance
Professional look
Cons
Power holes are not to everyone's taste
The Wilson Staff D7s are all about feeling and distance, both of which are categories that beats out the Staff CB Irons. The Wilson Staff D7s have a longer ball contact time with the face promising a more efficient energy transfer, featuring patented Power Hole technology that Wilson optimized for forged heads.
You'll also find a trend among the included clubs. The long irons feel more powerful, offering you greater distances, while the short irons instead give improved accuracy. This gives you more versatility on the course, and we are a fan of it.
Wilson Staff Launch Pad Irons
Pros
High forgiveness
High launch
Long distance
Cons
Not the best-looking irons
Long flight time can cost you in windy conditions
Sound is not very satisfying
As the most forgiving irons in the Staff line-up, Wilson states that the Launch Pad irons reduce 'fat shots' by 73%. Featuring Launch Pad technology, the irons transition effortlessly over the turf to eject balls with a high trajectory. They also carry the ball rather well.
Our main issues with the set are a bit picky. We are not particularly fond of the design — we prefer the aesthetic of the other Staff irons. And we also don't particularly rate the sound, although clearly, this does not affect the irons' performance which is what really matters.
Callaway Big Bertha B21
Pros
Maximum forgiveness
High launch
Great feeling
Cons
Expensive
Long flight time can cost you in windy conditions
The Callaway Big Bertha B21 iron set focuses on forgiveness above all else, making it a great choice for high-handicappers. Much like the Wilson Staff CB Irons, the Big Bertha B21 has considerable tungsten allocation to keep the CG as low as possible.
The A.I.-designed Flash Face Cup gives great ball acceleration and a high launch. Furthermore, the patented urethane microspheres dissipate any unwanted vibrations giving the irons a superior feeling.
We liked the Big Bertha B21 set so much that it ranked 3rd on our best Callaway irons write-up.
FAQs
Are Wilson Staff Irons Forgiving?
Despite their compact head design, the Wilson CB irons are very forgiving. The 20g of tungsten in the toe and the Tri-Brace stabilizer keep the center of gravity low and prevent twisting.
Who Uses Wilson Staff CB Irons?
There is a long history of pro players using Wilson forged irons. The likes of Ben Crenshaw, Vijay Singh, and Sam Snead all used such irons to win prestigious tournaments.
Where Are Wilson Staff Irons Made?
While Wilson is based in Chicago, all of their clubs are manufactured in Tullahoma, Tennessee.