Low handicap golf players will tell you that when it comes to investing in clubs, you want to give extra attention to the driver. Next to your putter, it's where most golfers can shave off some stokes (and it doesn't hurt your ego to show off just how far you can drive).
Because Ping's range is so large, we realize that finding the perfect driver from the Ping collection may be challenging. For this reason, we compiled a list of what we deem to be the best Ping Drivers for 2023.
Which of these drivers is right for you?
Check them out below for the perfect one for your handicap and swing style.
What To Consider When Buying a Ping Driver
Ping drivers are highly adjustable with movable weights and hosels. You can customize your club to suit your swing's progress as you become a better golfer.
The proof is in the pudding with Ping. Plenty of golfers on the pro circuit use Ping drivers, and for a good reason.
Ping is one of the world's most innovative golf club manufacturers, and its engineering team continually improves its designs. They, therefore, have some of the best drivers on the market.
When buying a Ping driver, there are a handful of features to look for.
Shaft
The shaft you select for your new driver should match your swing speed and style. For example, if you have a slow swing speed that falls below 83mph, you should opt for a senior or ladies flex shaft. These are usually made from graphite. An extra stiff shaft is best if your swing speed lies on the other end of the scale. Regular flex shafts are perfect for most golfers with moderate swing speed.
Loft
Higher lofted drivers help you achieve more launch and are therefore easier to hit for most higher handicap players. Drivers with a lower loft usually allow a lower yet longer flight path.
Bias Correction
While it's always best to work on your swing rather than buy clubs to counteract your swing issues, you can buy drivers that help to correct a draw or fade bias. It's worth considering buying one to help shave some strokes off your game. This is especially true if you're a casual golfer.
Center of Gravity
Drivers with a low center of gravity are the most forgiving style. Most modern drivers now feature a low CG design, even those targeted toward low handicap players. However, it's high handicap players that will get the most benefit out of this feature.
How We Test
Golfspan is independent and not pressured by manufacturers to recommend products. We were not paid for the driver reviews in this article. These drivers were selected by our team, who have over 100 years of experience playing golf and thousands of hours reviewing products. We may earn an affiliate commission when you purchase something through our retail links.
The Best Ping Drivers for 2023
You may notice something about our top three picks. They're all versions of the G425 line, which are the new Ping drivers. Since they're the newest, they're also the best.
Each version suits different swing styles, so make sure you at least read all the Ping drivers' reviews for the G425 range to find the one that suits you best.
1) Ping G425 MAX – Best Overall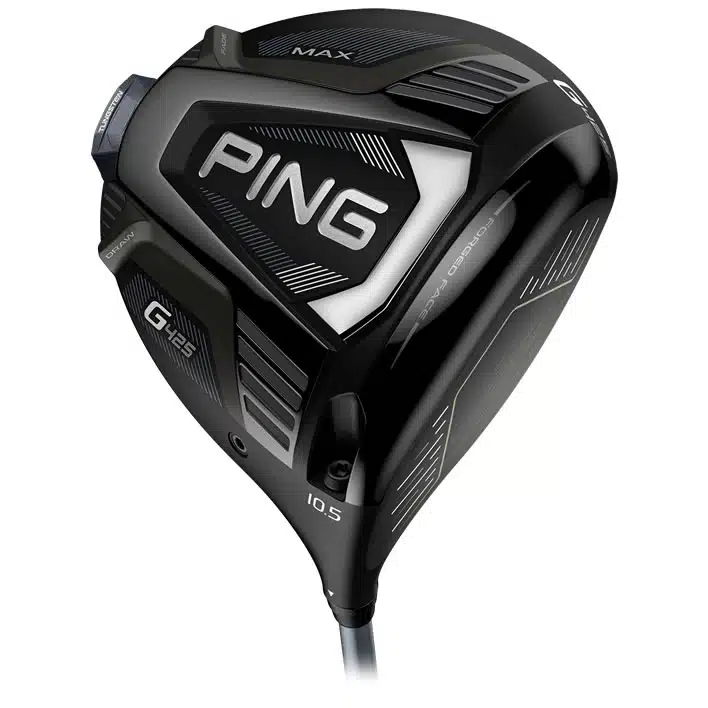 Pros
High MOI as a result of a movable Tungsten weight
A large head allows for more forgiveness
An adjustable aerodynamic hosel sleeve
Turbulators on the crown reduce drag
Cons
Expensive
The turbulators take some getting used to
Specifications
460 CC head size
9°, 10.5°, or 11° standard loft options
26-gram movable CG weight
A left-hand option is available
Shaft Options: Mitsubishi Tensei AV Orange, Aldila Rogue White
For high handicappers, the Ping G425 MAX is not only one of the best from the Ping collection of drivers but also one of the best in the industry. Low handicap players may not be crazy about the high spin design, but will certainly still be impressed with the distance these drivers can create.
The G425 max's face is forged with precision machines for maximum flexing, resulting in more distance and increased ball speeds. The crown is fitted with turbulators to reduce drag and ensure swings are fast.
Key sections of the head are reinforced with a rib structure in the club's internals, which improves acoustics and results in better sound upon impact.
With movable tungsten weights, players can secure the CG to neutral, draw, or fade settings. This means you can push the club MOI higher than ever. In addition, players can also adjust between loft and lie options using an aerodynamic hosel sleeve.
This is the best Ping driver ever for high handicappers as it's one of the most forgiving on the market and provides extra distance off the tee.
2) Ping G425 LST – Best Low Spin Option
Pros
Perfect if you are looking to achieve low spin
Exceptional sound and feel
Cons
Not as forgiving as the G425 max
Specifications
445 CC head size
9° and 10.5°standard Loft options
17-gram movable CG weight
A left-hand option is available
Shaft Options: PING Alta CB 55 Slate, PING Tour 65, Aldila Rogue White 130 MSI 70, Mitsubishi Tensei AV Orange 55/65, and PING Alta Distanza
This is a low spin option from the Ping G425 range of drivers. In addition to having a smaller 445 CC head, the G425 LST driver also has a classic pear shape head, which significantly reduces spin and increases distance.
Depending on their swing, players can set a 17-gram CG shifter to either fade, neutral, or draw. Like the G425 max, the face on this is also TS9+ forged for maximum flexion. Players can also use an aerodynamic hosel sleeve to get various loft and lie options.
A Ti 8-1-1 ultra-thin crown is fitted with refined turbulators, reducing drag on the downswing. The weight saved from the thin crown is then distributed fairly with the head and back with Ping's Dragonfly technology to increase MOI, add distance and make the club more forgiving.
Ideally, this is a good option for lower handicap players seeking to reduce the ball spin from their shots. It's perfect for supporting precision and control off the tee.
3) Ping G425 SFT – Best for a Draw or Fade Bias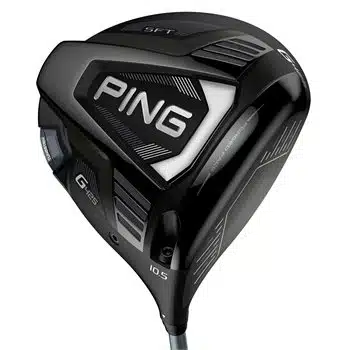 Pros
An ultra-thin crown allows for maximum drag resistance
Corrective technology for those with a draw or fade bias
Cons
Only available in 10.5° loft
Specifications
445 CC head size.
10.5°standard Loft option.
23-gram movable CG weight.
A left-hand option is available.
Shaft Options: PING Alta CB 55 Slate, PING Tour 65, Aldila Rogue White 130 MSI 70, Mitsubishi Tensei AV Orange 55/65, and PING Alta Distanza
SFT in this particular version of the G425 stand for Straight Flight Technology. So if you know you have a wild draw or fade bias, these drivers help you realign your shots.
Similar to the G425 MAX and the LST, the SFT comes fitted with a movable Tungsten weight, with the only difference being the weight size (23g). Compared to the G425 max, the weight shifts the CG closer to the heel to encourage a right-to-left shot bend of roughly 25 yards.
Players can use the Trajectory Tuning 2.0 settings to achieve a variety of loft and lie options for the best distance and precise results. These drivers also have features such as an ultra-thin crown for maximum drag resistance and increased speeds.
Like its sibling G425 drivers, Ping saved weight from the crown and redistributed it across the head for increased MOI using their patented Dragon fly technology.
High-Quality Older Ping Drivers To Consider
You may still be able to find some of these drivers in new condition on sale at your local pro shop or online. Otherwise, you can save a ton by buying them used. Ping drivers and built to last, and so long as you shop at a reputable pro or second-hand shop, they are well worth the investment.
1) Ping G410 Plus – Best for Low Handicappers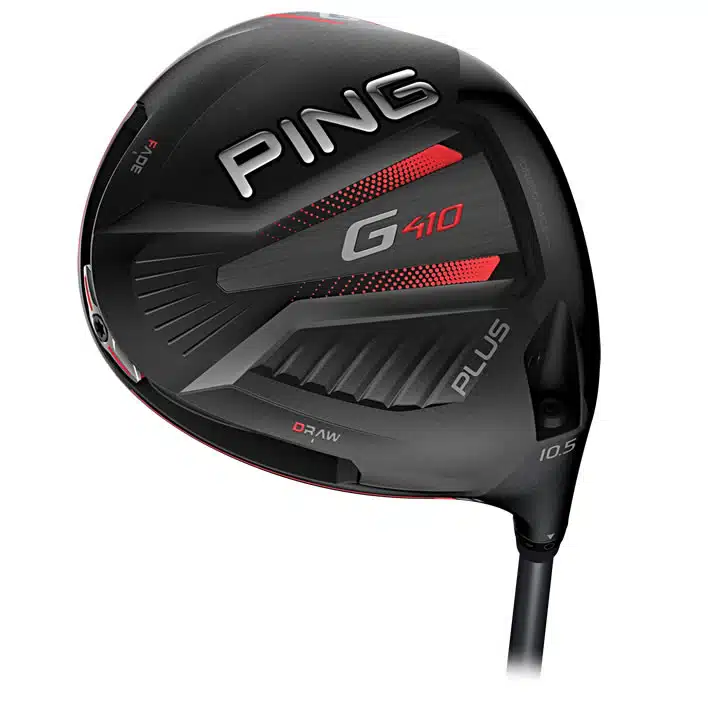 Pros
Movable weight allows for plenty of forgiveness
Lightweight
Suitable for slow swing speed golfers
Cons
Not as forgiving as the G425 MAX
Specifications
445 CC head size
9°, 10.5°, or 12° standard Loft option
16-gram movable CG weight
A left-hand option is available
Shaft Options: PING Alta CB 55 Slate, PING Tour 65/75, Project X EvenFlow Black 75, Mitsubishi Tensei CK Orange 60, and PING Alta Distanza
The G410 range is the predecessor of the G425s and packs many of the same tech that makes those drivers great. The G410 Plus is a version with upgrades from the original design. Because of this, these drivers work well with many types of players, including beginners or slow swingers.
Using a heat-treatment process, the face of the G410 Plus is thin to increase flexion, reduce drag, and accelerate ball speeds. The 455CC head is designed with a streamlined shape and is equipped with the same Turbulator Technology as the G425 series to reduce drag in the downswing, increase distance, and increase ball speeds.
Additionally, like most drivers from Ping, the club is also fitted with its custom tungsten weight that can be shifted to either neutral, draw or fade settings. This not only increases MOI but also gives you the ability to hit shots more precisely and further. Players have up to 8 different loft options they can get to using Ping's Trajectory 2.0 adjustable hosel sleeve.
2) Ping G410 LST – Budget Friendly Low Spin Option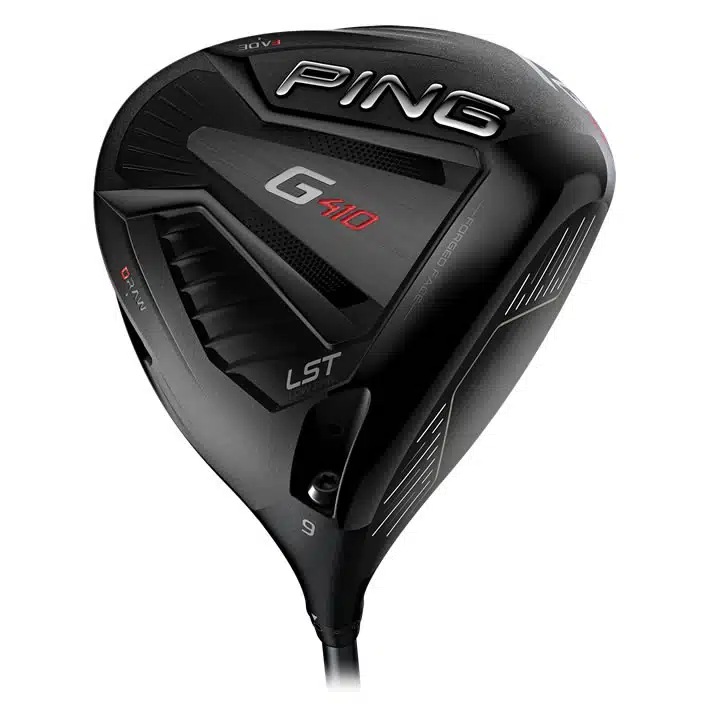 Pros
Equipped with slice and fade correction features
A scoreline pattern on the head aids in alignment
A creased crown design reduces spin
Cons
Not as forgiving for those with a reliable swing style
Specifications
450 CC head size
9.5° and10.5°standard Loft option
16-gram movable CG weight
Shaft Options: Ping Alta CB 55 Slate, PING Tour 65/75, Project X EvenFlow Black 75, Mitsubishi Tensei CK Orange 60, and PING Alta Distanza
According to Ping, the technology on the G410 LST allows the ball to spin between 200-400 RPM lower than any of the other clubs in the G410 range. This should come as no surprise seeing the club is designed specifically as a low spin bias correcting option for players.
The club sports a matte black aesthetic, and you will notice the turbulators on the crown aimed at helping in drag reduction. The head has a smaller, rounder pear shape size, and the crown has a creased design. This promotes club speeds when on the downswing. The impact area has a scoreline pattern to aid in alignment, and you will also notice that the face is more open to increasing the impact area.
The G410 LST is also fitted with a 16-gram movable weight that allows players to adjust the club's weight to different points within the head. This feature allows players to achieve low spins, accuracy, and distance without sacrificing forgiveness.
3) Ping G Le2 Driver – Best Women's Driver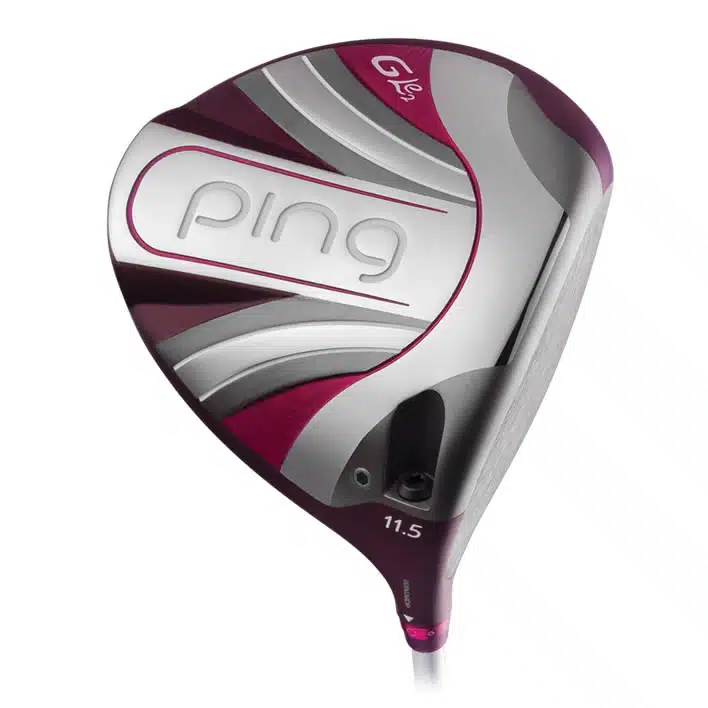 Pros
A lighter Titanium head for MAX speed and drag resistance
Ample Forgiveness
Cons
No adjustable weight
Aesthetics may not appeal to everyone
Specifications
460 CC head size
11.5° °standard Loft option
Trajectory 2.0 Adjustable Hostel Sleeve
Shaft Option: – PING ULT240D
Left-Hand option available
The Ping G Le2 driver is designed specifically for women and other players who may fall in the low swing speed category. But, its pink casing may not appeal to senior players.
It is made of a lighter Titanium head and has a classic pear shape for maximum speeds and drag resistance. The face is specifically made with C300 steel that is faster for increased distance on the course. The presence of creases stiffens the crown to assist players in alignment and increase the club's forgiveness.
The club also comes fitted with the Trajectory 2.0, which features an adjustable hosel sleeve for loft and lie settings.
While the crown on this has turbulators, they are much softer than other versions from Ping to enable framing of the ball upon the address and aid players in alignment. Although you can get the G425 series with women's shafts, the Ping G Le2 women's driver is still one of the best options you can get from Ping.
4) Ping G400 Driver – Best Second-Hand Option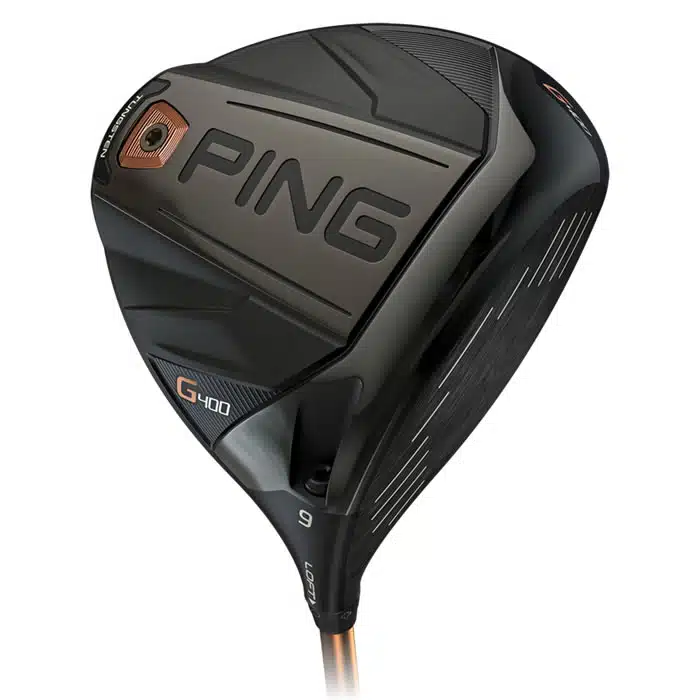 Pros
More speed and distance
Drag resistance of up to 40% on the downswing and 15% overall
Cons
Not many adjustability options
Hard to find new
Specifications
445 CC head size.
9.0° and 10.5° standard Loft options
Shaft Options: Ping Alta CB 55 Slate, PING Tour 65/75, Aldila X-Torsion Copper, Project X HZRDUS Yellow, and Mitsubishi Kuro Kage Silver Dual-Core TiNi
Finishing off our list is a good option if you're trying to save money by buying second-hand but still want to add distance and speed to your game. Although it isn't the most recent Ping release, the G400 driver has much to offer to the everyday golfer.
Its 445cc head is streamlined and features bolder turbulators for faster club speeds and more drag resistance of up to 40% on the downswing and 15% overall when compared to previous older Ping drivers.
With over 9000 MOI, one of the highest in the Ping collection, and a deeper CG, players can look forward to achieving more distance and also get a tighter dispersion. Ping designed the club with an inner rib structure for a satisfying sound upon impact, stabilizing the club.
The back has a high density of back weight that adds to the MOI and overall forgiveness. Players can use an adjustable hosel to change the club's loft by up to +-1º.
Ping Driver 2023 FAQs
Are Ping Drivers Any Good?
Yes, they are. Ping is one of the best brands out there for drivers.
Whether you are looking for something to help you add distance to your game, something more forgiving, a driver that offers low ball spin, or simply something more workable. Ping has a driver for every type of player.
What is the Latest Ping Driver?
Released in 2021, the G425 range of clubs is the most recent collection of drivers from Ping. The collection includes the G425 max, G425 LST, and the G425 SFT.
Which Ping Golf Driver Is Most Forgiving?
Currently, Ping's G425 MAX is the most forgiving option in the Ping collection. However, other options such as the G425 SFT also have ample levels of forgiveness and are arguably even more forgiving for those with a strong fade or draw bias.
Which Is the Best Ping Driver for Distance?
The G425 LST is a great driver for distance off the tee as it is a low spin driver. But, it is more suited to low handicap players. You can still get plenty of distance from other clubs in the G425 range.
Picking the Right Ping 2023 Driver
As you can tell from our list, Ping has a good collection of drivers suited for various player types. We recommend the G425 Max driver as the best Ping driver available today.