Cobra has been gaining a lot of popularity with skilled golfers recently. This is great because it's pushing them to design clubs that can compete with the other big names, and when that happens, we all benefit.
The Cobra King Speedzone Driver fills a gap for players who are well past beginner but not quite single-digit handicappers yet.
It will bridge the gap that most golfers struggle with: consistency.
The clubface is unlike any other and solves the problem of missing the sweet spot. But there are other advantages to this driver that I love as well.
Is the Cobra Speedzone Driver right for you?
Read on to learn everything you need to know.
Cobra King Speedzone Driver Review
The Cobra King Speedzone Driver is excellent at correcting your mishits. Missing the sweet spot is no big deal with this driver, as it works to keep your drives straight and long.
No other driver used this design and technology when this came out, and it's still relevant today.
Cobra King Speedzone Performance Ratings
| | |
| --- | --- |
| Distance | 90 |
| Forgiveness | 94 |
| Feel | 81 |
| Workability | 74 |
| Aesthetics | 89 |
| Price | 97 |
Cobra King Speedzone Details
| | |
| --- | --- |
| Length | 45" |
| Lofts | 10.5 (adjustable) |
| Hosel Settings | ±1.5° |
| Shafts | Project X Evenflow 65 |
| Year | 2020 |
Cobra Speedzone Driver Review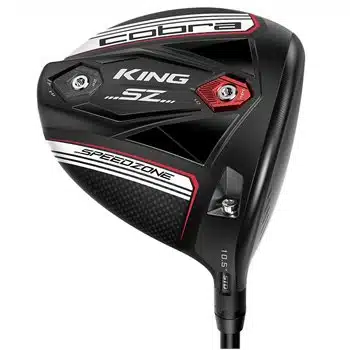 Pros
CNC milled face for higher ball speed
CUP face technology increases the size of the sweet spot
Smaller, stronger T-bar chassis reduces overall weight
Adjustable weight to optimize spin rate
Carbon crown helps increase club head speed
Speed ridges on top reduce drag to increase swing speed further
Cons
Low spin makes it hard to manipulate ball flight
Might be too light for some
Cobra is a long-time friend of mid-to-high handicappers, and we love them for it. They are less concerned with making products for low-handicappers and focus on the rest of us who just want to have fun once a week with our buddies.
Despite Cobra's recent success with Bryson DeChambeau, they remain committed to helping us break 100 more often, and this driver is proof of that.
Let's further explore the features of the Cobra King Driver Review.
No Other Driver Is Doing This
The club's face takes center stage here as no other company is doing what Cobra is. Their infinity edge CUP face technology encourages a more prominent sweet spot and distance. It's also CNC milled, the same process commonly seen on wedges.
These two features on a driver help you gain length on off-center hits and keep your ball flying straighter. The incredibly high MOI also helps a straight ball flight.
High MOI means the club twists less on off-center hits. They can do this by redesigning the inner structure. This driver now uses a small T-bar titanium frame that provides support in all the right places.
Customizable To A Wide Range Of Golfers
The adjustable weights will also help you get dialed into straighter and less spinning shots. Reducing your spin helps keep your ball straighter and adds distance. You want your ball to have a penetrating ball flight, and you can't achieve that with a high-spinning driver.
This is a big step forward for Cobra as they have made massive changes from their previous offerings. We love that they introduced all these new features immediately instead of spoon-feeding us one slight improvement at a time.
[Read Cobra Speedzone Driver User Reviews]
What Type Of Player Will Benefit From The Cobra King Speedzone?
The Cobra King Speedzone will benefit players who are mid-high handicappers. The driver is very light, requiring some control that beginners may not have. It also reduces spin to make working the ball quite tricky for low-handicappers. Golfers who have a solid swing but miss the sweet spot often will get the best results from this driver.
Cobra Speedzone Driver Alternatives
If you've read this Cobra Speedzone Review, you may think this driver isn't for you. But these drivers will also help mid-high handicappers who want forgiveness and lower spin rates.
One of the most recognizable names in distance drivers is Big Bertha. This new generation offers more length by lowering the spin. Many drivers move the center of gravity back to increase the sweet spot, but the B21 can keep a large sweet spot while moving the weight forward to reduce spin.
This combination makes it special and one of the longest drivers you can get without being custom fit.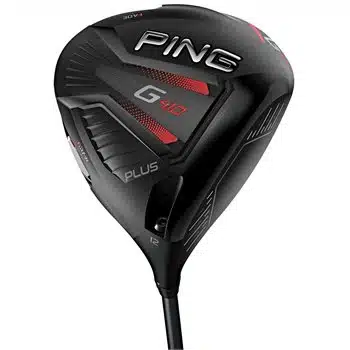 This driver is great for controlling your ball flight and preventing you from the dreaded '3-off-the-tee'.
If you have nightmares about slicing your drive across three fairways on the first tee, set the weight to the heel end, marked 'Draw.' This will help slow the heel down so the toe of your club can speed up and have time to square at impact.
Like many drivers in this category, the head is set up to provide a lot of forgiveness. With a lighter crown, the designers moved the center of gravity lower and further back. This opens up the face, so no matter where you make contact, your distance will still be long.
TaylorMade provides players with great distance-producing drivers. History shows that their main target market has always been lower handicap players, but the SIM 2 Max is breaking the mold.
This driver is for players with a higher launch angle to produce greater distance. The center of gravity is as far back as you can get to help your drives get in the air and stay there. Even when you hit it low on the face, there is enough weight to help elevate the ball and produce a driver that you can still be proud of.
FAQs
Is The Cobra King Speedzone A Forgiving Driver?
Yes, the Cobra King Speedzone driver is forgiving. This is thanks to a unique clubface design that wraps around the front of the driver's head. This reduces spin and vibration to give the ball distance no matter where you make contact on the face. It's also the only driver to be CNC milled, which makes the face even thinner.
What Handicap Is The Cobra King Speedzone For?
The Cobra King Speedzone driver is for handicaps above fifteen but lower than twenty-two. With this, golfers who already have an established swing but don't have the time to dedicate to the range will see significant improvement in their drives. A large sweet spot and lower spin rate help add distance and keep the ball straight.
What Year Is Cobra King Speedzone Driver?
The Cobra King Speedzone driver was released in 2020. It followed the Cobra F9 but made significant changes. The F9 was the guinea pig for infinity face technology, and the Speedzone was able to smooth out the rough edges. The Speedzone also sounds better than the F9, which shouldn't matter, but it does.
Is The Cobra King Speedzone Driver Good For High Handicappers?
Yes, the Cobra King SZ Driver is good for high-handicappers but not too high. This driver will work best for those who have a good grasp of their swing but don't have the consistency to hit the sweet spot every time. Beginners will find this driver too light and hard to control.
What's The Difference Between Speedzone And Speedzone Xtreme?
There are several Cobra driver golf clubs. What is the difference between Speedzone and Speedzone Xtreme? It is mainly shape. The Speedzone is more compact and designed to suit a player's eye. The Speedzone Xtreme is bulkier and has fewer adjustability options; it's meant for higher handicaps who need maximum forgiveness. It also reduces spin immensely, so it's harder to manipulate shot shapes.
Is The Cobra King Speedzone Adjustable?
Yes, the Cobra King Speedzone is adjustable. You can adjust the loft and also the center of gravity. To change the loft, use the hosel adjustment and choose one of the launch options: 10.5 standard, 10.5 draw, 11.5 standard, 11.5 draw, 12.0 standard, 9.0 standard, 9.5 standard, and 9.5 draw. You can also adjust the tungsten weights to optimize your spin rate and launch angle.
What Shaft Comes With Cobra King Speedzone?
The shaft that comes with the Cobra King Speedzone is the Project X Evenflow Blue 65 graphite shaft. This is great for creating a high launch angle that helps keep your ball in the air longer. At 65 grams, it's also a bit heavy to help you control your swing and balance out the lightness of the club head.
Final Thoughts
The Cobra Speedzone driver will benefit golfers who struggle to make consistent contact. I love how the face reacts when I miss the sweet spot, as this new CUP face technology seems to be the real deal.
Cobra is now a company you can grow with as they don't only cater to high-handicappers anymore.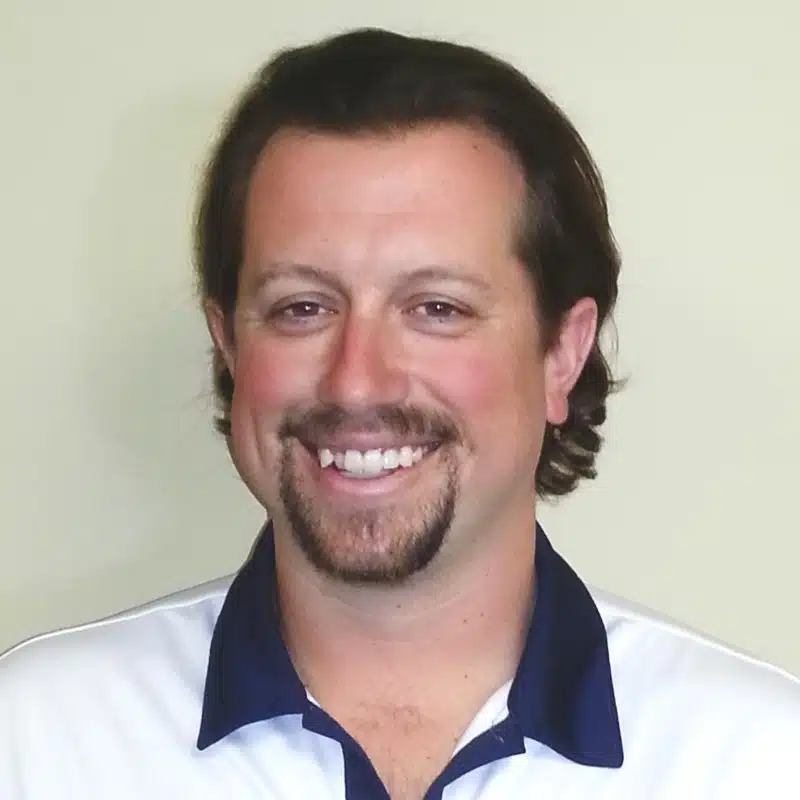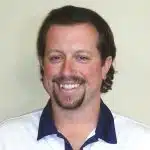 Clint became the Head Teaching Professional at one of Toronto's busiest golf academies and was featured on Canada's National Golf TV program, "Score Golf Canada," twice. He now tests and reviews golf equipment and gets to enjoy the game he loves whenever he wants while helping people lower their scores.