Over the years, many players have fancied a Titleist club while on the course. A quick look at Titleist's history in the club-making industry clarifies why the brand is as popular as it is.
Recently, multiple studies have seen Titleist appear among the top brands used by players in tournaments, including the PGA.
The Titleist TS3 driver has survived the tests of time while maintaining its popular traditional aesthetic. Perhaps this success can be attributed to the club's huge following, consisting of loyal Titleist fans, traditionally packaged club enthusiasts, and some top pro golfers.
However, its great looks aren't the only thing making it a fan favorite.
Is the TS3 driver right for you?
Let's get down to the nitty-gritty of what the TS3 package entails. Read this Titleist TS3 driver review to see if it is the right driver for you.
Titleist TS3 Driver Review
Titleist TS3 Driver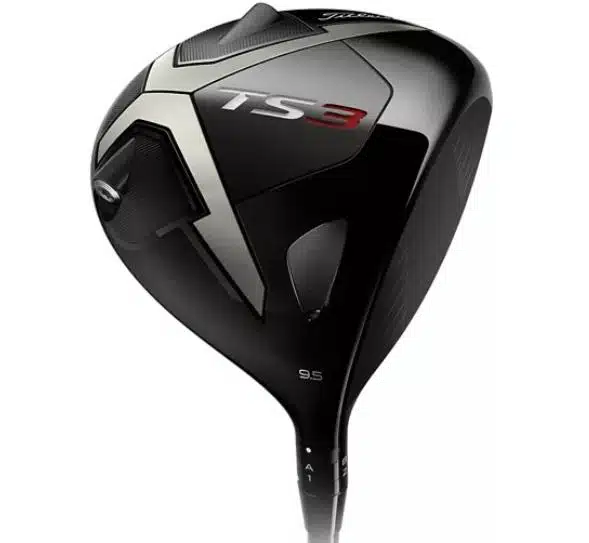 Pros
Pear-shaped aesthetic increases speed
Multiple lofts and lie options
Thin Titanium crown leads to faster speeds
High MOI increases ball speed
Cons
Not much forgiveness in comparison to the TS2
Expensive in comparison to other similar clubs
Ultimately, the TS3 is a good option for mid-low range handicappers looking for a more workable and controllable low-spin driver. Although its forgiveness capabilities are often criticized, when compared to other low-spin clubs, the TS3 more than holds its ground in this particular aspect.

Rating: 4 out of 5 stars
Titleist TS3 Performance Ratings
Here is an overall performance rating of each aspect of the TS3, focusing on each specific aspect. The ratings are based on a 1-100, with 100 being the top score.
| | |
| --- | --- |
| Distance | 91 |
| Forgiveness | 85 |
| Feel | 88 |
| Workability | 90 |
| Aesthetics | 90 |
| Price | 85 |
Titleist TS3 Driver Specs
The Titleist TS3 Driver settings vary, and you can find them below.
Length
45.5″
Lofts
8.5°, 9.5°, 10.5°
Hosel Settings
Customisable with Surefit Hosel
Shafts

Mitsubishi KURO KAGE Black Dual Core SFW 50
Mitsubishi Tensei AV Series Blue SFW 55
Project x HZRDUS Smoke Black/Yellow 60
Project X Even Flow T100

Year
2018
Grips
Golf Pride Tour Velvet 360
Titleist TS3 Full Driver Review
Since its release in September 2018, the TS3 has gathered quite a following regarding players who have it in their bags.
Multiple pros, including Justin Thomas, have sported a TS3 driver while on the course. Although he now prefers the TSi range for his drivers, he's consistently using the TS3 wood range.
Earlier on, the TS3 was considered somewhat to be a better hitters-only club. However, today, there is a debate on just what level of players can use the TS3. Even then, its usage has mostly consisted of players in the mid-low handicapper range.
Appearance
In terms of appearance, the TS3 sports a classic pear-shaped aesthetic with a gloss black finish. Its simple traditional packaging puts it on the list of some of the best-looking clubs on the market.
Do not be fooled, though, as this unique design plays more roles than just being pleasing to the eye. The pear shape is intended to reduce the width of the head from the face to the back.
Performance
Additionally, the center of gravity is more forward than in prior versions as the TS3 doesn't have a Tungsten weight found in previous versions. These features make the club suitable for a high launch and forgiveness regarding straighter and longer drives. This is also why a low spin allows the ball to travel further.
Made entirely of high-quality Titanium, the club comes with the largest tournament acceptable head size at 460cc. More specifically, the club's crown is made with a Unique Ultra-Thin Titanium crown which is the thinnest in the Titleist line and allows the club to resist drag while on the downswing for faster speeds. They made the face thinner to ensure the highest ball speeds even when the impact is off the center.
For players looking for workability and control, it might be useful to know that the TS3 comes with various adjustability options. The club is fitted with Titleist's trademark SureFit Hosel, allowing players to adjust loft and lie to meet their specific needs.
Also, the club is equipped with a movable weight that you can adjust to the head or toe using the SureFit CG mechanism. This allows players to fine-tune the club for spin, launch angle, center of gravity, and trajectory.
Shafts
When it comes to shafts, players have the luxury of choosing between four custom-made shafts. These include:
Mitsubishi KURO KAGE Black Dual Core
Mitsubishi Tensei AV Series Blue SFW
Project x HZRDUS Smoke Black 60
Project X Even Flow T100
Recently, players such as Patrick Cantlay and Webb Simpson have been spotted with the TS3 in their bags.
What Type Of Player Plays The Titleist TS3 Driver?
Ideally, this works best with players in the mid-low handicapper range. If you are looking for extreme forgiveness or lack swing speed, there are better options, such as the TS2.
Also, if you are looking for a low spin Titleist club to achieve distance while on the course, then the TS3 is a good place to start your search. It has a good balance of features that will give you control over spin, launch, and trajectory.
Lastly, although we do not advise you to choose a club based only on aesthetics, this may also work for players looking for a club packed with modern features but a classic traditional aesthetic.
Read more: Titleist Drivers by Year
Titleist TS3 Driver Alternatives
If you find that the TS3 does not work for you for whatever reason, no worries. Here are some other alternatives for you to consider.
TaylorMade Stealth – More Premium Option
Pros
Speed pocket for straight low strikes
Swing speed improvement
Very Forgiving
Cons
The TaylorMade Stealth is the newest offering from the golf brand giant. It has a face made from twisting carbon material that provides the most forgiveness possible. The particulars of the design are specified to combat last-second wrist movements. So you'll likely get excellent launch no matter what.
These are more suitable for high handicap players than the Titleist TS3 because these drivers are ultra forgiving. But that doesn't mean you won't also catch them in the bags of PGA pros. They also give you enough control to justify being played by some of the world's best golfers.
These also provide enough swing speed to help out newer and senior golfers when paired with the right shaft.
The negative is these cost an arm and a leg. More than many of us pay for a whole set of clubs, but boy, are they worth it if you can afford it!
2) Titleist TSi1 Driver – Titleist Slow Swing Option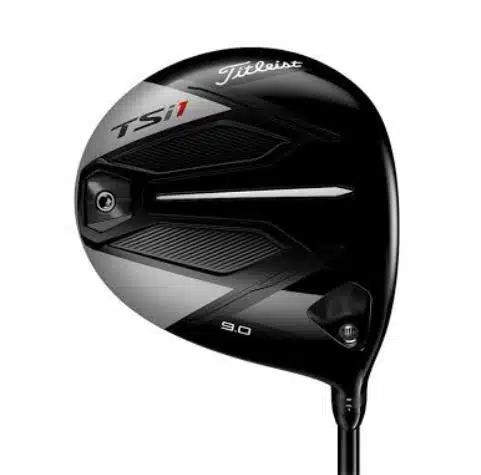 Pros:
Lightweight design helps with slow swing speeds
Forgiving
Adjustable
Cons:
The TS3 may not be ideal for players who have slow swings, such as senior golfers. It is designed to benefit players in the mid-low handicapper range.
You need not worry, though. If you fall in the slow swing category, whether because you are a beginner, age, or for whatever reason, you can opt for the TSi1. This club will help you increase your speed and gather more distance while on the course.
You can often find the TSi1 for cheaper or at least close to the same price as a TS3, so that may tip this driver in your favor if you want a Titleist club, but the price point is a little off-putting.
3) Titleist TSi4 Driver – Better Low Spin Option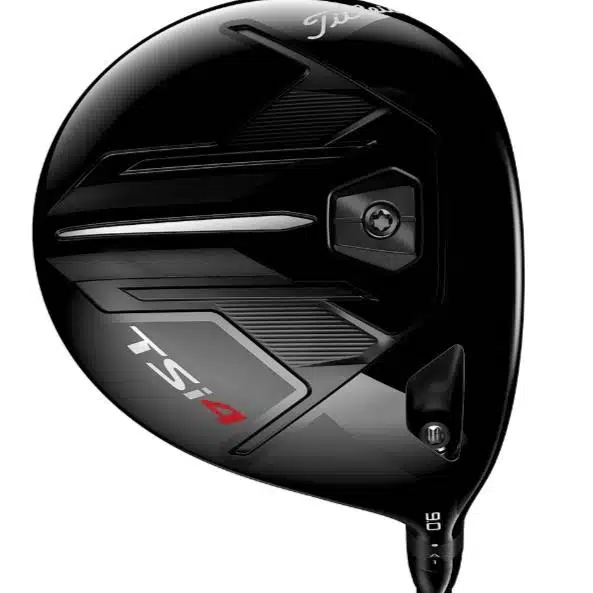 Pros
Forgiving for a low spin driver
Huge distance
Latest tech
Cons
What if Titleist took the strong points of the TS3 like the massive distance assistance and low-speed control and made everything just a little bit better? You'd end up with their latest and greatest driver, the TSi4.
Although, this driver also shares the same drawback as the TS3. It's not great for high handicap players. It's simply not as forgiving as a low spin driver. However, for a low spin driver, this is one of the most forgiving drivers on the market and is a top choice for mid-low handicap players.
FAQ
Is the Titleist TS3 Driver Forgiving?
The answer is no if you want a club that will offer you the most forgiveness. Other Titleist options, such as the TSi1 and TS2, are equipped with features that enable them to be more forgiving. However, when it comes to low spin driver options, the TS3 is considered to be pretty decent in terms of forgiveness. Still, it's dwarfed by the newer TSi4.
What Year Did the Titleist TS3 Driver Come Out?
Titleist's TS drivers and fairway woods came out on September 28, 2018.
Is The Titleist TS3 Adjustable?
Yes. Titleist's TS3 has Titleist's patented SureFit Hosel that enables golfers to customize loft and lie to suit their requirements. Players can shift the club's movable weight to the head or toe using the SureFit CG system. Players can adjust the club's spin, launch angle, center of gravity, and trajectory.
Does Titleist TS3 Come With Weights?
Titleist's TS3 comes fitted with a movable weight which can be adjusted using the SureFit CG mechanism on the club. While the weight comes in standard 11-gram weight, players can purchase other weights compatible with the TS3. You can perform a Titleist TS3 weight adjustment to change the center of gravity by shifting the weight to the club's heel or toe.
What Driver is Better, TS2 or TS3?
First, each club suits a different type of player. For players with slow swings or those looking for a club with forgiveness, the TS2 will be the better option for you.
However, when it comes to slightly better players or those looking for a club that offers workability and control, the TS3 is the way to go. Check out our Titleist TSi2 vs TSi3 Drivers Review.
Wrapping Up the Titleist TS3 Review
Overall, the Titleist TS3 driver was released in 2018 and still stands up to more modern drivers. Its low spin but fast face makes it relatively forgiving for a distance and control optioned club.
If you can find one in decent condition, they are well worth your consideration. But Titleist doesn't make them anymore. The closest equivalent would be the TSi4 to buy new.
Check out the customer reviews of the Titleist TS3 driver to see if this great club will fit your game.