Every once in a while, you will hear someone say, "Great players come and go." To be fair, this is largely true for almost any sport, including golf.
However, we like to think the best golfers of all time never go anywhere. They live on in our hearts, in the courses they played in, the revolutionary shots they hit, the tournaments they played in, the countless memories we have watching them play, and the many generations of players they inspired.
These people gave it their all every time they stepped into the course. They are the ones who not only won tournaments but also did it consistently. They have the most epic career achievements. They are the top breed of golfers!
Who are the greatest golfers of all time?
10. Byron Nelson
9. Tom Watson
8. Gary Player
7. Bobby Jones
6. Arnold Palmer
5. Sam Snead
4. Walter Hagen
3. Ben Hogan
2. Jack Nicklaus
1. Tiger Woods
Why do these golfers deserve to be listed as the 10 best when millions of golfers have played the game? Read on to learn about their accomplishments and decide who you think is the best.
Here are our rankings of the top 10 golfers of all time.
The Top 10 Best Golfers of All Time
10) Byron Nelson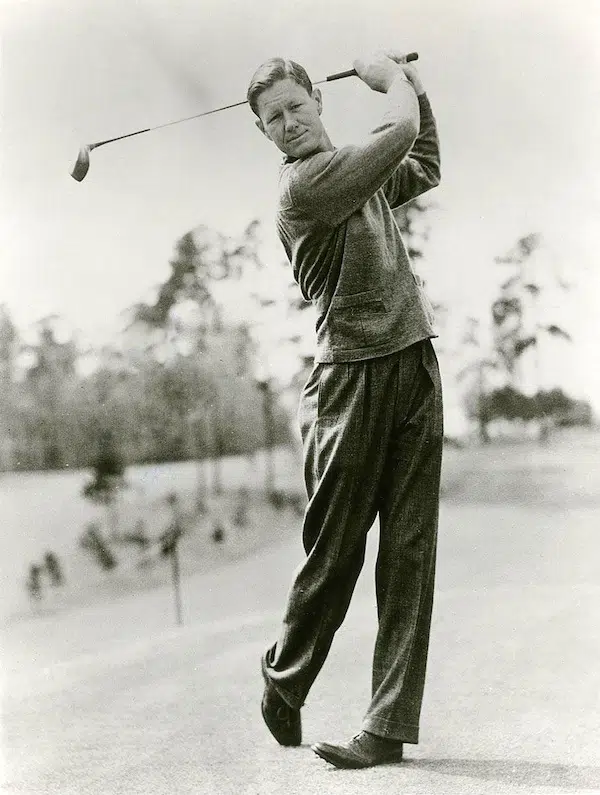 Lord Byron Nelson is undoubtedly one of the greatest to have ever played the sport. He is known to be the holder of one of the most impressive records in golf which he got in 1945 after winning eleven consecutive tournaments.
In addition to this, he was also able to win eighteen tournaments within the same year out of a total of thirty. That's not all. He did it all with a 68.33 stroke average which no golfer could beat for fifty-five years.
The man woke up every day and saw three words, heard three words, and could only speak three words: Win, Win, and Win!
Throughout his career, he gathered an impressive 52 PGA tour career wins, earning him a sixth-place position on the PGA tour career wins rankings and a place amongst the golf legends of yesteryear.
Five of those are wins from major tournaments, and a good portion of his overall wins were achieved in his 1944-1945 performances. Pundits have often argued that, were it not for the cancellation of multiple tournaments due to World War II, he would have probably won more.
He is also known to have greatly impacted the golfing world. This is the reason for the creation of the Byron Nelson Classic Championship was created, which also holds the record of being the first PGA Tour event named after a pro golfer. All of this adds up to him being one of the most liked golfers in history.
Stat Sheet
PGA tour Wins: 52
US Open wins: 1
US PGA wins: 2
Masters wins: 2
Overall Pro wins: 64
9)  Tom Watson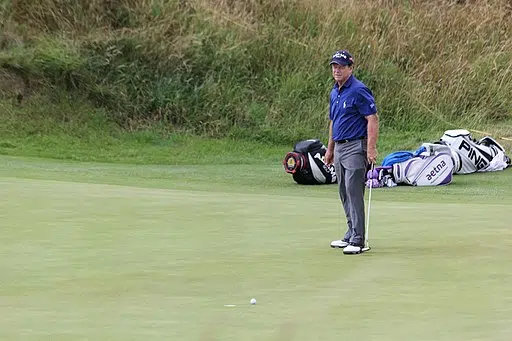 Whenever the name Tom Watson comes up, what comes to mind is his domination of the British Open. Between the years 1975 to 1983, he was able to win it five times and posted second two times within that span.
Considering the competition he faced, that was and still remains a difficult feat to replicate, with only two other players (Peter Thompson and Jack Nicklaus) having dominated a tournament similarly. Even more impressive is that his first win came during his debut.
During the 1970-1980 period, he won eight major championships and was at the top of the PGA tour money list five times. This saw him get named the PGA player of the year, an outstanding six times rivaled only by Tiger Woods (10 times).
He also posted an impressive record of 12 top-10 finishes at the Masters between 1975 and 1988 and won the competition two times during the same period. Tom also boasts an impressive 37-year-long streak in which he made the cut at least once every year. Notably, he was also part of three teams that won the Ryder Cup in 1977, 1981, and 1983.
His last PGA tournament win came in 1998 due to his iconic putting and chipping skills. Thomas Sturges Watson (Tom) is, without a doubt, a legend of the sport.
Stat Sheet
PGA tour Wins: 39
US Open wins: 1
British Open: 5
Masters wins: 2
Overall Pro wins: 70
8) Gary Player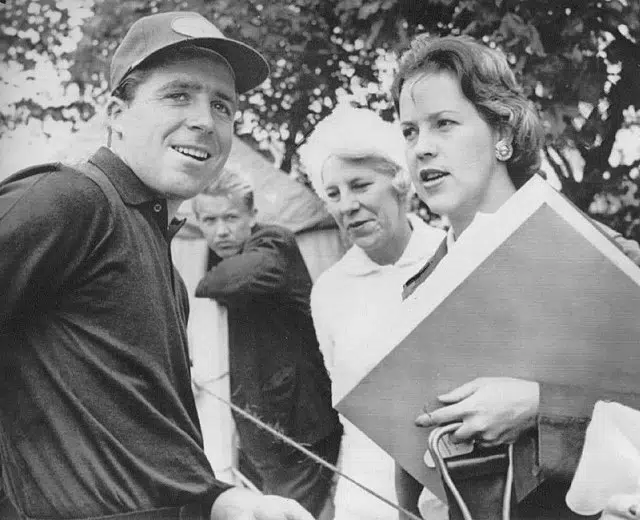 South African golfer Gary Player was born on November 1, 1935. He is considered one of the most influential and coolest golfers in history. The guy has Player in his name; what did the golfing world expect?… Also, this is mostly because before him, there weren't many golfing champs that were not either American or British.
Notably, he took on the mantle from his predecessors, Gene Sarazen and Ben Hogan, as the 3rd man to take first place in 4 major tournaments. This achievement made him the only non-American to win a combination of what is today called the Golf Grand Slam. He did this at the age of 29 and had held the record for the youngest player to do so until Jack Nicklaus and Tiger Woods came along.
Between 1955-2015, the 'Black Knight' won a massive 150 professional tournaments on multiple tours, with 63 of those won in South Africa.
When it comes to PGA wins, he also boasts an impressive record of 24 wins, 9 of which were from major tournaments.
He is known for his amazing fitness routines, which perhaps are the reason for his impressive career run in which he was always able to stay within the lists of the top-ranked golfers in the world.
His experience playing for this long, coupled with the fact that he played on almost all continents, is also evident in the many golf course projects he has worked on over the years.
Throughout the Player's career and after, he has been awarded multiple awards and recognition and was even awarded the Presidential Medal of Freedom by President Donald Trump. He also doubles as a writer and has written multiple golf instruction and fitness books.
Stat Sheet
PGA tour Wins: 24
US Open wins: 1
British Open wins: 3
Masters wins: 3
Overall Pro wins: Over 150
7) Bobby Jones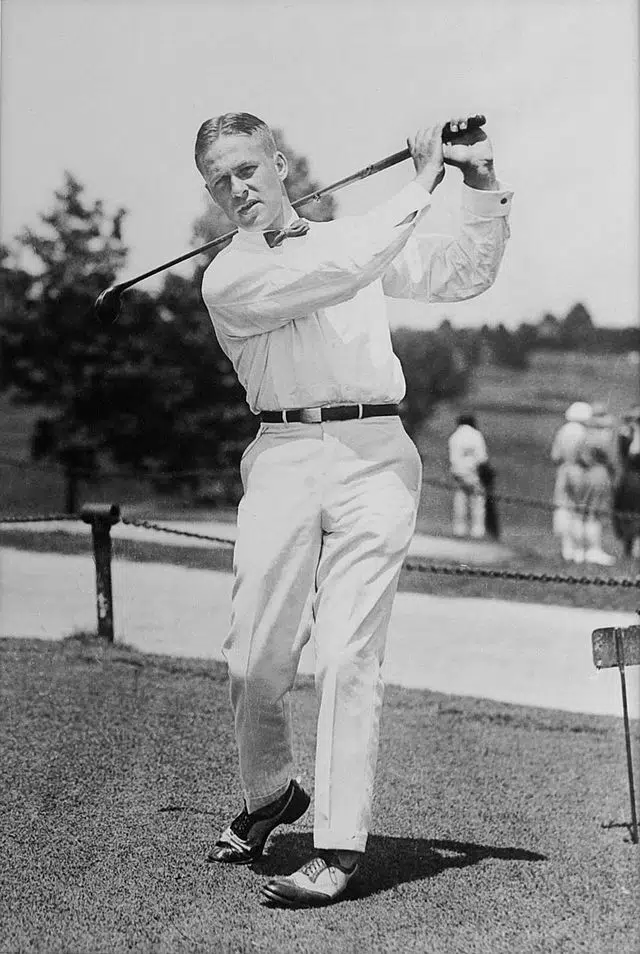 American-born golfer Bobby Jones is the most successful amateur golfer to have played the game at national and international levels. He is also one of the most influential, even though he only played golf part-time and earned most of his livelihood from being a lawyer. He still beat many pro golfers.
In 1930, he showcased one of the most iconic performances by an individual within a calendar year.
Although he retired at the early age of 28, he won 9 PGA tour championships during his prime. He also managed to get among the top ten in 27 of the 31 majors he participated in and won an outstanding thirteen times. He won four major championships, including the Open and Ametuer championships, to post an impressive Grand slam victory.
Another notable thing about Bobby is that he managed to do all this against some of the best golfers at the time, including legendary golfers such as Gene Sarazen and Walter Hagen.
Golf enthusiasts have often speculated on the possibility of him winning more tournaments had he chosen to play the game longer or perhaps played it as his primary career.
When asked why he was retiring early, he described the game as "Similar to a cage everyone expects you to get into. Then once you are in, everyone expects you to stay in." Even then, he stayed as an instructor and equipment designer long after retiring and even returned to play an exhibition game.
Also, he co-founded the masters and was the founder of the Augusta National Golf Club. He is also responsible for multiple revolutionary innovations that are still in the game now.
Stat Sheet
PGA tour Wins: 9
US Open wins: 4
British Open: 3
Masters wins: Founded the tournament
6) Arnold Palmer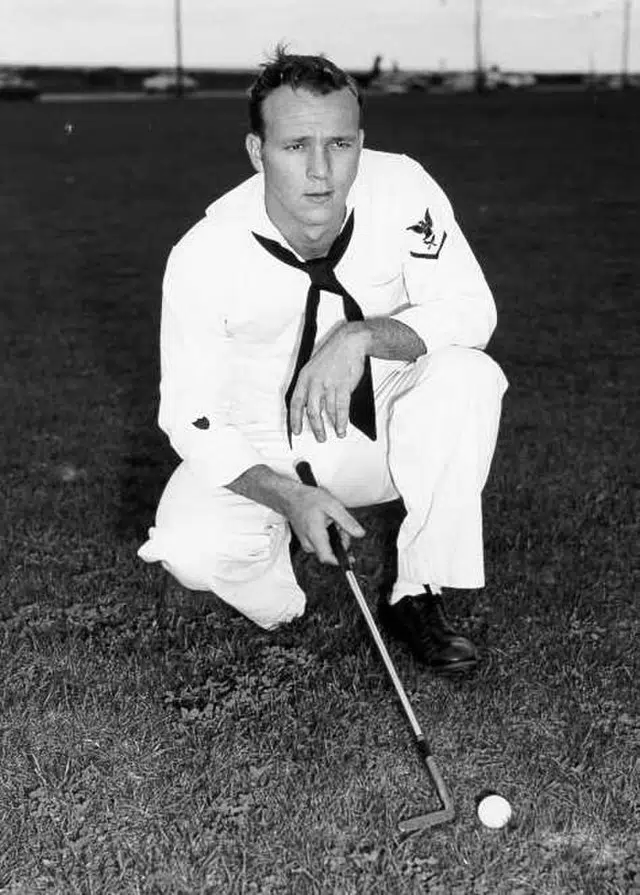 Arnold Palmer may not be at the top of this list, but with a nickname such as "The King," one list we are sure he will be a strong contender for is "Most Epic Golf Nicknames."
Together with Jack Nicklaus and Gary Player, Arnold Palmer is widely considered one of the individuals responsible for the popularization and commercialization of golf in the 1960s. His humble origins and charismatic personality also greatly removed the previous perception of golf as a pastime sport reserved only for the elite.
Throughout his career, he was able to win an impressive overall 62 PGA tour tournaments. This achievement places him fifth in the all-time PGA career rankings. His first Pro win came in 1958 when he won that year's Masters Tournament and was also the highest earner that year.
He followed that up two years later, in 1969, with eight wins in various tournaments. At this point, he had already started to amass his band of loyal fans, which later became known as Arnie's Army.
You see, Arnold didn't just win. He made sure he did so in the most awe-inspiring ways. For instance, in his one U.S Open, he came from 15th place to win the tournament after making six birdies from the first seven holes.
His ability to get low-scoring averages saw him win four Vardon trophies between 1961 and 1967. He also held the record for the second-lowest scoring average for some time after winning his 4th Masters tournament in 1964.
Outside golf, he was also known to be a good businessman, with some of his companies still running to date.
Stat Sheet
PGA tour Wins: 62
US Open wins: 1
Masters wins: 4
Overall Pro Wins: 95
5) Sam Snead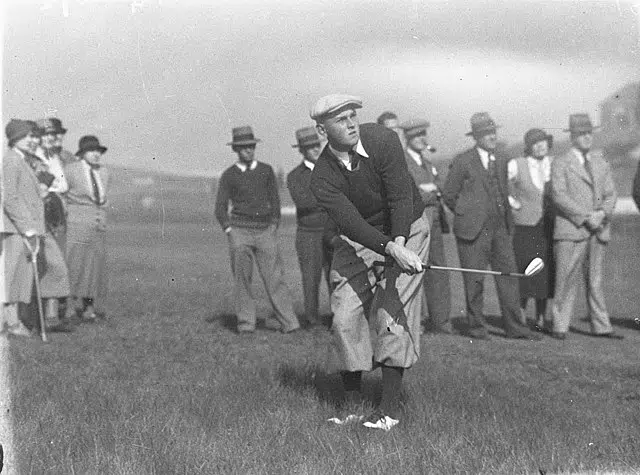 With an all-time record of 82 PGA tour wins unrivaled by most pro golf players, Sam Snead is unlikely to miss any top 10 greatest golfers of all time list. This is the all-time record for PGA wins tied, and he shares the record with Tiger Woods.
Although he doesn't have that many major tournament wins, seven is still a respectable number by any golfer's standard. This record would have undoubtedly been more were it not for the challenges faced by most golfers during the era he played in. An example of these challenges is World War II which resulted in the cancellation of multiple major tournaments.
He is also known to have never won the U.S Open, even though he was amongst the top ten twelve times in the event. Notably, at 52, he was also the oldest player to have won a PGA tournament in 1965.
'The Slammer' will be remembered to have had one of the most beautiful swings many players have since tried to imitate and is widely considered the epitome of swing mastery. Jack Nicklaus once said Sam's swing was one of the most perfect he had seen in his playing years.
Stat Sheet
PGA tour Wins– 82
US PGA wins- 3
British Open wins- 1
Masters wins- 3
4) Walter Hagen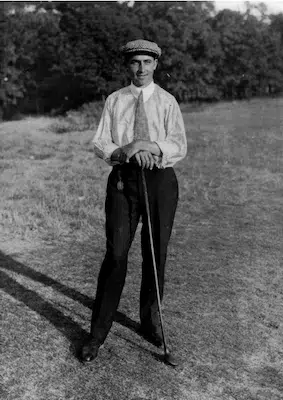 Even though there weren't many major tournaments during Walter Hagen's career, he won 11 of them throughout his playing years. This is an incredible feat, as only good golfers like Jack Nicklaus and Tiger Woods have hit the 10-win average.
When going through his career wins, some golf pundits have often argued that Walter's Major tournament wins may actually be more. This, they say, is so if you were to include his five wins in the Western Open between 1921-1932, this would take his total to sixteen. However, the tournament is not considered an official Major tournament by most golfing experts.
Outside his skills in playing the game, he was also known for his flashy dressing style, endorsements of improved golfing equipment, and other characteristics that elevated the standards of the Pro golfer.
It also wasn't in vain, as he was the richest golfer in the world at the time and the first to earn 1 million dollars in career earnings. He is quoted saying, "He never wanted to be a millionaire, just wanted to live like one."
By the time his career ended, he had posted 45 PGA tour wins, making him one of the best golfers ever.
While the fact that his career spanned at a time when golf was yet to mature is often used against him, Walter remains credited as being responsible for most of the developments of golf into its modern form. In 1974, he was included in the World Golf Hall of fame for his accomplishments and contributions to the golfing world.
Stat Sheet
PGA tour Wins: 45
US Open wins: 2
US PGA wins: 5
British Open wins: 4
Overall Pro wins: 58
3) Ben Hogan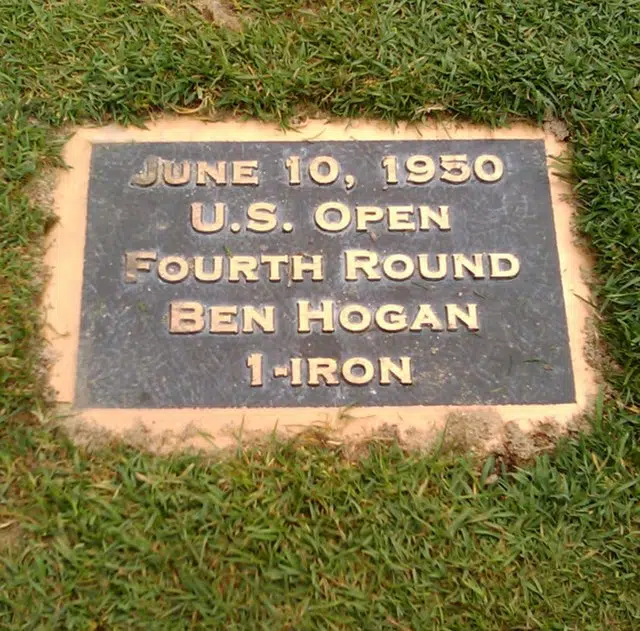 Like Gary Player, Ben Hogan also posted a record of nine professional major wins, which places both of them 4th on the PGA all-time career wins. Impressively, he is known to have always placed more emphasis on striking the ball than scoring. This player's style is one of the most influential to date and is a huge reason for his tremendous success rate.
In a period of just two years, 1946-1948, he was able to win an impressive 30 tournaments. What's remarkable is that thirteen of those wins came in the first year of that period (1946), and in the last year of the two-year span (1948), he was named the PGA player of the year.
He is remembered as being one of only five players to post first in all 4 major championships.
Even more impressive is that three of these, the Masters, British Open, and U.S Open, were won in the same year, 1953. Only Tiger Woods has been able to win three majors in a single year since. All this even though his career was nearly cut short by a 1949 car accident and the ongoing World War II challenges.
Ben participated in 58 major tournaments throughout his career and placed in the top 10 forty times. That is a 69% top 10 appearance estimation, higher than even Jack Nicklaus and Tiger Woods.
If for nothing, 'the Hawk' would still have gone down in history as one of the golfers with the most refined golf swings ever seen in golfing history. Because of this, you'd have to consider him one of the top golfers of all time.
Stat Sheet
PGA tour Wins– 64
US Open wins- 4
US PGA wins- 2
British Open- 1
Masters wins- 2
Overall Pro wins– 71
2) Jack Nicklaus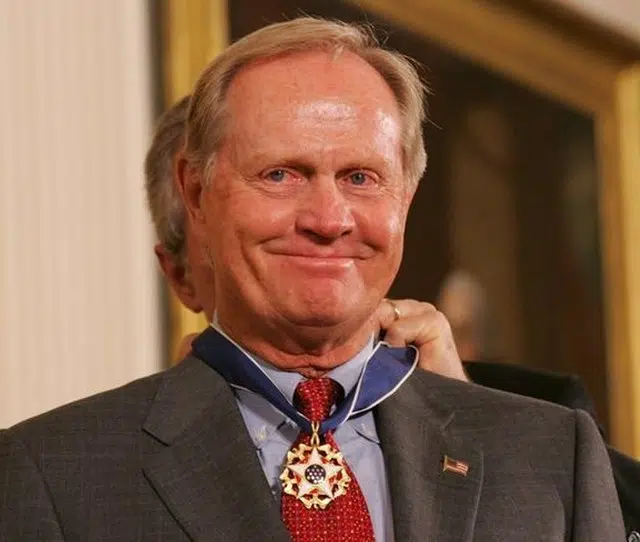 Regarding majors, Jack Nicklaus is the best golfer ever. Even more extraordinary is that he had an average of three wins in all of the Majors tournaments he participated in and has an impressive runner-up and top-ten records in all his appearances.
The 'Golden Bear' turned pro at just 21 years old and won his first pro championship the following year against not just anyone but The King himself, Arnold Palmer.
Fast forward a few years, and he was back at it, setting a record as the youngest player to win four major championships. Even more impressive is that he set another record during this time of being the first player to win two Masters tournaments two years in a row.
He would win nine more major championships between 1971 and 1980. With these wins, he beat the previous most Major tournament win record held by Bobby Junior. While he shares the record of three career grand slam titles with Tiger Woods, he is the one who first set both the double and triple grand slam records.
After joining the Senior PGA tournament, he won ten tournaments within a short span of only six years (1990-1996).
To most golf analysts, Jack will undoubtedly be somewhere at the top. His stats are simply not easily rivaled. He raised the standard of what it takes to be the best in the game and made us all love the game.
Stat Sheet
PGA tour Wins: 73
US Open wins: 4
British Open wins: 3
US PGA wins: 5
Masters wins: 6
Overall Pro wins: 117
1) Tiger Woods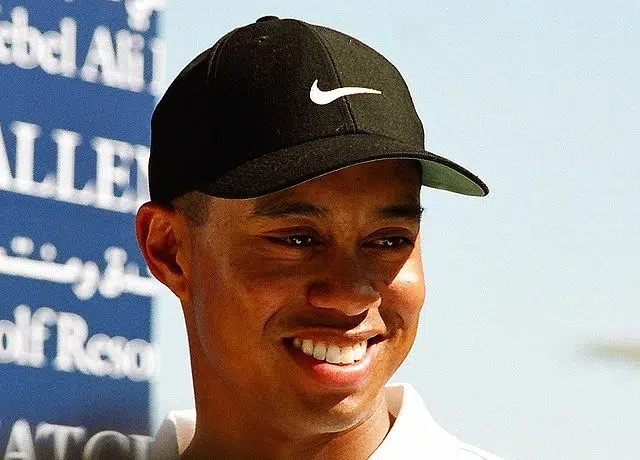 When you think of the most dominant and famous golfers of all time, it is hard to find anyone that can keep up with Tiger Woods. Tiger is only rivaled by one man, Jack Nicklaus, and even that is largely debatable.
You see, Tiger didn't just appear from nowhere as a Pro and randomly started destroying every other record that existed. He had previously had an impressive record at other golfing levels.
After turning Pro at the young age of 20, he went on to win his first major the next year. He didn't just win, he won it in style by 12 strokes. The man was simply announcing his arrival.
Tiger would go on to win multiple tournaments and showcase his mastery in the art of breaking records.
He topped the world golf rankings for an outstanding 264 weeks, and when he lost the number one ranking in 2004, he came back in 2005 and topped it for 281 weeks, just in case there was someone on the planet who missed the fact that he was greatest at the time.
He also casually won 13 major tournaments during this period.
Despite the fact that his career was affected by multiple scandals, which made him an unlikable golfer for a while, he still secured PGA's Player Of The Year Award a record eleven times.
He has won 15 major professional tournaments, rivaled only by Jack Nicklaus, who has a total of 18 wins. Like Nicklaus, Tiger has achieved a grand slam three times. On an international level, he has also won 18 world golf championships.
The list of achievements by Tiger is one that simply deserves its own separate article. Tiger took golf to a level that no other golfer had before. Every other player may have made the world love the game, but Tiger made the whole world feel like they could play and cannot be ignored for the running of the best golfer of all time!
Stat Sheet
PGA tour Wins: 82
US Open wins: 3
British Open Wins: 3
US PGA wins: 4
Masters wins: 5
Overall Pro wins: 110
Honorable Mentions
Gene Sarazen
Phil Mickelson
Rory Mcllroy
Nick Faldo
Seve Ballesteros
Lee Trevino
Jordan Spieth
Billy Casper
Harry Vardon
Who is Better, Jack Nicklaus or Tiger Woods?
When it comes to overall PGA tournament wins, Tiger woods is, without a doubt, the better player. However, when you look specifically at Major tournament wins, Jack Nicklaus has won more.
Who is Considered The Greatest Golfer of All Time?
"Who Is the Best Golfer of All Time?" is a difficult question to ask as it depends on who you ask. Between golfing pundits, die-hard fans, and golf players, everyone will always give you a different answer. However, two names you are going to be seeing a lot are Jack Nicklaus and Tiger Woods.
Who Has Been Number 1 in Golf for the Longest Time?
With 281 weeks at the top, Tiger Woods holds the record for the most time spent at the top rankings of the golfing world.
Final Thoughts
The truth is, we could argue semantics about time periods, competitions, the improvement of golf gear, and plenty of other variables that impact how good a golfer was or is. But there's no denying the men who made our list are among the best golfers.
Chris's love for golf is only rivaled by his wanderlust. A globetrotter at heart, He's played courses throughout Europe and Asia and at home in NSW, Australia. With a writing style as smooth as his golf swing, he'll help you find the right gear to match your skill level and style. You can connect with Chris on LinkedIn.