In recent years, more and more people have been making the switch from lead-acid batteries to lithium batteries for their golf carts. Battery technology has come such a long way, that the old simply can't compete with the new.
While it's a well-known fact that lithium batteries are superior in almost every way, it can be tricky to know exactly what you should look for when buying one. In this guide, we'll cover the benefits of using lithium and the things you should consider when buying them. Then, we'll outline some of the best lithium batteries currently available on the market.
What are the Advantages of Lithium Batteries for Golf Carts?
Constant power – Unlike lead-acid batteries, lithium batteries operate at full power throughout discharge, even when they are at less than 5%. Low battery won't result in sluggish performance.
Lightweight – Lithium batteries are 50-60% lighter than their lead-acid equivalents. This makes them significantly easier to install. Plus, it increases your golf cart's weight-to-performance ratio, enabling you to reach higher speeds with less effort.
Fast charging – Lithium batteries can be fully charged within 1-3 hours. This is a vast improvement over lead-acid batteries, which can take over 8 hours to fully charge.
Maintenance-free – No water needed, and no cleaning of acid residue required. Just charge them up, and they're ready to go.
Safety – Most lithium batteries utilize Lithium Iron Phosphate (LiFePO4), a chemistry that is inherently safe. In addition, Battery Management Systems (BMS) have been developed in order to regulate heat, eliminating the risk of overcharging and overheating.
Long-life – Lithium batteries have up to a 10x longer life cycle than lead-acid batteries.
Long shelf life – Lithium batteries have a very low rate of self-discharge, meaning they maintain a state of charge for longer when not being used.
Eco-friendly – Due to their lower charge times, and the fact that they contain less hazardous materials, lithium batteries are far better for the environment than lead-acid batteries.
Things to Consider When Buying a Lithium Battery for Your Golf Cart
Before you confirm a purchase, you'll want to make sure you're getting the battery that's right for you by taking the following into consideration.
Battery capacity
Measured in Ah (ampere-hours), a battery's capacity is the amount of power it can discharge in a single-use. In other words, it's how long the battery will last before it needs recharging. Pretty much all lithium batteries will easily cover you for 18 holes of golf. Some batteries, with an AH of around 100, can run for as long as 36 holes.
Voltage
Voltage is basically the amount of electrical power that your lithium battery holds. 24v is a fairly standard amount of voltage for lithium golf cart batteries.
Dimensions
It's essential to check the dimensions of your golf cart battery holder before you purchase a new battery. If you choose a battery that is larger than your holder, you will have a lot of difficulty keeping it secure. If you cross-reference the dimensions of your cart holder against the size of the battery, you can ensure your new lithium battery will be a good fit.
Most lithium batteries are roughly (W)160mm x (L)250mm x (H)200mm. Batteries with larger capacity tend to be slightly bigger. However, generally speaking, lithium batteries are nice and compact; they're a good fit for most modern golf carts.
Weight
Most lithium batteries weigh between 10 and 20 kg – a fraction of the weight of your average lead-acid battery. By using a lithium battery, your weight-to-performance ratio will be greatly increased. However, you should be aware that higher-capacity lithium batteries are slightly heavier than standard.
Cycle lifespan
The charge cycle lifespan is basically the number of times a lithium battery can be charged before it packs in. When looking for a lithium battery, you should expect a lifespan of no less than 1500 cycles. If you were to play one round of golf every day, these batteries should last for 4-5 years. Some lithium batteries have a cycle lifespan of up to 8000 cycles and can last as long as 10 years.
Best Lithium Golf Cart Batteries
1. Ampere Time LiFePO4 Deep Cycle Lithium Battery
Pros:
Decent, sustained voltage
Very good battery capacity
Very good cycle lifespan
Cons:
Heavier than the average lithium battery
Features:
Voltage: 24V
Battery Capacity: 100Ah
Dimensions: 52.1 x 23.8 x 21.7cm
Weight: 21.5kg
Cycle Lifespan: 4000-8000 cycles
Large and powerful, this Ampere Time lithium battery is perfect for juicing up your golf cart to go the distance. With Automotive Grade LiFePO4 cells, it holds a high amount of energy density, offering a consistent level of superior power. It's also been awarded the highest level of safety based on the UL Testing Certificate – it's fully equipped with BMS, and can be safely mounted in any position.
The voltage holds over 24V for 95% of the battery's capacity. Considering that most lead-acid batteries only run at the optimal voltage for 50% of their capacity, it's clear that this battery can provide huge boosts to your run-time as you zip around the course.
Arguably, the most impressive trait of this battery is its cycle lifespan: it promises 4000-8000 cycles, with 10 years of service life. Needless to say, you shouldn't need to replace this battery for many years to come. In addition, Ampere Time offers a 100% quality, money-back guarantee, as well as technical customer service. For all this, the price of $989.99 is very reasonable.
2. ExpertPower LiFePO4 Deep Cycle Lithium Battery
Pros:
Good price
Great battery capacity
Low self-discharge rate (can be stored, without maintenance, or a long time)
Lightweight
Cons:
Features:
Voltage: 12V
Battery capacity: 100Ah
Dimensions: 13 x 6.8 x 8.4 inches
Weight: 10.3 kg
Cycle lifespan: 2500 – 7000
Lightweight and long-lasting, this ExpertPower lithium battery takes the hassle out of micromanaging your golf cart's power, providing you instead with the simplistic joy of lithium chemistry. For the price of $739.99, 100Ah is a very generous battery capacity indeed. At 12V, it isn't the most powerful of batteries, but it will deliver a consistent amount of power that is more than enough to swiftly carry you and your buddies around the course.
The built-in BMS protects the battery from overcharge, deep discharge, short-circuiting, and overheating. It also has an exceptionally low self-discharge rate, capable of up to one year of maintenance-free storage. Combined with the guarantee of at least 2500 cycles (and up to 7000), and the 10 years of service life, the long-term efficiency of this battery has been widely appraised.
At an exceptional price, this FlyPower lithium battery delivers an ample voltage of 12V, and a battery capacity of 100Ah, giving you more than enough power and endurance to last well over 18 holes. It has an excellent safety performance and utilizes BMS to prevent overcharging and overheating.
The cycle lifespan promises to be a minimum of 3000 and can achieve up to 7000 deep cycles of life. This battery can last up to 10 years. This is the kind of longevity that you simply do not get with lead-acid batteries.
FlyPower also offers a 5-year warranty, and exceptional customer service to address any potential concerns. This, however, shouldn't be needed; this is an experienced company that is well known for reasonably priced well built, high-performing, long-lasting batteries.
Final Thoughts
Lithium batteries are undoubtedly a better choice than lead-acid batteries, in almost every way. However, even with the elegance of lithium chemistry, there is nothing simple about golf cart batteries. For most golf cart owners, the three lithium batteries we have suggested can be great choices – but it's worth doing that little bit of extra personal research to make sure that the battery you are eyeing up is right for you and your golf cart.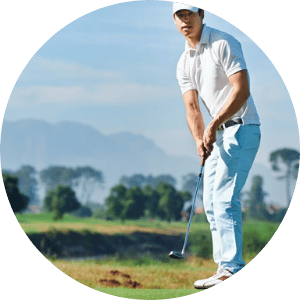 Nick Lomas is the founder of GolfSpan, an avid golfer, not quite a pro but has over 15-years of experience playing and coaching golfers from all over the world. His mission is to bring the golfing community a better experience then it comes to choosing the right golf gear, and finding the right set up for your game.